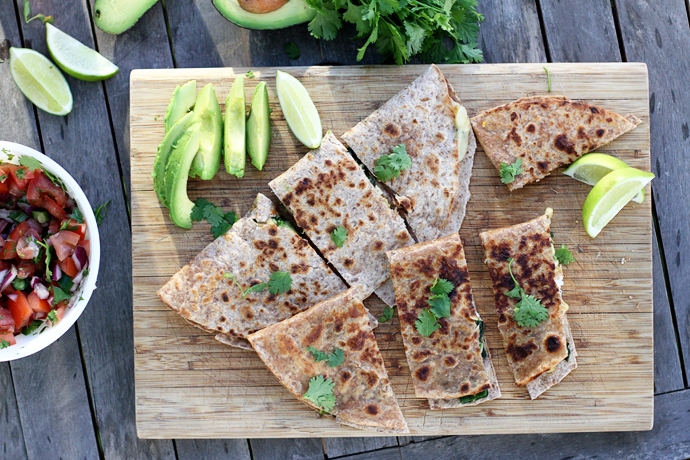 While we've been progressively cutting down on our meat consumption over the last year, sticking with vegetarian meals for at least 3-4 nights a week, the concept of Meatless Mondays is still relatively new to my parents, especially my dad. Mondays happen to be the day they come over and help watch the kids while I run errands and do some work. It's been that way for years now, and it's a consistent routine we all look forward to each week, most especially my parents I think. They stay on for dinner each week, and my mom and I usually gather in the kitchen around 5 o'clock and cook a meal together, while my dad tries to manage watching over 3 kids. It sounds quite serene I'm sure, but my mom and I are often passing off Hayden back and forth since papa doesn't have quite the same soothing touch of either of us, while we take turns telling my dad not to get the older two kids so riled up. In other words, its chaos, but for some reason we seem to enjoy it and keep coming back for more and more.
For years I made sure to plan our Monday meals centered around some sort of beef dish, since my dad is your typical meat and potatoes guy, even turning his nose up at  pork, and scoffing at chicken. This makes him sound quite ornery and picky I'm sure, but he's not, he just really loves his red meat. But red meat isn't all that great for his cholesterol, especially when he's having it most other days of the week. So for the past couple of months, my mom and I have been making it a point to enforce Meatless Mondays, which as it turns out, is a concept enacted during WWI, a fact I just discovered when researching the history of my new vintage "don't waste food" print. While my mother and I stand together in the view that our husbands will eat whatever food we cook for them, and indeed they do, we do strive to make these vegetarian meals interesting and delicious, to help show my father how good meatless meals can be. And to show him that one can actually feel full without meat. Side story, my dad recently attended his nephew's wedding. My uncle and his family follow the Seventh Day Adventist religion, therefore are vegetarians. When he returned from the wedding we talked a bit about the vegetarian food he ate while there and in response to their diet he exclaimed, "They look like they're surviving!" As if one must eat meat to survive. My dad, he's a funny guy.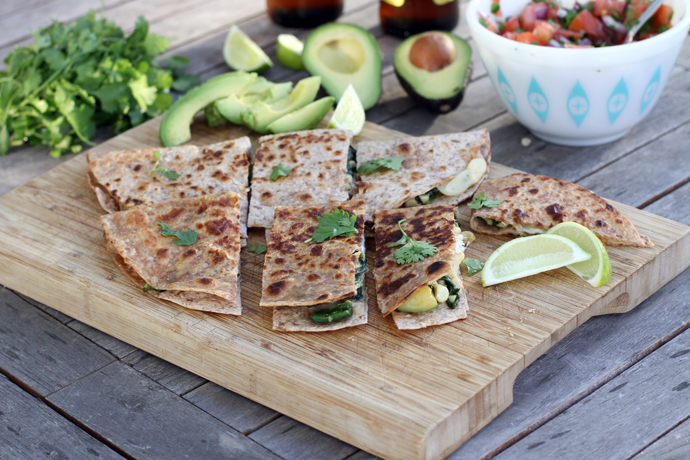 All this to introduce you to these amazing vegetable quesadillas we whipped up the other night. I had just received a produce delivery box, bursting at the seams with produce fit for a Mexican feast, and so quesadillas and tacos it was, topped with fresh pico de gallo salsa. Syd to no surprise, was the only one who scoffed at the vegetable mix, but everyone else including the baby and my father, absolutely loved it. I made quesadillas for the family and left mine as simple tacos, topped with a bit of goat cheese.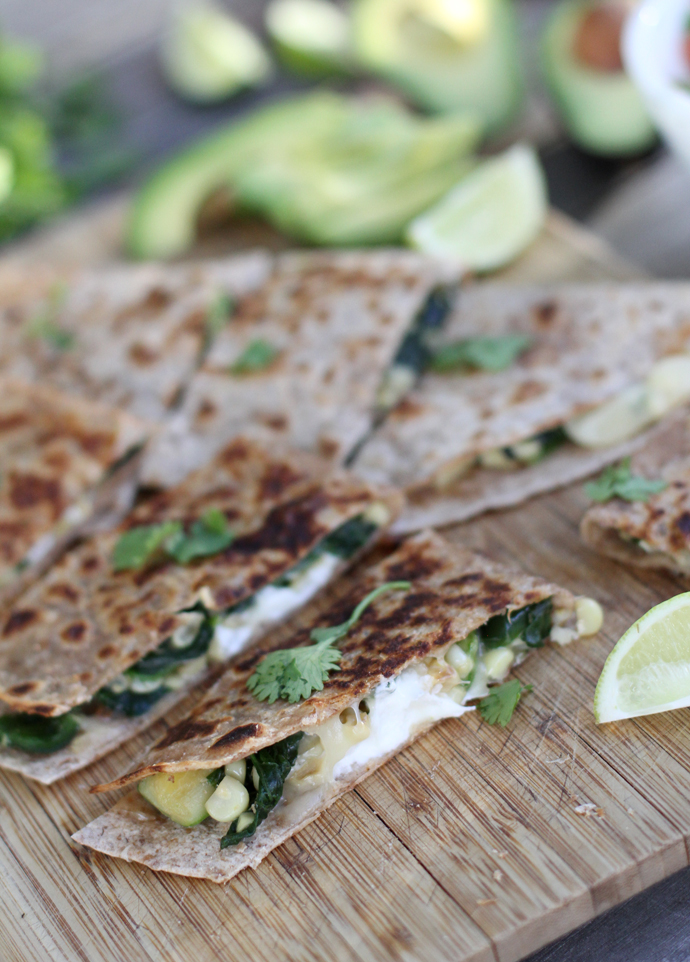 The vegetable mix made for a wonderful addition to scrambled eggs the next morning, and I even had a tiny bit left to add to a halved avocado, sitting atop a bed of lettuce for lunch. If you're skipping dairy, feel free to do as I did and just use the mix for tacos, but if you can handle some cheese, you won't regret eating this as a quesadilla (I know, because I stole a bite or two off Art's plate when he wasn't looking.)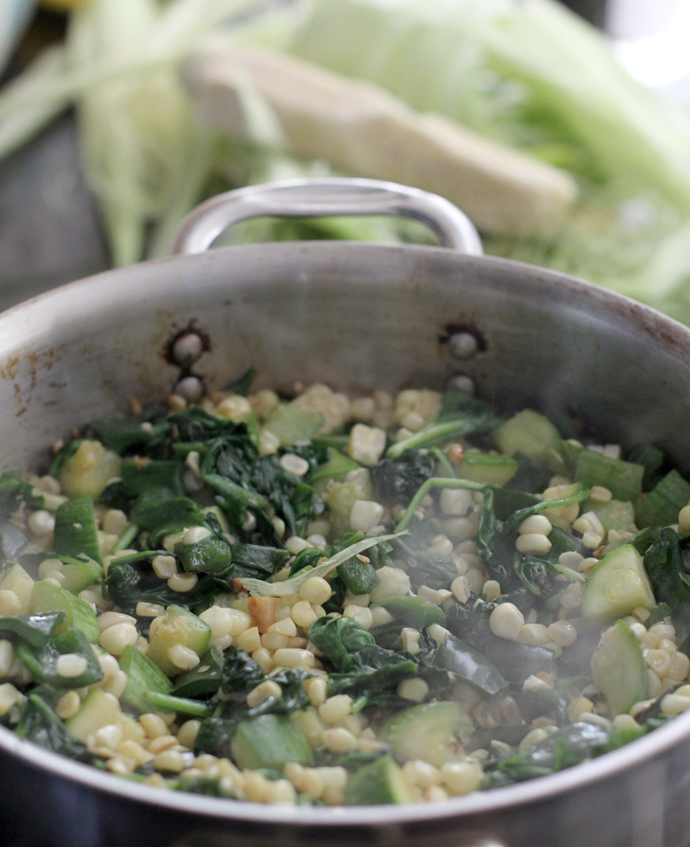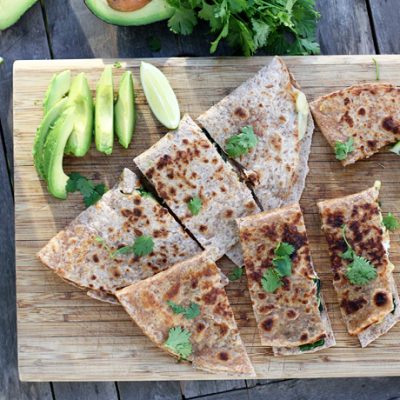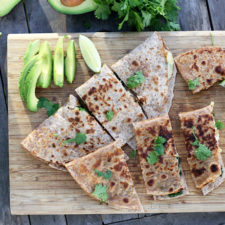 Vegetable Quesadillas
Savory and delicious vegetable quesadillas make a healthy main meal for Meatless Mondays.
Print
Pin
Rate
Ingredients
2

tablespoons

olive oil

3

ears of fresh corn

shaved off the cob

2

Mexican squash

diced

1

Pasilla chile

seeded and diced

1

garlic glove

diced

1

bunch of spinach

5-6

basil leaves

julienned

4

ounce

log of goat cheese and about 1 cup of jack cheese

shredded

6

whole wheat or sprouted grain tortillas
Instructions
Sauté the corn, chili, squash and garlic in the olive oil, over medium heat. Add in a dash of salt and grind of pepper, stirring occasionally until vegetables are almost done, about 5-7 minutes. Add in spinach and basil and cook till wilted. To assemble your quesadillas, heat a pan or grill and add a slick of olive oil to coat. Add a scoop of the vegetable mixture, and a bit of each cheese, enough to help the tortillas stick together, but not so much that it overtakes the wonderful vegetables. I found about 4 drops of goat cheese and ¼ cup of jack cheese was plenty. Fold tortilla in half and grill on each side for about 3 minutes, until browned and cheese is melted.