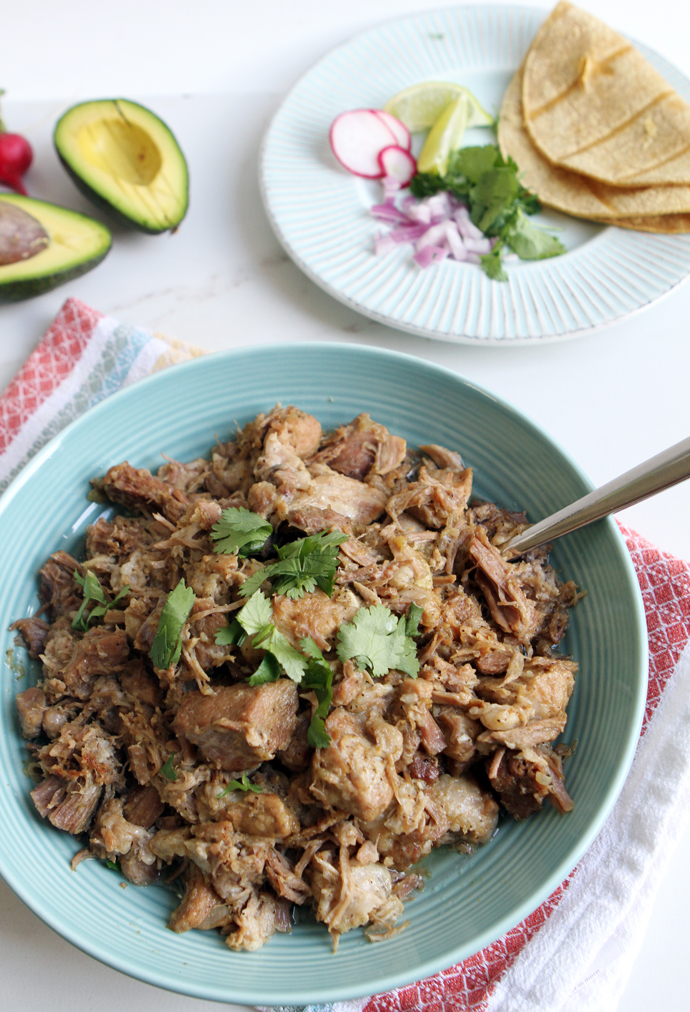 I grew up in Whittier, a little town about 15 miles outside of Downtown LA with a varied demographic. It's only about 20 minutes away from where I live now, and being that my parents still live there I "go home" quite often, but each time I do I still get nostalgic as if I'm some distant visitor. Anyhow, the town has a lot of great history, from Quaker settlers to famous poets, and boasts a decent private college. The town is also home to a large Latino population, and good Mexican food is never more than a stones throw away. My family and friends had our favorite spot to pick up the best menudo or albondigas, a certain bakery always promised the fluffiest pan dulce as well as the most filling of tamales, and of course we had a few favorite places to pick up tacos, specifically carnitas tacos.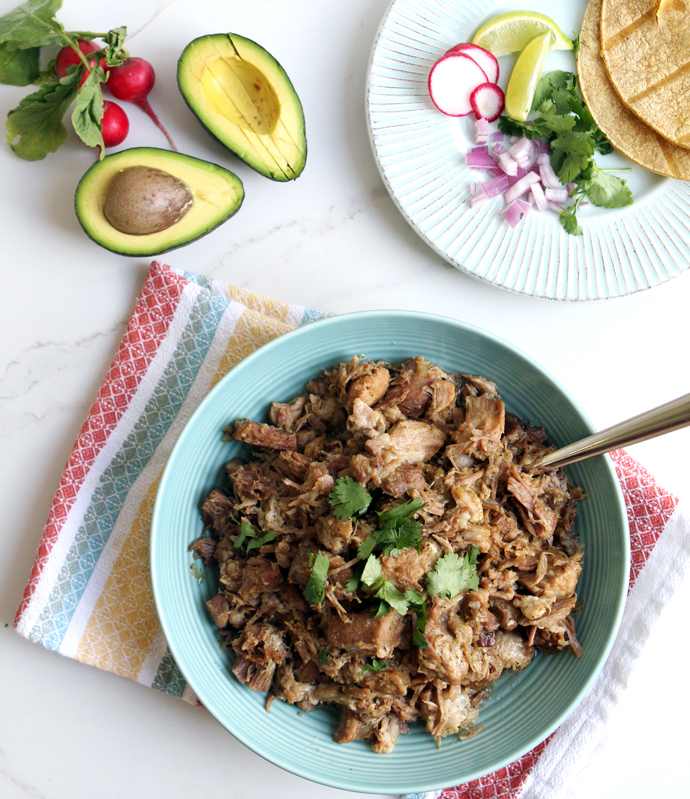 My favorite spot in particular served up the crispiest pork carnitas, and they were so generous with their portions that I was always able to divide up my pork into two separate tacos, because the best tacos are always double wrapped in the softest corn tortillas.
My mom, who had no qualms about giving me Doritos in my lunch sack everyday, was always sure to limit our intake of pork carnitas due to the way they were cooked; first braised, and then fried in manteca, aka lard. Without looking up the nutritional index of Doritos versus fried carnitas, I couldn't really tell you which one is "healthier" but either way, in terms of food, both were a very large, happy part of my childhood.
I had never bothered to make my own carnitas at home because I always assumed the process was complicated and greasy, but over 5 years ago, Art and I took a cooking class from a local chef, who taught us how to make oven braised pork carnitas, minus the frying. I figured it was high time I share the recipe with you all, because not only are these ridiculously easy to make, the process and end result isn't the least bit greasy. Well, maybe just a bit, but in the best way. I can now make these without the recipe in hand, and everyone loves them, especially Taylor, who is a girl after my own heart in just about every way.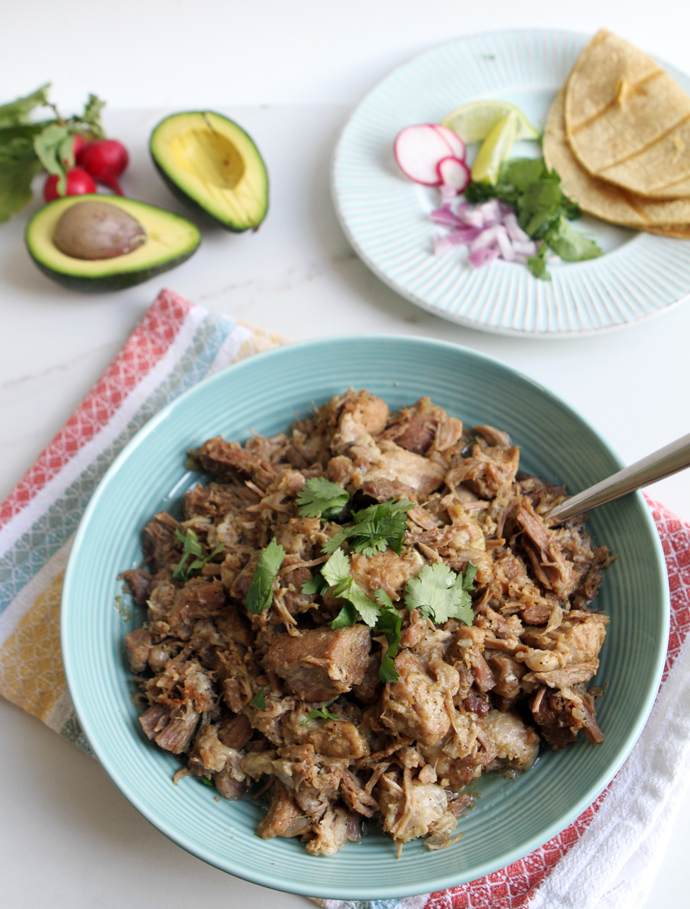 Believe it or not, the ingredients below are all you need to make this dish, well and of course the pork which I didn't picture because a big hunk of raw pork is just kinda gross to look at. I have challenges enough with my food photography, so I certainly know there's no way I could make a hunk of raw pork look appetizing. A sliced onion, a bay leaf, some cumin, salt and pepper, that's it. Pork carnitas can actually be made using a variety of different ingredients depending on the region from which they hail, and so you may find several different variations of recipes out there, and the butcher where I got the pork from insisted that carnitas weren't true carnitas unless you also added oregano. While I don't know how necessary oregano is, and I'll be sure to try it in the future, I appreciate this recipe so much for it's simplicity in the ingredient department; short and sweet.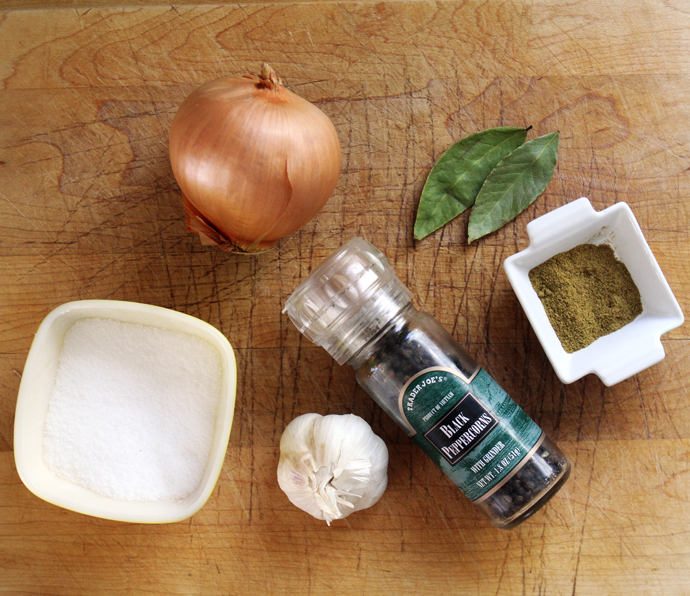 All you have to do is add your ingredients above to a dutch oven or some sort of roasting pan that takes a lid, add some water or stock, and your cubed pork. I used a shoulder this time around, but you can also use pork butt as well, and both yield equally good results, the shoulder is just what the butcher had on hand and he recommended as the best that day. You'll need 3-4 pounds of pork and you'll want it cubed into approximately 1″ pieces.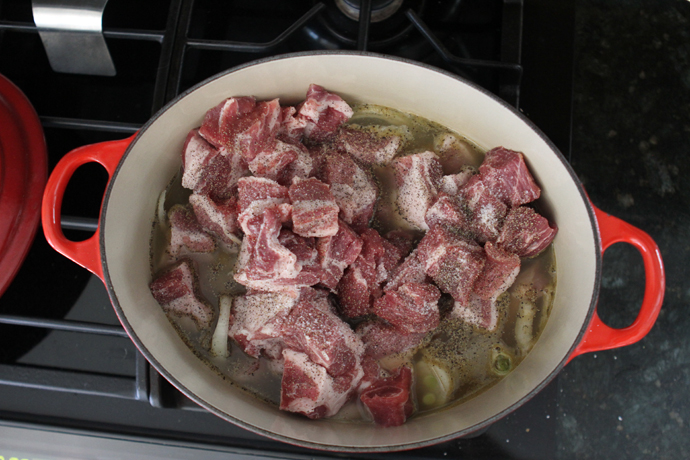 Once all your ingredients are added, you bring the pot to a quick boil and then remove it from the heat, cover it and place it in the oven for a couple of hours to braise, not roast. After the meat has cooked for two hours, it will be soft and tender, but there will also be plenty of liquid left in the pan. This liquid will be used to further cook the pork on the stove top, achieving a caramelized effect without the use of lard. These carnitas will never be super crispy like the ones you'll get at an authentic taqueria, but having grown up on those and now having had these, you won't be disappointed in the least.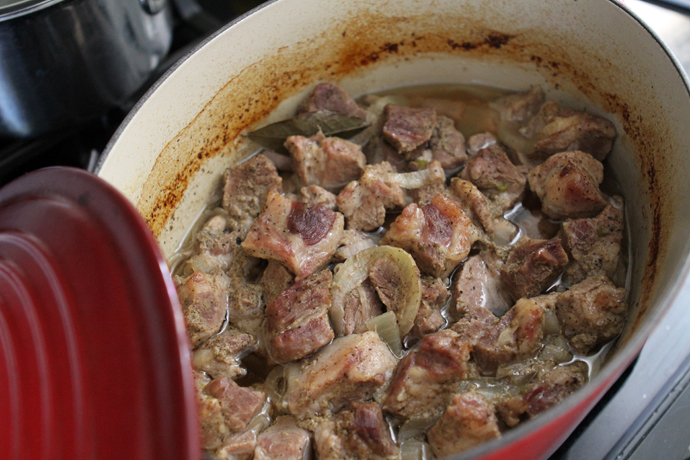 Toppings can include the ones pictured here, my favorite, as well as salsa and even refried beans. These carnitas are so tender and juicy though, I find that I don't even need or want salsa, as a squeeze of lime is just enough to enhance the flavor and add some extra juice to the pork/tortilla combo.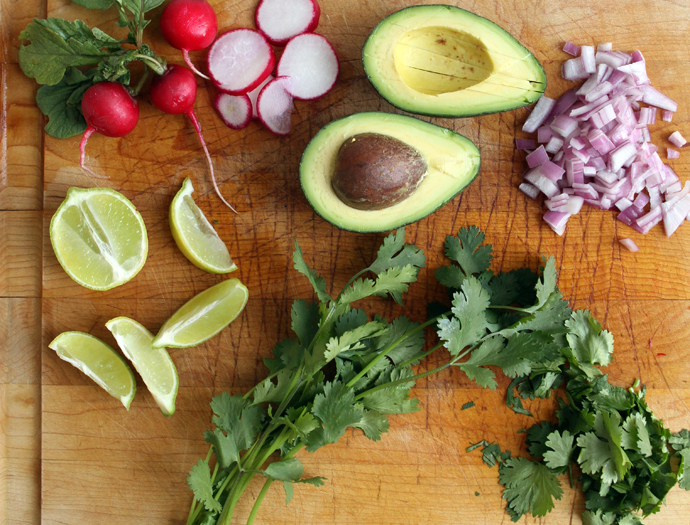 Keep in mind that these are delicious on their own too, and so don't feel the need to even include them in taco form, but consider also topping them on salads, rolling them up in a burrito, or just serving them alongside some simple rice and beans, or cauliflower rice if you're Paleo and all 😉 One of these days though I'm going to have to add my recipe for Grandma Tita's Spanish Rice to this blog, as it was a long-running favorite at my old blog.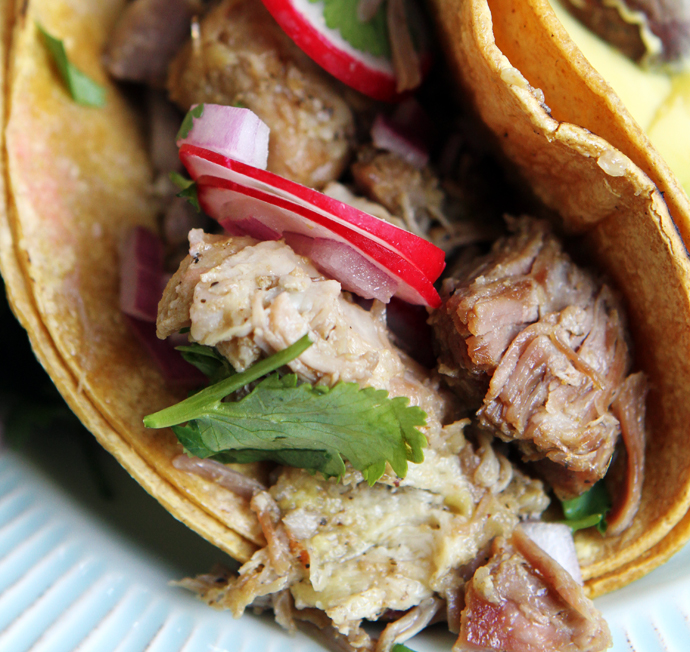 While the prep time on these carnitas is nil, you will want to allow yourself almost 3 hours of cooking time, as they braise in the oven for 2 hours, and then finish cooking on the stove top for a good 30 minutes or so. Once they are all done, the meat is hard pressed to actually stay in neat chunks, but rather falls into shredded submission at the slightest touch. Let me know if you have any questions in the comments below, and better yet, please let me know if you try them out! Printable recipe found just below…enjoy!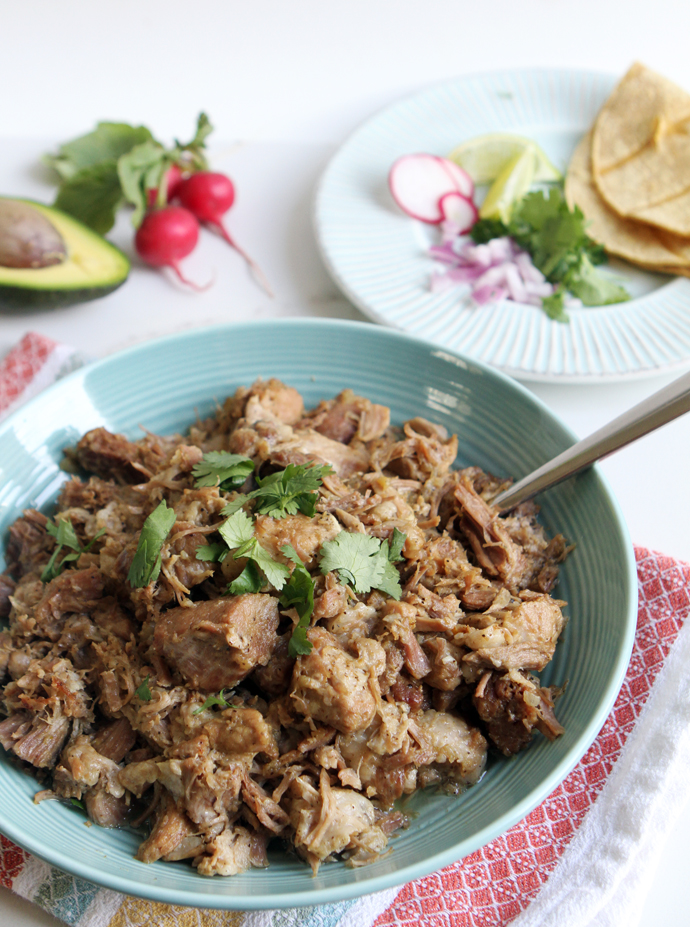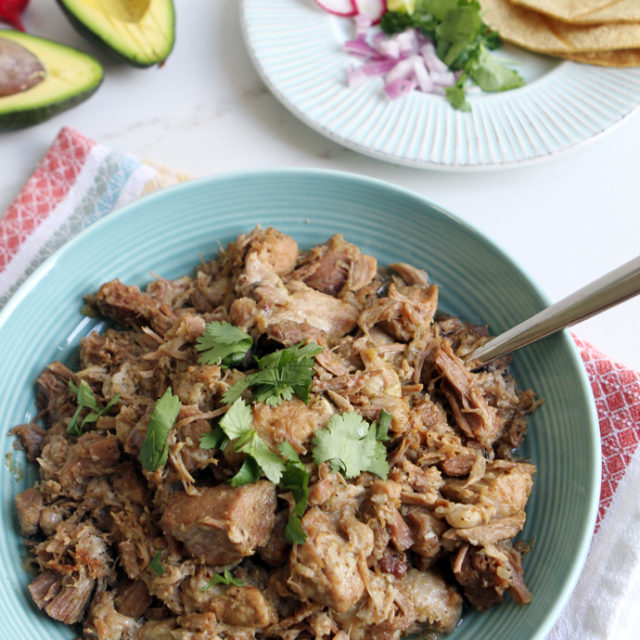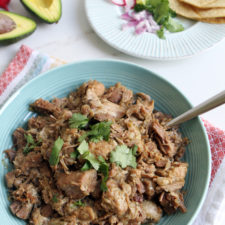 Print Recipe
Braised Carnitas Tacos
A slightly healthier twist on the usual fried carnitas, this slow braised version is every bit as satisfying.
Ingredients
3-4

lb

pork butt or shoulder

cut into 1 inch cubes

1

onion

thinly sliced

3-4

garlic cloves

peeled

1

bay leaf

1

tbsp

cumin

3

cups

water or chicken broth

corn tortillas and desired toppings
Instructions
Pre-heat the oven to 375. Add all the ingredients to a Dutch oven and season with salt and pepper. Bring stock to a boil, then remove from heat and cover with a lid, and place in oven to bake for 2 hours. Remove lid and cook over medium heat for another 30 minutes or so, until most of the liquid has evaporated and the pork has somewhat caramelized. Make sure not to stir the meat too much while it finishes cooking, so the meat can caramelize. Shred more if desired and serve in tortillas or over rice and beans.