The boys bathroom remodel we did on a budget is both modern and bright. Custom cabinetry elevates simple warehouse tile set in a unique pattern. Affordable black matte plumbing fixtures stand up to wear, while accents of gold are brought in with vintage inspired pendant lighting.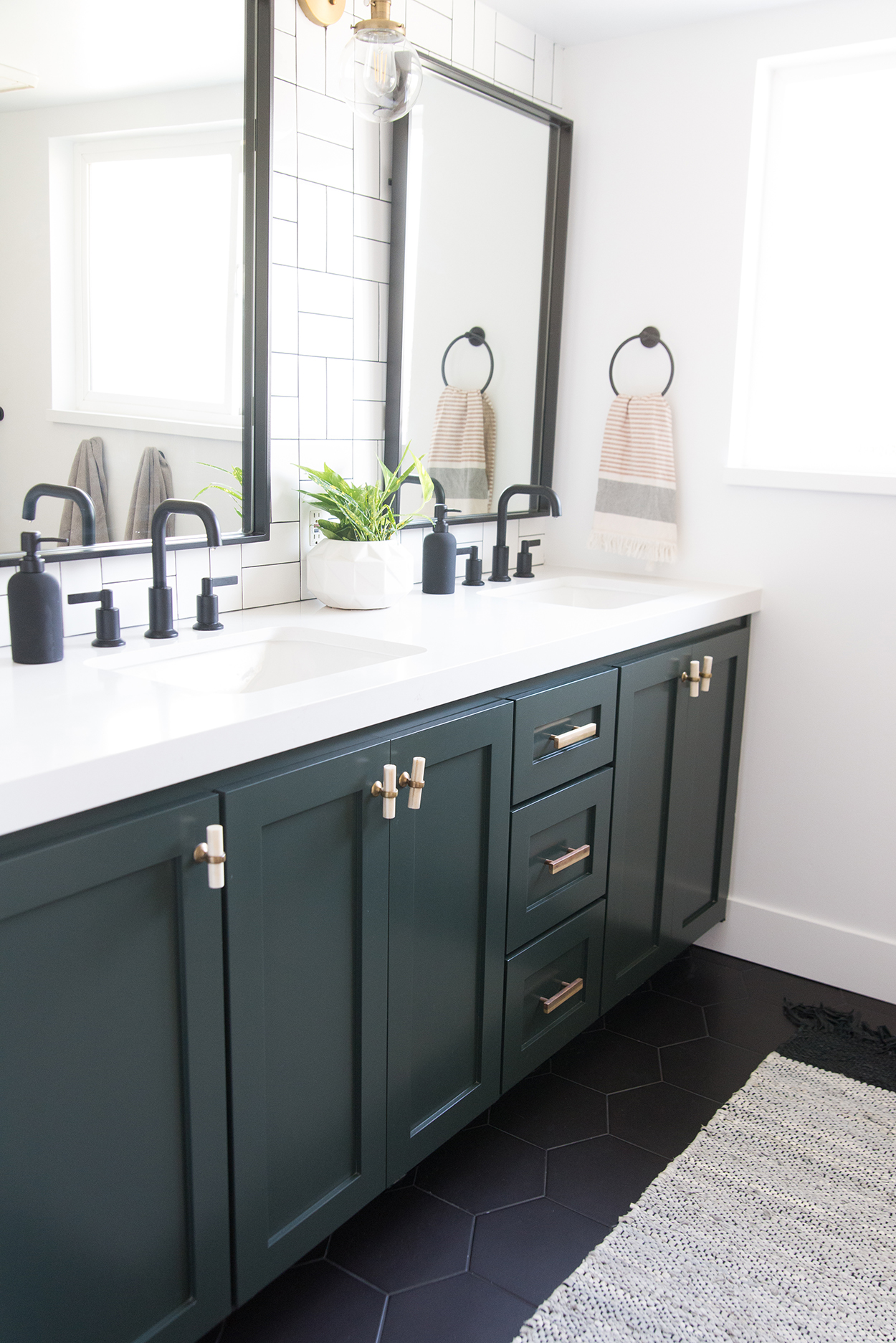 During our remodel a couple of years ago, the boys bathroom was the only room that we didn't touch; it didn't even get a fresh coat of paint. We figured with a 3 and 9 year old inhabiting it, there really was no reason to include it in the construction budget, and I'm glad we waited.
When a leak in the laundry room finally forced our hand a bit earlier than planned though, we enlisted the help of my friend Kendall once again. She did such a great job helping me with my office, I knew I could trust her to help us create a bright but boyish bathroom on a budget.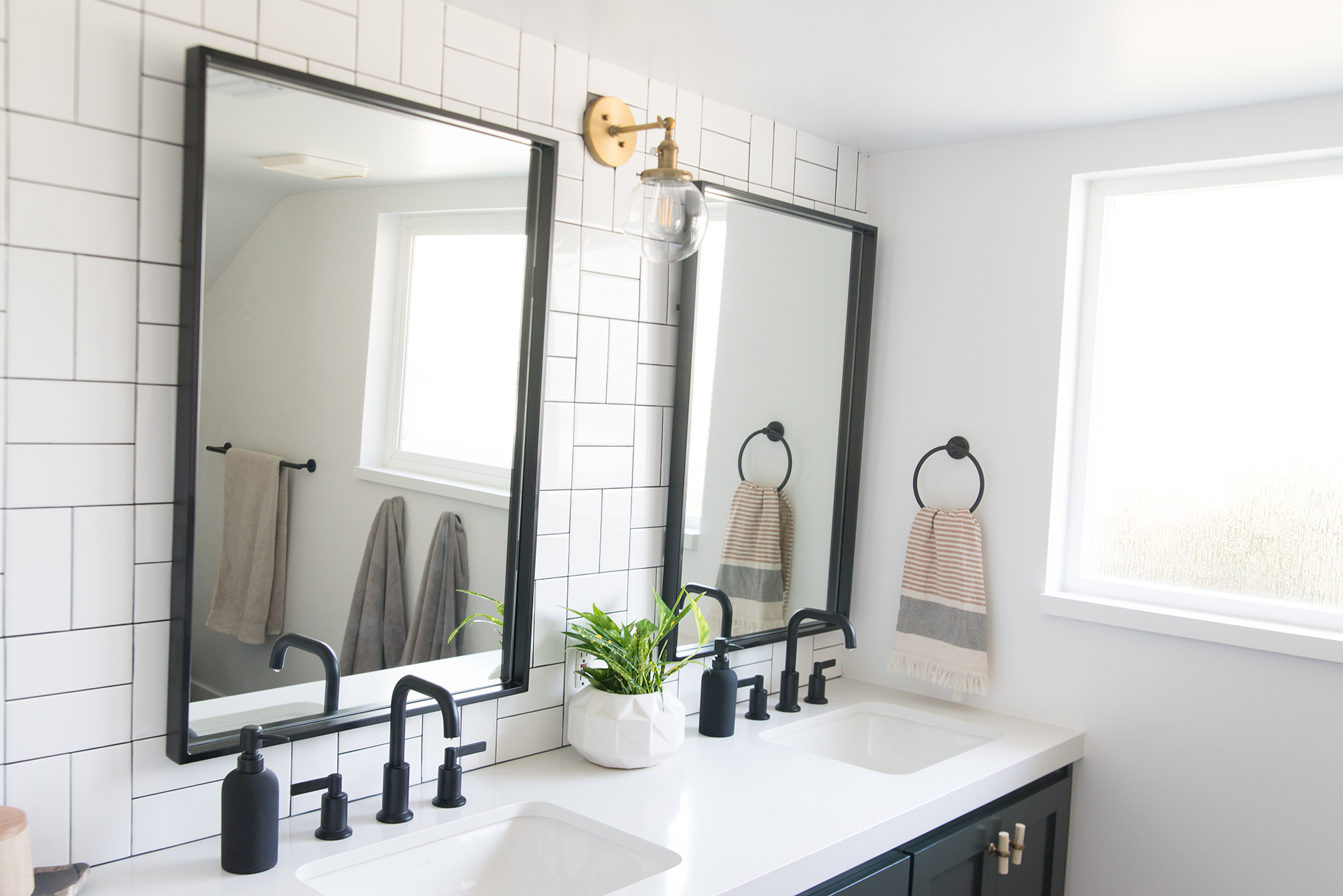 Boys Bathroom Ideas to Save Money
We were on a budget, but we of course wanted the room to look as great as possible. Because the bathroom was being shared by 2 young boys, we also felt comfortable scrimping in several areas. Bit of course we wanted the room to look great and be able to stand up to wear and tear. So we did splurge in a couple of areas.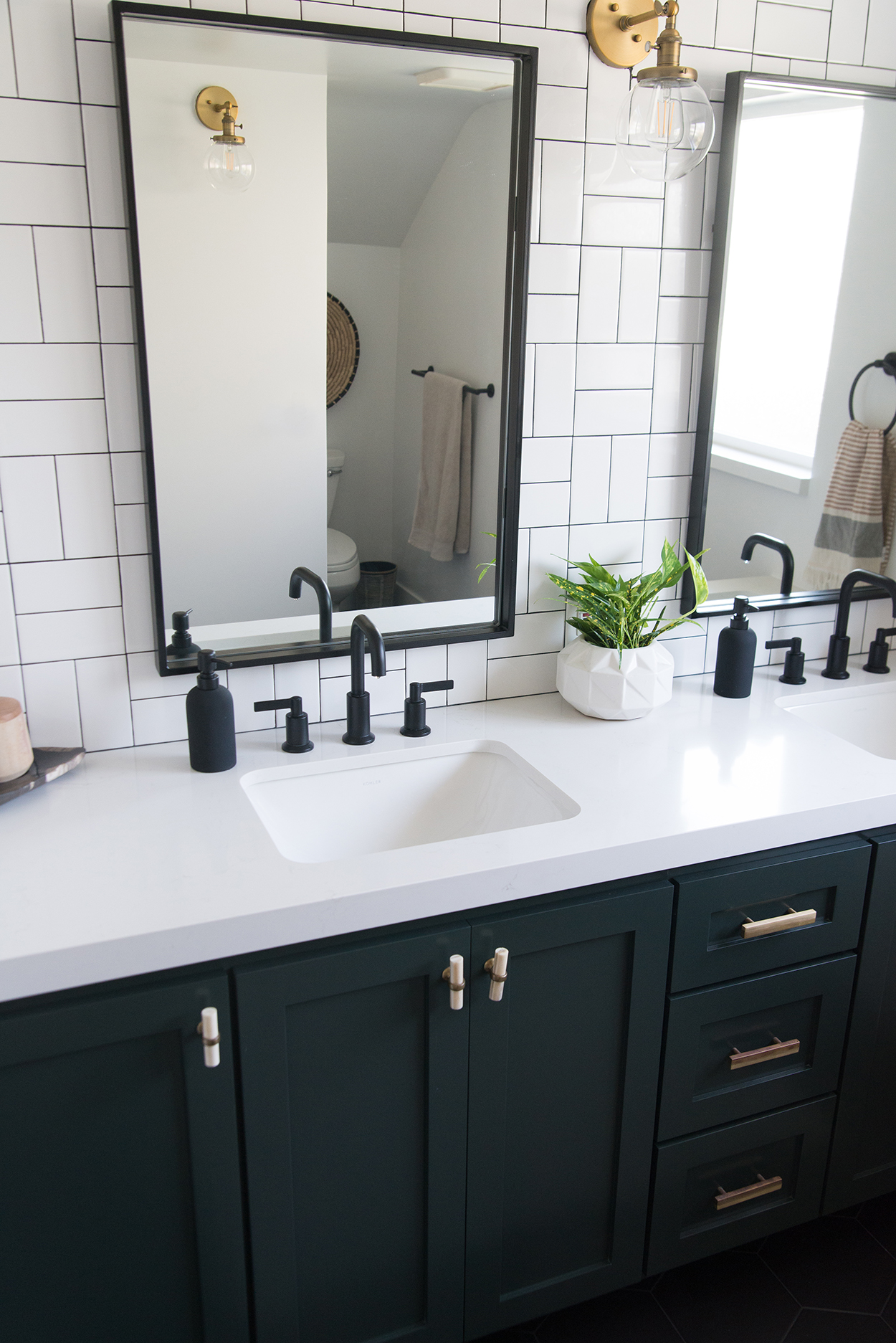 Where we saved and where we splurged:
Custom cabinetry – we hired a gentleman that did custom cabinetry as a side job, which saved us quite a bit but produced beautiful work.
Used very affordable subway tile for the backsplash and shower, but set it in an interesting pattern to elevate it.
We used a remnant countertop piece that the finisher had in his warehouse, saving a ton of money by not having to purchase a slab.
We used affordable in-stock flooring tile from Home Depot.
Affordable lighting and plumbing fixtures were all found on Amazon.
Accessories were primarily sourced from Home Goods.
We served as the General Contractors.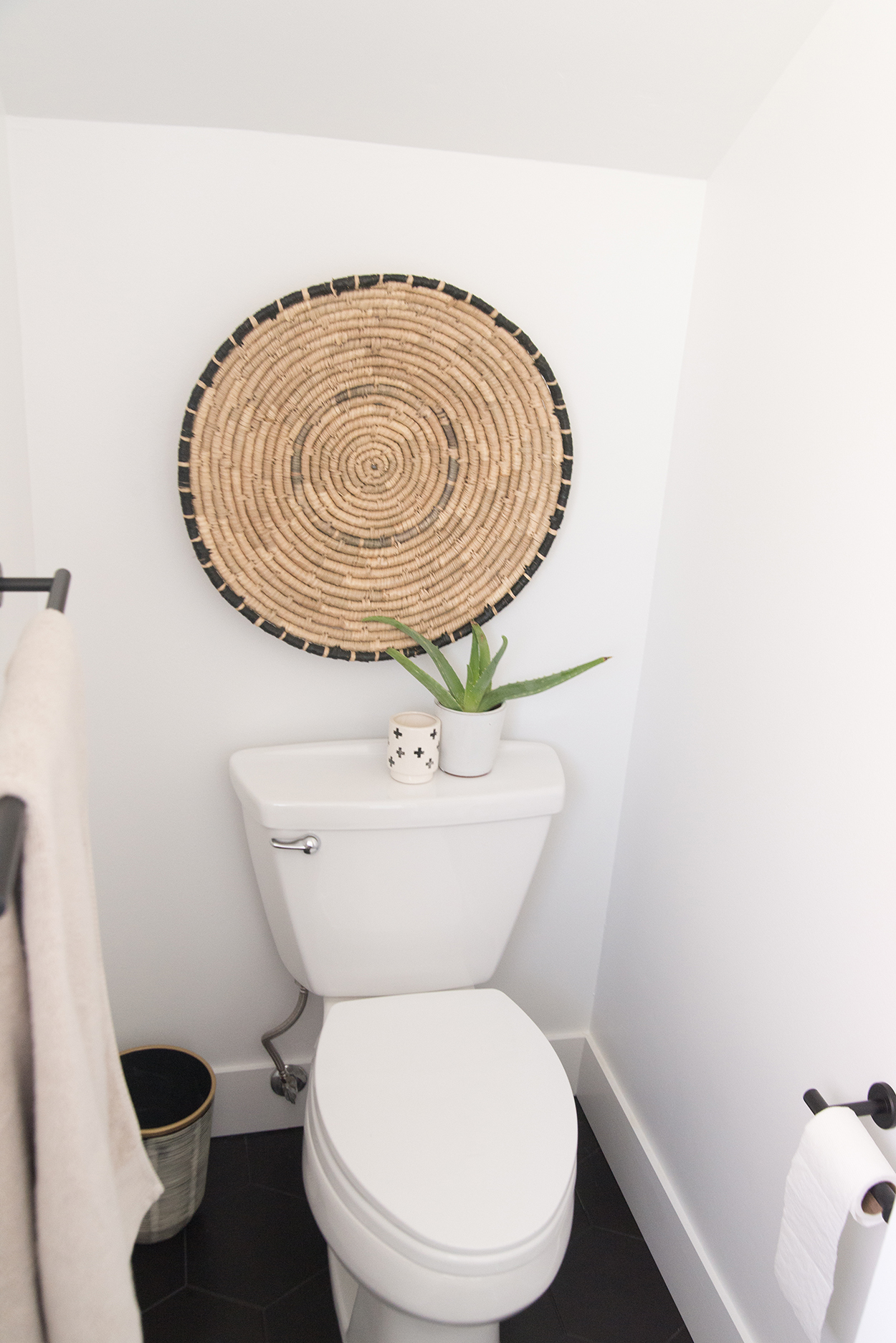 When people hear custom cabinetry, they always assume big bucks, but if you're patient and search around, you can usually find someone who does decent quality work for a reasonable price. As I said above, the guy who built the vanity in here is a full time police officer who does this on the side for fun and extra money. His prices were great and the quality was wonderful, we just had to be patient.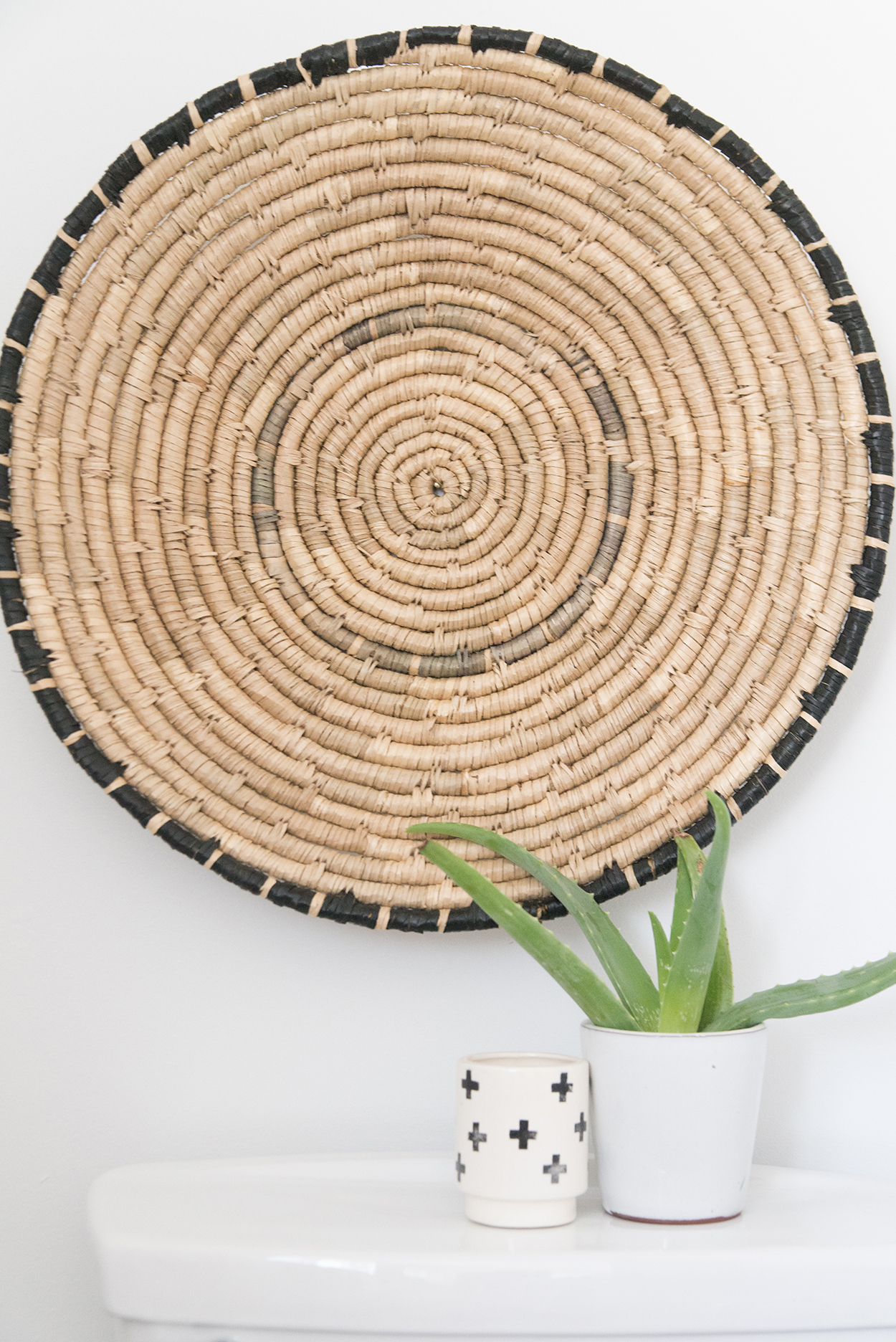 Being flexible on the countertop helped us save some money too. Instead of buying a whole slab that half would go to waste, we used a remnant piece the finisher had in his shop. I just told him I wanted something white and he sent me a couple of pics of what he had and that was it. I didn't even see it in person before the day he installed it, but as you can see it worked out perfectly. He was happy to make use of it and gave us a very good price to finish and install it.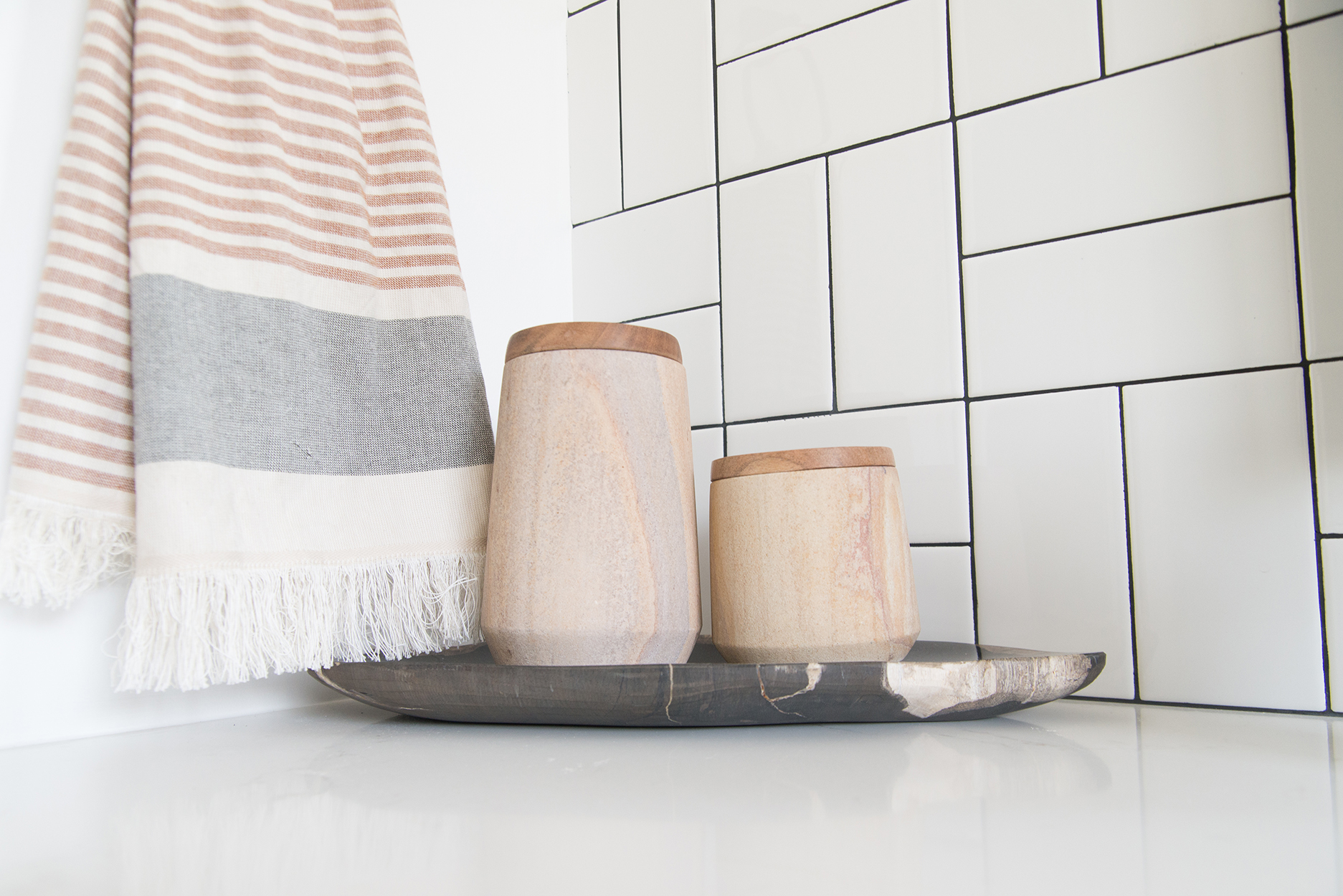 Several accessories were brought in from Home Goods for styling purposes. I spent a couple of hours searching Amazon to find all the finishing touches like towel bars and lighting fixtures. I've learned a lot about making design choices over the past couple of years, and for the first time choosing all this stuff was actually really fun.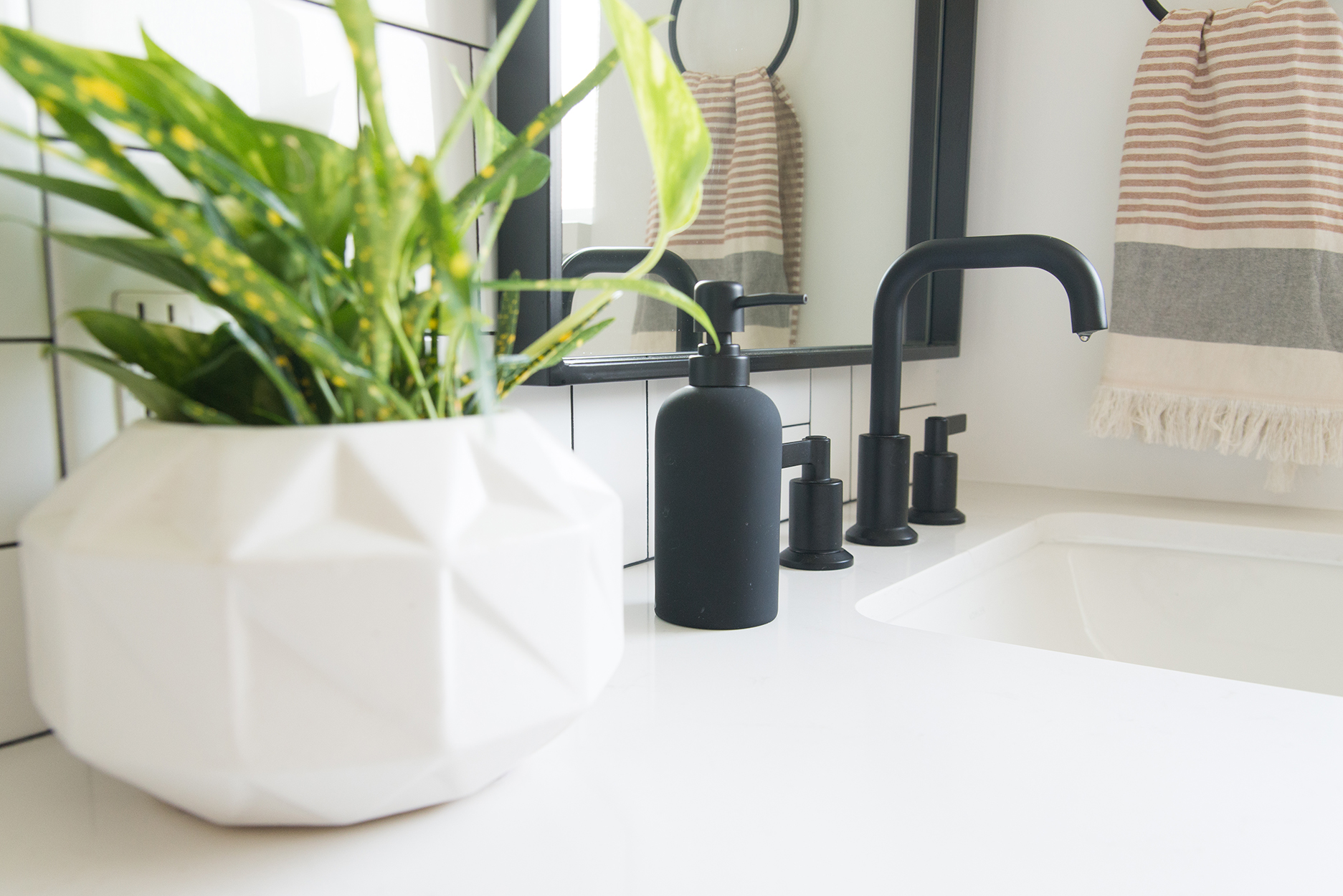 Kendall came up with the backsplash tile design which I love, and after the grout fiasco in Taylor's bathroom, I knew I wanted to go as dark as possible for a boys bathroom. I love the way it makes the white subway tile pop and how uniform it makes the black floor look.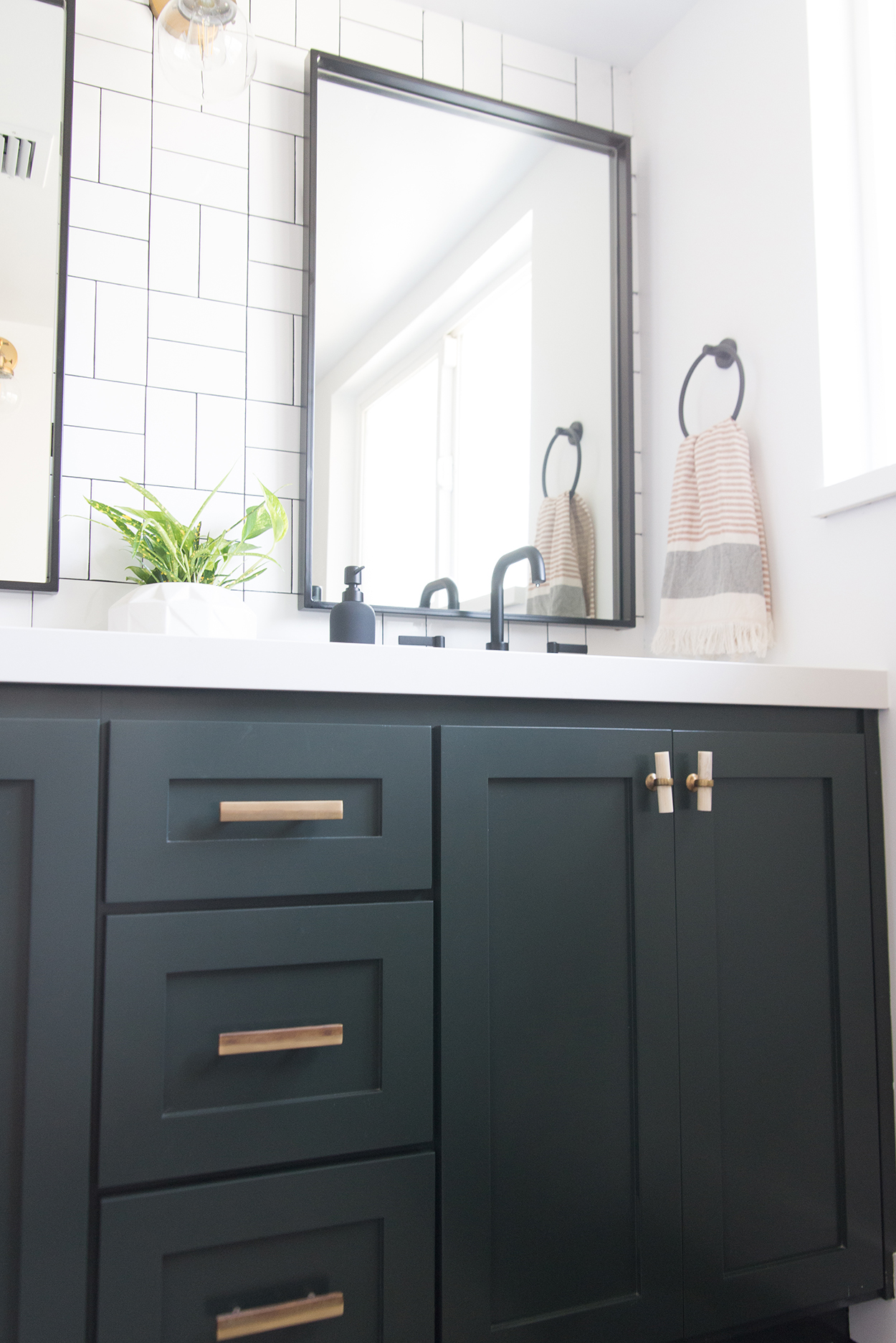 I love the darkness of the cabinet and the flooring against the bright white walls and tile, and overall the room feels bright yet moody, without feeling dark or sterile. The darker floors and cabinets do show dust and water marks quite easily, so I do regular wipe downs in there every other day, but nothing too difficult that I'd choose a different color next time.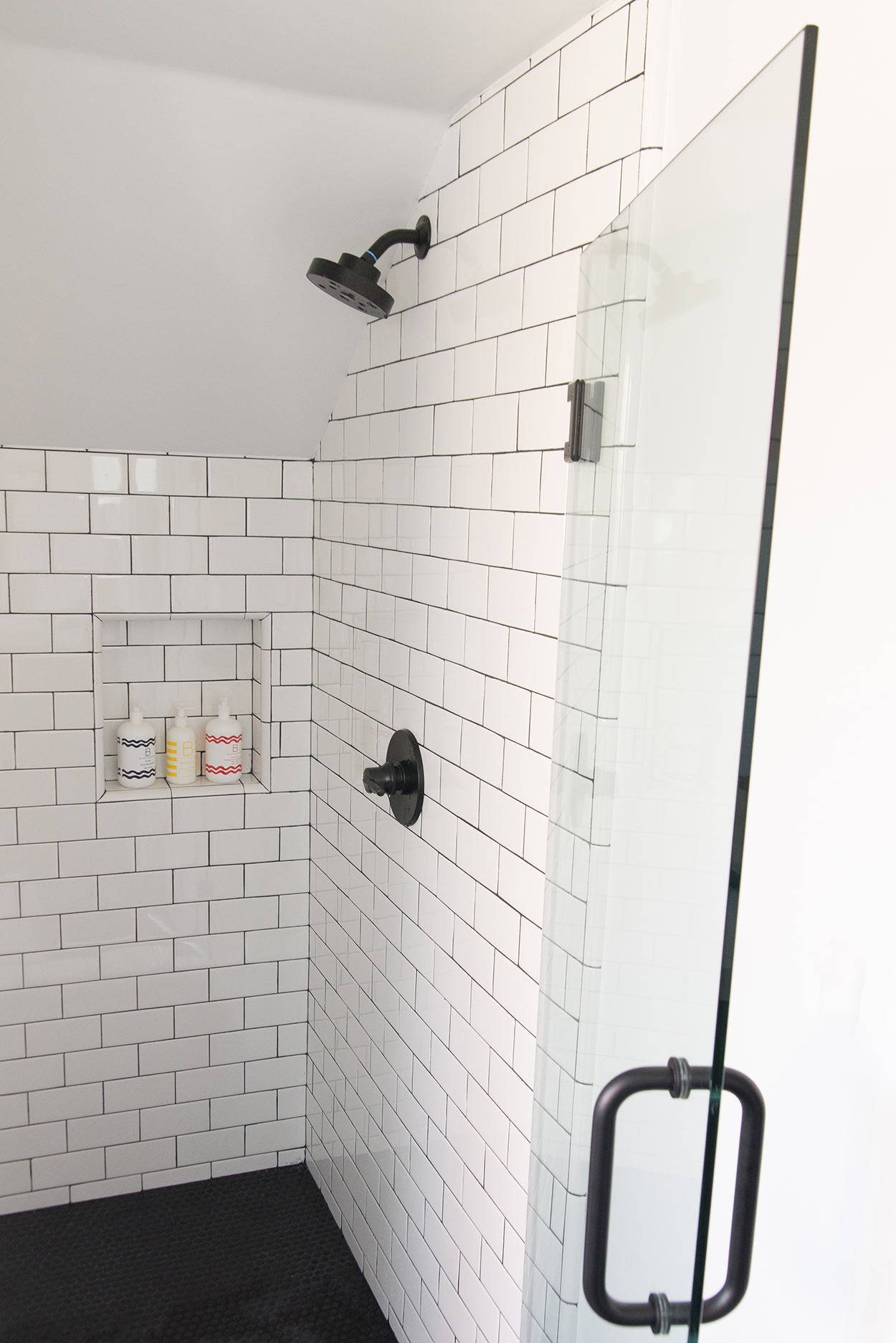 Tips for a smooth remodel process
Create a Pinterest board to gather and organize inspiration.
Be patient in planning and execution; expect the project to take longer than anticipated.
Be flexible with sourcing items. Don't feel like you need to do a one stop shop to get every item from one place.
If you are going to be the general contractor, research the steps of the process ahead of time, as to avoid mistakes. For instance, one mistake we made was to order the custom shower door with the measurements of the old tile. The door should have been ordered after the new tile was installed to ensure a correct fit. Luckily, they were able to salvage it.
Remodel Regrets
With every home project, there are always a couple of small (or big) regrets that one has. There were really only 2 I had with this project:
The light fixtures were really difficult to install. I love the look of them, as well as the price, but I wish I would've paid attention to the warnings in the reviews. Next time I would be a bit more patient and search around more.
The knobs from Anthropologie are terrible and I would never buy knobs from there again. As you can see in the picture below, they have a heck of a time staying on tight and always look crooked unless we tighten them up every day. We also struggled with installation since they come on a long bolt that needs to be shaved.

boys bathroom product sources
Custom Products:
Bathroom cabinet: custom built paint color is Midnight Spruce by Dunn Edwards
Mirrors: Custom by RadWeld Customs
Shower Door: Custom by Long Beach Glass
Countertop: Quartz remnant piece our contractor had in his shop
Building Materials: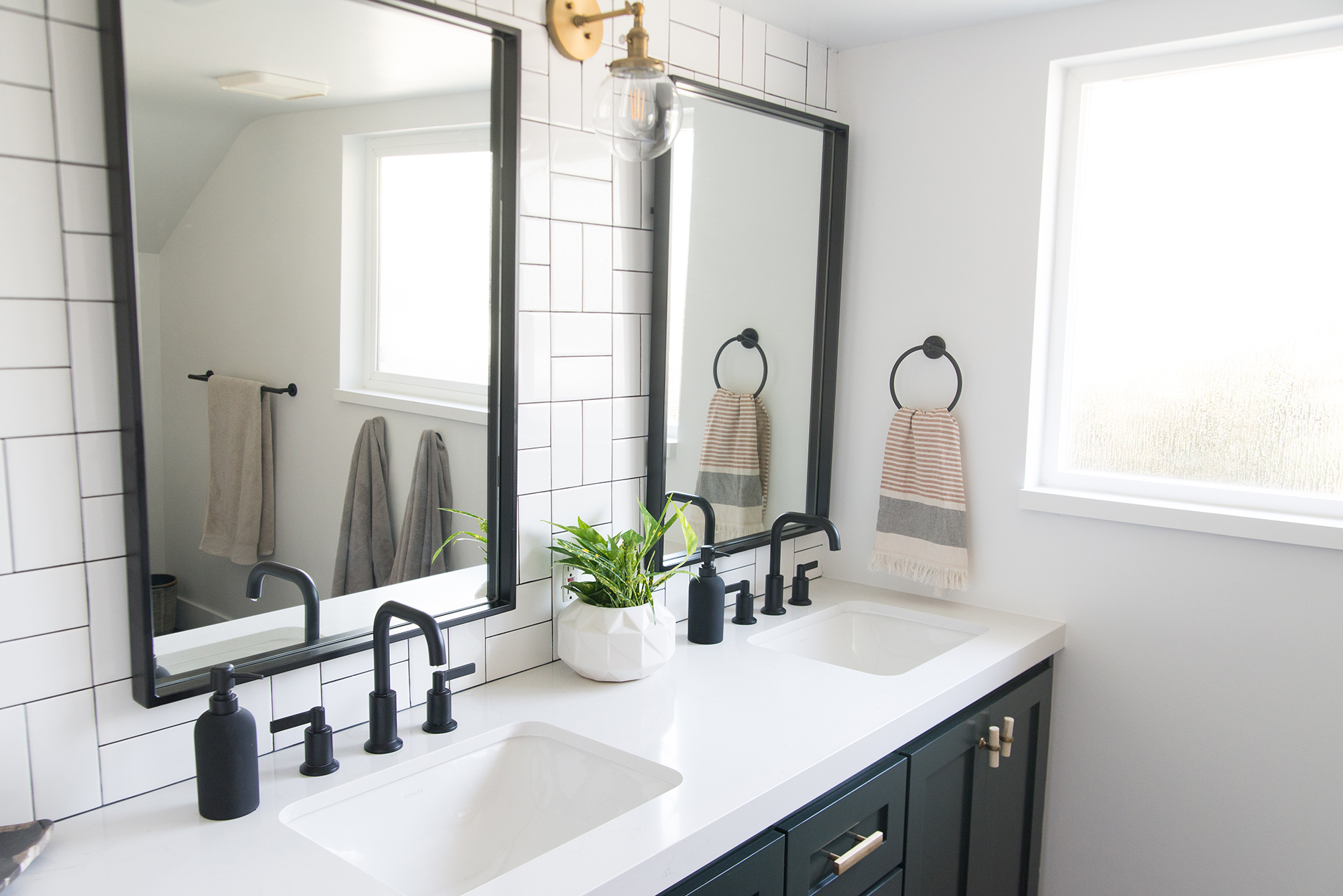 Accessories: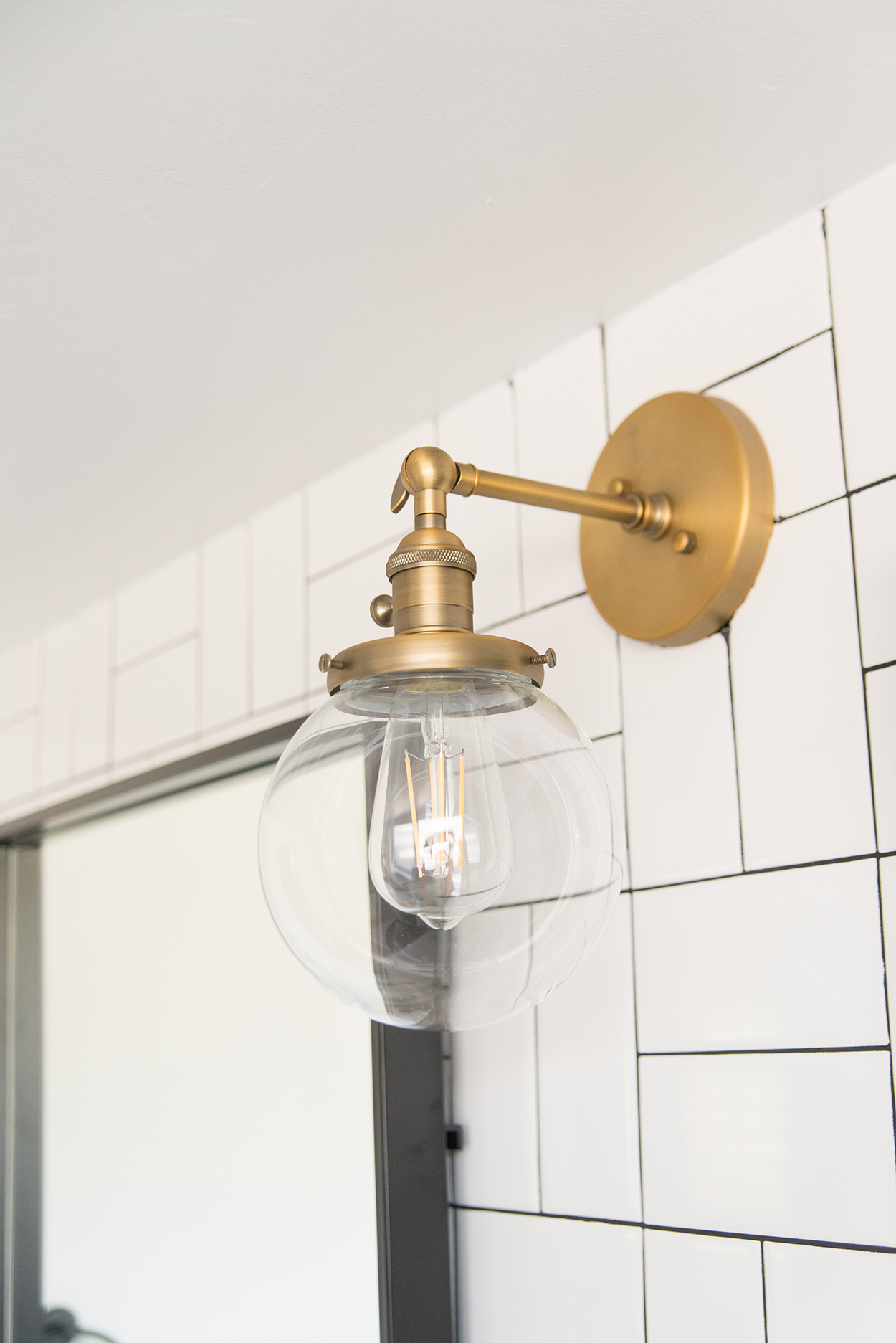 The boys bathroom is now my favorite room in the house I think, and I love that with a little creativity and patience, we were able to get it done well within our budget.