I don't think any other room in our home is wearing quite as many hats as our office, and I am so thankful to have her done and working hard.
Part home office, part TV room, part Wii game room, part reading quiet space and part Beautycounter in-home consultation studio, I put forth quite the challenge to a friend who agreed to help me complete the space. Not only did we need the room to be functional and fit all these requirements, but I also wanted it to feel light, colorful, calm and feminine. I knew I wanted the colors to be a blush pink and deep green, originally thinking I wanted to go with emerald. But the fabric I ended up falling in love with for the couch was in a earthy forest green, so we went a little bit away from pink and green glam, to pink and green earth tones, mixing in leather, wood, wicker and lots of plants.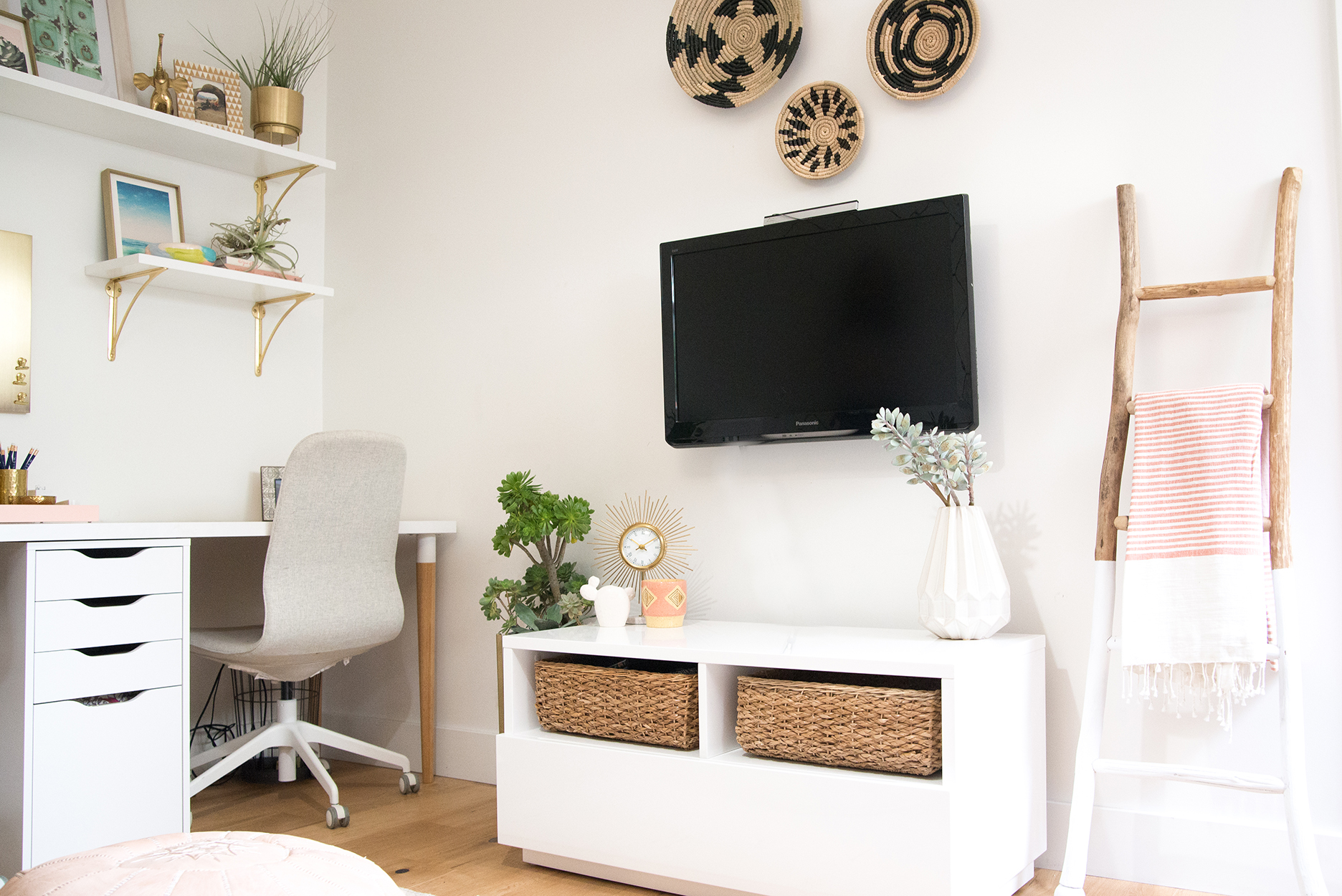 We've had the Ikea desk and chairs for over a year now, but it sat against a dull blank wall that lacked any form of organization and inspiration. Bills and paperwork were just piled high on top of the desk, and I squeezed my laptop somewhere alongside the stacks. The first order of business then was to go back to Ikea and pick up the filing cabinet that would also serve as a dividing line between the two chairs.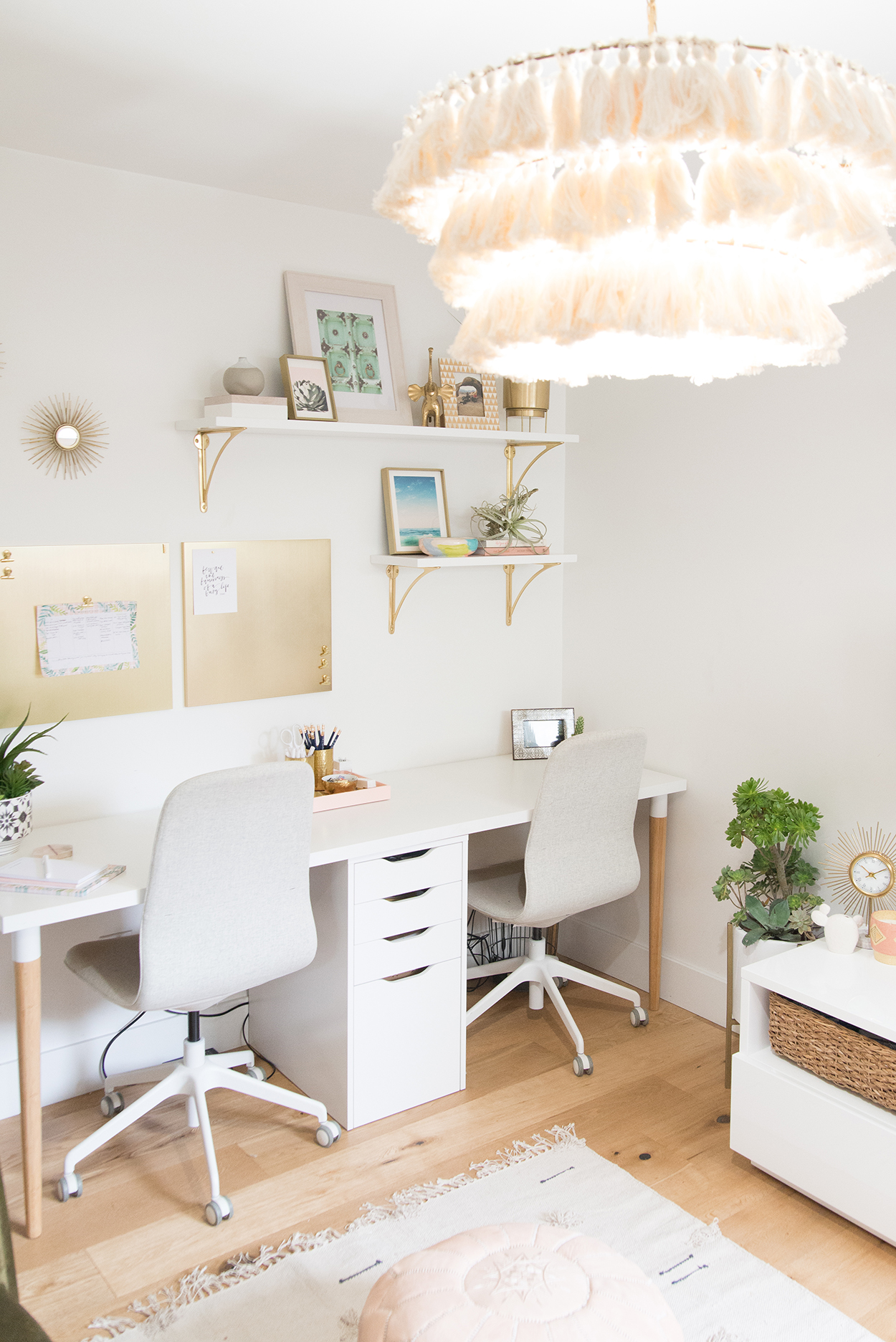 Next, we needed a couch that would be small enough for the space, but also utilize the longish stretch of wall, so we opted for this extended love-seat style couch with a single bench cushion, which comfortably seats 3, or a single adult laying down. I also needed a large mirror so that clients who come over for 1 on 1 appointments can look at themselves to check colors and shades of makeup.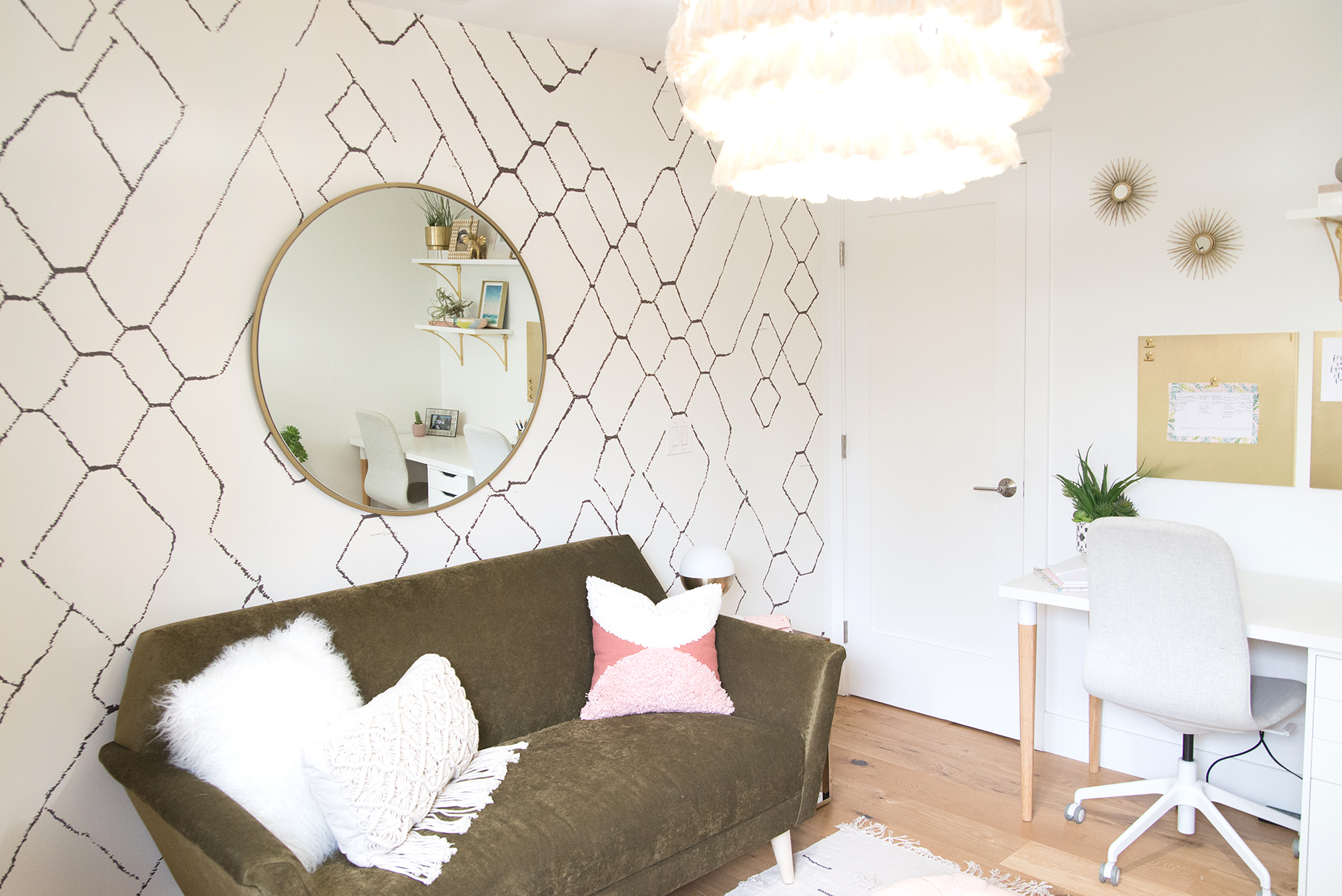 The media center is from CB2 and has a sleek single drawer to hold the Wii and all the games and controllers that go along with it, as well as DVD's and remotes. I searched for a smaller media console for months, and this was the nicest looking one I found at the most affordable cost.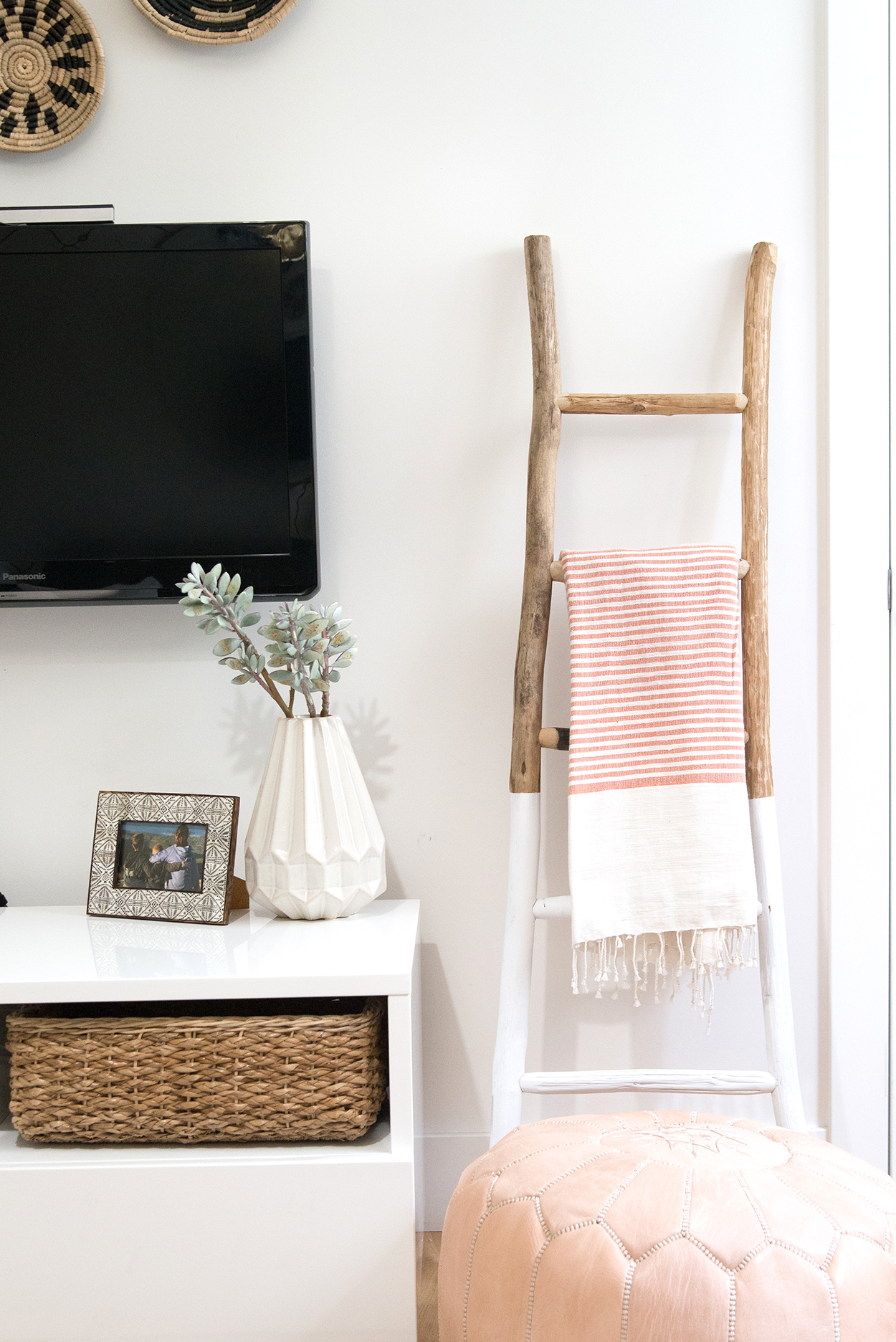 The room is about 8'x10′, so it's not super large and we wanted to do a lot with the space, so instead of a coffee table, we opted for poufs that could be moved around, serve as step stools, extra seating and another decor element. I love that the tan leather resembles a shade of blush pink.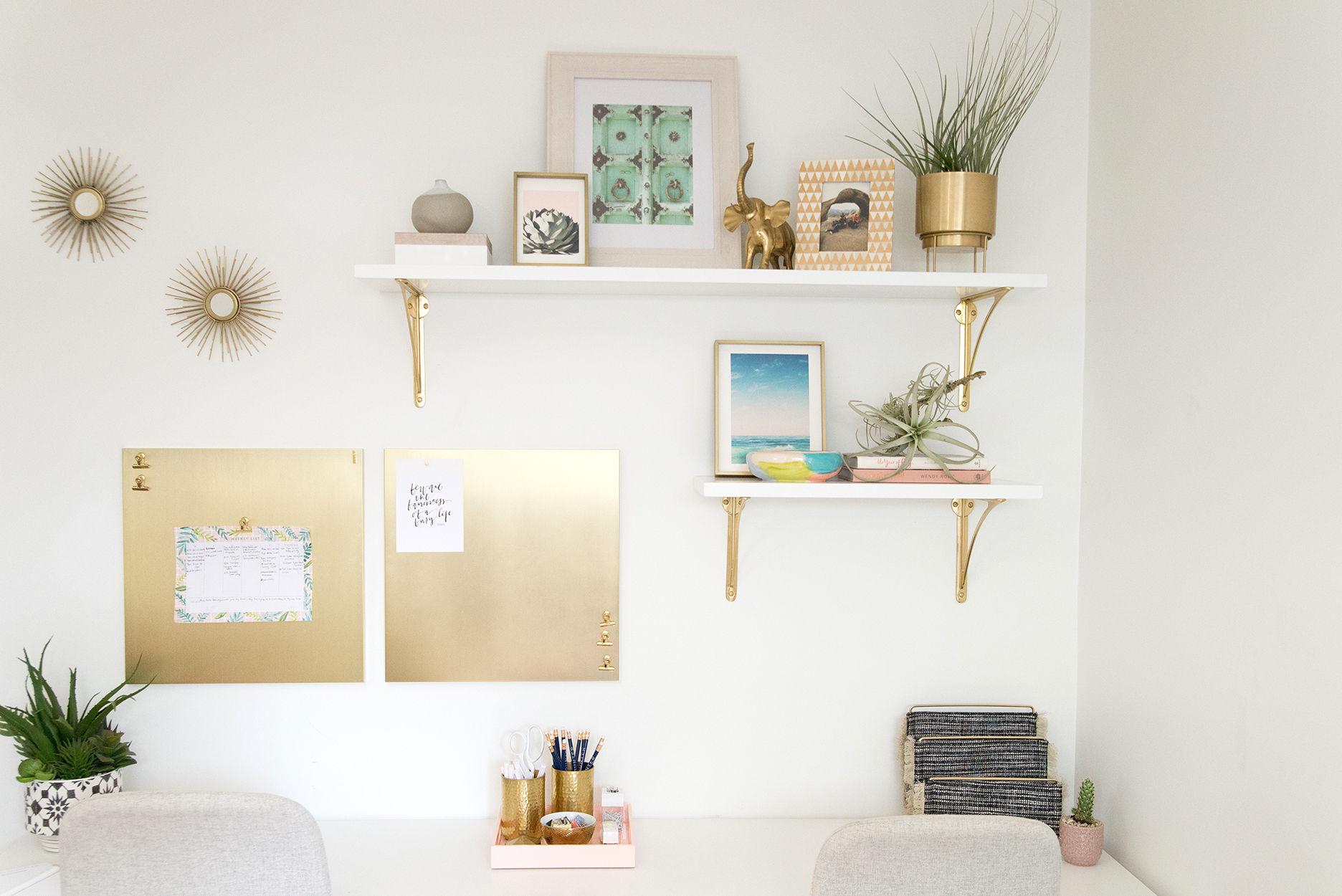 I wanted as many things off my desk as possible, with the exception of basic and often used office supplies, a file sorter to hold bills and important paperwork, and some sort of cork/magnetic board that I could affix other important notes & pieces of paperwork I wanted to keep front and center. I originally thought I would hold a lot of books on the shelving units, but I'm glad we opted for artwork, plants and decor instead.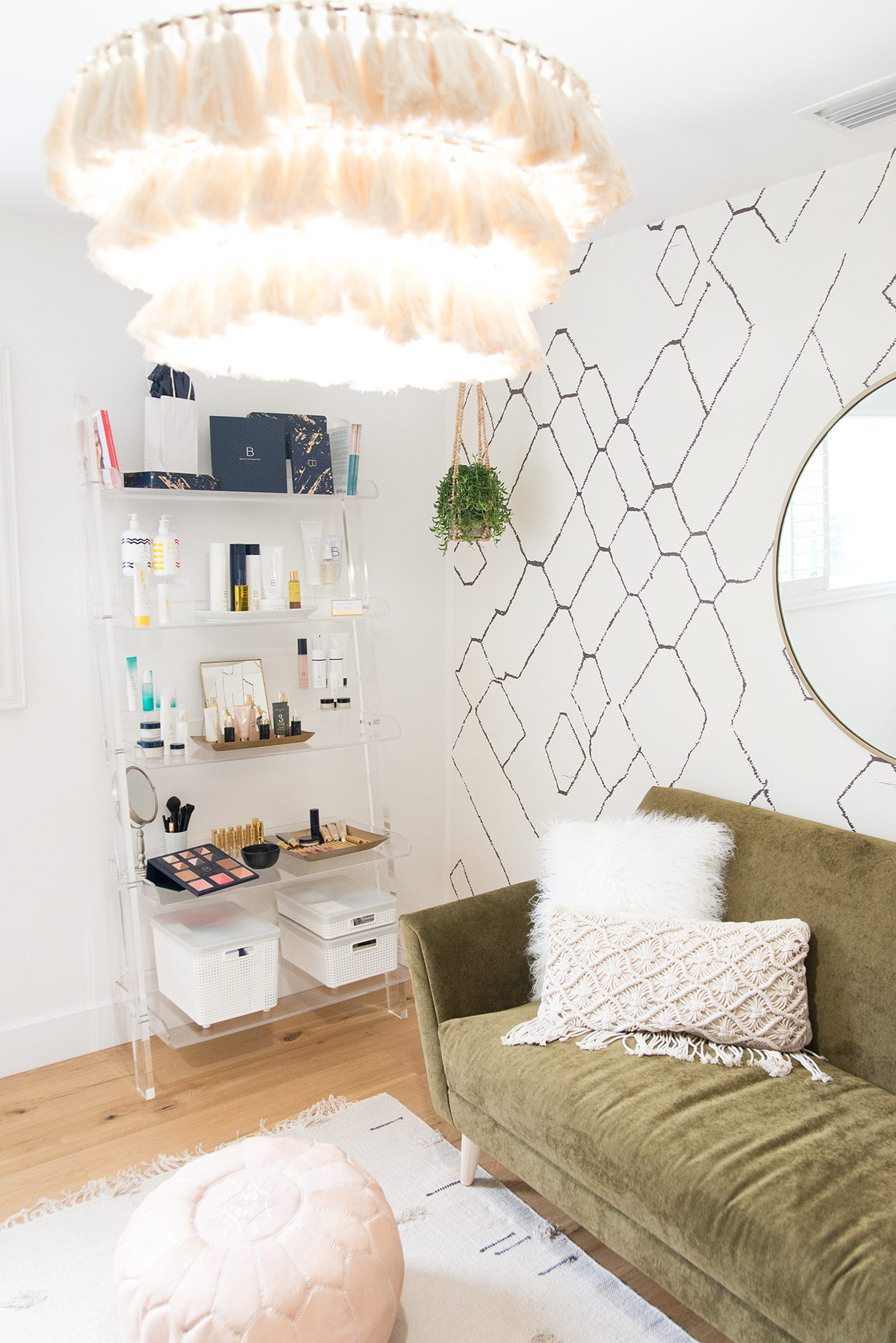 I wasn't so sure about the chandelier when I first got it, thinking it was a bit too boho for my taste, but it has definitely grown on me and I now love it. It really adds a very feminine element to the room. The acrylic bookcase is from Wisteria and makes for the perfect display case for all my Beautycounter product. It helps that the packaging is also so pretty.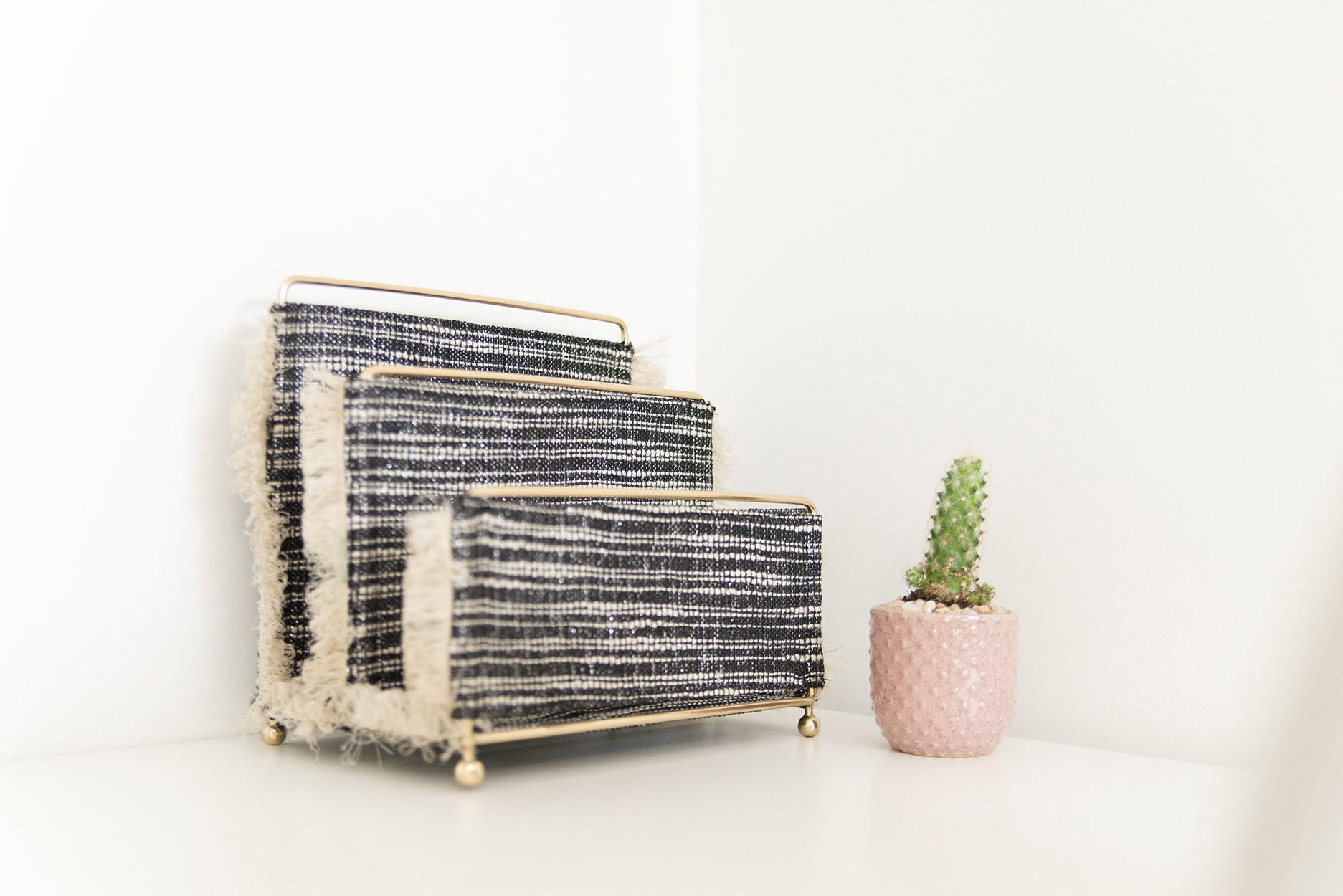 The biggest splurge in the office is this silly paper sorter, but it's so cute and keeps the bills right in front of me so I don't forget to pay them. I am admittedly bad at remembering to pay bills on time. It's the one area of my life that often leaves me feeling like a flighty college kid instead of a competent adult.
The office doesn't get a ton of light, so most of the plants are faux, like this one. The 2 plants that were alive at the time of shoot are now both dead.

Besides the color scheme of blush pink & green, I knew I wanted the office to reflect the desert and sea of my home state of California, hence the succulents and ocean print.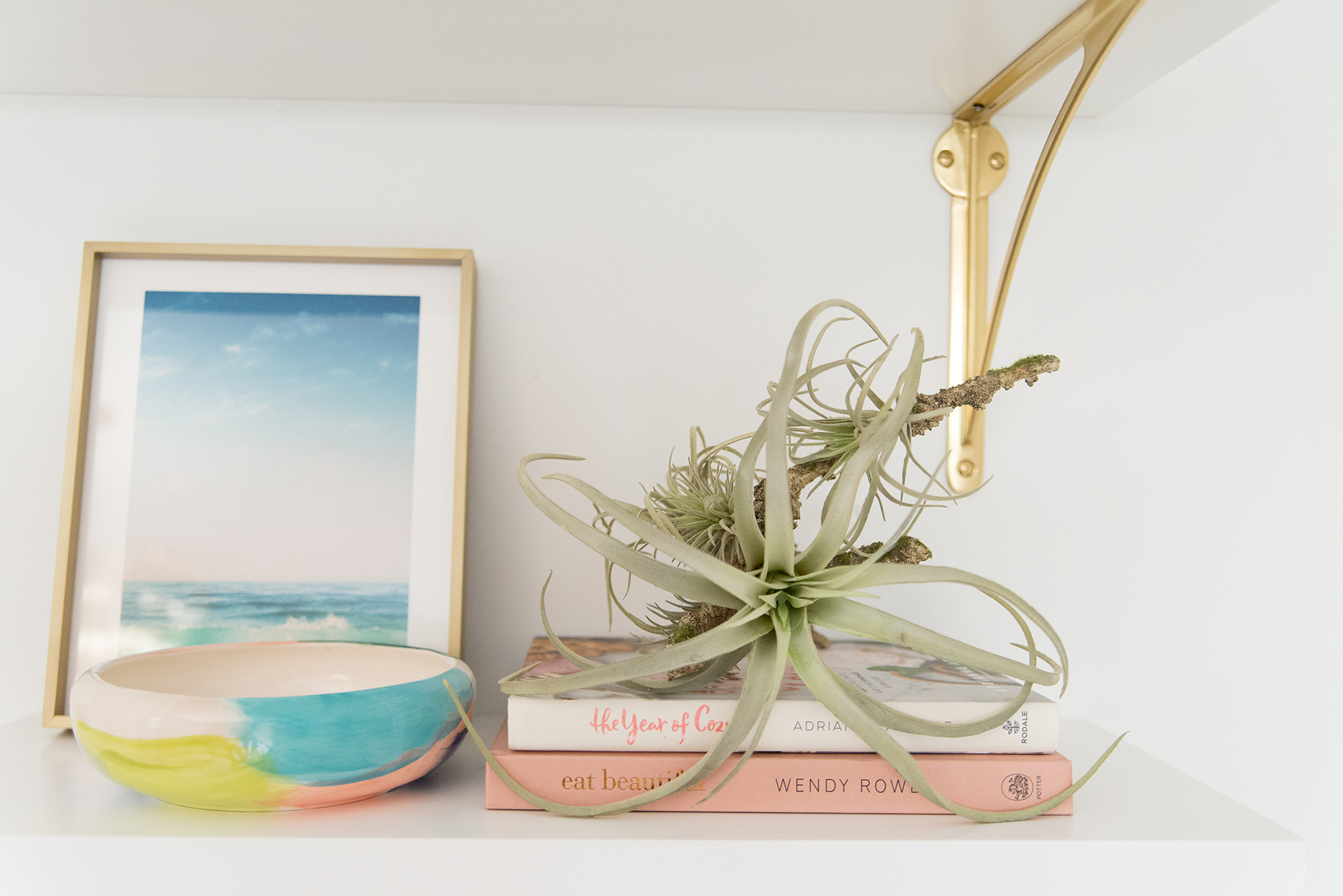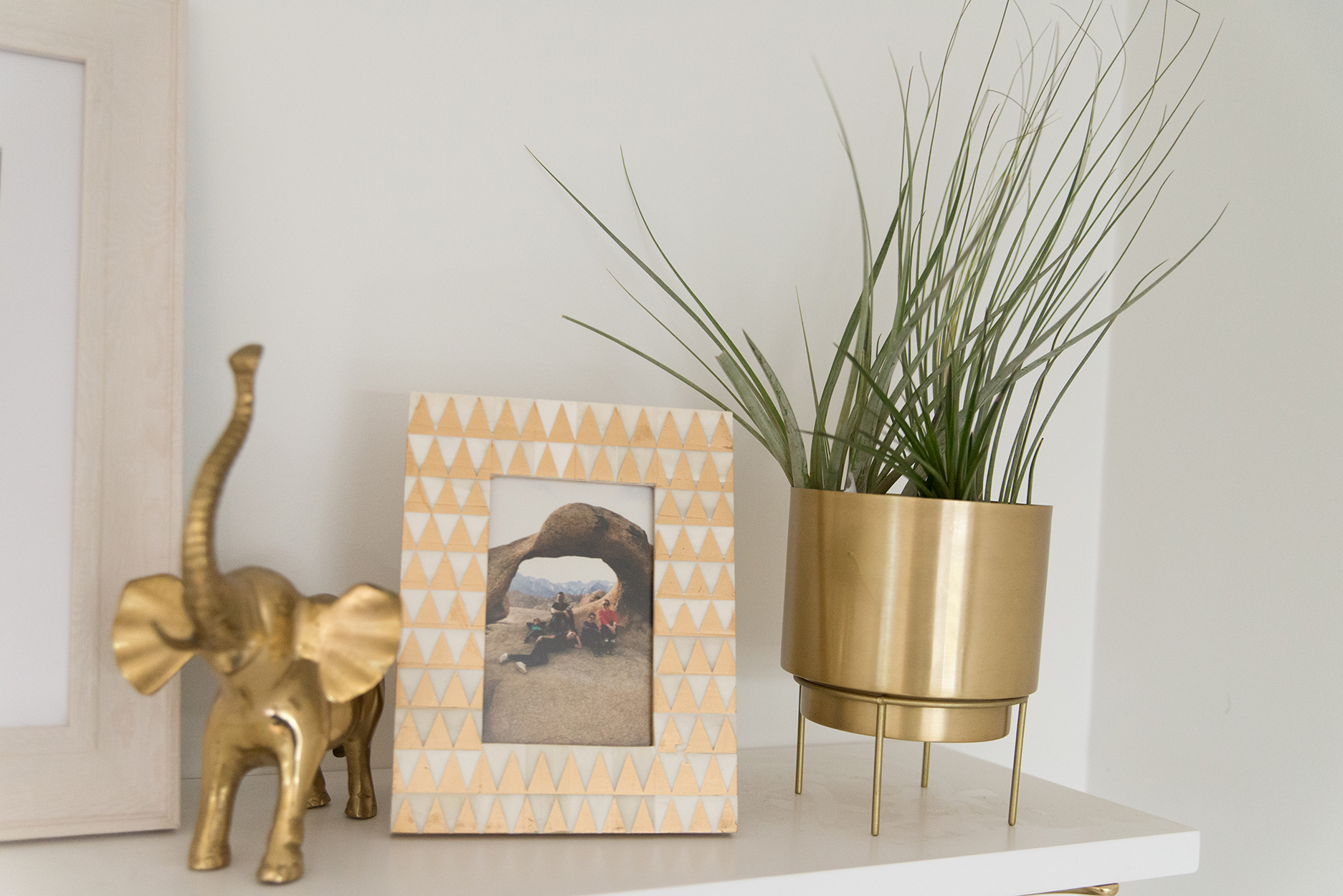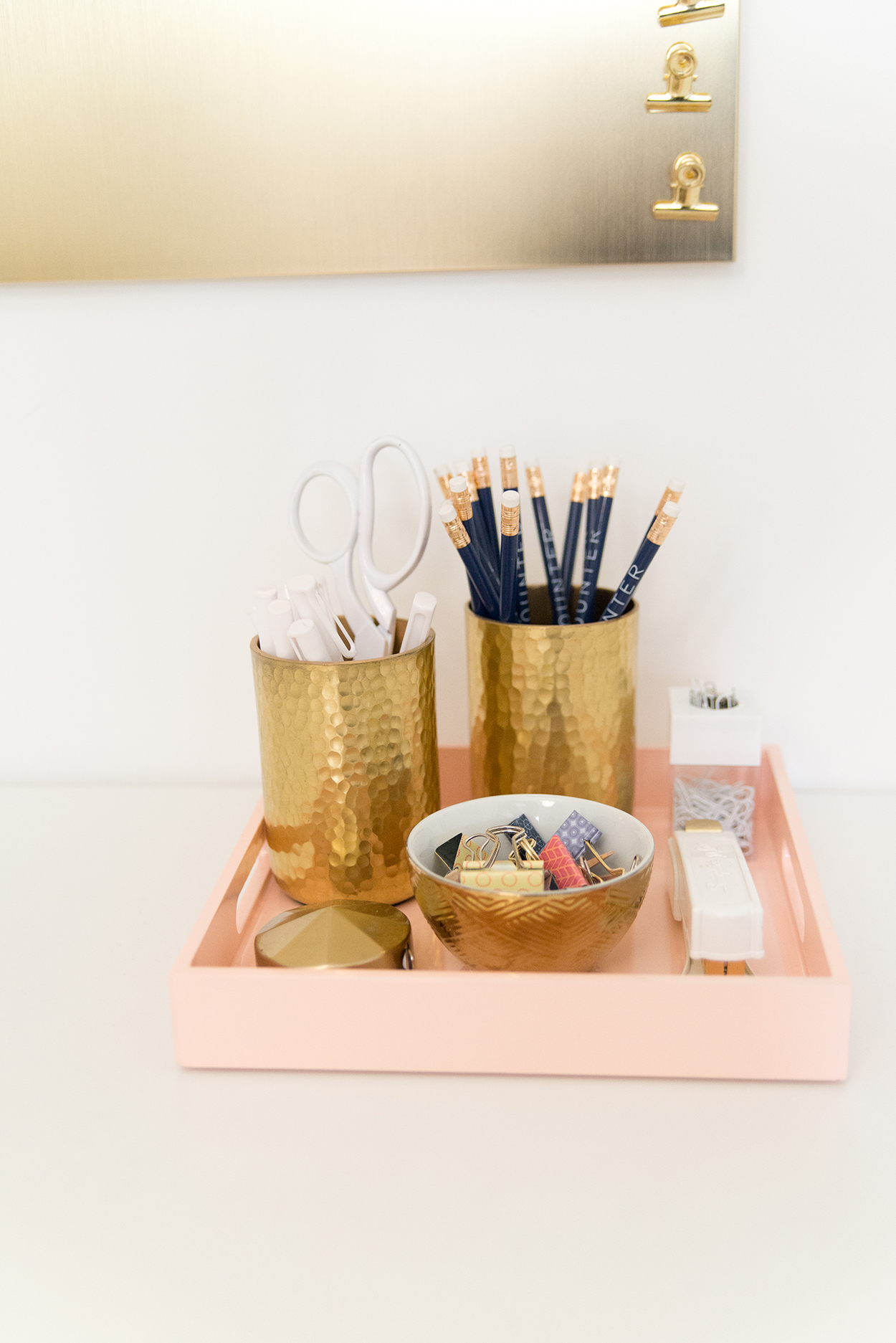 When Kendall originally found the wallpaper, we thought we wanted to do the whole room with it. Then we cost it out and it was going to be well into the thousands to wallpaper all the walls, even it being a small room it was just way too cost prohibitive. She searched for something similar, but never found an alternative we loved as much, so in the end we decided to just do the one main wall and I'm glad we did. It makes such a statement and I was able to get the paper I really wanted, without going way over budget.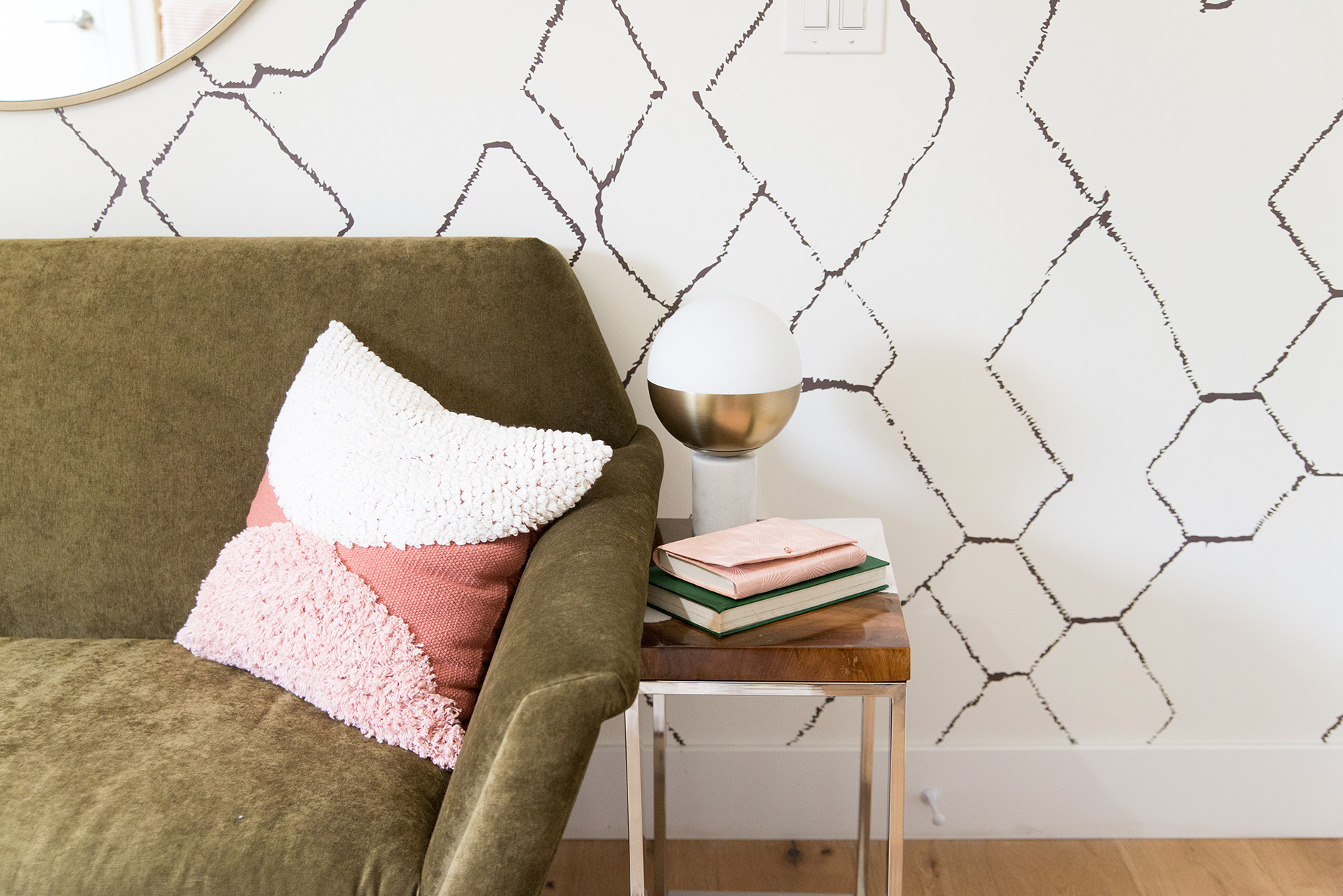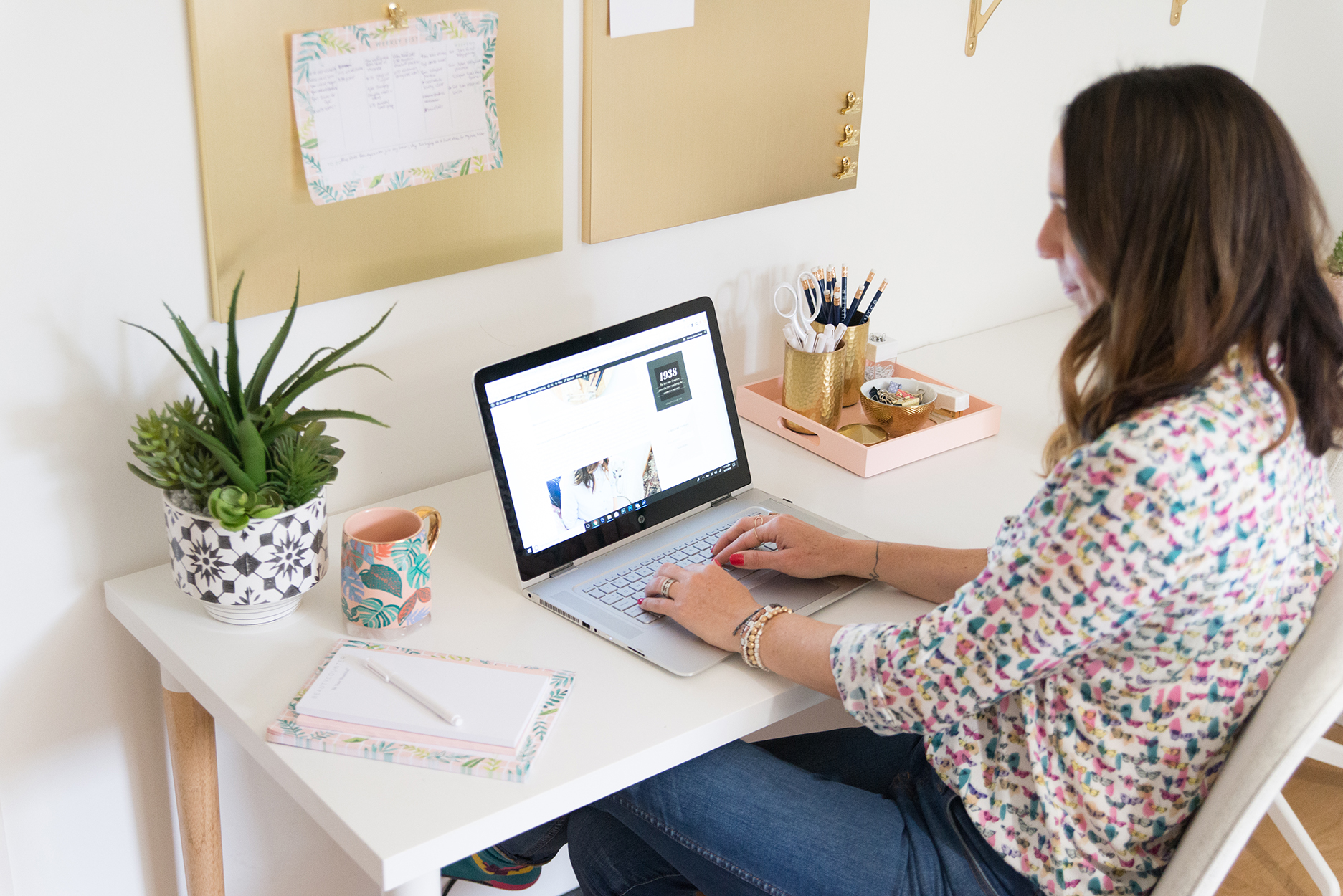 I am so thankful to have such a functional space to host clients in, write, work with my team, sneak away from my noisy house and read, and it's especially great that the kids also feel comfortable calling this room theirs too.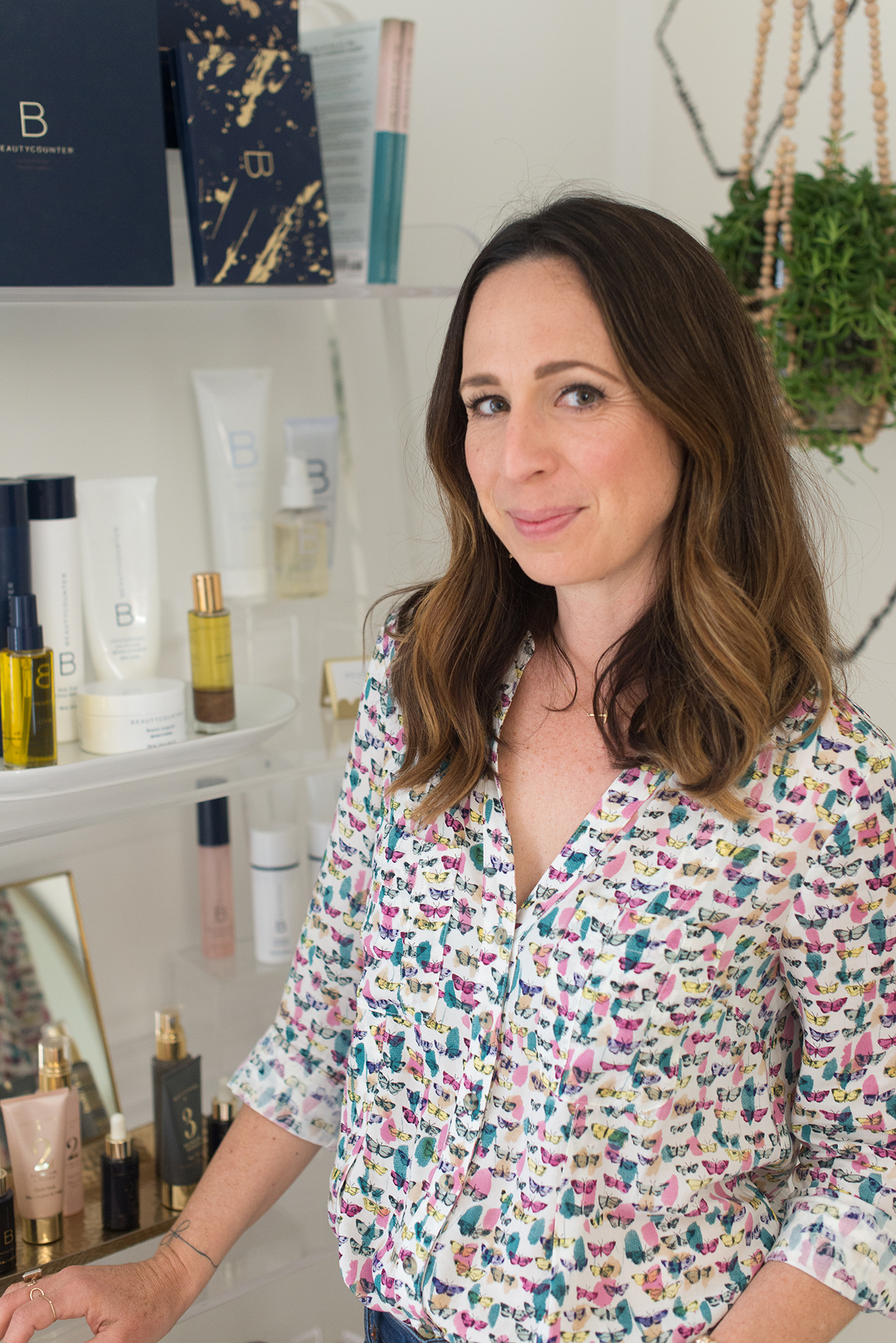 Sources:
Bookcase: Wisteria
Couch: Chartreuse Home Furnishings
Poufs, chandelier & wallpaper (technically a wall mural): Lula & Georgia (all linked below)
Rug: Urban Outfitters
Side Table: Home Goods
Small table lamp & pillows: Target (all linked below)
Accessories: Target, Home Goods, West Elm, Paper Source, Anthropologie (all  linked below)
Mirror & large planter stand: Radweld Customs
Media Center & Magnetic Dry Erase Boards: CB2 (all linked below)
Linnmon Desk and Alex Filing Cabinet & Chairs: Ikea
Wall Shelves: Rejuvenation
Pink Agave Art Print & Malibu Surf & Sky Ocean Print: Minted
Ceramic Dish: Luna Reece Ceramics
All photography by Miranda Stratford of M. Shanti Photo
Styling & Design by Kendall Crichton
Sign up for my emails & newsletter to receive exclusive content, straight to your inbox