We checked off another National Park visit over spring break, this time to Joshua Tree. My husband had been several times as a Boy Scout, but despite it only being 2 hours away from home, I had never before visited, and it sure was amazing to finally see!
Known for its vast swaths of desert land inhabited by thousands of Joshua trees, as well as huge mounds of climbable boulders that pretty much just pop up out of the ground, this national park is a popular destination because of its close proximity to such large cities and unusual landscape.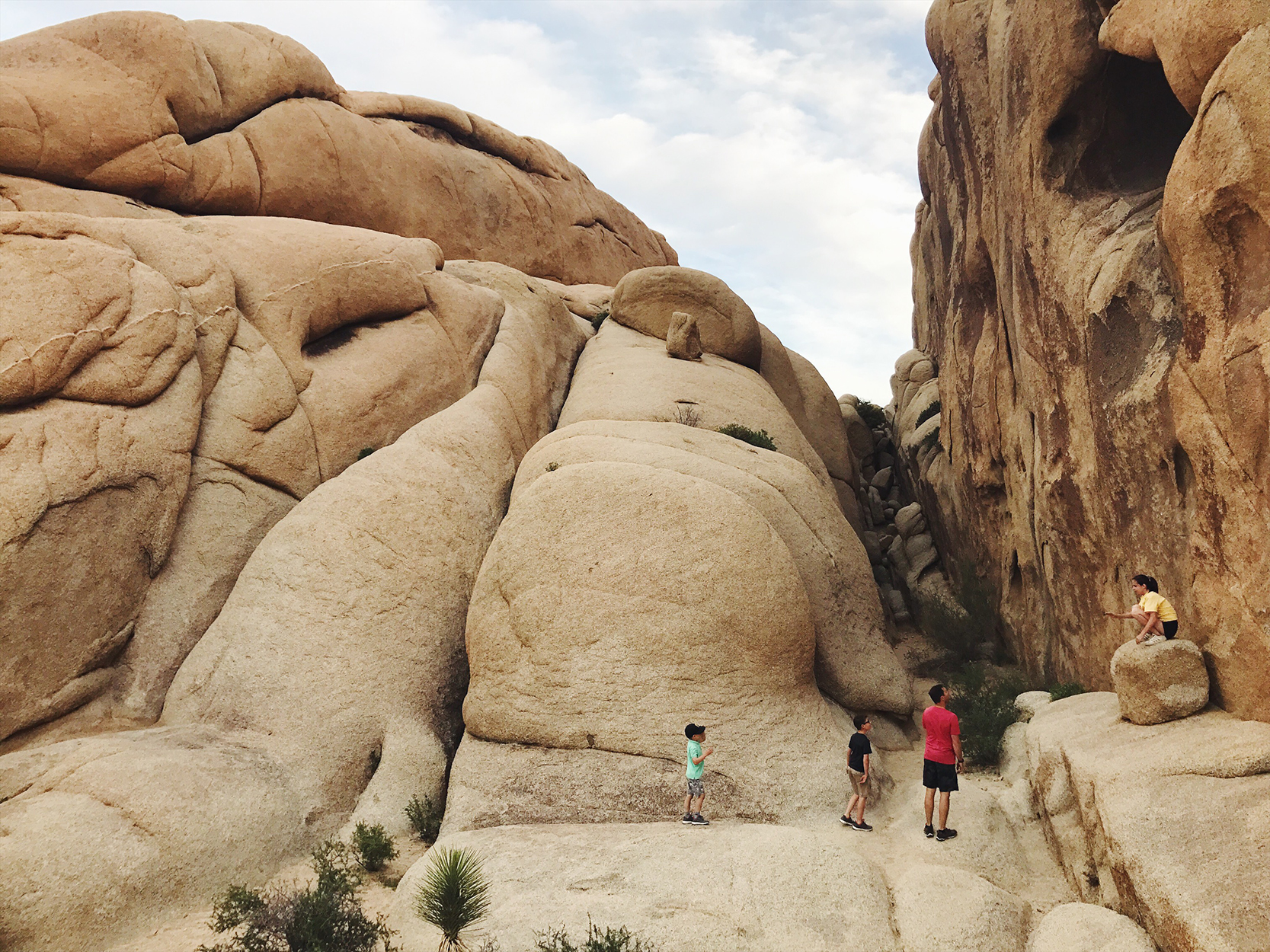 Where to Stay:
As with any national park, there is no lodging inside of the park. Since I've only been to 10 of the parks I can just speak from my limited experience, but the nice thing about Joshua Tree is that you can stay in any of the little towns, from Yucca Valley to Joshua Tree to 29 Palms, and have easy access to the 2 main entrances to the park. If swanky hotels are your thing, you won't really find any options out there, but that's okay because there are plenty of smaller clean hotels to choose from, as well as an increasing number of vacation home rentals. We personally rented a nice 2 bedroom 2 bath house in Yucca Valley, through VRBO, and it had plenty of room for us all, a bed for each child, and of course a full kitchen we could take advantage of.
If camping is your thing, there are 8 camping sites to choose from that accept tent and/or RV camping. 4 of them, including Black Rock, Cottonwood, Indian Cove and Jump Rocks all require reservations ahead of time. The other 4, including Belle, Hidden Valley, Ryan and White Tank, are first come, first served.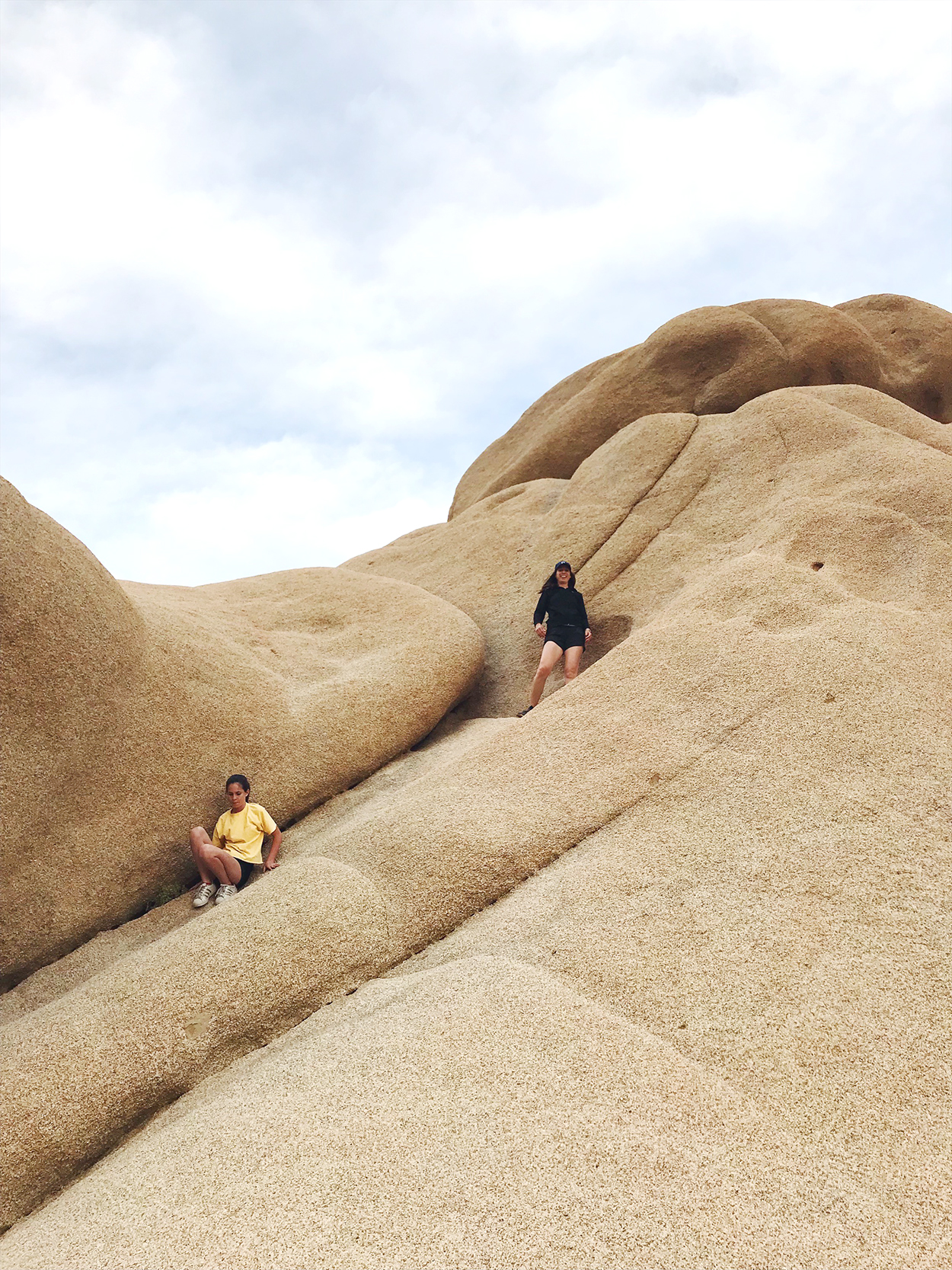 What to See:
The national park is quite large, so if you have more time and perhaps aren't traveling with a family, your itinerary may look different that the one I suggest. But, if you are traveling as a family and have limited time, I suggest sticking to the main boulder areas in between the Park Blvd Visitor Center and Oasis Visitor Center. Make sure you stop at either of the visitor centers or plan ahead and get a map, and stick to the green shaded area on the map, where you'll see such highlights as Quail Springs, Hidden Valley, Hall of Horrors, Jumbo Rock and Skull Rock. There are several other amazing places to stop and visit besides the ones I mentioned, but this mix will give you a good taste of the different boulder climbing options and offer nice trails to take easy walks/hikes on. Split Rock, Barker Dam and Ryan Mountain are also supposed to be great places to visit, especially with kids, but we just couldn't do it all in the time we had.
Unless you have several days to really get around and visit many sites, I suggest just picking a few boulder sites and a couple of walking trails, and call it good. Each site is unique and has something special to offer, but don't get stuck on the idea of trying to see everything, because choosing a few will still give you a wonderfully varied experience and leave you feeling satisfied that you've gotten a taste of the beauty that Joshua Tree has to offer.
If we had one more day to visit, we would have arrived at the park later in the day, did an hour or two of bouldering and then stayed for one of the night time after dark programs, which give an opportunity to learn about the areas history and culture, the animals, especially the nocturnal ones that inhabit the park, and of course stargaze. Evening programs are limited, so make sure to check it out on the parks website ahead of time and plan accordingly. We had planned to attend an evening program one of the 2 days we were there, but we were just too dang tired at the end of each day and wanted to just head home. Turns out climbing around on those big rocks is pretty tiring, even for the young ones 😉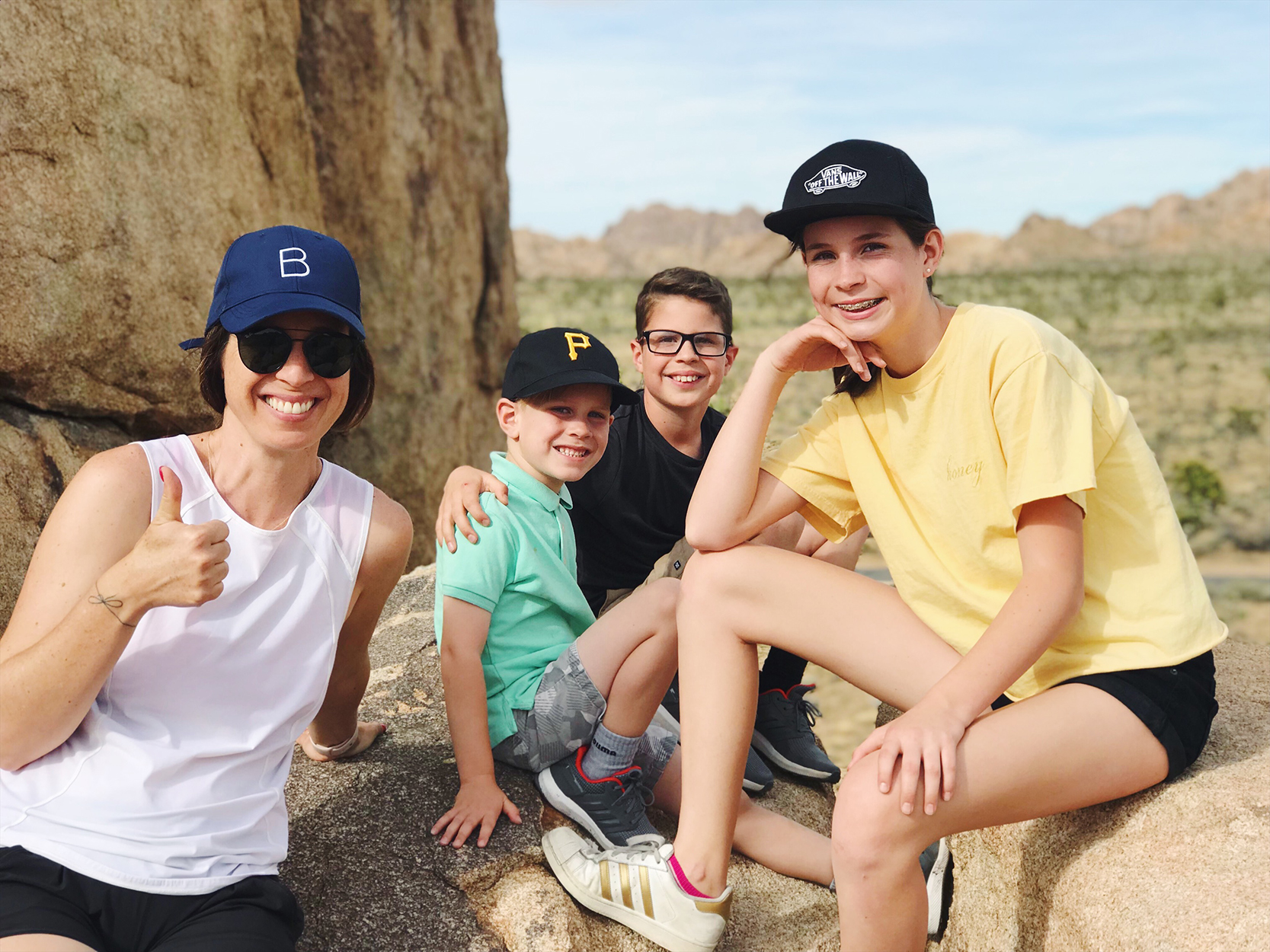 When to Visit & What to Pack:
Ideally, Fall and Spring are the best times to visit because of the milder temps. It is the high desert, so temperatures don't get *as* hot as lower desert, but it of course still gets quite hot and chilly at night. We had perfect weather of 65 at night and 80-84 during the day. Even with these mild temps, it we got nice and hot because of the physical activity and exposure – besides hunkering underneath a big boulder, there isn't a lot of natural shade to escape to. If you're tough, you can visit during the Summer, but stick to exploring during the early morning hours.
Both days we visited, we started our adventures about 2 pm and stayed through sunset at 7ish. Depending on where you're staying, you could visit early in the morning, leave for a couple of hours in the afternoon, and then head back in for early evening. Our kids loved sleeping in and taking it easy, so choosing a later start time worked out well for all of us.
In total I'd say we spent about 11 hours between 2 days exploring the park, and we didn't even see half the scenic spots. But, as I said above, we saw enough to leave us feeling like we really experienced the Joshua Tree. Remember, we were traveling with 3 kids ranging in age from 5-12, so we had to strike a good balance so no one got cranky or hurt. Bouldering can be quite dangerous, so the last thing you want to do is have kids climbing around on rocks when they're tired and may be more careless.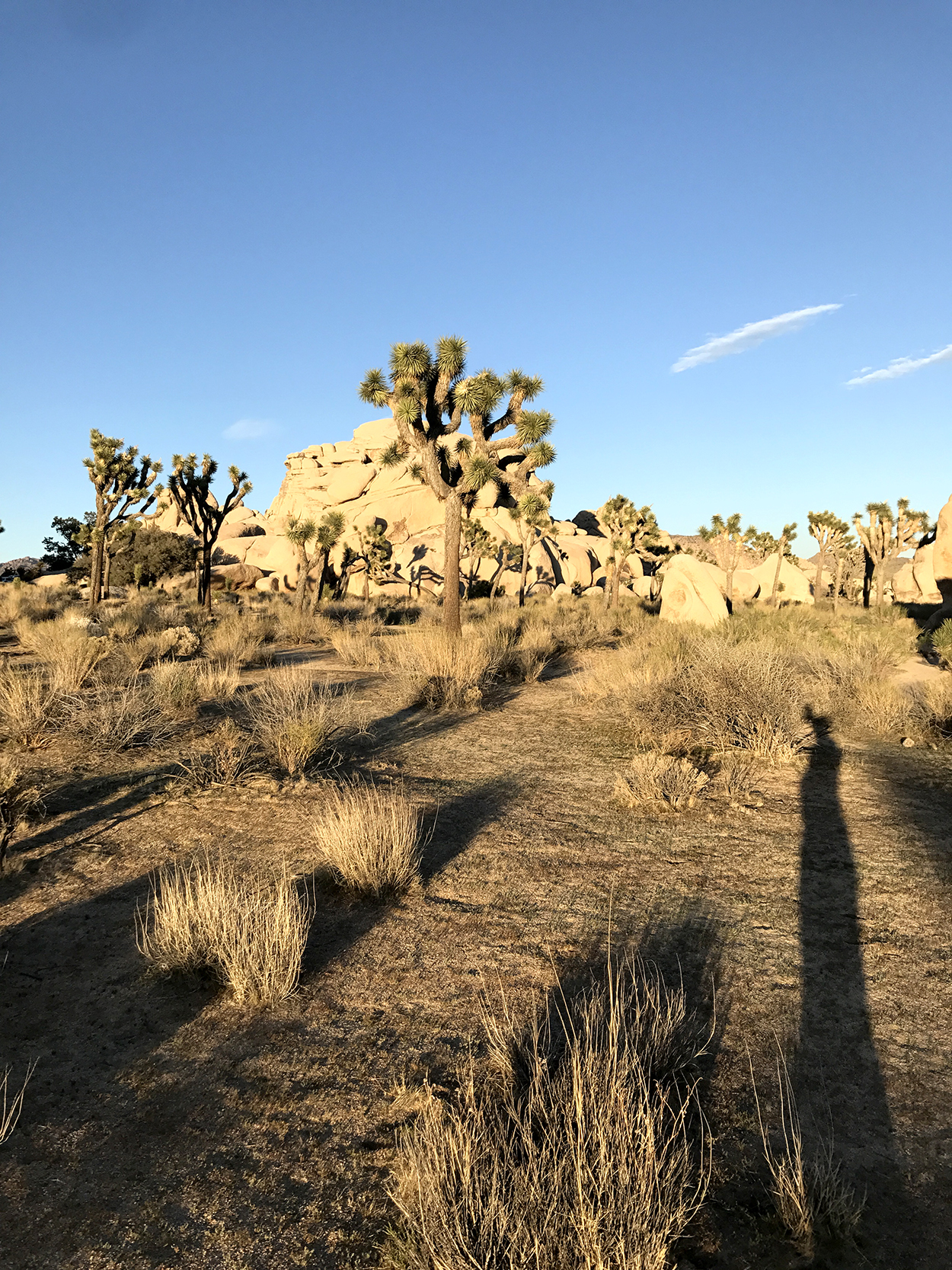 Hydrate, hydrate, hydrate! Bring plenty of water, more than you think you'll need, because the dry desert heat mixed with the activity will leave everyone thirsty as heck. Even if you think you're just going to get out and climb around for a few minutes, or take a short walk, bring a backpack with some water. I promise you won't regret it.
Unlike some other national parks. there are absolutely no places to stop for food or drink, so pack plenty of snacks, and of course pack a lunch or dinner picnic if you plan to stay in the park for a few hours. We had a lovely picnic dinner on our second night, and I even enjoyed a small glass of wine as Hayden and I took a casual stroll along a walking path in Hidden Valley, while Art and the big kids climbed boulders. Seriously one of the most special moments of my life as a parent was just strolling along and looking at flowers, as the sun set in the background. The wine wasn't necessary of course, but it really made it feel even more like a relaxed vacation moment 😉 Pack your favorite nonalcoholic beverage if you don't like to booze it up ha!
Pack a blanket or two to spread out on a boulder to watch the sunset, or wrap around yourself if you get cold. Pack a lightweight jacket and maybe even a pair of pants, because the temps do start to drop as the sun sets and the winds pick up.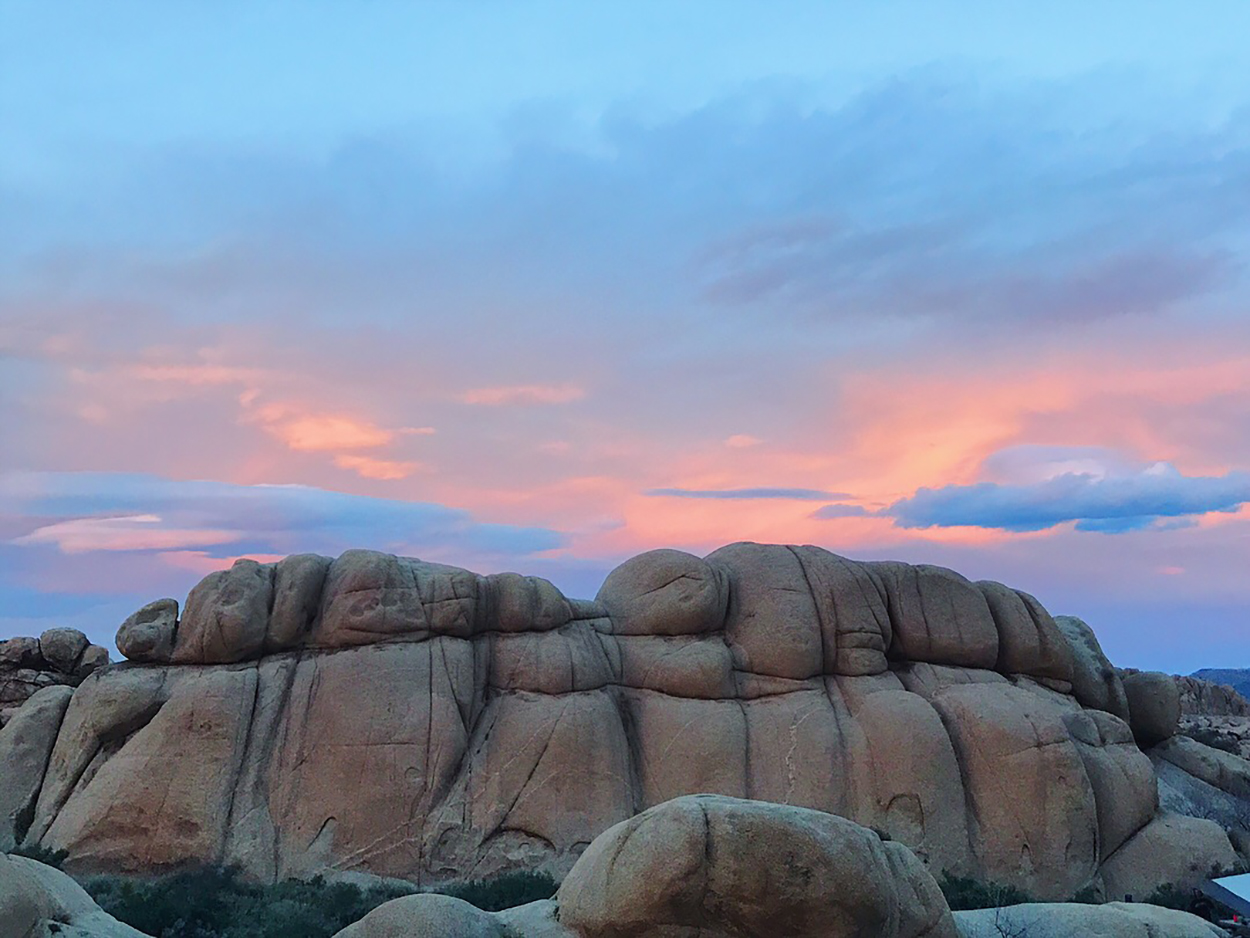 We did alright with tennies, but we really should have all had on hiking boots and lightweight hiking/walking pants. The desert landscape includes lots of pokey, thorny bushes and cacti, and although no one get seriously hurt, Syd did walk right into a thorny bush that drew some blood. If tennies are all you have, be extra careful, but I do recommend everyone wear pants even if they'll be hot. It will also protect their legs from scrapes when bouldering.
With that being said, bring along a small first aid kit too!
And of course it should go without saying, wear and pack extra sunscreen!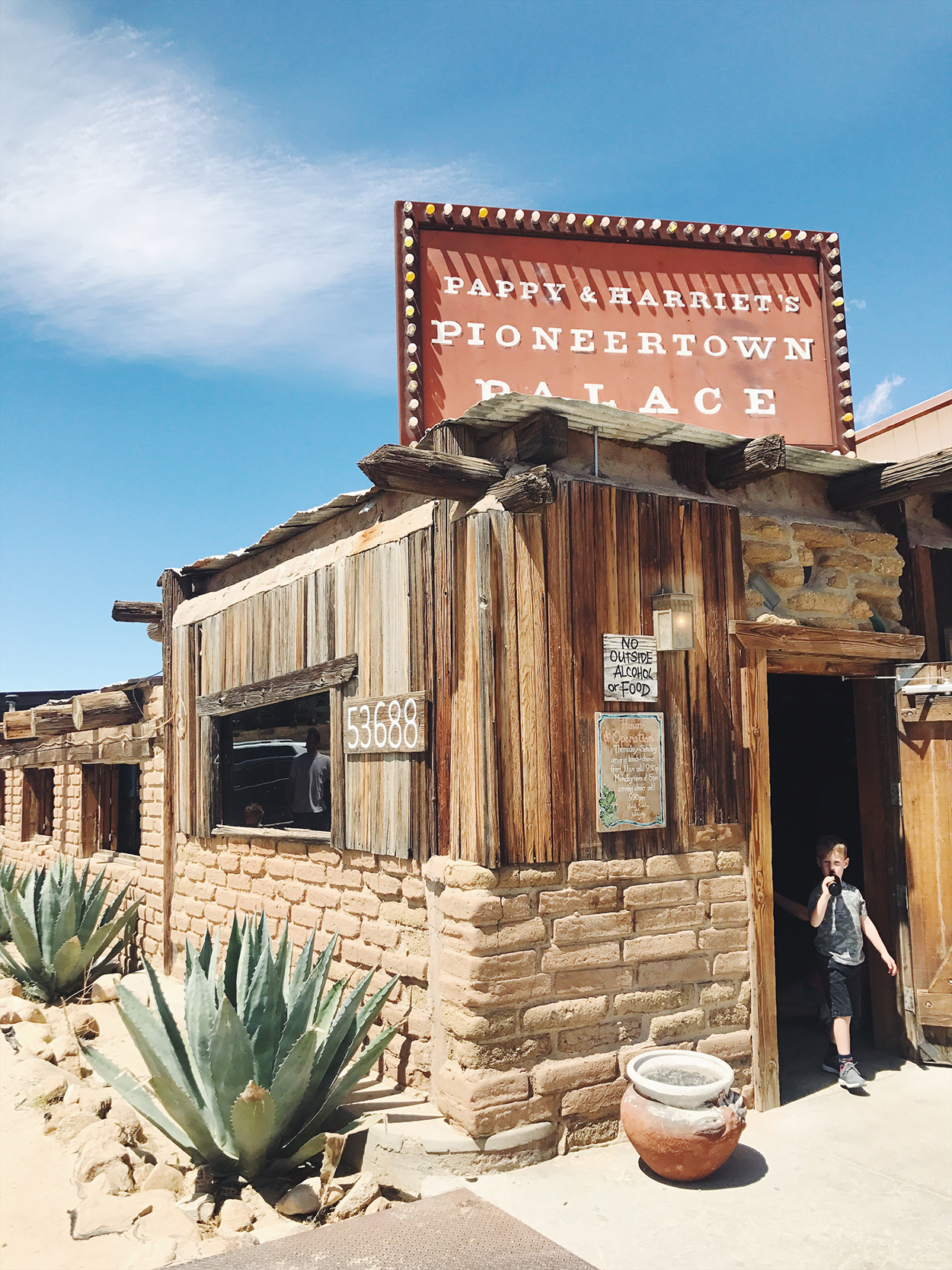 What to Eat:
The area has a lot of great little spots to eat, but if you're visiting during the Spring peak season, PLAN AHEAD and either get reservations, or leave the park early to get a table before the evening rush. And don't count on being able to order take out either. On our first night, we didn't plan ahead and called 4 highly recommended restaurants and they either weren't filling take out orders or they were an hour+ wait. The towns are small and sparsely inhabited, and so the restaurants and their kitchens are small too. During the Spring rush, they just aren't big enough to process all the visitors in the most efficient way, so seriously plan ahead.
Places we wish we could have eaten at but didn't get into include Crossroad Cafe, The Natural Sisters Cafe and Pie for the People.
We *did* get to visit Pappy & Harriet's though and loved it. If you are in town, definitely make a stop here, but again, plan ahead. They open for lunch at 11 but don't take lunch reservations. They do take dinner reservations, but during high season, are booked up for 4 weeks or more. Live entertainment is offered most nights, but not at lunch time (check out the show calendar on their website). When busy, they don't offer takeout, but I don't suggest getting take out anyhow; dine-in and get the full experience. Portions are big, so order accordingly, or take your leftovers and enjoy them the next day. On our second day, we slept in, ate breakfast at home and had a slow low-key morning, then went to lunch at Pappy & Harriet's. We got there right at noon and waited for 30 minutes, then we ate and arrived at the park just after 2. It worked out perfectly. I don't think the kids would have hung if we tried to get in for dinner after being the park all day.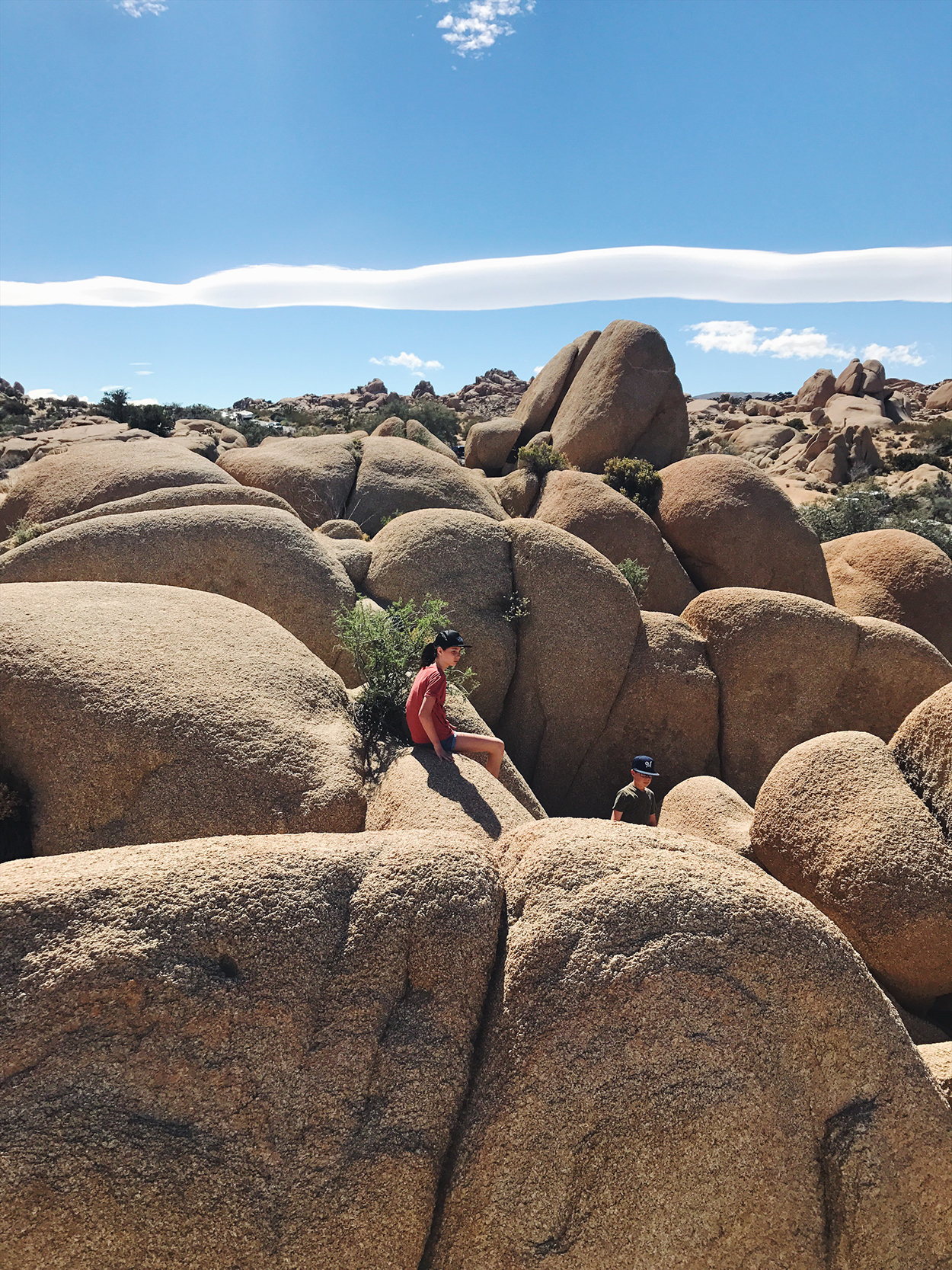 Where to Shop:
There are a few large markets in town, including Vons and Stater Bros, Walmart and a few department stores. So if you need food or forget to pack some much needed clothing item, rest assured that you'll be able to get what you need.
There are a few quaint shops that looked fun, although we didn't have time to stop in any of them. Definitely adding in some window shopping time for our next trip and bookmarking these stores:
Shop On the Mesa
BKB Ceramics
The End
Hoof & The Horn
Pioneer Crossing Antiques
Joshua Tree National Park Gift Shop
I think I've covered just about everything I can think of that will make your trip more enjoyable. If there's anything I missed though, please leave a question in the comments and I'll get back to you. Now get out and enjoy our beautiful national parks!