Learn how to make donuts in the air fryer, from scratch! Light and fluffy, with a simple glaze that can be customized for any special occasion or holiday. Make a batch of valentine donuts for your family, with wholesome ingredients, less fat, but just as delicious!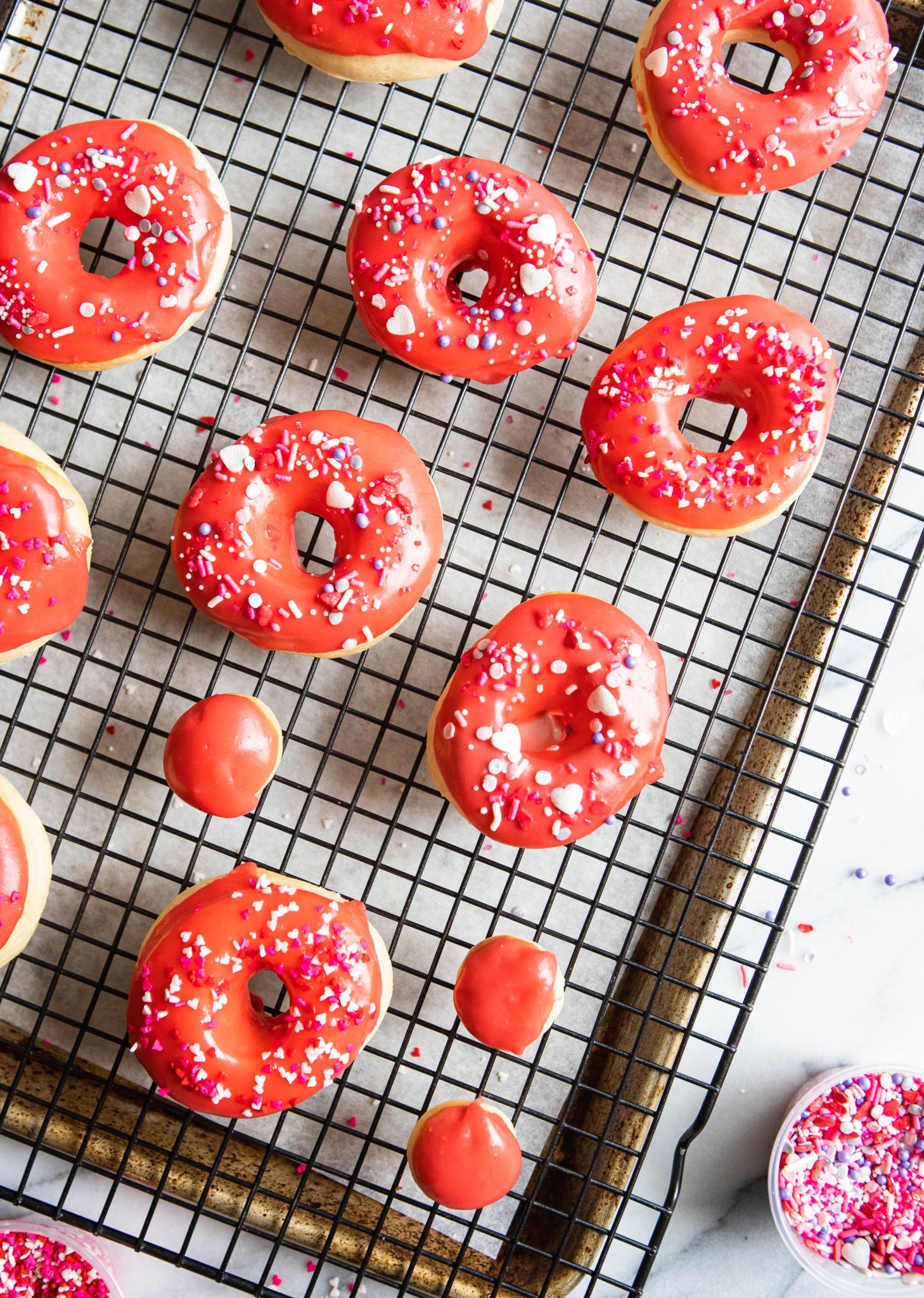 When I was searching out a recipe for donuts in air fryer, I learned that I just needed to make good old fashioned donuts. That's the beauty of the air fryer; you don't really need a "special" type of recipe, as it's just a different cooking method. So I took a standard donut recipe, and popped them in the air fryer. What resulted was a light and fluffy donut, that tasted more like the real thing, than traditional baked donuts.
Don't get me wrong, I still love baked donuts (try my baked pumpkin donuts with brown butter glaze), this method more resembles the goodness you pick up at donut houses. Let's get started, shall we?
Ingredients needed for your donuts:
Flour (all purpose works best, and I particularly love King Arthur Flour brand)
Yeast (active dry yeast over rapid rise is preferred, and just make sure it's not expired)
Milk (whole milk preferred, warmed to 100 degrees)
Eggs
Melted unsalted butter
Sugar & salt
Vanilla extract
And of course you'll need an air fryer! I have the Breville Smart Oven Air, which is an amazing counter top oven that also happens to be an air fryer!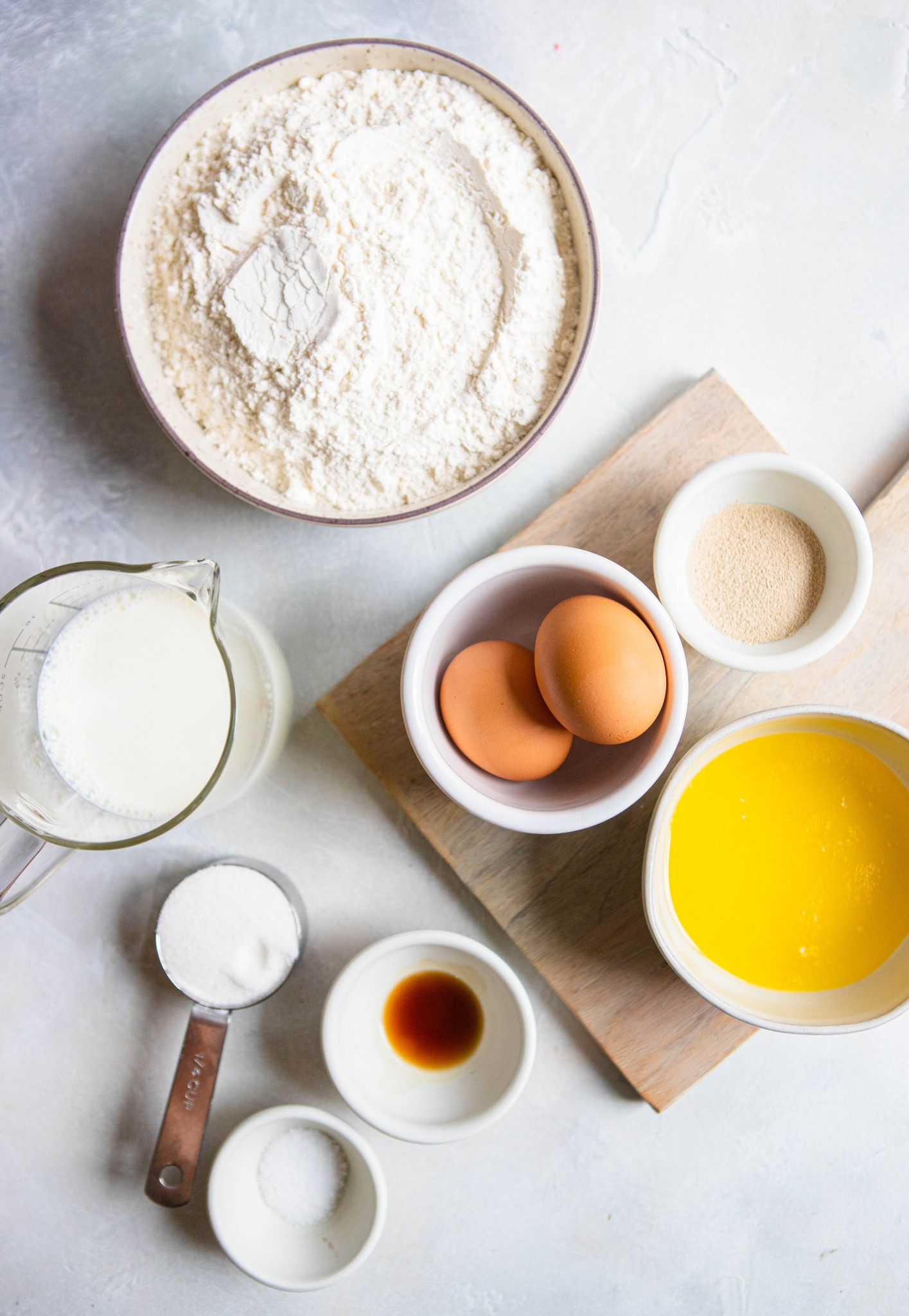 How to make donuts in the air fryer
Making a batch of these will take a couple of hours, because they need a double rise. But if you've got the time and are up for it, these are relatively easy to make and don't require an advanced degree in home baking. Stick with me, I promise it will be worth it!
Step 1 – activate your yeast!
Begin with fresh yeast and warmish milk. Grab your thermometer (instant read preferable), and heat up your milk to 100-110 degrees. If your warm is too cold, the yeast won't activate. Too warm, the milk will kill the yeast culture. Don't have an instant read thermometer? No problem; just place a couple of droplets of milk on the inside of your wrist. If it's warm to the touch, you should be good to go. Moms who ever bottle fed will be familiar with this exercise and it will bring back memories.
In the mixing bowl of a stand mixer fitted with the dough hook attachment, pour in your milk, teaspoon of sugar and gently stir in your yeast.
If the yeast was fresh and the milk was the right temperature, 15 minutes later your yeast will be fragrant and foamy. Now you're ready to rock and roll!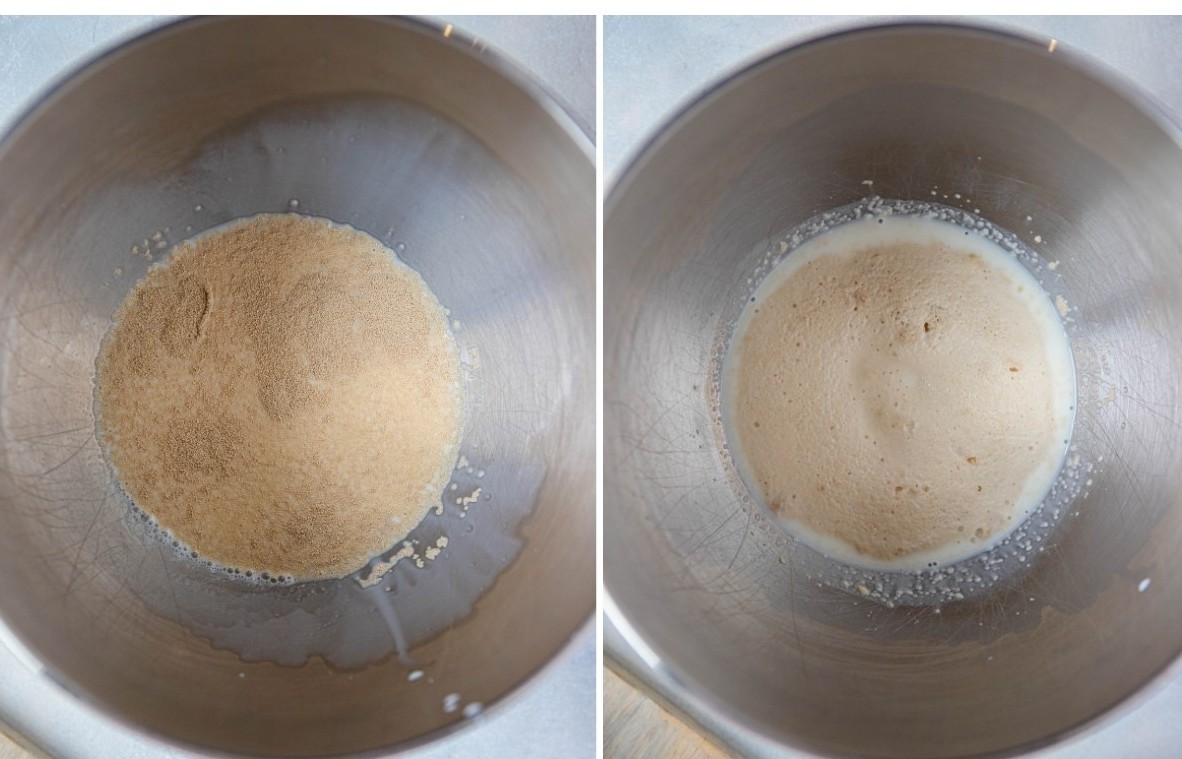 Step 2 – mix in your other ingredients
Add the sugar, salt, melted butter, vanilla and eggs to the yeast mixture. With the mixer on low speed, add in 2 cups of flour, scraping the sides if needed. Add in the remaining flour one cup at a time . Increase the mixer to medium low speed and knead for about 5 minutes, until the dough is formed into a nice ball.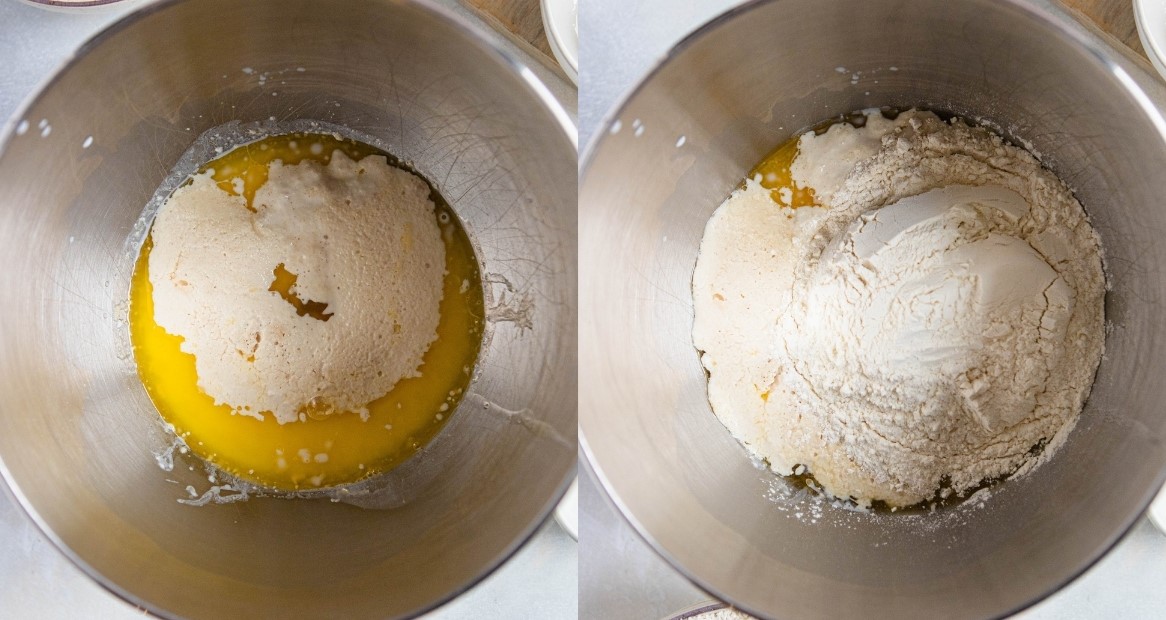 Step 3 – rise baby rise!
Grab a mixing bowl that has been coated with a light spray of cooking oil. Place the dough into the mixing bowl and cover with plastic wrap. The dough will be sticky when you transfer it from the stand mixer to the mixing bowl, so don't be concerned.
Allow to proof in a warm dry place, for about 1 hour; your dough should be almost doubled in size. I'm lucky in that my air fryer has a proof mode, and it works beautifully!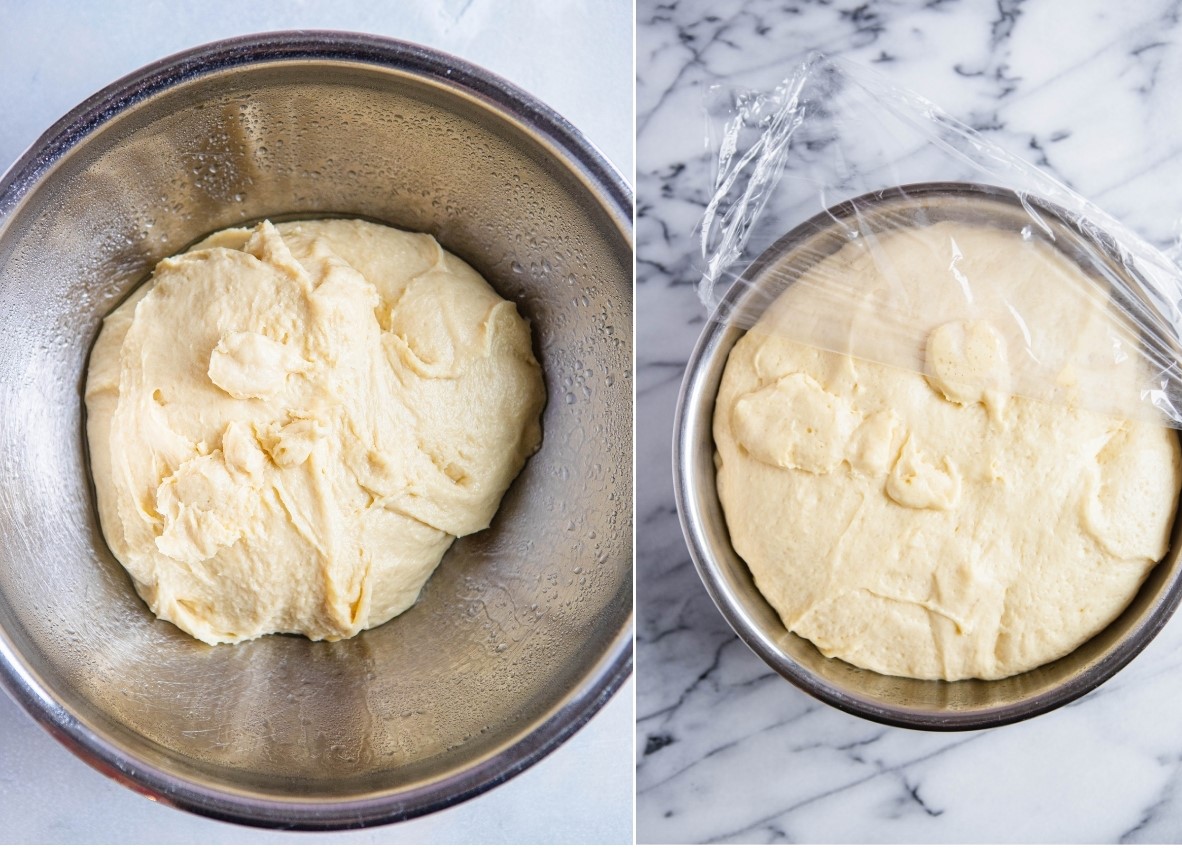 Step 4 – roll out and cut out donuts
Remove the dough from the mixing bowl and place on a well-floured surface. Roll the dough out to about ½″ thick disc, and cut out circles with a biscuit or cookie cutter. I used a 3″ circle and a smaller 1″ circle. You can also try cutting out shapes, such as hearts, but don't be surprised if they rise and bake a little out of shape. You'll see below that some of my hearts made it through the rise and fry process in tact, while others look like blobs.
Feel free to knead the remaining dough and roll it back out again to get a few more donuts. You should get 16 donuts.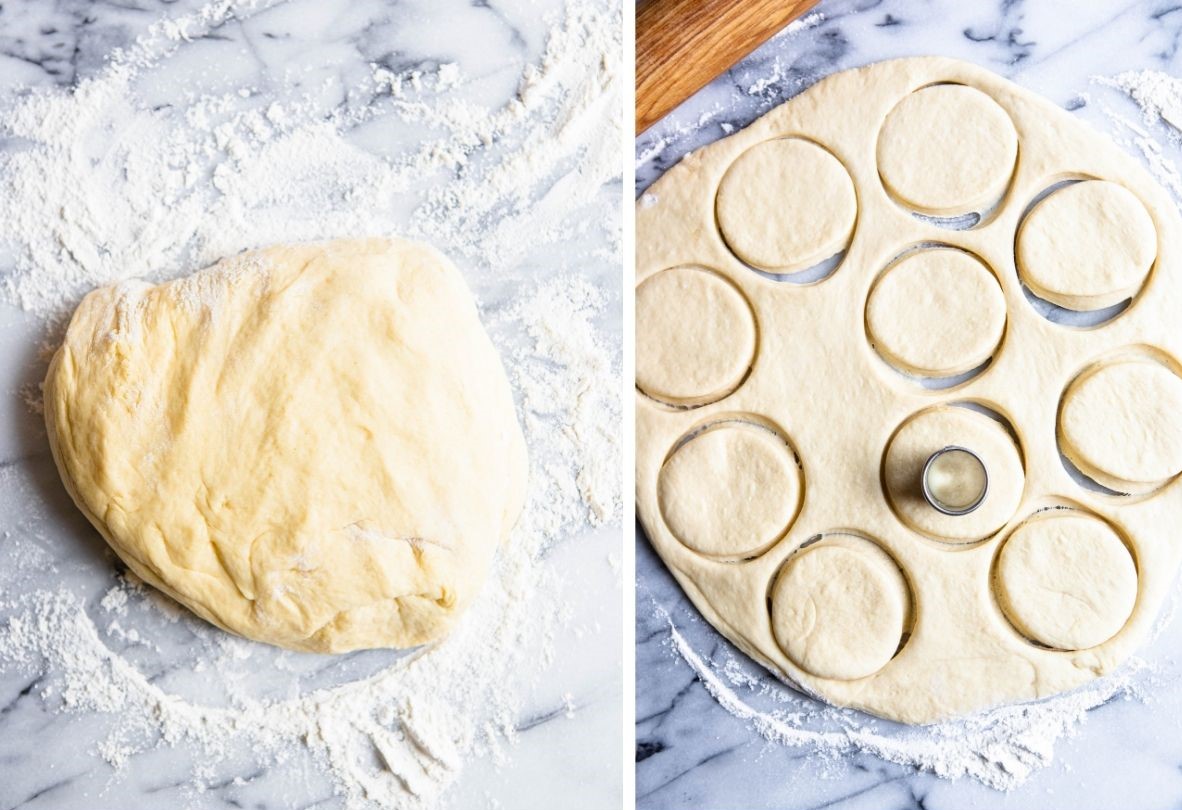 Step 5 – final rise and then air fry!
Place your donuts and holes on a parchment lined baking sheet. Cover with a light dish towel or plastic wrap, and allow to rise for 30 minutes. They'll almost double in size.
You'll notice the donuts are poofier after this quick rise. These are perfect and ready to go in the air fryer!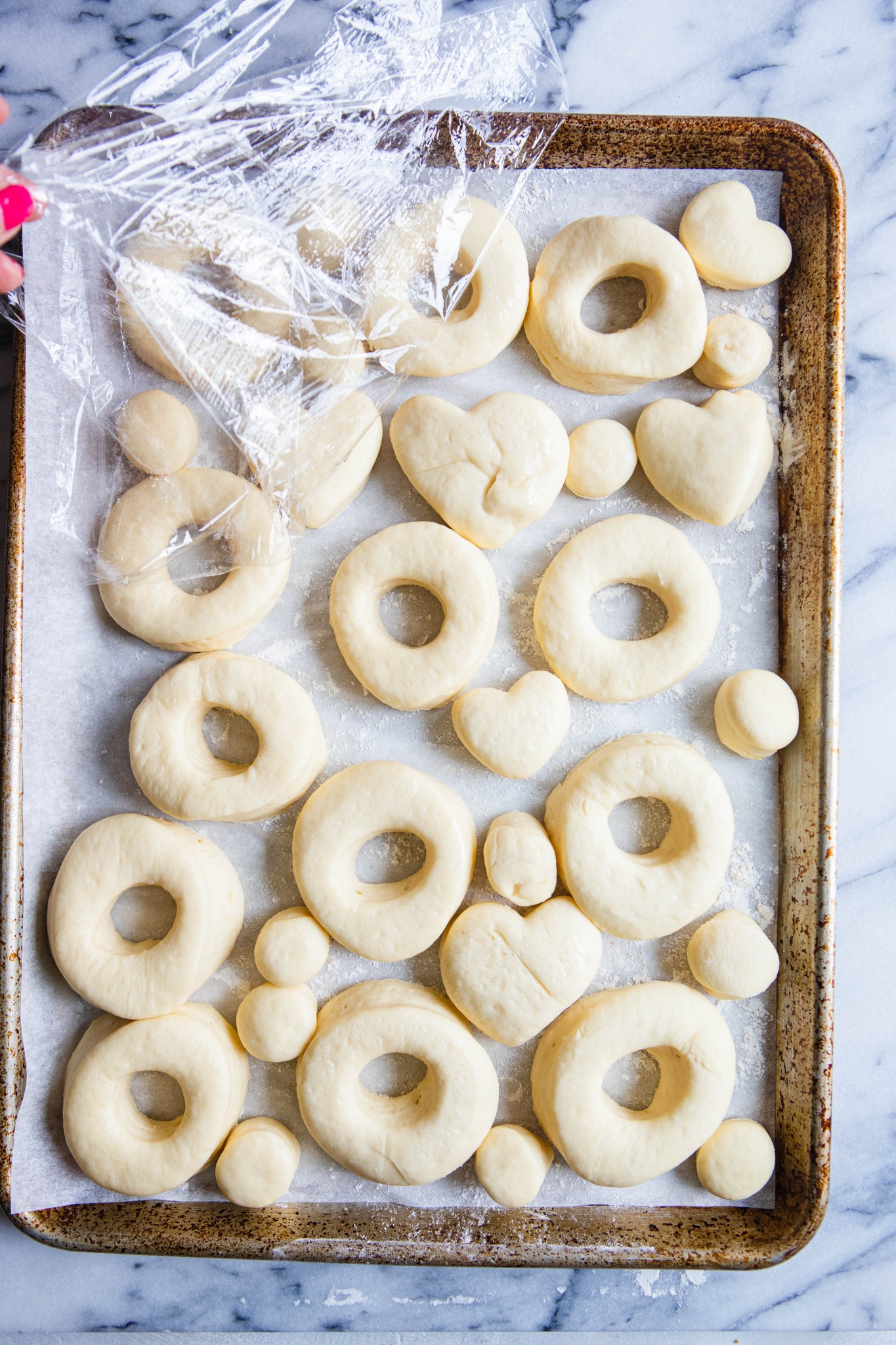 How to make donuts in the air fryer
The time has come and your donuts are ready to be "fried!" Very exciting to be this close to enjoying healthy-ish homemade valentine donuts!
Start by preheating your air fryer to 350 degrees, and the put a light coat of cooking spray on your basket. Place donuts on the air fryer basket, making sure to give them some bit of room to rise and expand. Spray the tops of each donut with cooking spray, and place them in your warmed air fryer.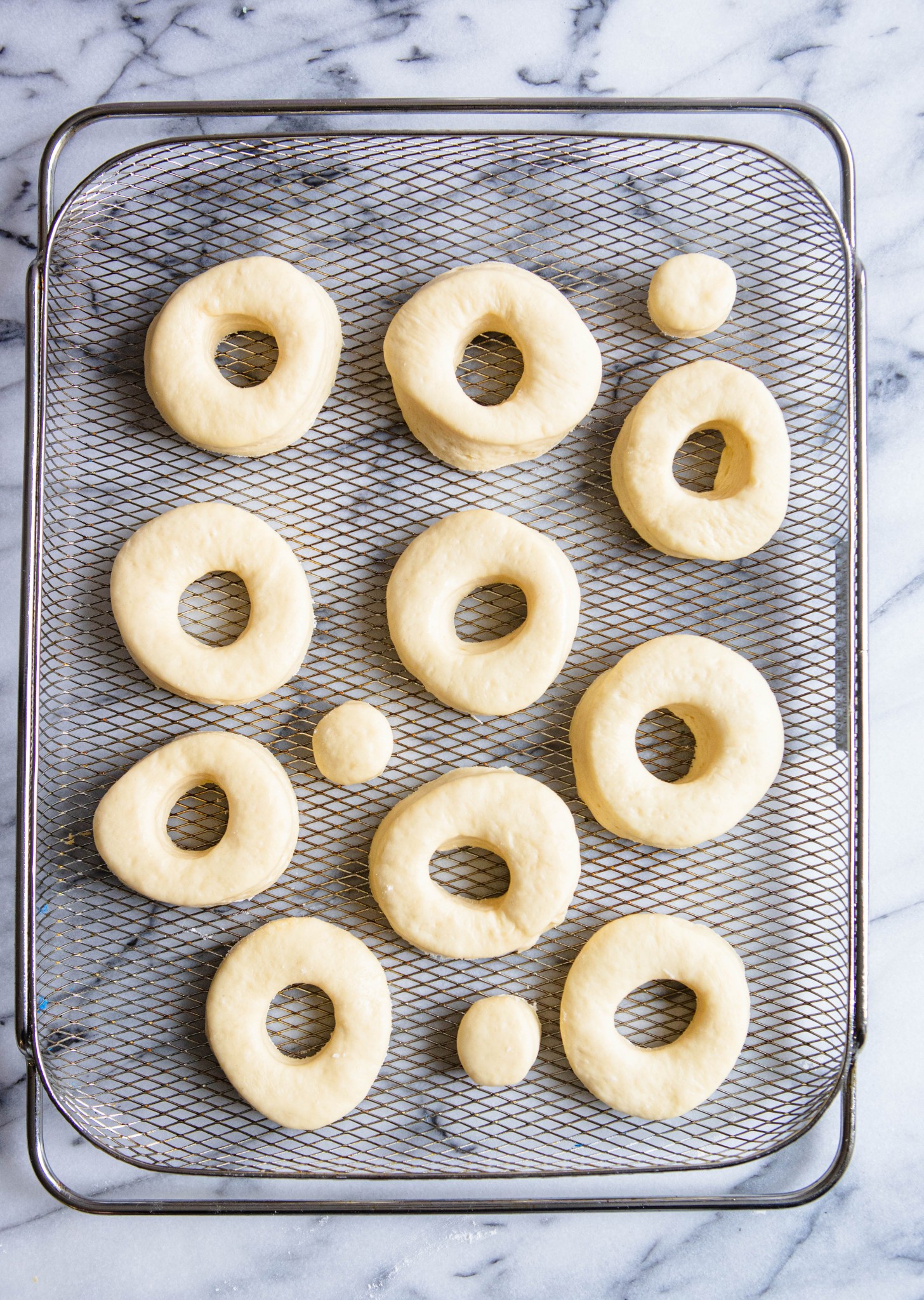 As I say with every air fryer recipe I post, these cooking times are suggestions and a starting point! Just like ovens are all a bit different, so are air fryers. With that being said though, there is a general cooking time parameter that should work for any type of air fryer.
For my oven style air fryer, 7-8 minutes is the perfect time to get these tasty guys cooked through, with just a bit of warm coloring on top. Other recipes using basket fryers recommended less cooking time though, as little as 4 minutes. With this in mind, begin with a lower cooking time, and add more if needed.
A helpful tip to determine doneness is to take the temperature of one of your donuts before you pull them. The internal temperature of air fried donuts should be about 350 degrees.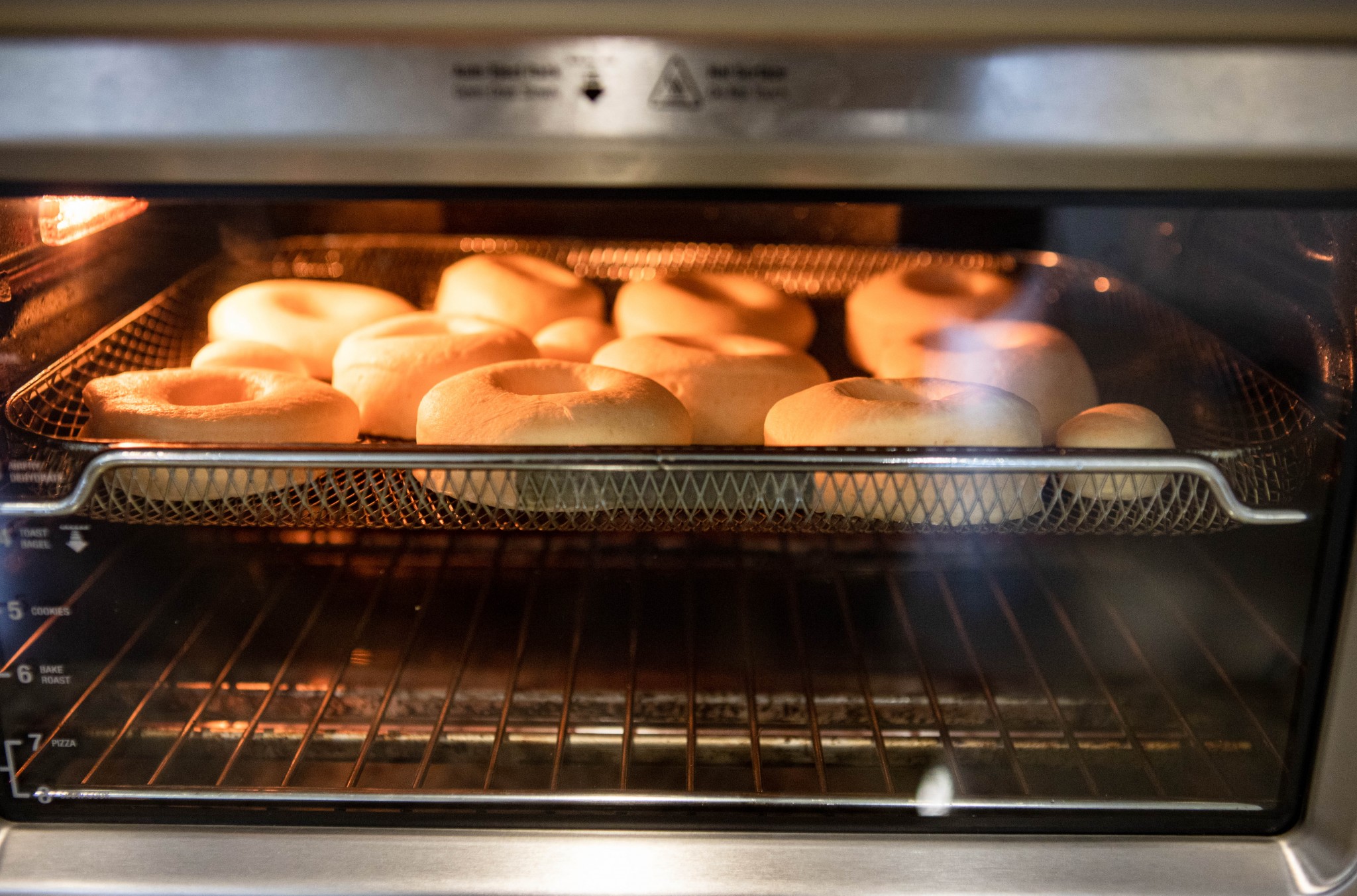 How to make donut glaze
While your donuts are air frying away, let's make the glaze. Warm butter in a small sauce pan over low heat, until melted. Whisk in powdered sugar, then add vanilla and water, till desired consistency is achieved.
Stir in desired food coloring and your glaze is ready to go. Keep in mind that as the glaze cools, you may need to reheat back on the stovetop and whisk till smooth again. If the glaze is still a bit too thick, even after reheating it, add just a few drops of water, about 1 teaspoon at a time, till desired consistency is once again achieved.
Tips for glazing air fryer donuts
Place donuts on a cooling rack set over a parchment lined baking sheet. This will allow the glaze to drip through and clean up real quick! You won't even have to wash the baking sheet. Glazing these donuts are easy but require a tiny bit of finesse. These tips should help though!
Begin glazing your donuts immediately after removing from the air fryer. You'll get the best results by glazing *warm* donuts.
Do not let the glaze sit too long before using. For best results, the glaze should also be somewhat warm when using.
Keep a tiny whisk on hand to occasionally stir up your glaze, as it cools a thin shell may start to form. Just whisk away and it should be fine.
If your glaze begins to thicken too much, which usually happens by the second batch of donuts, simply put the sauce pan back on the stove and reheat till just warm. Add in a teaspoon of water or two if the glaze still seems too thick.
This glaze is extremely forgiving so don't worry if it starts to thicken and/or harden. It can quickly be remedied and brought back as good as new.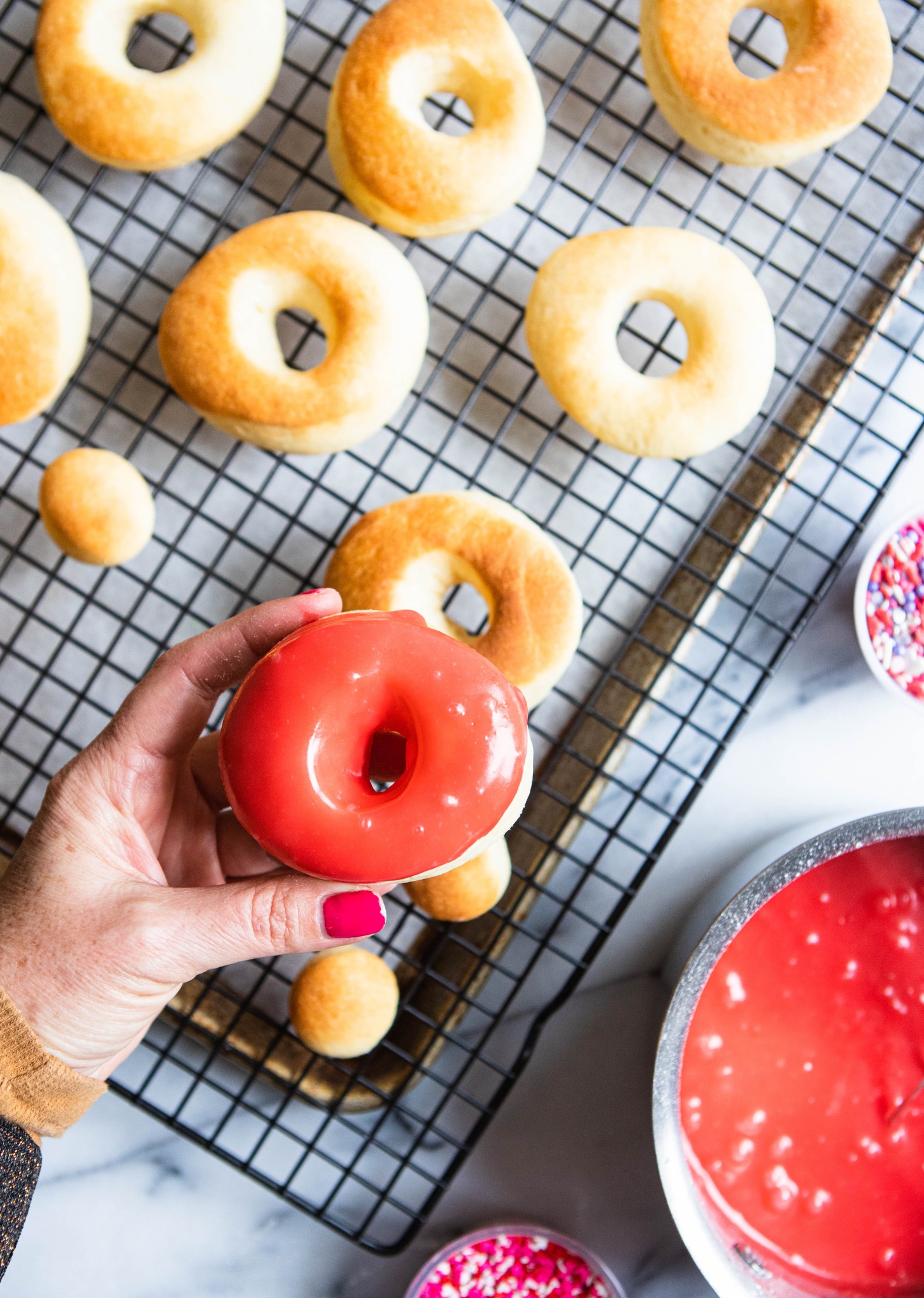 To glaze your donuts, simply dip the top of your donut into the saucepan of glaze, and swirl around just a bit. Remove and quickly turn right side up, and place on the rack. The glaze will even out as it spreads and drips down into the donut, so don't fret if the glazing seems uneven.
Making valentine donuts
Coloring the glaze to a pretty shade of pink or red is enough to make these festive valentine donuts. But to add a little extra pizazz, top with sprinkles. For best results, you need to immediately toss on the sprinkles after you dip the donuts in glaze. The glaze dries incredibly fast, so if you wait too long, the sprinkles won't stick.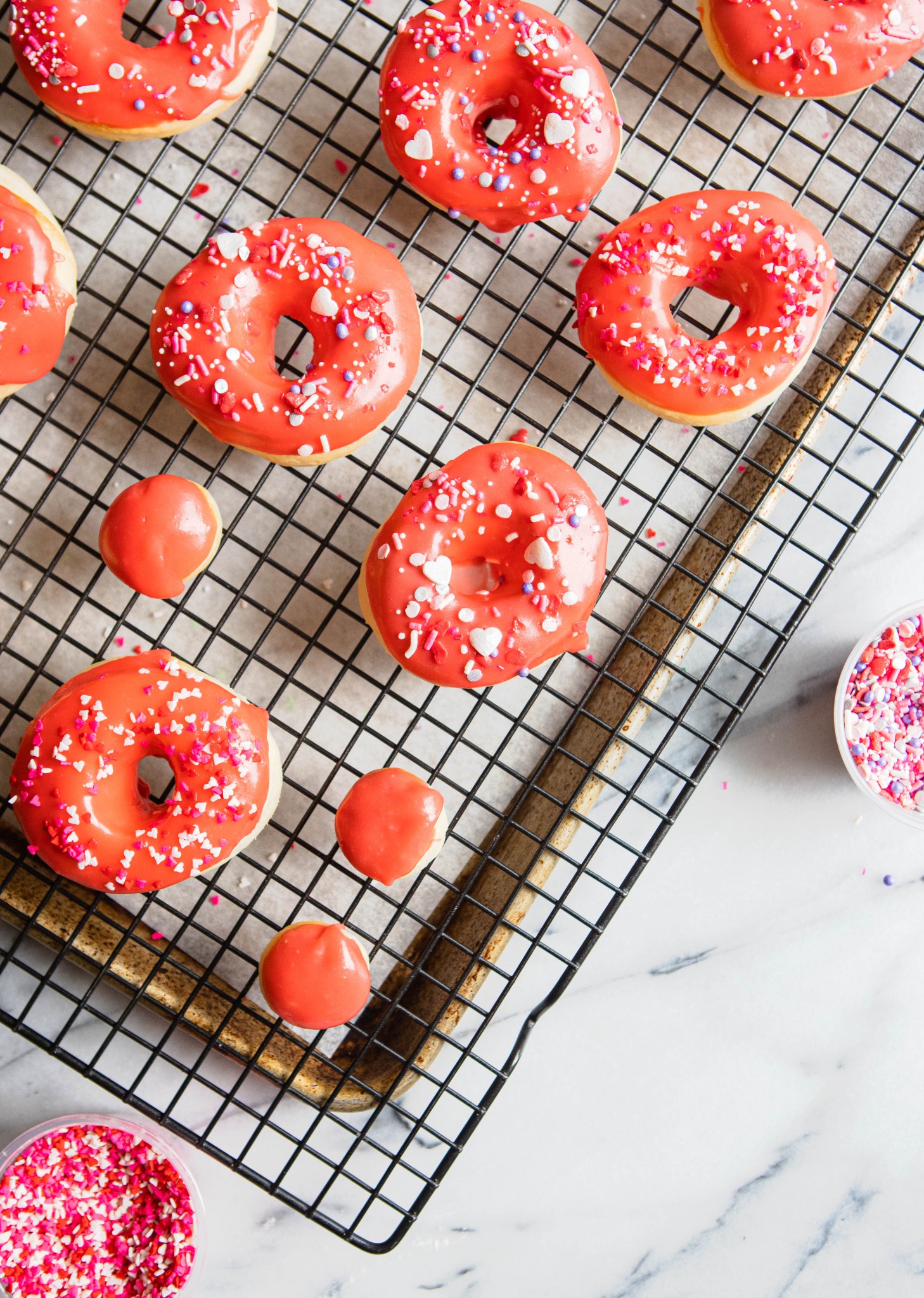 I picked up these sprinkles from a local cake shop that I frequent a few times a year. It's fun to browse their assortment and pick up new ingredients to make random desserts that we probably don't need, but enjoy anyhow ha! Of course regular old red or white sprinkles will suffice, but it is fun to include the holiday themed heart shapes. I'm obsessed with all the gorgeous heart sprinkles that Fancy Sprinkles makes. So whether you opt for colored glaze, heart shaped cut-outs, or festive sprinkles, it's easy to customize this recipe to make valentine donuts, or donuts for any other special occasion!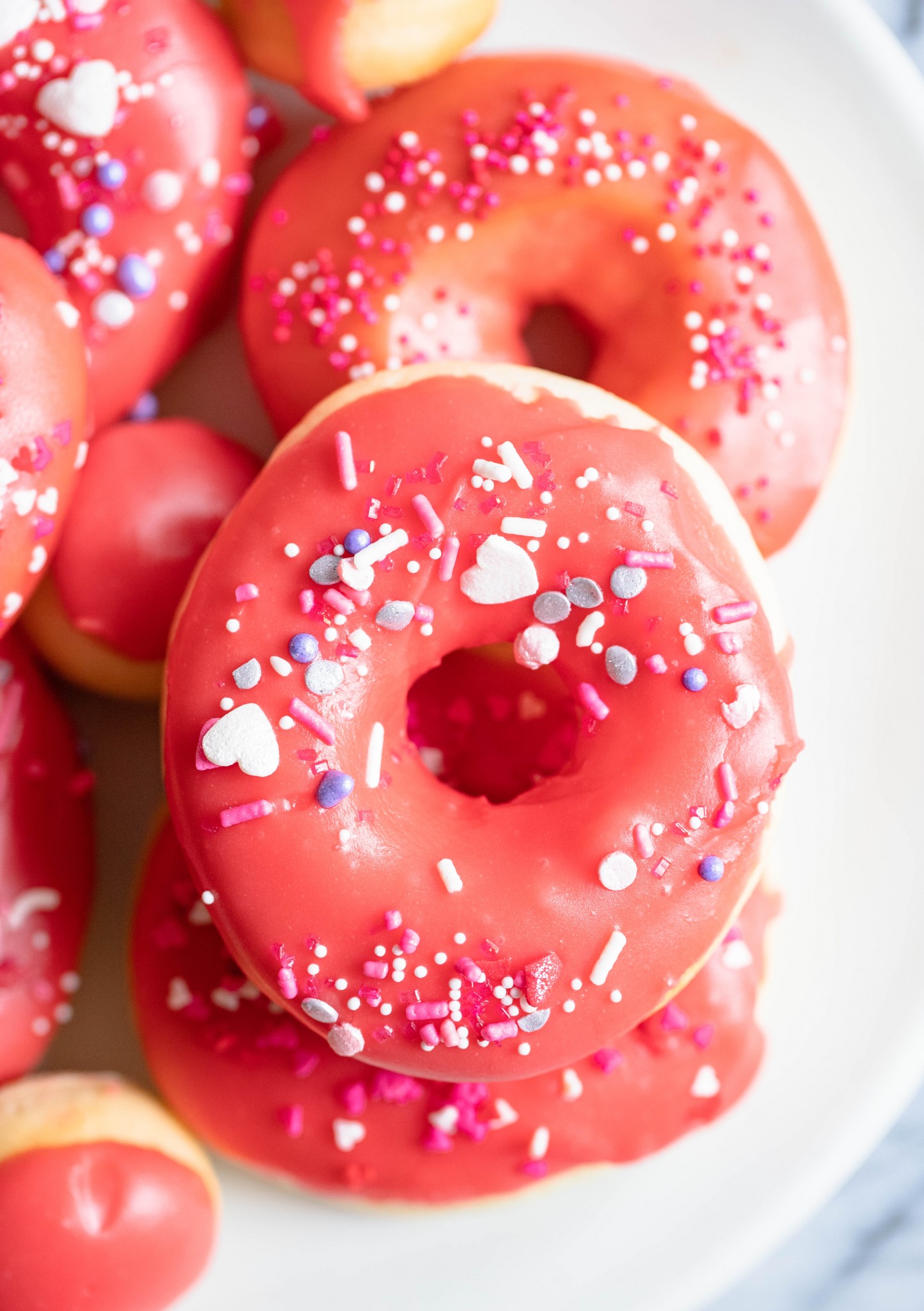 Storing your donuts
Truth be told after making your donuts in the air fryer, you're going to want to eat them right away haha. They truly taste best fresh and warm, so try your best to eat them all the day of making them. If that is impossible though, make sure to store them at room temperature in an air-tight paper box or bag, and eat the next day. If enjoying the next day, you can reheat them just a bit in the microwave, for about 10 seconds.
Do not store in plastic or even under a glass covered cake plate. They will get soggy and won't taste very delicious. These babies take a bit of work as you can see, so make sure you have plenty of mouths on hand to eat them all the day you make them. Otherwise your good efforts may go to waste!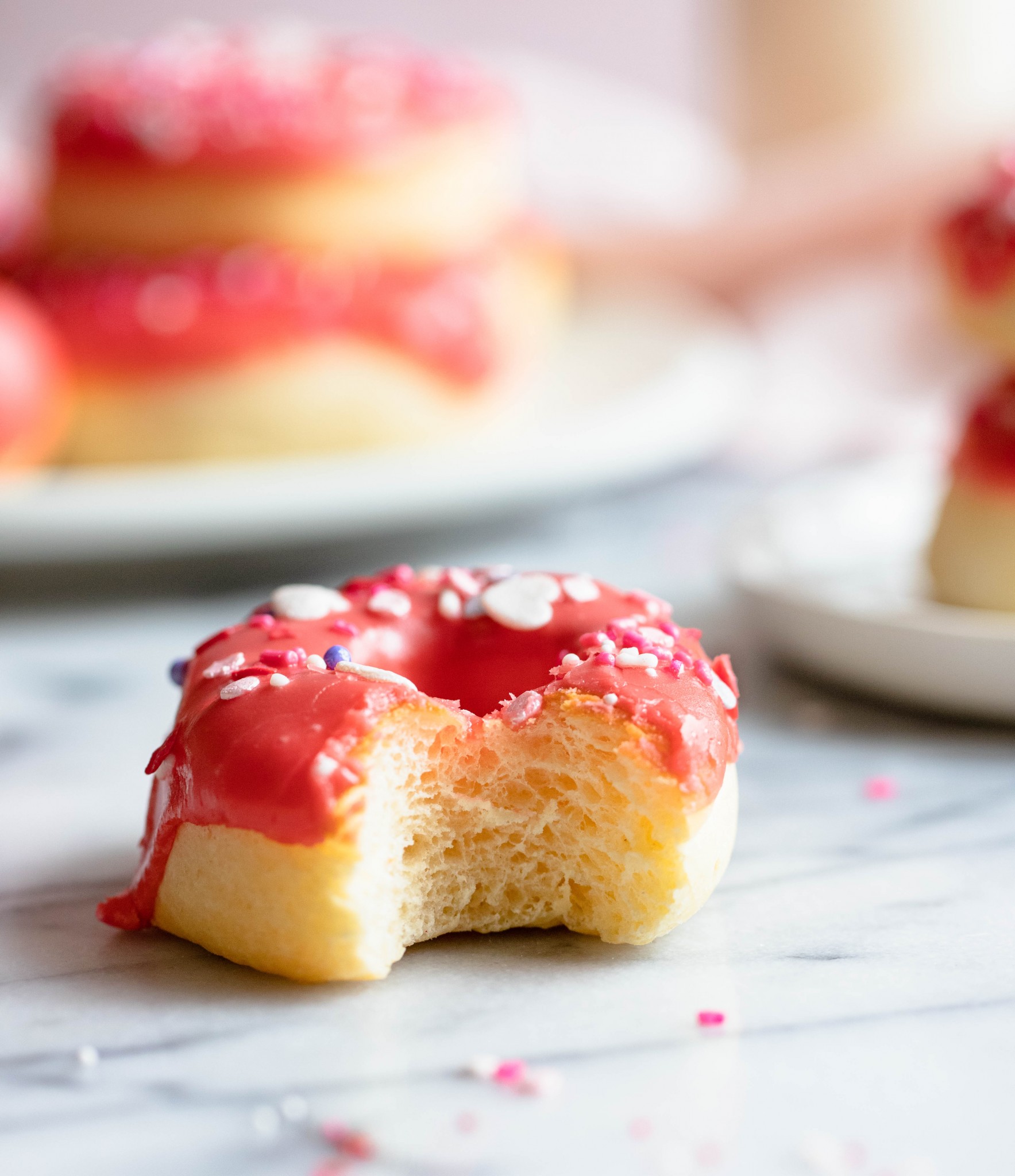 Don't have the time to make Valentine donuts in the air fryer?
Try these other festive treats if you want to make the day special, but from scratch valentine donuts is just a bit too much.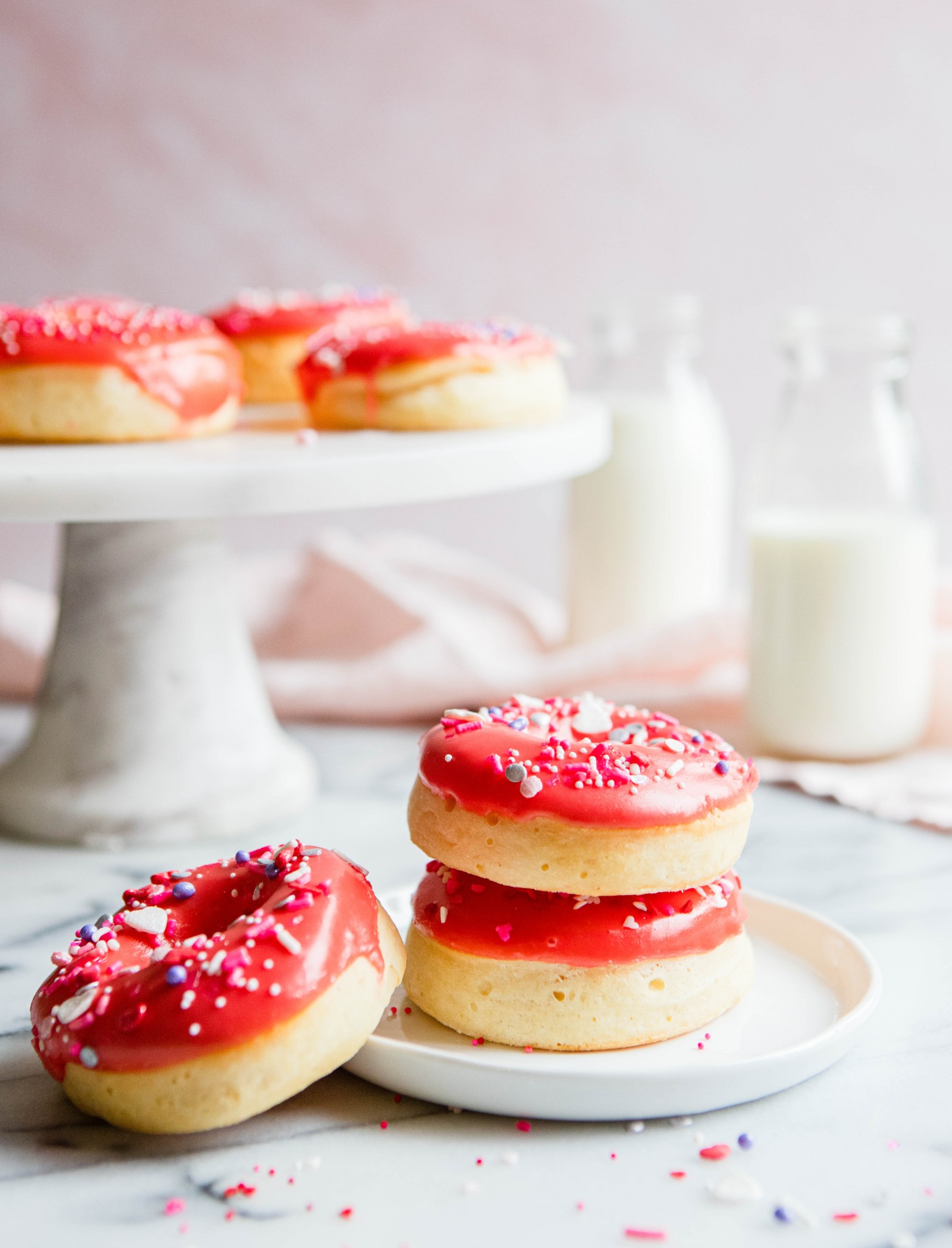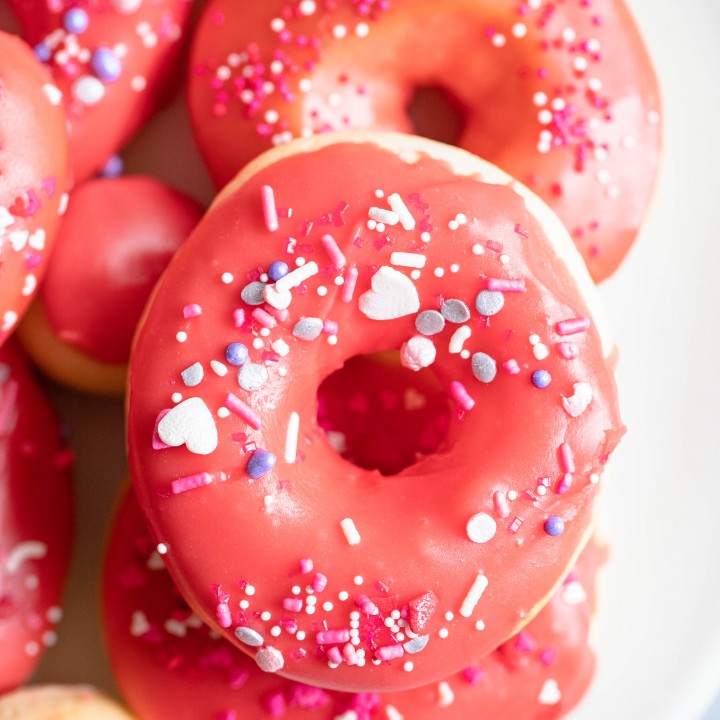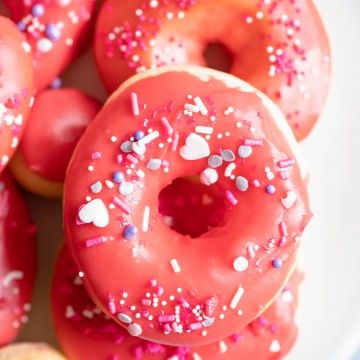 Valentine Air Fryer Donuts
Learn how to make donuts in the air fryer! Make a batch of valentine donuts for your family, with wholesome ingredients, less fat, but just as delicious! Recipe slightly adapted from the Joy of Cooking yeast doughnuts.
Print
Pin
Rate
Ingredients
For the Donuts
1

cup

whole milk

heated to 100-110 degrees

1

packet active dry yeast

or 2 ¼ tsp

¼

cup

granulated sugar

plus 1 tsp

4 ½

cups

all purpose flour

plus more for dusting and rolling

½

teaspoon

Kosher salt

6

tablespoon

melted butter

2

eggs

½

teaspoon

pure vanilla extract
For the Glaze
6

tablespoon

unsalted butter

2

cups

powdered sugar

1

teaspoon

vanilla extract

2-4

tablespoon

warm water

as needed

food coloring

optional
Instructions
In the mixing bowl of a stand mixer, fitted with the dough hook, add the warm milk, 1 teaspoon of sugar and the yeast. Gently stir together and let sit for at least 10-15 minutes. Mixture should get foamy and fragrant. If it doesn't activate, the milk was either too cold or too hot.

Add remaining sugar, salt, eggs, melted butter and 2 cups of the flour, and mix on low speed until combined, scraping down any excess. Add in the remaining flour, a cup at a time and knead at medium low speed for about 5 minutes. The dough should look shiny and stick together nicely, into a solid round ball.

Place the dough in a oiled down mixing bowl (the dough will be sticky to the touch, but should remain held together in a ball). Cover with a light dish towel or plastic wrap, and set in a warm dry place to proof for an hour. The dough should just about double in size at the end of the proofing.

On a well floured surface, turn the dough and punch it down a couple of times. Roll into a ½" thick disc, and cut out your first set of donuts and donut holes. You should get about 10-12 donuts out of the first set. Knead remaining dough scraps together and roll back out into a flat disc, cutting out the remaining donuts. You should end up with 16 donuts.

Place donuts on a parchment lined baking sheet and cover with a dish towel or plastic wrap, and allow to rise for 30 minutes.

Preheat air fryer to 350 degrees, and spray a light coating of cooking spray on your air fryer basket. Place donuts in the basket, allowing enough room for them to expand a bit. Air fry for 5-8 minutes. The donuts are done when the internal temperature is about 350 degrees and are lightly browned on top.

While your donuts are cooking, make the glaze by melting the butter in a small saucepan. Mix in the powdered sugar and vanilla extract. The mix will be very thick. Whisk in warm water, 1 tablespoon at a time, until desired consistency is achieved. The glaze should be thin like maple syrup, and not overly runny, like water.

When the donuts are done cooking in the air fryer, immediately start the glazing process by dipping the tops of the donuts in the glaze, then setting on a wire cooling rack placed over a baking sheet to cool and dry. If using sprinkles, immediately place them on the glazed donut, before the glaze sets and hardens. Enjoy immediately!
Notes
If your glaze starts to form a coating, simply whisk until smooth again.
If the glaze thickens up too much, especially in between batches, return the saucepan to the stove and reheat on low heat till smooth. Add in a teaspoon or two of water until desired consistency is achieved once again.
Nutrition
Calories:
292
kcal
|
Carbohydrates:
46
g
|
Protein:
5
g
|
Fat:
10
g
|
Saturated Fat:
6
g
|
Trans Fat:
1
g
|
Cholesterol:
45
mg
|
Sodium:
126
mg
|
Potassium:
68
mg
|
Fiber:
1
g
|
Sugar:
19
g
|
Vitamin A:
316
IU
|
Calcium:
28
mg
|
Iron:
2
mg