This peanut butter and dark chocolate bark recipe is loaded with pretzels, peanuts and crunchy rice cereal, for that perfect balance of salty sweet. Top with white chocolate drizzle and fun game day sprinkles, it's the perfect recipe to add to your Super Bowl dessert ideas board!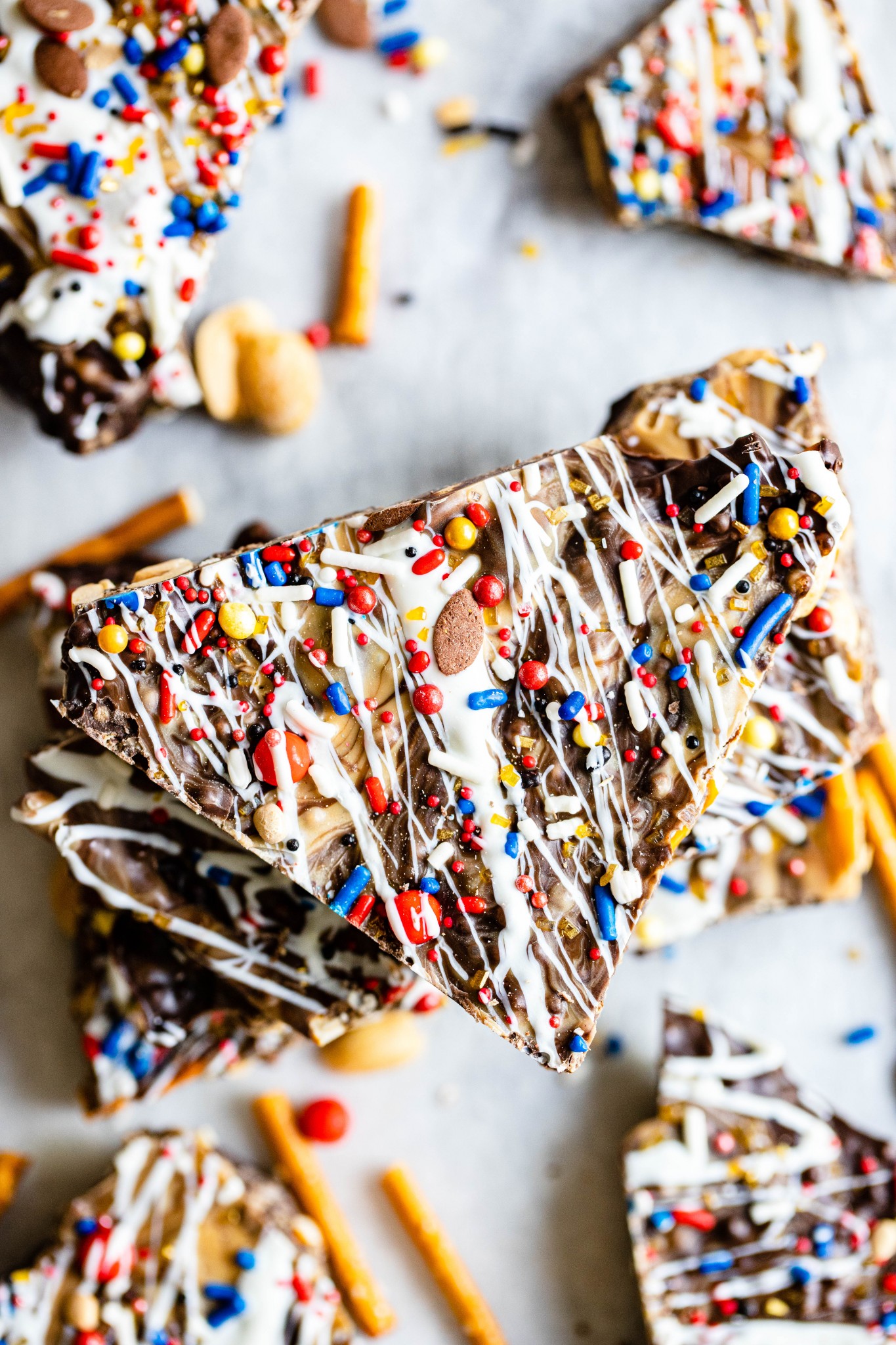 If you're looking for a fun and easy Super Bowl dessert idea for the big game, or just want to satisfy your sweet tooth, I've got you covered today. This dark chocolate bark recipe is really quick and easy to put together, and looks festive no matter what type of sprinkles you top it with. Bonus points if they involve your team colors and footballs though 🙂
Read on for the recipe, as well as tips on how to change it up depending on the occasion or ingredients on hand.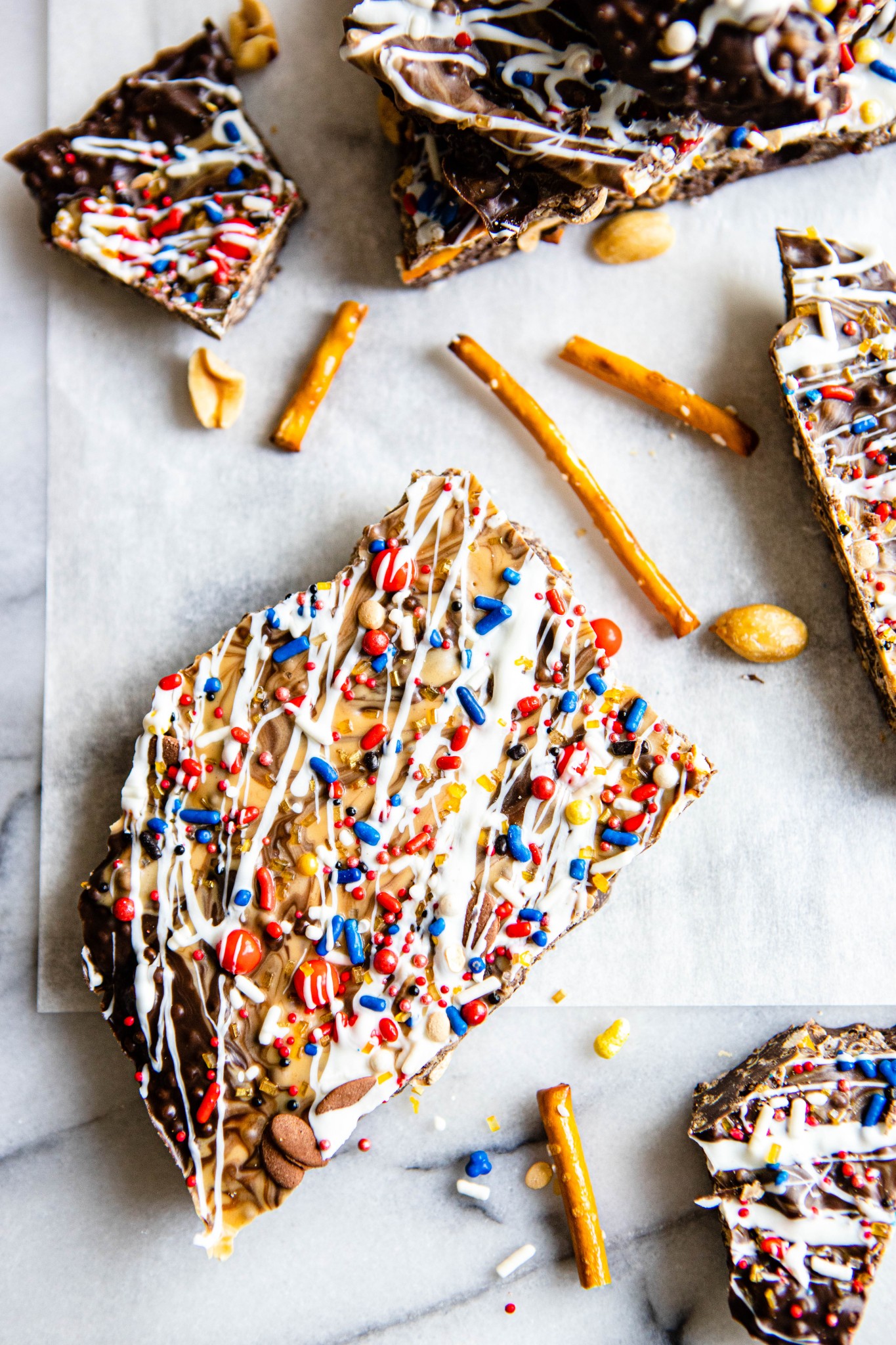 Ingredients
Dark chocolate chips – use either dark baking chocolate or the fun candy melts you can get at baking stores
Peanut butter chips OR white chocolate chips + peanut butter – some stores sell peanut butter chips, but if yours doesn't, you can easily add peanut butter to your white chocolate chips. I'll share how below
Pretzels – use sticks or traditional pretzel shapes
Peanuts – I prefer roasted and unsalted for this recipe, but if you only have salted on hand, that's okay
Crispy Rice – my local baking store sells tiny crispy rice balls, as seen below, but you can also use crispy rice cereal
White chocolate chips for drizzling
Sprinkles! I love this fun football themed sprinkle mix that's just generic red, white and blue, but of course your favorite team colors would be perfect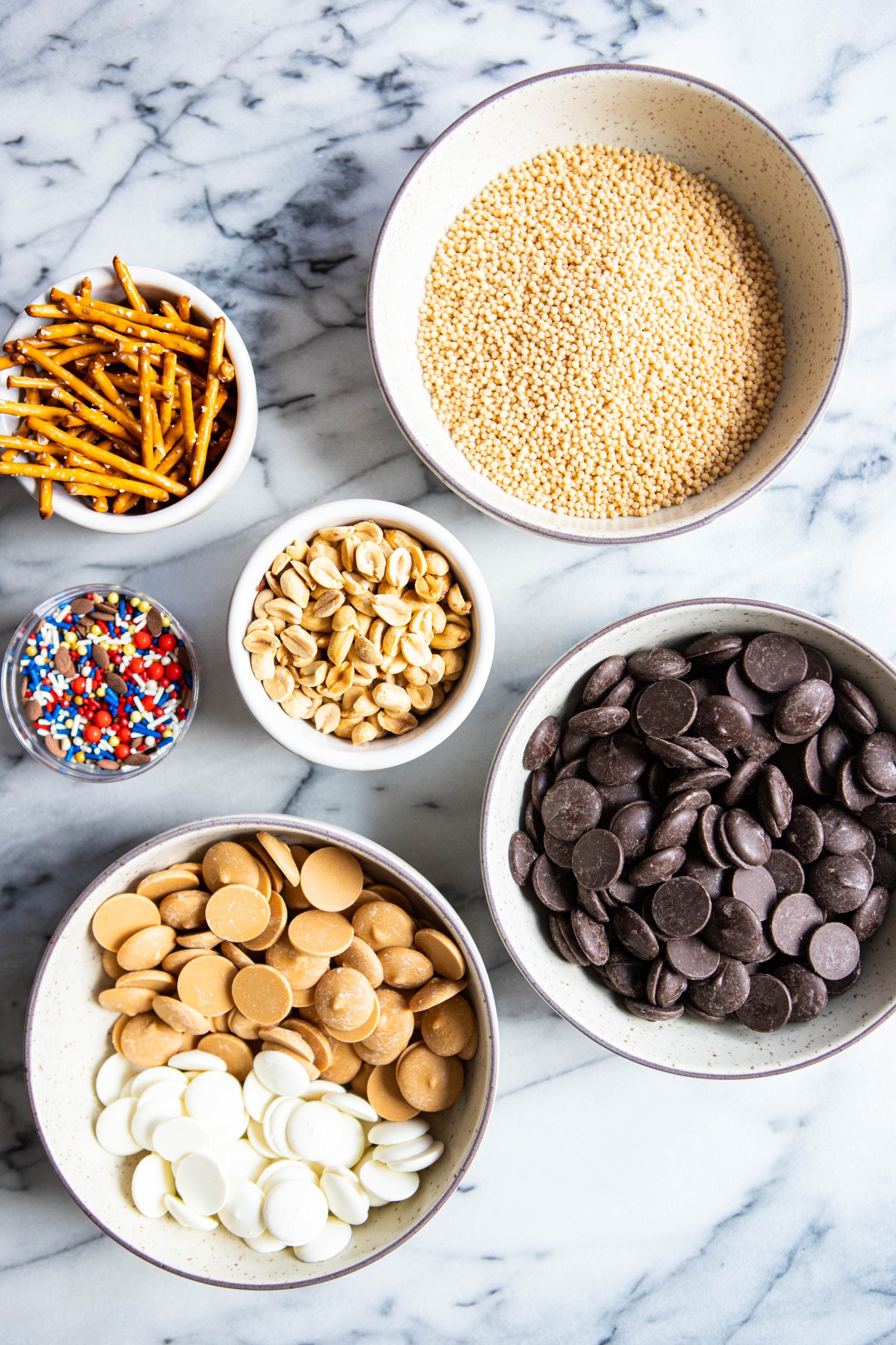 How to make dark chocolate bark
Chocolate bark is one of those recipes that once you learn once, you never have to learn it again. Incredibly simple and easy to put together, and allowing for endless flavor combinations, you will have a fun dessert ready to munch on in less than an hour! Here's how simple it is to make.
Begin by melting your base chocolate; in this case we're using dark chocolate chips. Once your chocolate is melted, gently stir in your bark ingredients.
The pretzels and peanuts require no explanation, but the little crunchy balls may be unfamiliar to you. The balls are tiny crispy rice and can be found at many baking supply stores. They're the ingredient you'll find in candy bars such as Nestle Crunch bars, and they give the bark a light and airy crispy texture. If you are unable to find these locally, you can leave them out, or use crispy rice cereal.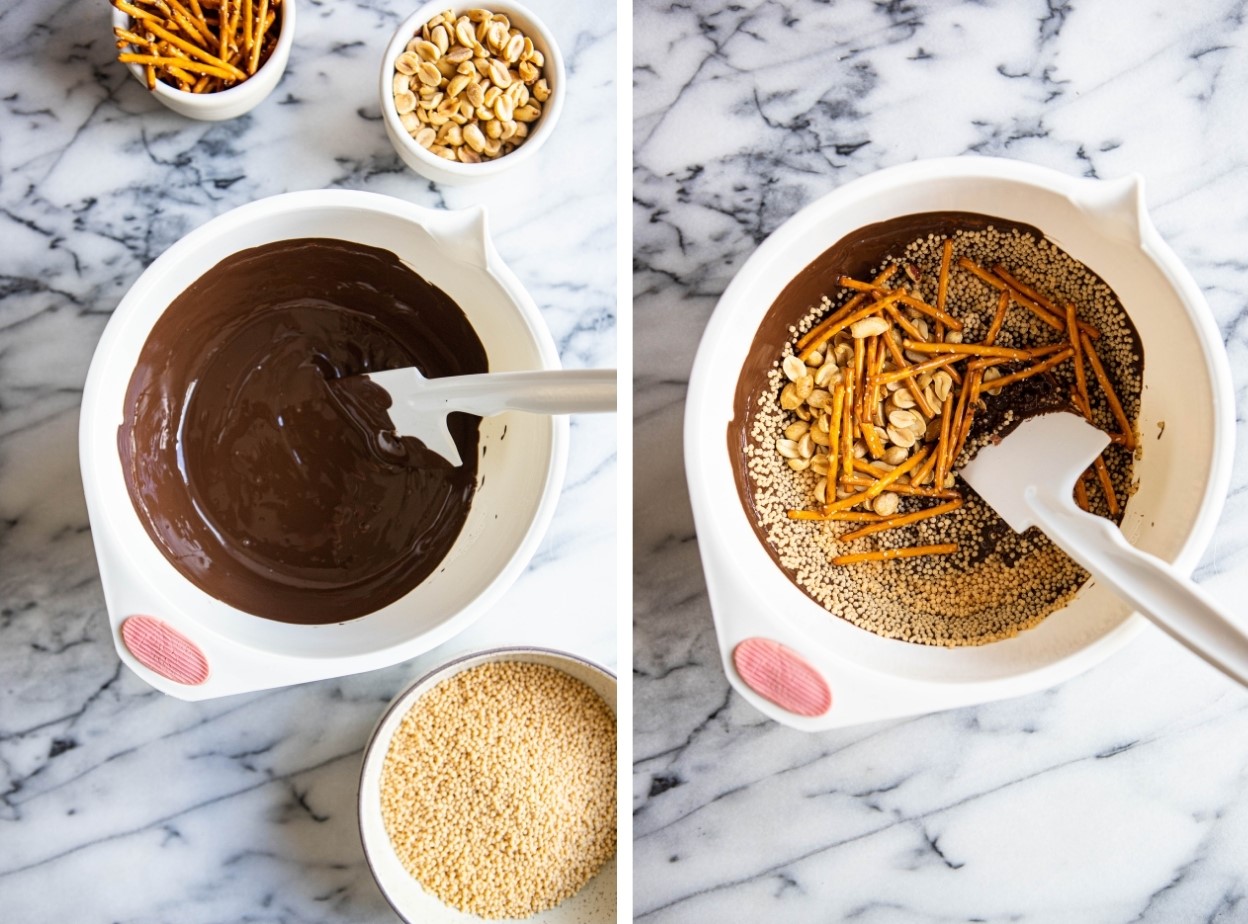 Once you've incorporated your ingredients, spread them out in a 1″ layer on a parchment lined baking sheet. This recipe will make enough to fill a ¼ baking sheet, or a 13″x9″ baking dish.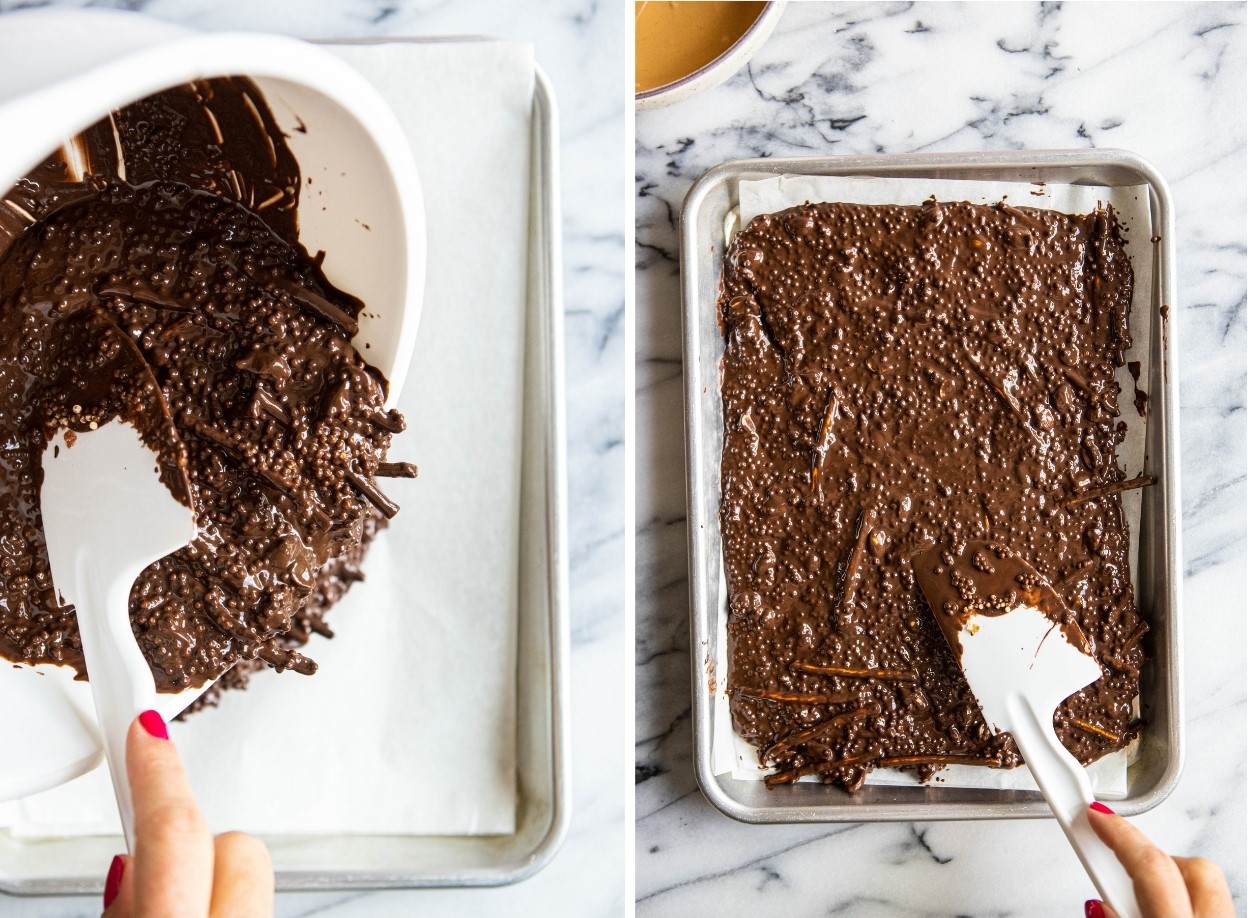 Melt your peanut butter chocolate chips and spread it on top of the dark chocolate layer. Take a knife or chopstick and swirl the peanut butter layer into the dark chocolate layer.
If you do not have peanut butter chips, you can mix 1 lb melted white chocolate chips with ½ cup peanut butter.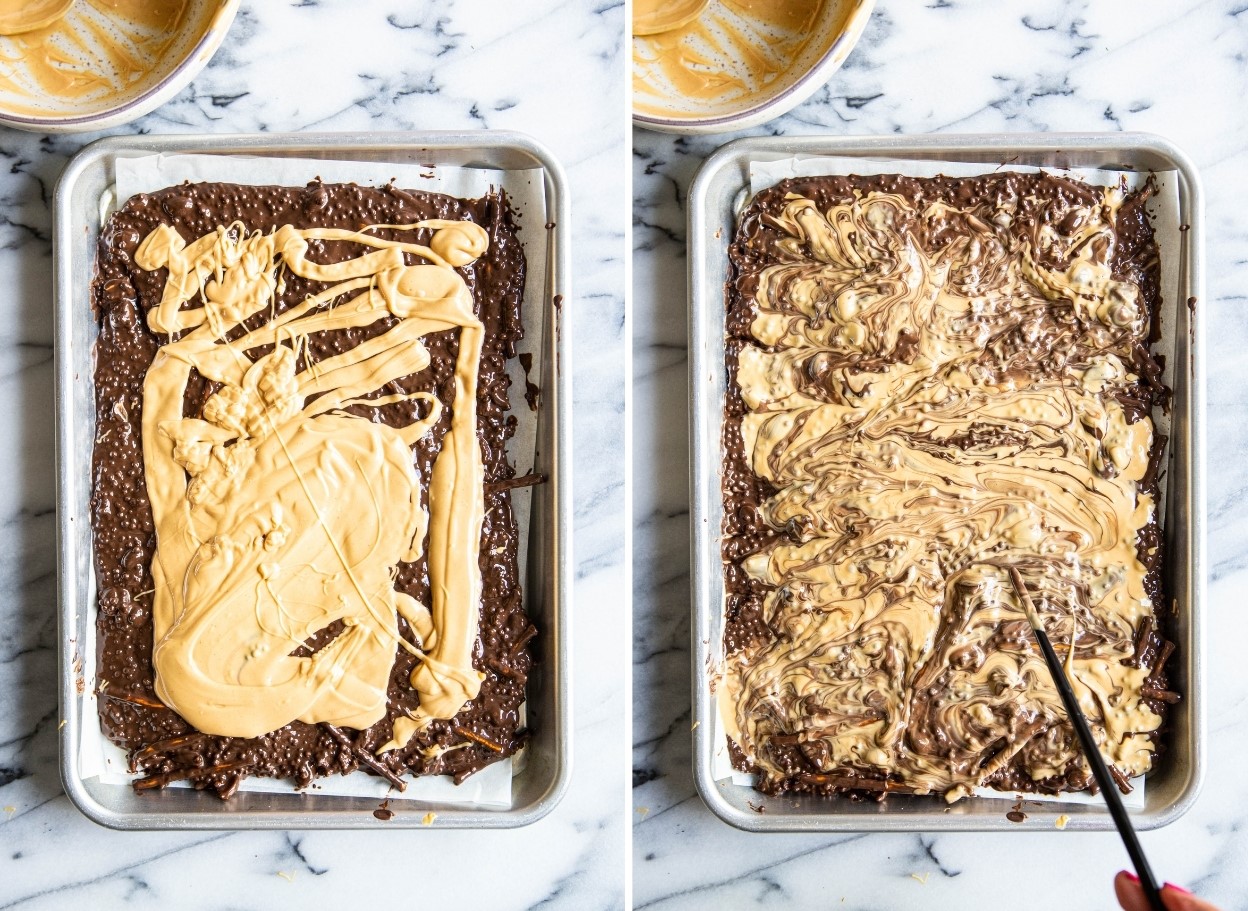 Melt the remaining white chocolate and drizzle all over the bark, then immediately top with sprinkles. Add a bit more white chocolate drizzle to make sure the sprinkles adhere well.
For best results, allow the bark to cool and set at room temperature for a few hours. If you're in a hurry though, place in the refrigerator for 30 minutes, then break apart.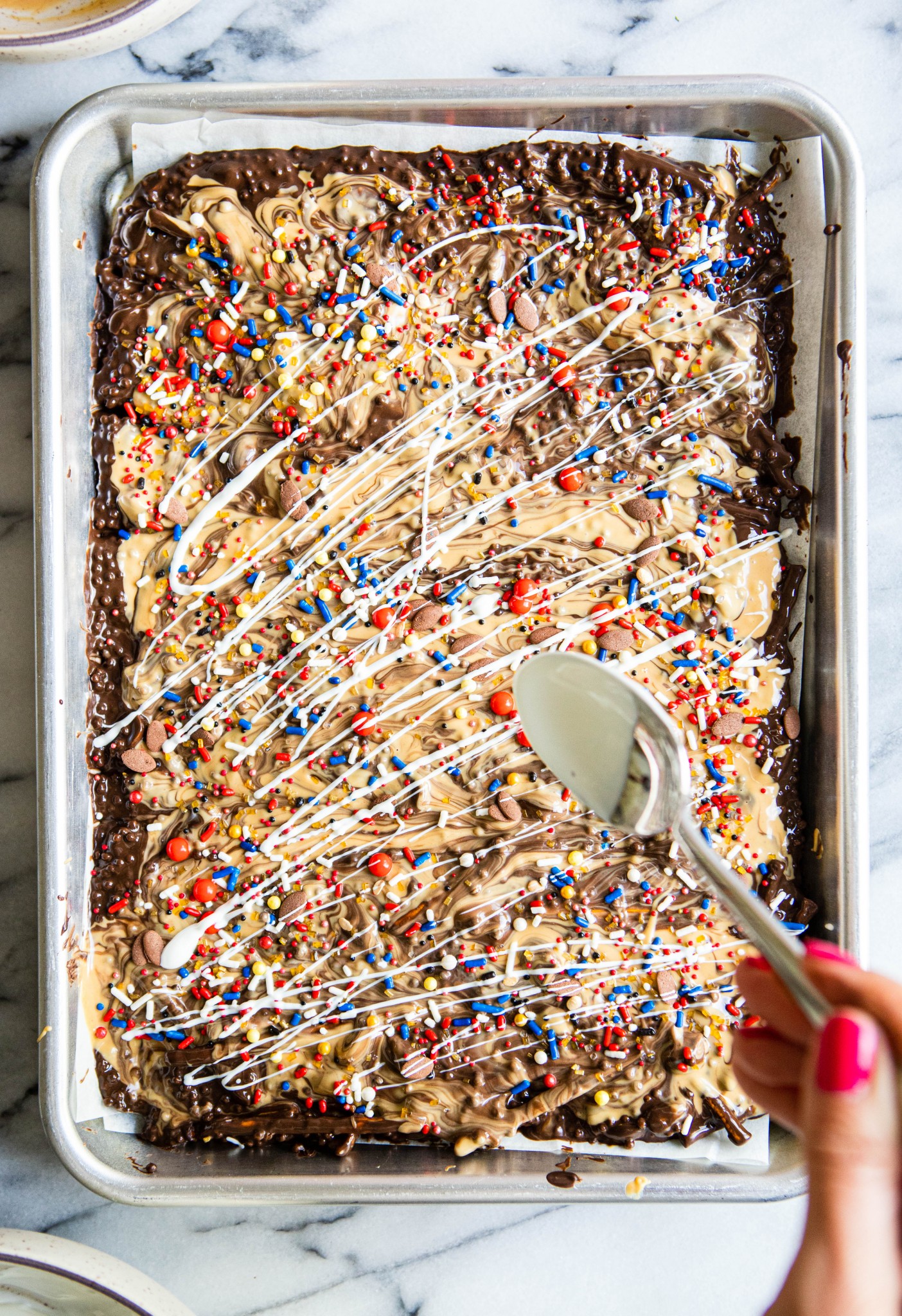 I love these patriotic football sprinkles that don't play favorites! Amazon also sells these cute turf green themed football sprinkles, but I'm sure Packers fans will claim them as theirs! You can also incorporate plain football sprinkles into your teams colors.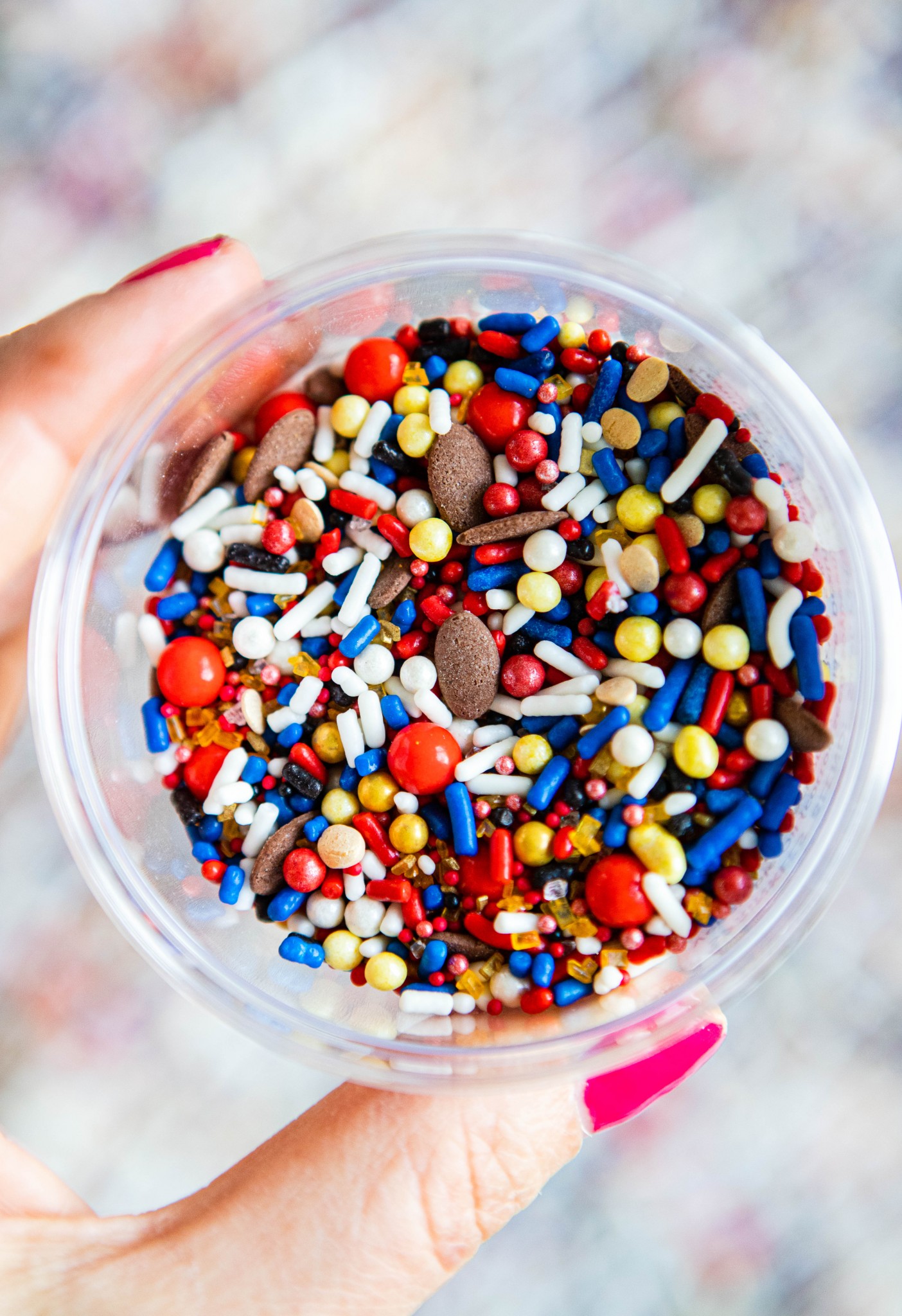 Dark chocolate bark recipe notes & tips
The easiest way to melt chocolate chips is in the microwave! Place in a microwave safe bowl and heat for 2-3 minutes, stirring every 45 seconds or so.
Use the double boiler method on the stovetop if you don't have a microwave. Place chocolate chips in a large heat-proof bowl over a pot of gently simmering water. Cook until the chocolate is almost entirely melted, stirring frequently. Here's a great visual if you need it; just remember your bowl should sit just above the simmering water.
Don't spread your chocolate in too thick of a layer (keep it 1″ or under). If your bark is too thick, it will be harder to break apart and bite through.
(Almost) Anything goes when making bark! This is a fun recipe idea, but feel free to swap out or eliminate my suggested ingredients, to suit your personal preferences. Almonds instead of peanuts, mini marshmallows in place of peanuts; you get the idea!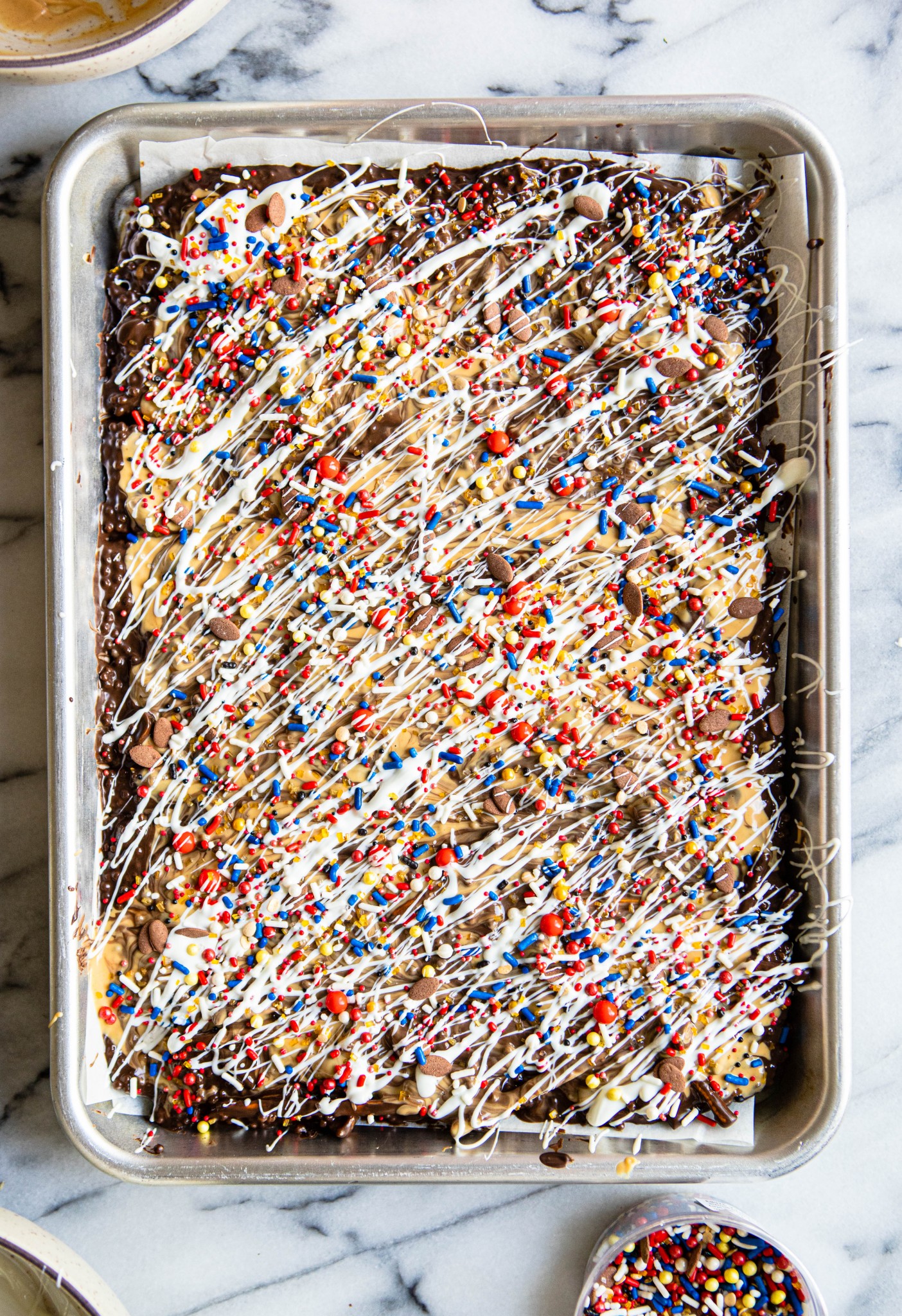 Bark Variations
Crunchy ingredient swaps – instead of pretzels or the crispy rice, use graham cracker pieces, cheerios, or even wavy potato chips
Nuts – not a fan of peanuts? Just about any other nut would work, including almonds, pistachios, cashews and hazlenuts
Sweet mix-ins – mini marshmallows, Oreo pieces, or chocolate covered espresso beans
Sprinkles – team colors, St. Patrick's Day, Valentine's Day, rainbow themed or Halloween themed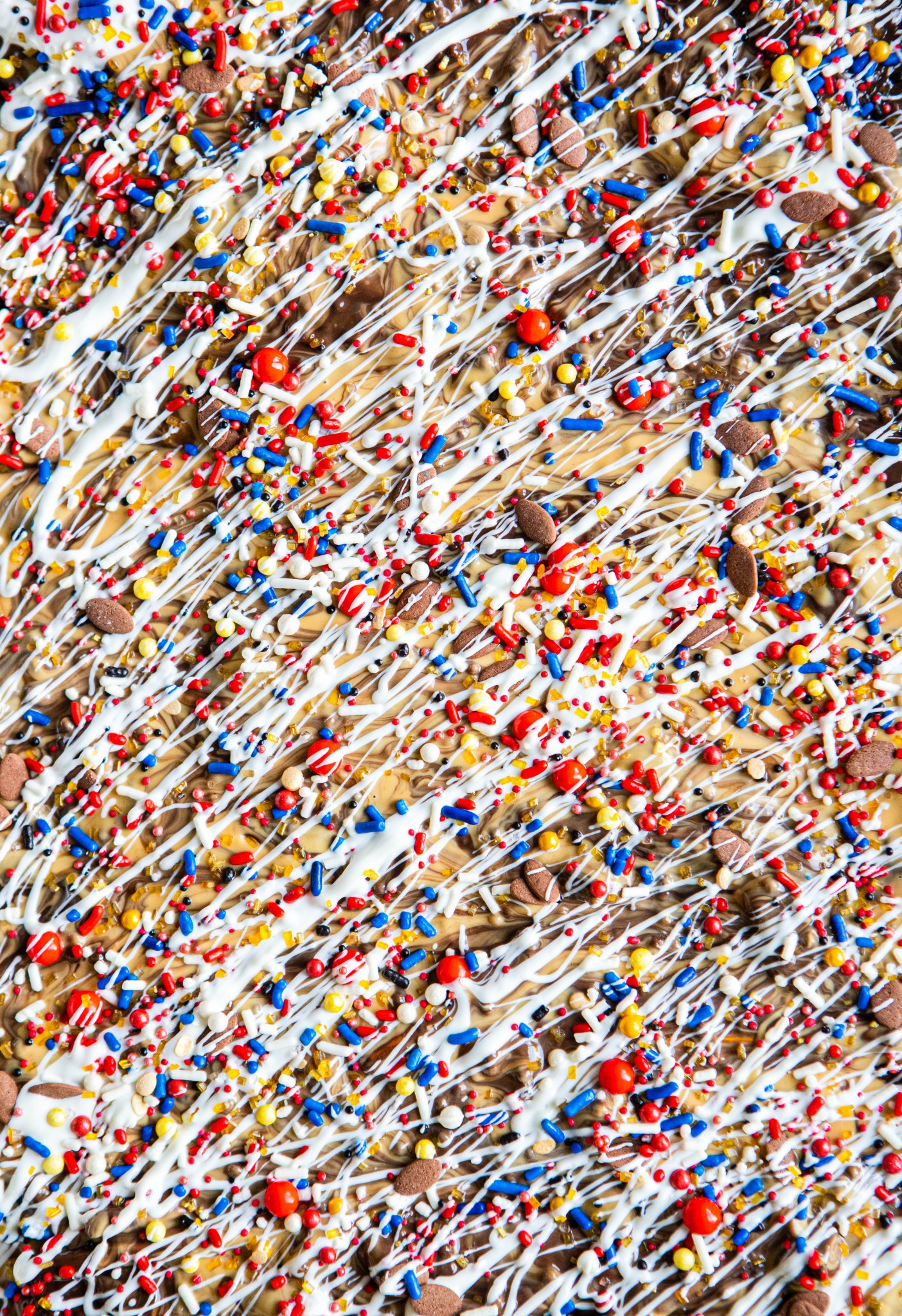 Other Super Bowl Dessert Ideas
Personally, I've always paid way more attention to the food than the game at Super Bowl parties! We don't plan on going to any huge game day parties this year, but I'll definitely be whipping up lots of fun snacks just to enjoy at home! Check out these other great Super Bowl dessert ideas: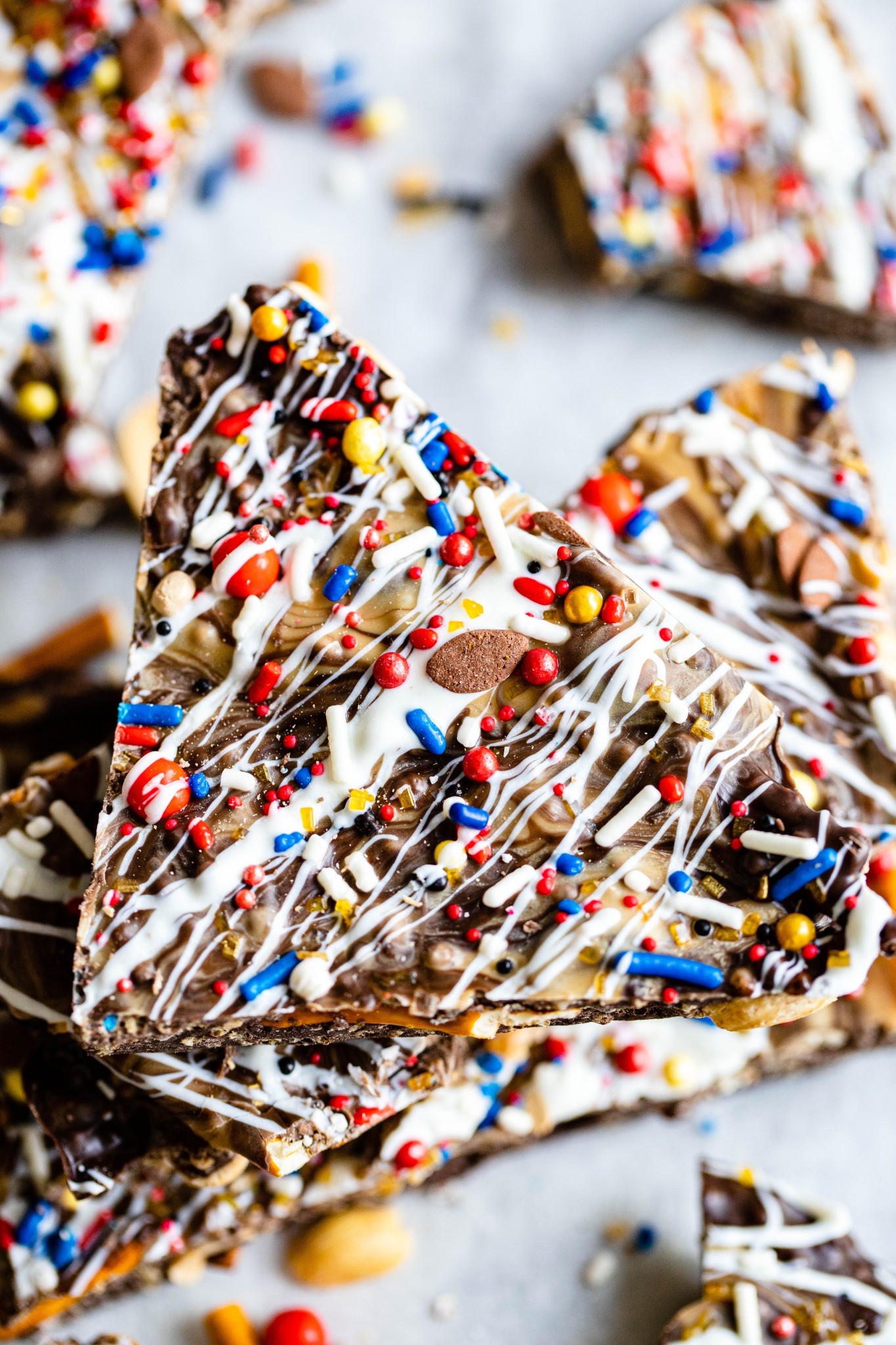 Dark Chocolate Bark with Peanut Butter, Pretzels & Crispy Rice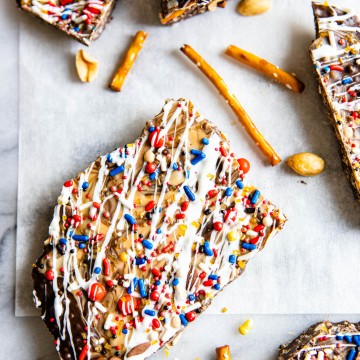 Peanut Butter Dark Chocolate Bark
A quick and easy dark chocolate bark recipe, with peanut butter chips swirled in, along with peanuts, pretzels and crispy rice. Ready in under an hour!
Print
Pin
Rate
Ingredients
2

lbs

Dark Chocolate Chips

chips or candy melts

1

lb

Peanut Butter Chips

See recipe note if don't have peanut butter chips

¼

lb

White Chocolate Chips

½

cup

Crispy Rice

½

cup

Peanuts

unsalted

½

cup

Pretzels

3

tablespoon

Sprinkles
Instructions
Melt dark chocolate and peanut butter chips in separate microwave safe bowls or double boiler.

Add peanuts, crispy rice and pretzels to the bowl with the melted dark chocolate, and gently stir till completely mixed in.

Spread dark chocolate mixture onto a small parchment lined baking sheet, in a 1" layer.

Pour melted peanut butter chips on dark chocolate mixture, and swirl in with a butter knife or chopstick.

Melt white chocolate chips and drizzle all over peanut butter dark chocolate bark. Immediately top with sprinkles, and add some more white chocolate drizzle.

Allow to cool and set at room temperature for best results, or place in the refrigerator for 30 minutes. Break apart when completely hardened and set and enjoy!
Notes
If you do not have peanut butter chips, melt 1 lb white chocolate chips, and stir in ½ cup peanut butter till thoroughly combined.
Nutrition
Calories:
542
kcal
|
Carbohydrates:
56
g
|
Protein:
12
g
|
Fat:
31
g
|
Saturated Fat:
25
g
|
Cholesterol:
8
mg
|
Sodium:
157
mg
|
Potassium:
417
mg
|
Fiber:
4
g
|
Sugar:
37
g
|
Vitamin A:
8
IU
|
Vitamin C:
1
mg
|
Calcium:
191
mg
|
Iron:
2
mg