I would say that it's hard to believe we've been back home for over a year now, but the scuffs already on the walls and baseboards remind me that yes indeed, 3 young kids have lived here, and lived here well, for the past 18 months. It's been so great to be home after living with the in-laws for the 7 months it took to remodel the house, and now, it feels even better to have some finishing touches put on much of the house. Today I thought I'd share just a bit of the main living areas. Eventually I will do a proper before and after, because the transformation is amazing.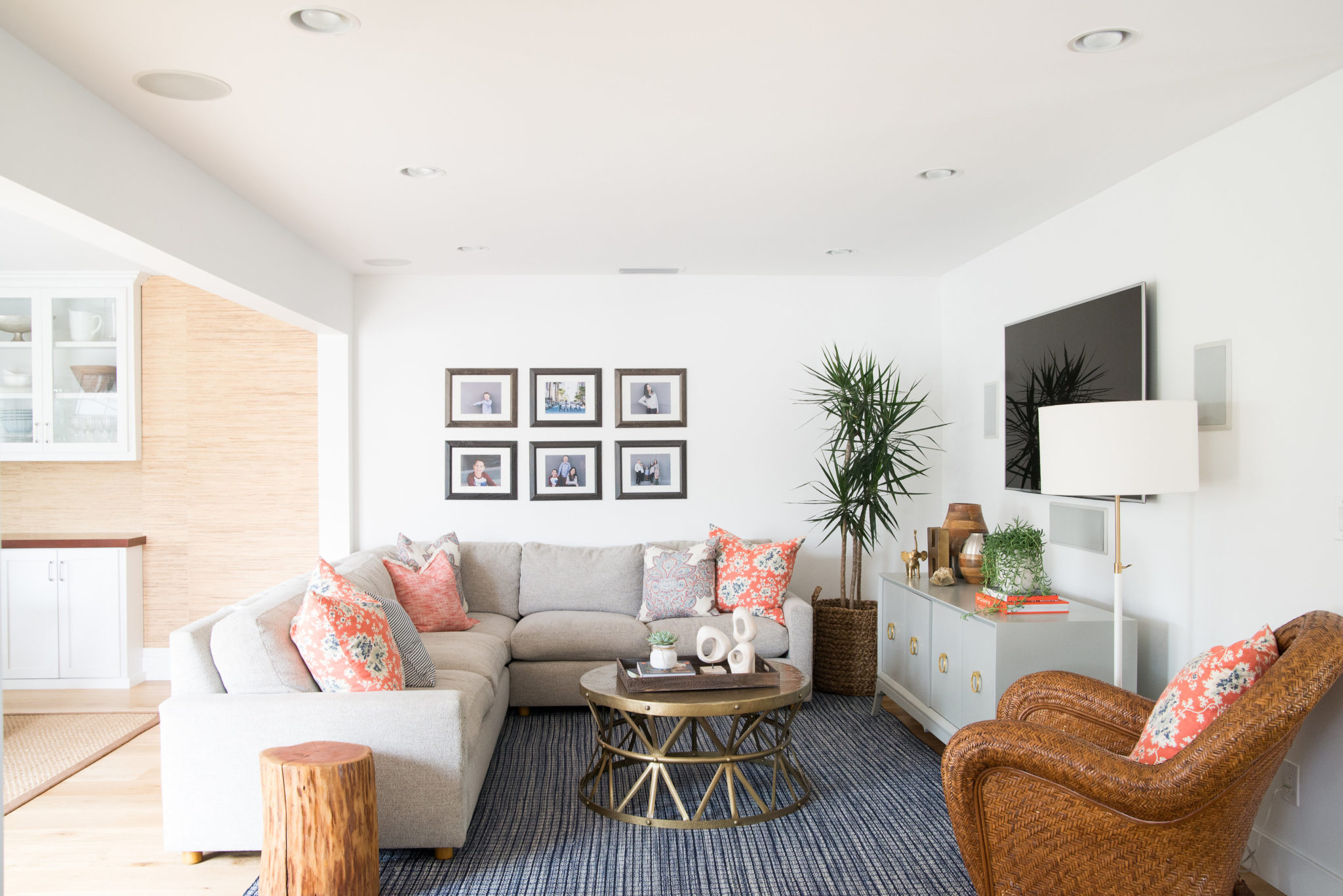 After we moved back home, we began slowly updating some of the furniture in the living and family room areas. We worked with our friend Shelly of VanRozeboom Interiors, and she helped us pick out most of the larger pieces of furniture and key accessories in both areas. We loved everything, but I continued to drag my feet on hanging pictures and adding the bits and pieces which would make the rooms feel more warm and homey.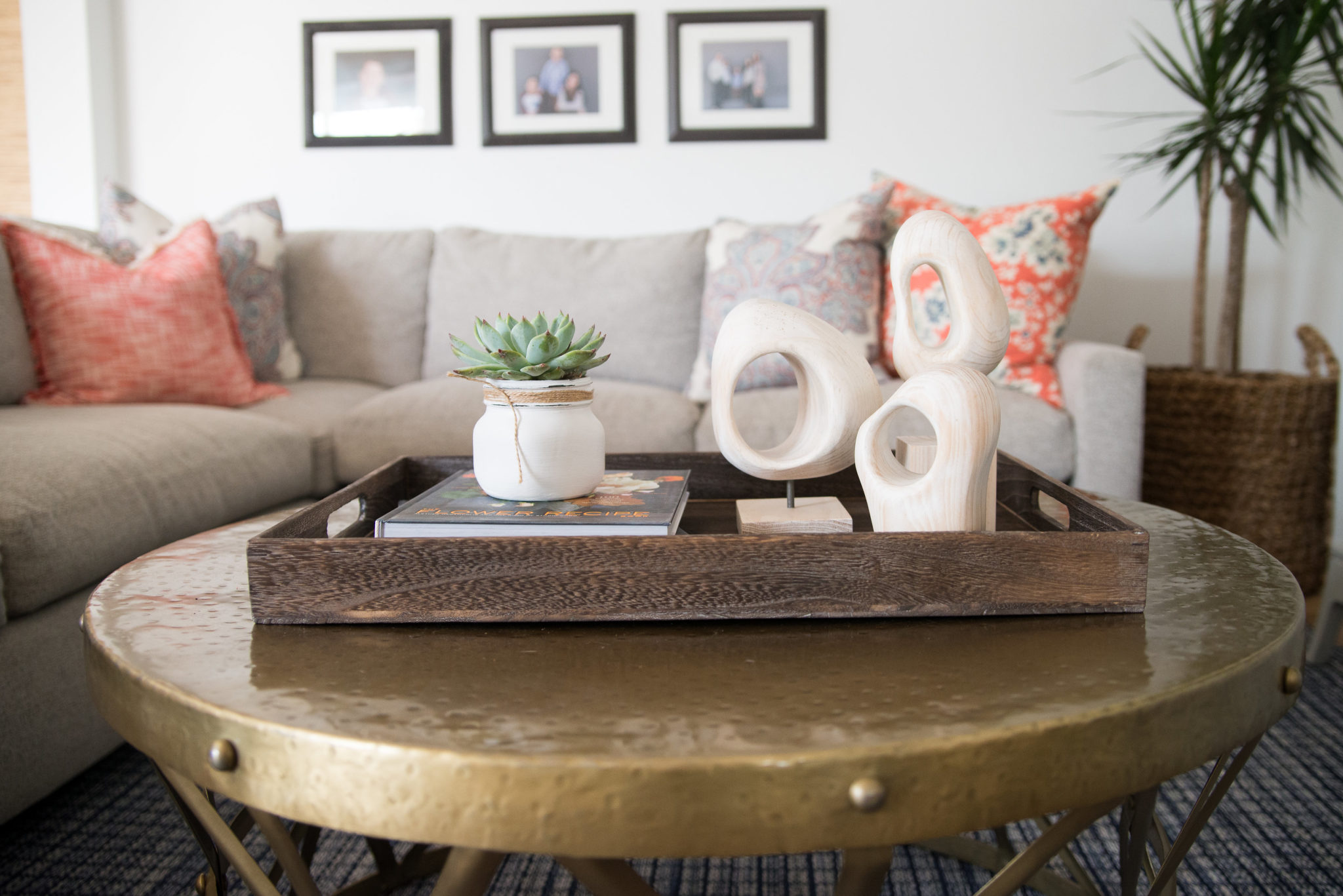 Lacking both time and design skills, walls, mantels and tables sat empty for the past year. Certainly not the end of the world, but I definitely wanted to finally have the rooms completed with more personal, warm touches to make it feel homier and reflective of our family. I originally had this vision of only adding in decorative items we nonchalantly picked up on our world travels, but after a year of sitting in empty rooms, I came to the realization that we aren't world travelers, and probably won't be for another 15-20 years, so stuff from Target and other retail stores will have to do haha!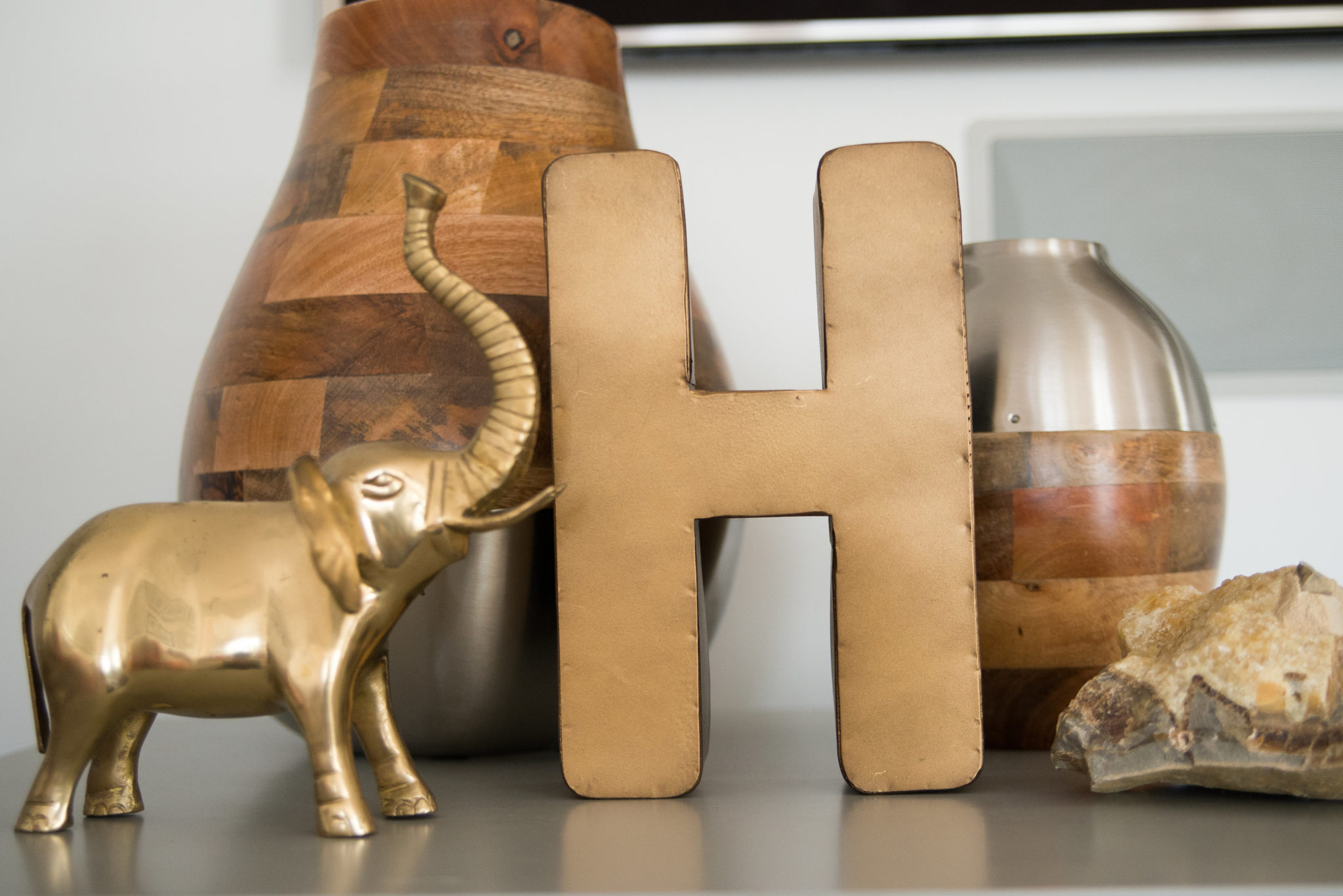 BTW, aside from these family photos on the wall, a lot of the really personal touches that do make a home feel like a home, like bottles of vitamins on the kitchen counter, and kids artwork and other odds and ends, were all taken out for the shoot. Hence, why these photos don't really reflect the truly "personal" feel of our home on a day-to-day basis.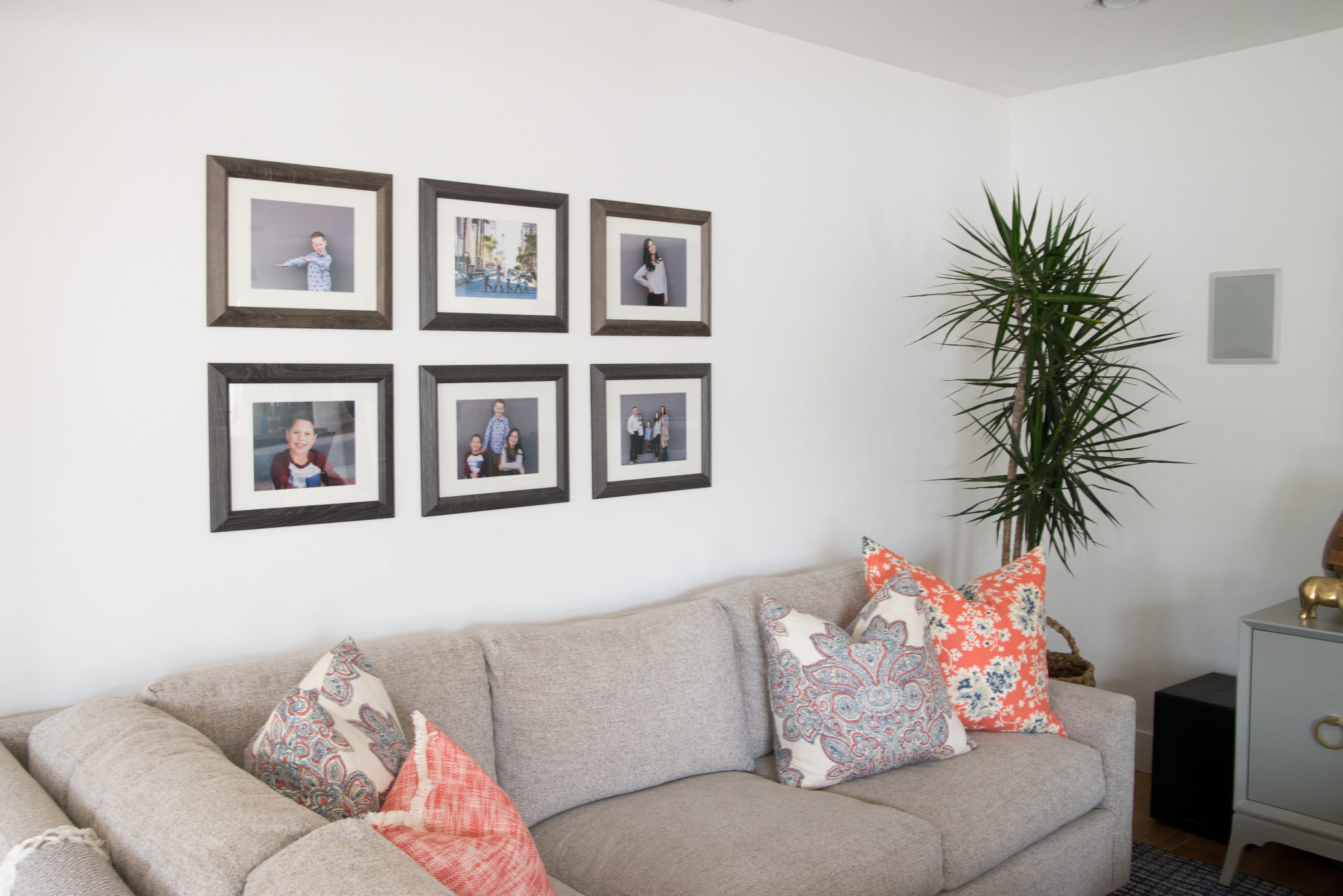 This is where Sam comes in, of Samantha Tanner Interiors. We were having the house photographed for a Apartment Therapy, so we called up Sam and she came right in and pretty much completed the rooms with a lot of really nice touches that added warmth, dimension and texture to the house. She did a wonderful job shopping affordable pieces that reflected our personality and style, and I couldn't be happier with the way everything came out. 
Sam came over one morning and walked the house, asked some questions and left in less than an hour. A week later, she showed up with a truckload of items, set everything up for the photo shoot, and took back the items I wasn't in love with, of which there were very few. She was like our own designer fairy. Needless to say, I feel very lucky to be able to use her services, but I must also say that all things considered, her services and the items she purchased, were all very reasonable. Everything she used to accessorize with was from either Home Goods, Target, West Elm or World Market.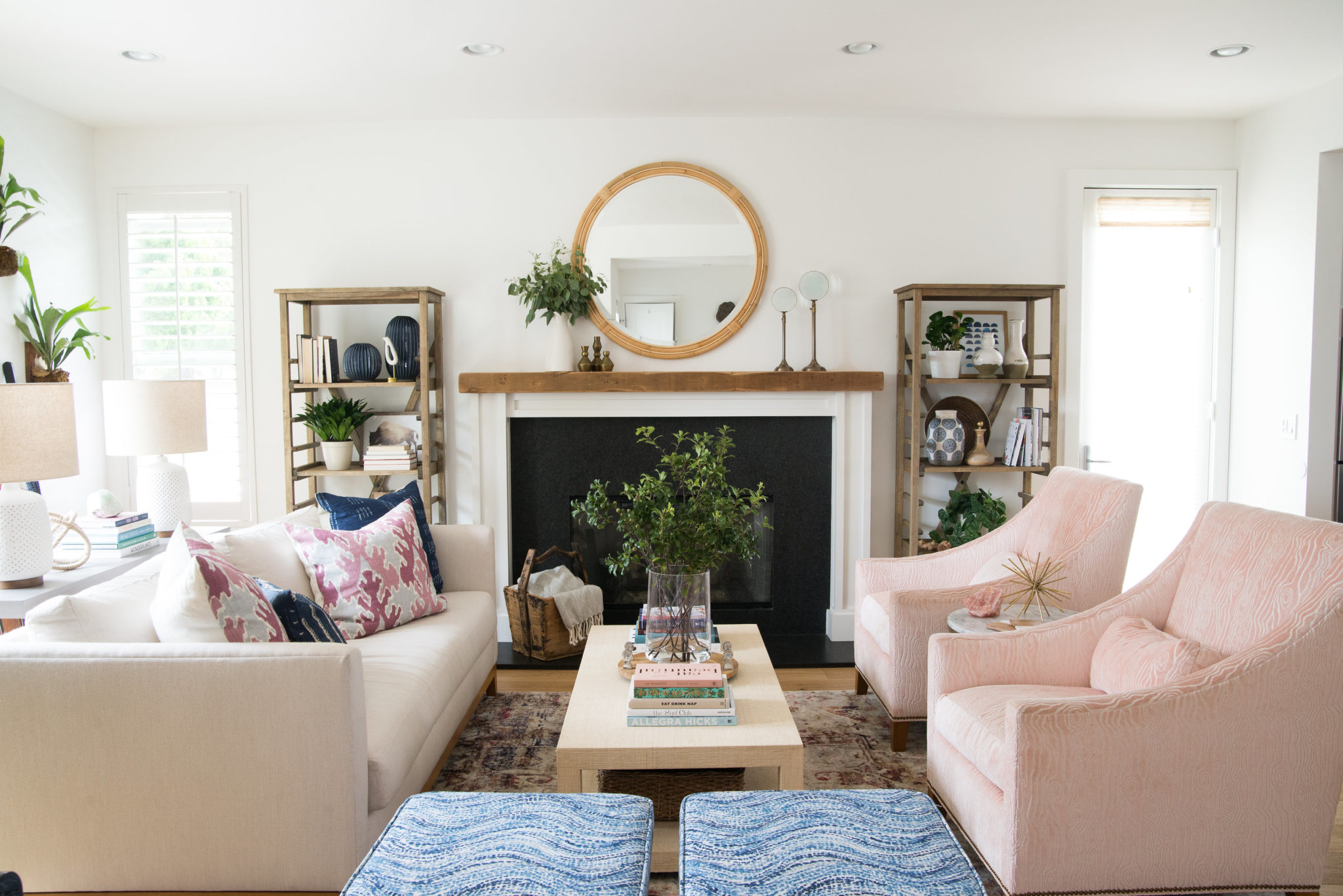 The living room in particular, with its 9 foot high ceilings and white walls, was lacking some warmth, so she suggested adding bookshelves to either side of the fireplace, an idea I loved since we hadn't originally designed in a single place to house books in the entire house. In hindsight we should have probably installed built-ins to either side of the fireplace during the remodel, but since that would have likely cost an additional $10k, probably just as well that we picked up a pair of bookshelves from World Market for under $500.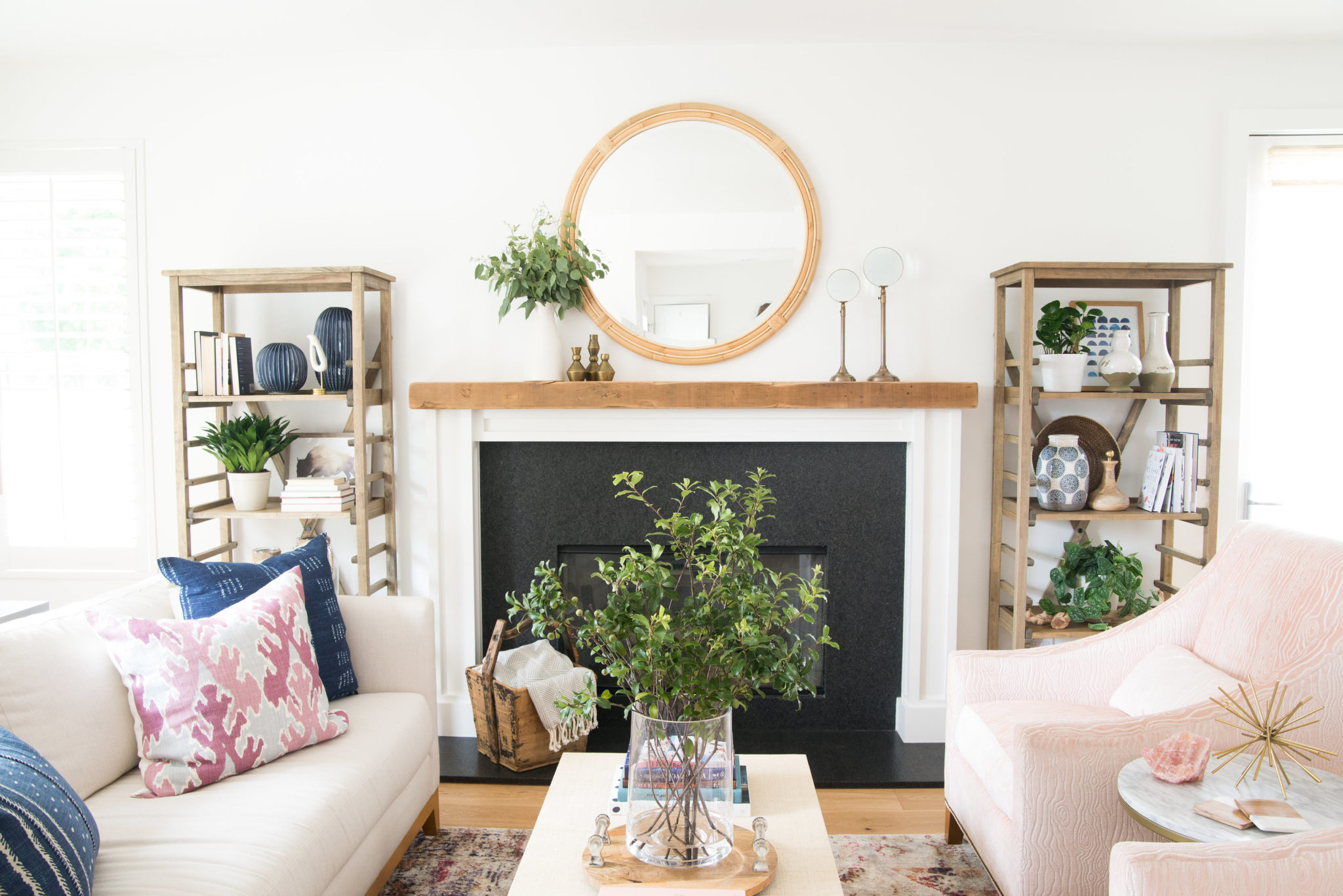 Also, in case you are wondering why the fireplace mantel is so tall, new California code dictates the firebox (real fireplaces are now outlawed in California btw, so you can only install gas fireboxes), has to be something crazy like 2.5 feet away from the mantel. I'm sure you didn't notice that though haha 🙂
Sam really loaded up the bookshelves with lots of great decor items for the photo shoot, and she also turned the books around so the spines faced inwards, but we've since taken out a few of the extra accessories and turned our books around 🙂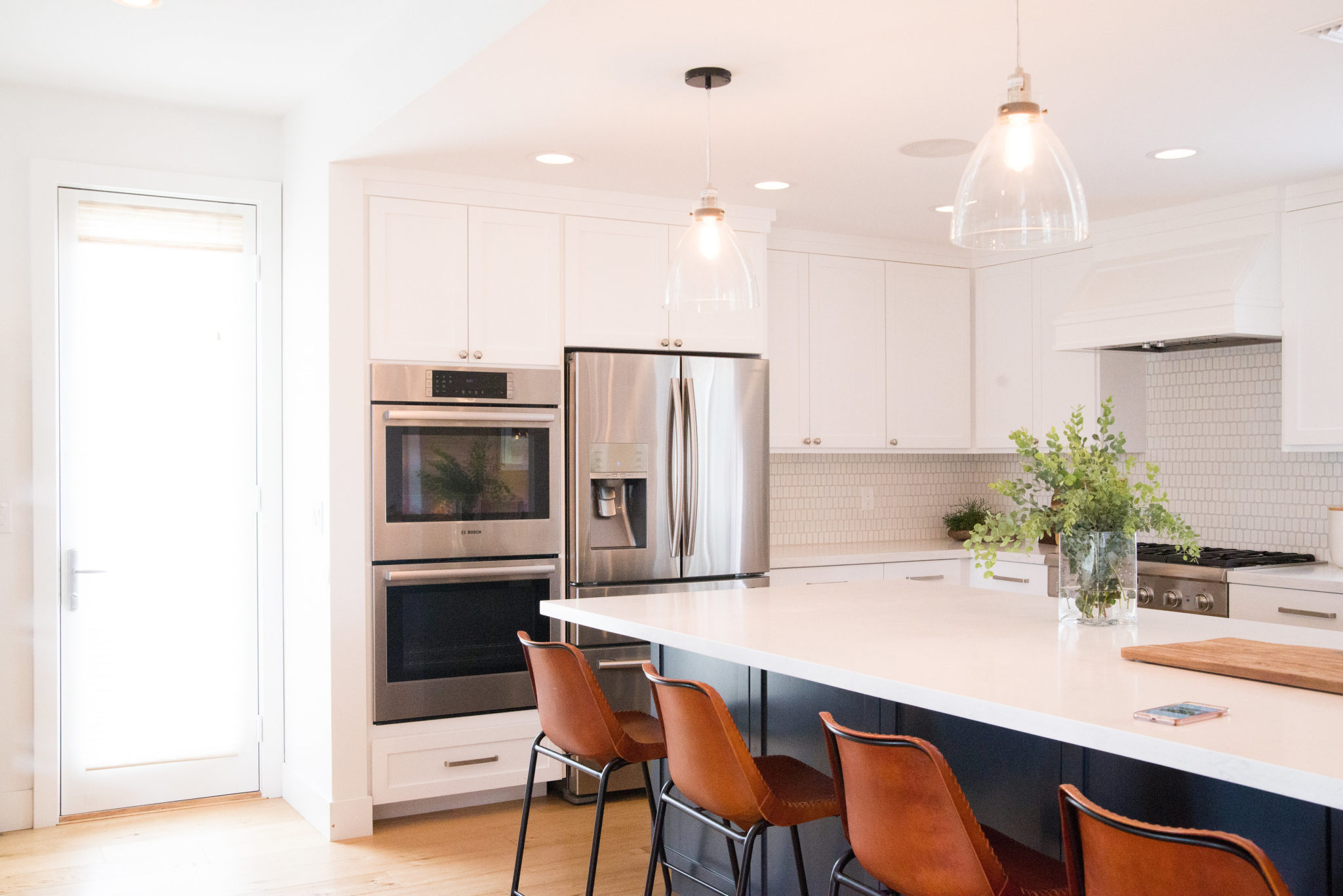 If you follow me on Instagram, you've already seen lots of pictures of the kitchen before, but here are a few more with all the kitchen appliances removed.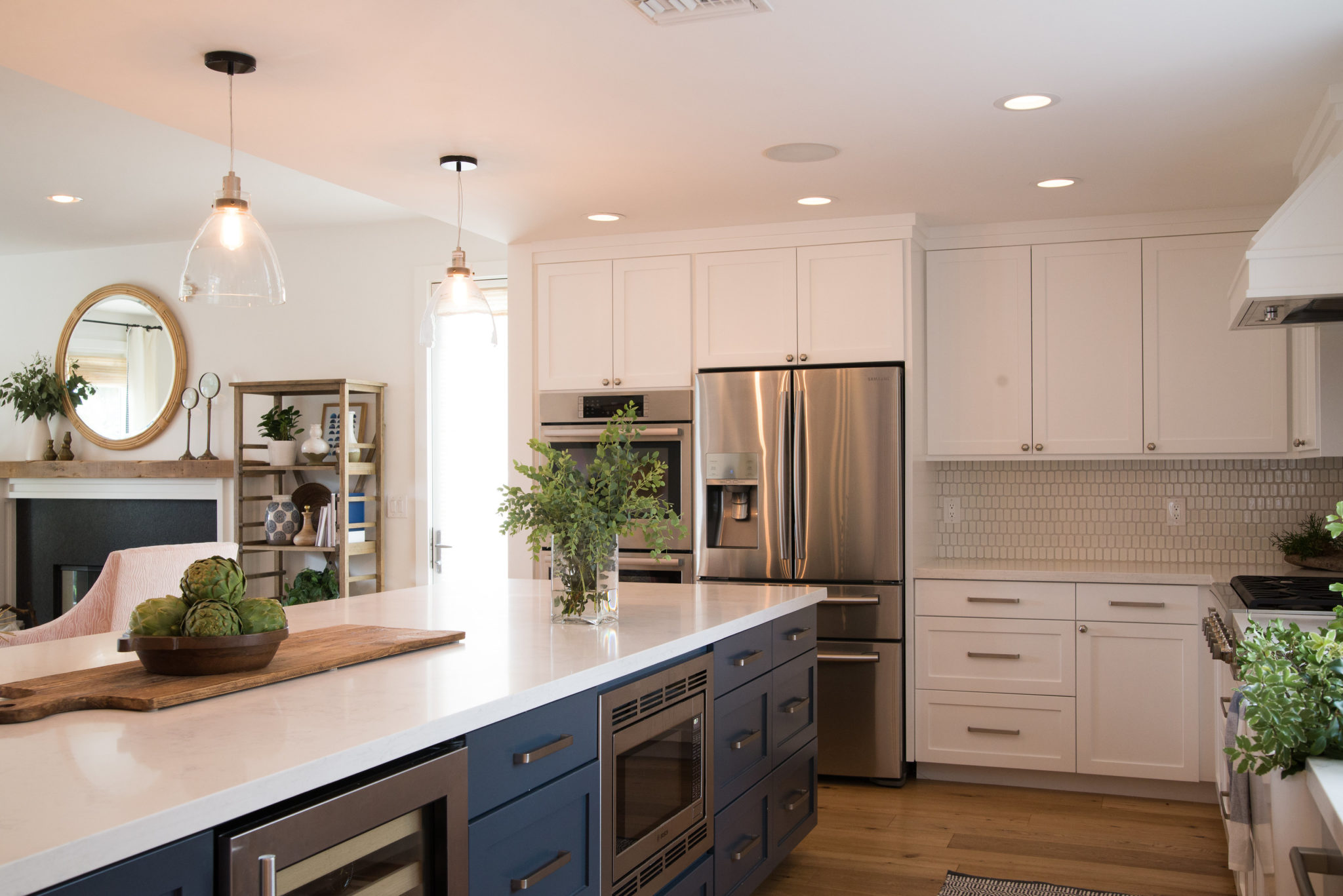 Also, those artichokes were real and beautiful, but with the craziness of life, I forgot to cook them up before I noticed they had gone bad a few days later. 🙁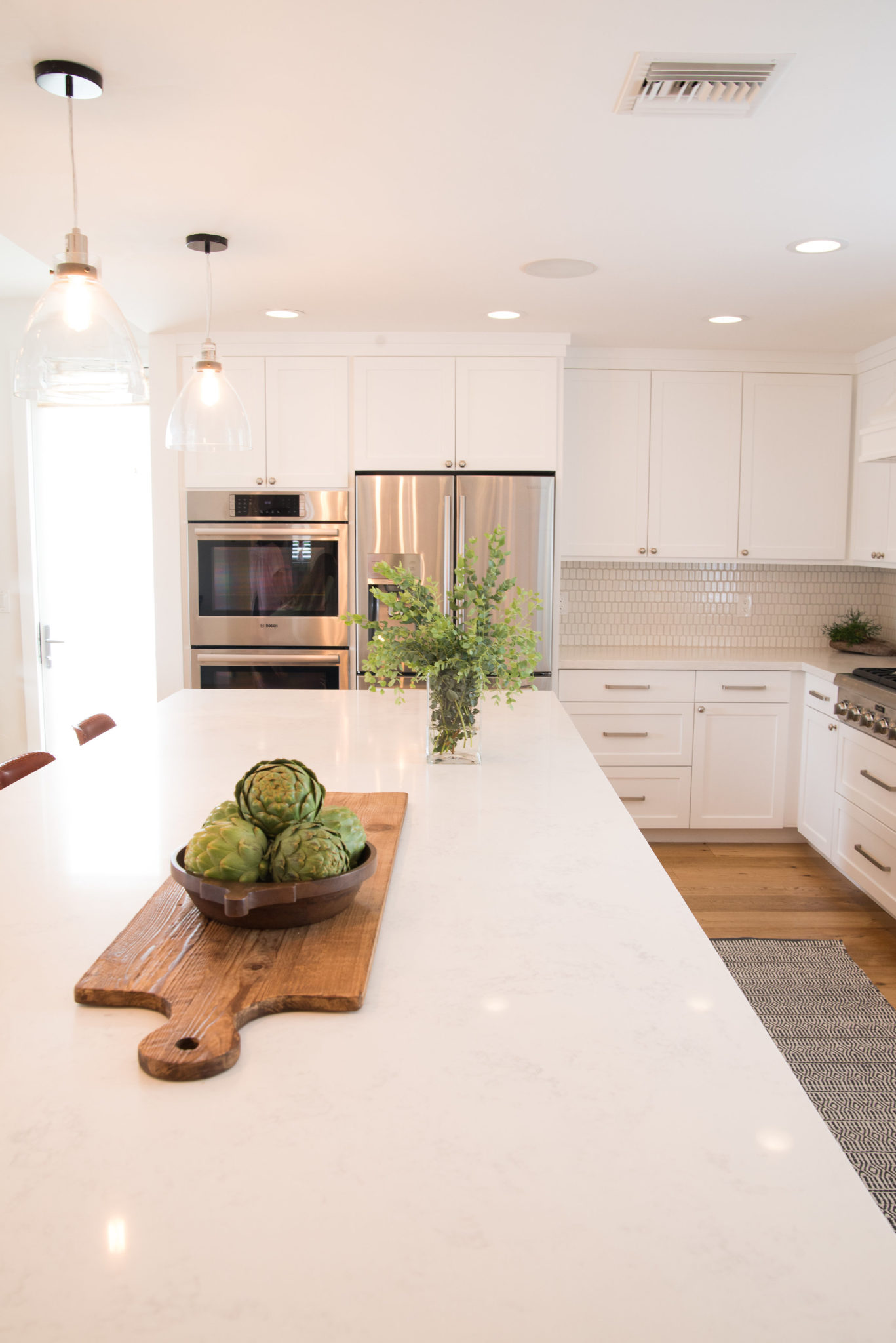 The entryway area here continues to be a work in progress, as I can't decide if I want to do the practical thing and hang some hooks for us to place backpacks, purses and sweaters, or if I want to leave it clutter free. It definitely needs something though, so for the photo shoot she just tacked up a couple of hats, but eventually we need to find a permanent solution. I was at Container Store yesterday and they had some nice cloth covered peg board squares, as well as white boards and chalkboards, which are meant to be designed to fit the space you need in any configuration you want, so I may do something like that. Either way, I know that eventually I need to create a solution which will make better use of this space.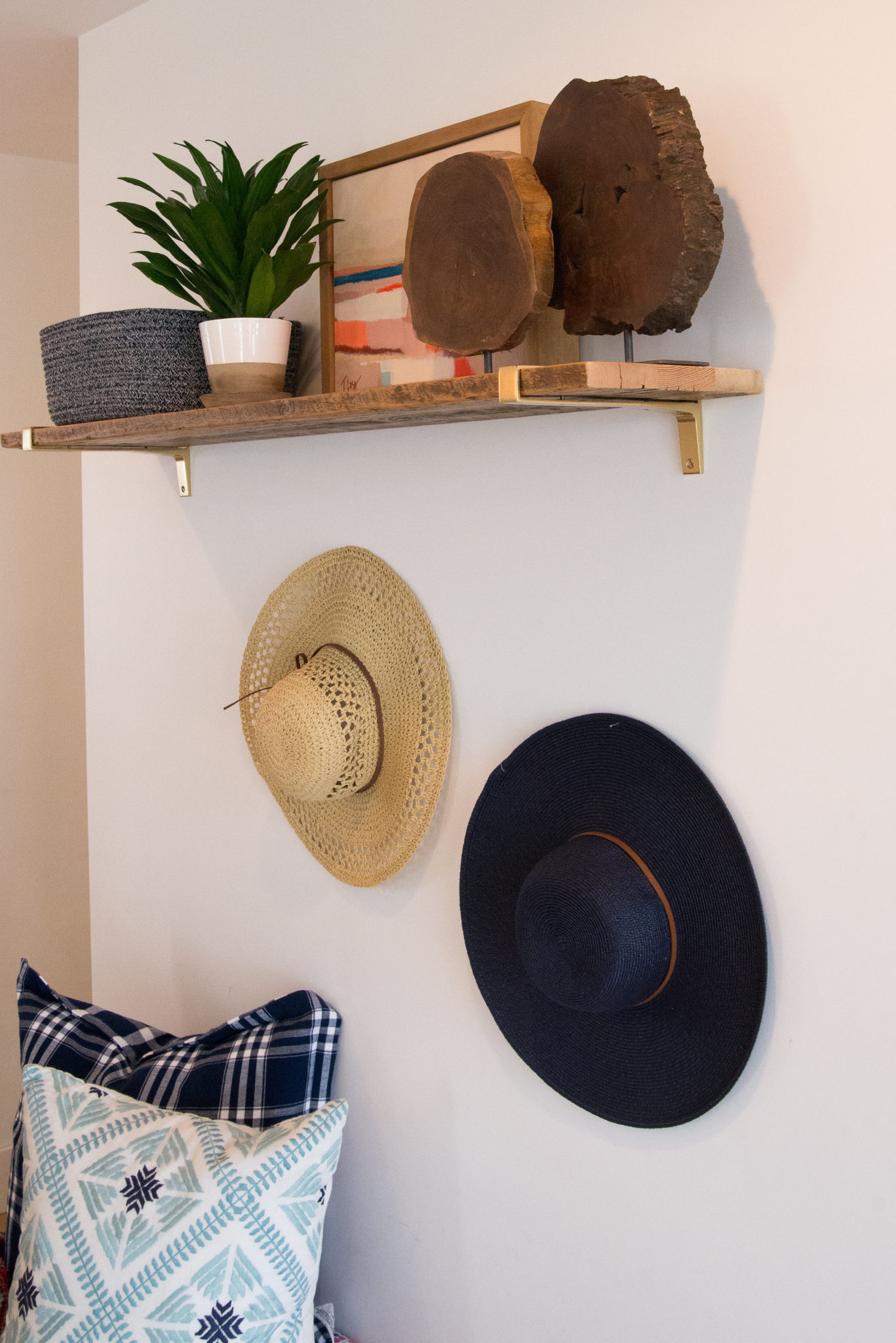 These photos were taken by my good friend Miranda of M.Shanti Photo. She came over while everything was all pretty and clean, and snapped a few pics while the photographer from Apartment Therapy was here. I'll share the rest of the photos of the other rooms in a separate post next week. For now, here are the sources for a lot of the items you see.
Family Room:
Sectional – custom via Bella Furniture here in California. Coffee table & media console sourced via VanRozeboom Interiors. Rug is Dash & Albert, wicker chair is very old Pottery Barn. Pillows were all custom.
Accessories – Wooden Sculptures on coffee table: West Elm; Floor Lamp: West Elm; Wooden side table: West Elm; wooden vases on console: Target; brass elephant: vintage from flea market; Letter H: old Home Goods
Living Room:
Sofa & Chairs – custom via Bella Furniture; Coffee table: Serena & Lily; Side table: West Elm; Mirror: Serena & Lily; Bookcases: World Market; X Stools: Ballard Design using custom fabric; Rug & Sofa table: sourced via VanRozeboom Interiors; Table lamps: West Elm no longer available
Accessories – Blue vases & bird sculpture on left bookcase & mantel vase: West Elm; Colored vase & rustic vases on right bookcase: Pottery Barn; gold orb on sofa table: West Elm; various other accessories, baskets & pots from Target & Home Goods. Wooden rice bucket on fireplace hearth: Chartreuse Home Furnishings (local store here in Los Alamitos).
Kitchen:
Bar stools: CB2; Pendant lights: West Elm; long wooden cheese board: Chartreuse Home Furnishings; cutting boards & various bowls: Target
Entryway:
Wooden shelf & brass brackets: Rejuvenation; Petrified wood sculptures: West Elm; original artwork: T Losa via Serena & Lily