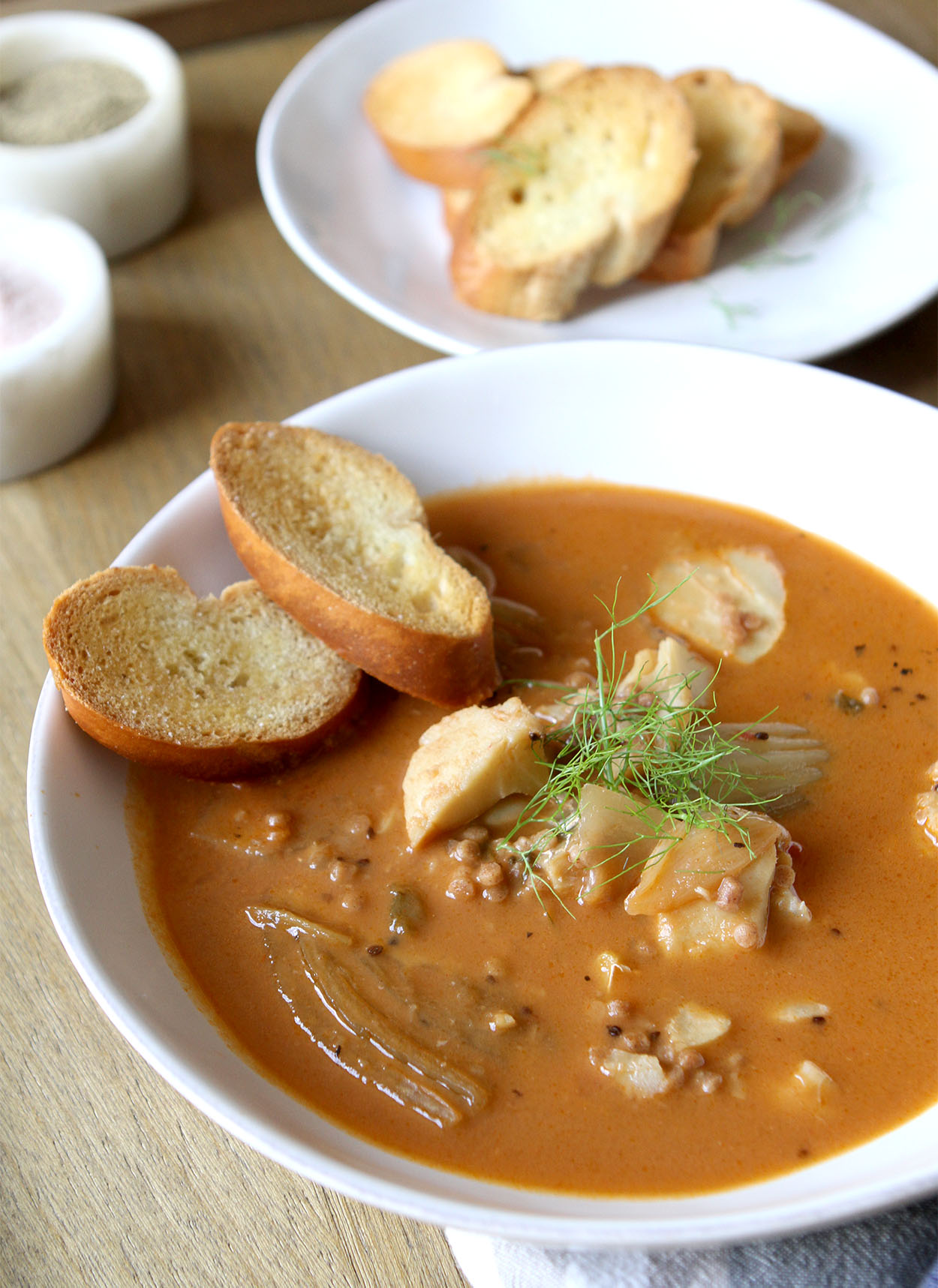 We're winding down the first monthly themed series on slow cooker meals, and I'm particularly excited to share this one with you, because it features seafood. One doesn't always associate slow cookers with fish and other seafood, but I've had great success with cooking up crockpot meals on the fly, using fish, especially since it cooks so dang fast. Because after all, a great slow cooker recipe is only as good as your memory; if you forget to thaw your meat the night before, or can't get it together in the morning to put everything in the slow cooker before you leave, most of the time you have to come up with Plan B for dinner. Not the case with seafood, as many dishes are ready in 2 hours or under.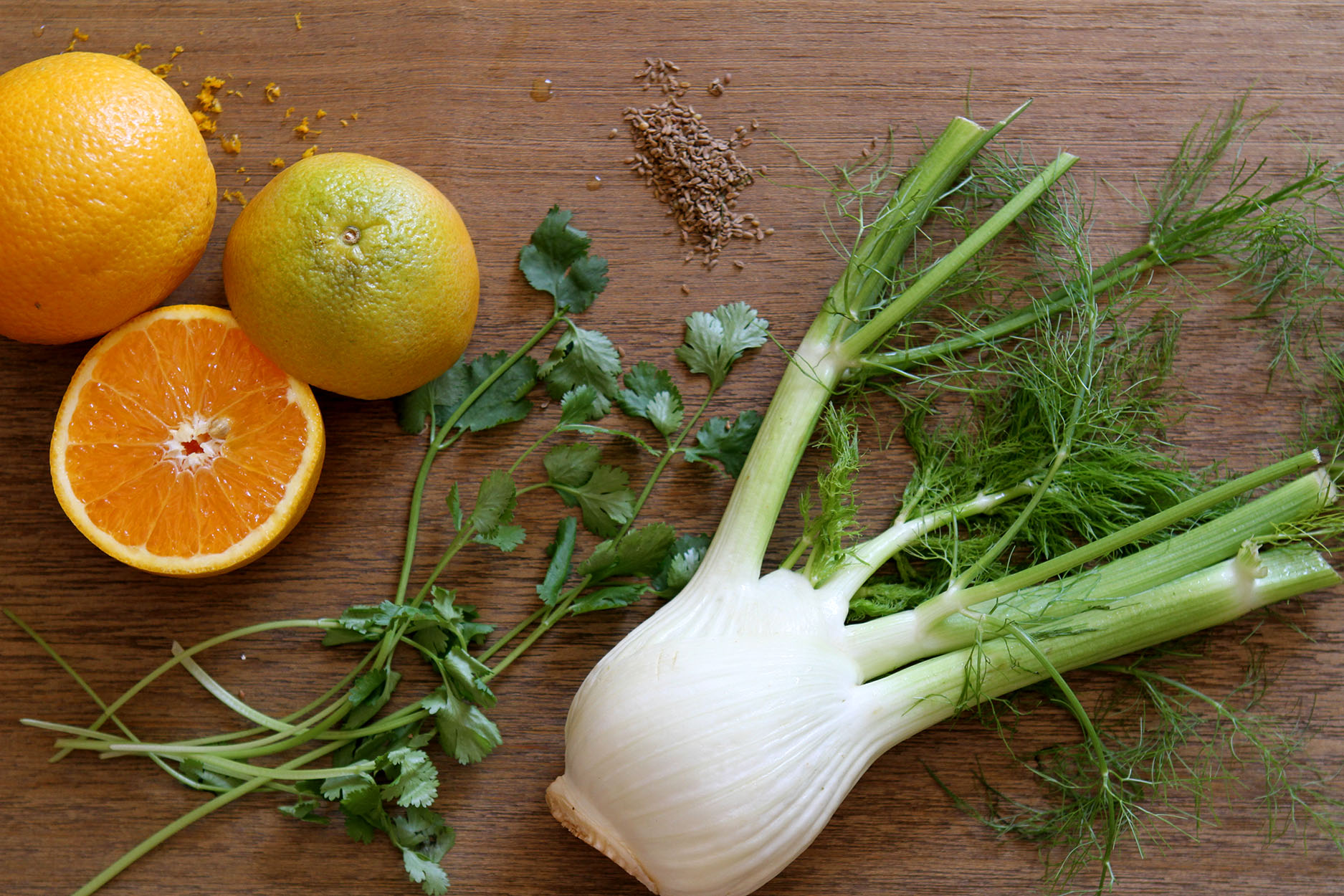 I especially like this dish because it uses cod, a flaky light fish which stand up firm to steaming, baking an stewing. I love cod because it's consistently the most affordable wild-caught fish on the market, however truth be told, I don't *love* it on its own. Breaded and baked or fried, or in a dish like this is fantastic! But just steamed or baked plain, it always has a somewhat metallic taste, to me anyhow. Anyone else? If you've never had cod, I'm probably not doing a great job selling it, but I promise it's beautiful when you mix it in with other things haha! Anyhoo…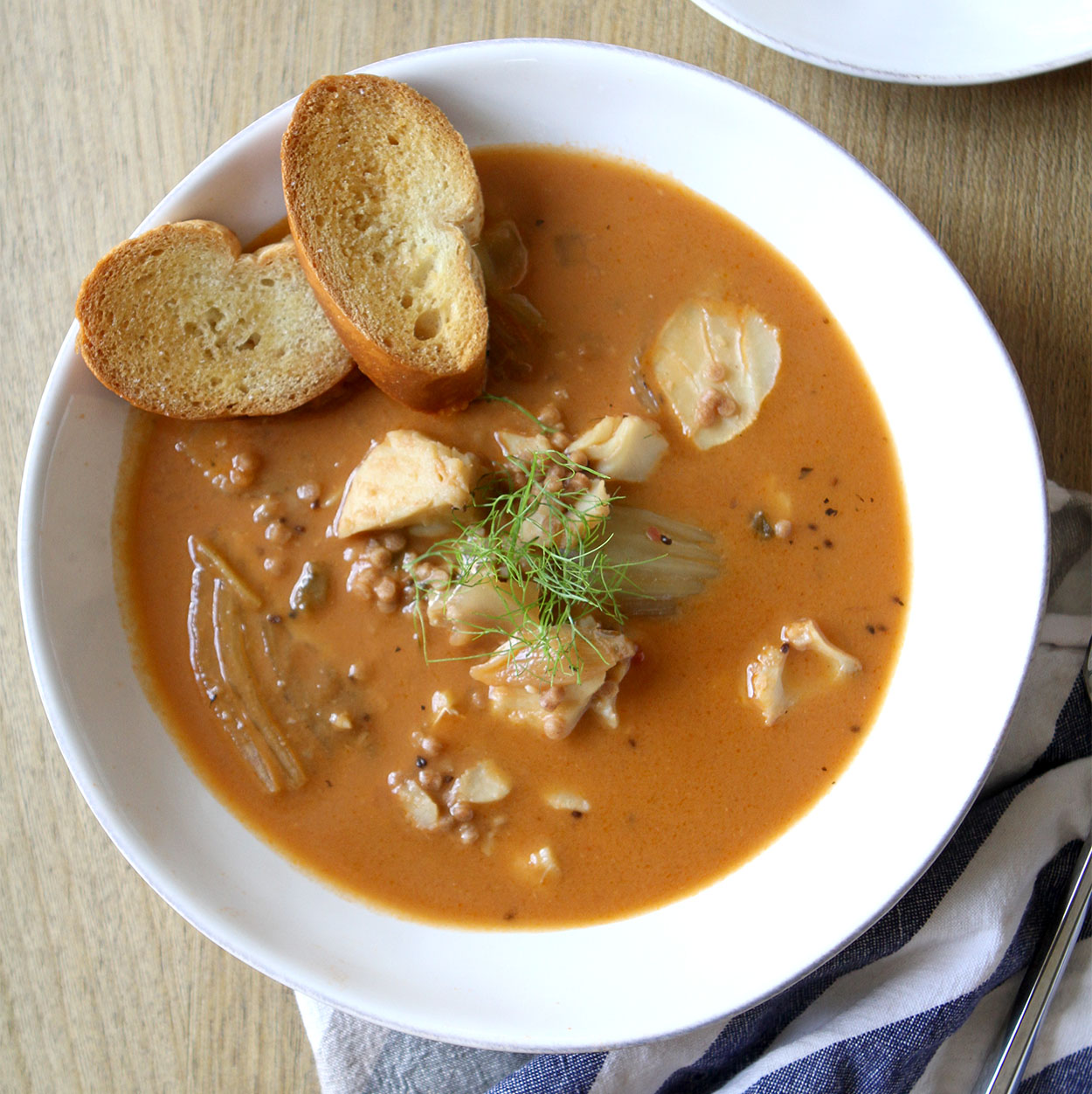 A few notes on this recipe. This one takes a tiny bit of work upfront in that you need to saute the aromatics, but it's a small extra step which will ensure more intense flavor to what would normally just be a tomato soup with fish mixed in. So make sure you don't skip that first step. Also make sure you don't leave your fish cooking away or on the warm function of your slow cooker, past the 30 minute mark, as you don't want to toughen up the fish. Turn the slow cooker off and serve immediately, or reheat on low heat. If you don't have Israeli couscous, no problem, use a small grain pasta like orzo or those little stars so often sold in supermarkets.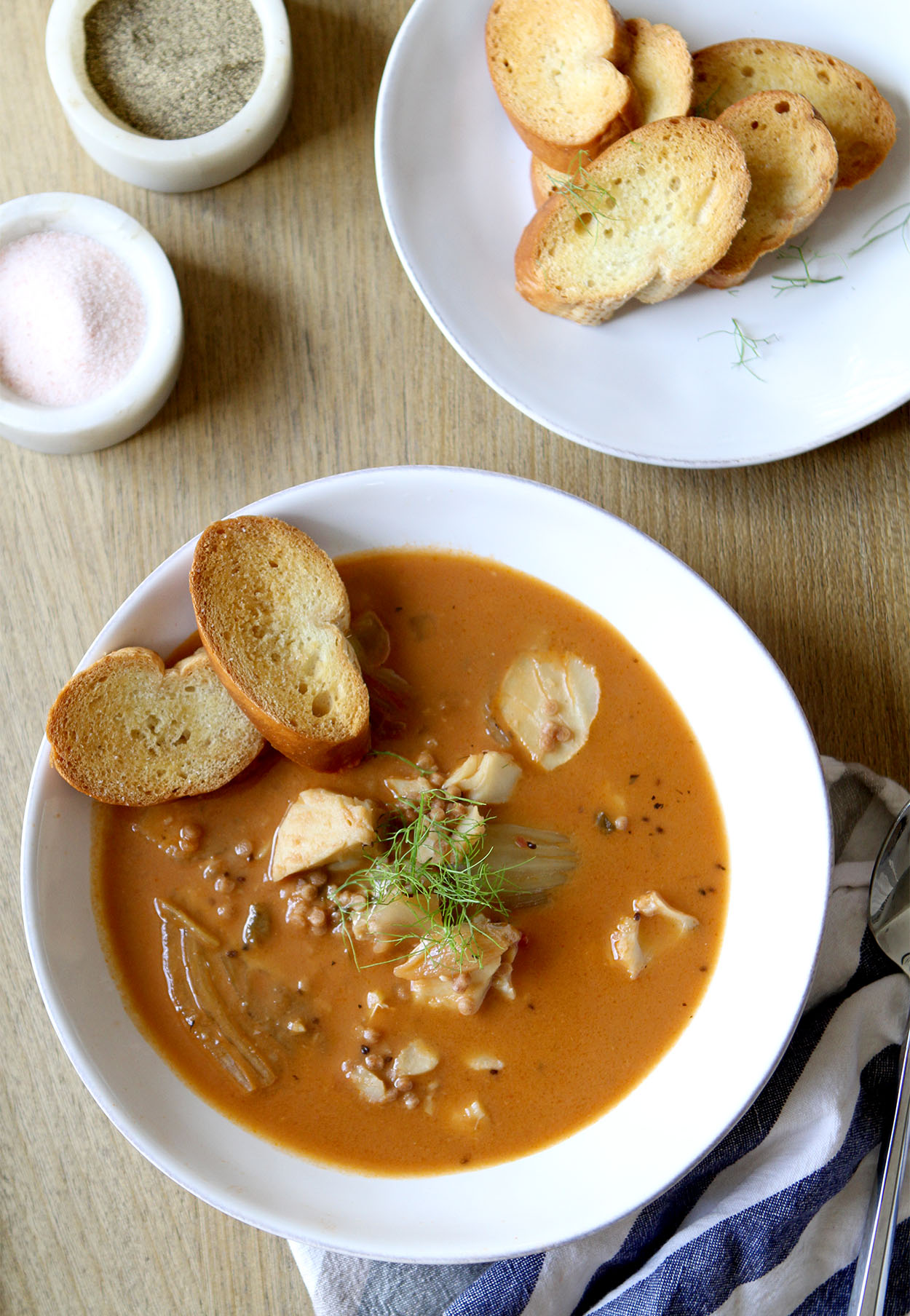 My kids have always loved fish, although fennel continues to be a tough sell. Because the pieces are in pretty large chunks, it's relatively easy to just scoop them aside and serve the broth along with the couscous and fish. The broth alone has tons of vitamins and minerals so I'm not at all worried about them missing out on it.
I hope you enjoy this 2nd to last slow cooker recipe of the series. When we wrap it all up next week, I look forward to hearing what your favorite was. And now, to start thinking of next month's theme!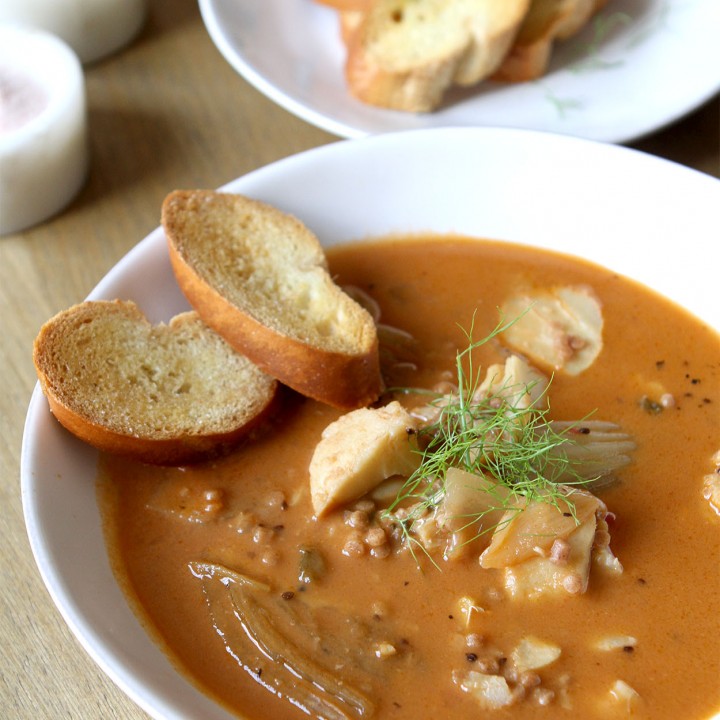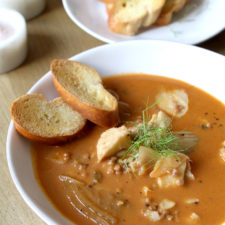 Slow Cooker Fish, Fennel & CousCous Stew
This warming yet light fish stew makes for a quick and upscale weeknight dinner, that's surprisingly affordable. *Adapted from Williams Sonoma The New Slow Cooker Cookbook
Print
Pin
Rate
Ingredients
2

tablespoon

olive oil

10

cloves

of garlic

minced or sliced

3

bay leaves

1

tablespoon

fennel seeds

¼

cup

tomato paste

⅓

c

dry white wine

1

large fennel bulb

1

can crushed tomatoes

juices included

5

cups

seafood or vegetable stock

2

lbs

fresh cod

cut into 1-2 inch chunks

Grated zest of 1 orange

1

teaspoon

each salt

pepper and sugar

1

cup

Israeli CousCous or other small pasta like Orzo
Instructions
In a large frying pan over low heat, warm the oil and add the fennel seeds, garlic and bay leaves and cook gently, stirring frequently, until nice and fragrant.

Stir in tomato paste, then pour in the wine & stir. Cook for 2-3 minutes over low heat, then transfer contents of pan to slow cooker.

Cut off stem and feathery tops of fennel bulb, then cut the bulb into lengthwise strips, then in half, making sure to leave the core intact on each piece so the bulb holds together.

Add the fennel wedges, crushed tomatoes, stock and salt & pepper and sugar to the slow cooker, stirring everything together, and cook on low for 2-3 hours.

Add the fish, couscous and orange zest towards the end of the final cooking stage, and cook for an additional 30 minutes.

Serve as is, or ladle out 2 cups of the broth, and blend. Add back in for a thicker texture soup.