To be honest I was a little nervous about this sheet pan steak dinner. In my mind, baking steaks isn't something people really do. Growing up, my mom *only* ever fried up steaks in a heavy old skillet, and even now, I typically make steaks on an indoor or outdoor grill. So like I said, I was nervous the steaks would cook up perfectly and evenly compared to the mushrooms and tomatoes. But I really wanted to give it a try because I'm pretty much addicted to hacking every meal so that it can be made in one pot or sheet pan. And turns out, this dish does in fact work (otherwise why would I share it?!), and it is a fantastic alternative for those averse to grilling in the Winter or making a mess frying up a steak on the stove top.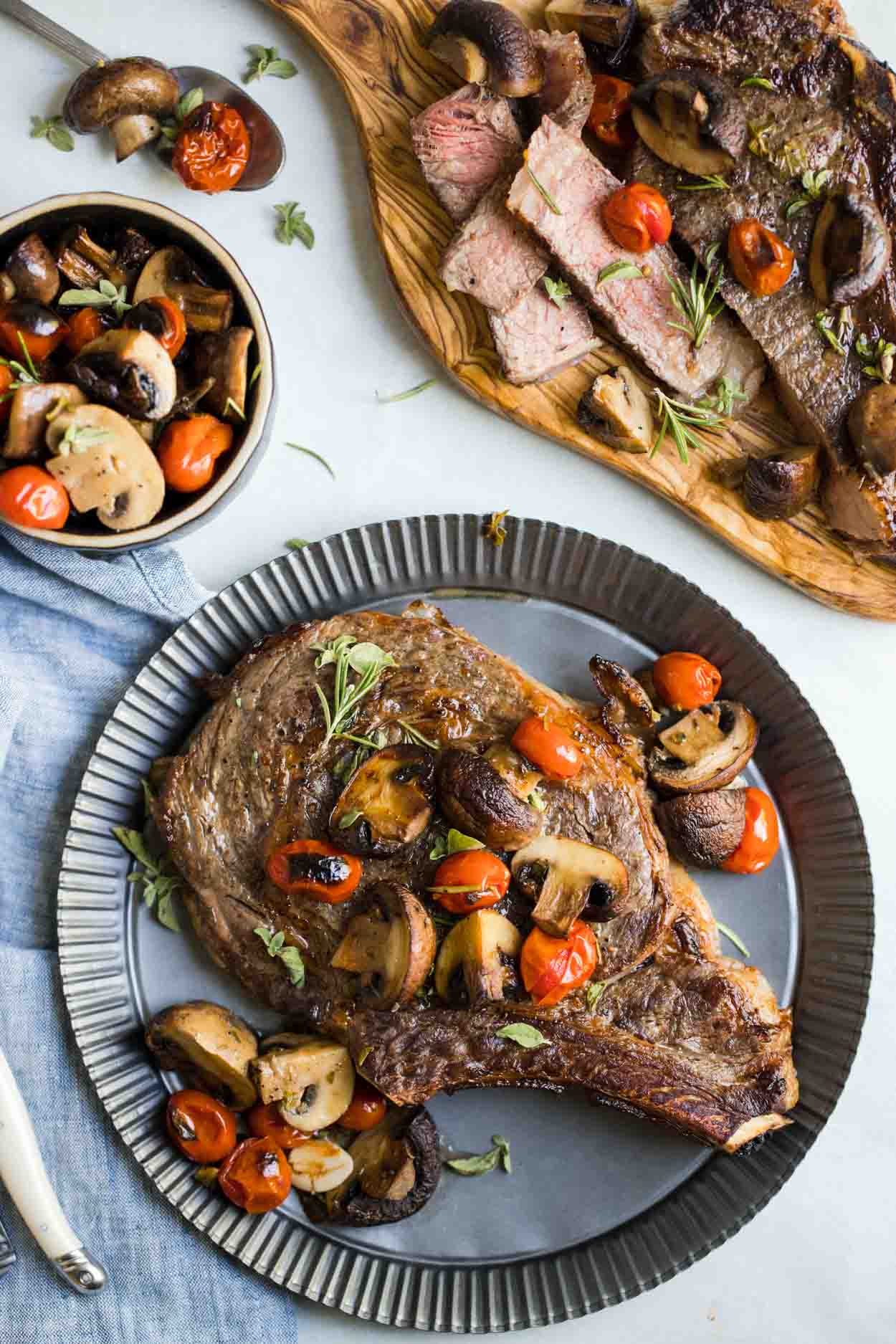 I know people take steak making and grilling very serious, so for those of you who see grilling as a religious experience, perhaps I can't persuade you. But for us normal people (haha I kid!), I can assure you this recipe is simple, easy and good in large part thanks to the Marsala wine and butter you'll be dousing the dish in, and the broiling that happens at the end of the bake, which helps give them a nice charred finish.
What is Marsala Wine & Is There a Good Substitute?
Marsala Wine is a fortified wine, meaning a distilled spirit (brandy) is added to it, and is made in Sicily. Although it can be used for sipping, it is typically used as a cooking wine. I know it always makes me think of one of my favorite Italian dishes, Marsala Chicken. Using Marsala wine in this dish lends a unique nutty flavor, and helps create a richer flavor in the final product. But if you don't want to bother buying it or don't wish to use alcohol when cooking, don't worry. The flavor is noticeable in this dish, but not all together necessary. The simplicity of the buttery herbs and salt & pepper work well enough on their own to make this dish taste flavorful and rich.
There are sweet and dry Marsala wines, but for this dish make sure you pick up the most commonly found dry Marsala wine. A decent bottle is only about $10 and can be found at any major market, but I in fact found a bottle at Trader Joe's for $5.99! If you keep it stored in a cool, dry and dark place like a cabinet or pantry, it will keep for a month or two, so don't fret when you find you've still got over half a bottle full after making this.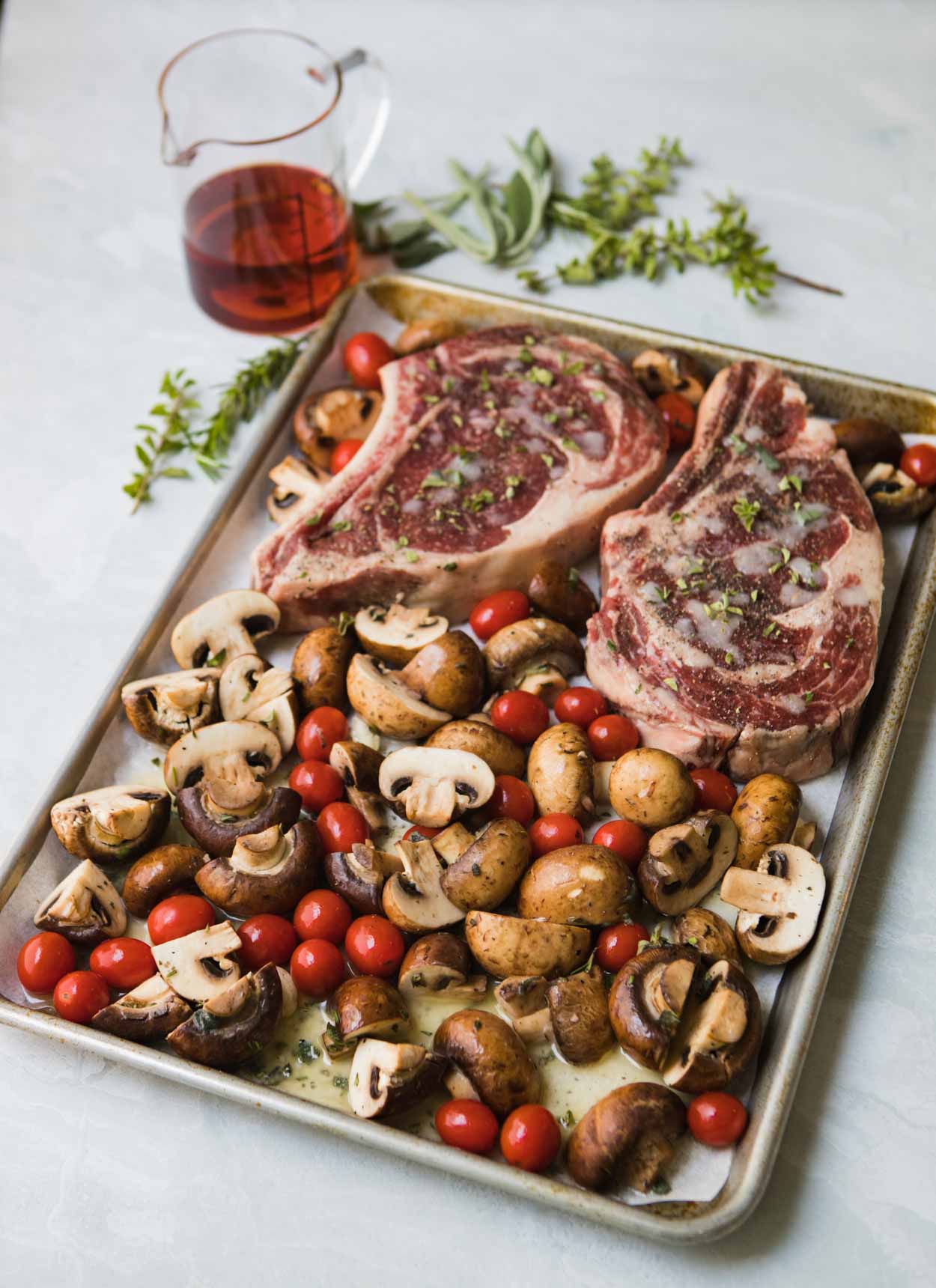 What Can you SUBSTITUTE for Marsala Wine?
There are all sorts of substitutes people recommend for Marsala wine, but most of them sound rather complicated or use equally uncommon ingredients, and it would honestly be easier to just buy a bottle of Marsala wine! Wine Folly suggests simmering 1 part brandy with 2 parts white wine, brown sugar and a touch of salt. Too complicated, no thanks!  Another site suggests substitutes that involve Dry Sherry or white grape fruit juice, but who has either of these on hand at all time? But the easiest sub I found was Pinot Noir, so let's just go with that! If you want to skip alcohol all together, just go with beef broth and call it a day.
Which Cut of Steak to Use?
For this recipe I used bone-in ribeye because they were on sale and looked beautiful. I mean, when you think of steak, nothing quite compares to a classic ribeye. But cuts from the loin, including ribeyes, T-bone and filet mignon aren't cheap and unless you find a great sale, can set you back $20+ for a party of 2.
If cooking for a crowd during the week, you can skip the fancy loin steaks and go for the more affordable cuts that come from the sirloin or flank. These include flank steak, tri-tip (one of our faves), hangar or skirt steak. You will want to make sure to carve these flank steaks into thin strips cut against the grain though, as they are not as tender as the loin steaks. But when done well, are certainly just as tasty and you'll save a pretty penny!
Finishing off With a Quick Broil
This recipe calls for a standard bake in the oven, and you'll notice that when they're done baking, they don't quite look the same as a beautiful steak cooked up in a pan or on the grill. It's just missing that classic grill/charred look. That's where the broil function on your oven comes in handy. You'll keep the pan in the oven, and after setting it to broil, a few minutes later you'll notice the steaks, mushrooms and tomatoes all take on a gorgeous golden and blistered finish. I mean, check out those tomatoes and their beautiful char marks!
What to Serve With Sheet Pan Steak
The great thing about this dish is it covers your veggie requirement! The recipe makes plenty so you get a full serving of veggies, and not just enough to use as a topping. We in fact had leftovers and they tasted pretty bomb over some plain noodles the next day.
If you want some sort of carb, sitting the steak, mushrooms and tomatoes as well as some pan drippings over a cloud of creamy mashed potatoes would definitely be amazing. I made a simple pot of white rice though and no one complained! Just make something nice and simple as a side dish so your steak and veggies can serve as the main star.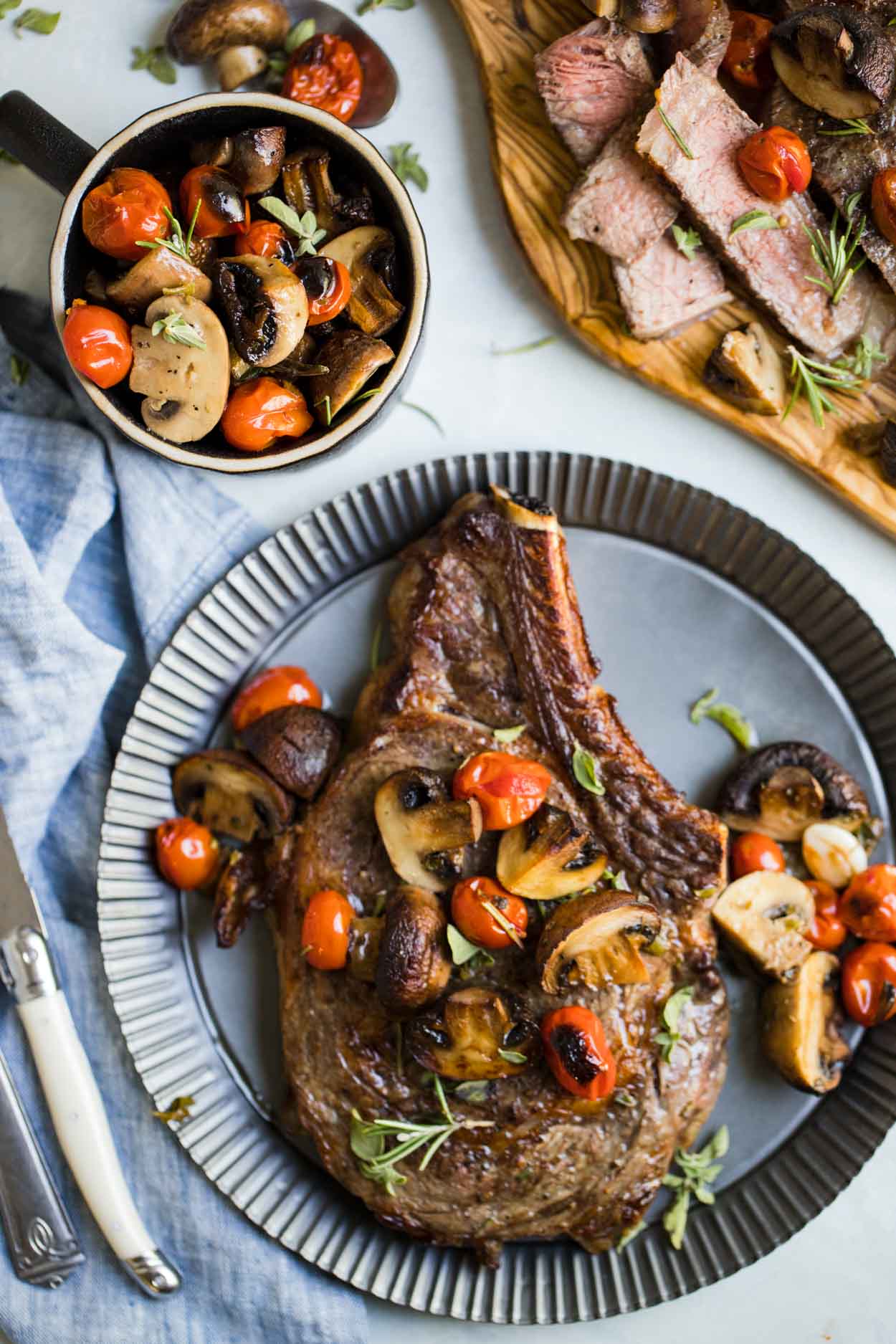 Let me know if you've got any questions, and of course I'd love to hear how you enjoyed it if you do make this easy steak sheet pan dinner! Please hit me up on IG or leave a comment below if you gave this a try! And if you've got the time, I would so appreciate a rating on the recipe card below.
Other Great Sheet Pan Dinners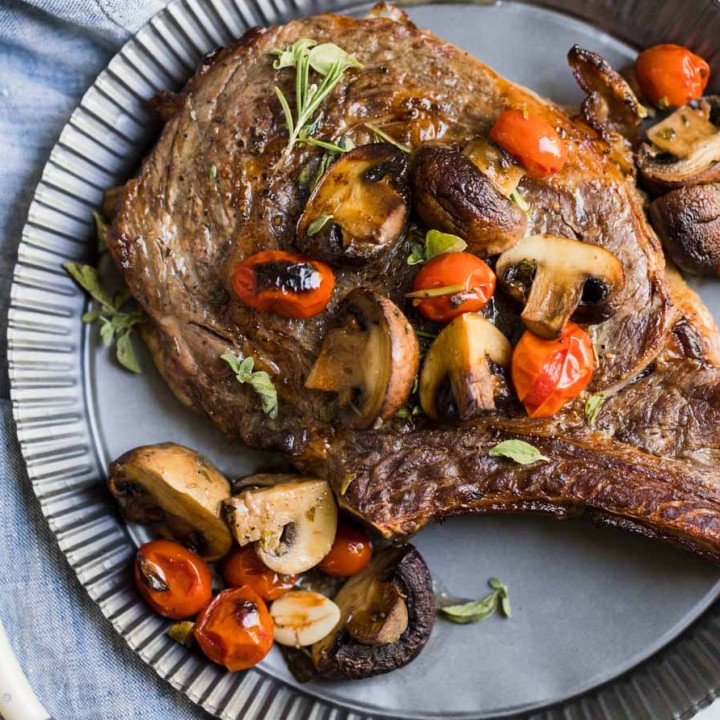 Easy Sheet Pan Marsala Wine Steak Dinner
This quick and easy sheet pan steak dinner is the perfect decadent weeknight meal! With the rich flavors of Marsala wine, mushrooms, tomatoes and herbs, it cooks up in under 30 minutes and there's minimal cleanup!
Print
Pin
Rate
Ingredients
2

1 ¼ pound

bone-in ribe-eye steak

see recipe notes

Salt & pepper to season steaks

¼

cup

unsalted butter

melted

1

tablespoon

each fresh oregano & rosemary or ½ tablespoon dried

1.5

lbs

cremini mushrooms

1

pint

cherry tomatoes

5

cloves

of garlic

minced

½

cup

Dry Marsala wine

½

teaspoon

cornstarch
Instructions
Remove steaks from refrigerator and let come to room temp for at least 30 minutes before cooking.

Preheat oven to 400 degrees

Line a large rimmed baking sheet with parchment paper or aluminum foil

Generously sprinkle salt & pepper on both sides of steaks and place on one half of the baking sheet

In a large bowl, combine fresh herbs, melted butter and salt & pepper, and toss in mushrooms and tomatoes to coat. Place veggie mix on other side of pan

In a small saucepan, bring Marsala wine and cornstarch to a simmer and let cook for 3-5 minutes. Remove from stove and pour over steaks and veggie mix

Bake for 15 minutes, then turn the steaks and stir the mushroom mix, and set oven to broil, and cook for another 5 minutes for medium rare, or 10 minutes for medium well

Remove and allow steaks to rest for at least 10 minutes before slicing
Notes
If you'd like to make this meal more budget friendly, you can skip the fancy loin cuts of steaks (like the ribeyes I used), and go for the more affordable cuts that come from the sirloin or flank. These include flank steak, tri-tip (one of our faves), hangar or skirt steak. You will want to make sure to carve these flank steaks into thin strips cut against the grain though, as they are not as tender as the loin steaks, but do still taste great.
Nutrition
Serving:
1
g
|
Calories:
510
kcal
|
Carbohydrates:
18
g
|
Protein:
34
g
|
Fat:
32
g
|
Saturated Fat:
16
g
|
Cholesterol:
117
mg
|
Sodium:
102
mg
|
Potassium:
1442
mg
|
Fiber:
2
g
|
Sugar:
8
g
|
Vitamin A:
954
IU
|
Vitamin C:
28
mg
|
Calcium:
64
mg
|
Iron:
4
mg