Today we continue with our salmon cooking tips by making baked salmon in parchment paper, a dish that is an incredibly easy meal for yourself and your family, using some parchment paper, a few veggies of choice, and a salmon filet.
As I shared in my initial baked pesto salmon post, the aim of this series is to help you all feel confident cooking up salmon and seafood in general, and to give you some new recipe ideas if are already a competent seafood cook 🙂 So now that we've covered baked salmon, let's get into parchment paper salmon.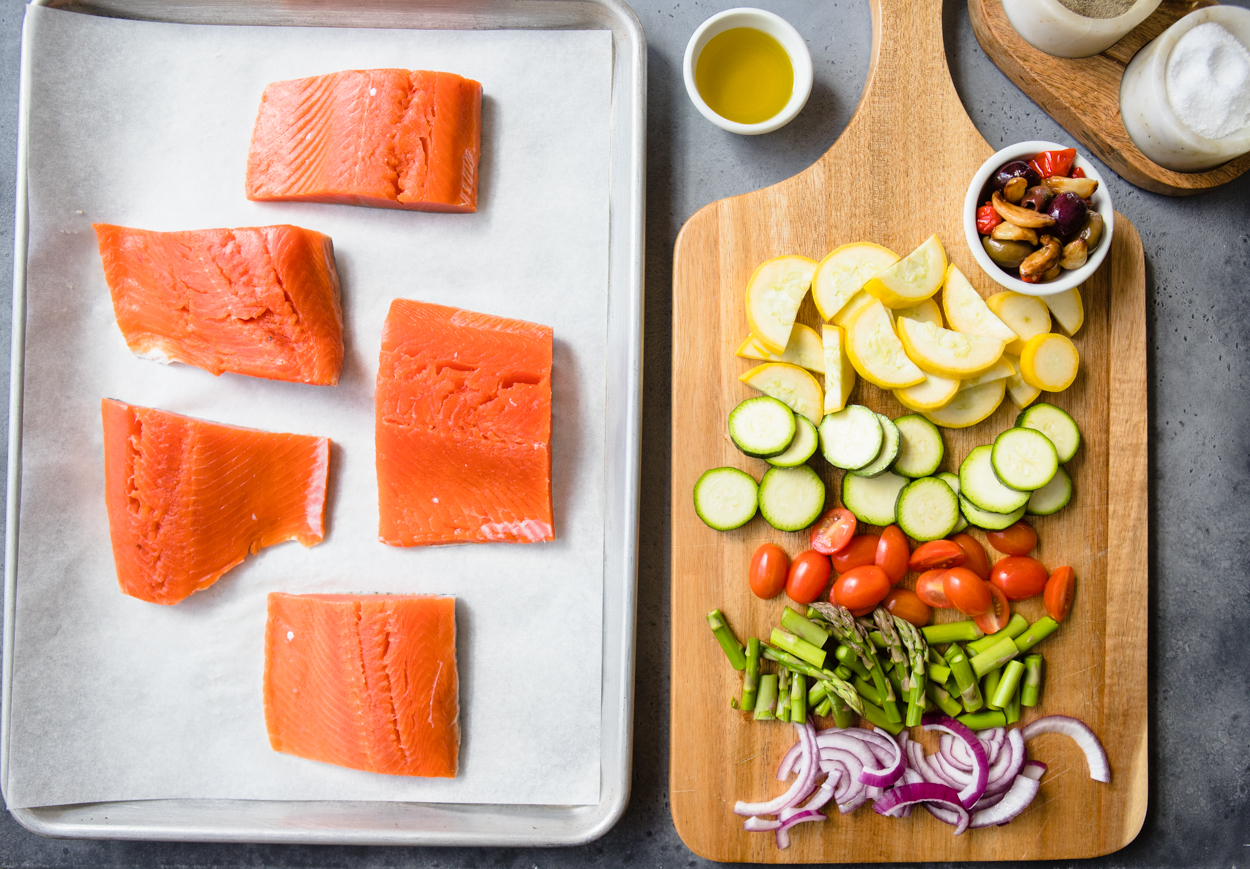 Benefits of Salmon en Papillote (salmon in parchment)
Did you know that salmon en papillote is French for salmon in parchment? So you have permission to feel very fancy and French when making this ridiculously easy dish in your own humble kitchen somewhere in America haha 😉
The beauty of these packets is that they are so easy to make, but the benefit to you is that they are really quite healthy. While we already know salmon is filled with wonderful Omega 3's, which is the ultimate "healthy fat", and is an excellent source of protein, the cooking method of baking the salmon and veggies in parchment is an added health benefit since the heat in the packets literally steams the fish and veggies. Steaming allows the flavors and moisture to be trapped and maintained, without the need for added fats during the cooking process, and it also does an excellent job preserving the nutrients in those beautiful veggies.
Steaming in fact is one of the absolute best ways to prepare veggies because it not only preserves nutrients, but taste, texture and color.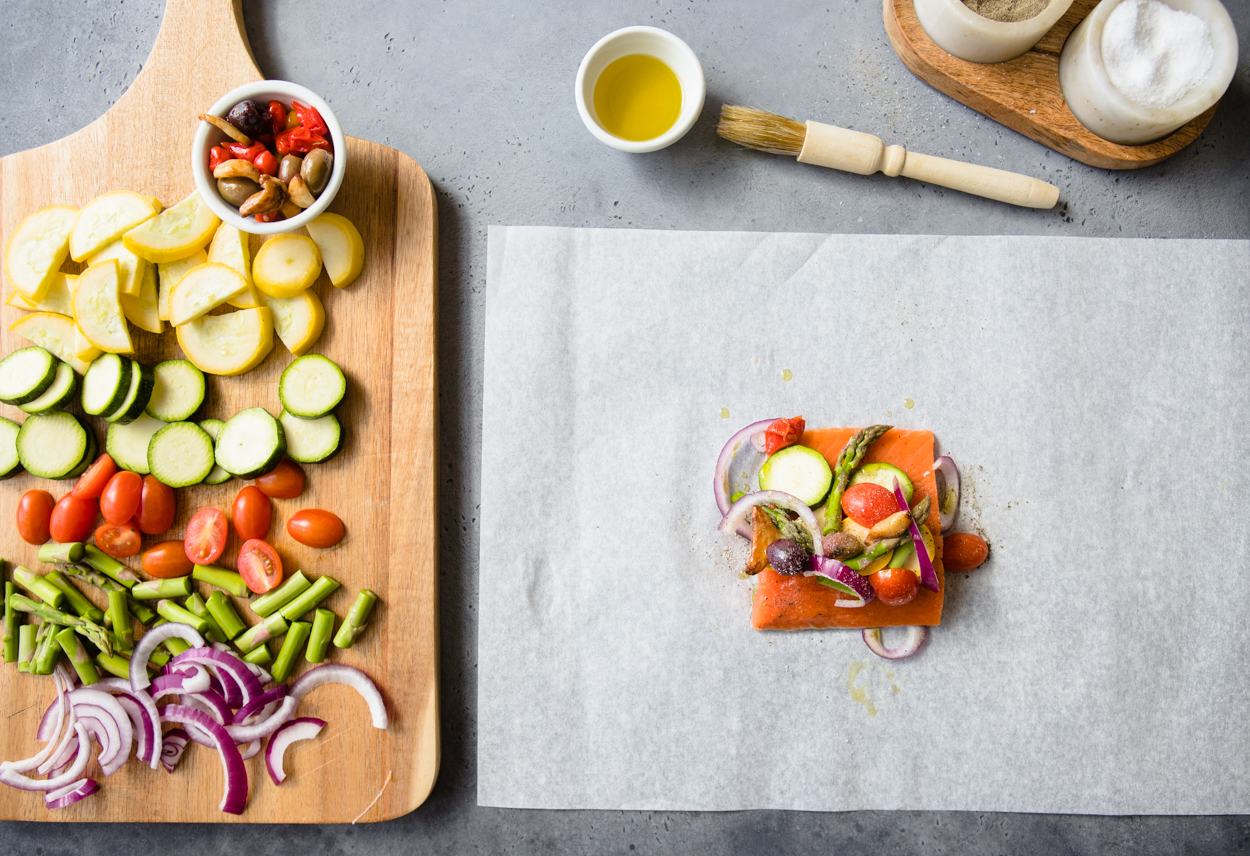 What's Needed for Salmon in Parchment?
The beauty of cooking salmon in parchment paper is that the veggies soak up some lovely flavor from the salmon, and vice versa. Here's all you'll need to prep salmon baked in parchment paper:
Salmon filets
Zucchini
Red onion
Cherry tomatoes
Asparagus spears
Olives (optional)
Olive oil
Salt and pepper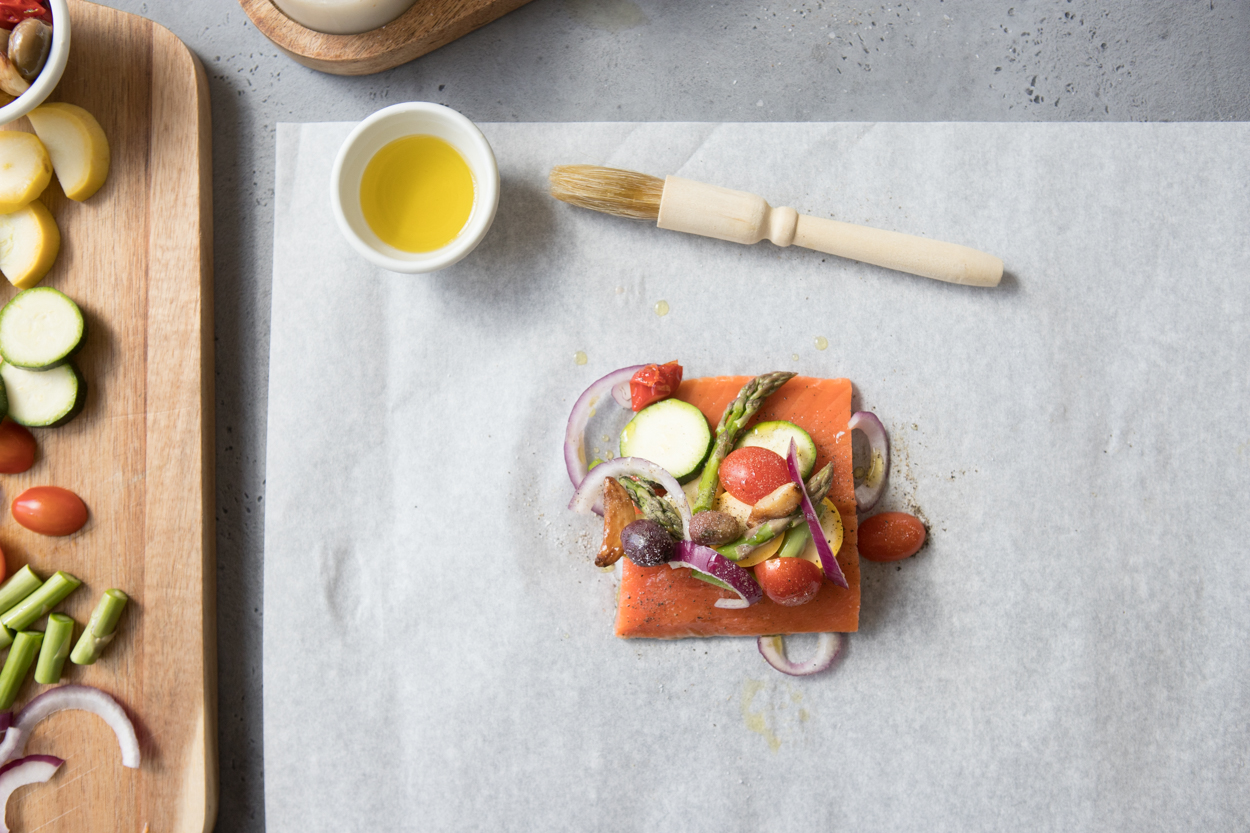 How to Bake Salmon in Parchment Paper
Once you've cut up your vegetables, lay your piece of salmon on a sheet of parchment paper and brush with a light layer of olive oil, and a sprinkle of salt and pepper. Pile on about ⅓ cup of vegetables, making sure not to overload the piece of fish, and drizzle on some more olive oil and salt and pepper.
An added flavor bonus to get a bit of acidic zing going with this dish is to add some marinated olives or other produce items like mushrooms, garlic, and sun-dried tomatoes. I picked up just a small assortment of marinated olives and such at my market's olive bar, where the cost is overall cheaper to buy a small amount of each item rather than buying entire jars.
Then, it's just a matter of folding up your parchment paper packets and baking them. (Keep scrolling to read my tips on how to assemble the parchment paper salmon packets).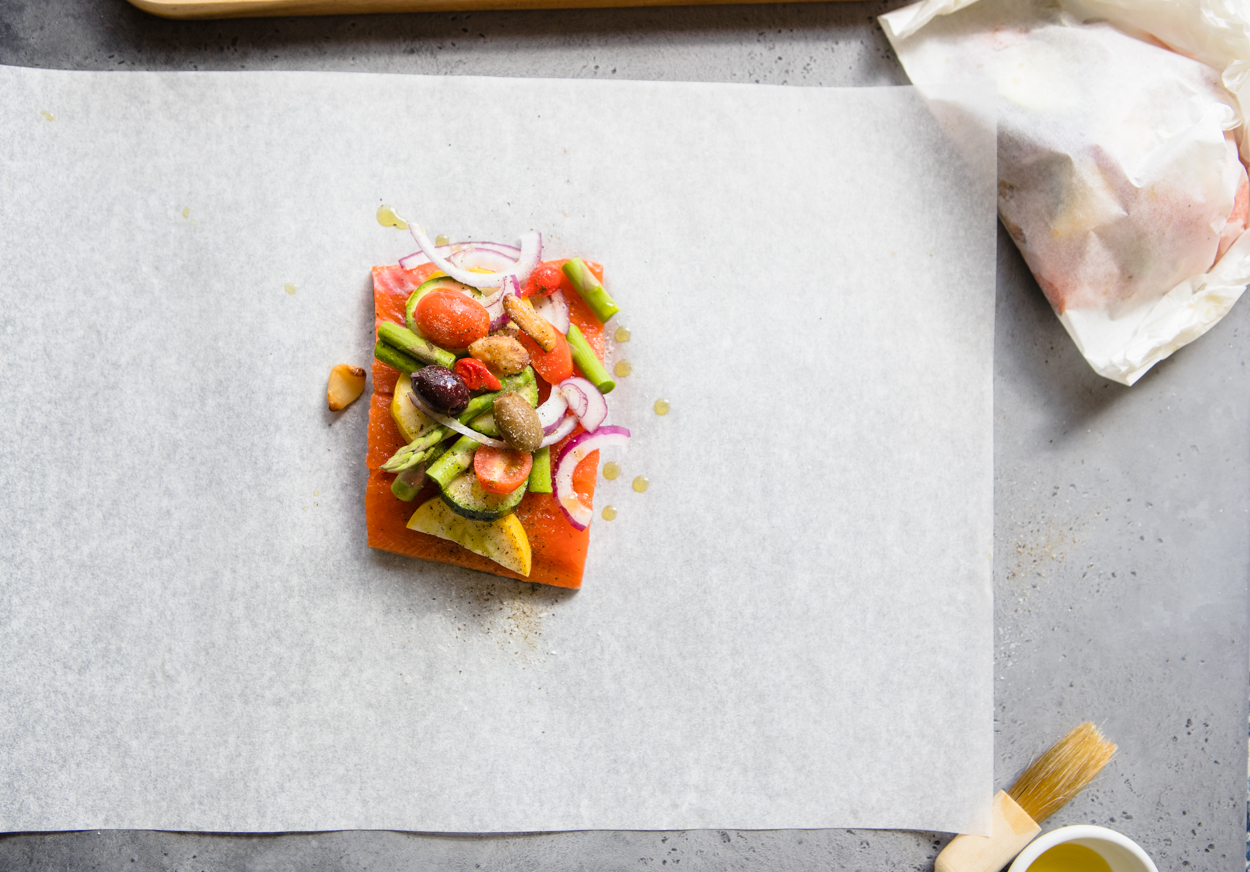 How to assemble your parchment packets
You certainly don't need to have these pre-cut sheets of parchment paper, but it does make for more quick and uniform assembly. There are a couple of different ways I've experimented with folding parchment packets, but I have personally found that the half moon trick is quickest and easiest.
With your fish in the center lengthwise piece of paper, begin on the left hand side and bring both pieces up and together, and then start to roll the pieces together, working from the left, to the top, all the way down to the lower right side. The trick is to roll as you go.
And you'll end up with a half-moon packet like so. The shape also reminds me of empanadas 🙂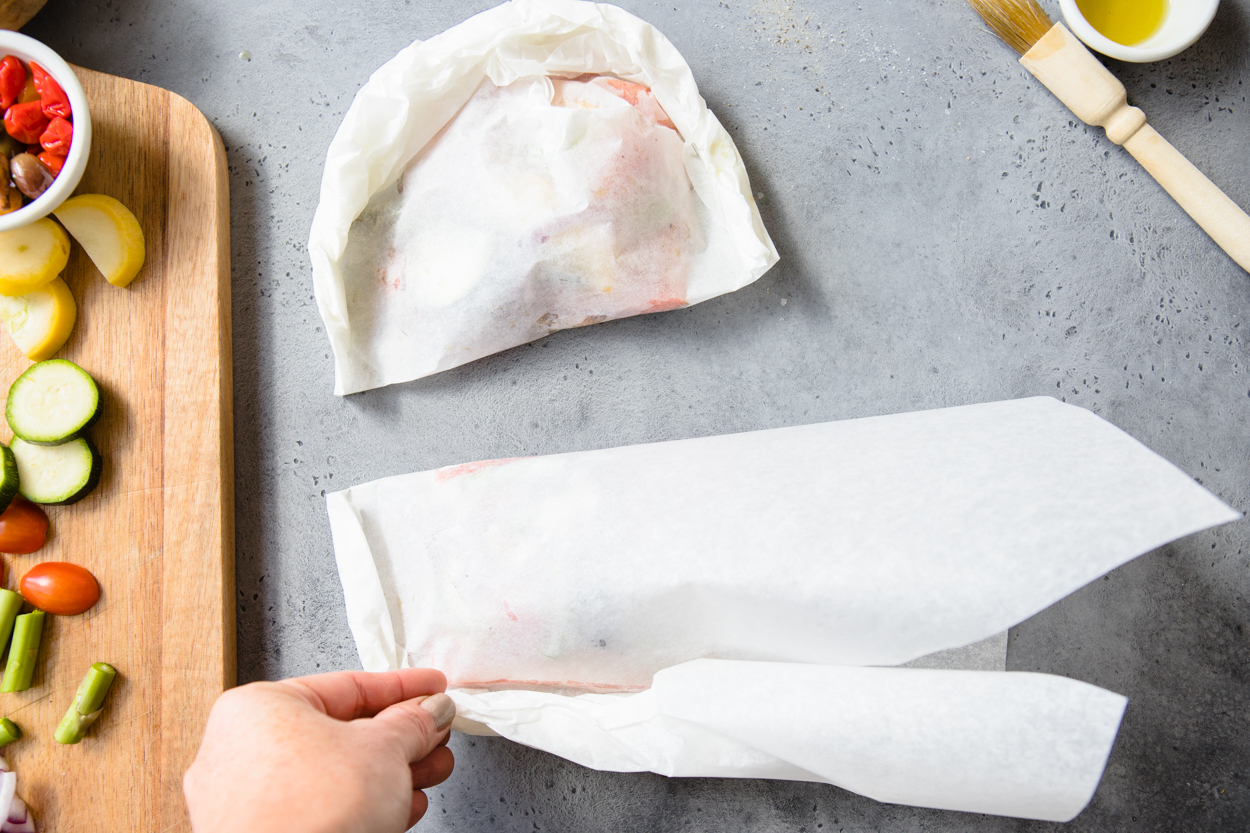 How Long to Bake Salmon in the oven
In our last recipe, we discussed the various cooking theories of quick and high or low and slow, and discovered that the general consensus among professionals is that salmon performs and tastes better when cooked low and slow. Salmon in parchment is a bit different though.
Because we are relying on the moisture released from the salmon and vegetables to turn to steam, which is what cooks the contents, we want to raise that cooking temperature ASAP to quickly release steam and trap it in the parchment packets. Once the parchment packets puff up, after about 8-10 minutes, their contents should be done and ready to eat.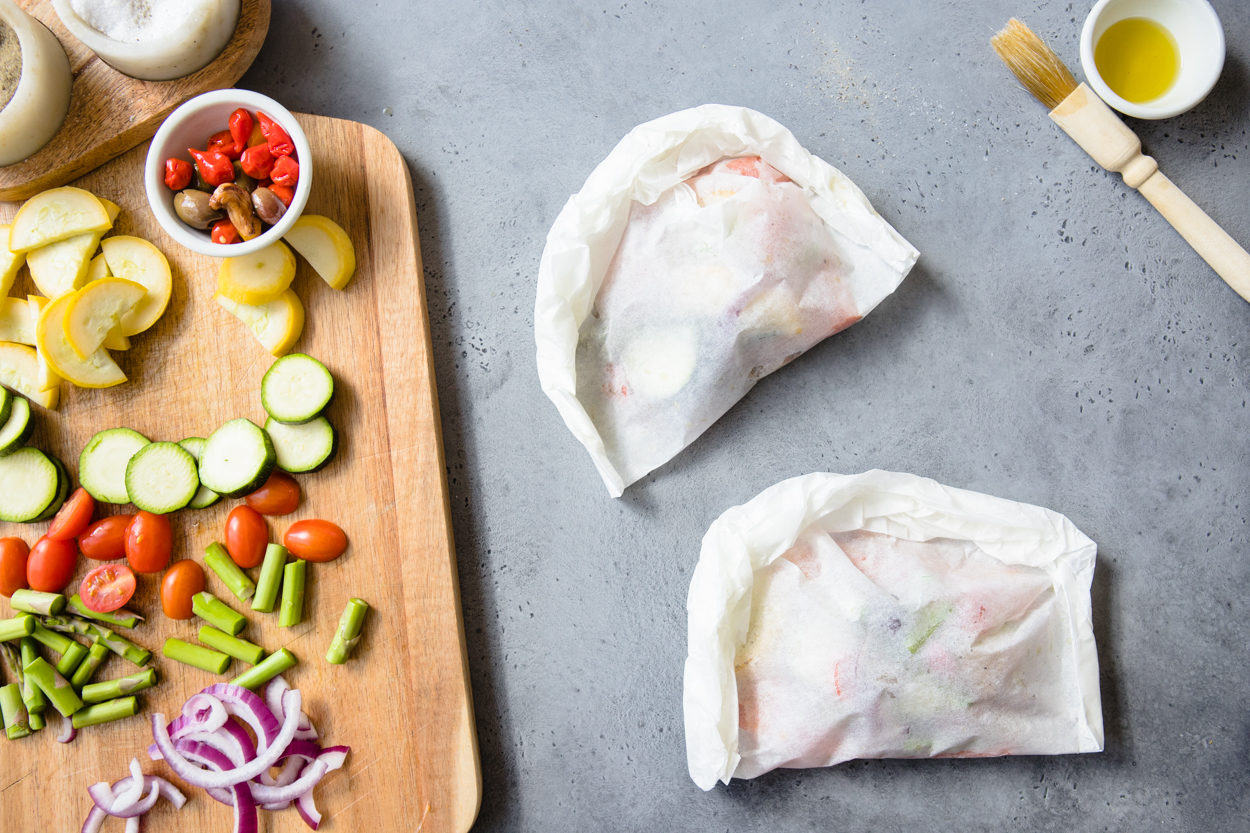 Can I Use Different Vegges in This Recipe?
Yes, you can use any veggies you'd like, but I do recommend choosing lower density veggies that will cook up quickly along with the salmon. Think: zucchini and other types of summer squash, tomatoes, onions, bell peppers, asparagus, bok choy and mushrooms just to name a few.
I don't recommend dense produce like potatoes, Brussels sprouts, or winter squashes, as they will be way undercooked compared to the salmon.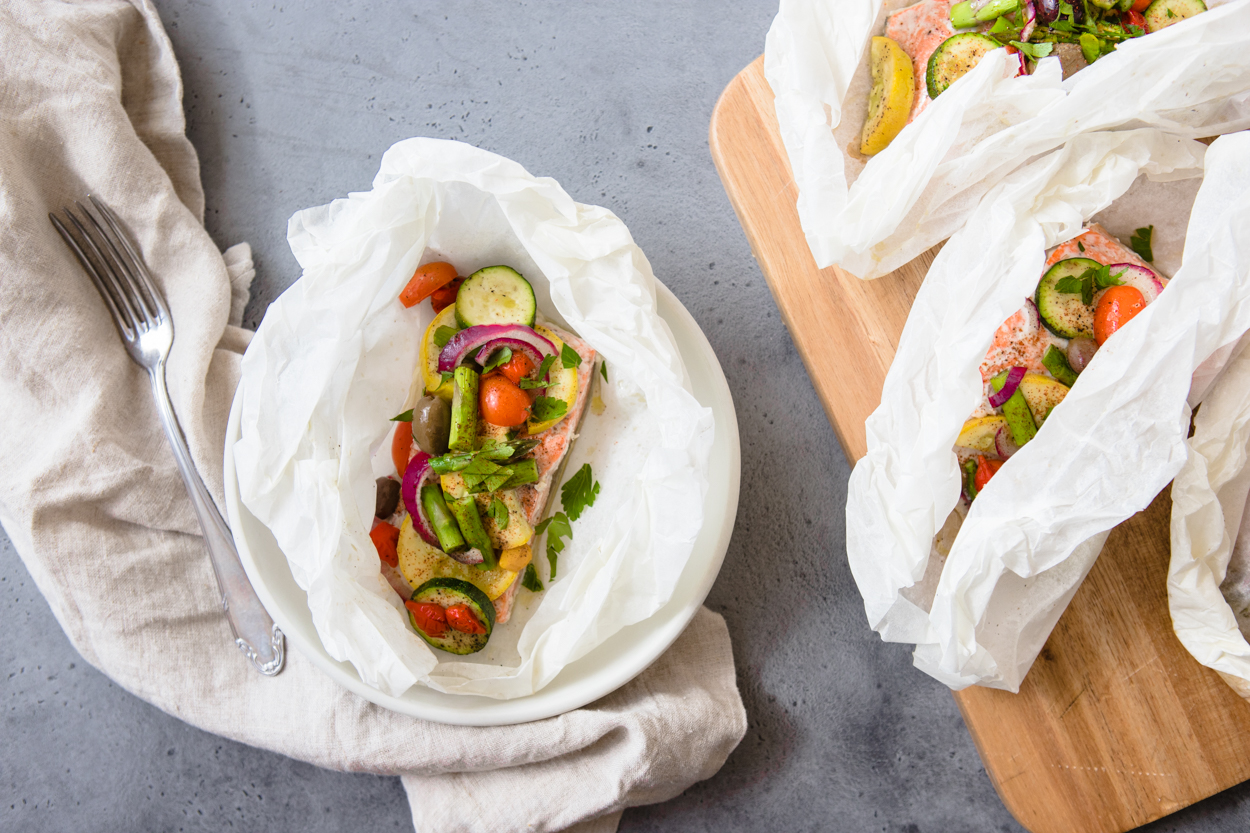 Can I Use Aluminum Foil Instead of Parchment Paper?
No, for this baked salmon recipe you want to use parchment paper. Foil isn't always non-stick and doesn't work as well for this kind of recipe.
How Do You Know Salmon is Cooked Through?
The parchment paper packet should puff up fully once the salmon is baked through. You should also be able to flake the salmon easily with a fork.

Tips for Making Salmon in Parchment Paper
I have to be honest with you all. I actually forgot to use the almost full-proof way of getting rid of the white stuff that seeps out of salmon when you cook it, called albumin. If you recall from my last post, giving your salmon a quick brine bath eliminates at least 75% of the albumin that is released, so it is definitely worth it (if you can remember to do it). But we all make mistakes, and I unintentionally took a shortcut here, and as you can see if you look *really* close, there's some albumin present on my filets. Please don't hold it against me though, and I promise that no matter if you remember to brine or not, the filets will still taste delicious.
If desired, you can tuck some fresh herbs into the parchment paper salmon packets as well. Dill would work nicely here!
Don't forget to season both the salmon itself and the veggies piled on top. Every layer of this dish should be seasoned for best results.

Free Downloadable Guide!
Before you grab that recipe and go though, I did want to make sure you all knew about the FREE resource I created for all my website subscribers titled "5 Key Things You Can Do Today to Eat Healthier and Feel Better." If you'd like to receive the download and read about the 5 most common things I've discovered are pivotal in starting a healthy eating journey, go and and subscribe and download it here through this link.
I'd love to connect with you and continue to help you along your healthy eating journey by making sure you don't miss any future practical wellness tips and easy and balanced recipes.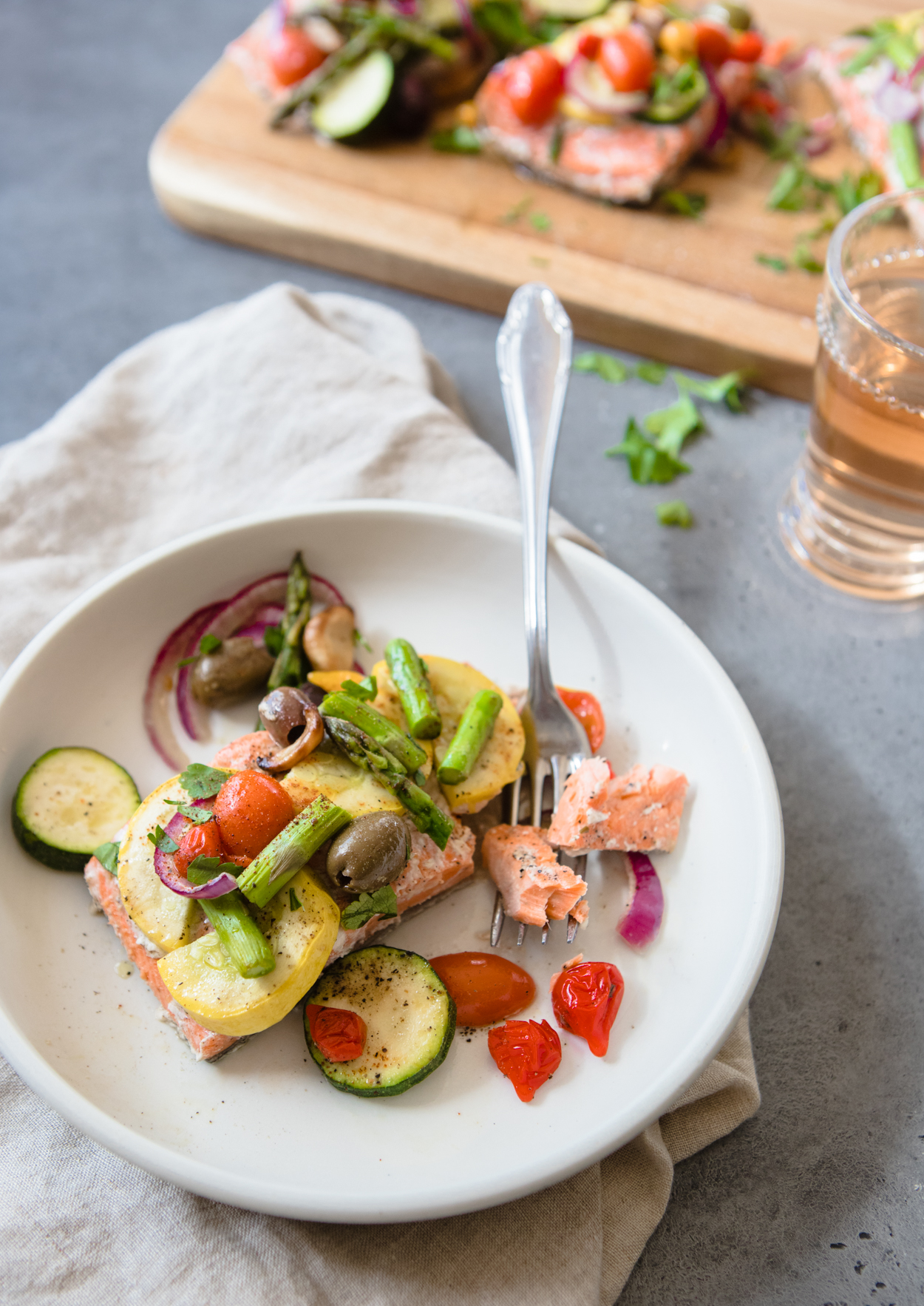 More Easy Seafood Dinner Recipes: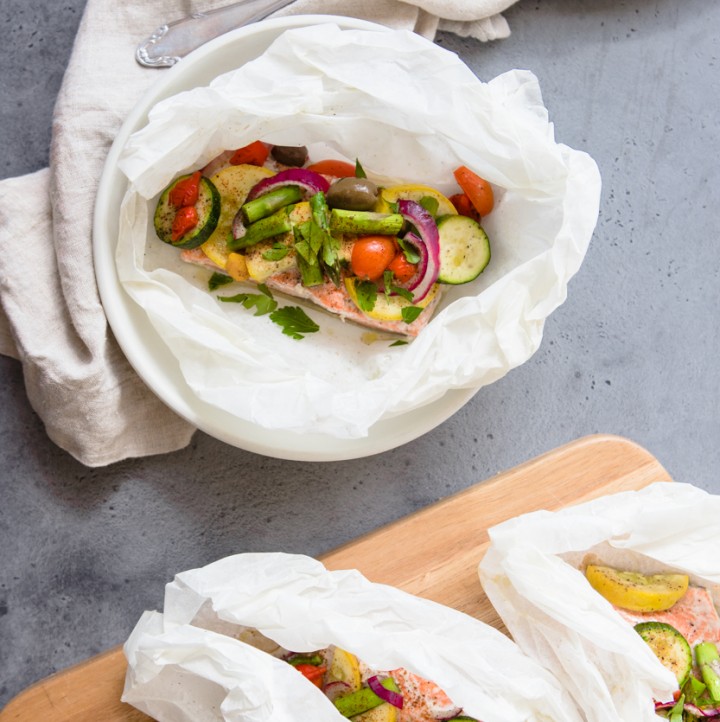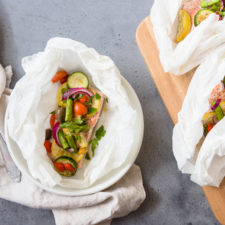 Baked Salmon in Parchment Paper
A quick, easy and healthy one pan meal that is ready in under 30 minutes. Rich with powerful Omega 3's and a rainbow of veggies, this meal is not only good but good for you.
Print
Pin
Rate
Ingredients
4

salmon filets

2

medium

zucchinis

, sliced

½

red onion

, sliced

½

pint

cherry tomatoes

, sliced in half

6-8

asparagus spears

, sliced into 1-inch pieces

Olives, sundried tomatoes, or marinated garlic & mushrooms

(optional)

6-8

tablespoon

olive oil

salt & pepper

, to taste
Instructions
Preheat the oven to 450 degrees Fahrenheit

Lay each salmon filet on a piece of parchment paper

Brush a small amount of olive oil on each filet, and sprinkle with salt and pepper

In a medium bowl, toss all the vegetables in 2-3 tablespoon of olive oil, salt and pepper

Top each salmon filet with about ¼ cup of prepared vegetables and optional olive toppings. Sprinkle with a bit more salt and pepper

Fold over each parchment paper to create a pocket that encloses the salmon and veggies

Place each packet on a rimmed baking sheet and bake for 8-10 minutes

Remove from oven and let packets rest for 5 minutes until some of the steam can escape, and then slowly open each packet and serve.
Notes
Nutrition facts do not include optional toppings.
Nutrition
Calories:
465
kcal
|
Carbohydrates:
8
g
|
Protein:
36
g
|
Fat:
32
g
|
Saturated Fat:
5
g
|
Cholesterol:
94
mg
|
Sodium:
91
mg
|
Potassium:
1286
mg
|
Fiber:
2
g
|
Sugar:
5
g
|
Vitamin A:
735
IU
|
Vitamin C:
33
mg
|
Calcium:
52
mg
|
Iron:
3
mg