Before I even get started with sharing this new recipe, I have to give credit and a shout out to my friend and nutritionist extraordinaire Cara Clark, for the idea. I've followed several of her meal plans, and hummus chicken was one of the best ones I nabbed from her a couple of years ago. Ever since discovering it, I have made this dish several times, but have over time adapted it and made it my own, and finally arriving at this Mediterranean ingredient perfection that you see here.
The beauty of this recipe is that it's quick and easy as heck, and of course that it's made all in one pan. I use a wide rimmed sheet pan because I find food tends to roast/bake quicker and more evenly on these aluminum baking sheets, making dinner come together faster, but by all means feel free to bake in a traditional casserole style dish and adjust cooking times accordingly. Let's get started, shall we?
Begin by prepping your veggies. I used a mix of peppers, zucchini and red onion, but of course know this is one of those dishes you can swap out ingredients for and no harm done. I just like the combo of these veggies because they cook up at relatively the same rate, and they pair well with the Mediterranean vibes we've got going on. Toss them in some olive oil, salt and pepper, and a combo of dried parsley, basil & oregano, but again, seasonings may vary. Got an Italian style blend on hand? Cool. Want to use thyme and rosemary instead of the ones I chose, no problemo.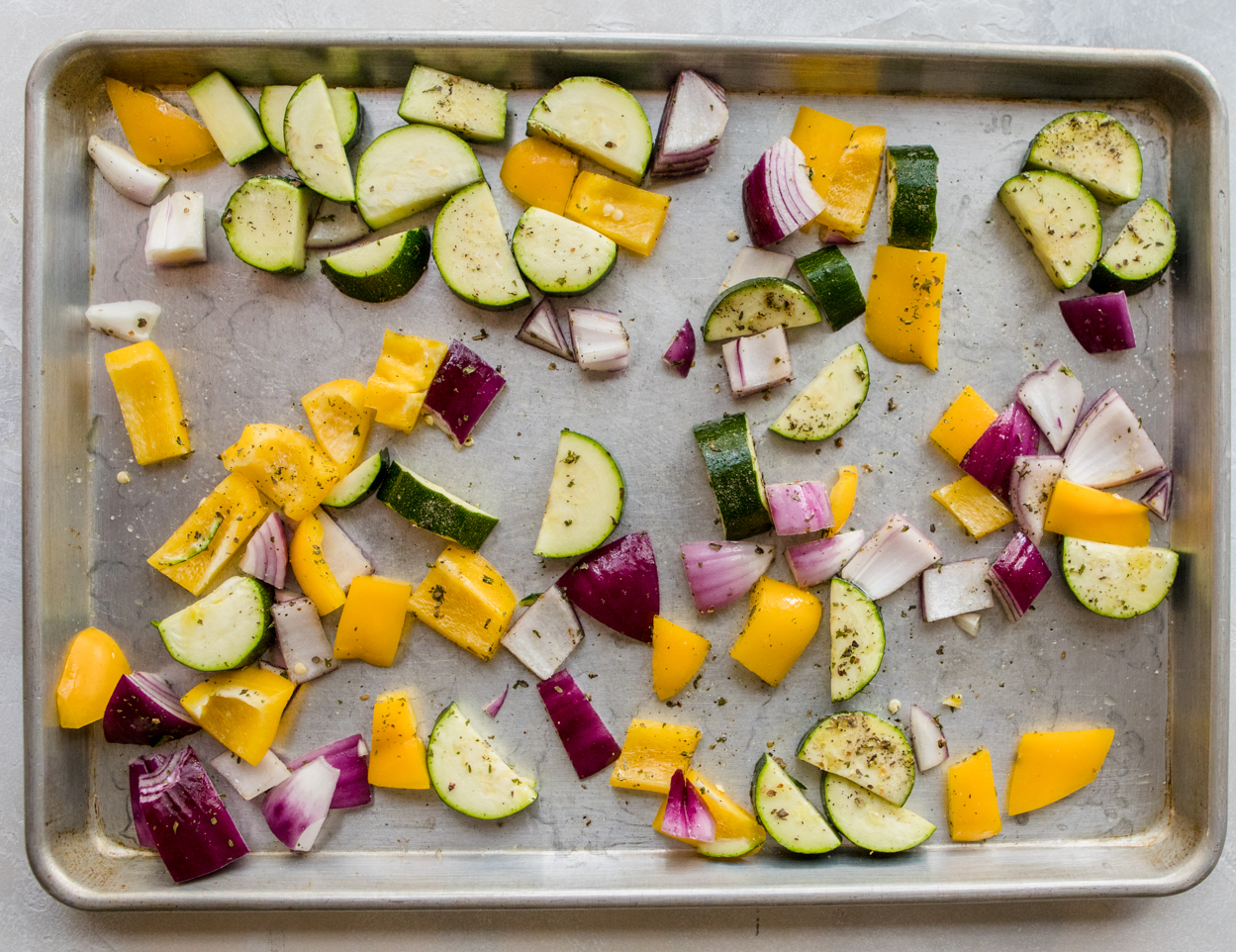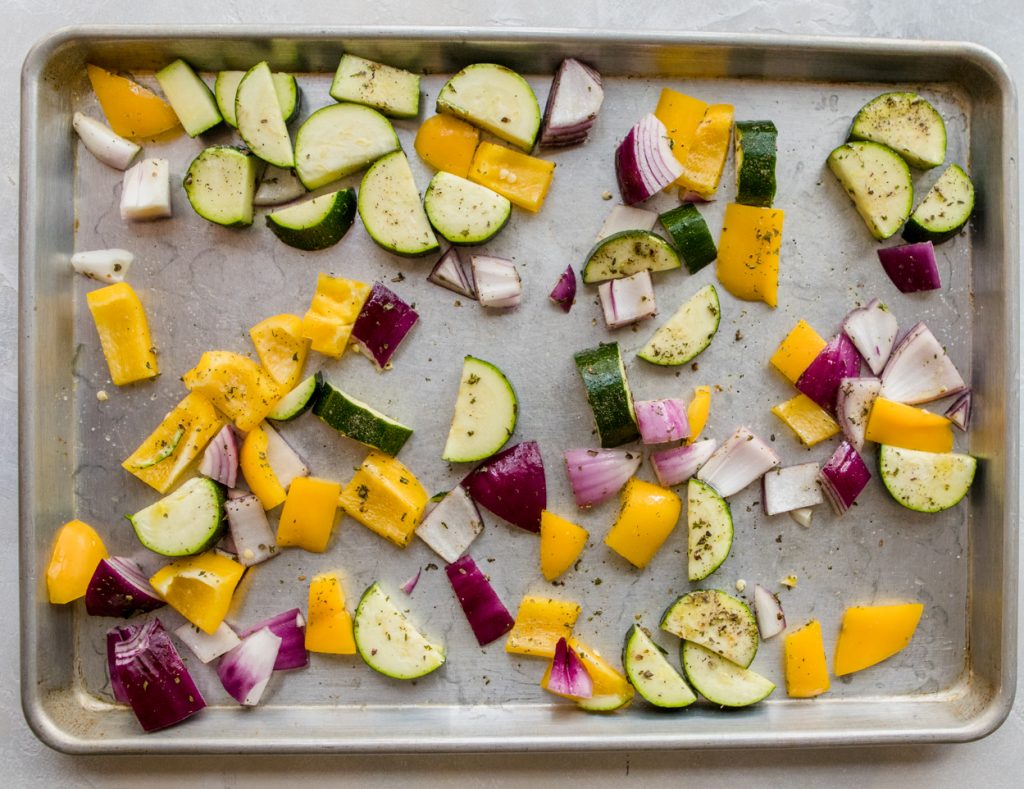 Next, add your chicken breasts (or thighs). I like to brush both sides of my chicken with olive oil and salt and pepper to ensure they take on a nice flavor and plenty of moisture, but just make sure not to get carried away here with the olive oil so that your dish becomes greasy when cooked. 1-2 teaspoons of olive oil per side is perfect.
Now, spread on your hummus. Be generous and spread on at least 1-2 tablespoons per breast, depending on the size, and then sprinkle with paprika. It really doesn't matter what flavor of hummus you use, and I find that this is a great way to finish off a tub of hummus you find in the back of the fridge that is going to head south in a day or two. Feel free to mix flavors as well if you have a half-eaten tub of one flavor and crack open a new flavor. There's no rules here, people.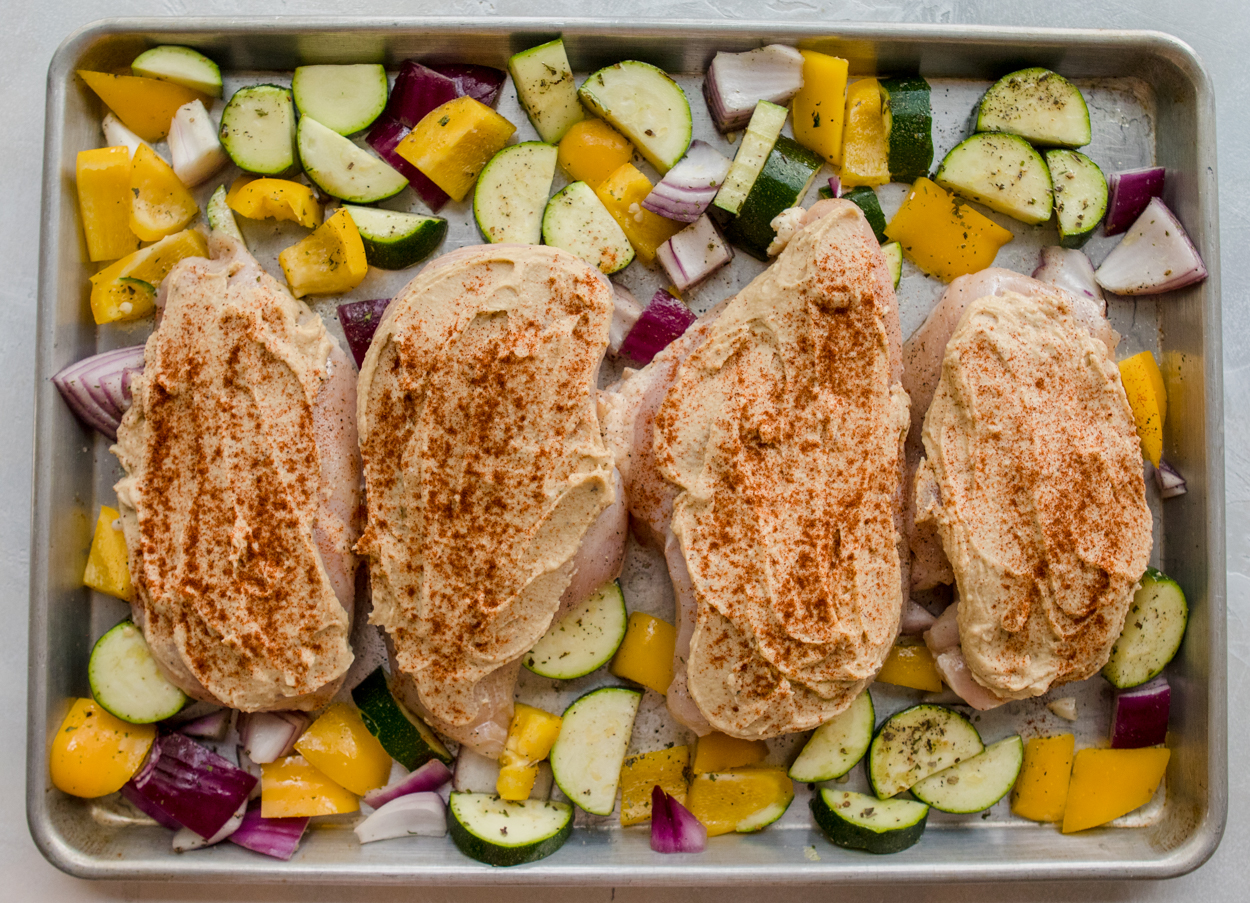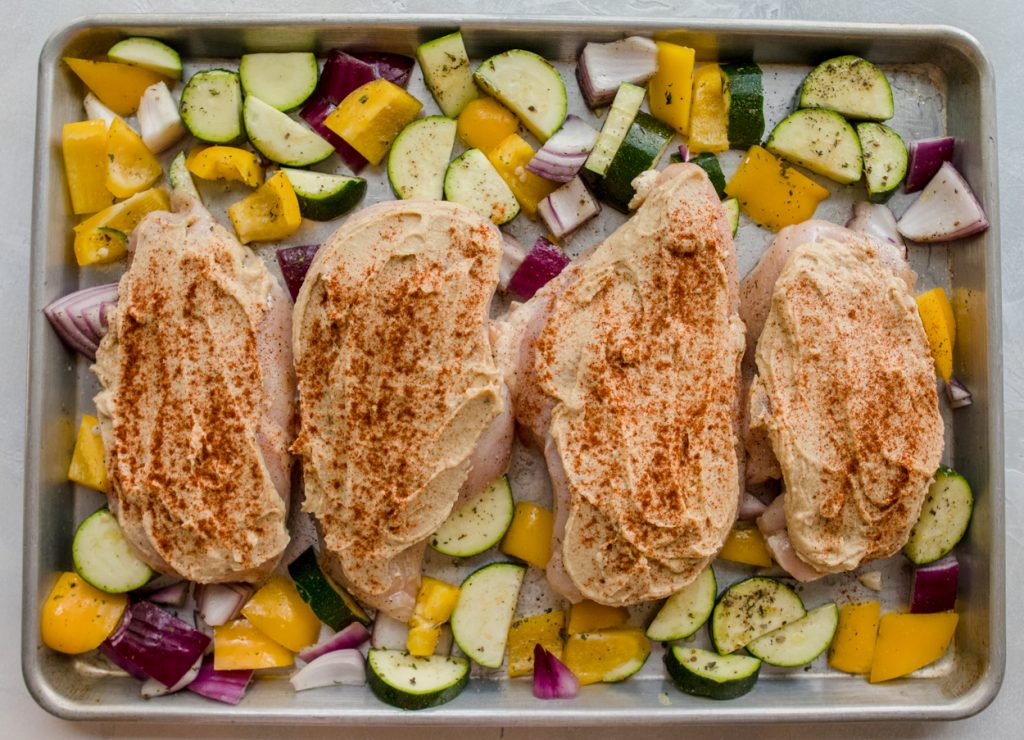 Now for the fun part; adding in the toppings. I added a half quart of cherry tomatoes, cut in half, about 1/3 cup of sliced Castelvetrano green olives (stored in brine, they have more zing than regular canned green olives), and a whole cup of water-packed artichoke hearts. Canned mushrooms would be an excellent addition as well and I'm adding that to the list next time. Drizzle a little more olive oil all over the whole dish, about 1 tbsp total (this is where my new olive oil dispenser comes in *super* handy), and some more salt and pepper, and it's ready to pop in the oven.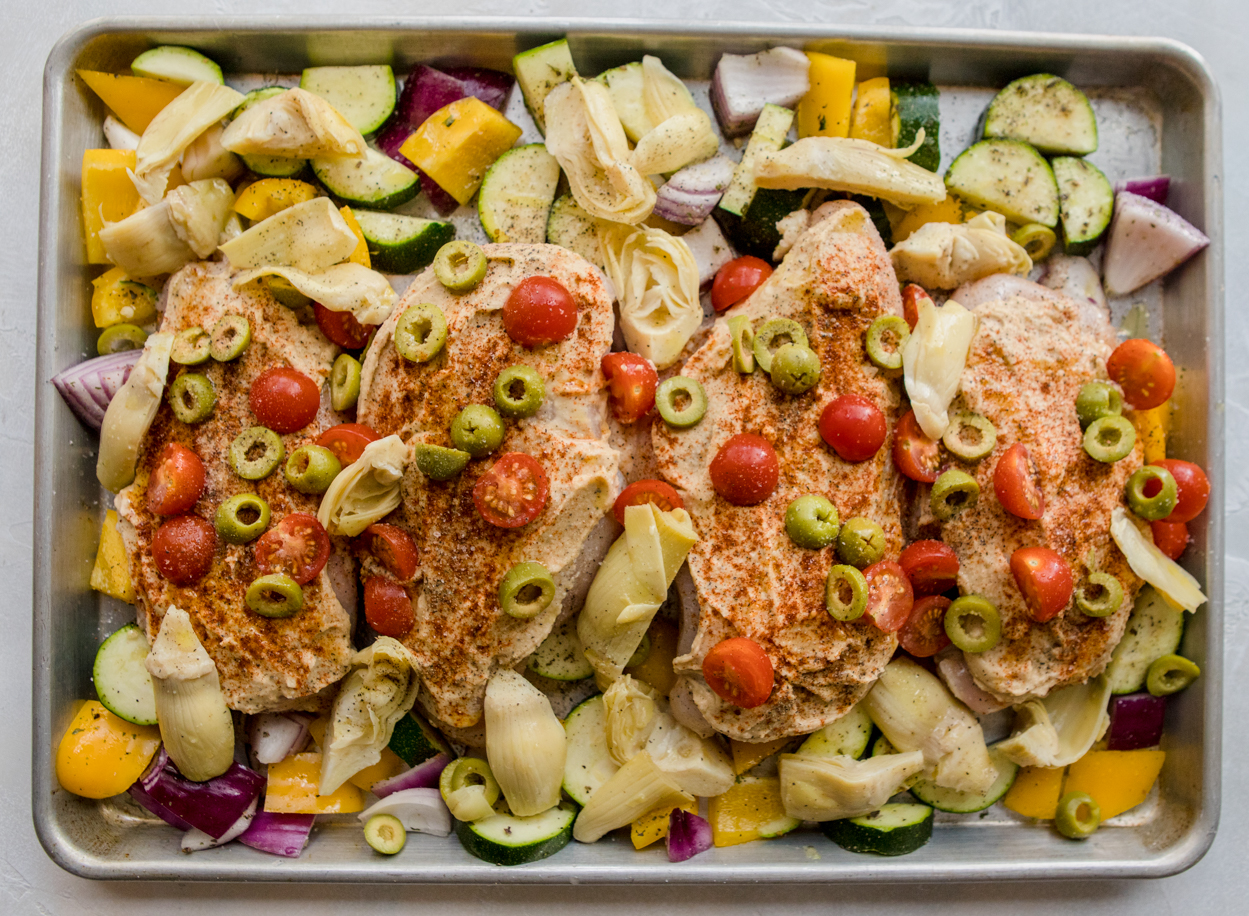 Bake at 425 for about 30 minutes, beginning to check for doneness with a thermometer at 20 minutes since breast size may vary (haha).
Slice up and serve! This dish pairs well with some spaghetti, or zoodles if you're going low carb, quinoa or rice, and is great for leftovers the next day – I really like the chicken tossed in a salad.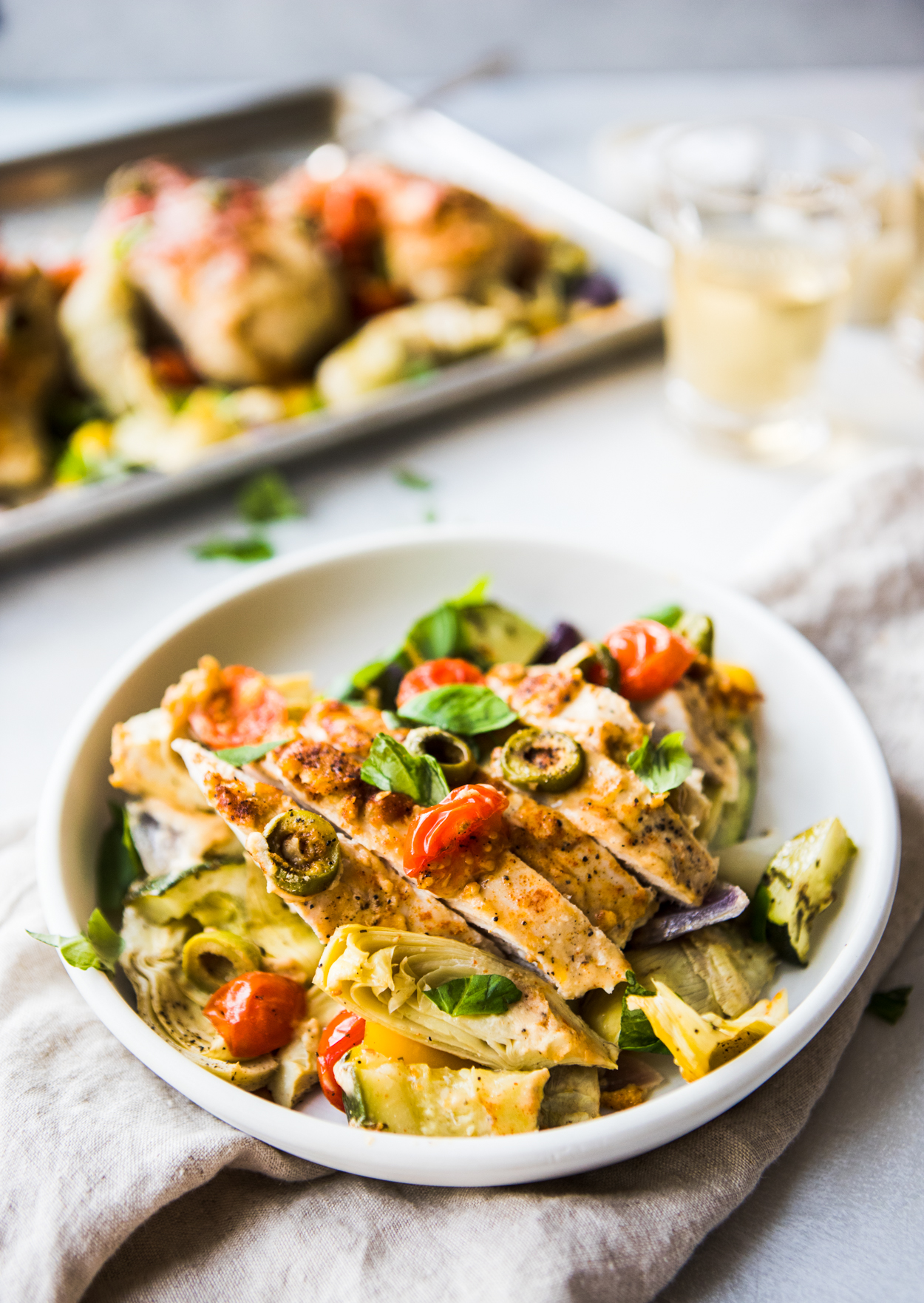 You may be wondering what texture the hummus takes on once baked. Well, it gets a tiny bit crusty but still remains incredibly creamy and moist, and while it doesn't infuse any hummus "flavor" into the chicken, what it does is serve as a flavorful and creamy sauce for the chicken, without having to create a separate pan sauce. Some of the hummus will drip off the chicken onto the pan and meld nicely with the olive oil, so make sure to not let that goodness go to waste and scoop some of that up as well! Think of it as gorgeous, slightly healthier pan drippings! 😉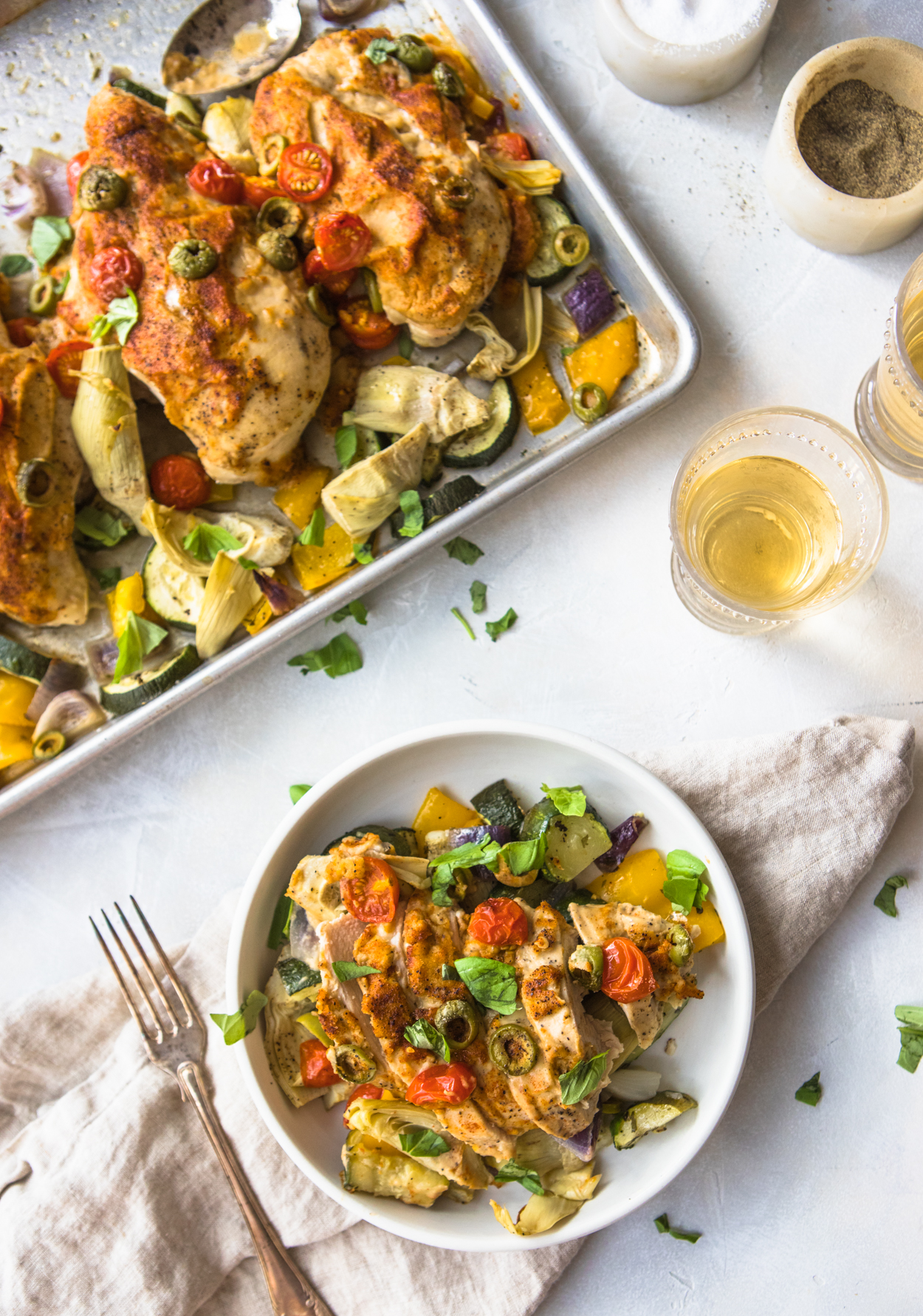 I mentioned my friend Cara Clark as the inspiration for this post, and because her meal plans and nutrition guidance has helped keep me feeling good and my sanity in tact over the years, I did want to mention that she has a 4 week challenge coming up next month. Her plans are all about intuitive eating and paying attention to and honoring hunger cues, and they will help you understand how to eat balanced to optimize blood sugar so you can have the energy and mental focus to go about each day feeling great. When I eat according to her plans, I don't feel hungry, I sleep better and my digestion issues disappear. And the best thing is, once you learn how to eat this way, you never have to follow a strict meal plan or diet again, because you will know how to feed yourself day in and day out, and you will know how to get "back on track" to eating and feeling better after periods of indulgence during vacations and holidays. I can't recommend her guidance enough, and no I am absolutely not getting paid to say all this. Let me know if you have any questions about her nutrition plans. 
Now let's get to this recipe! See below.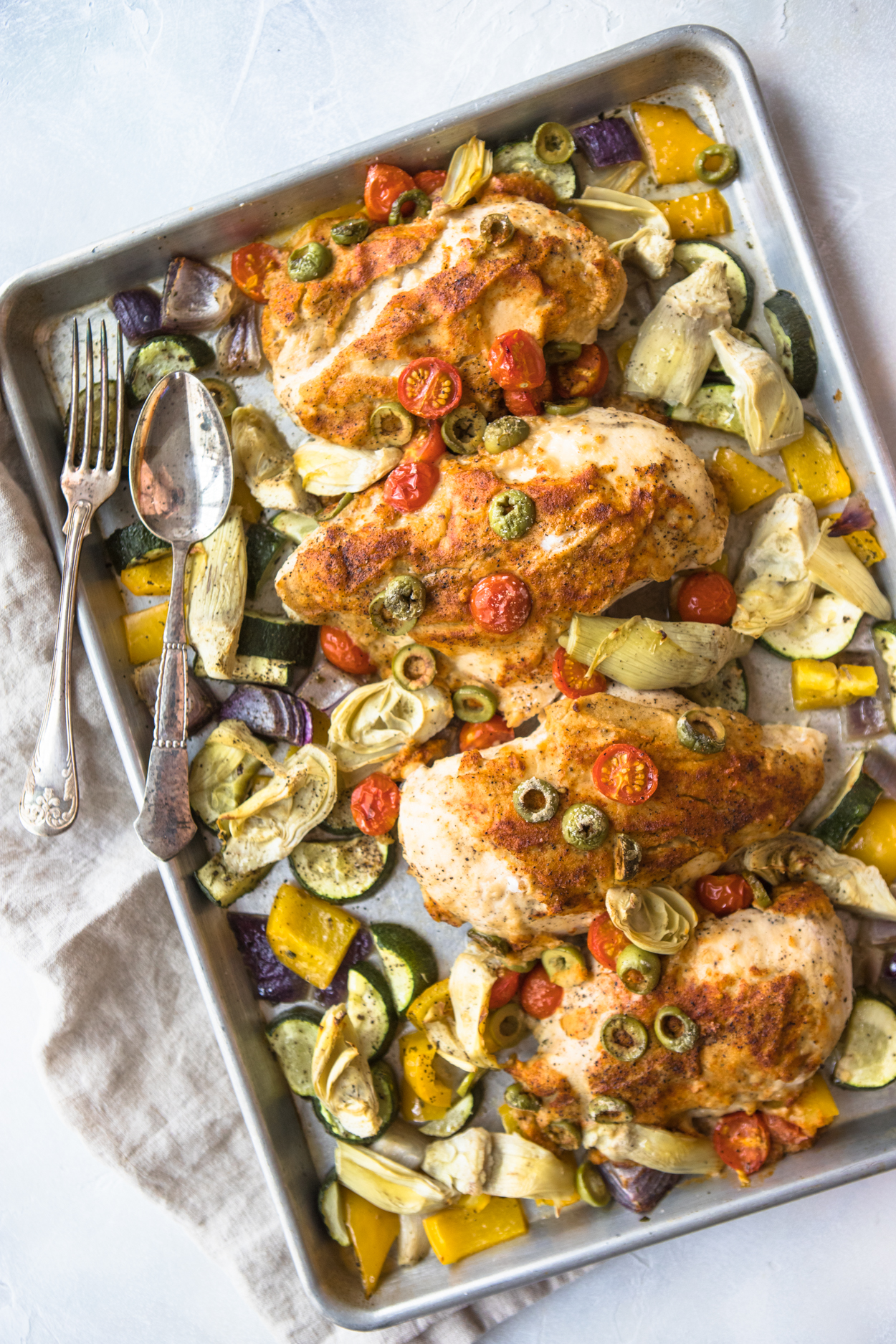 Print
Hummus Crusted Chicken & Vegetables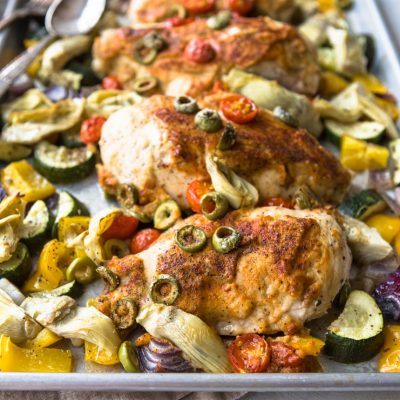 This easy one pan chicken and vegetable bake is covered in creamy hummus, mixed with artichoke hearts & olives, and seasoned with Italian herbs to create the ultimate quick Mediterranean dinner. 
Author:
Prep Time:

10 minutes

Cook Time:

30 minutes

Total Time:

40 minutes

Yield:

4

-

6

1

x
Category:

Dinner

Method:

Bake

Cuisine:

Mediterranean
Scale
Ingredients
4 boneless skinless chicken breasts or thighs
1 large zucchini cut into thick slices
1 red or orange bell pepper cut into large cubes
1 small red onion cut into large cubes
1/2 pint cherry tomatoes halved
1 14.5 ounce can water-packed artichoke hearts
1/4–1/2 cup sliced green olives
8 tbsp hummus any flavor
1–2 tsp each smoked paprika, dried oregano, dried basil and dried parsley flakes
Salt & pepper
3–4 tbsp olive oil
Instructions
Preheat oven to 425 degrees.
Arrange the vegetables on a wide rimmed baking sheet or a casserole dish and toss in 1-2 tbsp of olive oil and parsley, basil and oregano.
Nestle chicken breasts among vegetables, and brush with 1-2 tsp each side of olive oil. Sprinkle both sides with salt & pepper. 
Top each chicken breast with hummus, 1-2 tbsp each depending on size of breast. Be generous and cover entire top.
Sprinkle smoked paprika over hummus covered chicken.
Top with green olives, tomatoes and artichoke hearts.
Drizzle a bit more olive oil over the entire dish, and sprinkle with one last round of salt & pepper.
Bake at 425 for 20-30 minutes, until chicken reaches 160 degrees in thickest part of the breast.
Slice and serve.
Keywords: Hummus Crusted Baked Chicken