Hummus chicken with roasted vegetables is a super easy dinner that will allow you to quickly get a tasty meal on the table. The hummus takes on a light crust as it bakes in the oven. And when combined with vegetables, green olives and artichoke hearts, it transforms boring old chicken into something truly special.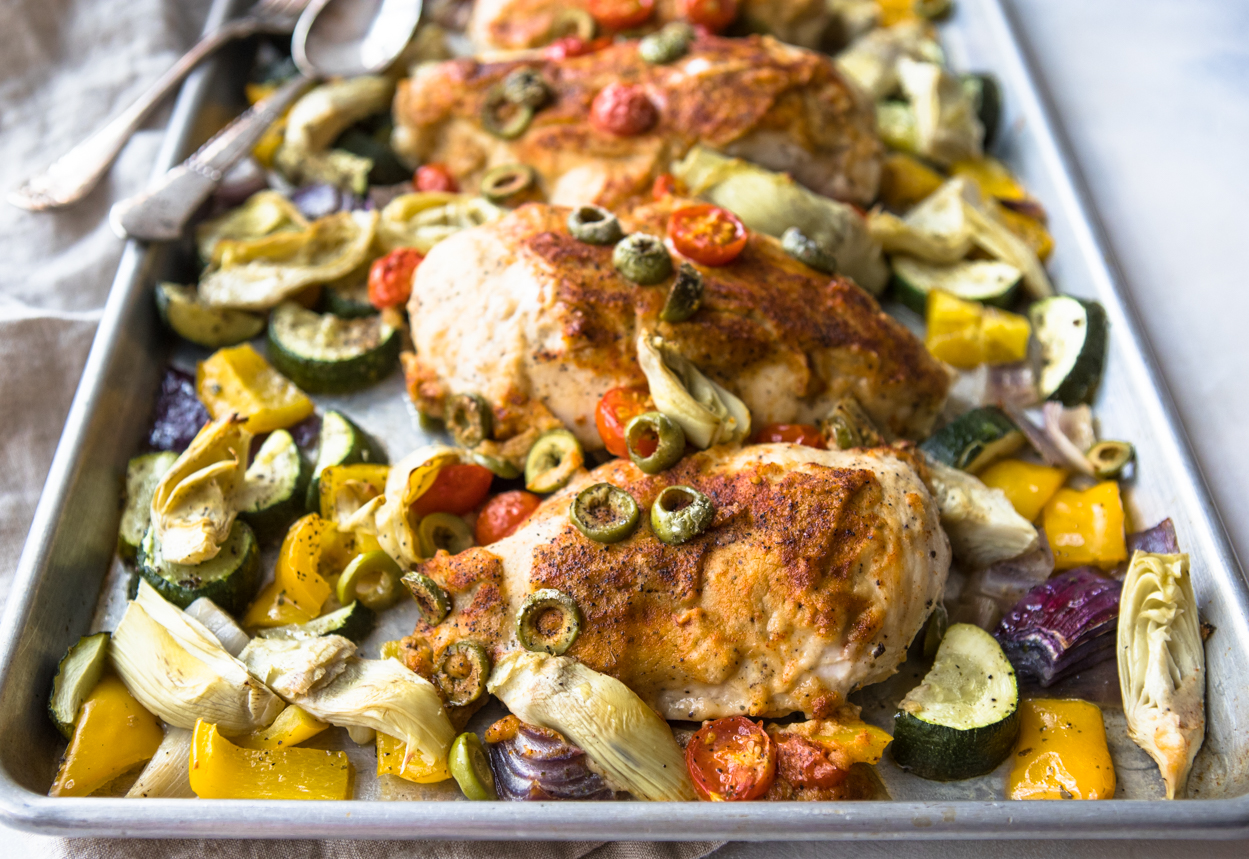 Have you ever thought of using hummus for something other than dipping? If you answered "yes", than you are smarter than I! But if you were like me and limited hummus to a dipping agent for pita chips and veggies, let me introduce you to hummus crusted chicken.
What's In Hummus Chicken?
The ingredients can vary depending on what you're in the mood for or what you have on hand, but I like to consistently use the same staples.
Boneless chicken breasts or chicken tenders. 
1 standard tub of store-bought hummus. You could make your own but why when there are so many great options now available?
Various fresh vegetables. I love red onions, zucchini, and bell peppers, but feel free to mix it up and use what you've got on hand.
Totally optional, but I love adding in sliced green olives and artichoke hearts (soaked in water not olive oil).
Just a few basic seasonings including salt & pepper, paprika, parsley, basil and oregano.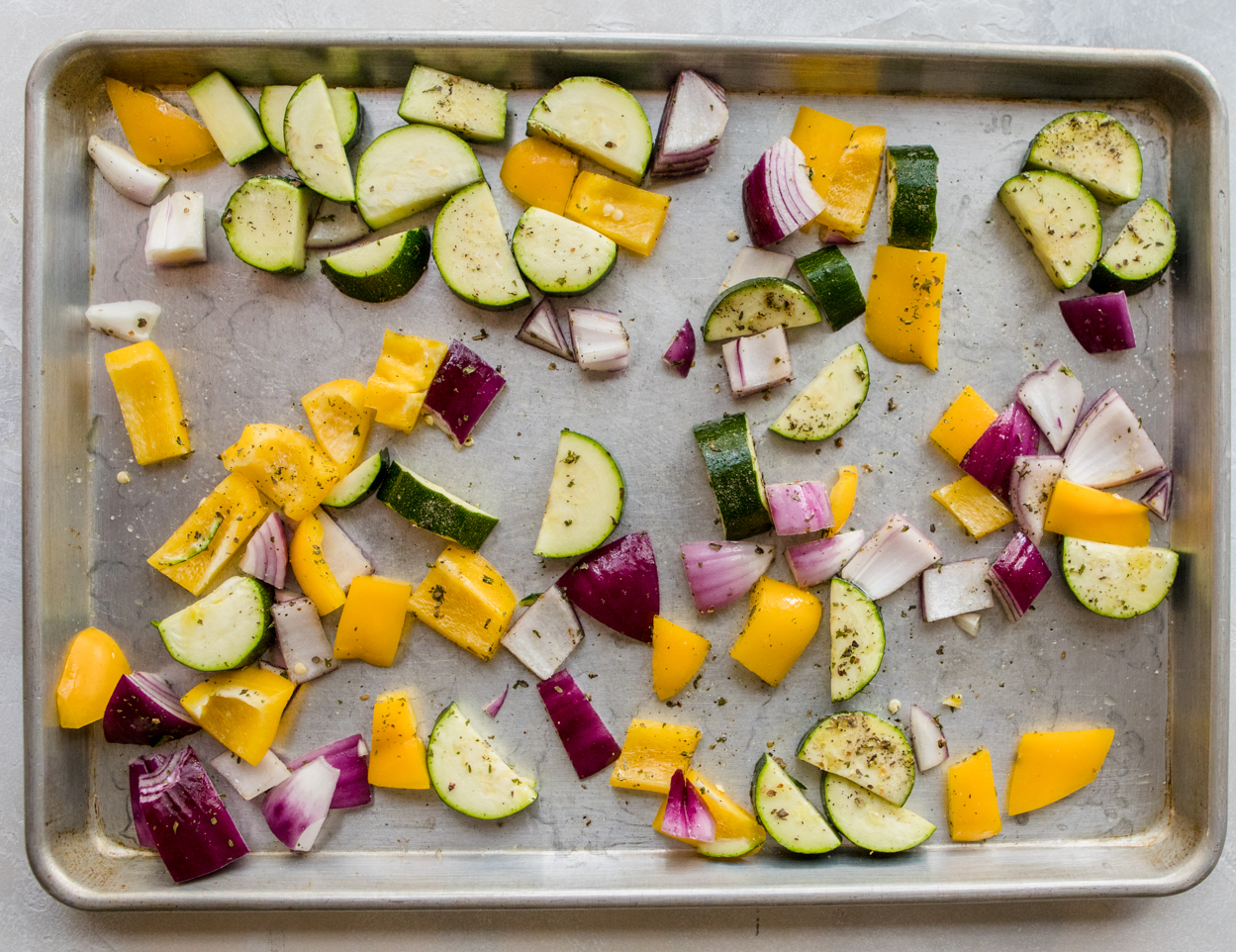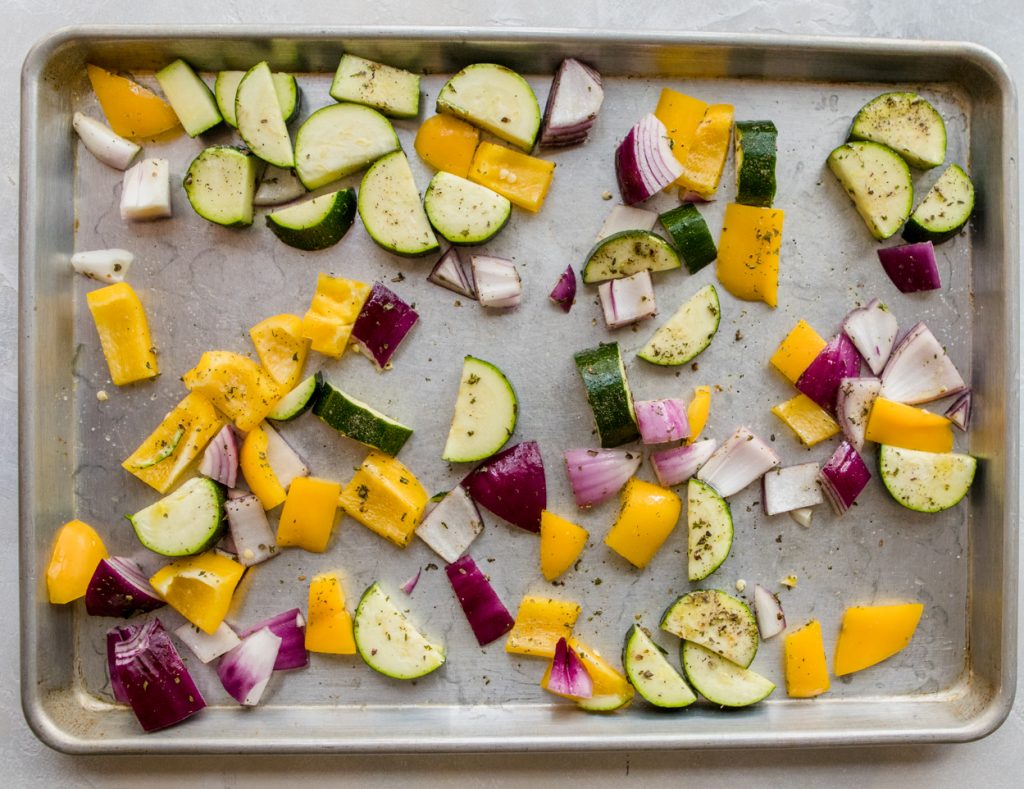 How To Prep and Make this dish
Begin by cutting up your veggies into large cubes or chunks, and toss them a bit some olive oil, salt & pepper, as well as dried parsley, basil & oregano. If you have a premade Italian style seasoning blend on hand, feel free to use that instead.
Now nestle your chicken breasts among the veggies. Brush with just a bit of olive oil to help the breasts retain their moisture. 1-2 teaspoons of olive oil per side is perfect.
Next, generously spread on your hummus, about 1-2 tablespoons per breast, and then sprinkle with paprika.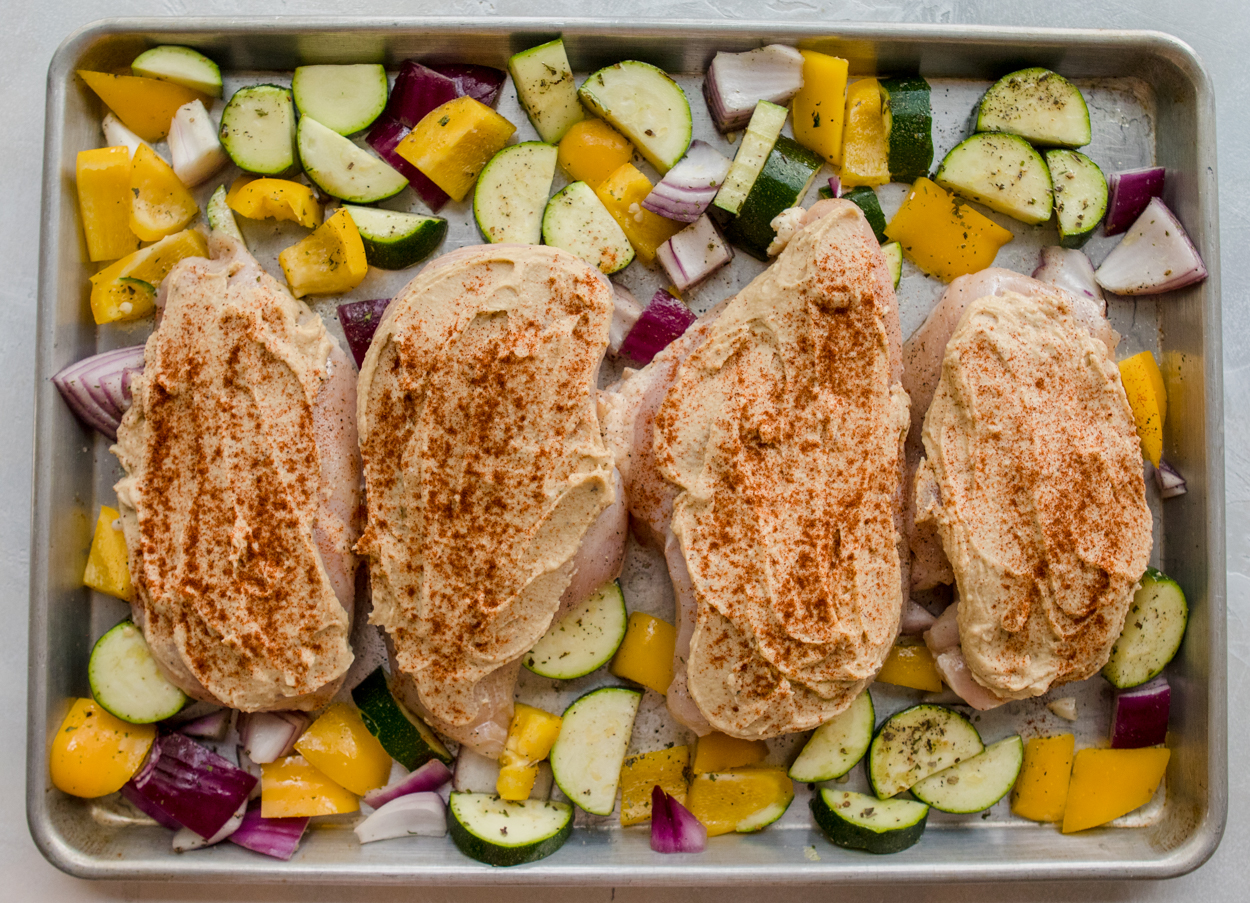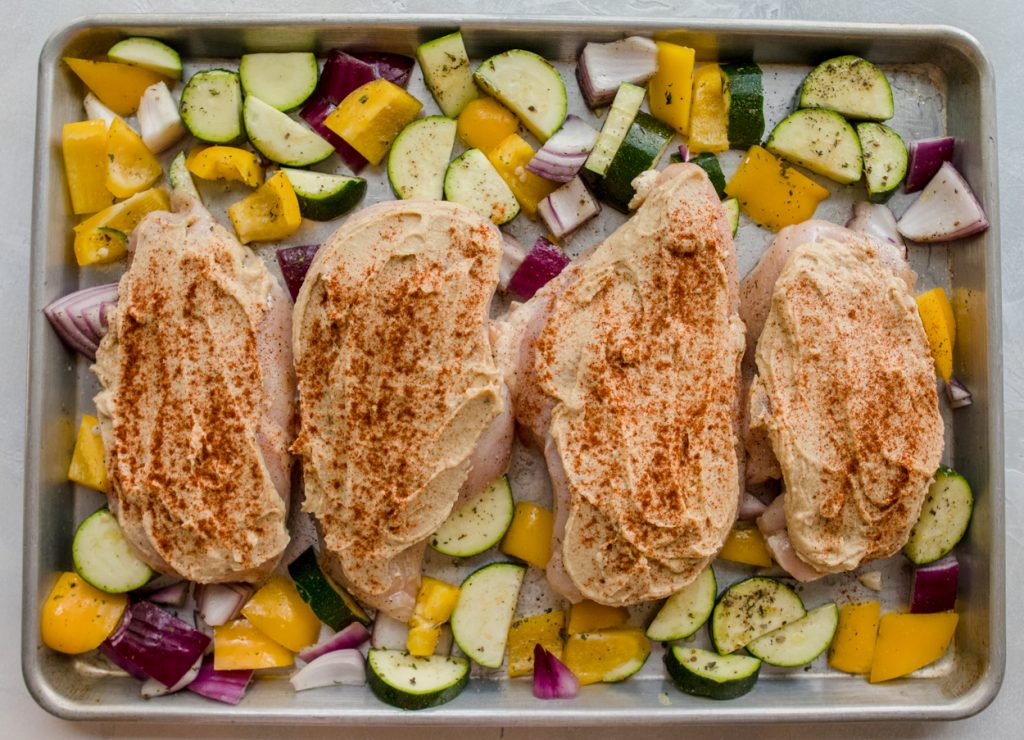 Finally, add in the toppings. I like to use a half quart of cherry tomatoes, cut in half, about ⅓ cup of sliced green olives and a whole cup of water-packed artichoke hearts. Canned mushrooms would be an excellent addition as well. Drizzle a little more olive oil all over the whole dish, about 1 tbsp total, and a bit more salt and pepper. Now it's ready to pop in the oven. 
Bake at 425 for about 30 minutes, beginning to check for doneness with a thermometer at 20 minutes since breast size may vary.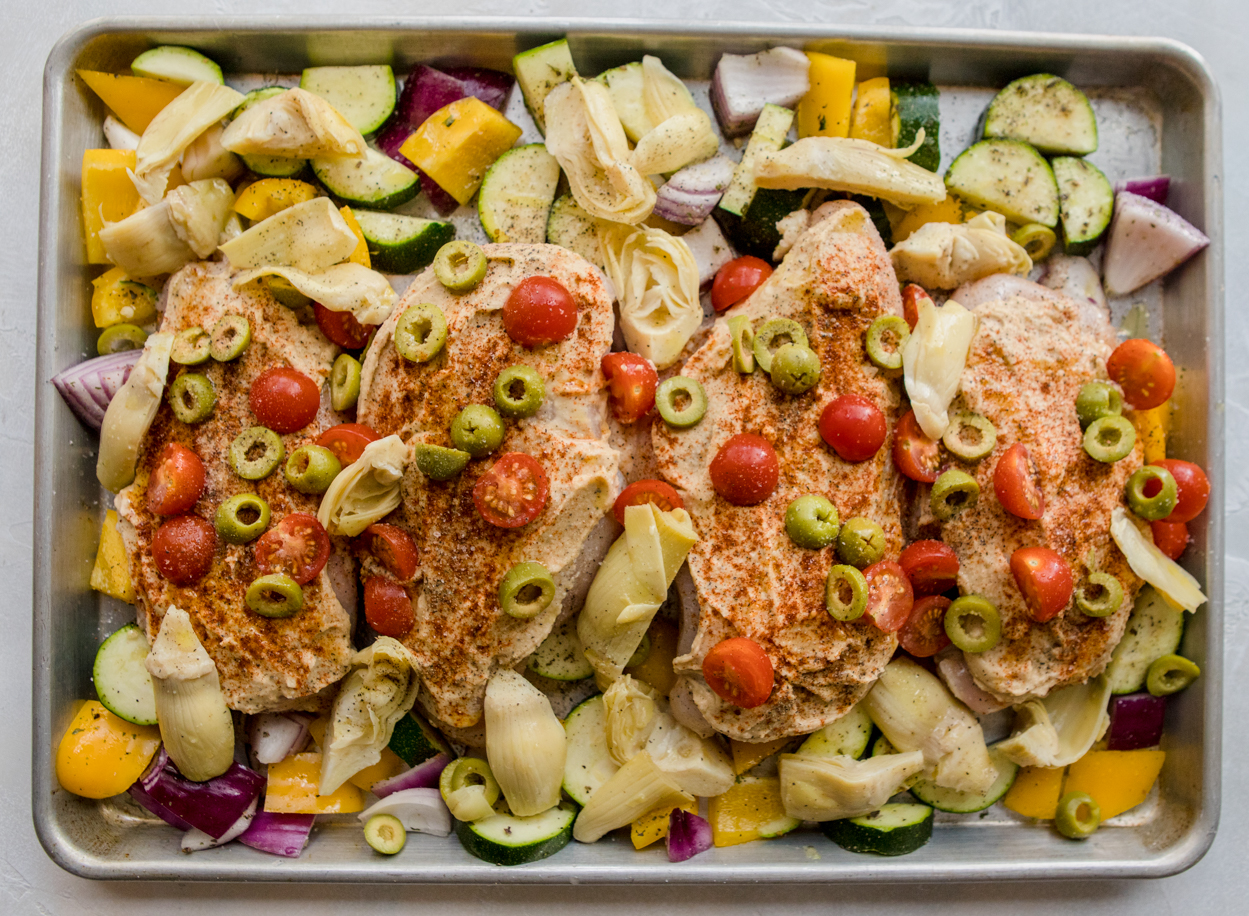 What Pairs Well With This Dish?
We love this dish with spaghetti or another type of pasta, and quinoa or rice is delicious as well. And of course zoodles are perfect if you're going low carb. The chicken tastes delicious the next day and when reheated a bit, is really good tossed in a salad.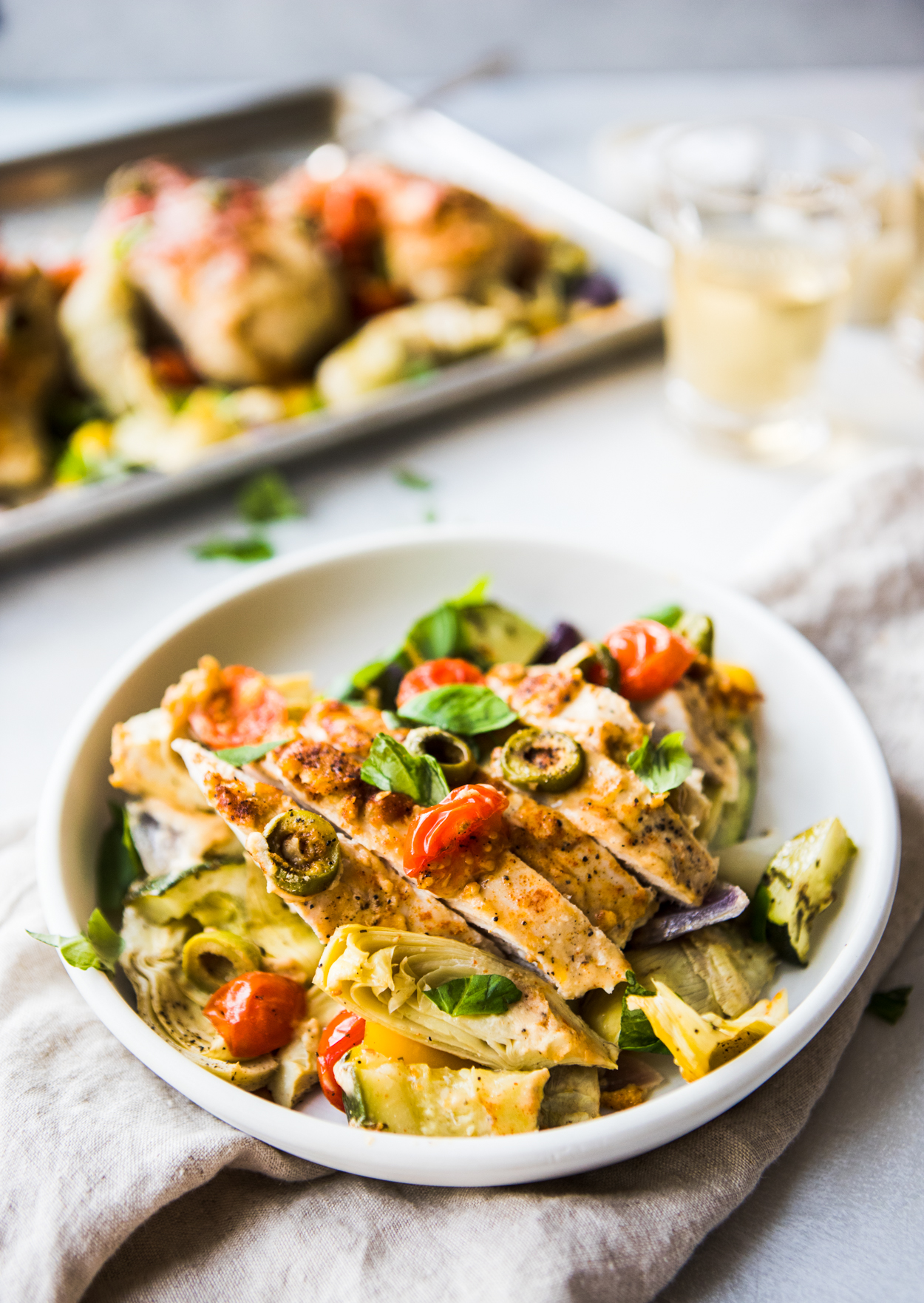 What Kind Of Hummus Works Best?
Our local grocery store sells a Mediterranean style hummus, so I regularly use that with this dish. But a garlic flavor would be wonderful, as well as some sort of roasted red pepper or a pesto hummus. What I'm saying is there are no rules here, and any flavor you love will be just perfect. I also often mix flavors if I have a couple of different half-eaten tubs on hand that I want to use up.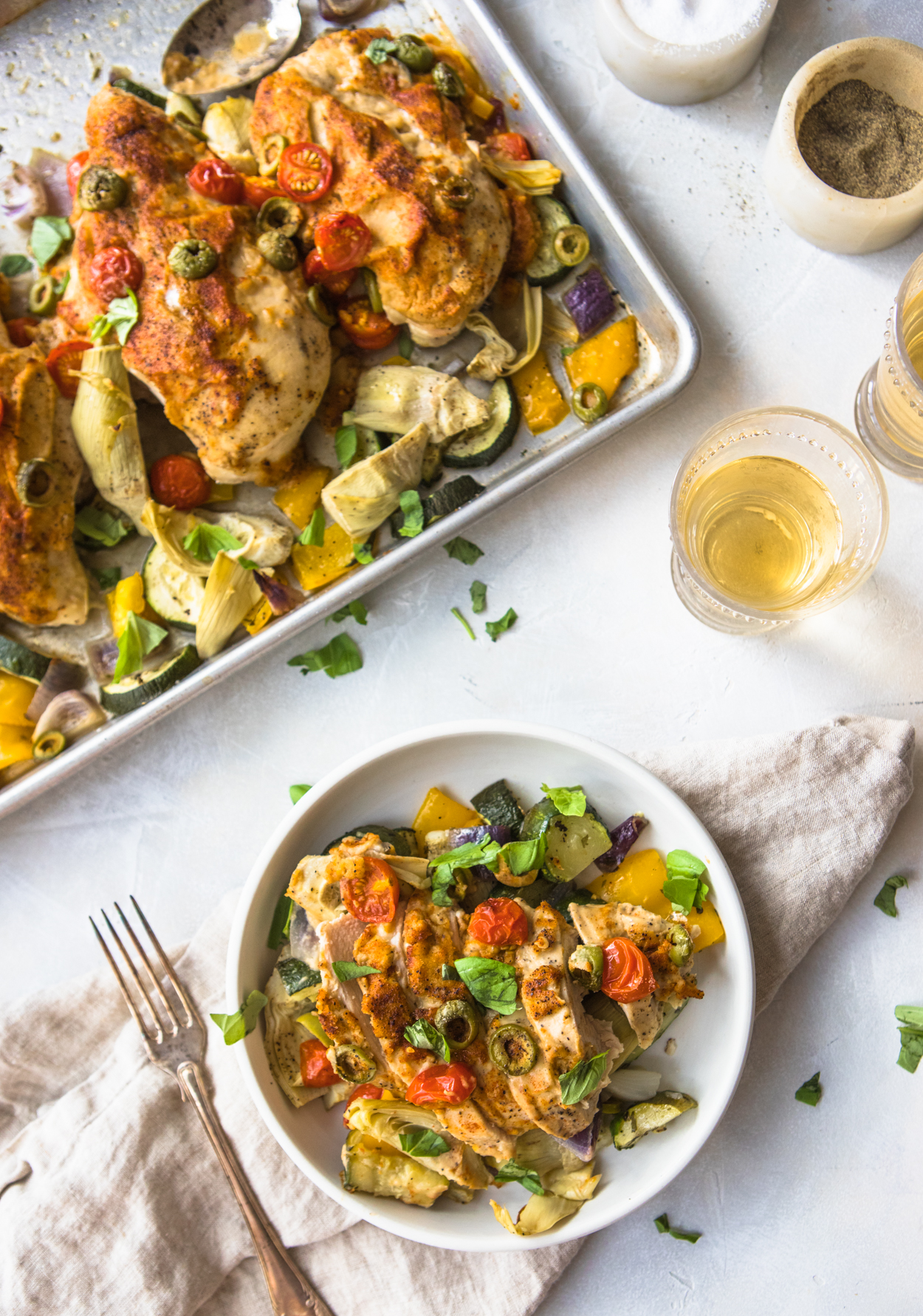 Other Helpful cooking Tips
I use a wide rimmed sheet pan to avoid spills and achieve a quick and even bake. However feel free to bake in a traditional casserole style dish and adjust cooking times accordingly, keeping in mind that it may take a bit longer to cook. 
You may be wondering what texture the hummus takes on once baked. Well, it gets a tiny bit crusty but still remains incredibly creamy and moist. Hence why I call it hummus *crusted* chicken. 
The hummus doesn't infuse any real "flavor" into the chicken, but it does is serve as a creamy sauce for the chicken, without having to create a separate pan sauce. Some of the hummus will drip off the chicken onto the pan and meld nicely with the olive oil, so make sure to not let that goodness go to waste! Think of it as gorgeous, slightly healthier pan drippings! 
If the breasts are extremely thick, I recommend lightly pounding them with the flat end of a tenderizer just so that they can cook a little more quickly and evenly.
Lastly, brining the breasts first, imparts a ton of flavor and prevents the chicken from drying out. To make a quick brine, simple add ⅖ tbsp Kosher salt to 2 cups of water, and heat just till the salt is dissolved. Allow to cool, then pour brine over chicken in either a ziploc bag or covered pot. Let sit for 1-8 hours, then rinse with cool water and cook as directed.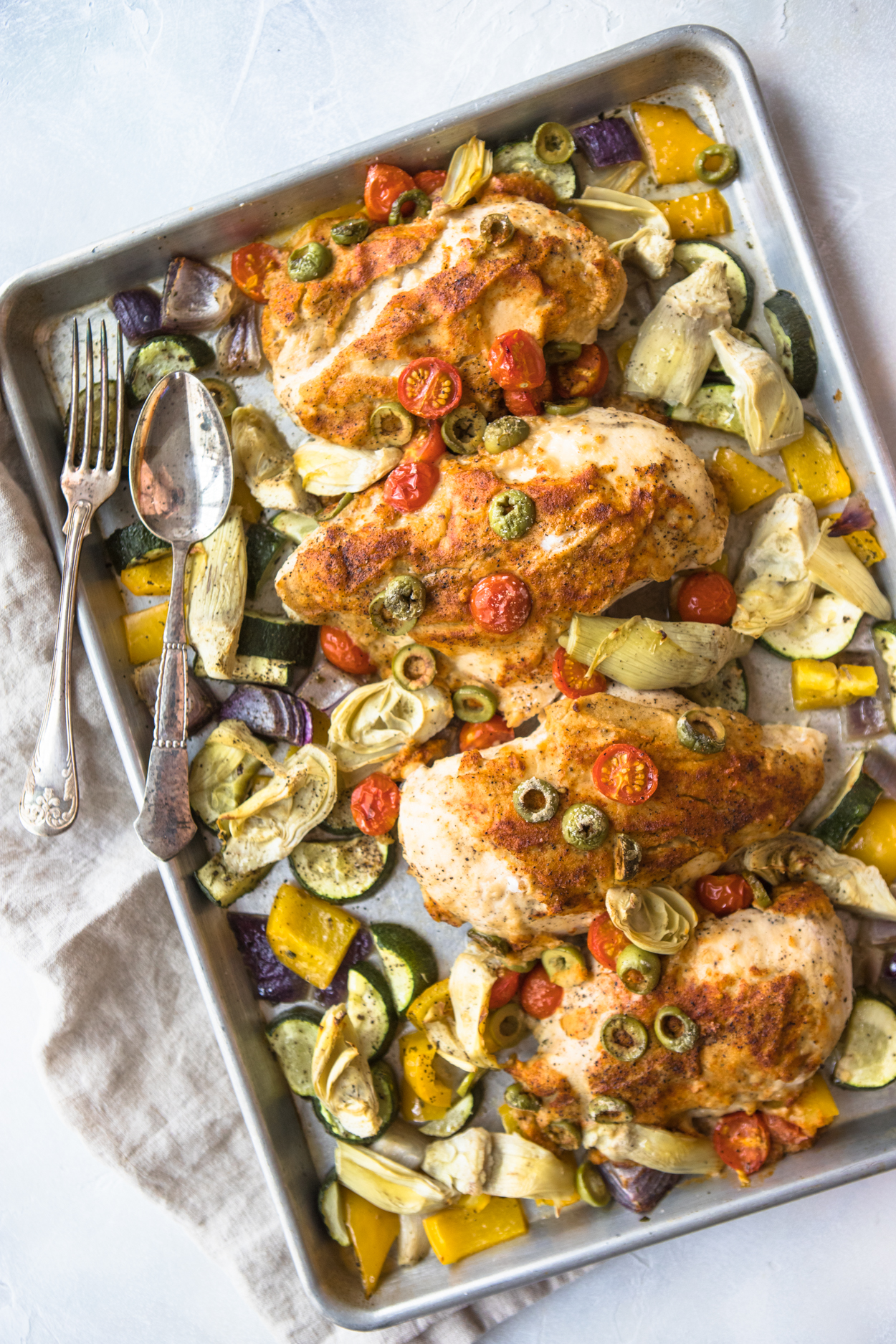 hummus chicken with vegetables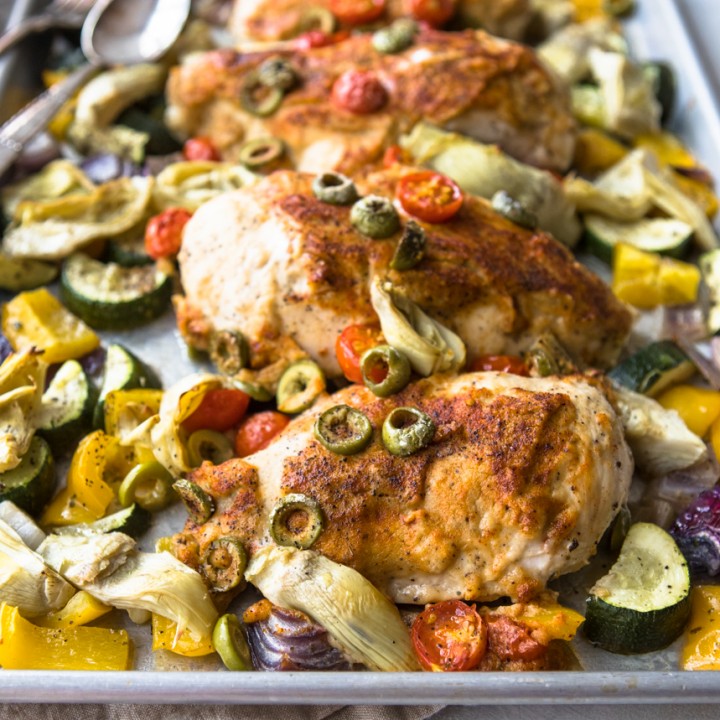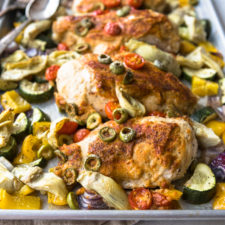 Hummus Crusted Chicken & Vegetables
This easy one pan chicken and vegetable bake is covered in creamy hummus, mixed with artichoke hearts & olives, and seasoned with Italian herbs to create the ultimate quick Mediterranean dinner. 
Print
Pin
Rate
Ingredients
4

boneless skinless chicken breasts or thighs

1

large zucchini cut into thick slices

1

red or orange bell pepper cut into large cubes

1

small red onion cut into large cubes

½

pint

cherry tomatoes halved

1 14.5

ounce

can water-packed artichoke hearts

¼-1/2

cup

sliced green olives

8

tbsp

hummus any flavor

1-2

tsp

each smoked paprika

dried oregano, dried basil and dried parsley flakes

Salt & pepper

3-4

tbsp

olive oil
Instructions
Preheat oven to 425 degrees.

Arrange the vegetables on a wide rimmed baking sheet or a casserole dish and toss in 1-2 tbsp of olive oil and parsley, basil and oregano.

Nestle chicken breasts among vegetables, and brush with 1-2 tsp each side of olive oil. Sprinkle both sides with salt & pepper. 

Top each chicken breast with hummus, 1-2 tbsp each depending on size of breast. Be generous and cover entire top.

Sprinkle smoked paprika over hummus covered chicken.

Top with green olives, tomatoes and artichoke hearts.

Drizzle a bit more olive oil over the entire dish, and sprinkle with one last round of salt & pepper.

Bake at 425 for 20-30 minutes, until chicken reaches 160 degrees in thickest part of the breast.

Slice and serve.
Notes
If chicken breasts are extra thick, lightly hammer a bit with the flat end of a tenderizer so that chicken cooks more quickly and evenly.
Feel free to use any type flavored or plain hummus you prefer.
The nutritional information is provided as a courtesy and is an estimate generated by a calculator.
Nutrition
Serving:
6
g
|
Calories:
310
kcal
|
Carbohydrates:
29
g
|
Protein:
16
g
|
Fat:
13
g
Other Quick & easy Sheet Pan Dinners