What's better than dinner (or lunch) in a bowl? Your food serving as the bowl of course! These pork sausage, chestnut and apple stuffed acorn squashes are hands down one of the most perfect cool weather foods that bring all the envied flavors of the season into one beautiful dish. The mix of the salty sausage offset by the sweetness of the apples and butternut squash is a flavor pairing made in heaven. On top of being delicious, they're so easy to put together and give you all your needed macronutrients in one dish.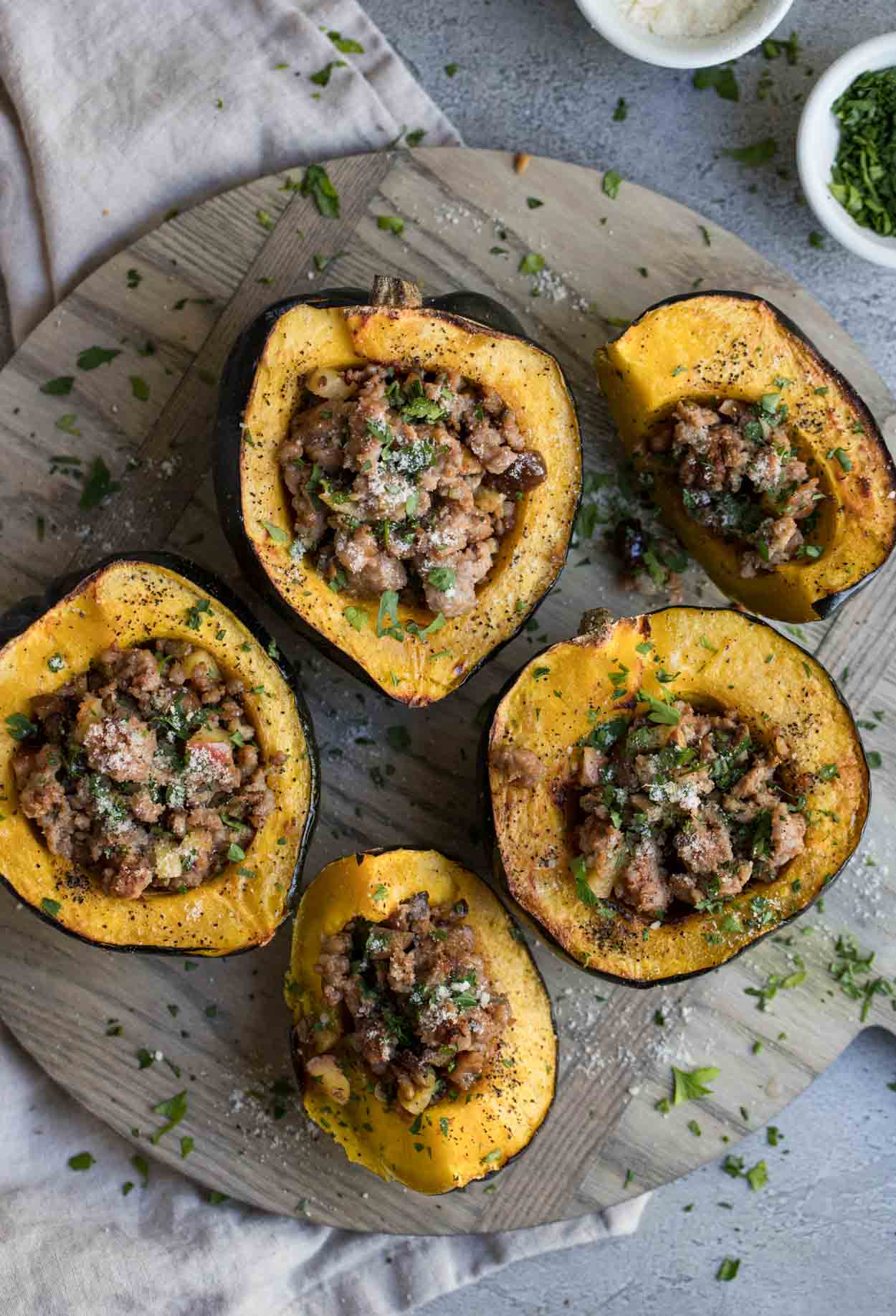 How to Roast an Acorn Squash
To start off right away, we've got to get these squash roasting in the oven so they can cook up and be ready by the time our stuffing is cooked. Luckily these babies are a bit easier to slice into than a spaghetti squash, where you often risk cutting off a digit when trying to open. But, if you want to play it safe and easy, just like you would do with a spaghetti squash, go ahead and microwave your acorn squash for 2 minutes to soften the outer skin a bit. If you don't have a microwae though, you can carve into it fairly easily. Pry it open, remove the seeds and brush with a bit of olive oil and sprinkle with salt & pepper.
Pop in an oven at 400 degrees and roast for 30-45 minutes. My small counter top oven gets the job done quickly but my big oven takes longer, so just check on them starting at 30 minutes and if they're fork tender, you're good to go.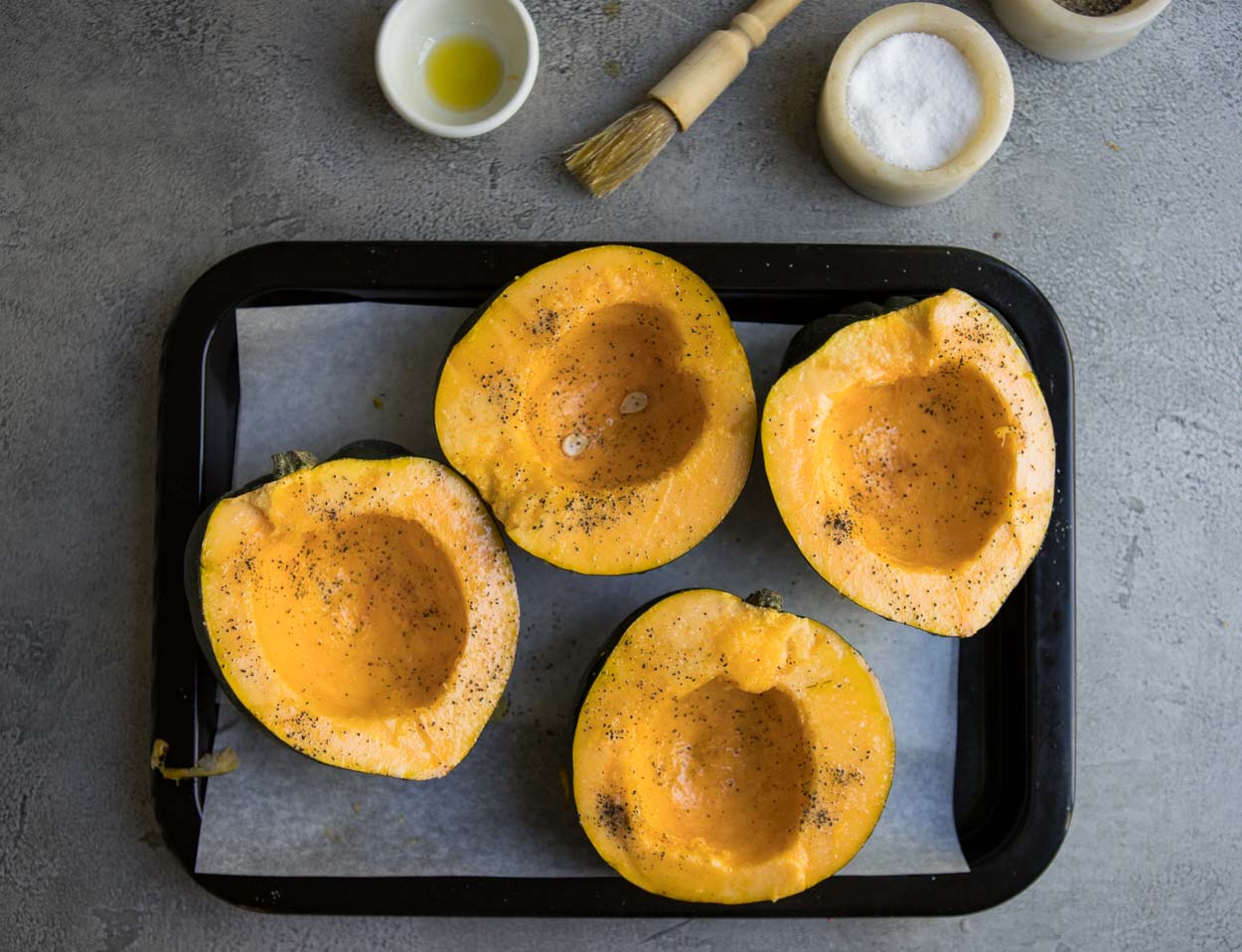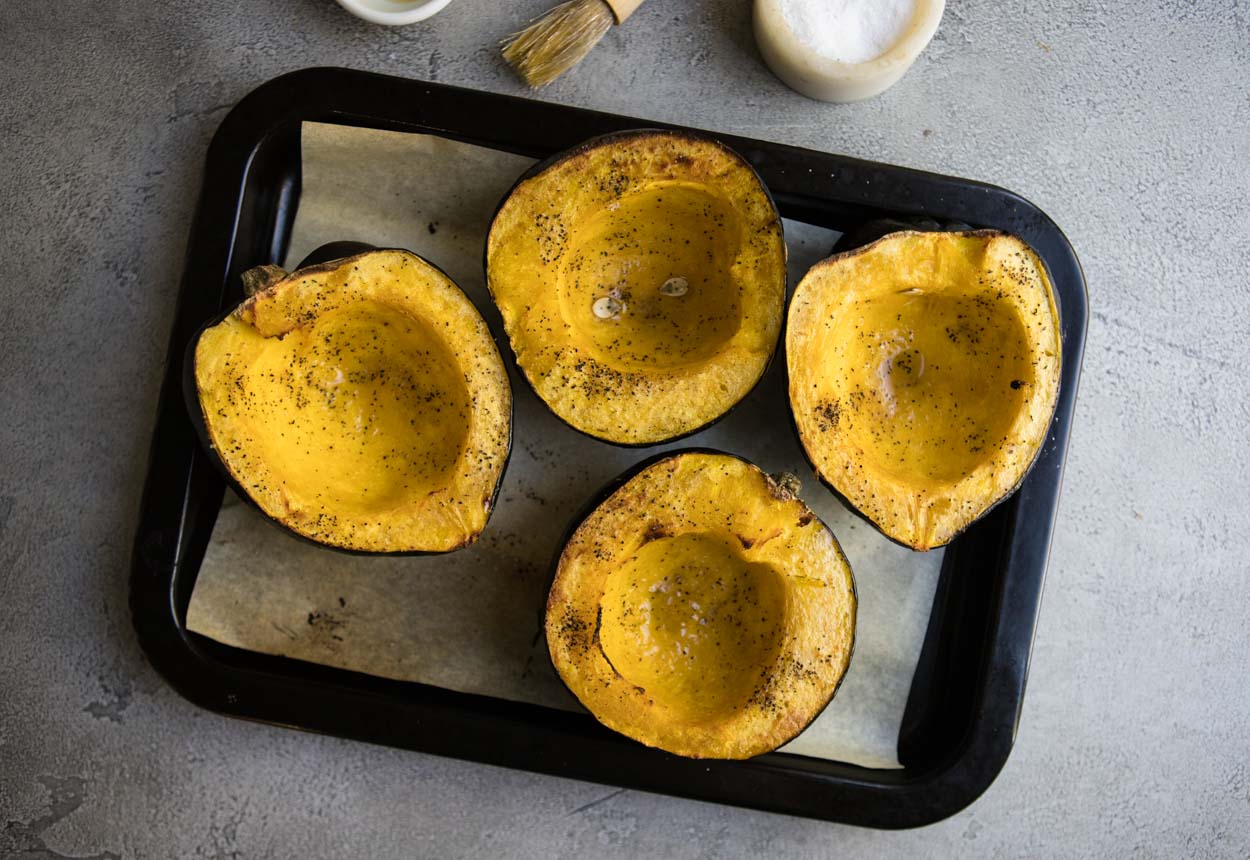 Choosing the Ingredients for Your Stuffing
So I actually played around with this recipe a couple of times, trying a few different flavor combinations, and you know what, they all worked! That's the beauty of cooking with some standard base ingredients, and then adding in seasonal favorites. For instance, I tried both mild Italian and hot Italian pork sausage as the base, and they both were fantastic, so choose whichever one your family would enjoy the most. Heck, I even made one batch where I did half sweet and half hot, and no surprise, they complemented each other perfectly.
And then as far as adding in your other flavor enhancers, you can kinda just use what you have on hand as long as they fit the categories of sweet and nutty. For example, I made a batch with raw apples, and one with dried raisins, and both were yummy. I bet pomegranates would work too! For the nuts, I used chestnuts, but hazelnuts would be delicious, and even the good old standby pecan would work. The key here is to not get stuck in the recipe, but feel free to experiment a bit if it will save you a trip to the grocery store.
The mushrooms I added in simply as a filler and to get more veggies in there. I've really been trying to eat as many veggies as possible, so this seemed like a great way to add in some essential vitamins and minerals in an innocuous way. Added bonus was that I also got to use the mushrooms I had in the fridge before they went bad.
Can You Make the Stuffing Vegetarian?
Absolutely, yes! A lot of stuffed squash recipes focus on wild rice or quinoa for a vegetarian stuffing, but using mushrooms as a base gives you a couple more options for a veggie loaded stuffing that also isn't so carb heavy. I would recommend doing a mix of mushrooms and cauliflower rice, or if you do want to use a grain, cut it down by mixing equal parts grain (brown or wild rice or quinoa are recommended), cauliflower rice and mushrooms. The reason these combos would work is that they have a similar texture and consistency as a meat filling, and will sort of stick together as the stuffing.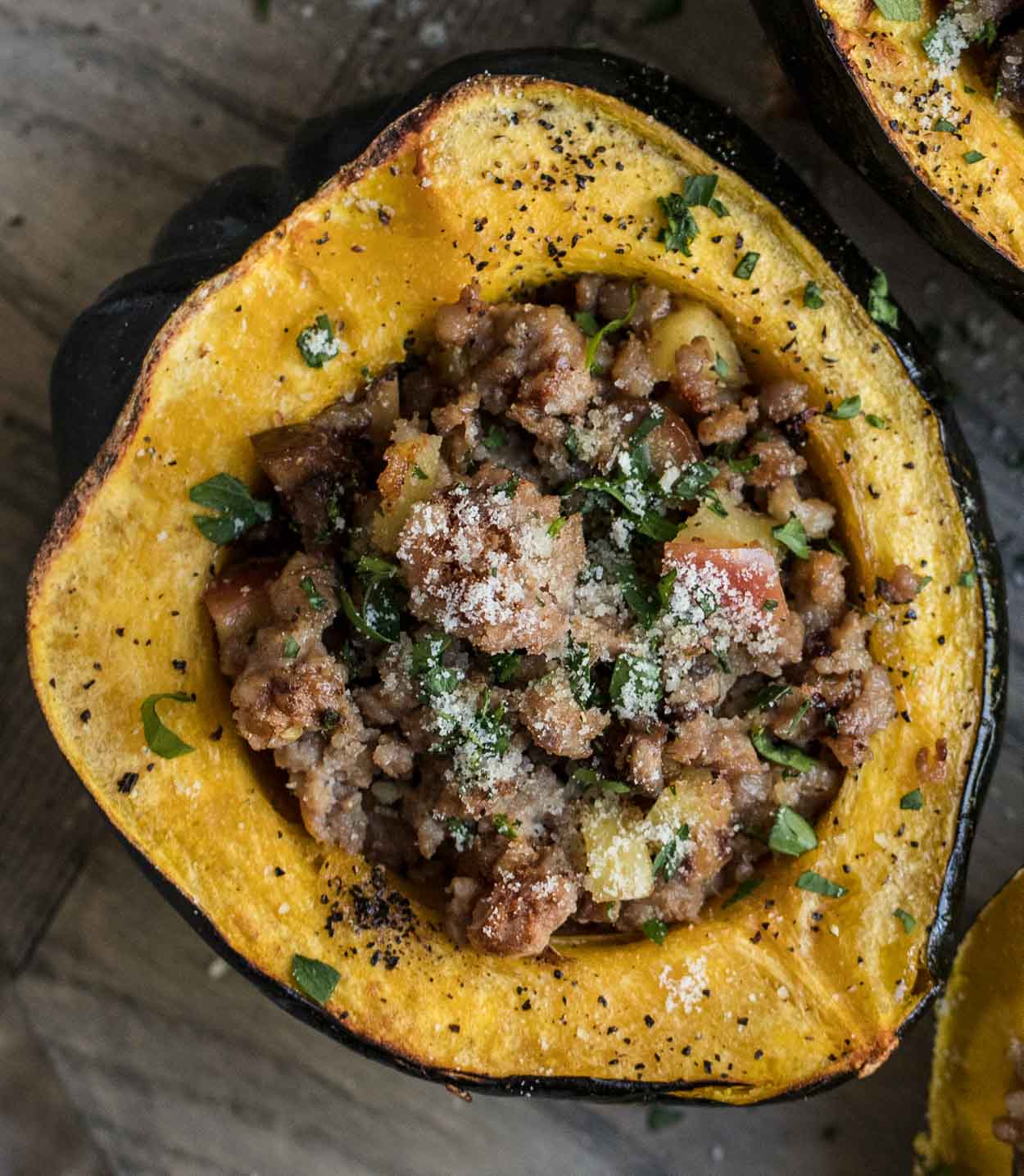 Now go out and make this yummy and beautiful dish, and please let me know how you liked it? If you do make this dish and found the recipe easy and yummy, I would love for you to consider leaving a comment and rating it below. Thank you so much!
OTHER SQUASH DISHES TO ENJOY
Butternut Squash + Kale Frittata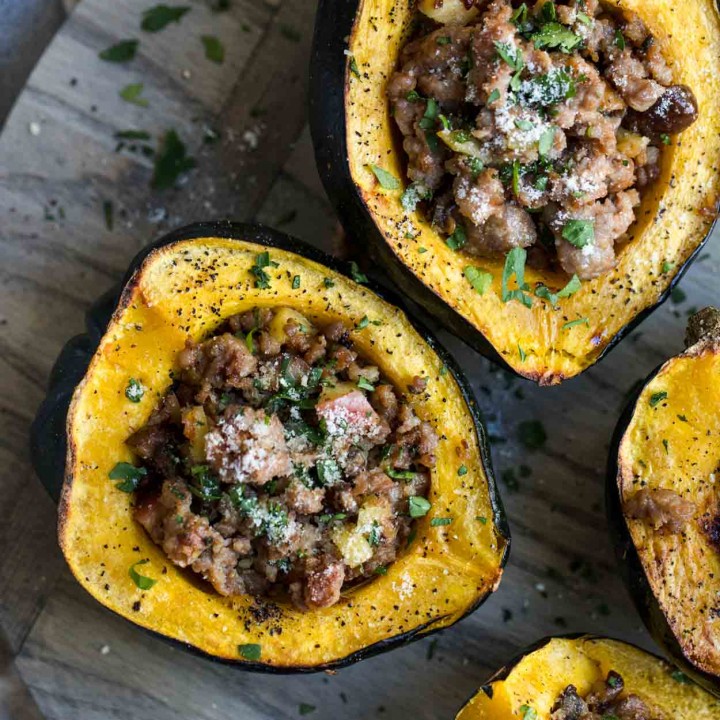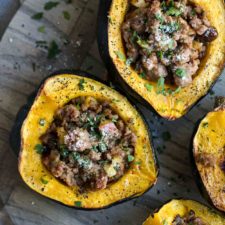 Pork Sausage, Chestnut & Apple Stuffed Acorn Squash
Chestnuts, apples and pork sausage make up the delicious and flavorful stuffing for roasted acorn squash. An easy yet comforting dish to take you from Fall into Winter.
Print
Pin
Rate
Ingredients
4

acorn squash

1

lb

pork sausage

1

small apple

diced

1

cup

cremini mushrooms

chopped

½

cup

chestnuts

roughly chopped

2

tablespoon

olive oil

Salt & pepper
Instructions
Preheat your oven to 400 degrees.

Slice open your acorn squash, and scoop out the seeds. Brush with 1 tablespoon of the olive oil and sprinkle with salt & pepper. Roast for 20-30 minutes until fork tender

Meanwhile, saute up your filling. Heat 1 tablespoon olive oil in a saute pan. Saute the mushrooms on medium heat, for 3-5 minutes. Add in the pork sausage and cook for 5-7 minutes, making sure to cut up the sausage into small pieces with a wooden spoon.

Add in the diced apples and cook till soft but still crisp, about 3 minutes, then stir in the chestnuts. Cook till sausage is fully cooked and no longer pink and the chestnuts are heated through, about 3-5 minutes. Season with salt & pepper.

Scoop the filling into each acorn squash and enjoy!