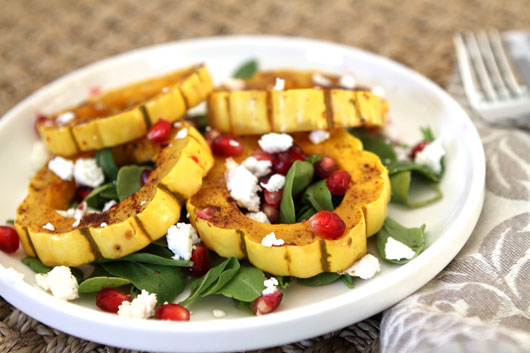 There was a period in my life when I was buying food from at least 7 different sources. Between a couple farmers for meats and eggs, another one for fruits and veggies, a couple of grocery stores and 2 different farmer's markets. It was complicated to say the least!
For a while I also participated in a local CSA (Community Supported Agriculture) However, after doing the math I realized I was wasting my money, considering I had been religiously visiting the farmer's markets anyhow, and getting a much better return.
I think a CSA is a great service for people that are extremely busy and strapped for time, but still want to have farm fresh produce, meat, and/or eggs.
I find now that my time and money are best spent at the local farmers market. I am able to get freshly picked organic produce, meat, and eggs, and support local businesses and farmers at the same time. I also really look forward to my weekend morning ritual of going to the farmers market.
Over time I've learned what is truly good value, what is a waste of money, and who has the best, cleanest product for the value.
What is Delicata Squash?
Even though I no longer use a CSA I do have to thank them for introducing me to the Delicata squash. More robust in flavor than a butternut, and easier to de-seed than a pumpkin, this little beauty roasts/bakes up nicely and can be eaten hot or cold, peel and all.
It is much more delicate than other winter squashes, as the name would have you believe. The skin of the delicata is thinner and therefore does not need to be peeled, which is a huge time saver!
For a "cleaner" version of this Roasted Delicata Squash, Pomegranate, and Goat Cheese Salad you can skip the dairy of course, but goat's milk cheese is one of the gentler kinds around, for those concerned with tummy digestion issues.
If you have not had delicata squash this recipe is a great place to start!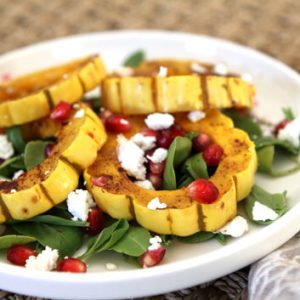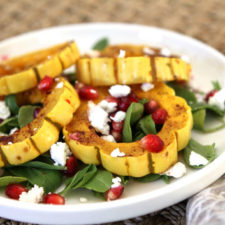 Roasted Delicata Squash, Pomegranate & Goat Cheese Salad
A roasted delicata squash salad that is topped with goat cheese and pomegranate arils. This makes a great starter salad in the fall and winter.
Print
Pin
Rate
Ingredients
1

Delicata squash

cut into 1 inch slices and seeds removed

½

tablespoon

olive oil

a pinch of sea salt

a sprinkle of cinnamon

a small pinch of cayenne

can sub nutmeg for a less spicy salad

pomegranate arils

goat cheese to sprinkle over the top

use desired amount

a small splash of olive oil and red wine vinegar for a dressing

but not too much is needed!
Instructions
Preheat your oven to 375 (if you are roasting a bunch of veggies at the same time, the typical roasting temp is 425, just cut your cooking time in half and check on the squash, they'll be just fine in the higher heat).

Spread out some foil on a baking sheet, and lay out your squash pieces. Brush with a bit of olive oil and then sprinkle lightly with salt, cinnamon and cayenne or nutmeg. Roast for 12-14 minutes, checking on their tenderness by piercing the skin with a fork.

Place the roasted delicata squash on top of some fresh arugula, or let chill, depending on if you prefer a warmer or a colder salad, and then sprinkle with some seeds and little bits of goat cheese. There's no formula, just however much you prefer of each. Splash some olive oil and vinegar on top, maybe even some salt and pepper, but the spices on the squash are plenty flavorful on their own.

Enjoy!