I began making this recipe a few years back, and adapt it as the seasons change, switching out the vegetables and also adjusting cuts of chicken, using everything from boneless skinless breasts to bone-in, skin-on thighs. It's one of those one pan recipes that's easy to modify and hard to mess up, and can even be made with leftover cooked rice you already have on hand by adjusting the amount of broth you add.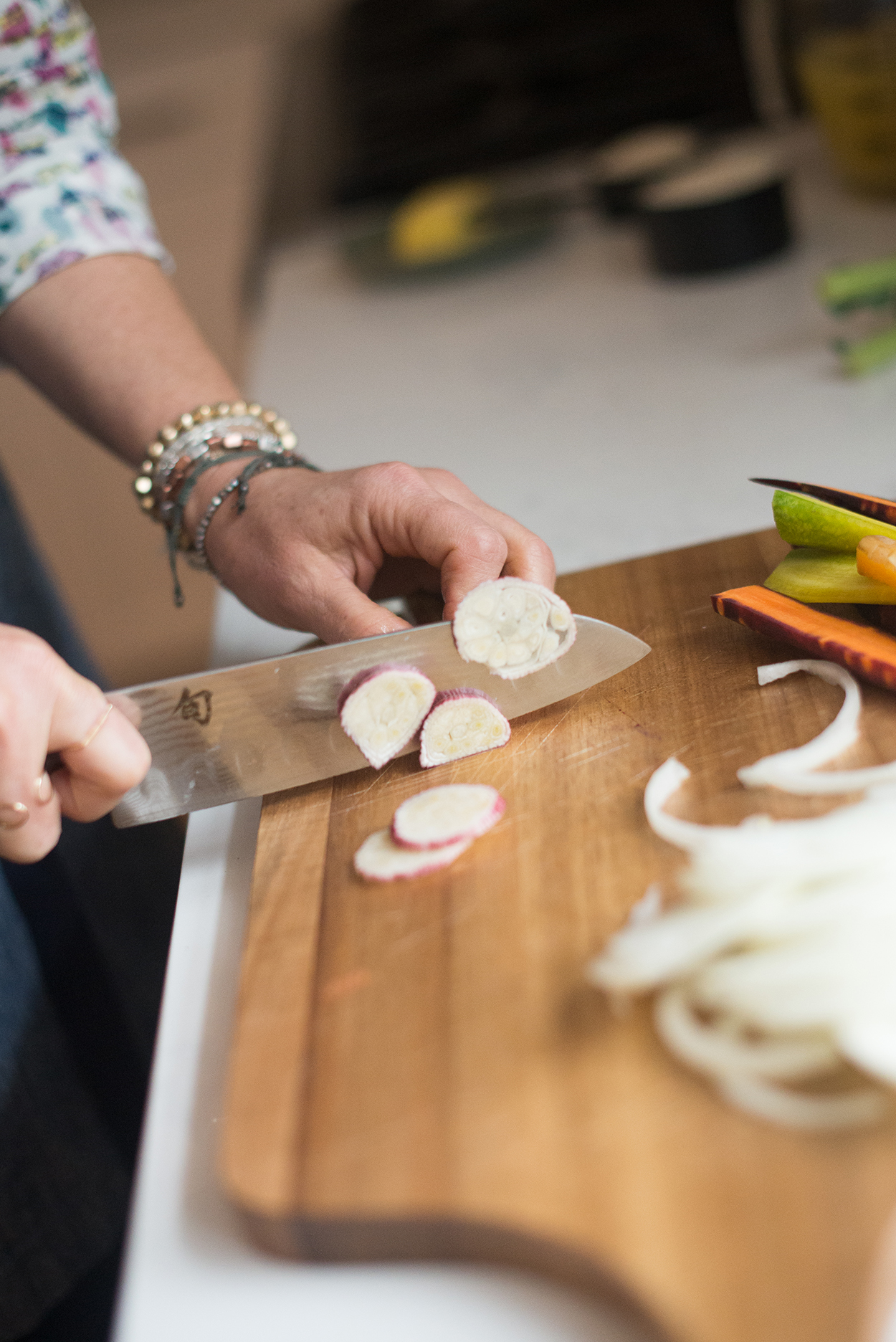 I've gotten back into the habit of visiting the farmer's market, and on a recent trip picked up young garlic, also known as green garlic, and some gorgeous heads of broccoli, bundles of heirloom carrots and the freshest, sweetest sugar snap peas I've tasted in awhile. So into the pot these all went, along with the usual sliced onion and a few sprigs of thyme, the herb I happened to have on hand this week, but make sure to use whichever poultry herb you happen to have, including rosemary or sage.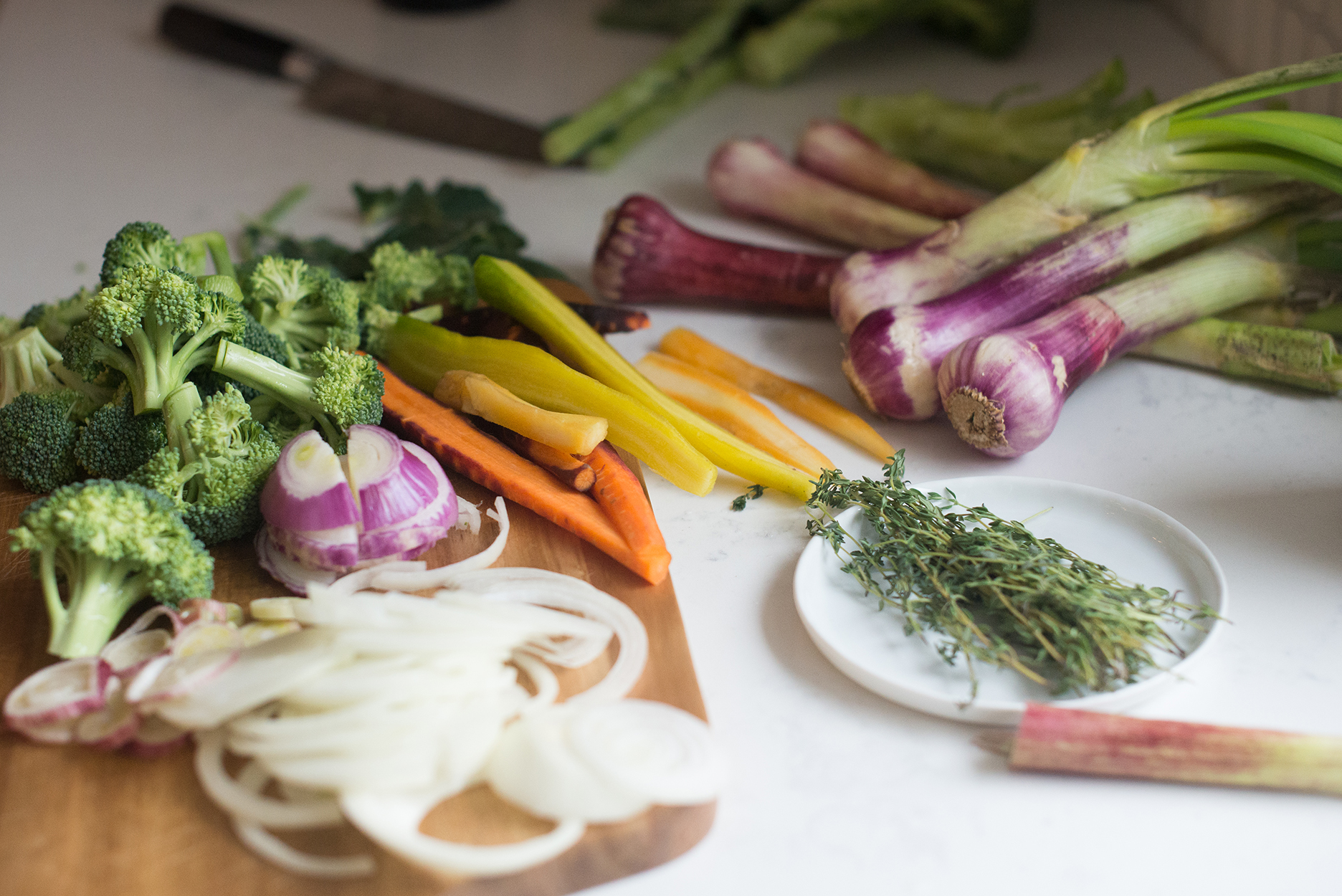 Sauteing everything up in the pan before baking gives the chicken that gorgeous brown coloring, and also helps to soften up the veggies a bit and get all the flavors melding together nicely. Plus, it makes the house smell like home and puts one in the perfect mood to eat. If using precooked rice, make sure to pull back on the chicken stock, only adding about a cup to help keep the veggies and chicken moist while cooking. Too much more that that and the rice will get way too soggy. I've used leftover white rice as well as rice pilaf, and while the white rice was fine, the rice pilaf did hold up better and was a lot more flavorful.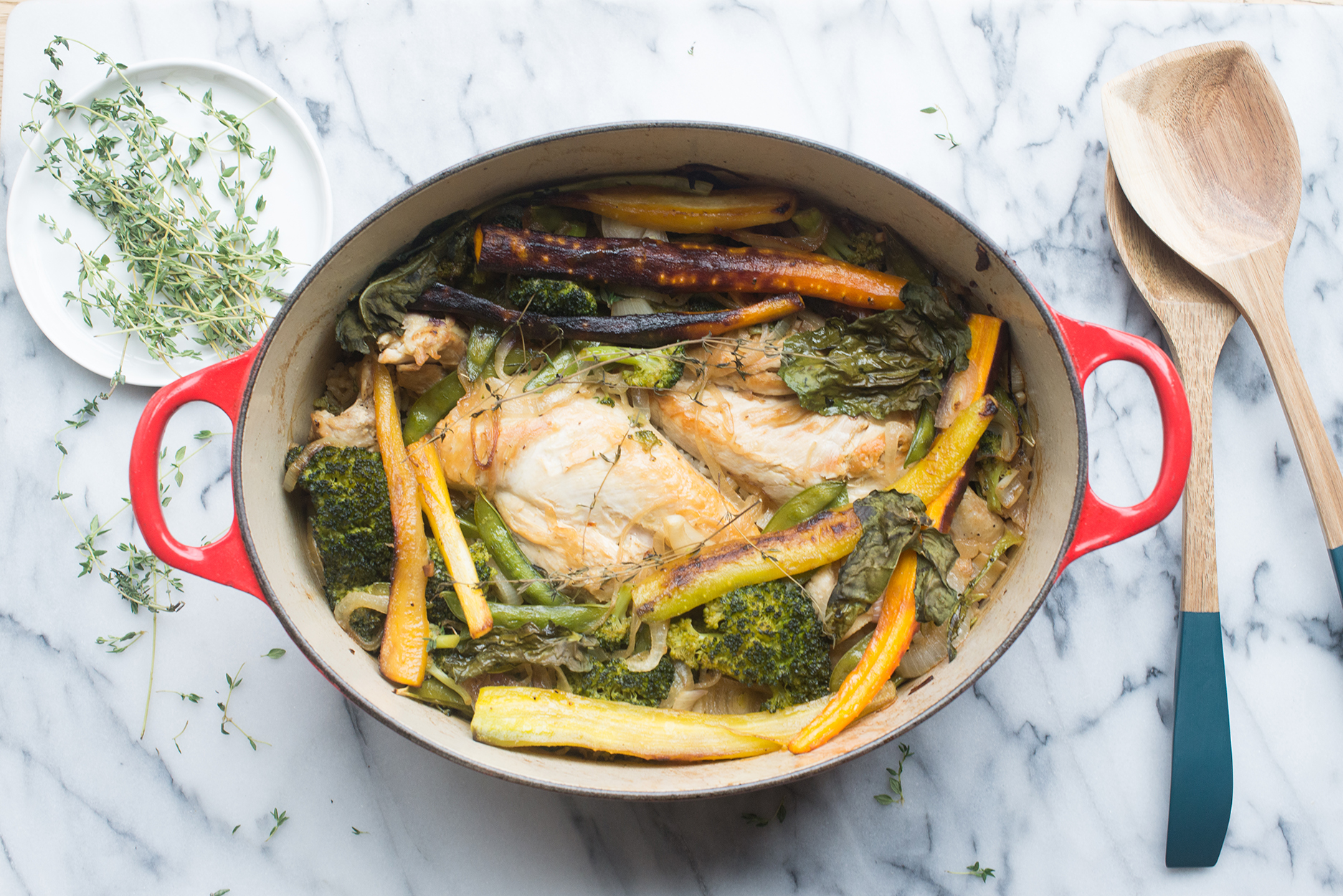 I originally adapted this from a Tyler Florence book of baby recipes, and he recommends chopping up into fine pieces or pureeing a portion of the ingredients together and serving as baby food, while leaving the rest in tact to serve to mom and dad. Pretty ingenious way to get your kids used to the varying flavors of home cooked grown up food from a very young age. Obviously though there's no need to do all that if everyone eating at home has a full set of teeth and a digestive track that's moved beyond the complexities of pureed pears and green peas. Just serve up as is and enjoy only having one pot to clean.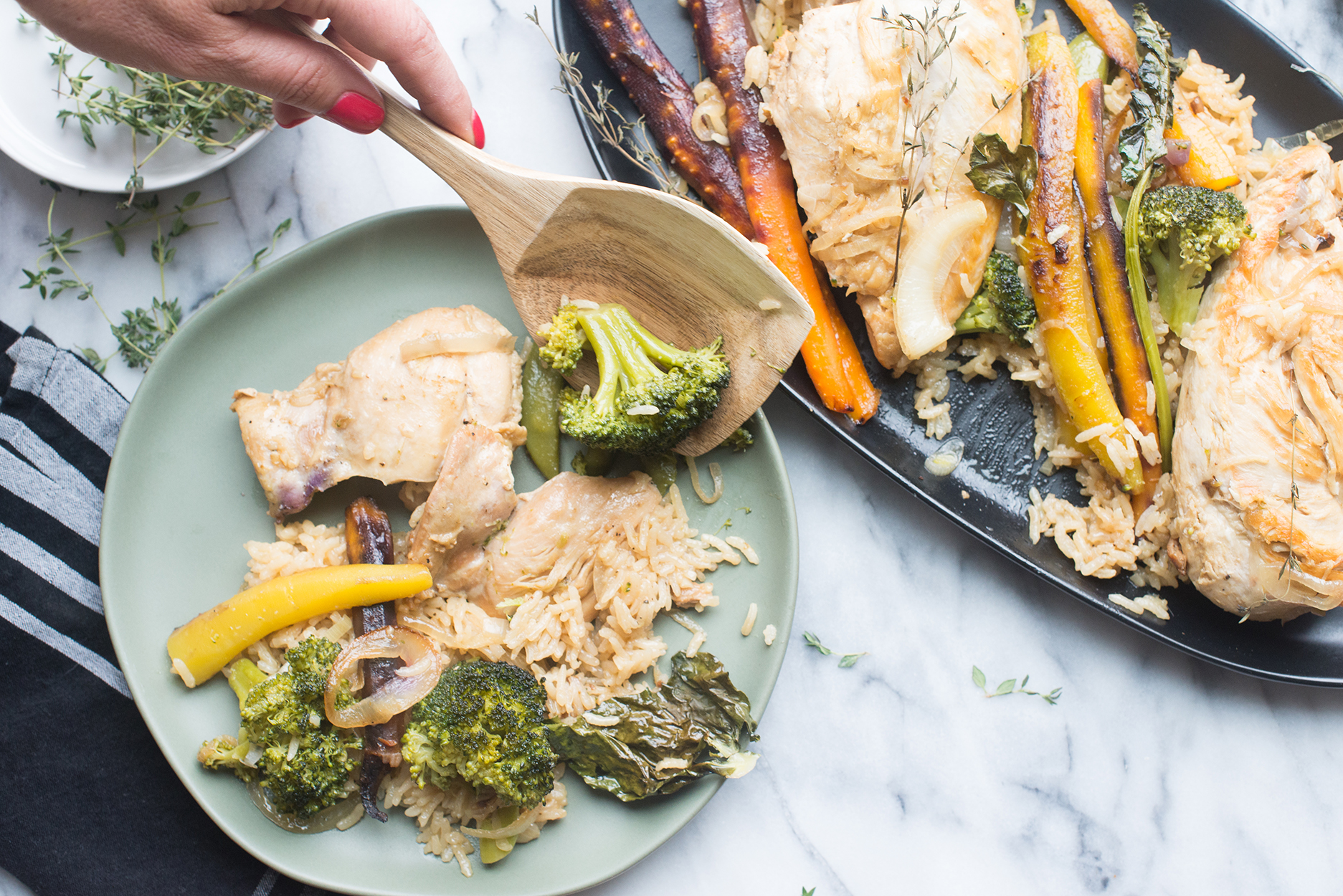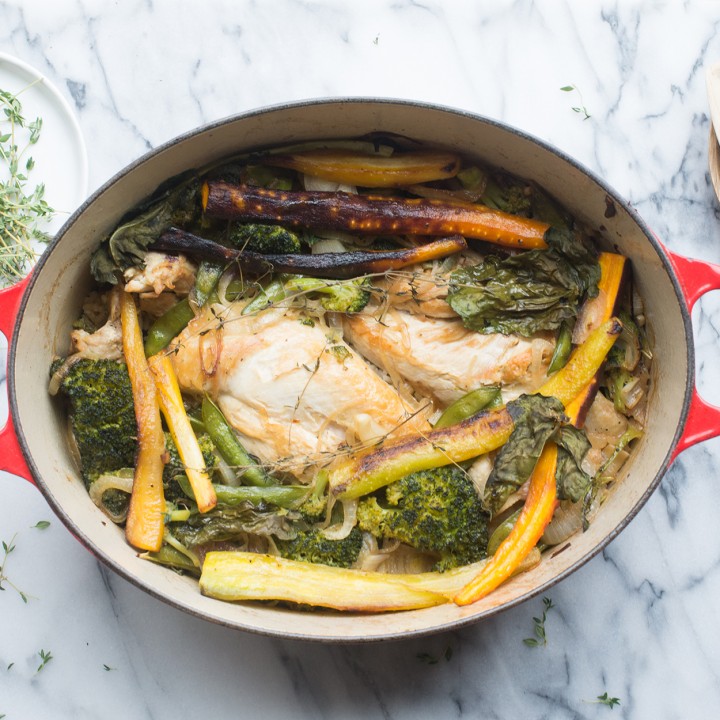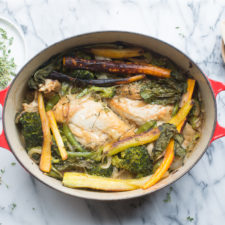 One Pan Roasted Chicken, Rice & Veggies
Make this quick & easy dinner in under an hour. Perfect for any weeknight. Adapted from Tyler Florence
Print
Pin
Rate
Ingredients
2-3

tablespoon

extra virgin olive oil

2

lbs

of desired cuts of chicken

either breasts or thighs, may be skinless or skin-on

1

small head of broccoli

cut into small florets

2-4

carrots

cut in half lengthwise

1

small onion cut into rings

1

cup

sugar snap peas

½

cup

frozen broccoli optional

1

small head of green garlic

sliced optional

1

tablespoon

unsalted butter

1.5

cups

long grain rice

3

cups

chicken stock

Salt & Pepper to taste
Instructions
Preheat the oven to 375

In a dutch oven, heat the olive oil over medium heat. Add the chicken and cook on each side till browned, working in batches if necessary, about 7-10 minutes total.

Remove the chicken and set aside, and add a bit more oil if necessary.

Add the vegetables, onion and garlic and cook until the veggies are bright and a bit of their crispness is taken away. Transfer the vegetables to a plate and set aside.

Add the butter and rice to pan, and stir until coated.

Add the stock and bring to a boil over medium high heat.

If using precooked rice, just add the rice to the butter, and only add 1 cup of stock, no need to bring rice to a boil.

Add chicken and vegetables to the pan, nestled on top of the rice and place pan in oven.

Bake uncovered for 30 minutes, until liquid is absorbed and chicken is done.