This miso butter salmon recipe is quick and easy, full of flavor and rich in nutrients! Shallow poaching, then basting the salmon with the white miso butter sauce creates a tender, flaky finish that is moist and never dry.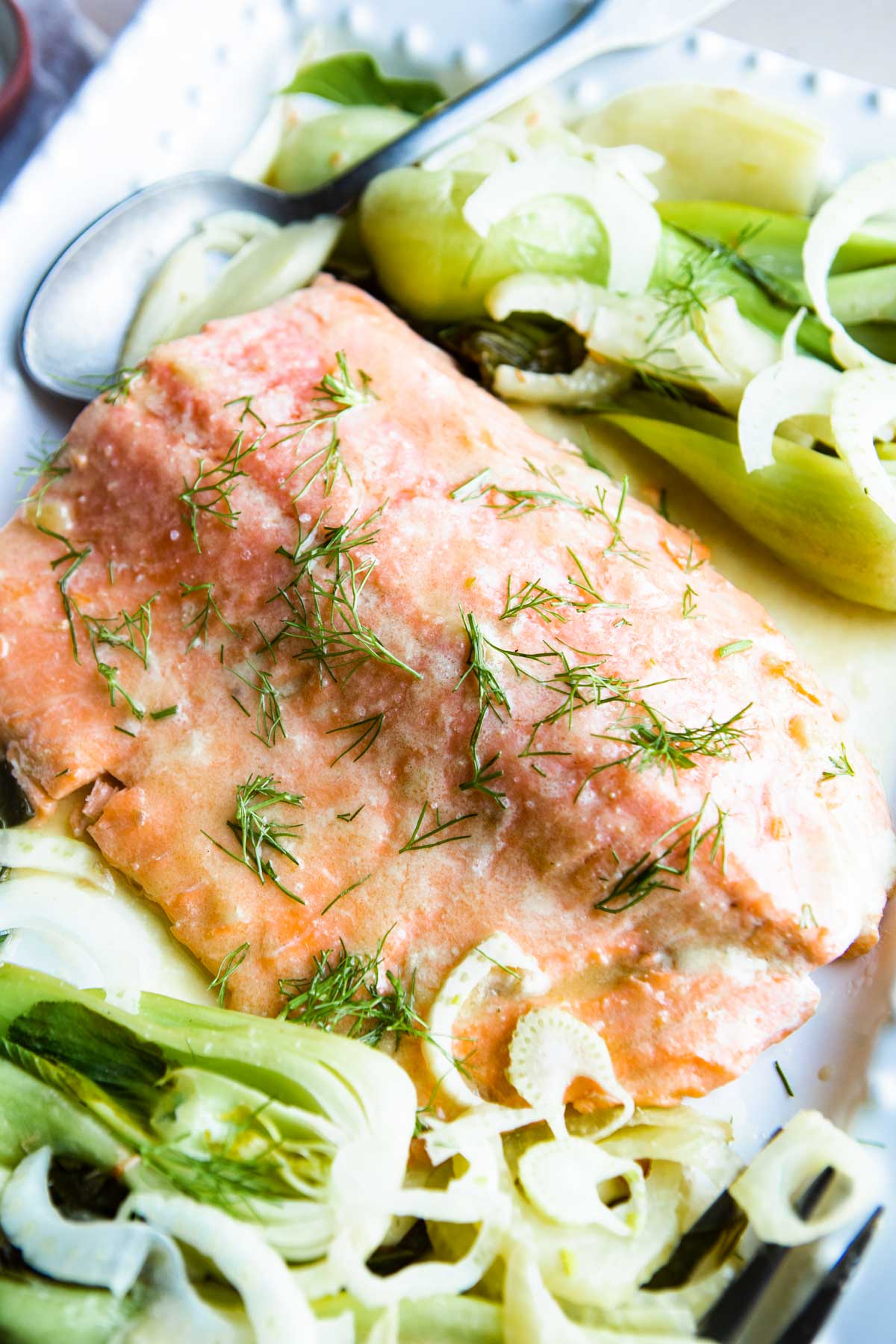 As I've said before, my family, especially the kids, are big fans of salmon. I feel lucky that they love such a nutritious and healthy meal, and will eat it as often as I make it!
Because we eat it so often, I try to get creative with healthy salmon recipes like pesto crusted salmon or salmon and veggies cooked in parchment paper. And of course I'm a big fan of salmon and compound butters. So in addition to this miso butter salmon, you can also check out pesto butter salmon, garlic butter salmon and Cajun honey butter salmon.
I recently realized that I've never shown you how to shallow poach your salmon! I love cooking it this way as it's so quick and easy. The salmon cooks in less than 20 minutes, and you can add veggies for a simple one pan dish. Let's get started.
Jump to:
Why you'll love this recipe
Poaching is a gentle cooking method that is an easy, foolproof way to cook delicate salmon. It is a relatively fool-proof process, involving a short simmer with low heat, which breaks down protein structures while retaining the food's moistness, structure, and taste. Since we aren't completely submerging the salmon in cooking liquid, this is called a shallow poach and it starts with a quick, gentle sauté.
Quick & simple! Just 4 main ingredients, plus any optional veggies, and ready in one pan in 20 minutes or less!
Easily make it a one pan meal by adding veggies of choice.
Nourishing and hearty. Salmon is full of healthy Omega-3 fatty acids, and is a wonderful source of protein. The combo of healthy fats and protein makes salmon a light but very filling meal that is satiating. And miso is a wonderful fermented bean paste that is great for gut health and loaded with vitamins and nutrients.
Deliciously flavorful! Thanks to white wine and butter, this dish already has a light yet rich flavor. But add in the ultra-savory umami flavor of the miso, and you get that really nice depth of flavor that is so unique.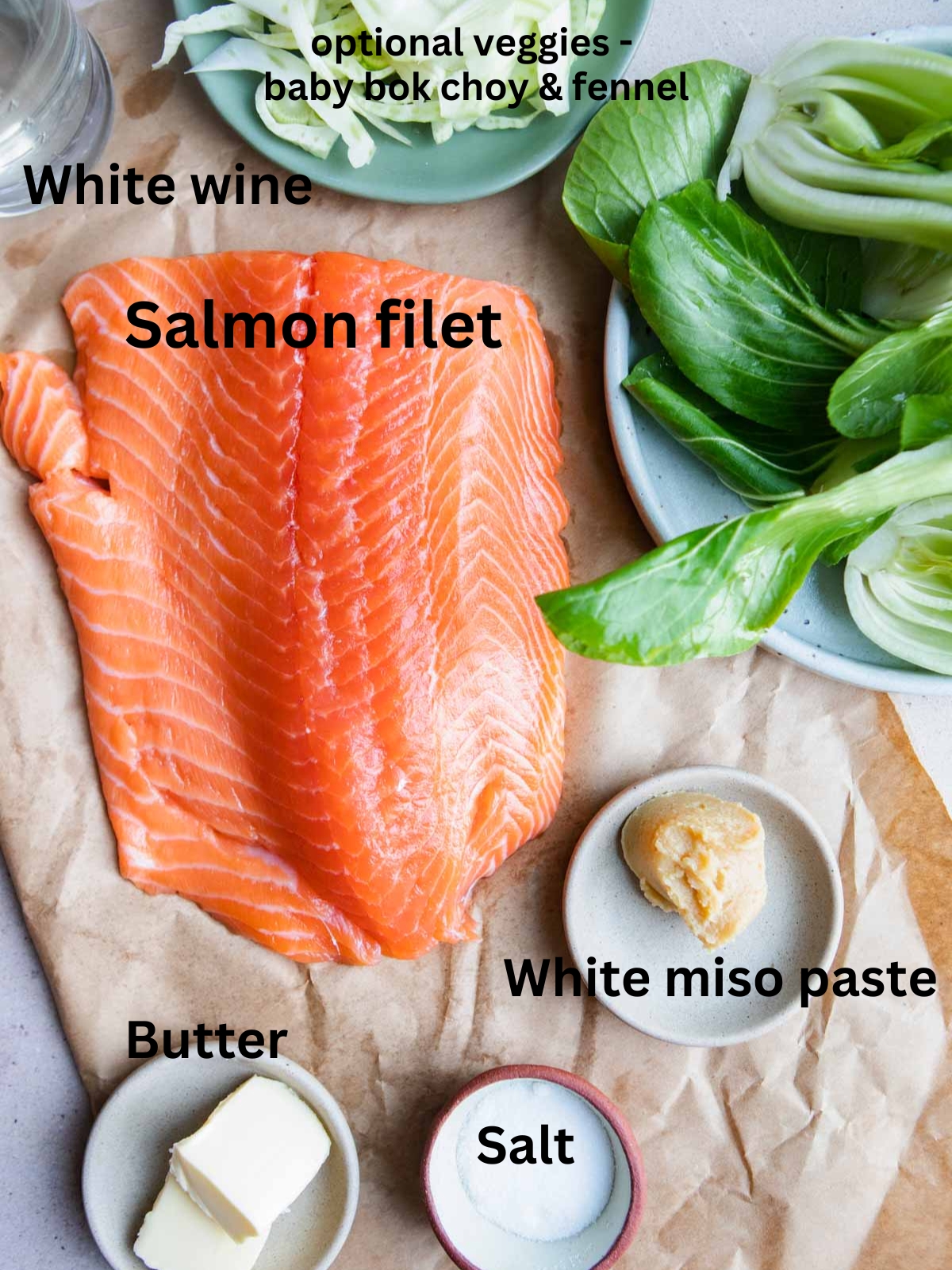 Ingredients
Salmon fillet, skinless preferred. I like using a larger single piece of salmon filet about 12-16 ounces in size, but individual salmon filets will also work. Because poaching is such a gentle process. it is quite easy to cook skinless salmon!
White miso paste. Miso is made with fermented beans, usually soy, and is a staple of Japanese cuisine. I suggest using White, or shiro, miso because it is most widely available in your local grocery store. It is also really mild and a bit sweet.
Unsalted butter, cut into a couple of pads and white wine – we are creating a beurre blanc sauce if you will, for the salmon to poach in. Feel free to substitute veggie stock for the white wine if you wish to avoid cooking with alcohol.
Sea salt and olive oil – for seasoning and gentle searing. You can also sprinkle the salmon with a little black pepper but I prefer to keep it simple with just the salt.
Optional veggies – if you wish to add some veggies to this dish, I recommend baby bok choy, broccoli florets, spinach or fennel.
As you can see, just a few simple ingredients are all it takes to make this delicious dish!
Step-by-step directions
This is a somewhat unique dish because it's cooked with a couple of different techniques, which is always a fun way to cook dinner!
We will start by gently sauteing the fish and veggies for just a couple of minutes. Then we will poach them in a shallow amount of cooking liquid (wine). Finally, we will finish the cooking process by basting the fish with a lovely miso butter.
Remove the salmon from the refrigerator, pat it dry with a paper towel and sprinkle with sea salt or Diamond kosher salt.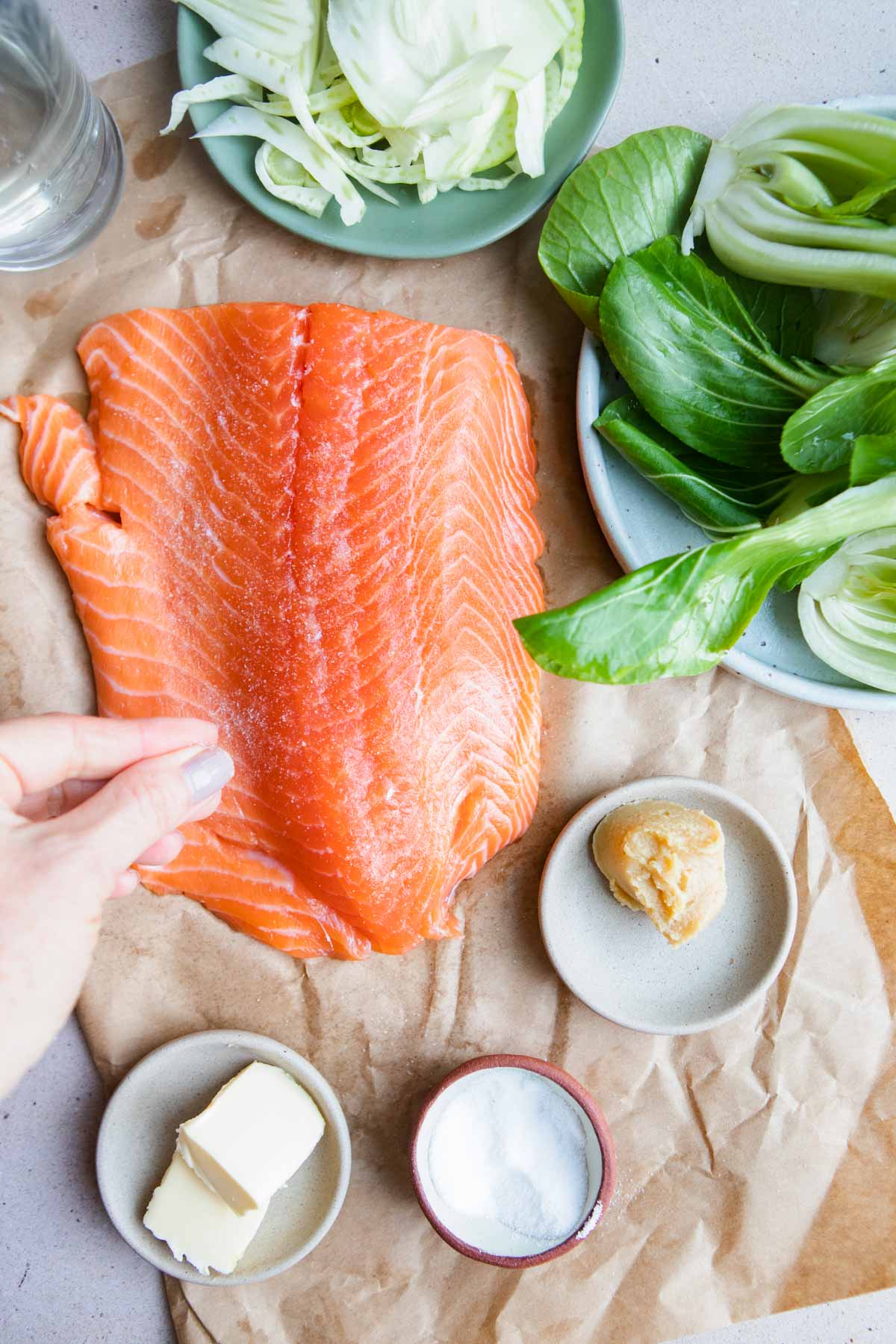 Heat a large skillet over medium-low to medium heat and add a couple tablespoons of cooking oil. Place salmon filet in the skillet and adjust the heat as needed if the fish appears to be searing. We don't want the salmon to stick to the pan.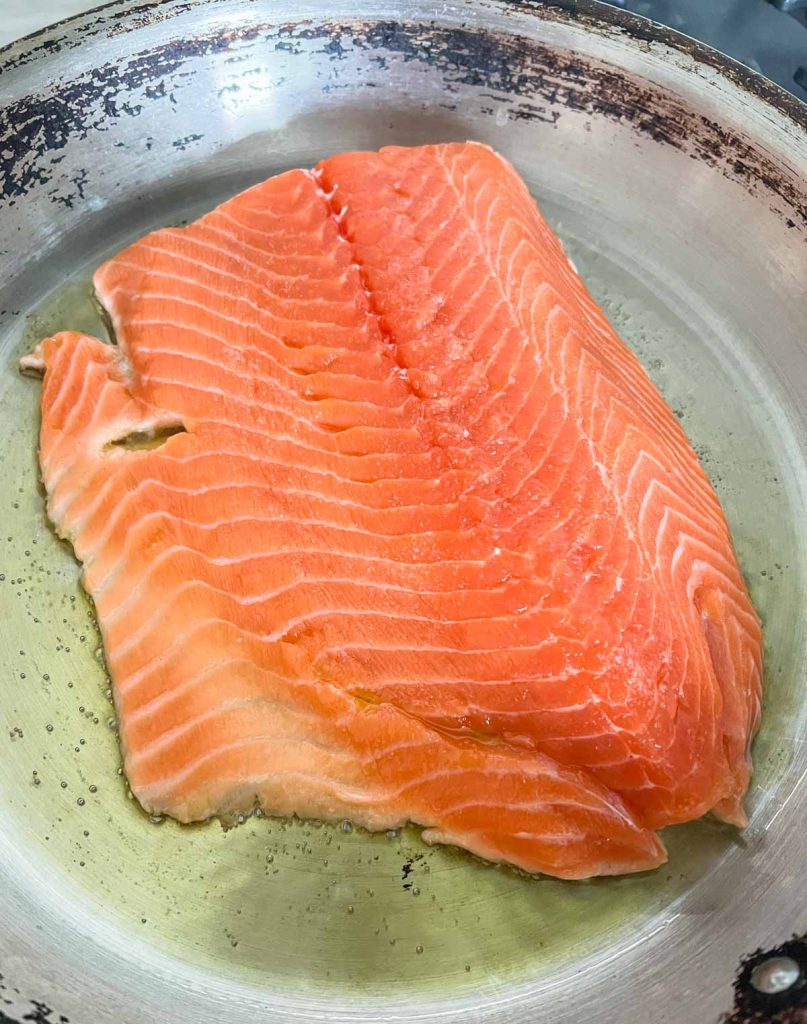 Place veggies in the pan, and sauté on medium-low heat for about 2 minutes. We want to just get the flavors going and cook the veggies a tiny bit.
Important cooking tip – simmer gently!
Slowly add the wine to the pan, lowering the heat as needed. The wine should not completely submerge the salmon. The fish should just sit in a shallow base of liquid. With a fish spatula, slide it under the salmon filet and move it around a bit to ensure it is not sticking to the pan.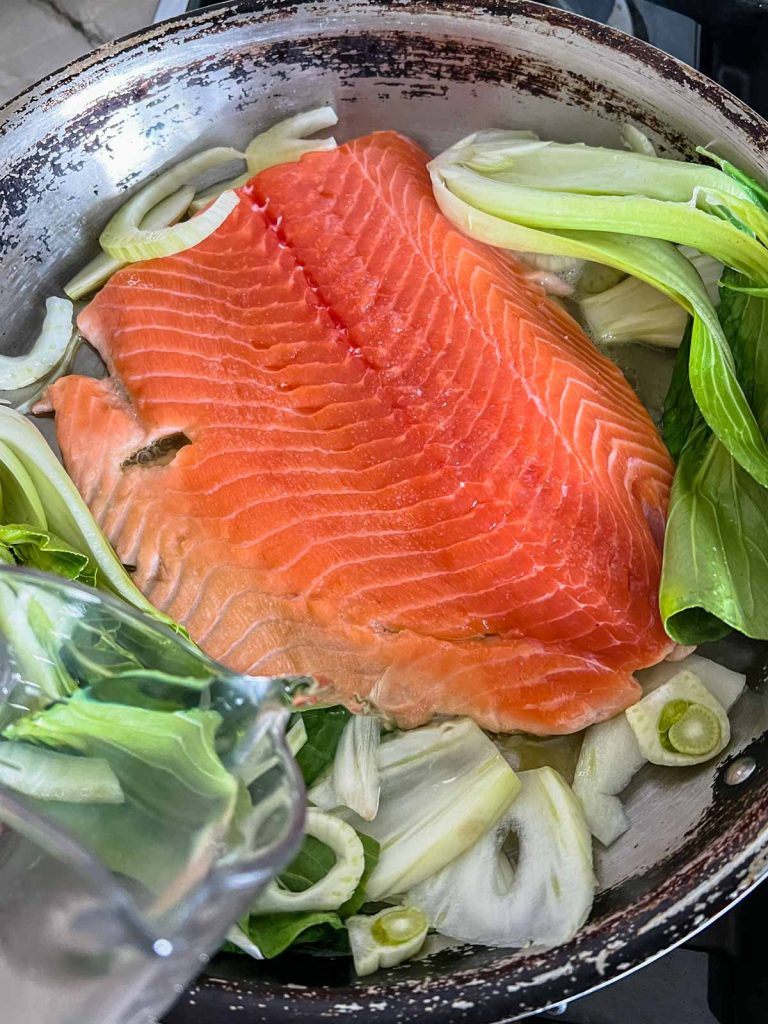 Cover the pan with a lid and cook on medium low. Adjust the heat as needed so that the cooking liquid is very gently simmering. You do not want it boiling rapidly!
Shallow poaching is a quick cooking process, so stay close! Small individual fillets may be ready in under 5 minutes! A larger piece can take about 9-13 minutes.
There is no need to completely cook the salmon all the way through because it will continue to cook during the final step.
Making the miso butter sauce
Remove the lid and if the pan is a bit crowded, remove the veggies to a platter. Now stir in the butter and miso paste till well incorporated, using a small whisk if needed. Once completely mixed in, spoon some of that lovely cooking liquid and start basting the fish with it.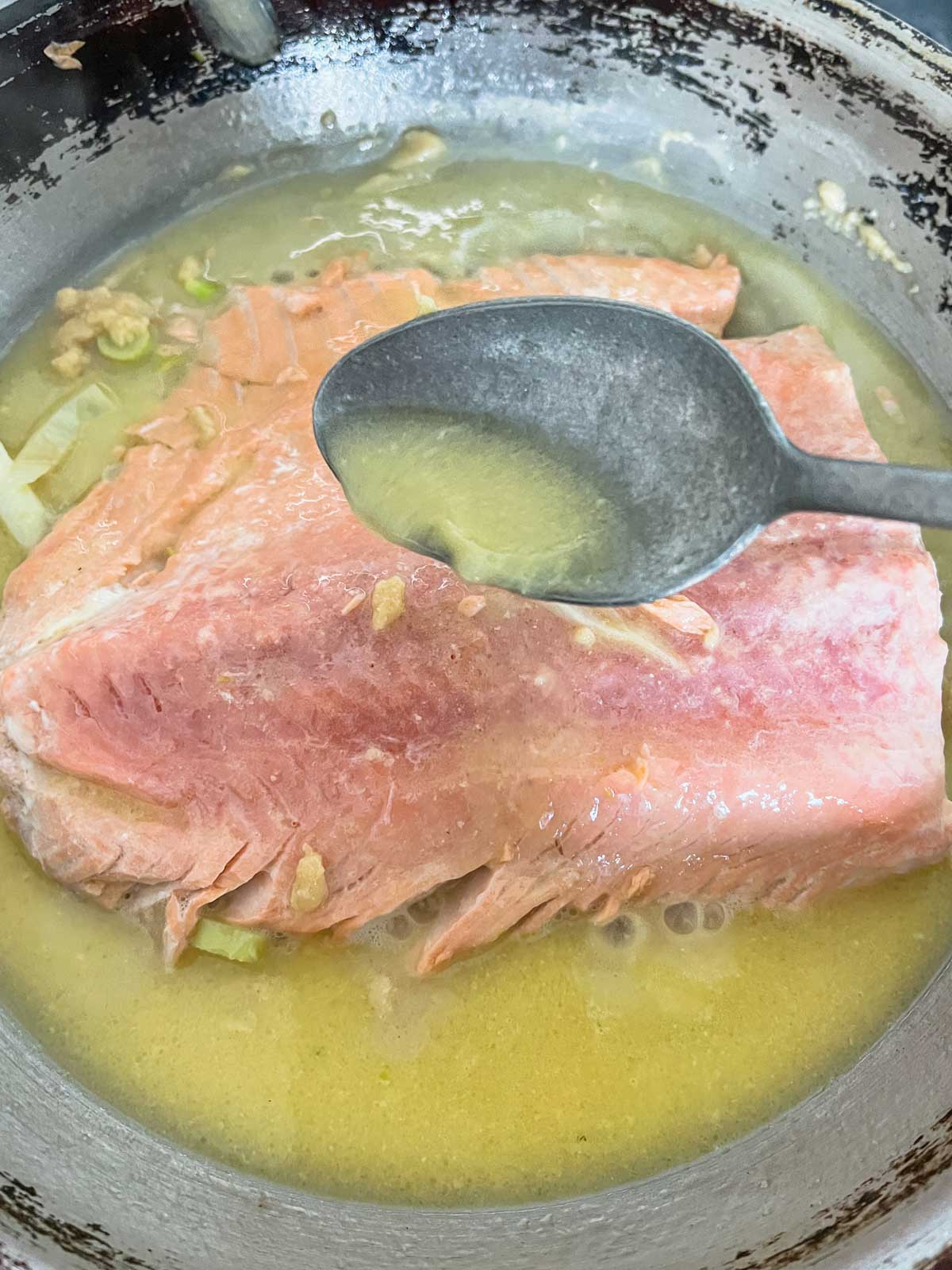 Do this repeatedly for 2-3 minutes to really impart flavor into the fish, and complete the cooking process.
Remove salmon from skillet and plate alongside veggies. If you wish, strain the remaining miso butter and pour all over fish and veggies.
How to know when the salmon is done
Salmon is cooked through when the internal temperature on an instant-read thermometer hits about 130-135 degrees f.
Safe minimum internal temperature can be as low as 125 degrees, but I prefer it cooked just a tad longer. Salmon should easily flake off with a fork, and be opaque. The thickest center part should not appear bright pink or uncooked.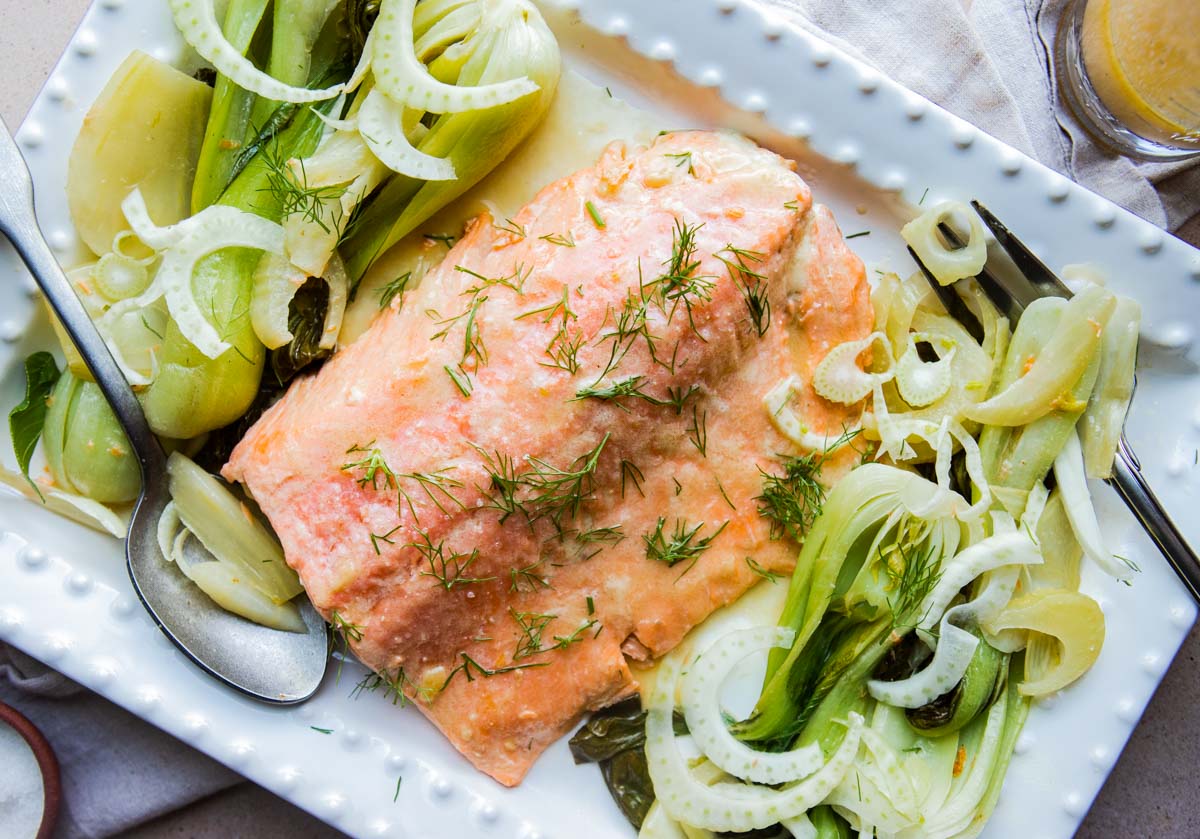 To bake in the oven
If your favorite way to cook fish is in the oven, you can certainly do so with this miso butter salmon. Simply place salmon skin side down, on a baking sheet and sprinkle with salt.
Mix room temperature butter with the miso paste till well combined. Smear the top of the salmon with the miso butter and cook in a 350 degree oven for 12-14 minutes, till fish is cooked through.
There really is no #1 best way to cook salmon, so don't worry about being too rigid with recipes like this. I do encourage you to give poaching a try next time you cook salmon though! It really is so easy and delicious.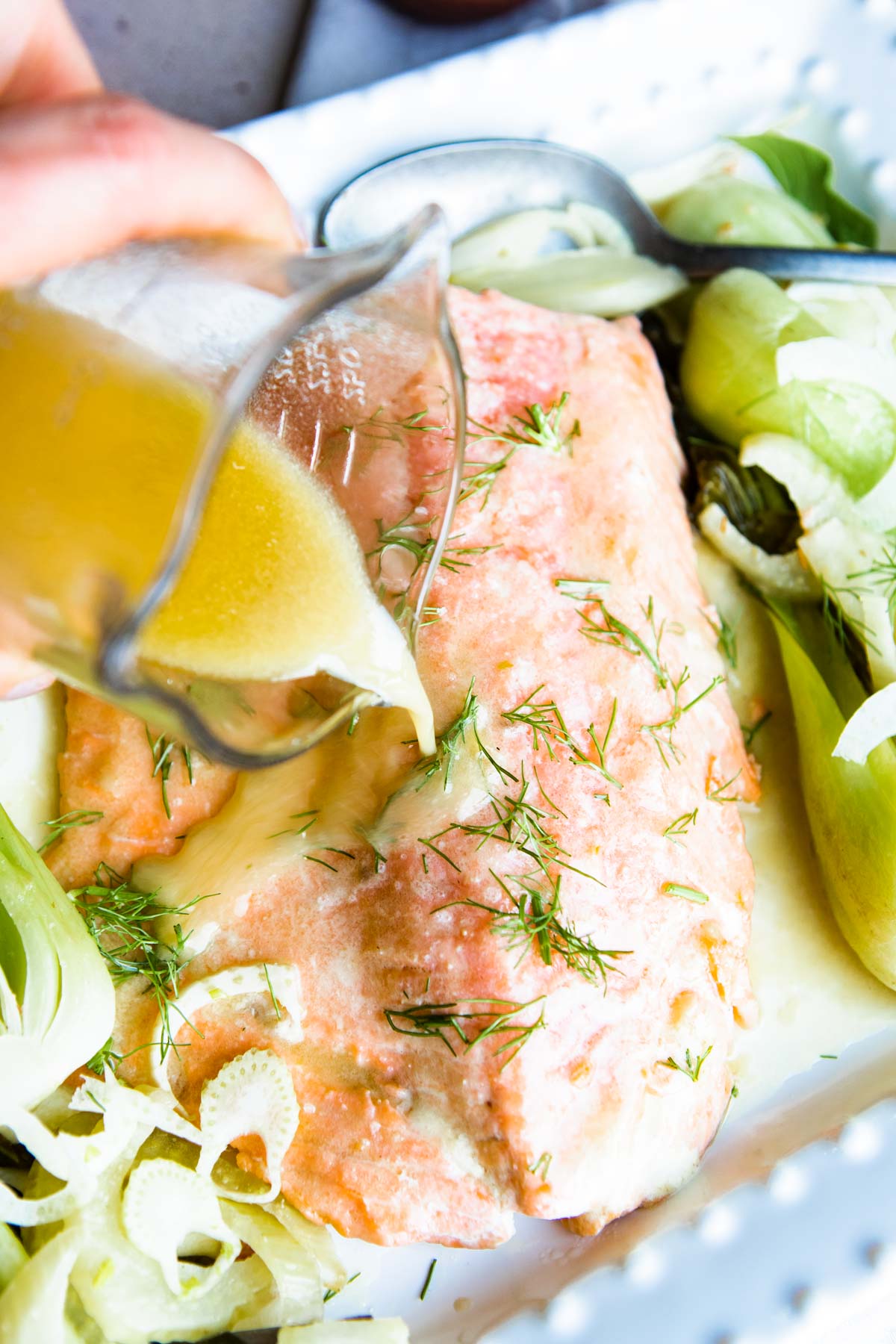 Using other types of miso
I suggest using white miso because it has a mild flavor and is so easy to find.
Other varieties may have to be tracked down at a local Asian grocery stores. But feel free to use your favorite flavor or whichever you have on hand!
Red miso, which is fermented longest, has a deep color. It is also the most pungent.
Yellow miso, falls between white and red miso in terms of flavor and color. It is often considered the most versatile because it's not overly sweet or pungent.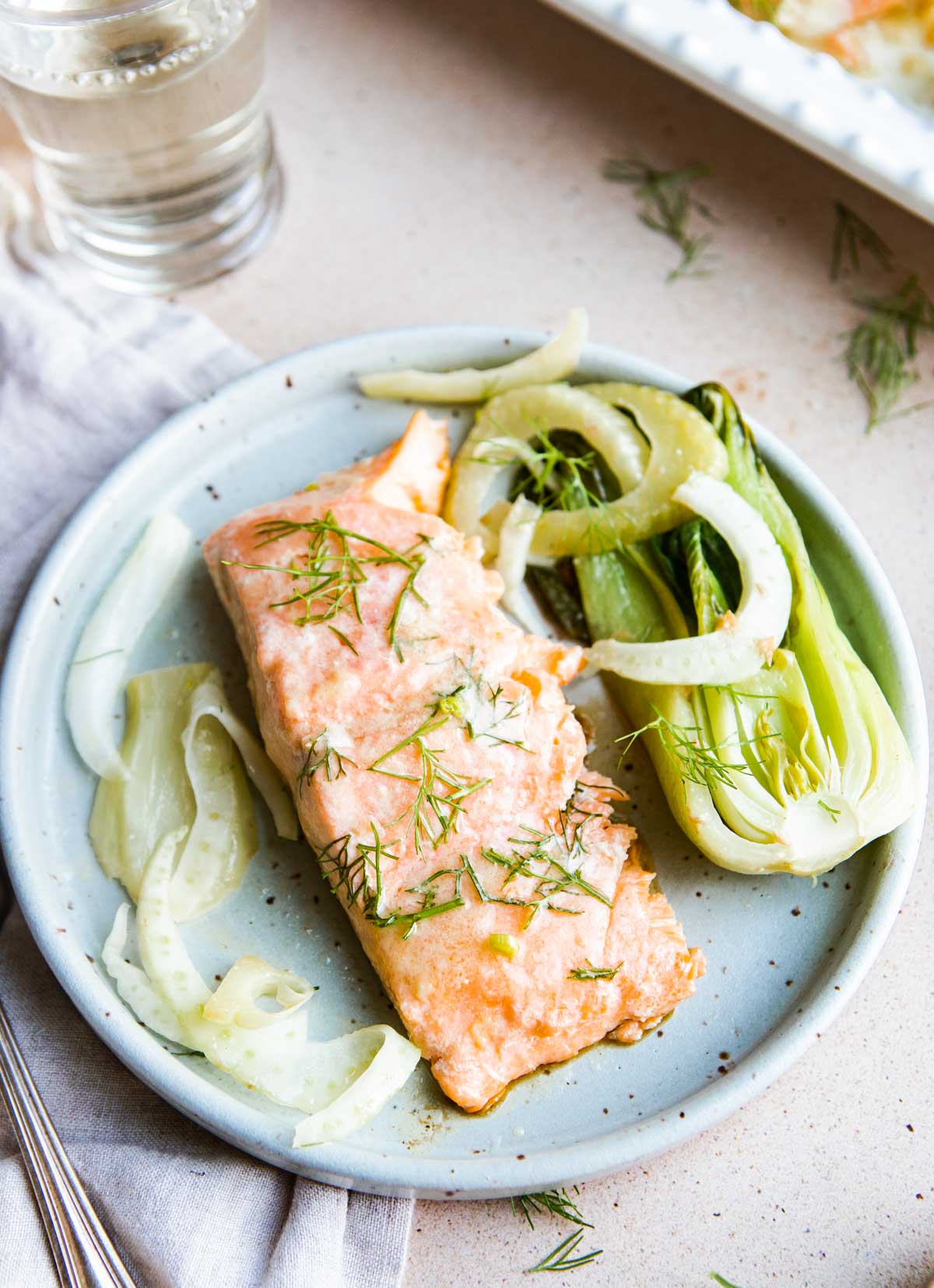 If you've never tried poaching salmon, I hope you give it a try. It is very easy and almost fool proof, with incredible results. I am always so pleased with how moist and tender the fish comes out.
Try adding in small broccoli florets or spinach as well, and serve over a fluffy bed of rice. A delicious and nutritious meal that is loaded with flavor. If there are any leftovers, store in an airtight container in the fridge for up to 3 days. Enjoy!
Tried this recipe? Please leave a comment and/or rating, letting me know how you enjoyed it! Connect with me on Instagram and Pinterest, and never miss a post by signing up for my weekly newsletter!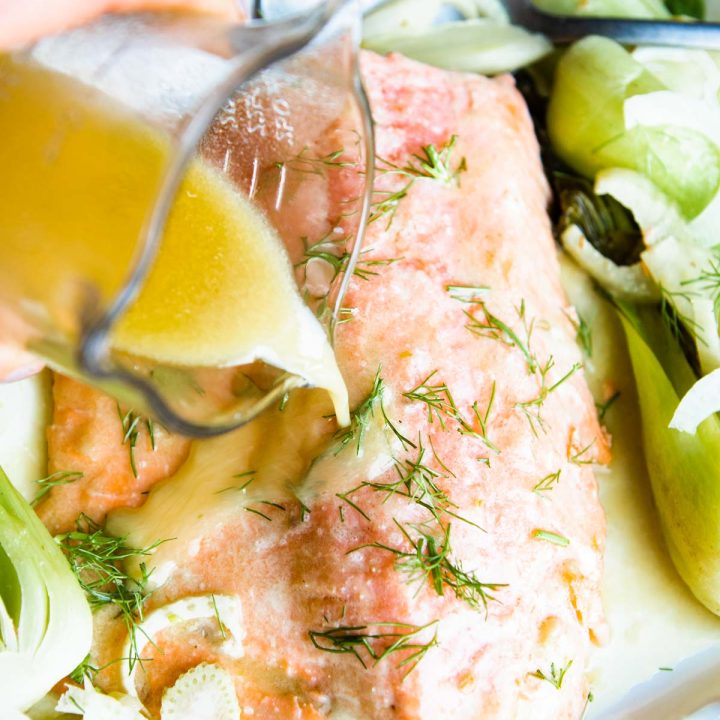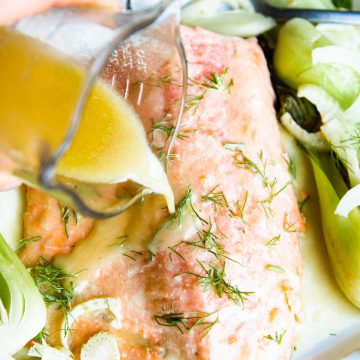 Miso Butter Salmon
A quick and easy recipe for cooking salmon that comes out moist and tender every time! Flavorful with a miso butter sauce, and cooked with your favorite vegetables for an easy one pan meal!
Print
Pin
Rate
Ingredients
12

ounces

salmon filet

preferably skinless

1

teaspoon

sea salt

1

tablespoon

olive oil

1

cup

dry white wine

such as a sauvignon blanc (can sub fish stock)

1

tablespoon

butter

use up to 2 tbsps for extra creamy sauce

½

tablespoon

white miso paste

use up to 1 tablespoon to suit taste preference

2

pieces

baby bok choy

cut in half (optional)

½

fennel bulb

sliced thin (optional)
Instructions
Warm olive oil in a large skillet over medium-low to medium heat.

Pat salmon filet dry and sprinkle with sea salt.

1 teaspoon sea salt,

12 ounces salmon filet

Add salmon filet to the pan and adjust heat as needed, so it is just gently sautéing. If also cooking vegetables, add those to the pan now. Gently sauté everything for about 2 minutes.

½ fennel bulb,

2 pieces baby bok choy

Slowly add white wine, about 1 cup. You want enough to coat bottom of the pan and for the fish to be sitting in a shallow bath of liquid. Cover and cook on medium-low or low for 3-5 minutes for individual filets, or about 7 minutes for 1 large filet The liquid should just be gently simmering, not boiling!

Remove the lid. If the pan is quite crowded with veggies, remove them and set aside on a platter. Stir in miso and butter and mix till well incorporated.

1 tablespoon butter,

½ tablespoon white miso paste

Gently spoon miso butter over the salmon so as to baste it. This will impart the lovely flavor and help complete the cooking process. Baste on medium-low heat for a couple of minutes just to make sure the fish becomes nice and flavorful and finishes cooking. Fish is ready when internal temp of thickest part is about 130 degrees f and fish is opaque and flakes off easily with a fork.
Notes
Make sure cooking temp is low enough so that the cooking liquid gently simmers during the shallow poaching process. It should not be boiling! 
Strain remaining miso butter sauce and pour over cooked fish and veggies or rice. 
Nutrition
Calories:
479
kcal
|
Carbohydrates:
8
g
|
Protein:
35
g
|
Fat:
24
g
|
Saturated Fat:
6
g
|
Polyunsaturated Fat:
5
g
|
Monounsaturated Fat:
10
g
|
Trans Fat:
0.2
g
|
Cholesterol:
109
mg
|
Sodium:
1478
mg
|
Potassium:
1172
mg
|
Fiber:
2
g
|
Sugar:
4
g
|
Vitamin A:
370
IU
|
Vitamin C:
7
mg
|
Calcium:
66
mg
|
Iron:
2
mg