Never has it been more important to cook at home while also staying sane in the kitchen. Our favorite restaurants have been forced to close or are only offering takeout, and financial concerns may be limiting your ability to eat out much right now anyhow. Whether we enjoy cooking or not, we have all been forcibly thrust into the kitchen to cook 3 meals a day, and it can feel extremely overwhelming. I thought I'd share some of the food items I have been keeping on hand to make life a bit easier during this Coronavirus pandemic and subsequent quarantine.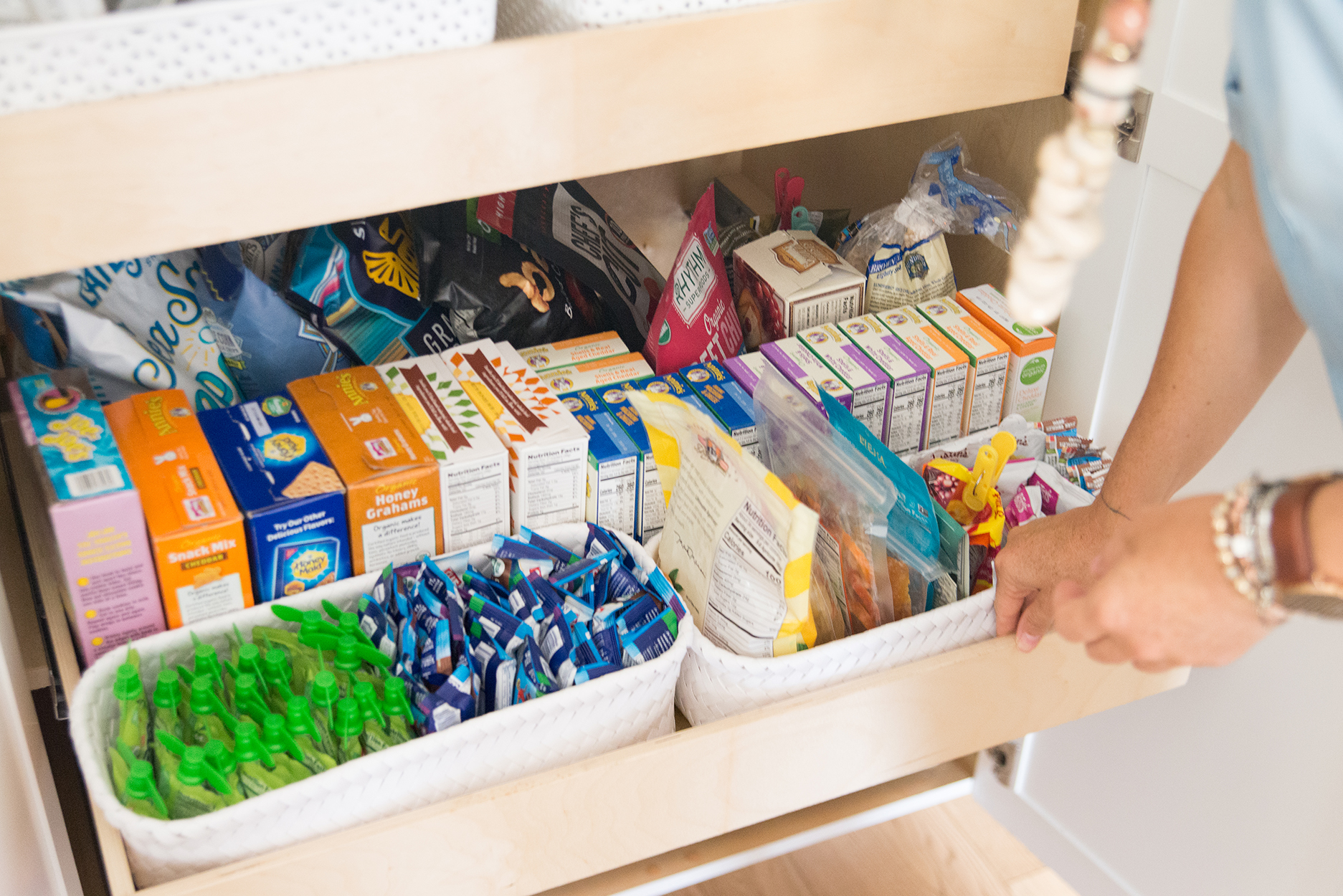 What Foods to Keep On Hand During Quarantine
I began stocking up on old and new favorites a few weeks ago, and we have been following CDC orders to stay home for 2 weeks now. Even still, we are managing to eat well 3 meals a day and are enjoying a decent share of treats, so that staying in doesn't feel like a punishment. The foods I'm sharing below may not be as healthy as you're used to eating, and some may not be as cost-effective as cooking from scratch. I understand budgets, dietary restrictions and preferences are all different, so please pick and choose some of the suggestions, and dismiss what doesn't serve you.
When shopping and compiling the list, I have focused on foods to make life easier while also not being exorbitantly expensive. What is the cost for example, of buying a $4.99 frozen food meal kit versus if I made this from scratch? If the cost difference was negligible, I've been going with pre-made. And this doesn't mean we have not been cooking from scratch, as we most certainly have! But there are days when nerves are fried, stress is high and people are hungry, so I unapologetically take the easy route. And aside from the first week of panic buying, it appears as though most stores are decently stocked, so sourcing shouldn't be an issue. Let's get started then.
Foods to Stock In Your Pantry
Pre-made spice blends & jarred sauces
As if weeks of self-isolation isn't depressing enough, eating bland food on top of that is just too much. To save yourself time in gathering 10 different spice jars to make your favorite Greek blend, pick up pre-made spice blends and actually enjoy your food.
Boxed baking items
Web searches for baked goods, cocktails and comfort foods have spiked in recent weeks. If you're not a pro baker and don't regularly keep baking ingredients on hand (baking soda versus baking powder, what even is the difference haha?!), then boxed baked goods are your friend. There's no shortage of fun mixes available, from scones to brownies and lemon bars. Keep cravings satisfied and stay sane with a couple of boxed mixes. Pancake mix is also an incredibly helpful staple to have on hand right now.
Precooked rice (frozen or shelf-stable)
I am really focused on saving money as much as possible right now, and so my first impulse is to always make rice and other starches from scratch. However, there have been a few times where we realize how late it has gotten and we've gotta get dinner on the table! The frozen microwave rice packets have been amazingly helpful and there's no pot to clean afterwards.
Treats, fun snack and candles
Personally, now is not the time for me to be the food police of the family, as this is a stressful situation for everyone. So while we're not going hog wild and eating ice cream for breakfast everyday, I have purchased some special treats I wouldn't normally buy. Things like Hi-Chews, Cheez-Its, and even Top Ramen (why do my kids love it so much?!). And for me, I'm keeping the candle companies in business, as having a candle burning all day is quite comforting.
Foods to stock in your refrigerator
Pre-cut vegetables
Think diced onions, shredded carrots, bags of pre-cut butternut squash, because gosh those things are a bitch to cut up! I know it can be very *therapeutic* to dice and slice, but during a global pandemic, where days can be busy and stressful, saving 5 minutes can feel like a small won victory.
Pre-cut veggie sautes and salad blends
In an effort to keep us eating as healthy as possible and keep our immunity up, we are focusing on lots of veggies. So pre-cut saute blends and salad mixes have been incredibly convenient at this time. Most come with some sort of salad dressing or marinade too, so they are extra tasty without a lot of work. In my opinion, Trader Joe's or Taylor Farms offer the best selections.
Jarred aromatics like garlic and ginger
I actually despise dicing garlic and grating ginger, but I do it because I know it's good for my dish. Italian food without garlic or an Asian dish without ginger is almost as depressing as the pandemic itself (sarcasm of course). Now is no time to be a hero, so just make your life easier and get the jarred stuff, cause it's better than nothing!
Ground meat and poultry
I challenge you to find another food that can be transformed into so much with so little. Tacos, burritos, protein bowls, egg scrambles, burgers, pasta dishes, meatballs, stir fry and lettuce wraps are just a few of the quick, easy and tasty meals that the humble pound of ground meat can inspire. Just don't forget to defrost in plenty of time!
Egg whites
I've read that many places across the country are experiencing egg shortages, and as a result, stores are setting purchase limits. If you have a large family to feed or just love egg scrambles, buy a package of egg whites to help stretch the eggs you have on hand. I like to do a 1:1 ratio when making scrambled eggs, and I promise my kids don't know the difference.
Foods to stock in your freezer
Frozen meatballs & patties
I'm a big fan of the Trader Joe's turkey burgers, and I'll tell you right now that they do not taste as good as a hand formed grilled turkey burger. But you know what? Not every single meal of my life has to give me a "food orgasm" (I really hate that phrase and I apologize for using it). Some days, and especially during a global pandemic, you just need to eat. And having frozen patties and meatballs on hand can be the difference between feeding your family a somewhat home cooked meal, and a bag of potato chips. So stop being a martyr and buy some frozen meat!
Frozen pizza
Friday has been pizza takeout night for a very long time around here. While we are super mindful of still trying to support our local restaurants and are continuing to order on occasion, we have definitely cut back on takeout. We just feel it's wise to try and save where we can, so frozen pizzas have come in handy to keep the Friday night takeout pizza tradition alive. Frozen pizzas also make for a quick and easy lunch.
Frozen chicken strips or nuggets
A quick meal to have on hand that is a good source of protein and feels like a treat. It also appeases the Chick Fil A withdrawals.
Frozen meal kits
Chicken teriyaki, pasta bolognese and mushroom risotto are all fun and easy dinner kits I've been able to keep on hand and not worry about expiration dates. They also feel like a treat to the kids because I normally don't buy this type of food on a regular basis. The breaded orange chicken from Trader Joe's is the family's favorite, hands down.
Online Shopping Resources
Some of my online favorites for sourcing items during the pandemic are below. For out of stock items, simply set an alert to be notified when items are back in stock.
Thrive Market – snacks, beef jerky, and frozen meat, poultry and seafood. Their shipping is currently slower than normal, but my frozen meat order shipped right away and arrived in 2 days.
Vitamin Shoppe and Pharmaca – great place for supplements and even items to make your own hand sanitizer.
King Arthur Flour – flour, yeast and baking mixes!
Easy, Stress-Free Recipes To Make