This easy to make, DIY Leather Chain Necklace, is gorgeous and stylish. Save yourself a few pennies, and have fun creating this leather necklace.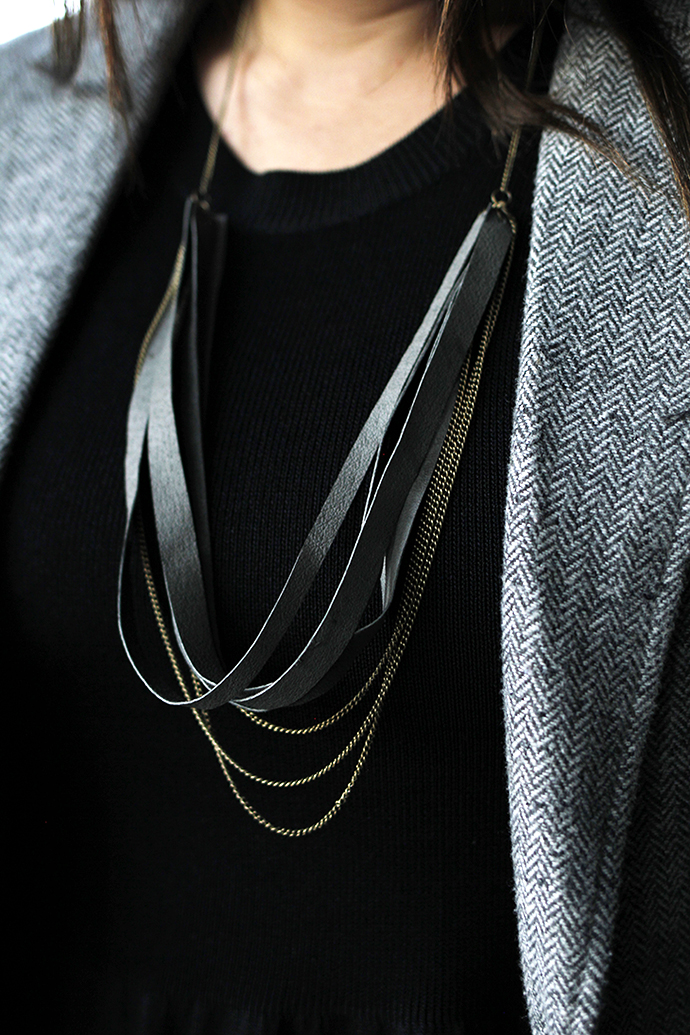 Lately I have been experimenting more with jewelry making. I love crafting handmade items as much as the next self-proclaimed-DIYer, but when it comes to crafts I am usually more comfortable with a power tool in my hands rather than delicate jewelry pieces. When a friend gave me a piece of lovely black soft leather that was too small for any project but jewelry I put my crafting skills to the test. For thisfrte3 season I really wanted a necklace that was equal parts masculine, feminine, and chic. With this leather chain necklace I think I got pretty close! Additionally I was surprised by how easy it was to make, and here is how…
Leather chain DIY necklace Supplies you will need: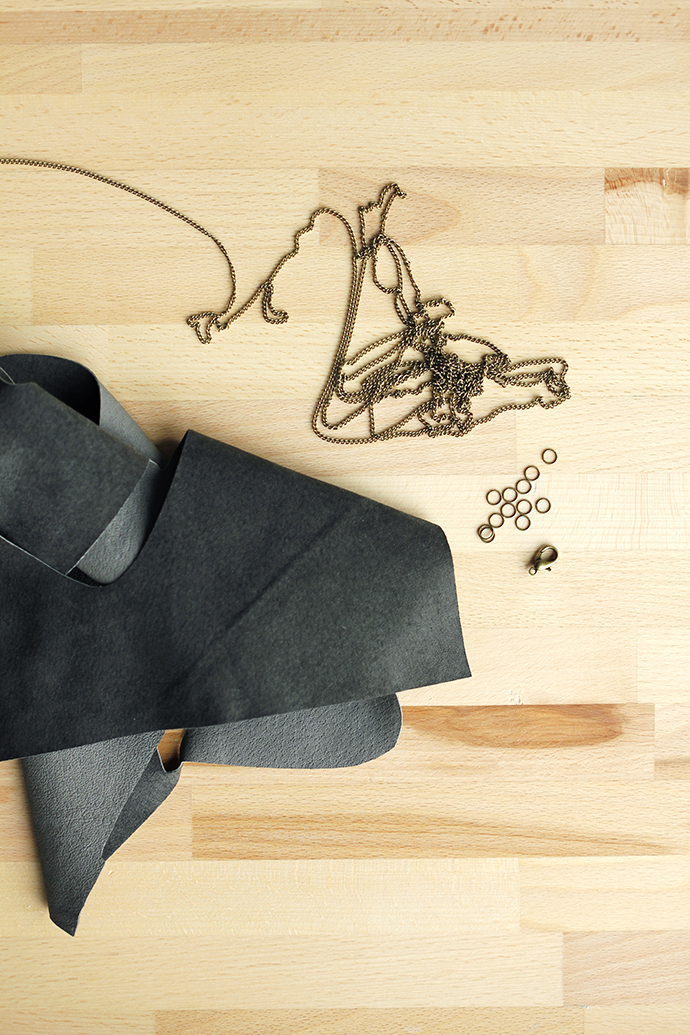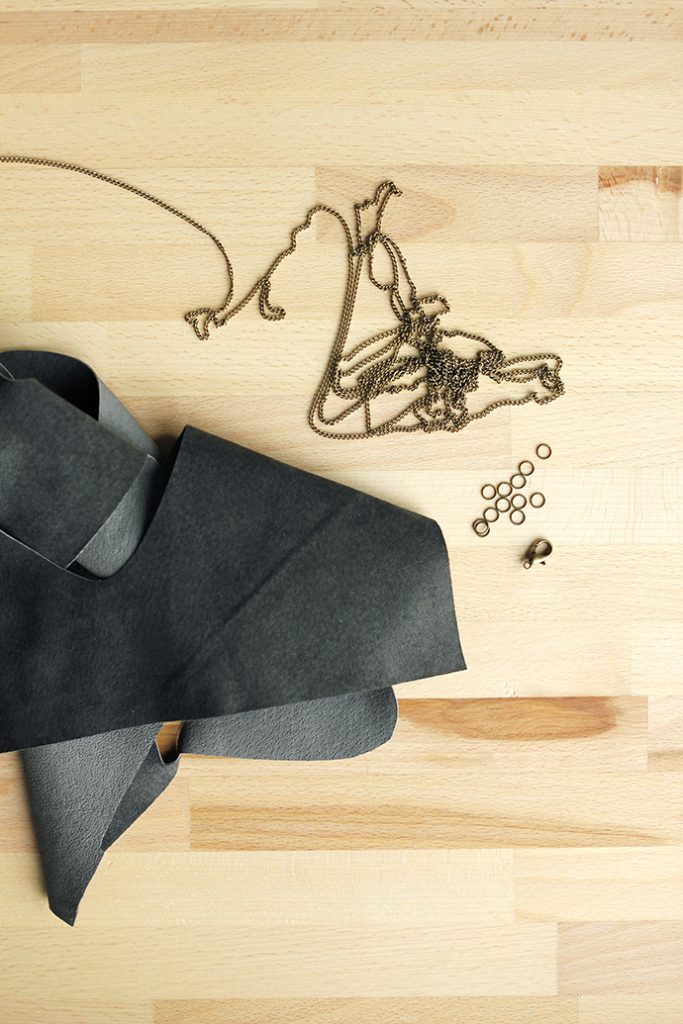 – A scrap of soft leather in the length of the necklace swoop you are wanting to create. Mine was about 16 inches long.
– Fabric scissors.
– Jewelry chain that you can buy in a role. I used 60 inches for this necklace.
– Jump rings. I bought a bag of 30 but used 16 for this project.
– A lobster clasp. Who knew that was what they were called??
– Hammer and nail or a hammer and small circle leather punch.
– Pliers to cut the chain.
Step 1: Begin by cutting several strips of leather to the length you desire (Mine were cut to 16″ each). I cut 4 strips but I think more or less strips would still have a lovely effect.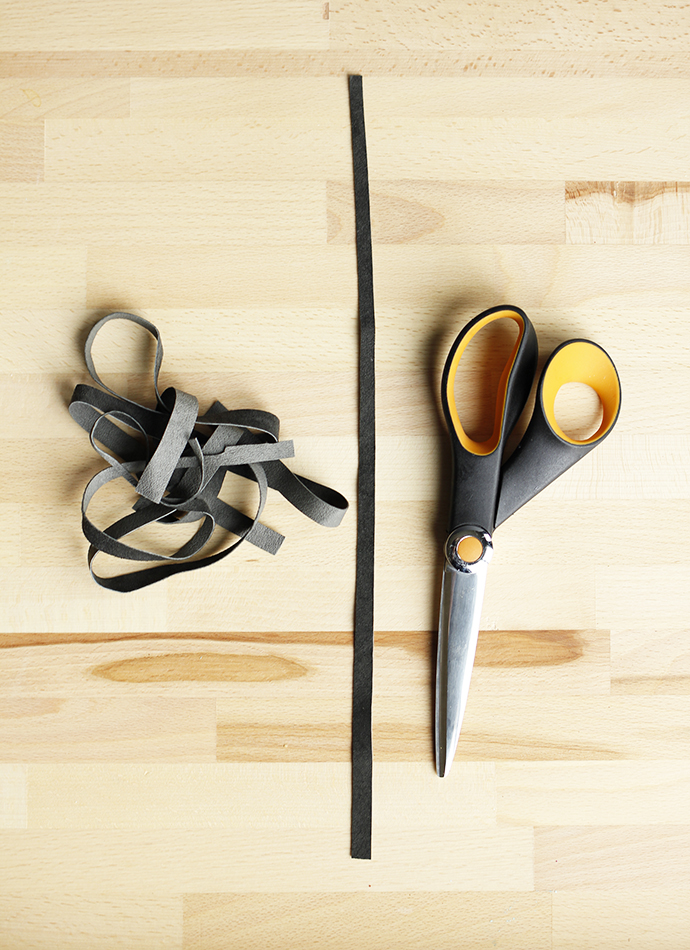 Step 2: Next, using the hammer and leather punch (or nail) punch one hole in both ends of each leather strip.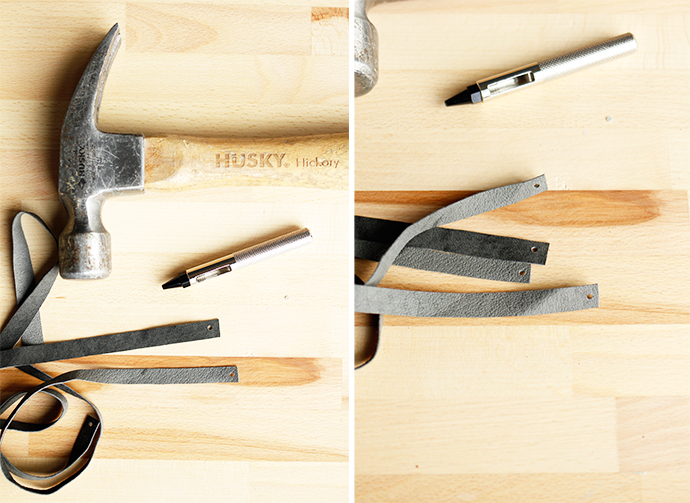 Step 3: Through each hole in the ends of the leather strips attach a jump ring. The trick with jump rings is to twist them open, not pull them apart. That way it can twist back closed without loosing the shape of the jump ring.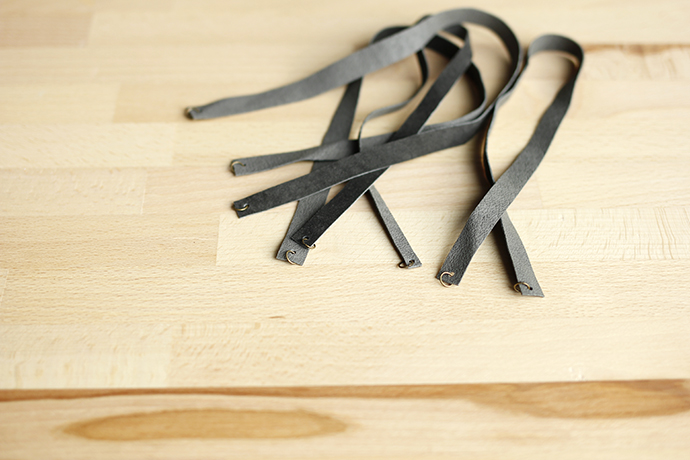 Step 4: For step four, cut 3 chains to the desired length using pliers. I cut them in varying lengths: one at 16″, one at 16.5″, and one at 17″. That way they hang staggered on the necklace.
Step 5: Then attach the ends of the three chains with a jump ring, attaching three ends together on one side and the other three ends together on the other side.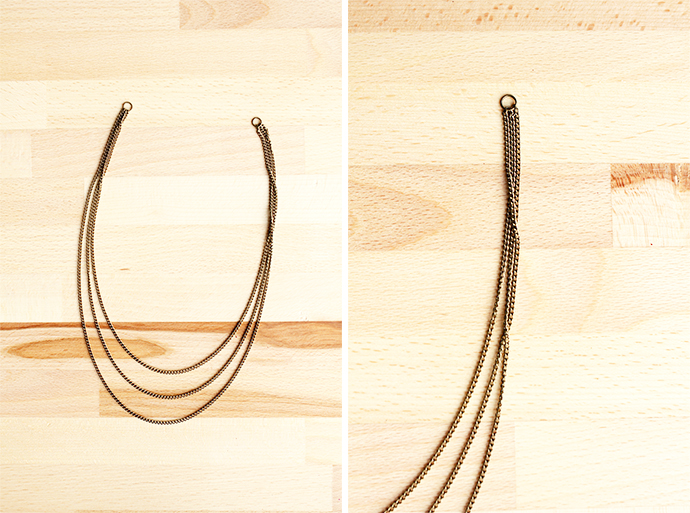 Step 6: This step is a little tricky. Using a jump ring attach one end of each leather strip and one end of the chains that were connected in step 5 all together. Repeat this on the other side of the necklace with the other end of each leather strip the chains.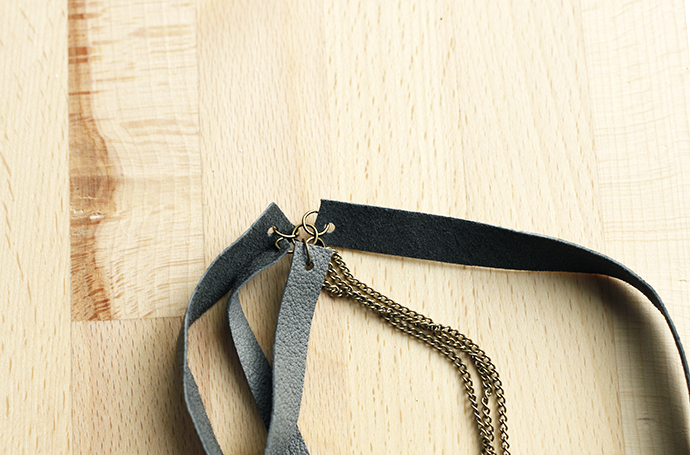 Step 7: Next, create the two ends of the necklace by cutting two 6″ sections of chain. At the end of one section connect a lobster clasp using a jump ring. Then at the end of the other chain connect a jump ring.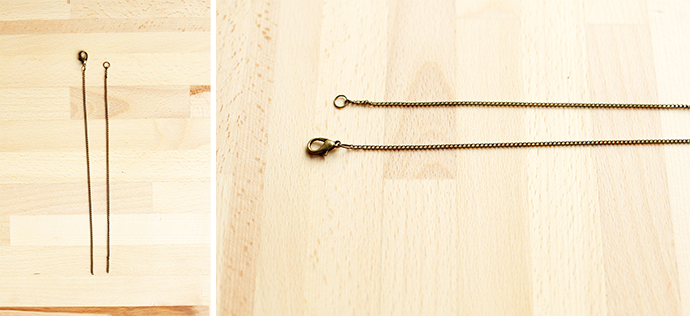 Step 8: For the final step attach the two ends to the DIY necklace body with a jump ring.
And bam! There you have it! A fun chic necklace to add to your winter wardrobe.

LOOKING FOR MORE DIY? CHECK OUT THESE POSTS