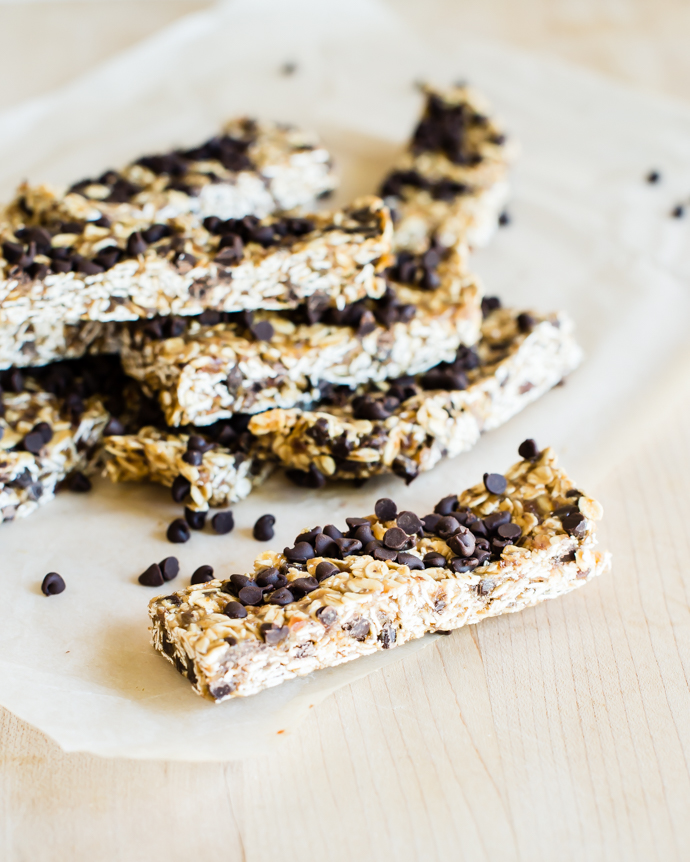 Tahini Chocolate Chip Granola Bars make a great homemade snack alternative to the empty calories of a store-bought granola bar. They are easy to make and the recipe does not use any refined sugar, which make these a healthy and nutritious snack or treat!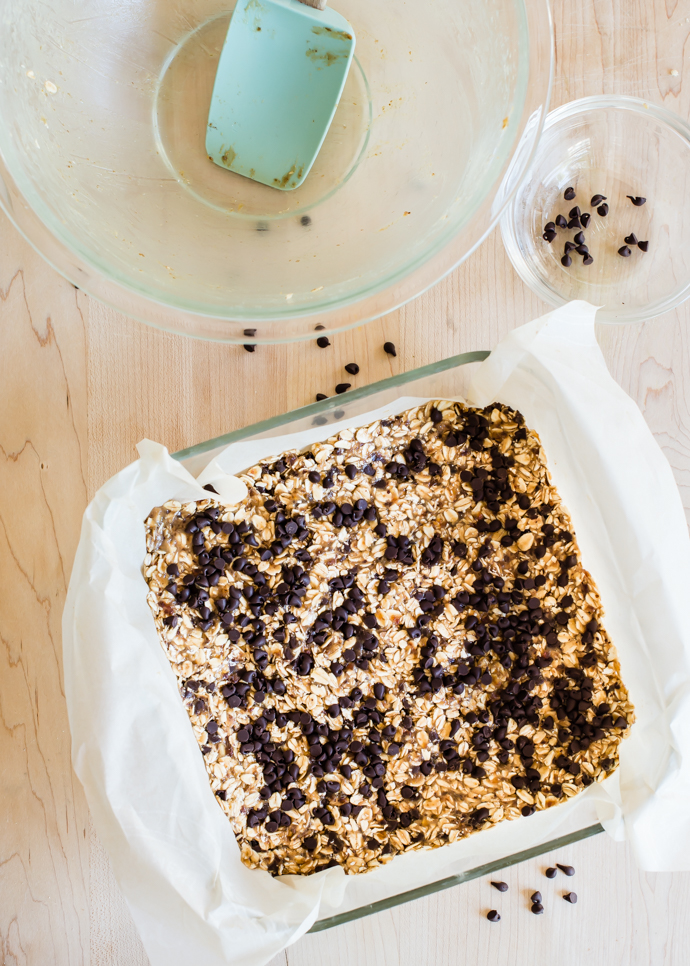 Kid Friendly Granola Bars
I never realized that the toughest part of summer break would be snacks and lunch. I'm being totally serious! I take it for granted that at school there is someone else doling out the snacks and lunch and I only have to worry about breakfast and dinner. It's kind of nice, actually. But now it's summer and I'm quickly running out of ideas to keep their active little bodies satisfied until the next meal. Between swimming, playing outside, riding bikes and scooters, there are some big appetites.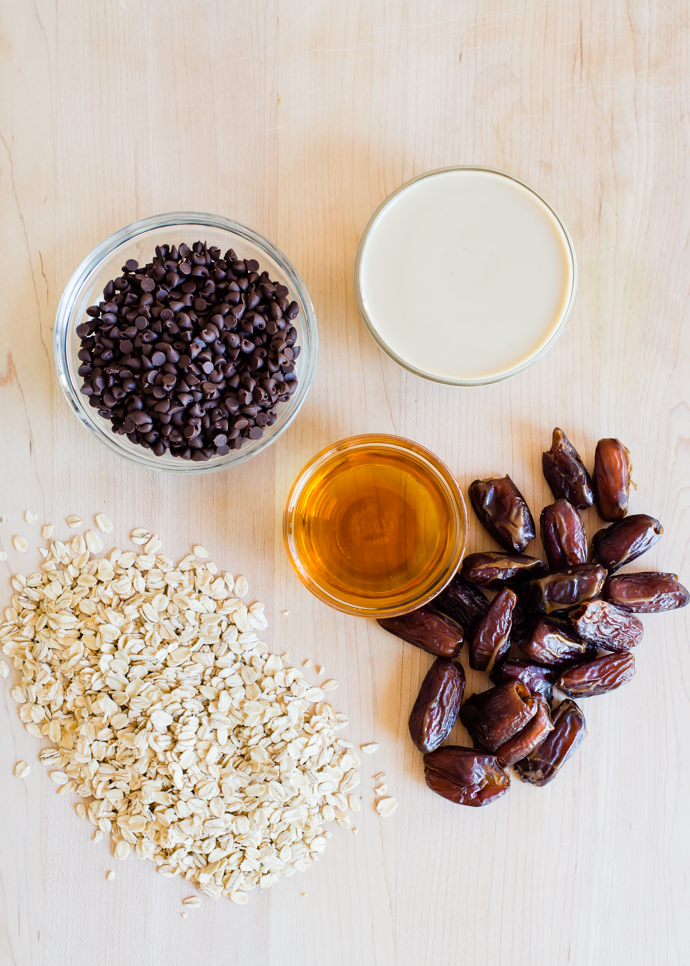 Here's the other thing – I actually really hate snacks! I hate buying them, unless it's fresh fruit and veggies, because most of the time it's just empty calories. And while I do serve up quite a bit of fresh fruit and veggies at snack time, sometimes they want something else, like a granola bar. I like taking on the challenge of creating healthier versions of their favorite no-so-healthy store-bought snacks.
Naturally Sweetened Granola Bar Recipe
These granola bars are definitely sweet, but rely on natural sweeteners; dates and maple syrup, to make them sweet enough and hold together without loads of processed sugars and syrups. The tahini could be replaced with peanut, almond, or sunflower butter, but I find that when it's paired with dates in just the right amount, it gives these an almost toffee flavor. So there's just enough tahini so you know it's there, but not too much that it's overpowering or bitter. For fun, I added some semi-sweet mini chocolate chips, but dried fruit could easily be substituted.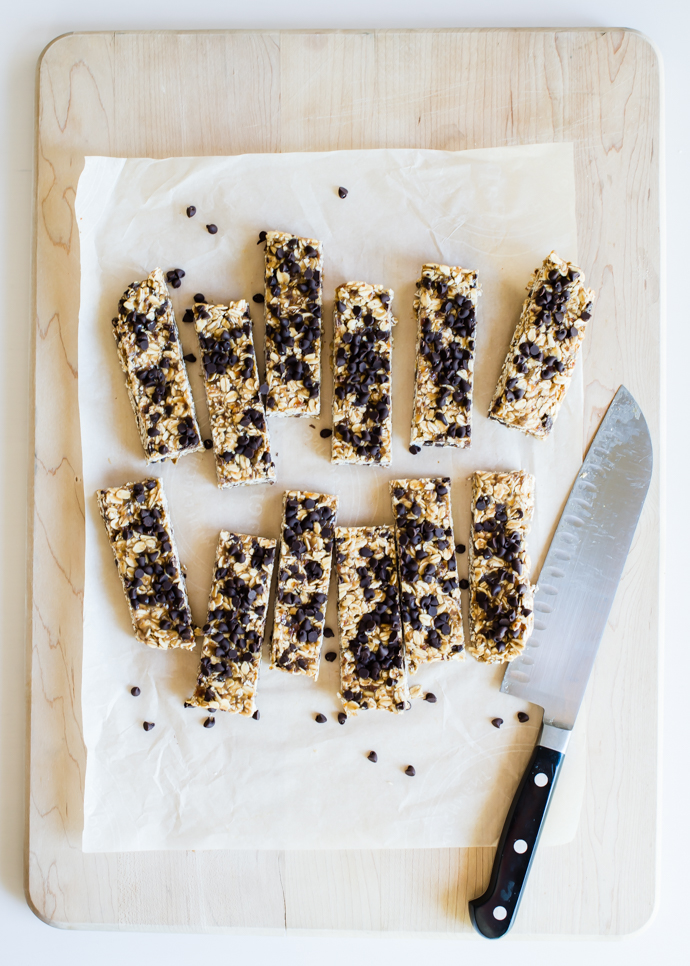 Quite honestly, I've never seen a snack disappear as quickly as these bars! They absolutely love them. They are a perfect whole food snack/sometimes treat that I don't feel guilty giving them. (Or sneaking one myself!)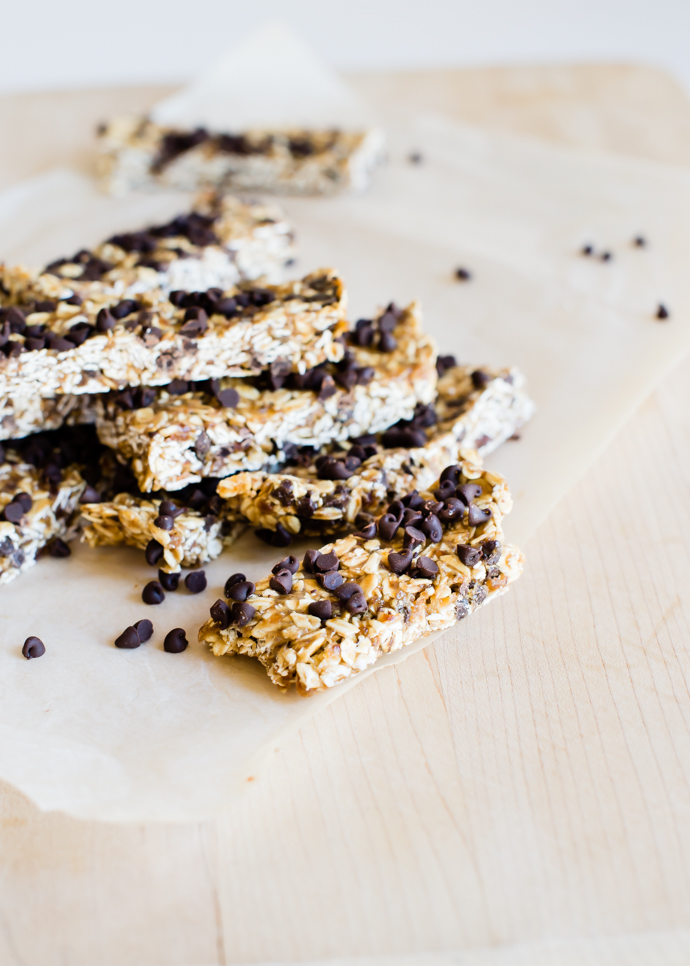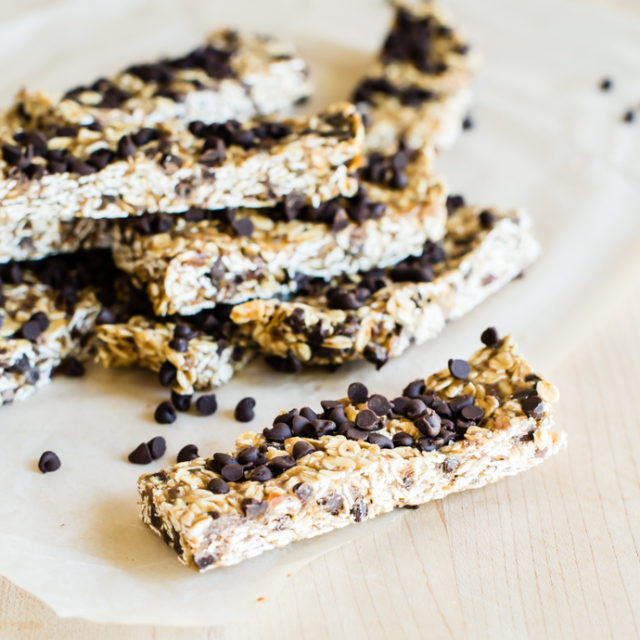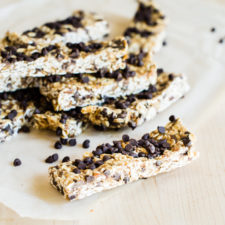 Print Recipe
Tahini Chocolate Chip Granola Bars
A healthy and nutritious granola bar, sweetened without the use of refined sugars. These make a great kid friendly snack or treat.
Ingredients
1

cup

soft pitted dates

1/4

cup

tahini

1/4

cup

pure maple syrup

1

teaspoon

pure vanilla extract

1/4

teaspoon

sea salt

1 1/2

cups

rolled oats

1/3

cup

plus 2 Tablespoons mini chocolate chips

divided
Instructions
Place dates into the bowl of a food processor fitted with a steel blade. Pulse until finely chopped. Add the tahini, maple syrup, vanilla extract, and sea salt. Process until a smooth paste forms. Transfer the mixture to a large mixing bowl. Add half the rolled oats and stir until well combined. Add the remaining oats and 1/3 cup of the chocolate chips. Stir until everything is combined and no dry oats remain. The mixture will be very thick and sticky.

Line an 8- by 8-inch square baking dish with parchment paper. Press the oat mixture into the pan in an even layer. Sprinkle the remaining 2 Tablespoons mini chocolate chips on top and press into the surface of the bars so they don't fall off.

Chill the bars until firm, about 30-60 minutes. Cut into 12 bars. Store in an airtight container in the refrigerator.