You're going to love these potato chips in the air fryer! Light and crispy, with tons of flavor, they'll soon become one of your favorite snacks. And I'll share how to turn them into truffle potato chips with the addition of a couple of ingredients.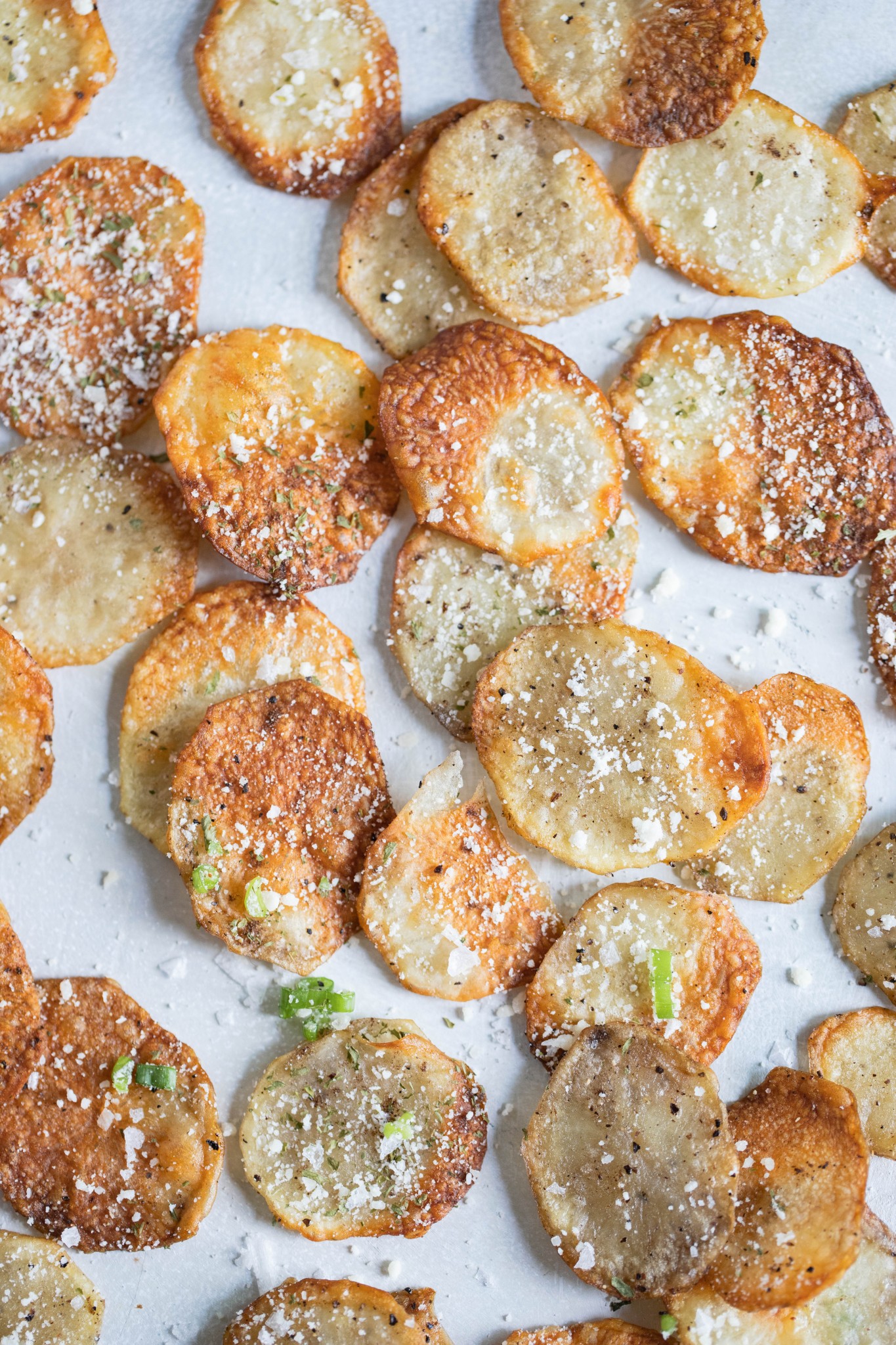 We purchased a glorified air fryer over a year ago and we mainly use it for baking and toasting things. Don't get me wrong, getting the Breville Smart Air Oven Air has completely changed our cooking game at home, but I definitely don't use it for air frying as much as I thought I would.
But I wanted to change that in 2021! Since we continue to spend most of our time at home, and I am getting pitifully bored of everything in my normal cooking routine, I decided to try making homemade potato chips in the air fryer! We were NOT disappointed in how they came out.
Ingredients needed for homemade potato chips in the air fryer
2 medium sized Idaho or Russet potatoes, washed and thinly sliced. Peeling first is optional
Cooking oil to toss, as well as spray for the basket or tray of your air fryer (I used Canola)
Salt and pepper
Optional shredded parmesan and truffle powder if you'd like to make truffle potato chips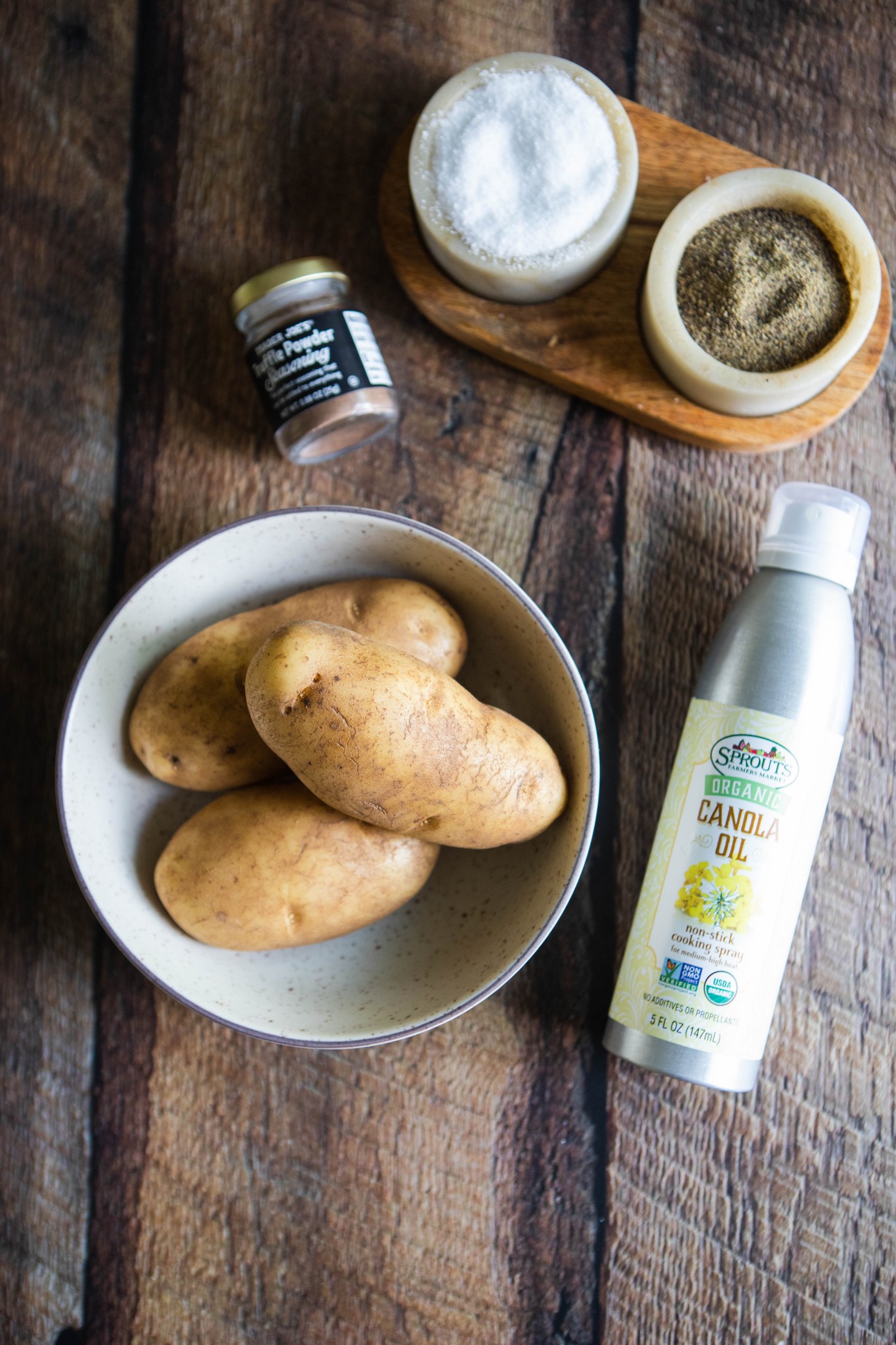 How to make potato chips in the air fryer
Making homemade potato chips are a bit of work up front, mainly in the department of slicing and soaking. However, I promise the end result will be worth it! Especially if you eat them warmed, right out of the air fryer. Plus, you really won't feel "guilty" eating them by the bag full.
Begin by slicing your potatoes very thin. Of course you can do this by hand, but I prefer using a mandolin on the thinnest blade setting. This makes it go super quick and efficiently. You can also use a food processor with the slicing attachment, however, your slices won't be as thin.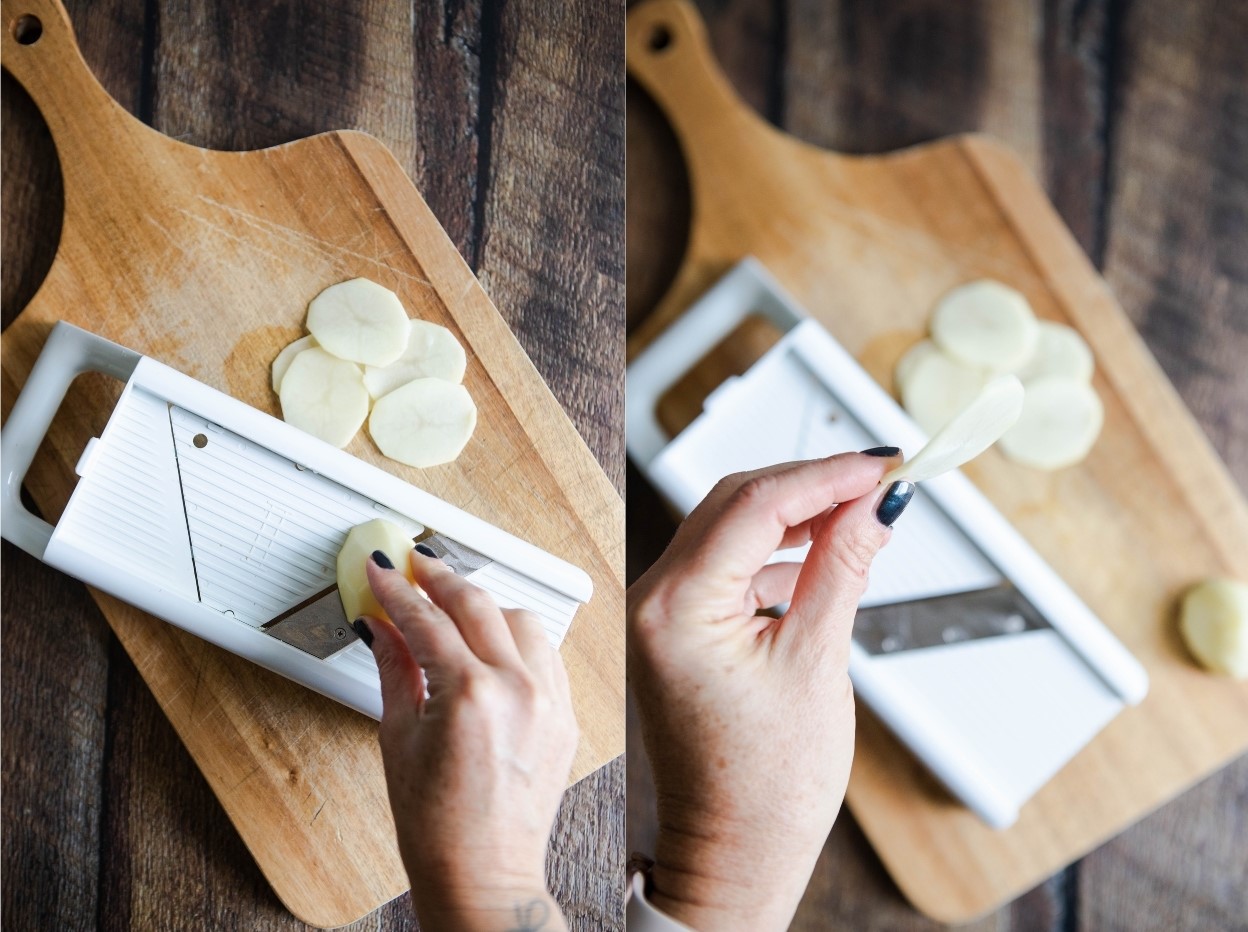 Next is a crucial step. You will need to soak your potatoes in cool salted water to help wash off the starches. Soaking them in the salted water also helps to infuse more flavor, working just like a brine for chicken! Don't be shy with the salt; for my batch of 2 medium sized potatoes, I used about 2 tablespoons of kosher salt for about ½ quart of standing water. Allow your potatoes to soak for 30 minutes to an hour if you have the time.
After soaking, drain the water and rinse the potatoes under running water a couple of times to ensure they're well rinsed, then begin laying them out to dry.
You'll want to thoroughly dry your potatoes as best you can before putting them to air fry. This will ensure a crunchier texture. You can toss them dry in a kitchen towel, or lay them out in a single layer of a paper towel lined baking sheet. Speed up the drying process by patting them dry with another paper towel.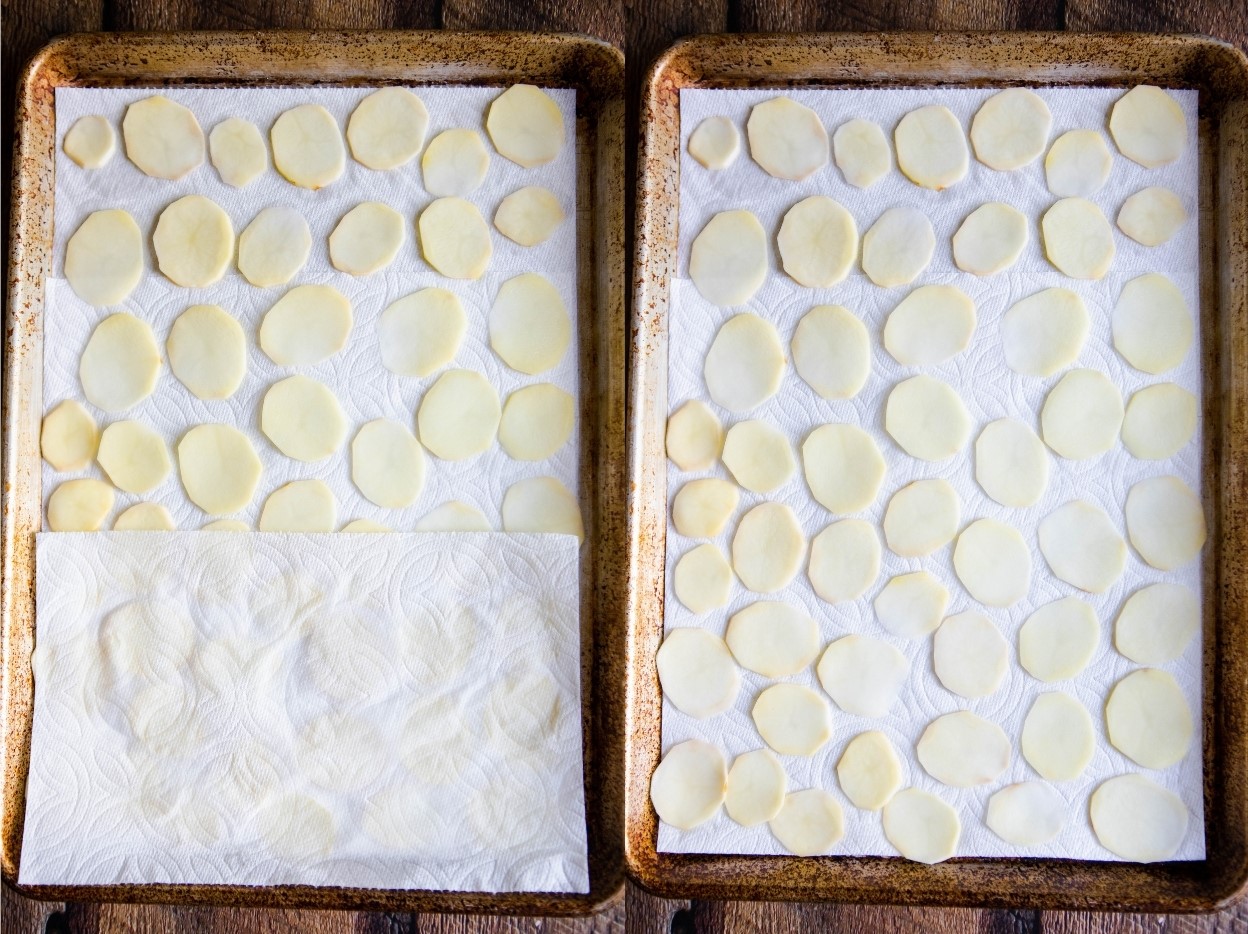 Once dry, toss the potato slices in a bowl, along with about 1 tablespoon of oil and your seasonings. For 2 medium sized potatoes, I added a good pinch of Kosher salt, and a small pinch of pepper. I also added 1 teaspoon of Trader Joe's Truffle Powder Seasoning. Being this was the first time I was using this seasoning, I wasn't sure how pungent it was going to be, so I was conservative.
What I did find after making a couple of batches, was that it works wonderfully when sprinkled straight on the air fried chips! So to accommodate personal taste preferences, I advise adding 1 teaspoon to the batch before cooking. This will give you just a hint of truffle flavoring. If you'd like a more intense flavor, sprinkle additional seasoning on after air frying.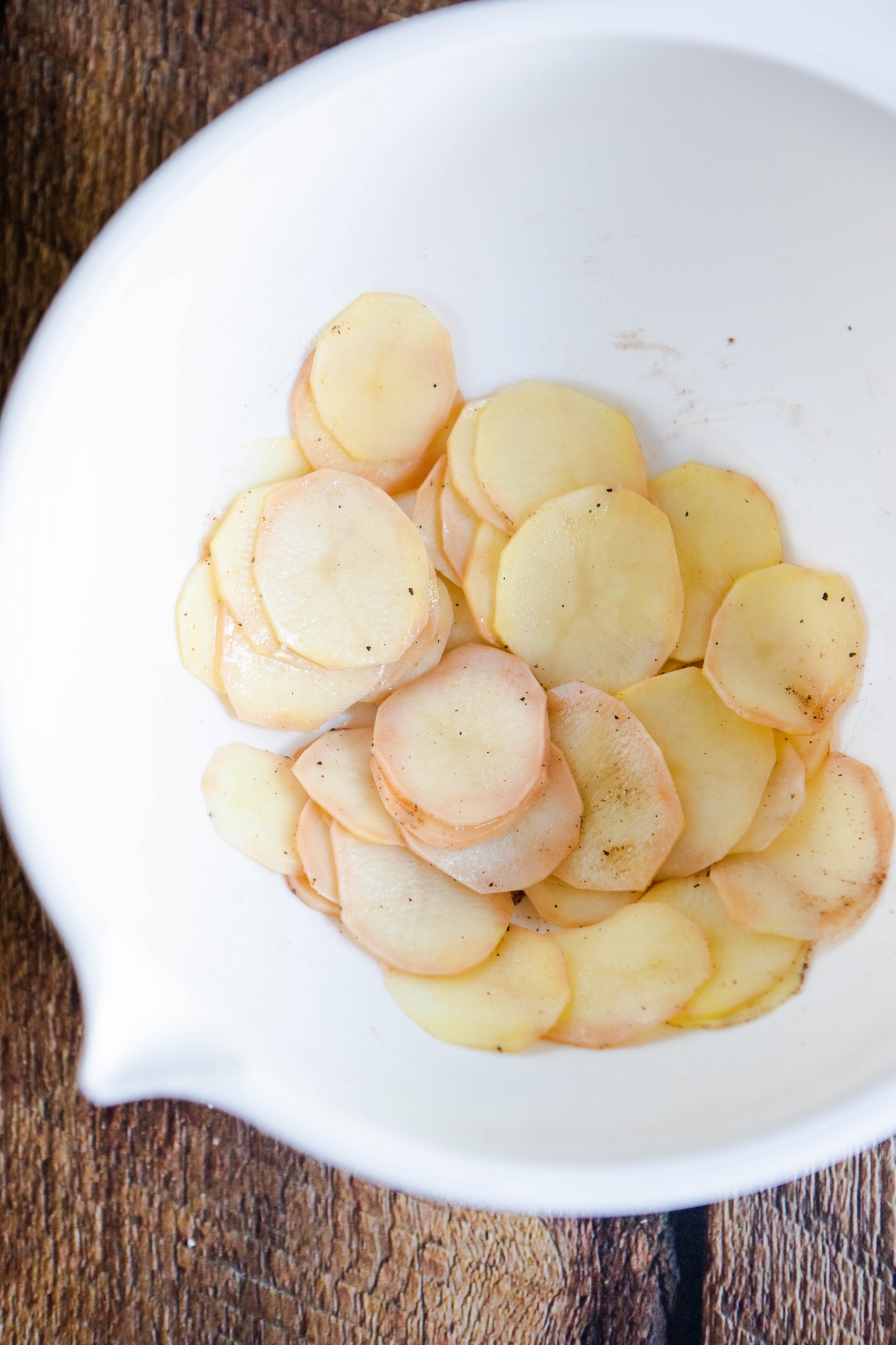 Cooking in the air fryer
I have the Breville Smart Oven Air Fryer. There is a big debate whether a basket air fryer cooks as well as an oven air fryer, but from what I've read, a lot depends on the brand. With that being said, my Breville air fryer holds heat really well and cooks quickly and efficiently. I experimented and found that cooking them at 335 degrees for about 15 minutes was the ticket. Make sure to check them half way between though, and toss the chips around a bit to ensure even cooking. Remove any smaller sized pieces that have already fried up well.
If this is the first time making potato chips in your air fryer, I suggest you stand close by and keep an eye on them. The first batch I made according to a popular online recipe, overcooked my chips. I then lowered the temperature for the second batch and cooked a few minutes less. All this to say, you may have to experiment to get the exact temp and time for the end result you prefer!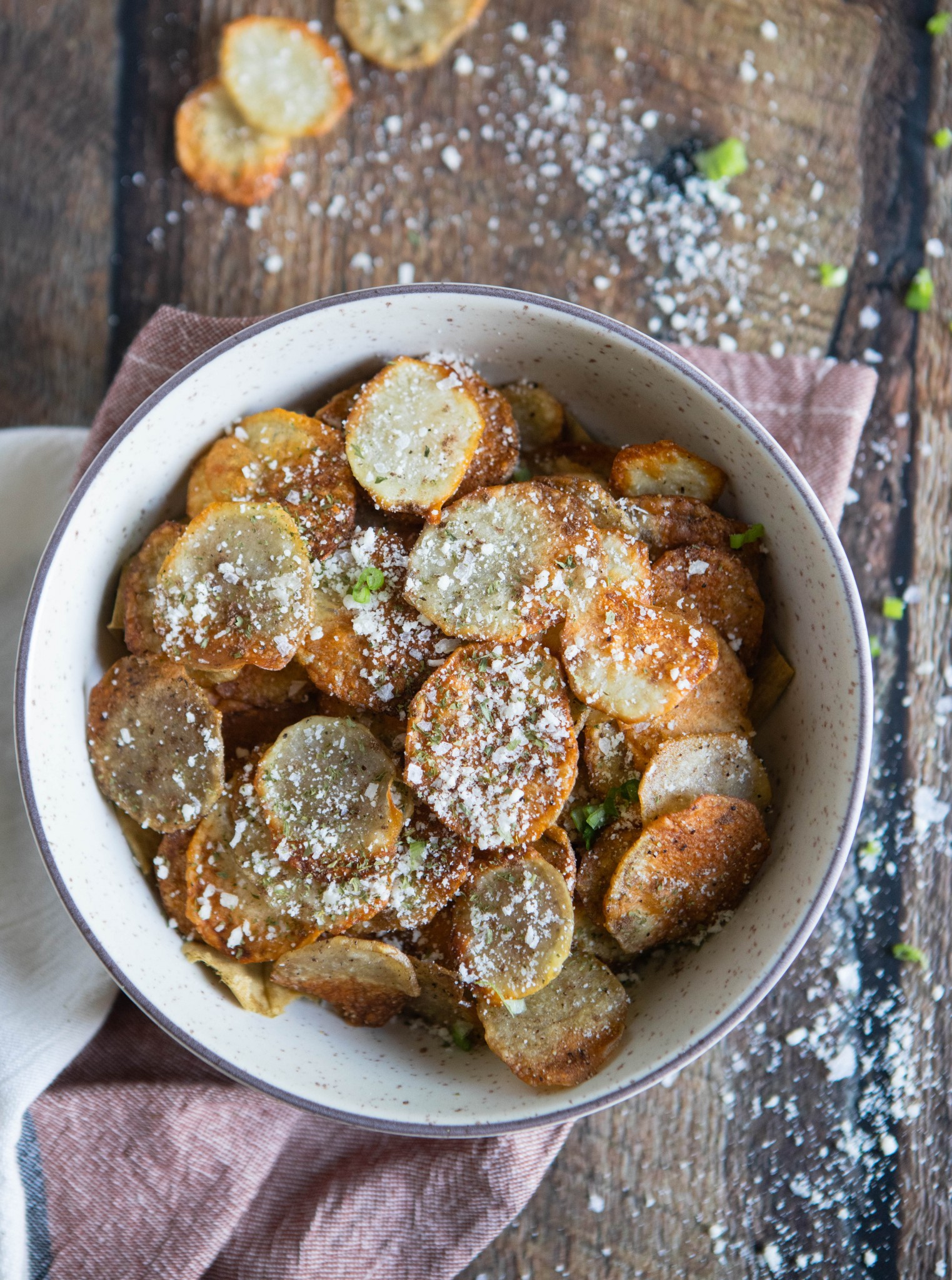 Tips for making homemade potato chips in the air fryer
Like I said, I did a lot of experimenting to get these potato chips just right! Here are a few tips that will help make your batch of air fryer chips come out great!
Why I suggest using Idaho or Russet potatoes
These type of potatoes have a higher starch to water content, so the potato chips will come out crispier. Waxier varieties, such as red and fingerling potatoes, have more water and are unlikely to produce crispy and crunchy results!
I have a basket air fryer. Any suggestions on what time and temperature to use?
From digging around the web, it appears that cooking in a basket air fryer at 350-360 for 15 minutes is a very popular time that produces good results.
Why do your homemade air fried potato chips look a little uneven in color?
Your end texture should be crispy and slightly golden brown. Don't be alarmed if the chips become more browned on the edges than in the center. This is totally normal and to be expected. I've now made several batches, and I've never once had them cook to a perfectly even color.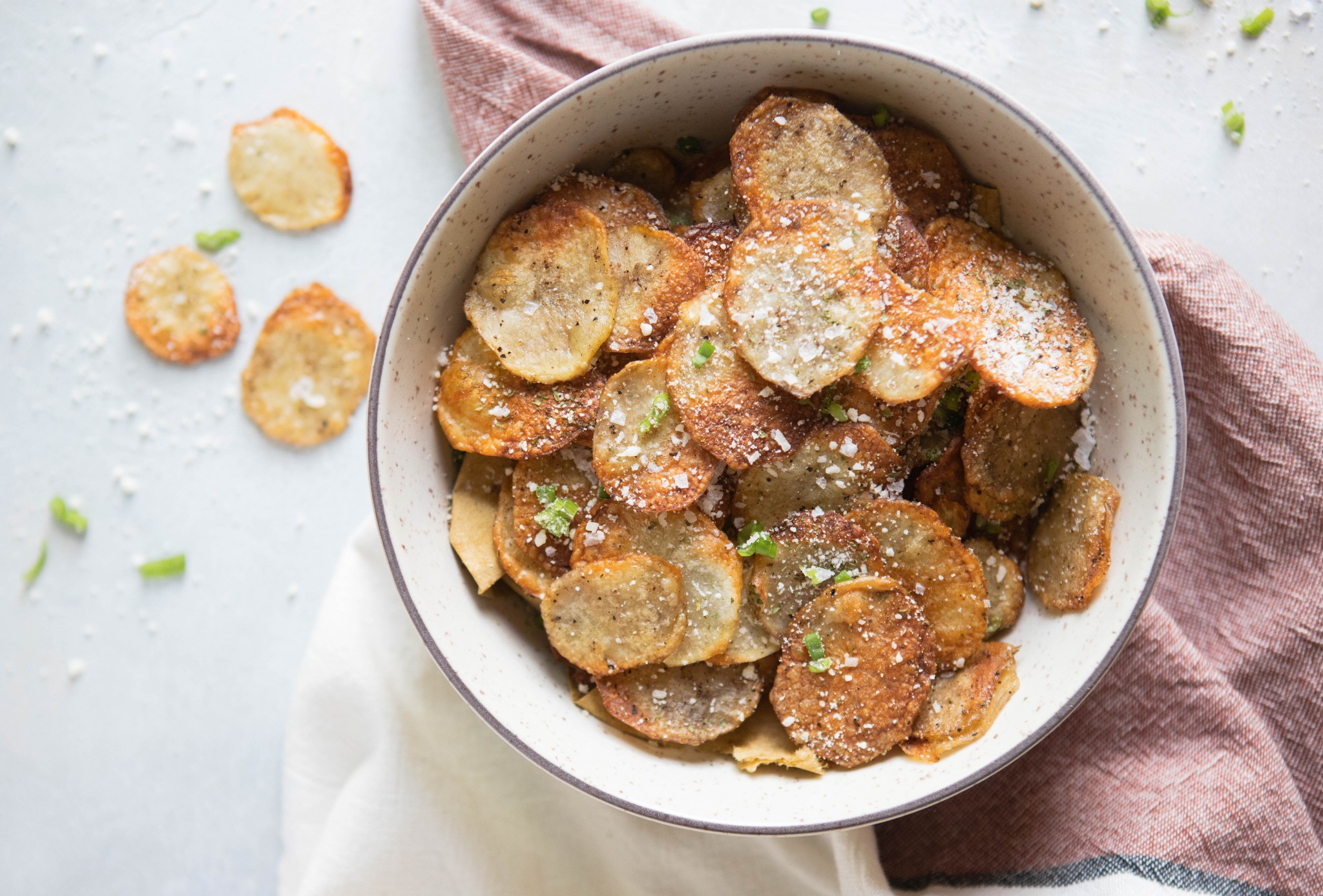 I'm not sure I'll like truffle potato chips! Any other seasoning suggestions?
I got the idea to make these because I absolutely LOVE the white truffle potato chips from Trader Joe's. But I know truffle flavoring is not everyone's jam! It's super easy to swap out other seasonings to make a totally different flavor potato chip! Try garlic salt, lemon pepper, or a combo or dried herbs and sea salt. Rosemary and kosher salt would be amazing! Parmesan and garlic salt would also be a winning combination.
Are air fryer potato chips really healthier than deep fried?
Air fryer potato chips have 60 percent less fat than their store-bought counterparts. And according to some research, this cooking method might also cut down on some of the other harmful effects of oil frying. "The reaction that happens when you fry potatoes or other starchy foods makes the chemical acrylamide, which research links to greater chances of getting cancer. One study shows that air frying lowers the amount of acrylamide in fried potatoes by 90%."
The most important tip for making homemade potato chips in the air fryer
The single most important tip I can tell you, is to keep an eye on your potato chips when you make your first couple of batches, checking on them 2-3 times throughout the cooking process. It seems every air fryer brand cooks a little bit differently, so to get your chips just right for your particular machine, will require monitoring at first.
Even if you set your oven just a bit too high at first, you can always cut down on cooking time if need be. Once you find your perfect cooking combo, make sure to write down the temp and time you found to work best.
The good news is, potatoes are relatively cheap, so even if you overcook one batch, the only thing you've really lost is a bit of time 🙂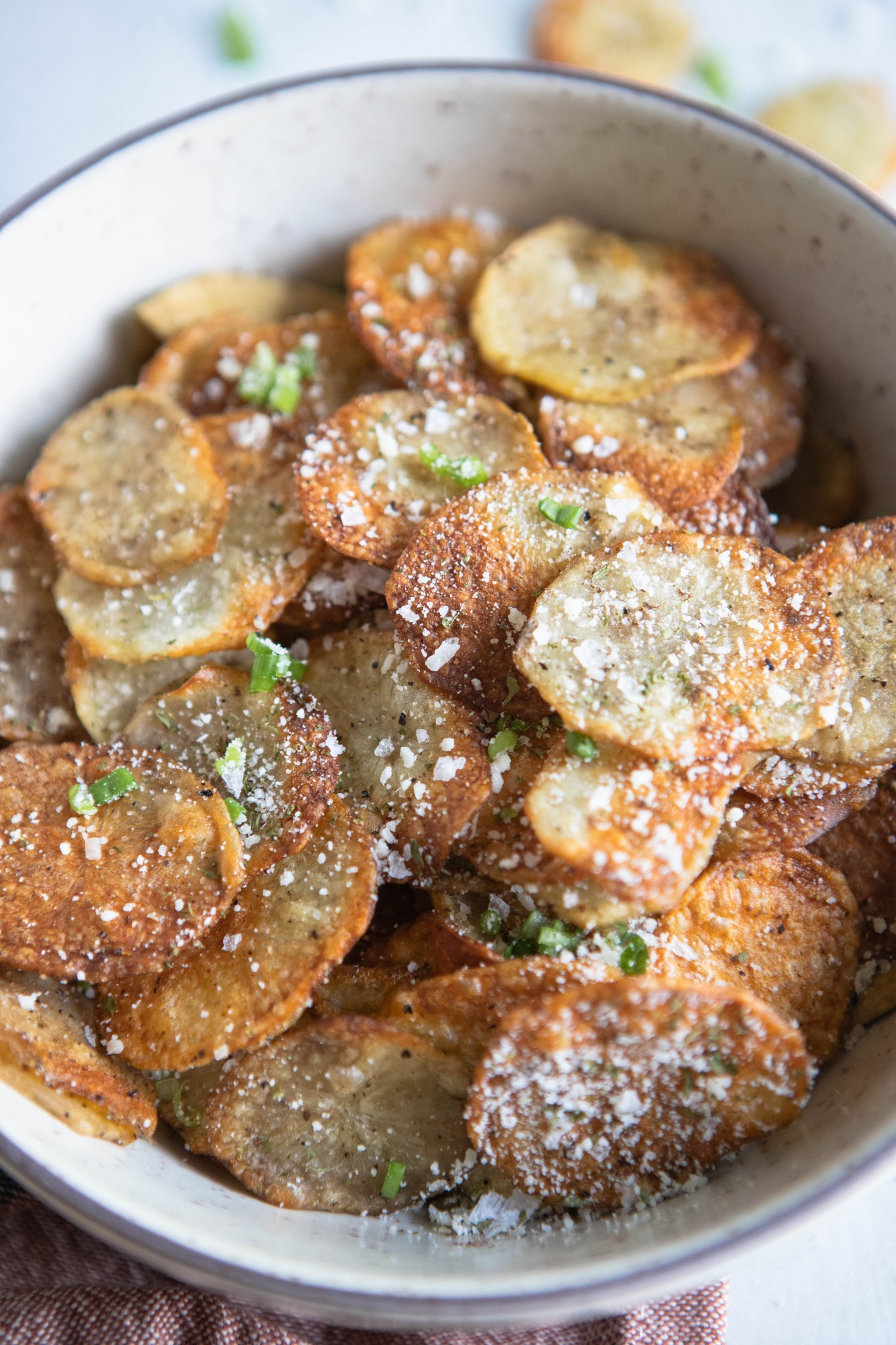 Store any leftovers (haha, there likely won't be any!) in a paper bag in a cool dry place.
Potato Chips in the Air Fryer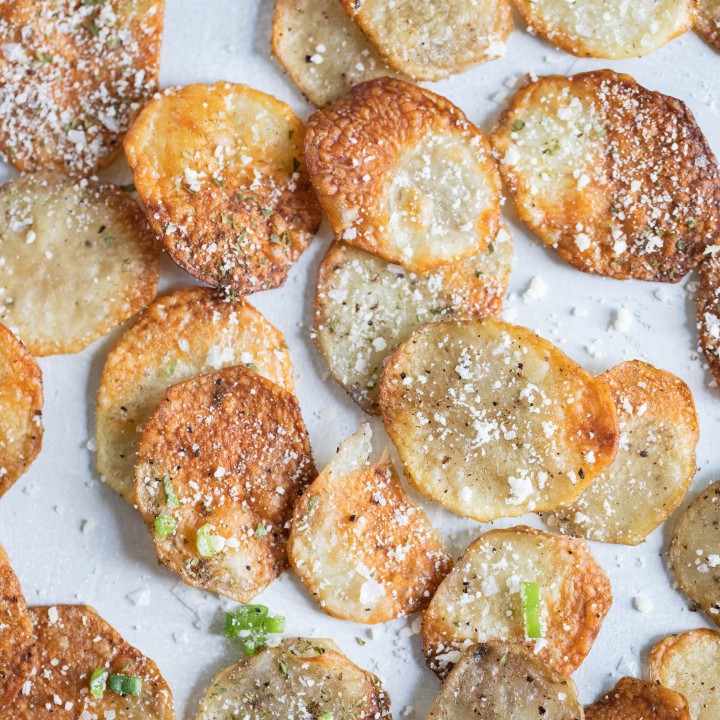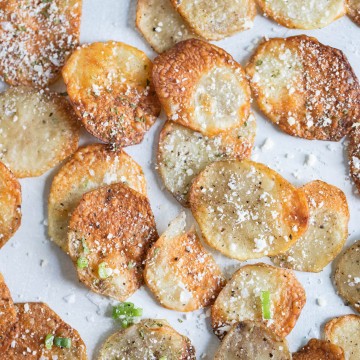 Potato Chips In the Air Fryer (optional truffle flavoring)
You're going to love these potato chips in the air fryer! Light and crispy, with tons of flavor, they'll soon become one of your favorite snacks. And I'll share how to turn them into truffle potato chips with the addition of a couple of ingredients.
Print
Pin
Rate
Ingredients
2

Idaho potatoes

or Russet, thinly sliced, with or without peel

1

tablespoon

Canola oil

2

tablespoon

Kosher salt

plus more for seasoning

½

quart

Water

Large pinch of kosher salt and small pinch of pepper

2

teaspoon

Truffle powder

optional

1

tablespoon

Grated parmesan cheese

optional

Cooking spray
Instructions
Wash potatoes and peel if you wish. Thinly slice in a food processor or mandolin. Add to a medium bowl, and fill with water. Add 3 tablespoon of kosher salt and allow to soak for at least 30 minutes.

Rinse potatoes thoroughly and thoroughly pat dry.

Toss dry potato slices in a medium bowl with 1 tablespoon of oil, and a large pinch of kosher salt and small pinch of pepper. Add 1 teaspoon of the truffle powder if using.

Lightly spray the basket or tray of your air fryer, and place potatoes in a single layer.

Cook at 335 for approximately 15 minutes, making sure to check potatoes 2-3 times throughout the cooking process. Gently toss any slices that may be getting stuck together, and remove any pieces that are getting overcooked.

When air frying is complete, toss with more truffle powder to your liking, and add parmesan cheese and more salt to taste. Serve immediately.
Notes
Make sure your potatoes are thoroughly dried as much as possible before air frying. This will result in crispier chips.
If cooking in a basket type air fryer, cook at 350-360 for 15 minutes.
Nutrition
Calories:
120
kcal
|
Carbohydrates:
19
g
|
Protein:
3
g
|
Fat:
4
g
|
Saturated Fat:
1
g
|
Cholesterol:
1
mg
|
Sodium:
5263
mg
|
Potassium:
444
mg
|
Fiber:
1
g
|
Sugar:
1
g
|
Vitamin C:
6
mg
|
Calcium:
34
mg
|
Iron:
1
mg
Try these other yummy and healthy recipes!