I've been meaning to put this post together for some time now, and quite frankly my original goal was to get it up as a "back to school" post, but better late than never is my motto. We've now been living with my in-laws for close to 5 months, and packing these daily lunches for the kids has been a nice source of regularity in an otherwise irregular situation. I thought by now Taylor would be nagging to buy her own lunch, being the cool 5th grader that she is, but she still seems to enjoy the daily variety and sense of home I guess. They're still eating most of the contents that I pack for them each day, of course some days are better than others, and they have now started playing a more active role in packing the lunches for themselves. All in all, I'm still plenty happy with our Planetbox purchase and foresee using them for several more years.  I don't have a single regret, and I wholeheartedly recommend them to anyone committed to packing healthier lunches for themselves or their kids.
I've partnered with Planetbox to offer my readers a very rare discount of 15%, using code FORTHELOVEOF15. Planetbox never extends sales on their lunch box systems, save for the rare discount code like the one I'm offering here, so now is an excellent time to take advantage of the sale and save a bit of cash. We use the Rover system for the 2 older kids, and have been plenty happy with the amount it holds. I've even used it a few times to pack my own perfectly portioned lunches, especially during a cleanse, and I'm thinking I may buy us a 3rd Rover during this discount, to use exclusively for myself. The discount code is for US residents only, and is only valid for 48 hours, thru Tuesday November 3rd at 11:59 PST. If you have questions about how the Planetbox works, how much it holds, etc., you can visit my Most Commonly Asked Q's About the Planetbox post, and you can visit my end of school post, which answers whether the Planetbox is really worth the investment.
Please let me know if you have any questions I  may have failed to cover in the above posts, and thanks so much for getting so much enjoyment out of my daily lunch posts on Instagram. I love sharing the ideas, and love that so many of you find them useful. As you know, I strive for balance and try to weigh health, food waste and childhood preferences in somewhat equal measure when I pack their lunches on a daily basis. In other words, I do my best to strive for a good variety of healthy foods, in a balanced combo of protein/carbs/healthy fats, but I also try to offer a daily "treat" as well as keep their likes and dislikes in mind, as to not waste food. I detest throwing away half eaten lunches, so with that in mind, I often pack what feels like the same items over and over, just because I'd rather my kids eat a good meal than perfect the most appealing lunch photo for Instagram. So some may say, "hey, these are kinda boring" or "hey, these aren't totally healthy" and to that I say, "I do my best, deal with it!" At any rate, I know many of you enjoy my posts and I enjoy going back to revisit old ideas. You can seek over 160 daily lunch posts under the Instagram hashtag #howekids eat, and of course follow along on Instagram so you don't miss a daily lunch post. For now though, here's a month worth of ideas and options, and at the very end I've categorized several lunch ideas into gluten free, vegetarian and nut free options. Enjoy!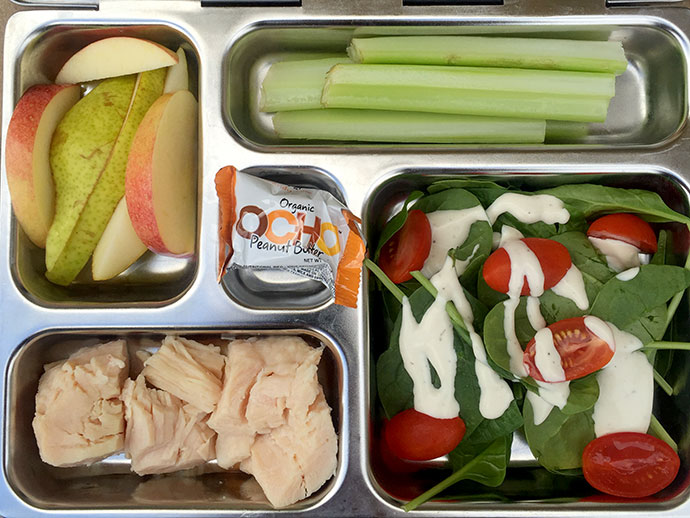 Above – canned chicken, spinach salad, celery, apples & pears, Ocho peanut butter bar//Below – grilled chicken, pretzel sticks, veggies, watermelon, cinnamon twist, dark chocolate covered almonds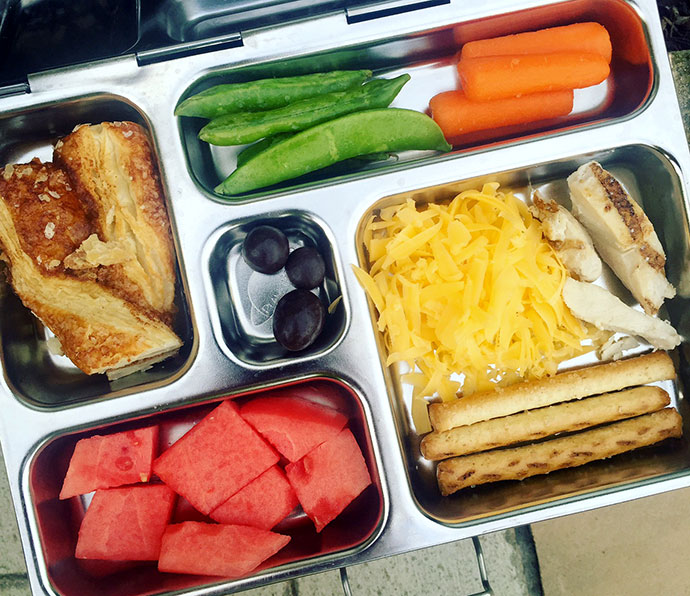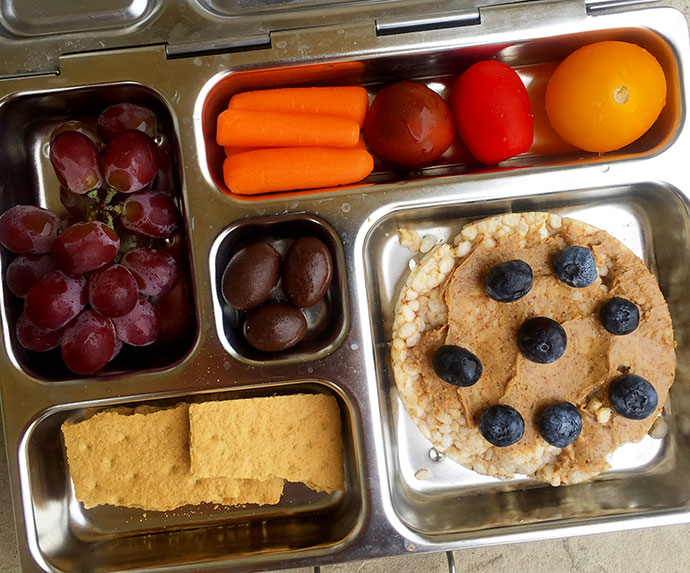 Above – rice cake with almond butter & blueberries, graham crackers, grapes, veggies and dark chocolate covered almonds // Below – graham crackers with almond butter, apples, grapes & berries, rainbow carrots, mixed nuts and a Justin's dark chocolate peanut butter cup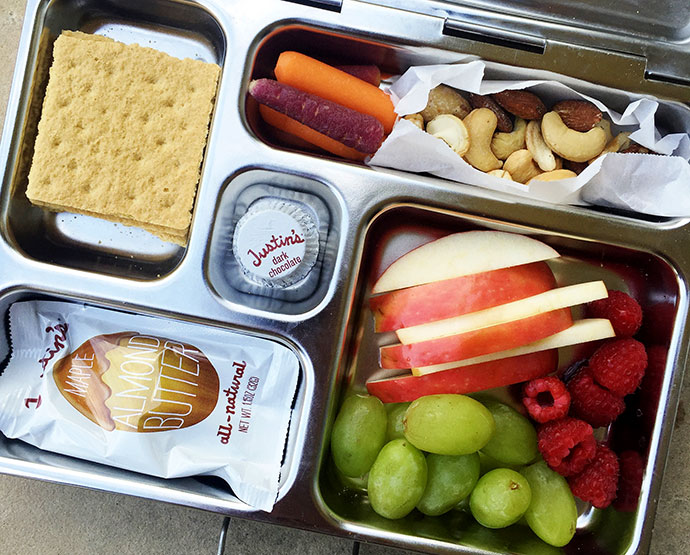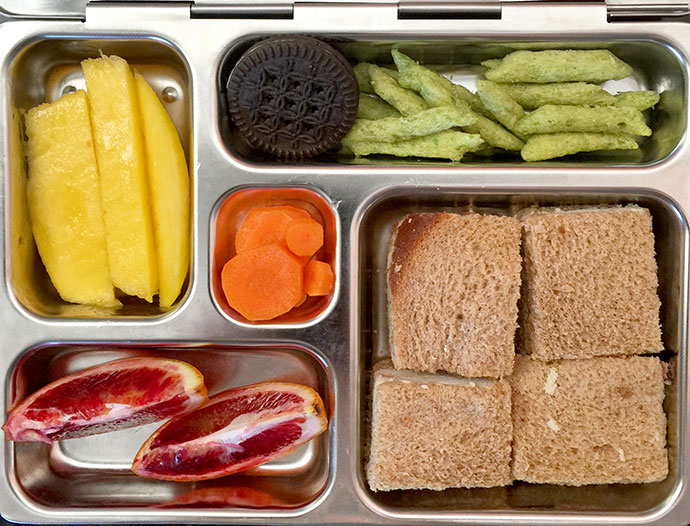 Above – turkey sandwich on whole wheat, blood oranges & mangoes, snappea crisps, carrots and a Newman's organic cookie sandwich // Below – tuna salad, crackers, snappeas, pineapple & tangerine and dried cranberries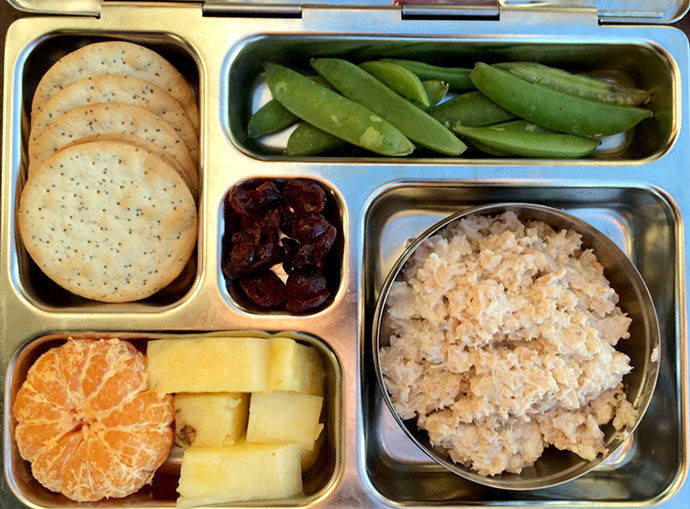 Above – mac & cheese, shredded chicken, grapes & apples, rainbow carrots & tomatoes, dye free gummies // Below – turkey sandwich on sourdough, carrots & tomatoes, Bare Naked apple chips, Roam pork stick and Justin's pb cup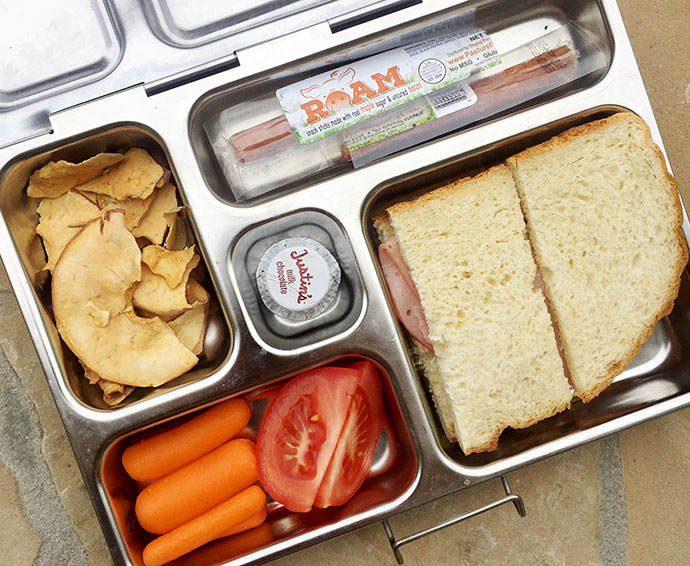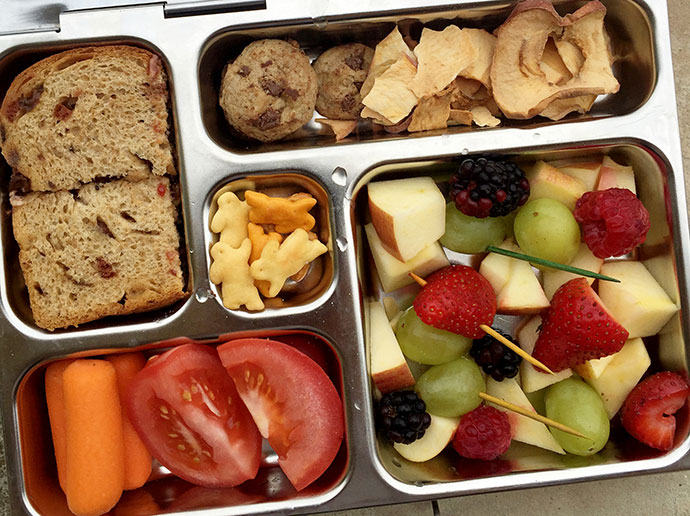 Above – almond butter & honey on whole wheat raisin bread, carrots & tomatoes, cheddar bunnies, Bare Naked apple chips, back to nature chocolate chip cookies and fruit salad // Below – hazelnut spread wrap, fresh broccoli and snappeas, hard boiled egg, pears, apples & berries, chocolate covered almonds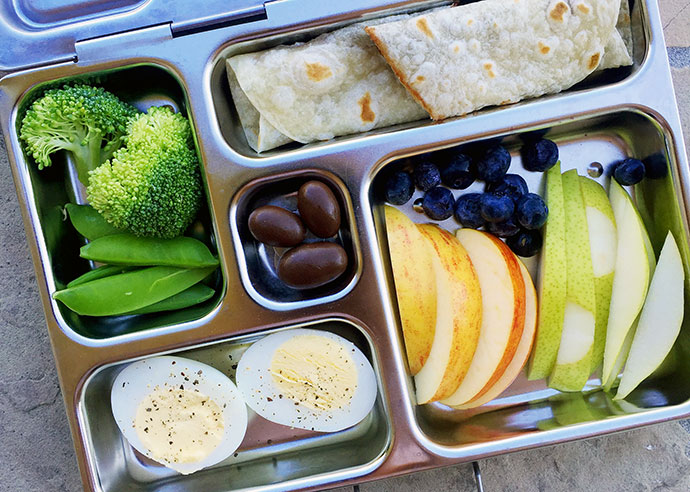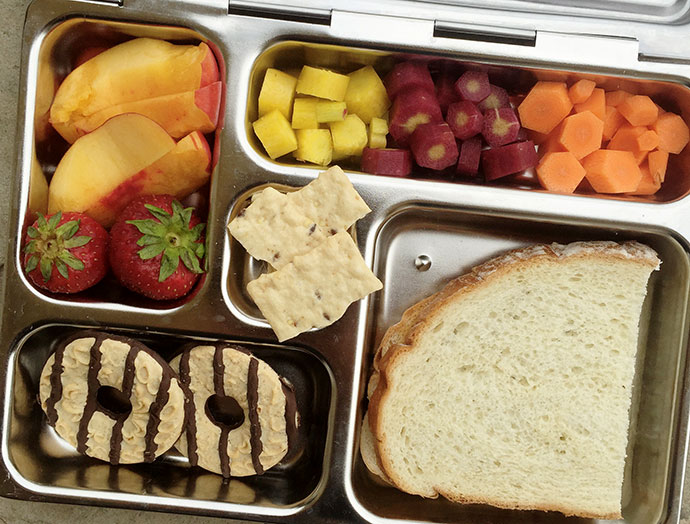 Above – hazelnut spread sandwich on sourdough, back to nature chocolate stripe cookies, peaches & strawberries, rice crackers, rainbow carrots // Below – turkey sandwich on sourdough, babybel cheese, rainbow carrots & snappeas, apple straws, grapes & plums, trail mix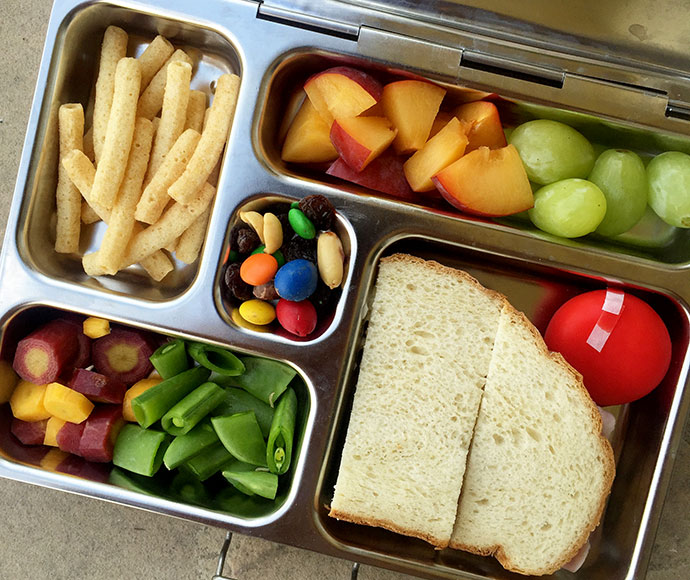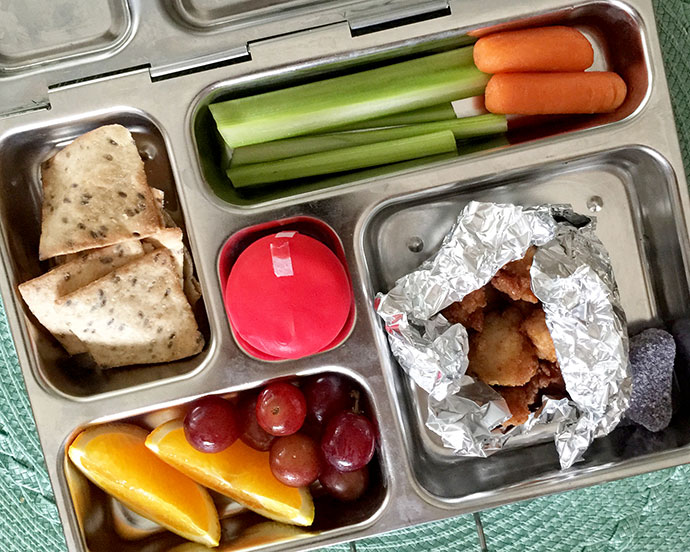 Above – homemade chicken nuggets, grapes & oranges, rice crackers, celery & carrots and babybel cheese // Below – turkey sandwich meat, graham crackers, babybel cheese, dark chocolate chips, fruit salad and snap peas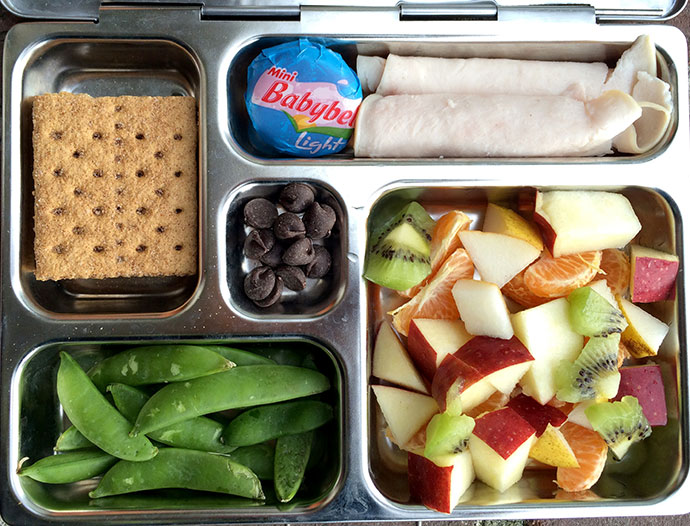 Vegetarian Lunch Options: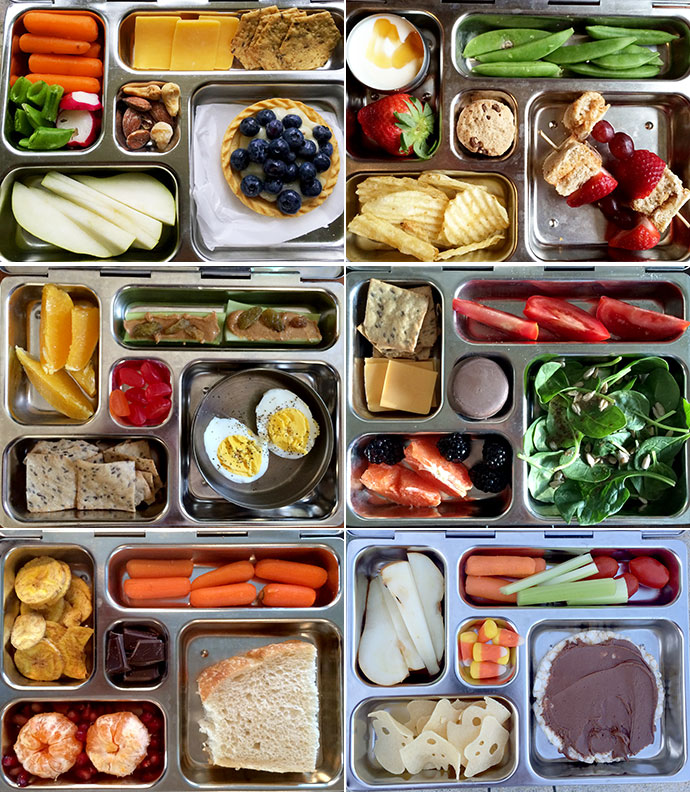 Nut-Free Lunch Options: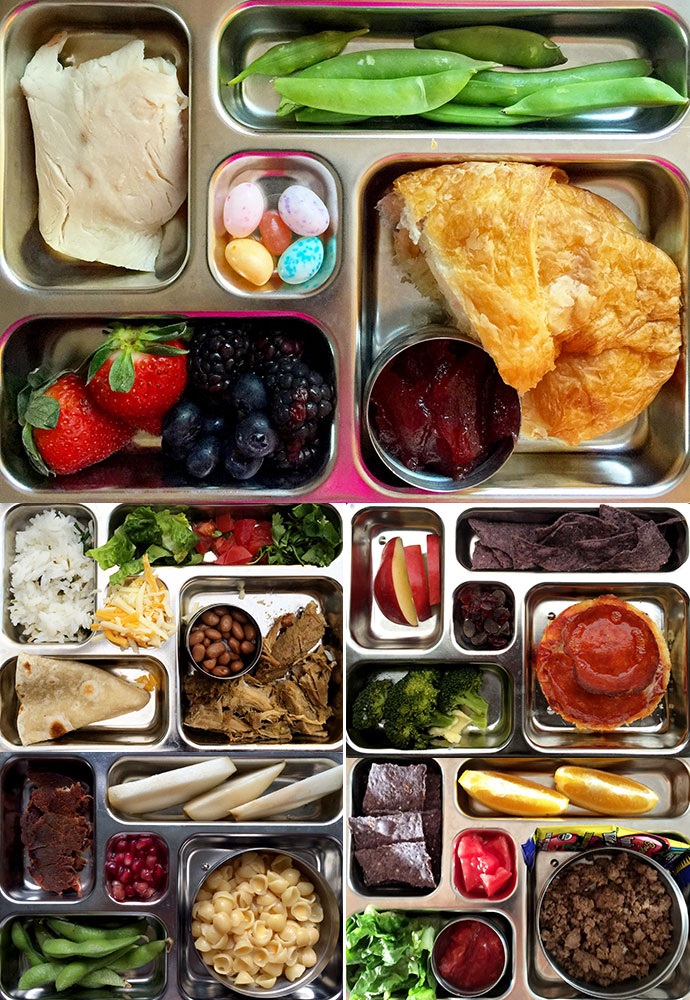 Gluten Free Lunch Options: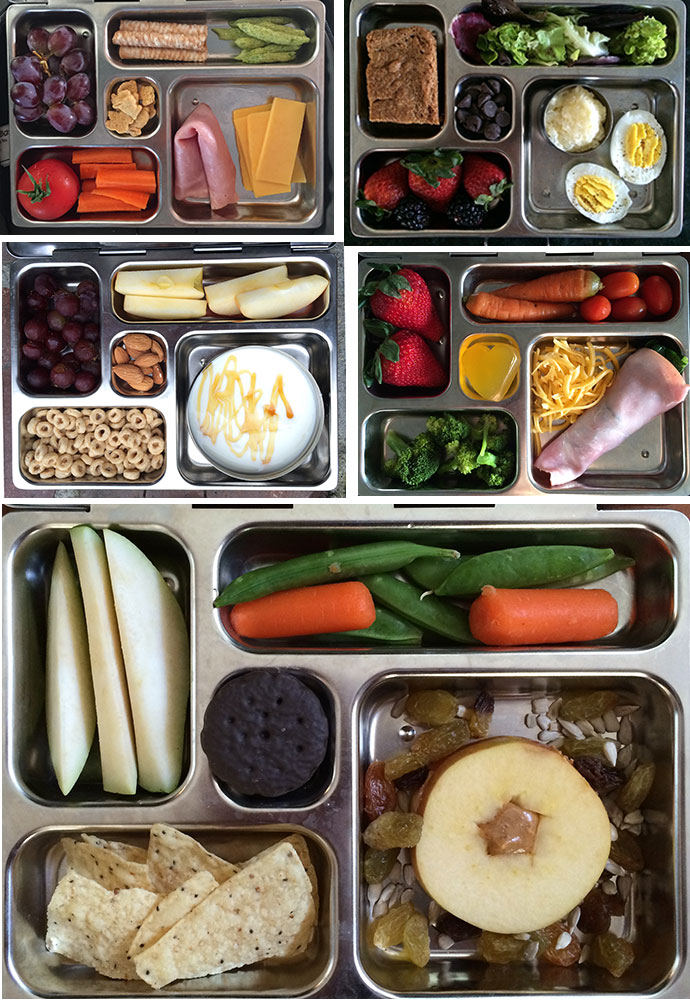 Don't forget the code to receive 15% off any Planetbox purchase is FORTHELOVEOF15 and is valid for US residents only, through Tuesday November 3rd at 11:59 PST