Because I love you all so much, I rounded up a selection of comfortable and stylish face masks, many which have a charitable component. Some that I selected also come in kids sizes, and a few are even adjustable! And if you'd like to learn to make your own, make sure to check out my full video tutorial on Instagram!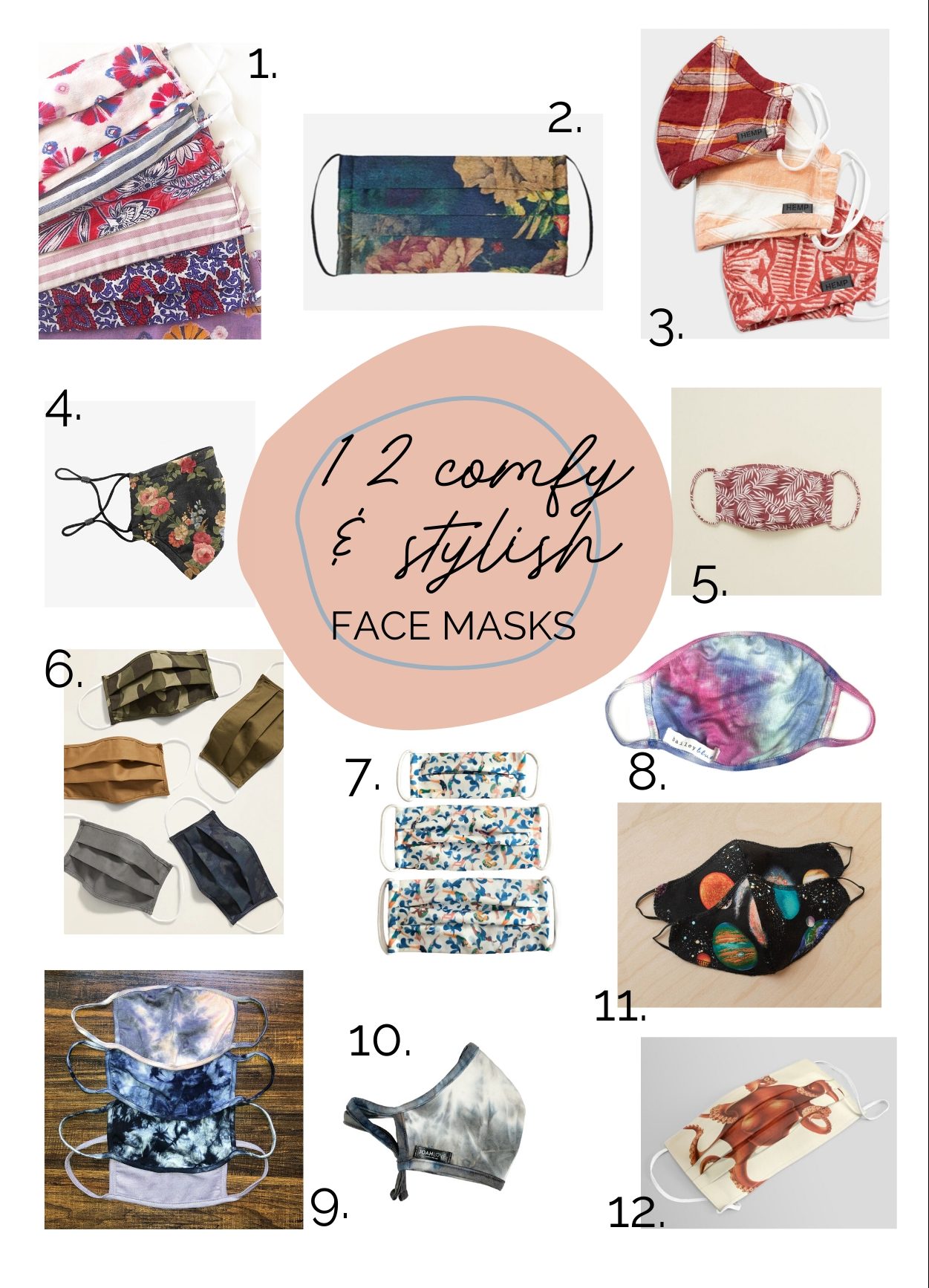 As of June 29th, 40 states now require face masks in businesses and/or when out in public, where physical distancing will be hard to maintain. While it's awful that such a serious world event is pushing forth these mandates, it is good news that mask usage is becoming more widespread. It's one of the most cost-effective, easiest thing we can do to help slow the spread.
And slow the spread it does. There have now been numerous studies to show how simple cloth face masks can slow the spread, since the most common way the virus is transmitted, is via aerosol droplets. Simple physics tells you that things like a tissue held in front of your face when you sneeze, or a cloth face covering  when you cough or talk help to keep aerosol droplets contained. However, in case you had any doubt, there have now been various studies and visuals to show just how effective these nifty little pieces of cloth can be! Check this one out from Science, or this one from the Lancet, and I love these 2 visuals; one is a video of aerosol droplets with and without masks, and the other involves singing, coughing and talking on petri dishes.
If you are still concerned with how effective or safe face coverings are, I suggest you follow Laurel Bristow on Instagram, an Infectious Disease Scientist at Emory University. Check out her Masks highlight on her profile, where she goes through various efficacy studies, addresses safety concerns and debunks bad science. Seriously, she's incredible and one of my girl crushes. Now let's get on with it, shall we?
Xirena set of 3 face masks $30: Double sided lightweight cotton with inner filter pocket, and tri-fold pleating, similar to surgical masks for enhanced comfort. For every set sold, a donation will be made to World Central Kitchen.
Johnny Was set of 5 cotton sateen face masks $25 or silk charmeuse for $40: Triple pleated styling, interior filter pocket and available in a mix of beautiful prints. For every pack sold, a pack will be donated to essential workers.
United by Blue set of 3 child's hemp face masks set of $20: Double layered blend of hemp and cotton made from deadstock fabric, with filter insert. For each set purchased, a mask will be donated to Philadelphia's homeless through Chosen 300. Also available in adult sizes.
Profound adjustable face mask $28: This is one of the more expensive masks I found, but it does come with its fair share of bells and whistles. This is the only one I found that is triple layered, has adjustable straps, has a filter pocket where the filter is included, and a cool face molded style including a wire nose clamp. A portion of mask sales will also benefit various relief funds; details on their website.
Stockist face mask $16: Triple layered with an almost bathing suit like material, and easy to use filter pocket. Also includes 2 filters. They sell out every few days but restock often. Both Taylor and I love our masks from here.
Old Navy 5 pack face masks $12.50: I included these because a) Old Navy is a long loved brand b) several readers recommended them to me as being very comfortable and c) they are super affordable! They do not have a filter pocket, but will definitely get the job done, and also come in lots of fun prints for kids.
Little Goodall 1 for 1 face mask $15: Double layered 100% cotton, and available in 3 sizes including adult, tween and child. Little Goodall donates 1 mask to someone in need for every mask purchased.
Bailey Blue face mask prices start at $9.50: These are made of t-shirt material, which is the material lowest rated to provide protection, so I recommend getting the new updated style with the filter pocket. I chose these because they are available in both kids and adult sizes and have lots of cute fabric choices. Because they're made of t-shirt material, they'll also likely be very soft and comfortable. There is also a charitable component; Bailey Blue donates masks to CHLA, homeless shelters and first responders.
Yoga Society face masks start at $33 for a 3 pack: Like the Bailey Blue masks, these are also made of lightweight T-shirt type material, but they are double layered and lined.
Joah Love Adjustable Mask $20: Soft double layered T-shirt material for added protection, and patent pending adjustable straps. They are also available in 4 different sizes for an even better fit, and lots of cool pattern combos. Jonah Love donates 1 mask for every 1 purchased.
Christy Dawn Sustainable mask set of 2 $18: Double layer cotton deadstock fabric available in kids and adult sizes. No filter liner.
Maria Popova via Society 6 face mask $13.59: Amazingly cool designs on double layered cotton, with filter insert and thin plastic ear straps. A portion of proceeds will be donated to the Covid relief fund.
Keep in mind that all these masks are non-medical grade and are meant to be washed frequently. Also, a very important point that often gets purposefully overlooked; non medical grade cloth masks are primarily to protect OTHER people. The safest protective masks are N-95, but since most people don't have access to those, cloth face coverings, when worn universally, help limit the spread by containing aerosol droplets that are released when a person talks, coughs, screams and shouts. And if you'd like to learn to make your own, as pictured below, you can get my full step-by-step cloth mask video tutorial on Instagram!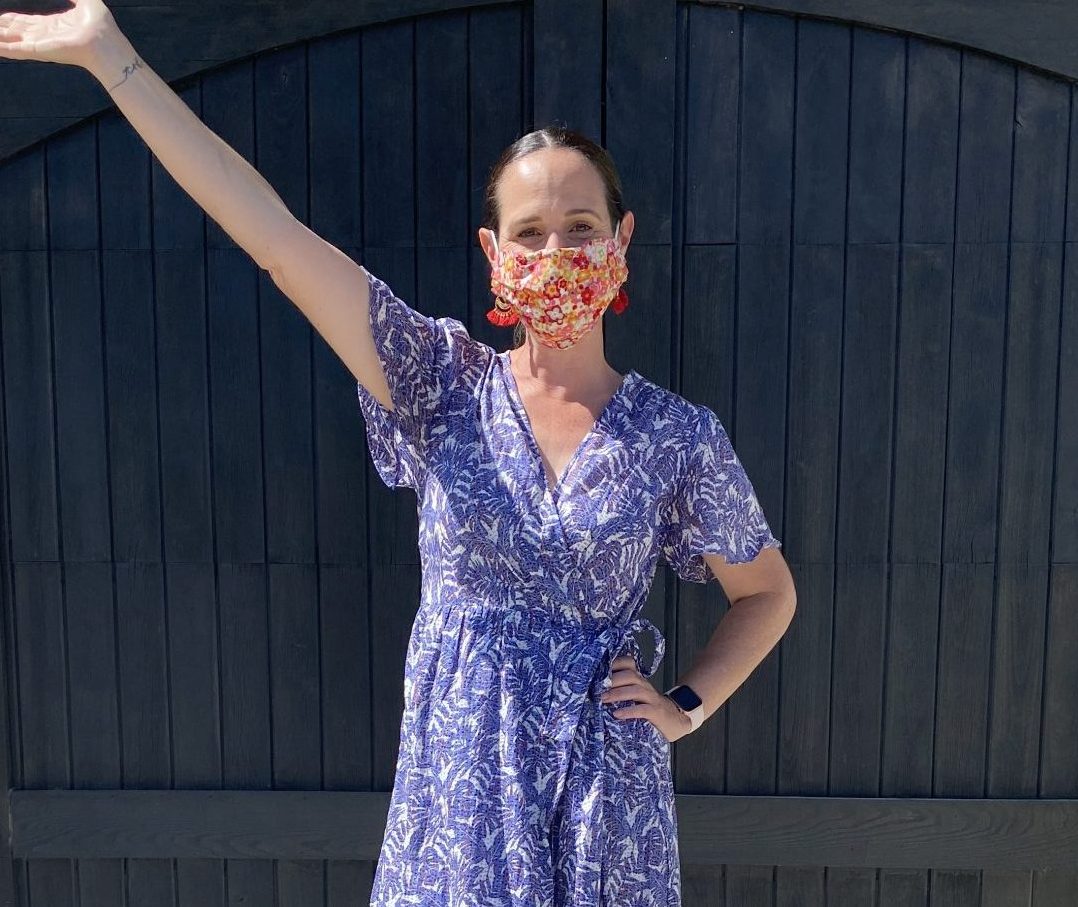 And in case you had some trouble keeping track of all the characteristics above, I put together a nifty little comparison chart. I hope this helps to make your shopping a bit easier!