In this past year, my husband has become one of those people who foolishly buys products through Instagram and Facebook promotions. I figured him a sucker, falling prey to slick marketing ploys, but it turns out I've been proven wrong time and time again. So I've come to realize that like many people, and especially men, he is frenetically busy trying to juggle the demands that come with being a business owner, dad and volunteer in the community, and targeted demographic marketing has been incredibly helpful to him. In the past year, he's been able to find himself new socks, underwear and work shirts that he absolutely loves, as well as a handful of other items that may not be necessities, but have added value and comfort to his life, just by scrolling through is phone at the end of the day. So if you were wondering who buys things off IG ads, let me introduce you to my husband, and the several items he's purchased, as well as what's on his wish list.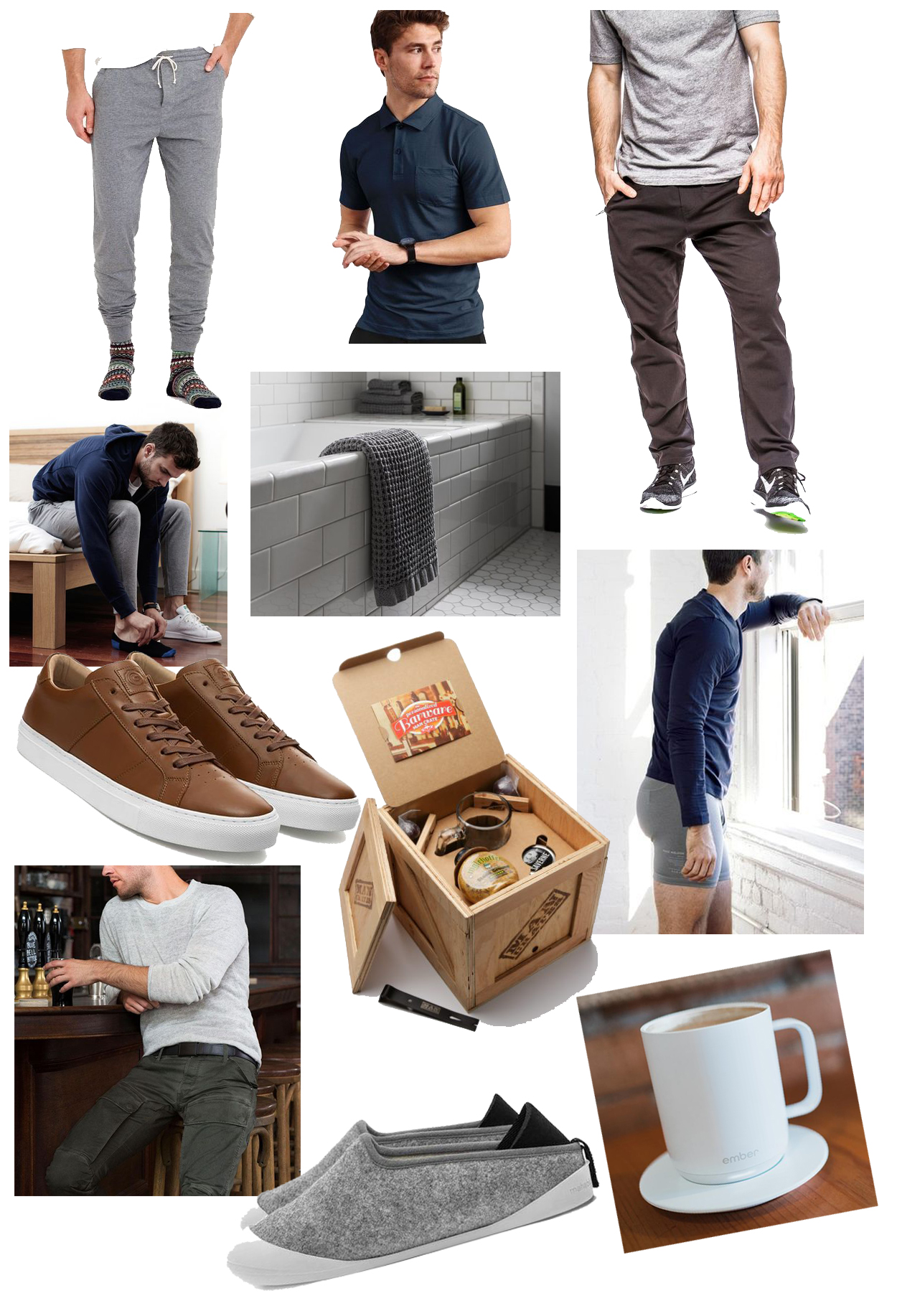 J. Crew Jersey Pajama Pant – So I want to start off with the only item on this list that I can actually take credit for. I bought these as a Christmas present on Black Friday, and he absolutely loves them. If it's cold enough he will sleep in them, but he more treats them like lounge pants and throws them on when he gets home from work and wants to be as comfortable as possible. The fit is flattering and they look much more hip than the baggy pajama pants he used to wear. They also don't bag out and after multiple washings, are holding up very nicely.
Mack Weldon Vesper Polo Shirt – This was his first official IG purchase almost a year ago. He actually came home and said something to the effect of "I did something weird today, I ordered a shirt off an ad I saw online and I have no idea if I'll like it or not, but we'll see." Turns out he loves these shirts and has ordered himself a couple more. Hold up well in the wash, resist staining and fit is flattering.
Public Rec All Day Every Day Pant – This was one of his most recent online purchases, as he was looking for another lounge pant option like the J. Crew pajama pants I got him, but that he could actually wear outside. The picture shows them as a bit slouchier and baggier than their true fit, so keep that in mind. I would say they fit him more like the J. Crew pj pants. Nice quality, great styling.
Mack Weldon No-Show Socks – For years I've been trying to get him to go for the no-sock look when wearing tennies and loafer style shoes, but he resisted because he hates not wearing socks. He discovered these after he bought his Mack Weldon polo shirt and joined their mailing list. He's purchased several pairs now and wears them almost every day. They don't show and they don't slip down either.
Onsen Bath Towel – This is a wishlist item, but he's intrigued by the idea of "no more musty towels." Made of lightweight Supima cotton, they dry fast so there's no time for them to get that musty smell. It sounds like this is the type of towel that you would really only need one of for individual use. I may gift him one for his birthday to see how he likes it.
Mack Weldon 18 Hour Briefs – These briefs are extra soft, a no-roll waistband as well as mesh zones to keep guys cool in certain areas (??) I don't know, I haven't really checked where the cool zone areas are, but he says that overall they're comfortable and I say they make his legs look extra buff haha!
Greats The Royale Sneaker – Another wish list item, to wear with his no-show socks.
Man Crates – For Christmas he got these for all the guys in his office, and after hearing him talk about these so much, I went ahead and got him the jerky crate and my dad the ramen one.  Honestly, they're overpriced for the value of the contents inside, but the guys do like cranking them open with a crow bar and the contents have all been great. Total novelty item that you'd get for the guy in your life who is impossible to shop for.
Slidebelt – Cool concept, these belts work off a ratchet so there's no holes and you can adjust to the perfect fit every time. Plus, no worn out holes keep the belt looking nicer for a longer period of time.
Mahabis Classic Slipper – Okay I don't get the appeal of these things at all, but he thinks they're "very cool looking." I don't really understand why the sole needs to be detachable, apparently so you can replace them if they get worn out? I don't know, like I said, I don't really get these but they reviews online are all great, so perhaps I'll splurge for these as a Christmas gift??? What do you all think?
Ember Ceramic Mug – Another wish list item he keeps talking about and now I actually really want one of these! You program the mug to heat up your beverage to your desired temp, and it keeps it there during your entire drinking experience! Moms, think about it, no more reheating in the microwave 10 times just to finish a single cup of coffee. This sounds too good to be true, but again, the reviews online are overall pretty good. Aren't you intrigued?!?!