I've spent more money on those pretty recipe books you find in the grocery store checkout line than I'd care to admit, but for the most part I've never been disappointed in them. A few weeks ago I picked up a copy of Cook Real Food Every Day, not because of the title (isn't all food you're gonna cook by and large "real"?), but because there was an entire section on how to make the most of 1 lb of ground beef. Since I am a huge fan of stretching a pound of meat (hello beef & potato tacos!), and I respect a publication that respects my money, I decided to shell out $12.99 for said magazine. Oh the irony!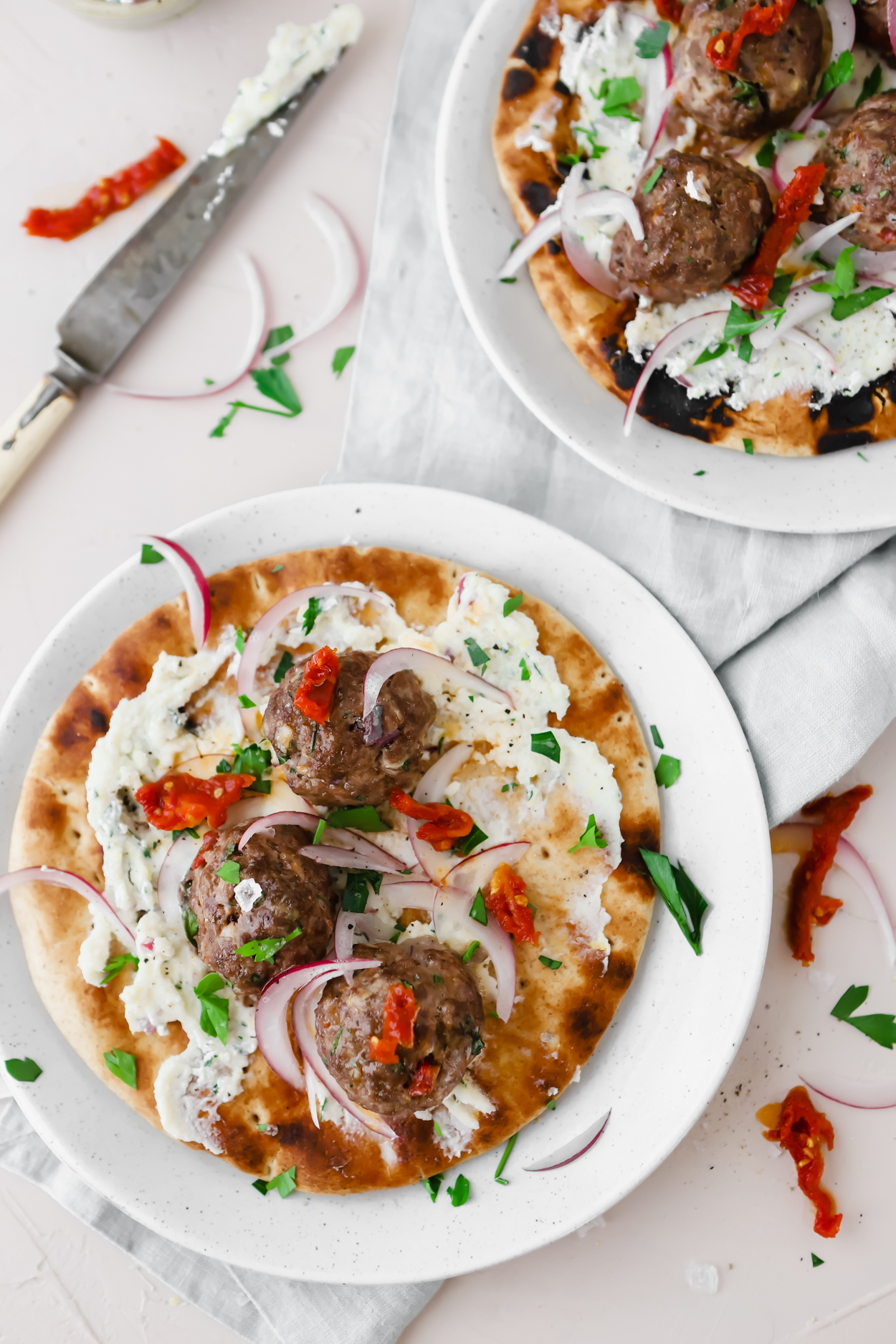 At any rate, the pricey mag contained lots of great recipes that I've given a go, including this one. Now truth be told, after the first pass making these, I found the flavors to be a bit bland, but the meatballs were moist and I figured after tweaking things a bit, they'd be economical and flavorful. The enhanced recipe turned out dynamite. And since the meatballs were paired with the flatbread, it made for a fairly filling meal, making the meatballs go even further. Turns out I even had 3 leftover for lunch the next day.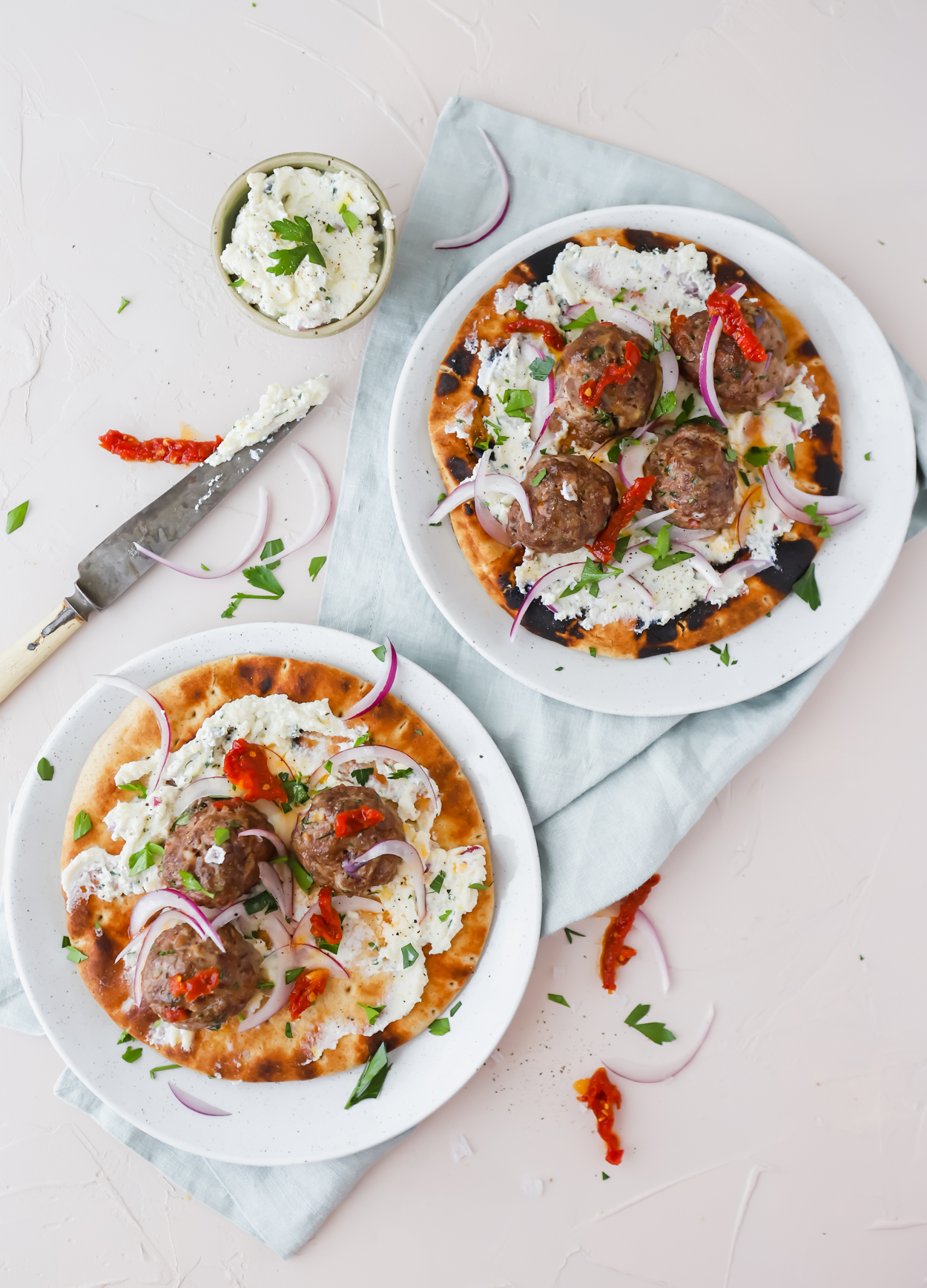 If your kids don't love sundried tomatoes, you can definitely omit them from the meatballs, and just use them as a garnish, but definitely don't skip the ricotta cheese, as it lends a nice creaminess and helps them stay moist. Ricotta is a very mild cheese, so when making the spread you're really going to have to play around with the seasoning and flavors to make sure you hit just the right amount of salt and acid for your personal preferences. Salt and add lemon juice bits at a time, and taste as you go.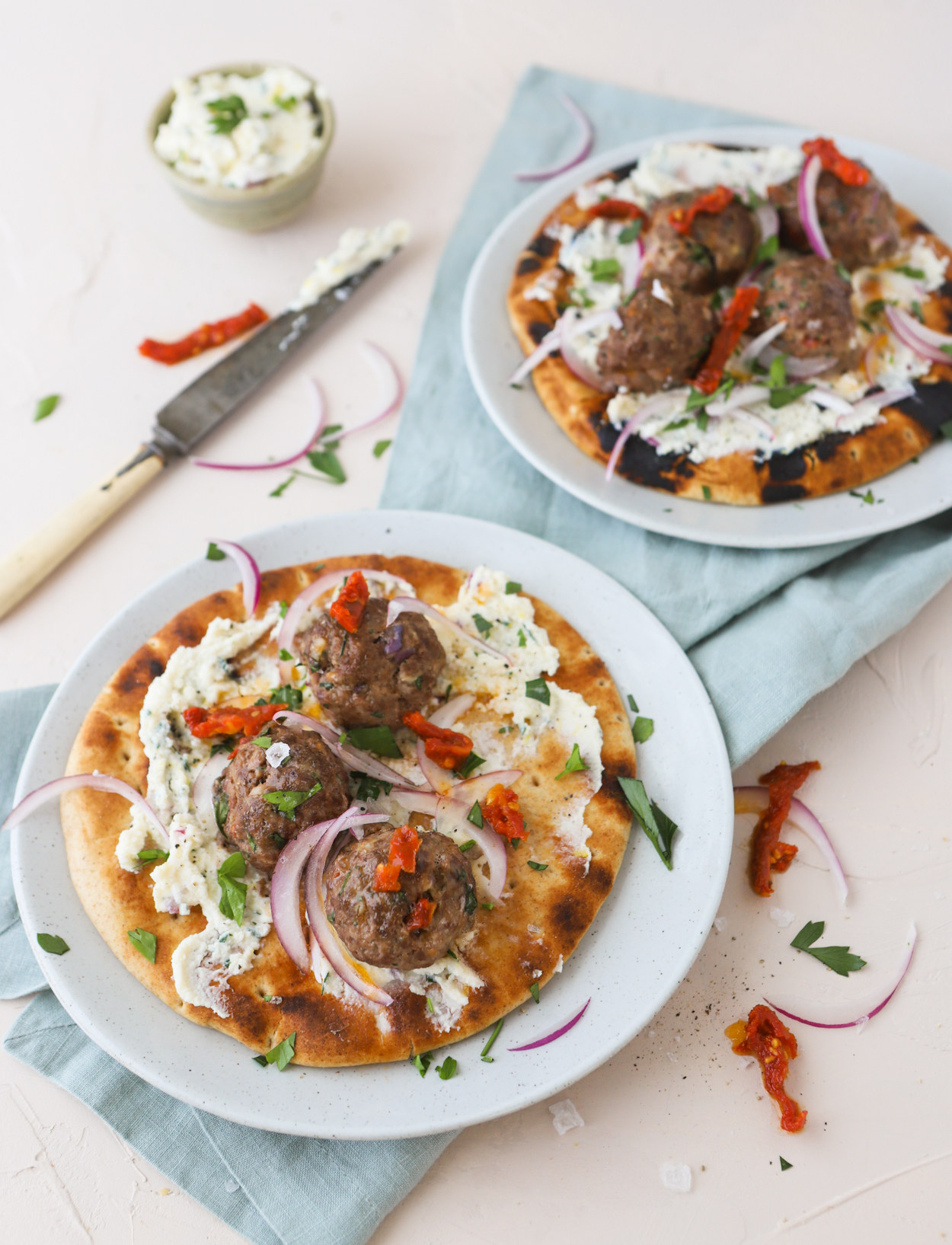 These meatballs also taste great straight out of the fridge on a salad, which is how I had them the next day, and I imagine they'd also be great with an over easy egg and some sauteed spinach for a nice weekend breakfast.
See below for the adapted recipe, and make sure to subscribe to my newsletter so you don't miss a post by me. I send out one email newsletter each week on Friday morning, recapping the posts and any other interesting links I find around the web that week.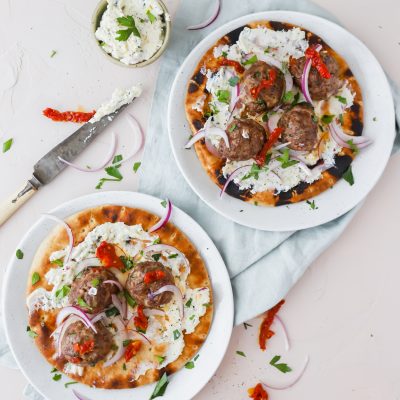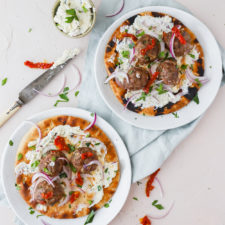 Print Recipe
Easy Baked Meatballs With Ricotta & Sun-dried Tomatoes
These meatballs are so quick and easy to make, and taste delicious. Very versatile as well; use them in wraps for dinner, on salads for lunch or alongside an over easy egg at breakfast.
Ingredients
Meatballs:

1

lb

ground beef

1/2

cup

whole milk ricotta cheese

1/4

cup

finely chopped sun-dried tomatoes

1

large egg

lightly beaten

2

cloves

minced garlic

1

tsp

powdered onion granules

2

tsp

lemon zest

1/2

tbsp

kosher salt

Ricotta Spread:

1

cup

whole milk ricotta cheese

2

tbsp

fresh chopped parsley

2

tsp

lemon zest

2-3

tbsp

lemon juice depending on acidity of lemons

1

tsp

garlic powder

1-2

tsp

kosher salt to taste

1/2

tsp

black pepper

2

tsp

sun-dried tomato oil from jar
Instructions
Preheat oven to 400 degrees and line a baking sheet with aluminum foil

Combine all the meatball ingredients and roll into equal size balls so you have 12 meatballs

Bake for 15 minutes and then broil for 2 minutes to aid in browning

For spread, combine all ingredients in a medium bowl and salt to taste

Spread ricotta mix on flat bread and add meatballs. Garnish with onions, parsley, and more sun-dried tomatoes.
Notes
Ricotta is a very mild flavored cheese. If you want your spread to have more punch, add additional salt, pepper, garlic powder and lemon juice in small bits to taste. I prefer a zinged up version but some may prefer milder, so it's all about tasting as you go!