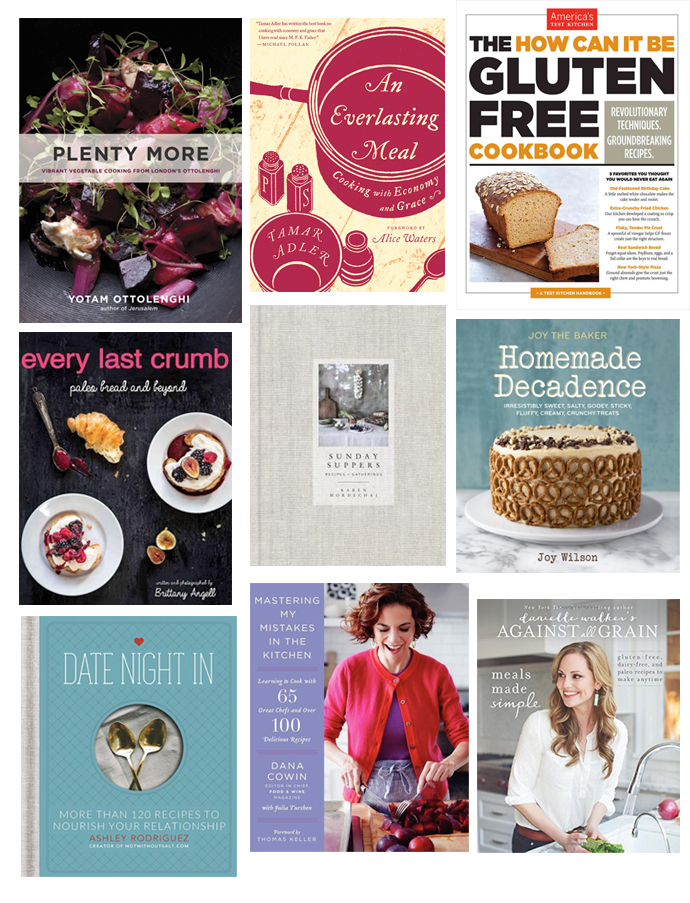 In my imaginary dream kitchen, I have a bookshelf just to hold my cookbooks. Like many people, I love collecting cookbooks, and I won't stop, can't stop. Cookbooks keep me excited about cooking, and they're there for me when I'm feeling in a cooking slump, quickly offering mew new-found inspiration and gusto to pick up my spatula and dirty more dishes. Last night over a quick dinner with my guy, I rattled off a wish list of several easy-to-find items, including several cookbooks. These are books that I'd love to receive and gift, and since there's always a Barnes & Noble open late, or Amazon 2 day shipping to save your life, there's still plenty of time to order up before the big day next week.
Plenty More
 – "Ottolenghi is a genius with vegetables—it's possible that no other chef has devised so many clever ways to cook them." writes one reviewer of this follow up to his Plenty cookbook. Ottolenghi is an Israeli chef living in London. He's said to be a genius with vegetables and because of his background, his flavor profile is both interesting and intense. A friend owns Jerusalem and swears by it, and his newest cookbook Plenty More is supposed to be his best book yet. Bring on the cumin and coriander!
An Everlasting Meal: Cooking with Economy and Grace
 – I've owned this cookbook of sorts for over a year, and I'm asking for it again though because I made the mistake of ordering it on my Kindle the first time around. My kindle edition has notes and highlights marked on almost every page, and when a book is that noteworthy, you just need an actual hard copy in hand, because it will never run out of battery life.
The How Can It Be Gluten Free Cookbook
 – I've had this book on loan from a friend for about a month now, and while some recipes require work, something quite inherent in gluten free baking, most of them are worth it and I trust that for the most part, ATK won't steer me wrong. I've baked several things out of this book, and as a result have dirtied up my friend's pristine copy. This is therefore added to my wishlist so I can hand her over the new copy and I'll keep the tattered one for myself.
Every Last Crumb: Paleo Bread and Beyond
 – I'm not trying to go Paleo, don't you worry, but I am trying to maintain gluten free status, and from the reviews and buzz I've heard all around social media, Brittany Angell is a genius with gluten free and grain free baked goods. I'm intrigued.
Sunday Suppers: Recipes + Gatherings
 – While the IG of Sunday Suppers reads a bit like a Kinfolk mag, the reviews on this book are much more positive and it promises to deliver simple yet good tasting recipes to serve around the communal table.
Joy the Baker Homemade Decadence
 – Because one cannot subsist on Paleo treats and healthy treats all year long, Joy the Baker is here to rescue us. I've wanted this book since it came out because it looks stunning, and also to support Joy, a sweet and kind gal, who is also insanely talented.
Date Night In: More than 120 Recipes to Nourish Your Relationship
 – Intended to be a date-night at home guide for couples, this book, out December 30th, features meals for two, and sounds like it was written for tired parents and busy working couples. Sign me up!
Mastering My Mistakes in the Kitchen
 – I love the concept of this book, which was written by the editor of Food & Wine, and is centered around her confession of being terrible in the kitchen. The book is a crash course in cooking from some of the world's best chefs, and is supposed to include both tips and recipe from the pros. While I'm a decent cook, I could always use some new pointers.
Meals Made Simple: Gluten-Free, Dairy-Free, and Paleo Recipes to Make Anytime
 – I already own this book and cook from it quite often, but I'm including it as a great recommendation for gift giving, to anyone who just wants to cook healthier, not necessarily Paleo. While the book is meat heavy, it is super well organized, many of the recipes are really easy to make, and yield great results.
For other great cookbook recommendations, this list from Bon Appetit is quite interesting, and this list on Good Reads includes cookbooks and books on food. The Calorie Myth may need to be my next food book read.