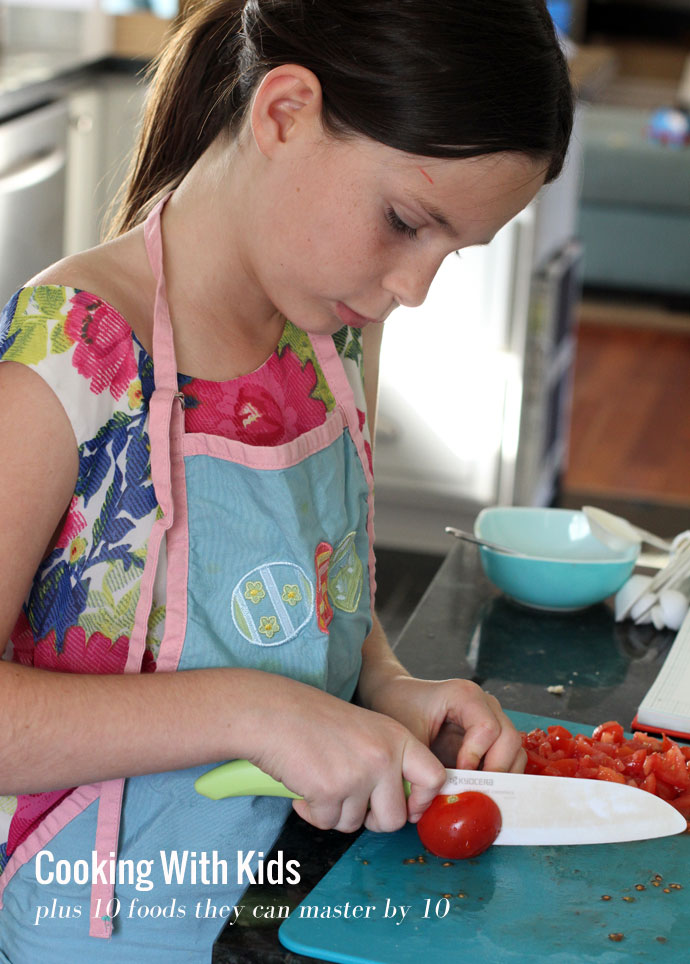 This past weekend a monumental feat was achieved; one of our children took over meal time and cooked a full 4 course meal for the family, grandparents included. A few days prior, she had rediscovered our copy of The Silver Spoon for Children
, and took a keen interest in it. I had purchased it at some point last year, and she barely gave it a glance, even when I offered to help her cook a few things from it. So when the other day, she prepared a whole menu from the book, complete with appetizers and dessert, I eagerly encouraged the experiment.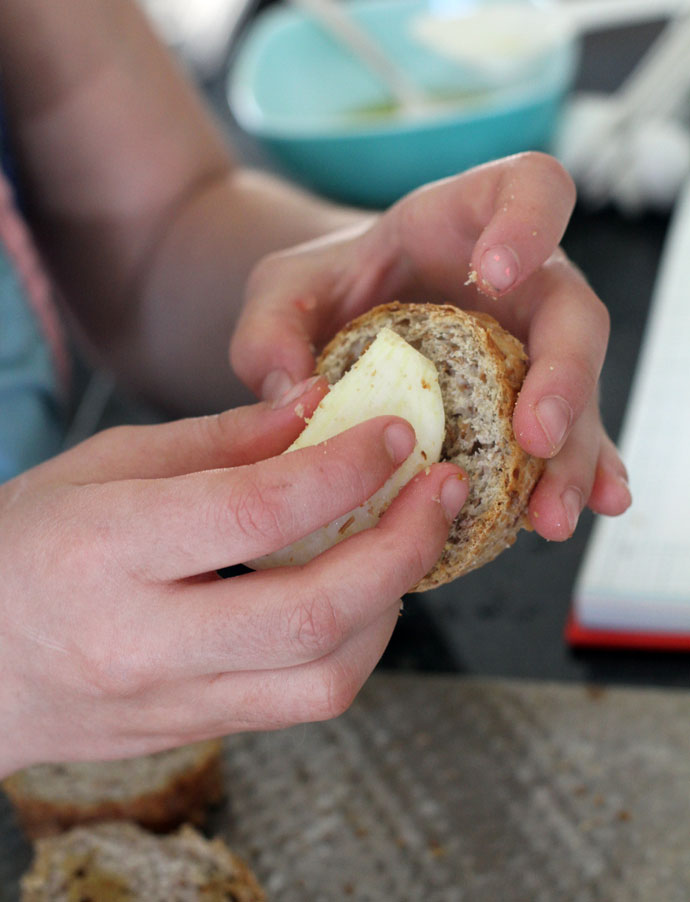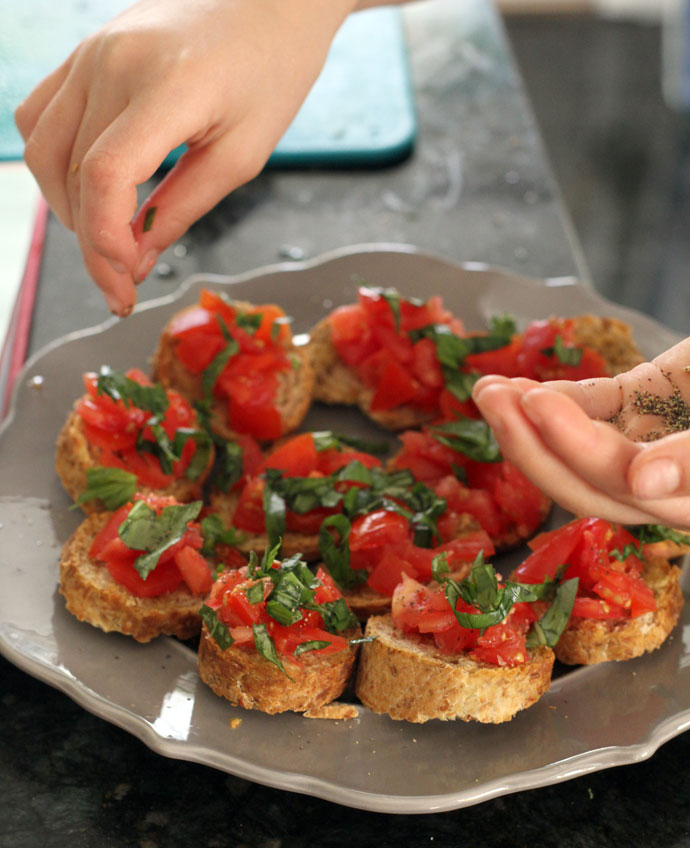 On the menu was a basic tomato bruschetta on toasted baguette, a beautiful white bean & tuna salad with pine nuts and leeks, ham and peas over tagliatelle pasta, and for dessert, cookie & cocoa stuffed peaches and vanilla bean ice cream. Sounds incredible, right? I made her write down her grocery list and I did the shopping for her. She did most of the prep work all by herself, with some help from me here and there.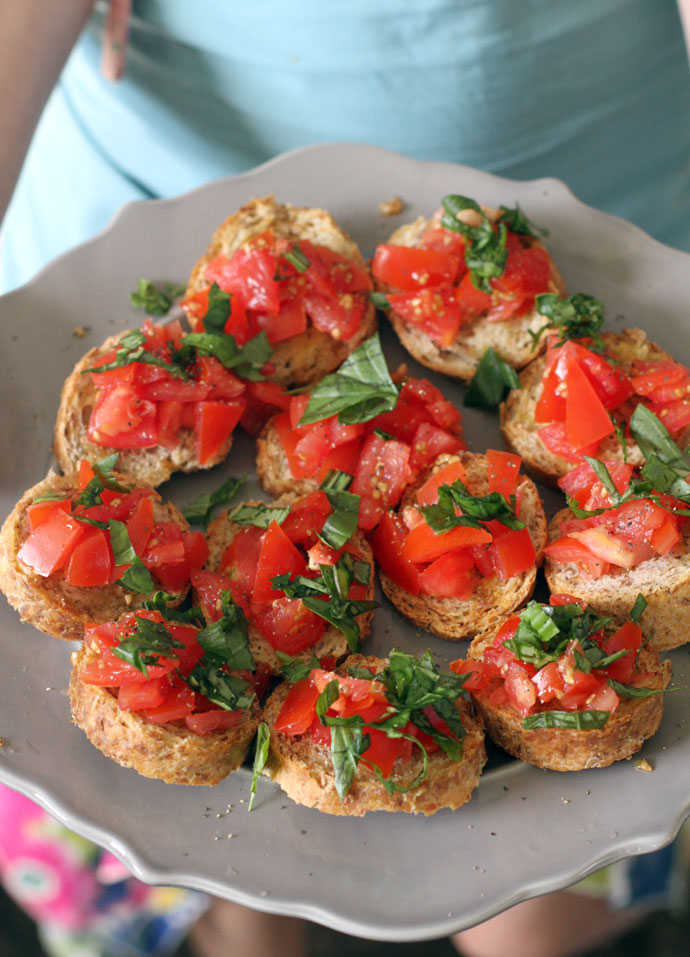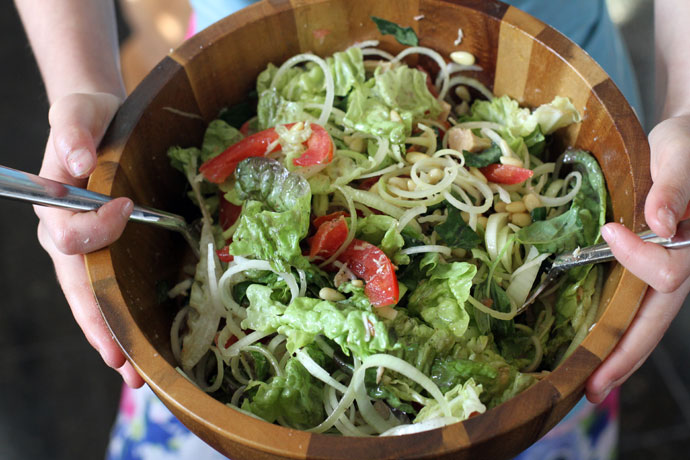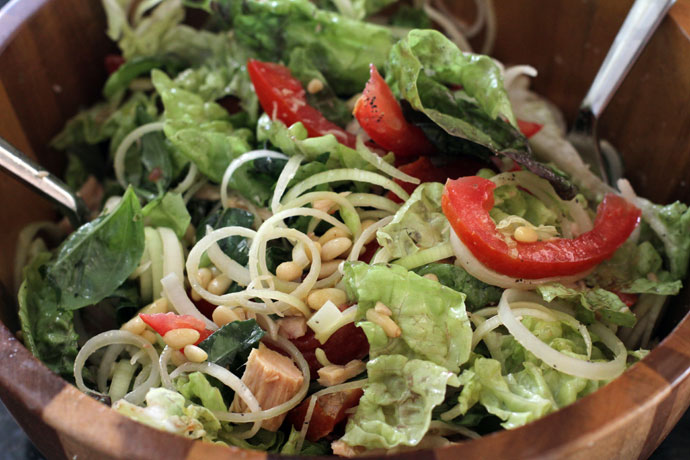 Considering she's 9 years old, almost 10, she did pretty well in the time management department, getting an early start by 4pm and delivering the first appetizer course by 4:30, and the salad was plated by 5. We ate our main dish by about 5:45, and dessert was prepped and in the oven by 6:15. The only glitch was her not realizing the peaches needed to bake for 1 hour, putting us a bit behind schedule for bed time routine, being it was a school night.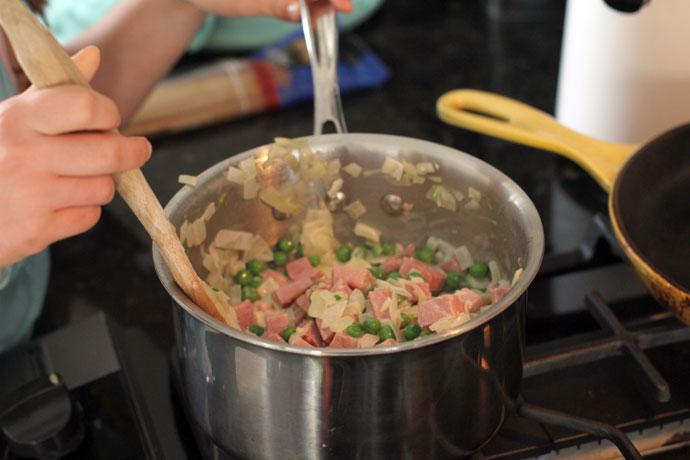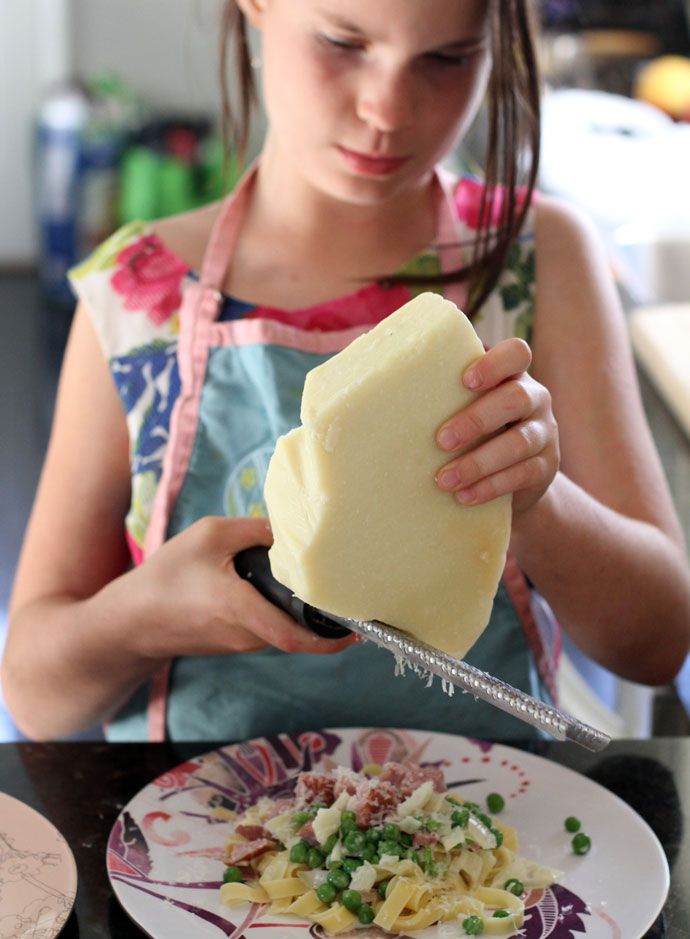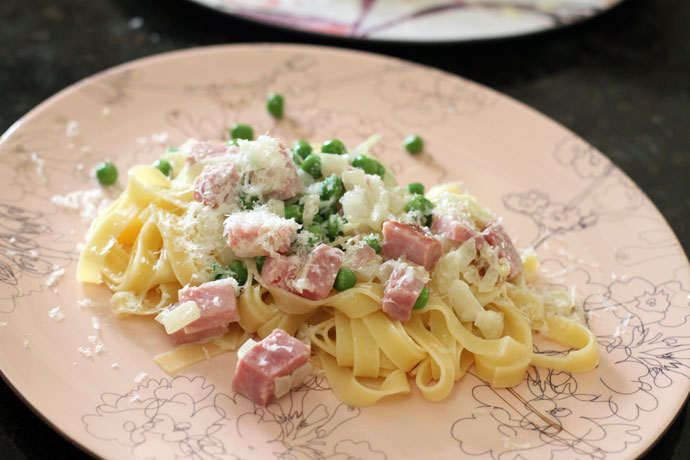 While she could have done a few things a bit more efficiently, like chopping all ingredients at once or thoroughly reading through recipe directions so she would've caught the hour long cooking time, she definitely learned by her few missteps. I mention this not because I am being critical, because believe me I am beyond proud of her, but because I was really impressed that she realized how and where to improve for next time. For the most part I tried to not get in her way and let her do her own thing, only offering suggestions as she asked for them or appeared in trouble a bit. The vast majority of all the chopping and measuring was done by her, and the main areas I helped her with were boiling the pasta, manning the sauce for the pasta, which required a lot of stirring, and Art helped her scoop out the flesh from the peaches.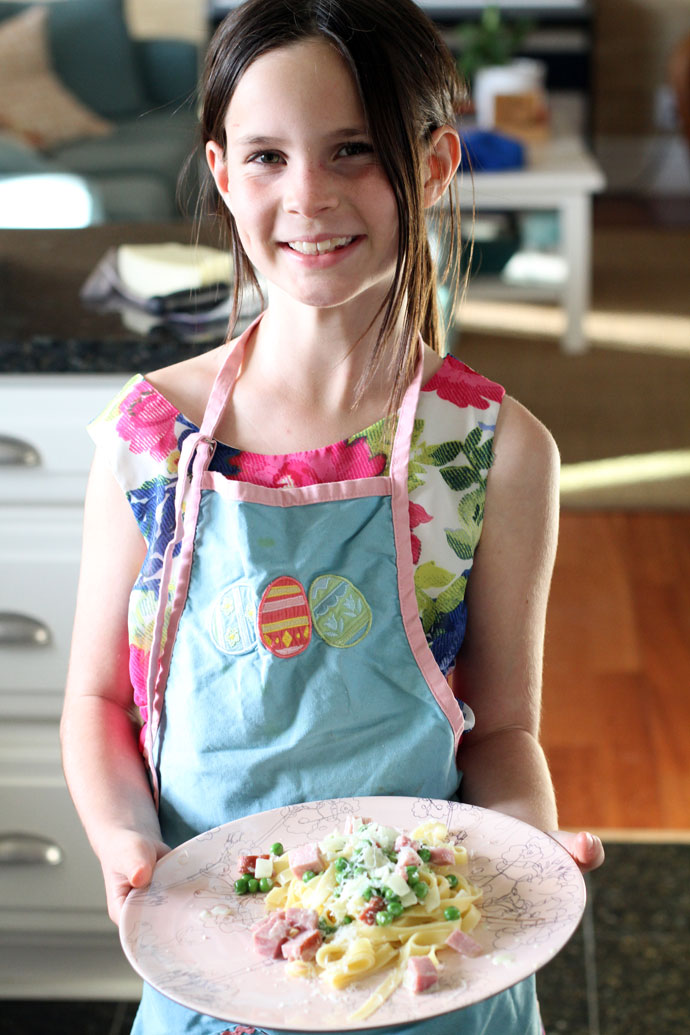 I've been cooking with the kids on and off since they were in preschool, and they've been using special Montessori type cutting tools like this Wavy Chopper Knife
to chop and dice foods. Just in the last year though have we let Taylor venture into the real knife territory, and believe me it's scary, but I've been impressed at how fast she's learned and how well she now handles a knife. For the most part though I try to discourage use of my steel Wusthof knives, and instead encourage use of my super lightweight Kyocera
ceramic knife. It's a lot more manageable for her to use, and if she were to slip, it's more likely she'd suffer a clean cut rather than a major gash, possibly hitting bone. I try not to hover, but do routinely remind her how to properly hold a knife and to keep her fingers out of harm's way.By the way, this Kai Little Chef Club Children's Stainless Steel Knife
looks interesting.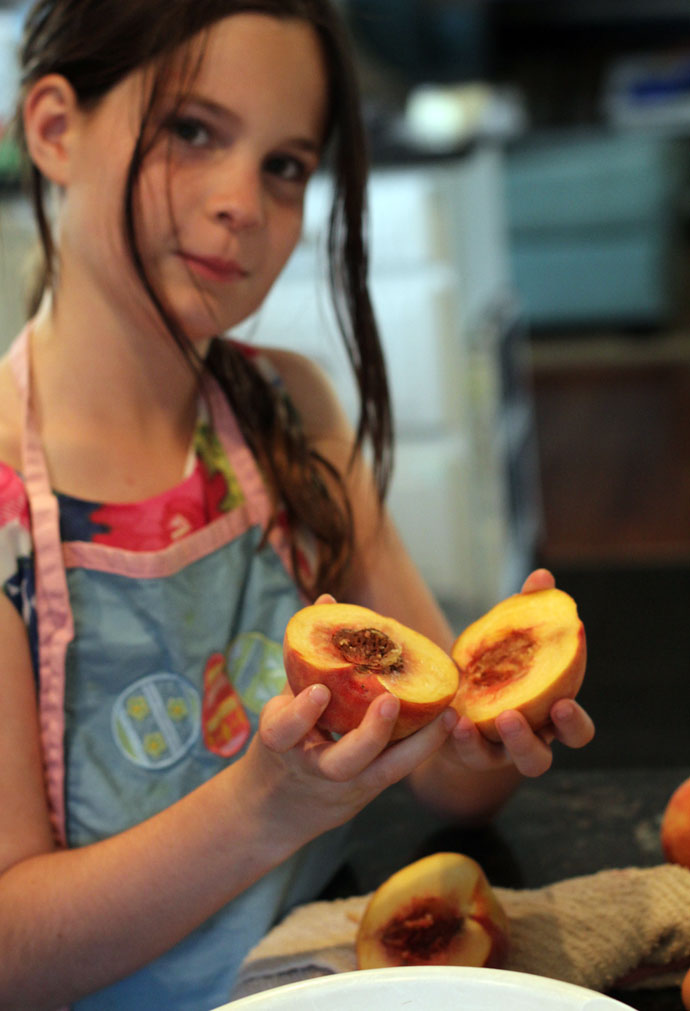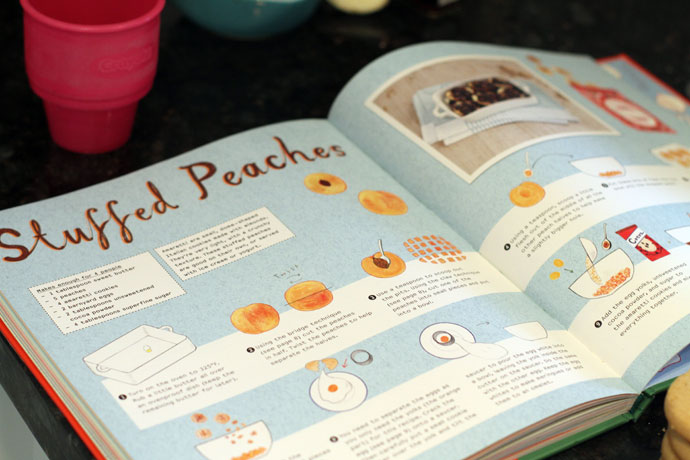 Overall, dinner was seriously spectacular and we were all ridiculously impressed with not only how good the meal tasted, from start to finish, but how well she handled the whole thing. Towards the end she got tired, but she never failed to eagerly bound out of her chair at the end of each course, buzzing into the kitchen to start the next course, telling us she "didn't want to keep her guests waiting."  She offered to get us drinks, checked in to see how we were enjoying our food, and even managed to set the table. All in all, she was a gracious hostess. Of course the clean-up fell in my lap while Art got the kids ready for bed, but I didn't mind since I was still beaming with pride for my aspiring chef.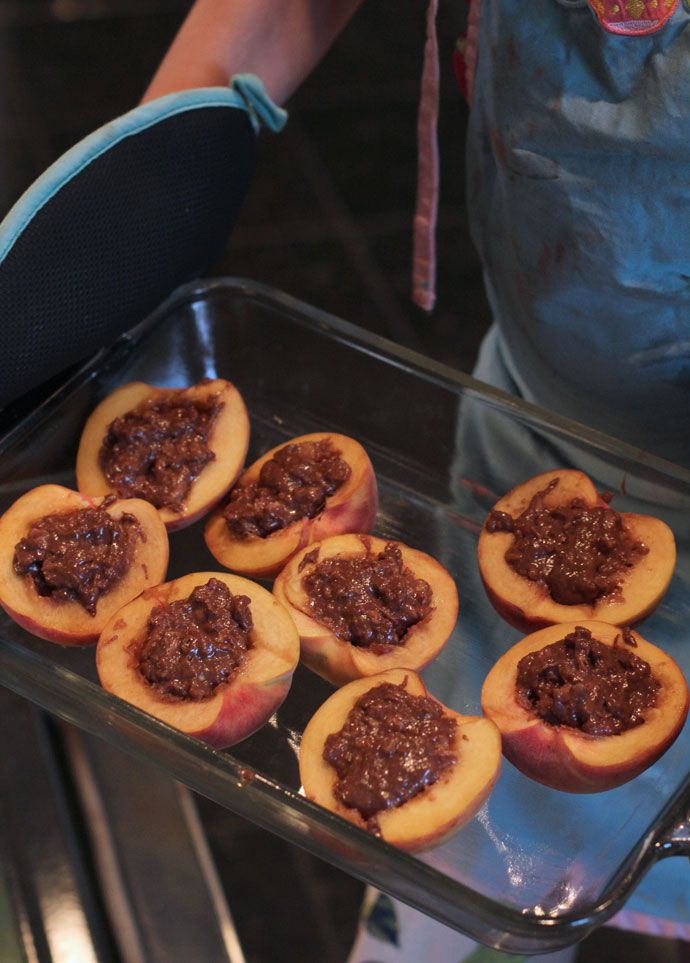 Since we're on the subject of kids cooking, I thought I'd share 10 of the foods Taylor has mastered cooking, right before her 10th birthday. While she's been whipping up a couple of these items for awhile, most of them she has learned to cook in just the past year. She's not quite a tween, but quickly approaching, and thus can be quite self-centered. However when she's in the kitchen, she completely has a heart of servitude and happily makes these items for the whole family to share. Being in the kitchen is a good grounding point for her, not because she's a girl and cooking is what girls do, but because it allows her to do something she genuinely enjoys, which in turn helps the whole family out. It's also given her an incredible amount of confidence and allowed her to feel in control, which has been so important for her this past year, which has had its fair share of challenges. Mastering these small dishes is also what allowed her to feel confident and capable of cooking an entire meal for her family.
Pancakes – kids learn so much by making this simple breakfast dish; from measuring and mixing just the right amount, to carefully minding the hot griddle (she only got burned once before she learned to diligently pay attention to arm and finger placement).
Cereal & Oatmeal – simple, no brainer foods that allow her to feel like a rockstar when she can serve herself and her brothers breakfast early Saturday morning, and settle in with a bowl to watch some cartoons.
Toast with butter & jam or cinnamon sugar – learning to work quick so the butter can easily smear on the warm bread, and being strategic with jam or cinnamon sugar placement, so that the sweetness does not overpower the yummy creaminess of the butter, there's lots of valuable lessons to be learned in toast making.
French toast – she graduated from pancakes to French toast rather quickly, and while she doesn't make this dish often, as she doesn't like her hands to get messy from the dipping of the bread in the egg wash, she always feels quite proud after whipping up a batch.
Chocolate chip cookies – probably her favorite thing to make, and my least favorite because of the flour dust she leaves everywhere, she's gotten so good at making chocolate chip cookies that she can even make them using coconut oil and maple syrup.
Coffee – probably my favorite thing she makes, Taylor loves making coffee for us on the weekend and easily transitioned from using the Keurig to the Chemex without a hitch. No complaints over here, that's for sure!
Salads – Taylor loves salads and in learning to make them, she's gotten quite good at chopping and dicing, and has learned to expand her taste horizons by combining whichever veggies we have on hand, although she still has not acquired a taste for cucumbers or mushrooms.
Scrambled eggs – a dish she'll make for the rest of her life, not something she's made more than a couple of times, but still, a valuable meal to have in her cooking repertoire.
Wontons – this is kind of a random one, but last summer she became quite obsessed with making the veggie wontons out of It's All Good, and mastered them in just one short session. I posted several videos of her creating perfectly formed wontons, and declared them so easy to make, even an 8 year old could make them!
Smoothies – she's into making smoothies, big time lately. She grabs some frozen fruit, coconut water, spinach and either hemp or chia seeds, and goes to town. Her best concoction is pineapple, strawberries & mango with spinach, coconut water and hemp seeds.
Now, if only I could get her to be as interested in cleaning up her messes, as she is in making them.
Do any of your kids cook, and if so, how did you get them interested and what have they mastered?