I just finished listening to the most recent episode of the Splendid Table podcast and it was all about recipes. Having recently read (or half-way read) several books intended to teach the reader how to cook without the safety net of a recipe, I fully expected the episode to focus on spontaneous, intuitive cooking, so I was pleasantly surprised to find something else. The opening segment in fact featured Samin Nosrat admitting to still relying on recipes herself when cooking new foods, especially region specific dishes.
There was also a little story telling, where we heard about a new fancy food editor who declared he'd never publish a recipe in his food section while he was in charge. One of his coworkers, a woman of course, pointed out how sexist of a statement that was. In summary, she explained that if you look at the history of recipe writing in America, recipes were mainly written by women who weren't really expected to do any other kind of writing. And by reading between the lines of recipes you can often find the things unspoken. "The clues to their lives and the keys to discovering what they value. You see what's important enough to make for a celebration. Or what's meant by living on a budget. If you pick up old community cookbooks, you'll see savvy women building up their own reputations while introducing their recipes. Or you see in the 50's and 60's women start emphasizing tricks and shortcuts to save time in the kitchen, meaning to give them selves time to have lives outside of the kitchen."
So with all that being said, while I feel very confident overall in the kitchen, I still rely on recipes at least half the time I cook dinner (maybe more if I really stop to think about it). I still quite often have to rely on my own recipes, no matter how many times I've made my slow braised carnitas or my baked chicken nuggets. Meatballs are also something I feel more comfortable following a recipe when cooking, for the simple fact that their success depends on a complementary ration of meat to binding agents, and if you mess the ratio up, you'll wind up with dry or goopy meatballs that are a mess to make and cook.
Alas, I wanted to share the foolproof recipe I refer back to quite often when making meatballs, especially *turkey* meatballs which can be dry and tough if not cooked right. Know though that the seasonings can definitely be played around with to account for different tastes, and dried herbs can be substituted for fresh, just make sure to half the amounts since dried herbs tend to be more potent (as long as they're still fresh enough that they have a good scent to them).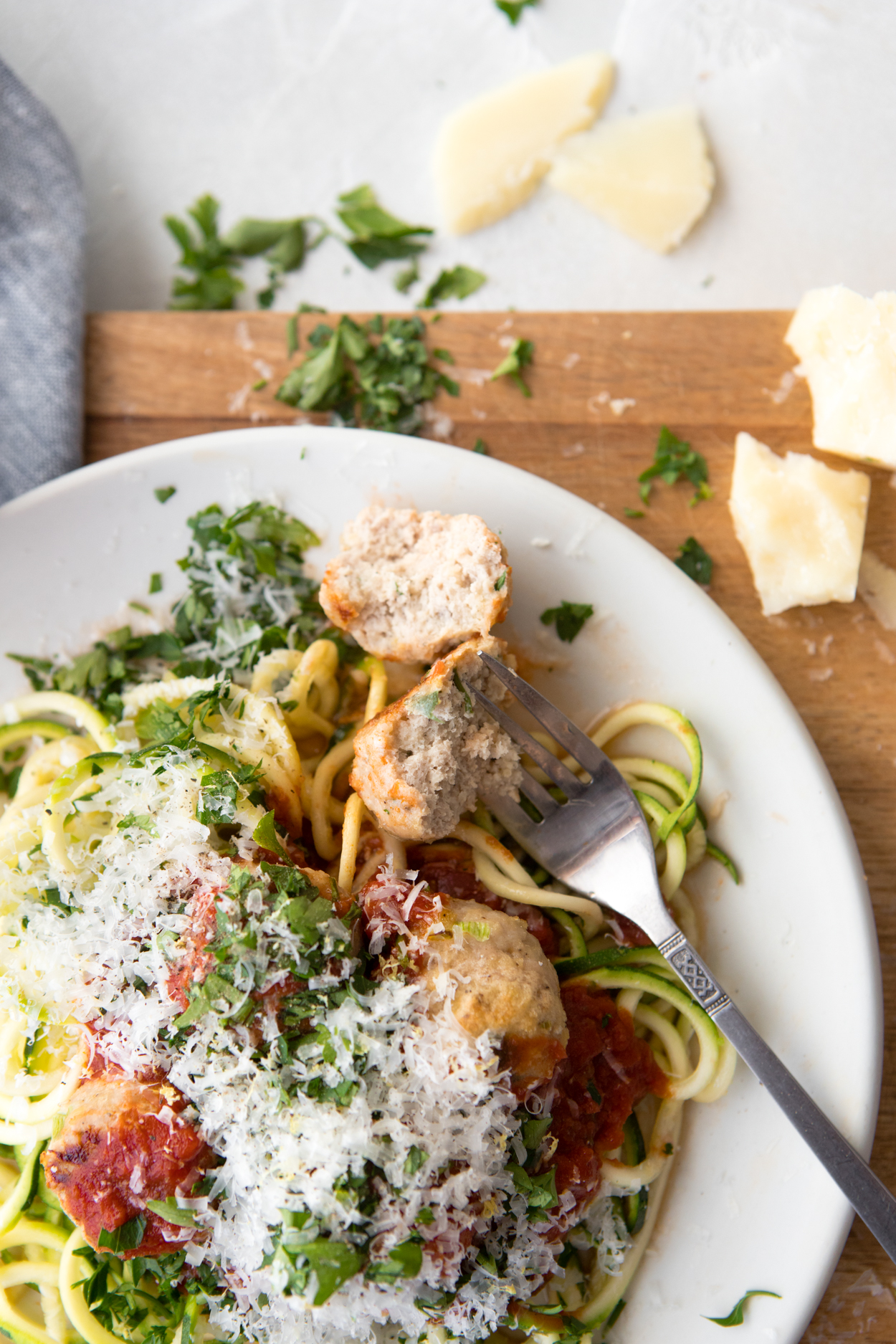 I've had equal success with both baking and pan frying them, so know that you're free to do either, and the versatility of these little meatballs knows no bounds. I pop a couple in my mouth for breakfast, along with a side of scrambled eggs and toast. Top them on a salad for lunch or wrap them in a flatbread or stuff them in a pita for a hearty dinner. And of course the old standby of spaghetti (or zoodles) & meatballs.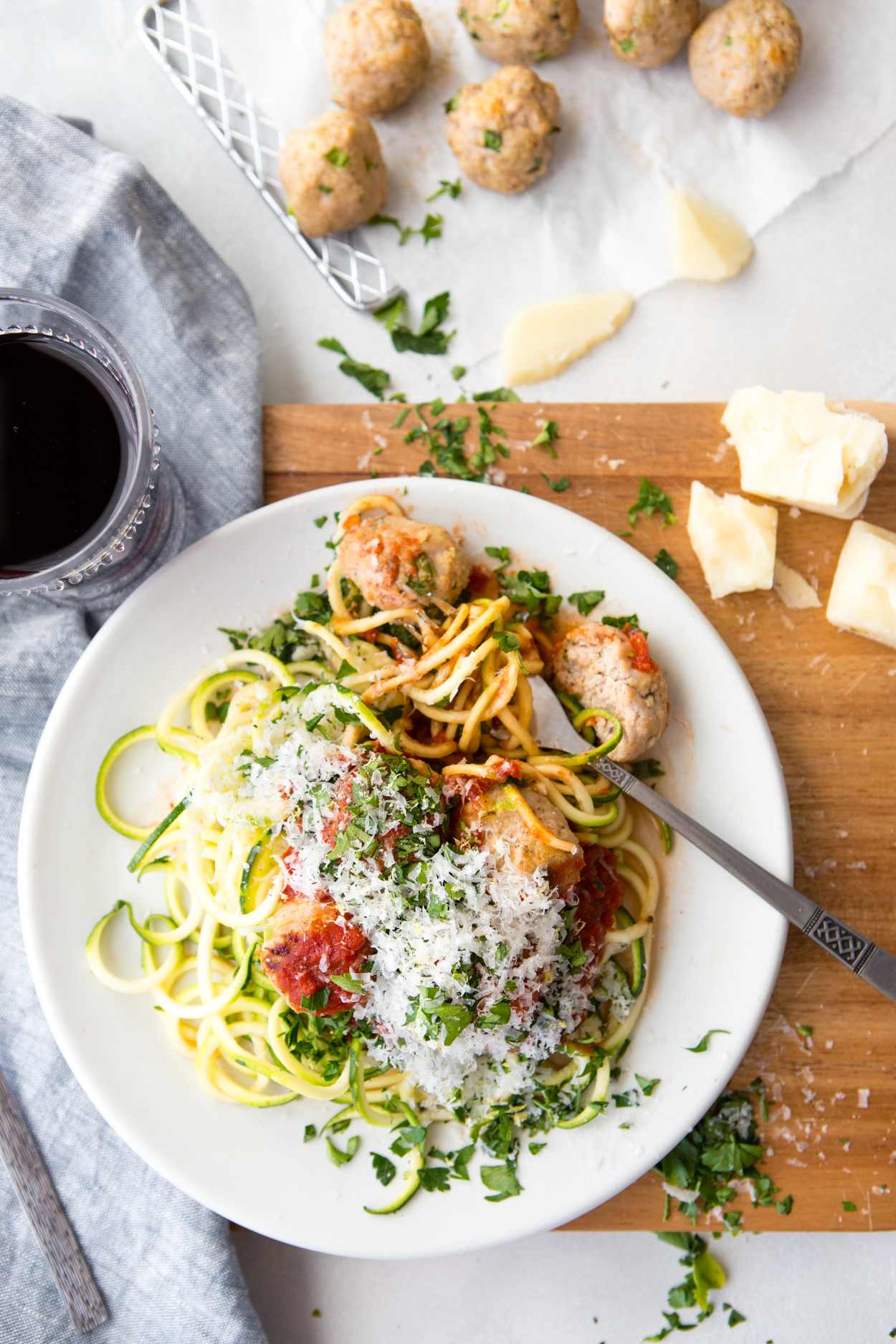 I hope you enjoy these as much as my family does, and if you give them a try, please consider leaving a review below.
Print
Healthy Turkey Meatballs – Baked or Fried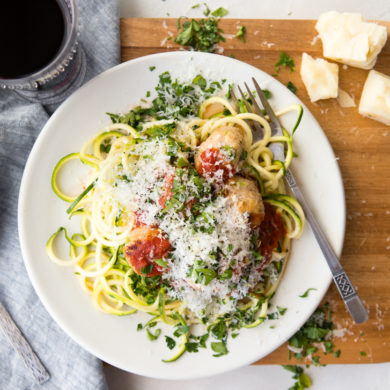 These easy turkey meatballs are healthy & delicious, and can be baked or pan fried for a stress-free weeknight dinner!
Scale
Ingredients
1 pound 93% lean ground turkey
1/3 cup panko bread crumbs or 1/4 almond flour if making gluten free
1 large egg
Greens from 2 scallions, sliced thin
2 tablespoons finely chopped fresh parsley or 1 tablespoon dried parsley
2 teaspoons grated lemon zest
1 teaspoon salt & 1/2 tsp pepper
Instructions
Combine all ingredients in a medium bowl until well combined. Roll heaping tablespoons of turkey mixture into small meatballs about 1.5″ in diameter. Place on a lined baking sheet and bake at 400 for 15 minutes, or until center of meatballs registers 160 degrees.
Alternately, if pan frying, cover raw meatballs with plastic wrap or paper towels and refrigerate tray for at least 15 minutes to allow to firm up.
Heat 2 tablespoons extra virgin olive oil in a large skillet over medium heat and cook meatballs for about 10 minutes, rotating half way through cooking to brown on each side. Drain on a paper towel lined plate and serve.
Notes
Make sure yo use 93% ground turkey, not 99%, as the meatballs will become dry and tough.
Also, cooked meatballs can be frozen in airtight bag or container for up to 3 months.