If you're looking for a new green bean side dish to serve alongside the turkey this Thanksgiving, I think I've got you covered. No disrespect to the ultimate green bean side dish of all time, the green bean & french onion casserole, but sometimes we just want a little something different, or the store just ran out of cream of mushroom soup. Either way, I think you'll like this dish with a twist since it combines the earthiness of the beets, the crispness of the green beans, along with a little crunch and tang thanks to goat cheese and pistachios. Read on to get the recipe.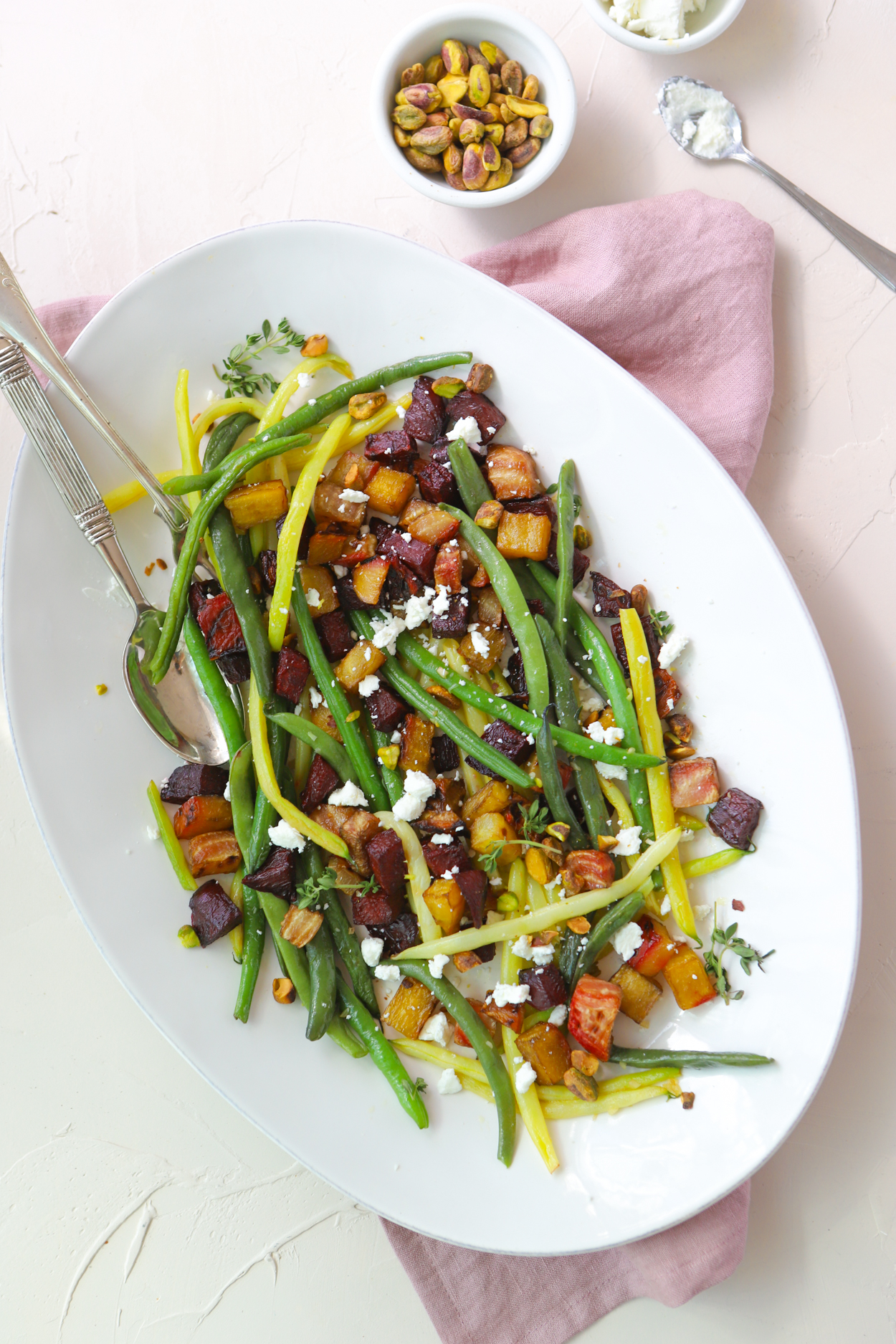 Now, you have two options in making this dish; you can either roast both the beets and green beans, or you can do what I did and mix up your cooking techniques by roasting the beets and blanching the green beans. I personally really liked this method because it allowed me to easily control the doneness of the beans and made it much easier to protect the crispness of them. Roasting is always a great alternative, but I sometimes find that roasted beans can quickly turn mushy if you don't keep an eye on them. The only inconvenience is dirtying one extra pan, but really beyond that, this ensures a crisp bean contrasted with a soft beet.
Once you decide on how you wanna cook the veggies, this dish is easy as heck to come together. Simply place on a platter then sprinkle on your bits of goat cheese, nuts and a bit of salt and pepper to taste. Done and done. No need to get fancy with the different colored beans and beets, but if your store's got them, you may as well use the golden beets and yellow beans. Hope you enjoy these! My husband declared this was his new favorite beet dish.
Also, check out this recipe for the famous Ojai Valley In Brussel Sprouts!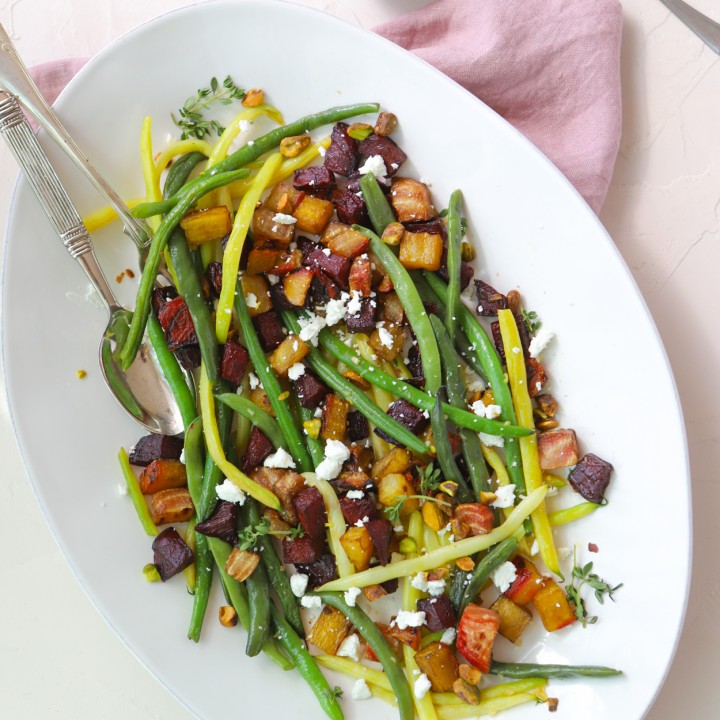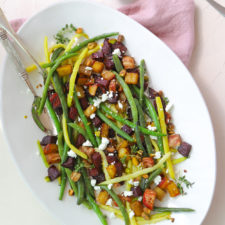 Easy & Healthy Green Bean Side Dish
This recipe is an updated green bean side dish that is not only quick and easy, but also healthy. Perfect for the holiday dinner table, especially Thanksgiving.
Print
Pin
Rate
Ingredients
1

lb

fresh green beans

ends trimmed

2-3

medium sized beets

peeled and cubed into 1" squares

1-2

tablespoon

olive oil plus more for drizzling if needed

2

ounces

goat cheese

2

tablespoon

of pistachios

roughly chopped

salt and pepper to taste
Instructions
Preheat oven to 400 degrees.

Line a baking sheet with aluminum foil or parchment paper, and lay out cubed beets. Drizzle with olive oil and salt and pepper, then toss to evenly coat.

Roast for 30 minutes or until fork tender.

While the beets are roasting, add water to a medium sauce pan and stir in a generous amount of kosher salt until water tastes like salt water.

Bring to a boil then add the green beans. Cook for 3-4 minutes, pulling at a green bean and tasting for doneness before pulling off the heat. Bean should be cooked but still crisp.

When beans are done, remove from heat, drain and rinse with cool water to stop the cooking process.

When beets are done, remove from oven, then add green beans to baking sheet and if need be toss with additional olive oil, salt & pepper to taste so that all vegetables are coated with a bit of olive oil.

Transfer to a serving dish and sprinkle on goat cheese and pistachios.
Notes
If you'd like to roast beets and green beans together, follow same directions for roasting beets as above, but at the 10 minute cooking mark, add in the green beans and toss together with the beets to coat with olive oil, drizzling on a bit more if need be. Roast for an additional 20 minutes.