Late last year, after a few months of consistent nose to the grind hardwork and a bit of luck, I found myself enjoying the benefits of earning a paid 3 day vacation to the Ojai Valley Inn & Spa, compliments of Beautycounter. Between a few training sessions, we were free to roam and relax, kid-free, for a full 3 days, and were pampered with a spa treatment, dance party and sunbathing. I made some new friends, ate a ton of great food, gleaned some fresh new ideas on how to run my business, and left with a lot of great memories. A year later, I still daydream about that weekend, and one dish in particular stands out, these brussels sprouts.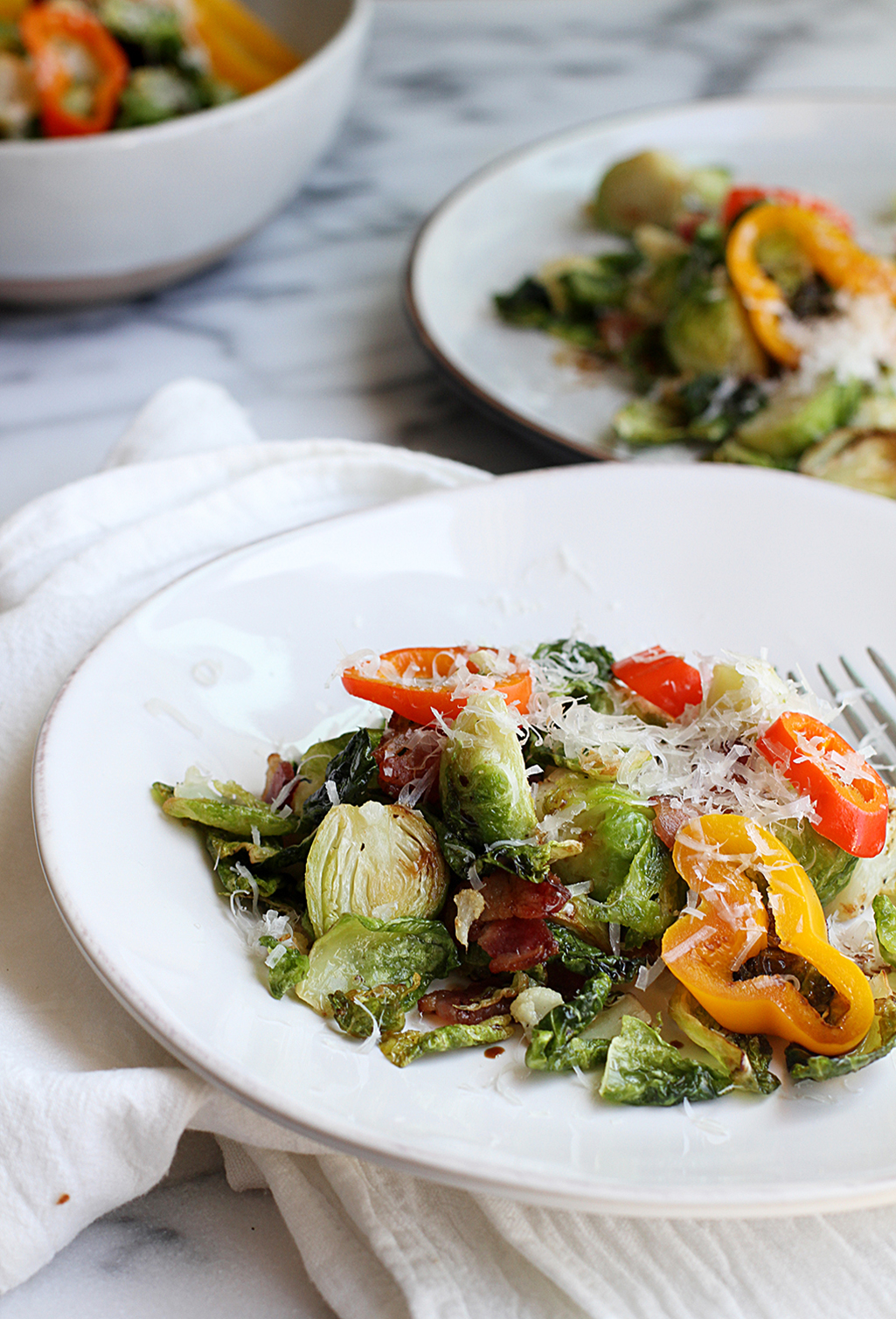 Perfectly tender yet still crisp, the saltiness offset of the sprouts and cauliflower, with just a bit of punch from the pickled sweet peppers, it's the ideal blend of flavors to keep you wanting more, long after they're gone. I think just about every one of us on that Ojai trip last year ordered a plate of these at lunch each day, and afterwards, the chef was generous enough to gift us with the recipe so that we may make them at home.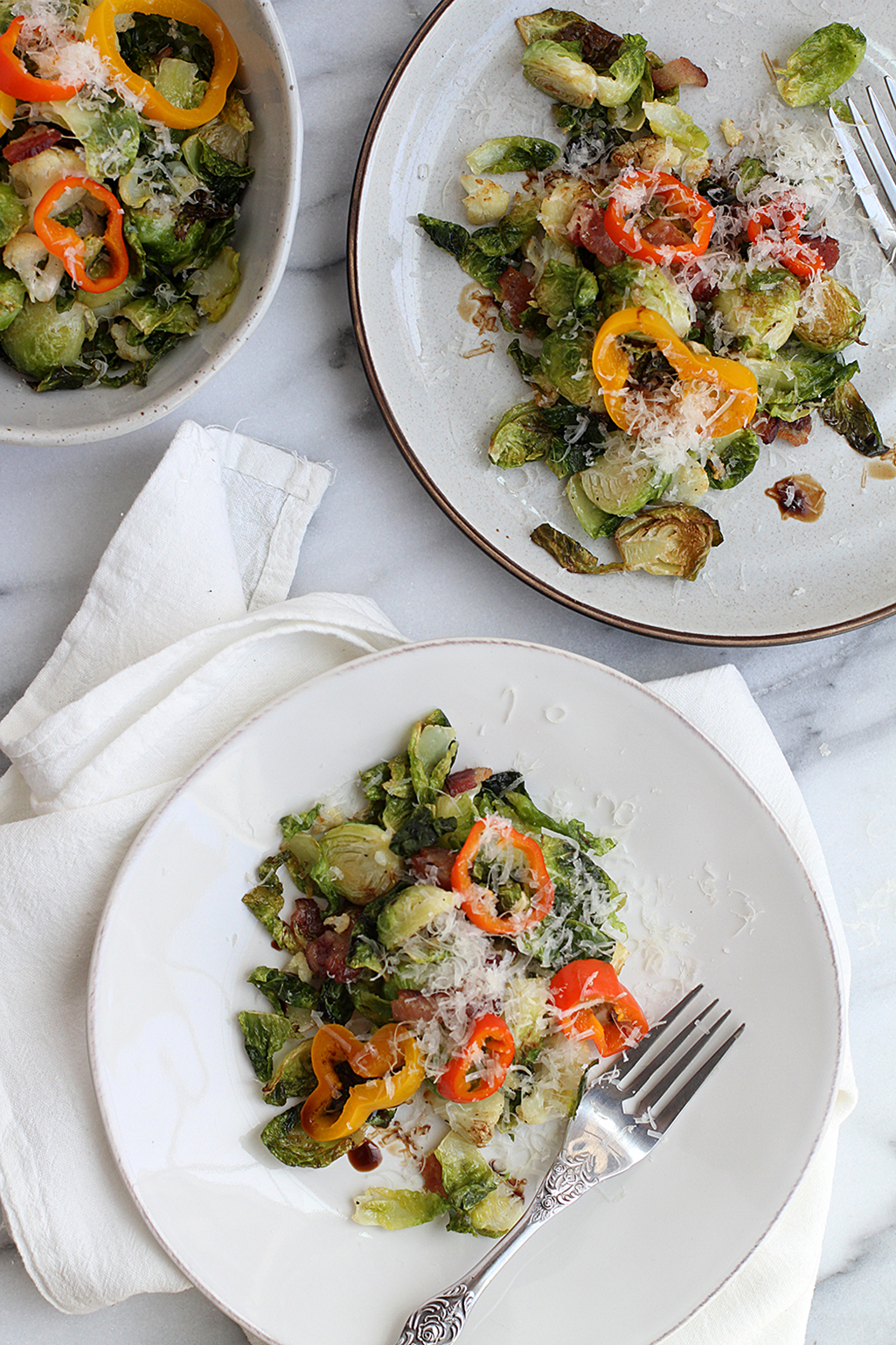 I'd rather dedicate my time to the centerpiece of the meal, the main dish, therefore I tend to favor really simple recipes for cooking up veggies, since I see them for what they are; just a side dish to the main. But these are meaty enough to stand up as a light meal on their own, especially when accompanied with a simple small salad or a baguette and some decent cheese. With that being said, don't be intimidated by the few extra steps in this recipe, as they are relatively foolproof.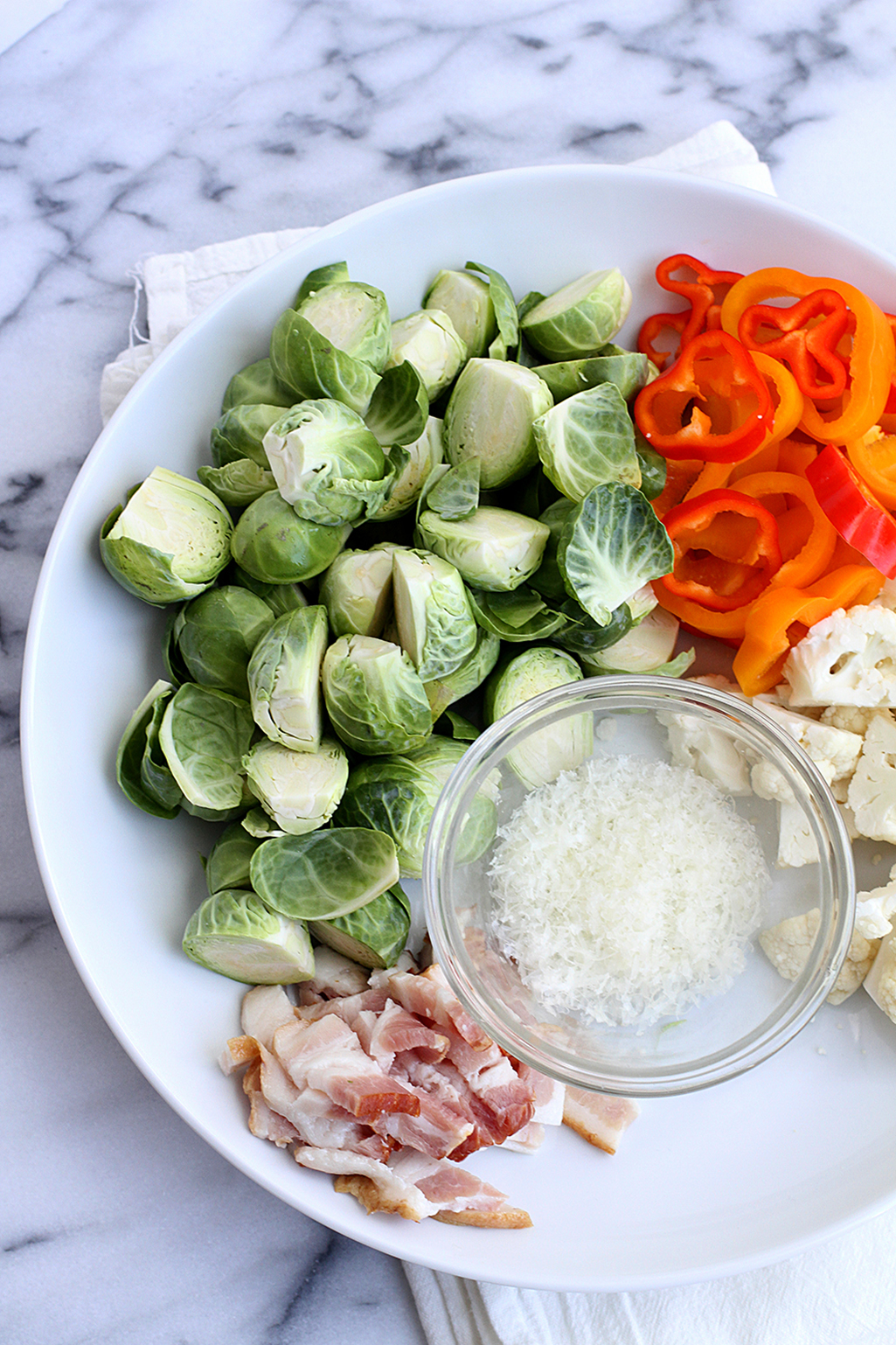 And if you're adverse to deep frying these babies up, you can just as easily roast the sprouts and bacon together, and still have an excellent dish when topped with the pickled peppers and parm. You'll just be missing some of the crispiness from the fried leaves, but can further compensate by putting them under a broiler for 2-3 minutes after they're done roasting.
No matter how you cook them though, I think you'll be pleased with the results. As always, please let me know if you have any questions and definitely let me know if you try them. Find the printable recipe below.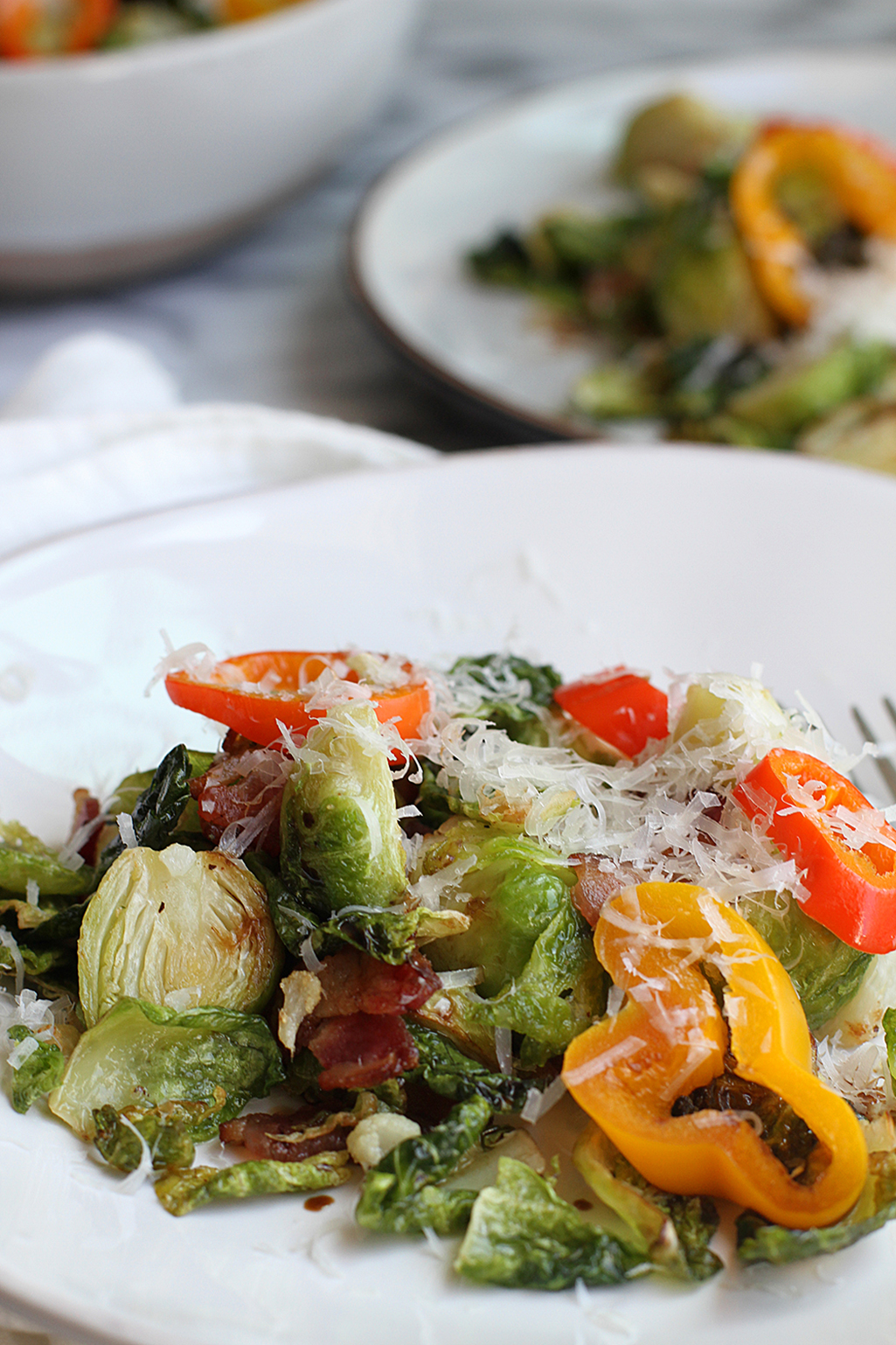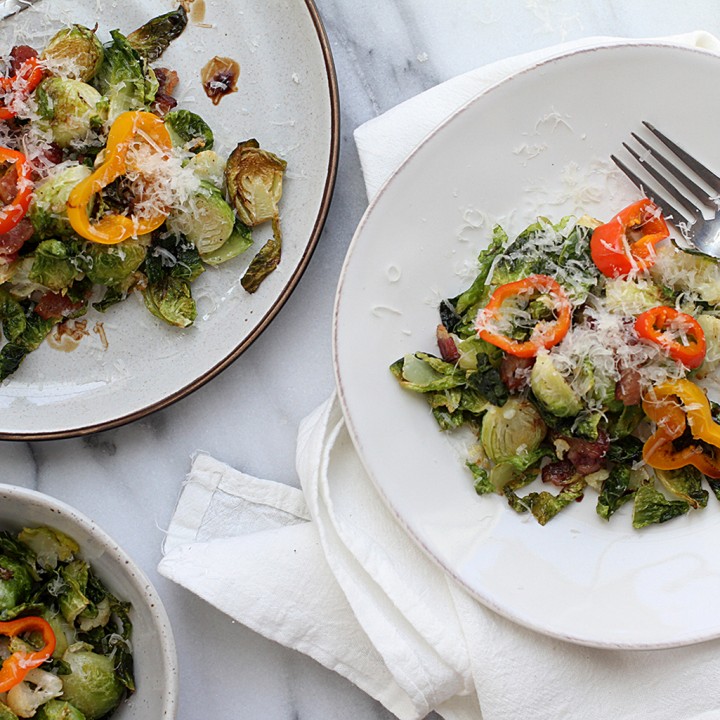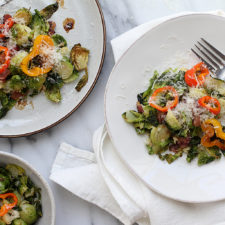 Ojai Valley Inn & Spa Brussels Sprouts
Tender yet crispy brussels sprouts and bacon are offset by the tang of pickled sweet peppers and a sprinkling of Parmesan cheese, making this a robust side dish or light dinner.
Print
Pin
Rate
Ingredients
1.5

cups

Brussels Sprouts

cut in half lengthwise

⅓

cup

sweet Italian peppers cut into rings with seeds removed

2

cups

rice wine vinegar

1

teaspoon

pickling spice

1

tablespoon

balsamic vinegar

1-2

tablespoon

parmesan cheese

1

strip chopped raw bacon

⅓

cup

chopped cauliflower
Instructions
Heat a deep pot of oil to 350F. I used peanut oil because of its high smoke point and relative affordability. If you want to roast instead, heat your oven to 400F

Place the pickling spice into a sauce pot with the rice wine vinegar and bring to boil

Once boiling, strain the liquid over the sliced peppers and set aside to marinate

When the oil is heated, carefully add the sprouts, bacon and cauliflower and cook until crispy

Alternately, if roasting, place the sprouts, bacon and cauliflower on a roasting pan and toss in 1 tablespoon of olive oil, roast for 20-25 mins

Remove the fried/roasted items and place them on a paper lined plate

Season with salt and pepper, then move to a serving platter

Remove peppers from marinade and sprinkle over the sprouts

Drizzle with balsamic vinegar and top with parmesan cheese