If you're looking to ramp up your tired ground beef cooking game, this recipe for ground beef picadillo will fit the bill. I love it because of it's combination of flavors that hit you with every bite – the sightly sour tang of the olives and hint of vinegar, the sweet bites of plump golden raisins, and of course the warm savoriness of the ground beef and spices. Nothing makes me feel as competent of a home cook as ground beef, mainly because it was one of the first things I learned to cook growing up. But also because it's just so dang versatile and forgiving, and you can play around with it and there's almost nothing you can't add to it without it tasting great. So if you've been stuck in a rut and worry this recipe may be a little too wild for you, I promise you'll be glad this pushed you out of your comfort zone.
What is Picadillo?
Picadillo is simply translated as "hash", and so a picadillo dish is one in which a bunch of ingredients are thrown together to create something yummy. It's mainly a Latin American dish in which a mixture of meat and vegetables are mixed together, and it varies by region and country.
Different Types of Picadillo
Picadillo dishes are mainly found in Latin American countries as well as the Philippines. In Costa Rica, it is often a mix of bell peppers, onions, herbs & spices and stock, but not always meat. It is most often served with tortillas or rice.
The Cuban version includes olives and raisins and sometimes capers and potatoes, and is typically served with black beans and rice.
In the Philippines, it is more of a soupy dish and often includes potatoes or chayote, but there are also drier versions of the dish that is similar to the Latin American renditions.
From my research, it appears the version we're making today closely resembles the Cuban style, with the inclusion of the olives and raisins, but I'm not going to make any claims that this is authentic Cuban style since a), I'm not Cuban and b) regional culinary debates can get heated haha. So with that, let's get going making our non-classified ground beef picadillo 😉
Ingredients Needed to Make Ground Beef Picadillo
Luckily the ingredients to make this fun dish are pretty basic and you may already have in your pantry. You'll need ground beef, crushed tomatoes (you could also used diced but they will be more pronounced in the dish), vinegar, onions, olives and some of their brine, cumin and chili powder, garlic and any type of raisins, although the plump golden raisins really stand out.
Why These Flavors Work
Chefs say that for a dish to really shine, it must have salt, acid and heat (and Samin Nosrat would add fat). The olives in this case fit the bill for the acid, the ground beef is the salt and the spices are the heat. So the raisins then are the star ingredient that mellows out this otherwise salty, tangy dish. The sweet of the raisins makes the salty ingredients taste less salty, and the sour taste less sour, without actually reducing the salt or acid in the recipe. This means you get a really flavorful dish that overall, tastes mellow without being too pungent in any one direction.
Making the Picadillo
I hate to break it to you guys, but this dish is really complicated and messy to make.
Ha! I'm totally kidding!! Did I already mention to you guys that this is a one pan dish? Well it is!
You basically saute up your meat so it's cooked thoroughly, drain and set aside in another bowl while you cook up your onions and garlic. And from there, you just start adding in all your other ingredients, beginning with the spices, then the tomatoes and vinegar, and then the raisins and olives, and finally, mix your ground beef back in and you can call it done.
Serving Ground Beef Picadillo
If you want to be authentic, you'll need to serve up with some beans and rice. But since I didn't make any authenticity claims, I can tell you that it tastes really good topped over some cauliflower rice and will also keep it low-carb if you're watching your intake. For me though it's all about balance, since I wanted to save my carbs for the plantain chips to scoop this dish up with haha 😉
Making Cauliflower Rice
It's so simple to make cauliflower rice now that every single store carries it either fresh or frozen. I like to make mine by heating some olive oil in a large skillet, adding in the cauliflower and mixing in a generous amount of salt and pepper, letting it all cook together for a few minutes. Then I add in about ¼-1/2 cup of liquid like stock or coconut milk, cover and simmer for another 5-10 minutes till cooked through, making sure I don't overcook it so it's mushy.
I highly recommend picking up a bag of plantain chips to eat alongside this dish, as the crunch adds a whole other amazing level, but if you don't have them on hand, no worries.
As always, let me know if you've got any questions and of course I'd love to know if you made this dish and what you thought. Leave a comment and rating below to tell me! Thanks so much for reading and cooking alongside me!
In good health,
Andrea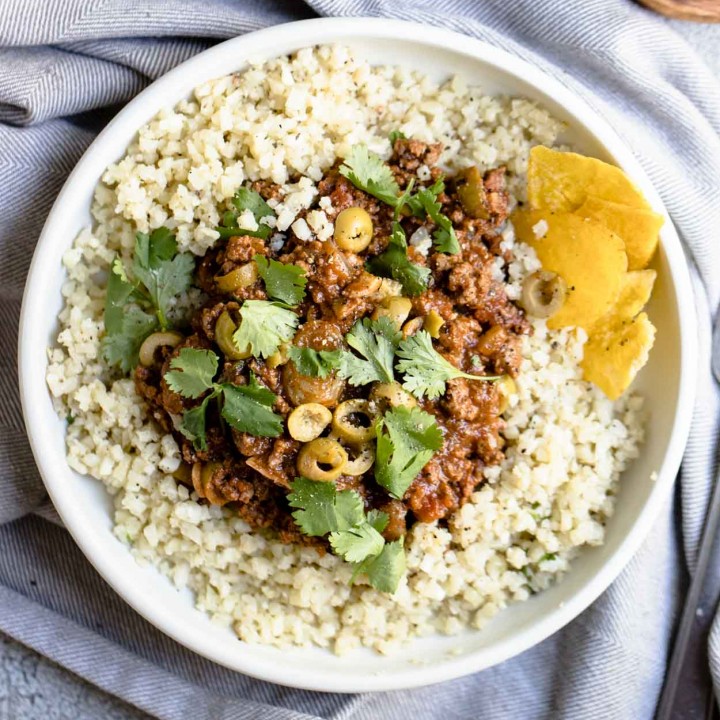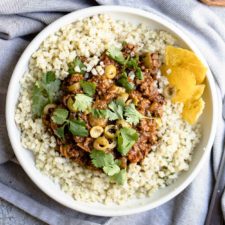 Ground Beef Picadillo with Cauliflower Rice
A flavorful Cuban-style ground beef picadillo. With the unexpected tang of green olives and a hint of sweetness from raisins, this comforting beef dish cooks up in one pan and in under 30 minutes, making for a quick clean-up!
Print
Pin
Rate
Ingredients
2-3

tablespoon

olive oil

1

lb

ground beef

1

small onion

diced or thinly sliced

5

garlic cloves

minced

2

teaspoon

each chili powder & ground cumin

1 14.5

ounce

can crushed tomatoes

¾

cup

golden raisins

½

cup

green olives

either sliced or pimento stuffed, in about ¼ cup of their own brine of olive juice

1

tablespoon

red wine vinegar

Cauliflower or white rice and plantain chips to serve
Instructions
In a large skillet, heat 2 tablespoon of olive oil over medium heat. Add the ground beef and salt & pepper, and cook through, making sure to break up the ground beef into crumbles.

Drain and set aside.

Add in another tablespoon of olive oil and cook the onions and garlic for 3-5 minutes till translucent.

Stir in the chili powder and cumin till well combined.

Add in the tomatoes, red wine vinegar and stir till combined.

Add in the raisins and the olives & the brine, stirring till combined.

Lastly, add back in the ground beef and stir till combined. Sprinkle with salt & pepper to taste.

Serve over white or cauliflower rice and plantain chips.