Beef sirloin tip steak with garlic butter potatoes is delicious & ready in less than 30 minute. A one pan meal using affordable ingredients, the whole family loves!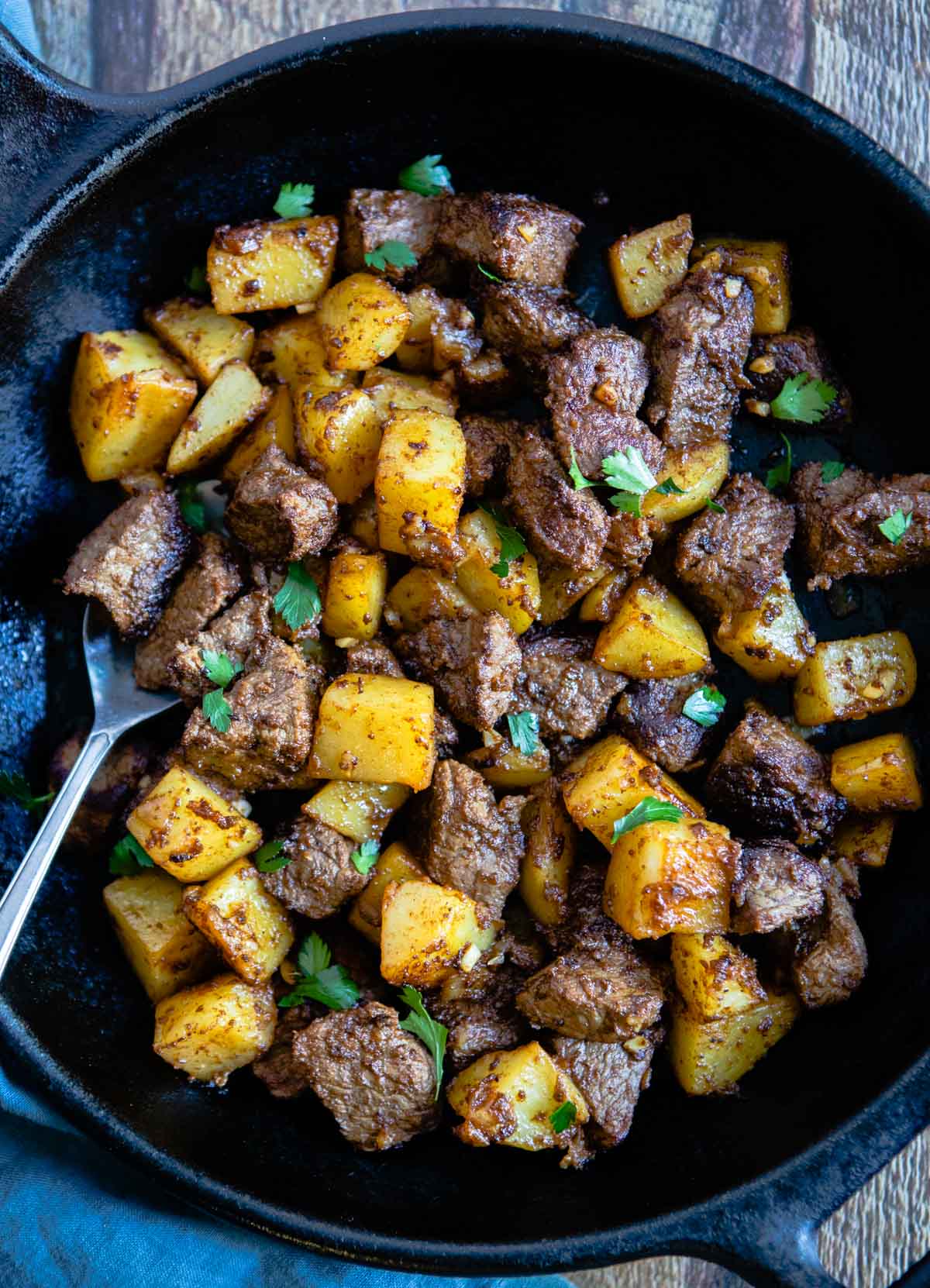 This is a fantastic classic meat and potatoes dish that will fill the family up, and save you some money on your grocery bill. Using an affordable cut of beef, sirloin tip steak, it is combined with hearty garlicky butter potatoes.
Stretching a pound of meat with the addition of potatoes is a great way to save money while still serving something special. I love using this trick in recipes like my hamburger potato soup, and beef and potato tacos.
Jump to:
Why you'll love this sirloin tip recipe
Easy, one pan meal that requires minimal prep and clean up, allowing you to get dinner on the table without a fuss.
Affordable ingredients that produce a fantastic and tasty dish!
Very family friendly dish kids and grown ups will all love
Flavorful spice mixture can be used for lots of other dishes!
Genius way to parcook potatoes so you always get the right texture – soft and tender every time!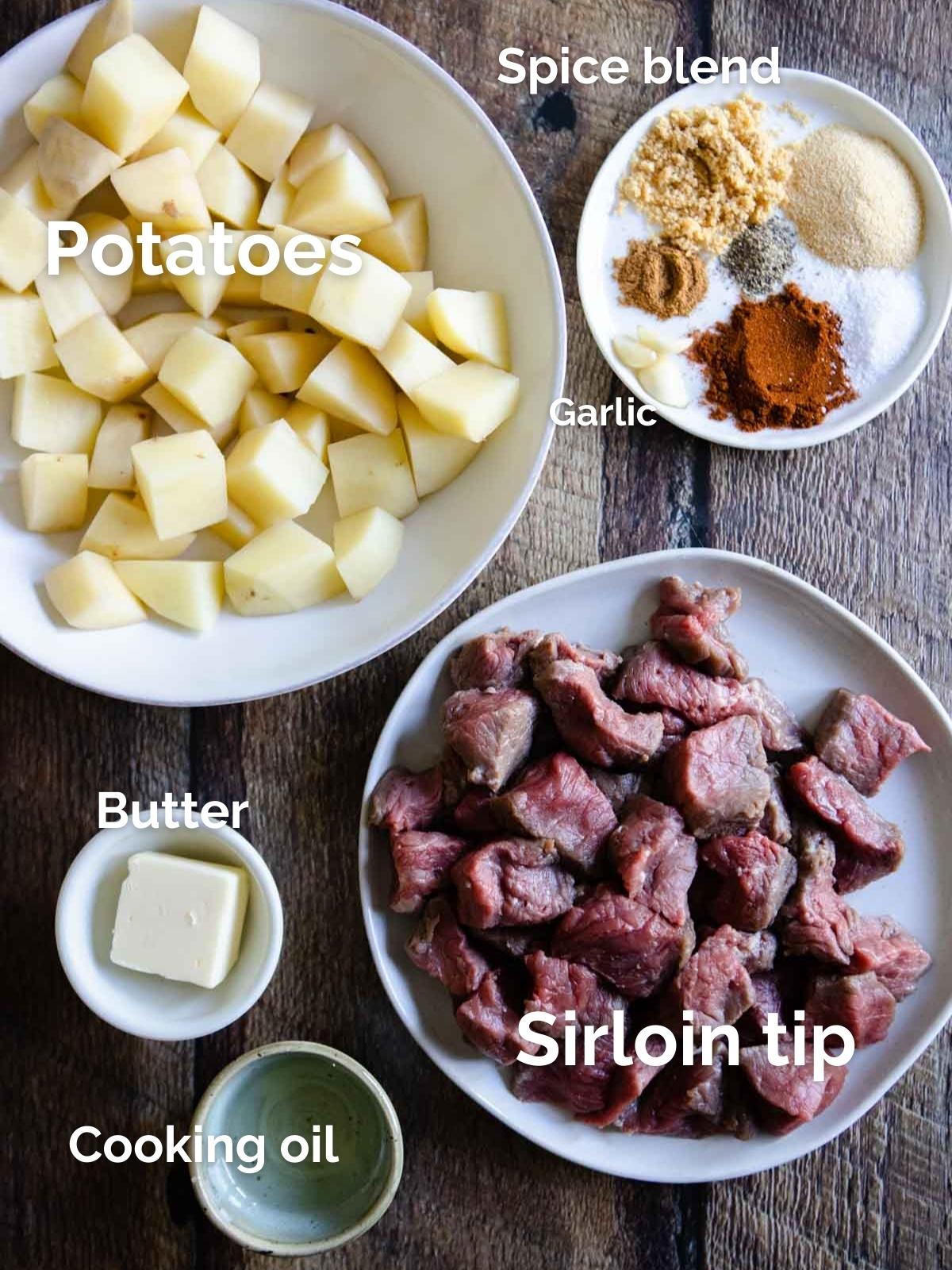 Ingredients
Sirloin tip steak, cut thin and into roughly 1″ cubes. For a family of 4-5, you can get away with 1-1.5 pounds of meat, but if you have grown kids, you may want to double the recipe so you have plenty!
Potatoes, peeled and also cut into 1″ cubes. Russet or yellow potatoes both work, so use whatever you have on hand or is on sale!
Herbs and spices: garlic powder, onion powder, cumin, paprika, salt & pepper, and a pinch of cayenne.
Fresh minced garlic and butter help to finish off the yummiest potatoes. (make sure to check out my favorite garlic peeling tool!)
Cooking Sirloin Steak Tips
Sirloin tip steak is not to be confused with top sirloin, as they are from 2 different parts of the cow. Sirloin tip is a leaner, tougher cut of meat than top sirloin. You can use either cut of meat in this dish though.
Tip steak will require some extra tenderizing so the finished product won't be too tough. Therefore make sure you coat the sirloin tip in the dry marinade and allow it to sit for a bit while you prep the remaining ingredients.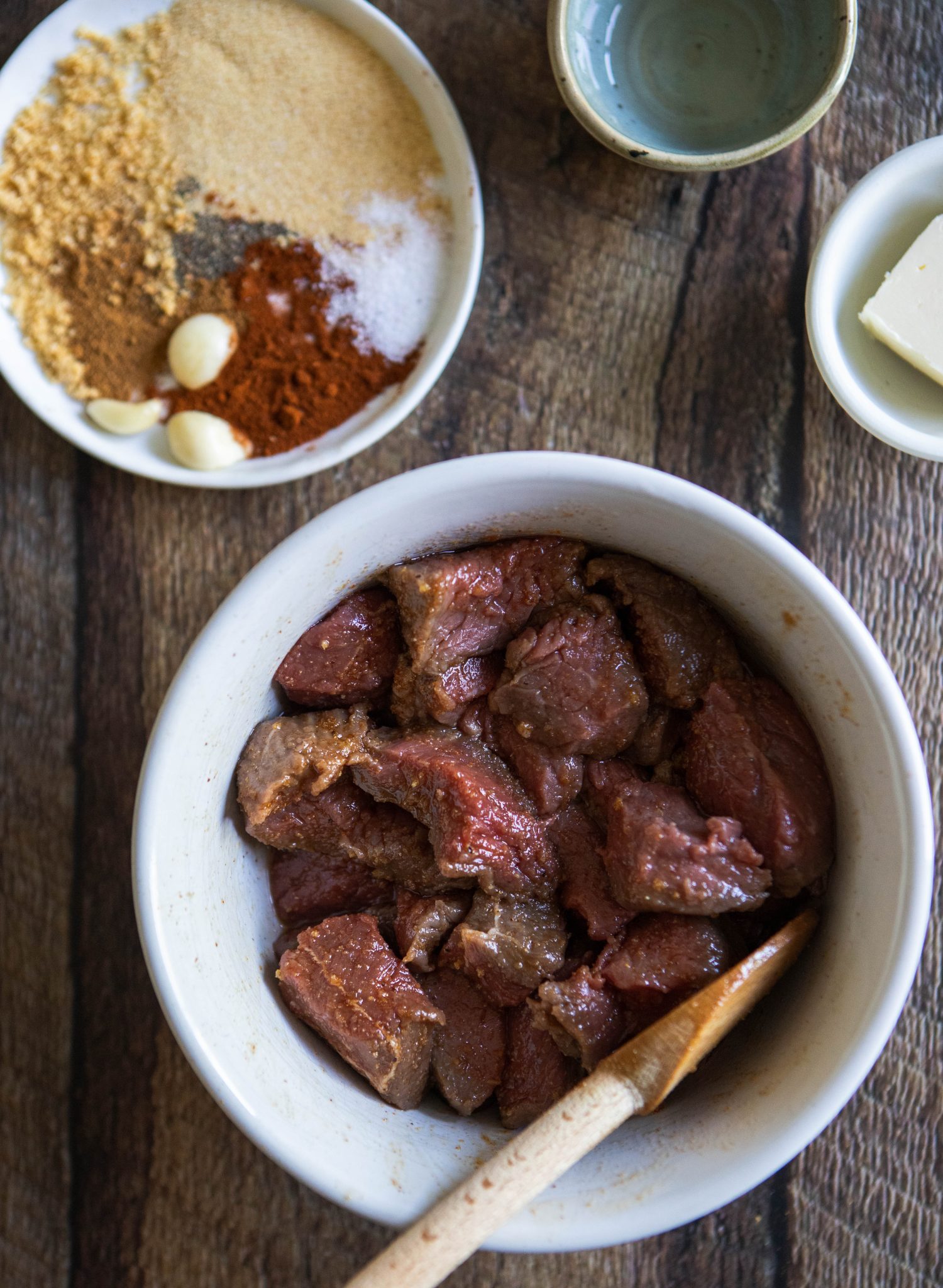 How to make beef sirloin steak tips
Begin by mixing 2 tablespoons of vegetable oil and HALF of your measured herbs and spices into your beef tips. Set aside and leave in the bowl to marinate for at least 15-30 minutes. If you plan ahead, you can also leave them to marinate for several hours.
Genius potato cooking hack
I learned this parcook method years ago from America's Test Kitchen. While your beef is marinating, peel and cube your potatoes, and set them in a wide shallow bowl.
Sprinkle with about 2 teaspoons of salt and microwave on high for 4 minutes. Gently toss the potatoes, and microwave on high for an additional 2-4 minutes, until just fork tender but not cooked all the way through.
Parcooking the potatoes first will allow them to cooker quicker in the pan and achieve a soft and tender texture, without overcooking the outside.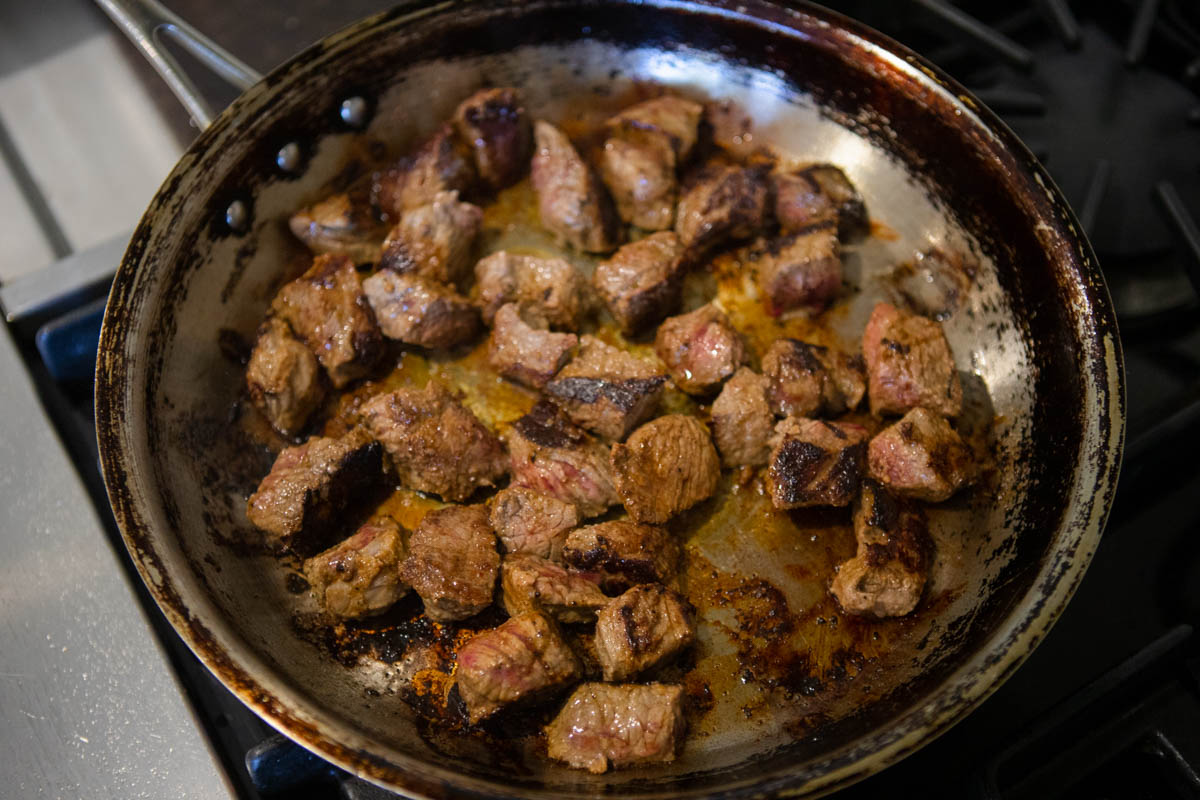 When your marinated sirloin tip steak or top sirloin is ready to cook, heat a large sauté pan or cast iron skillet on medium high heat. Add just a tiny coating of vegetable oil spray and add your meat in a single layer. Work in batches if need be as to not overcrowd the pan.
Cook your steak tips until seared on one side, about 3-4 minutes, then flip over and cook for another 2-3 minutes. When nice and browned on each side, remove the steak tips from the pan and set aside.
Now you gently stir in the remaining herbs and spices into the par-cooked potatoes.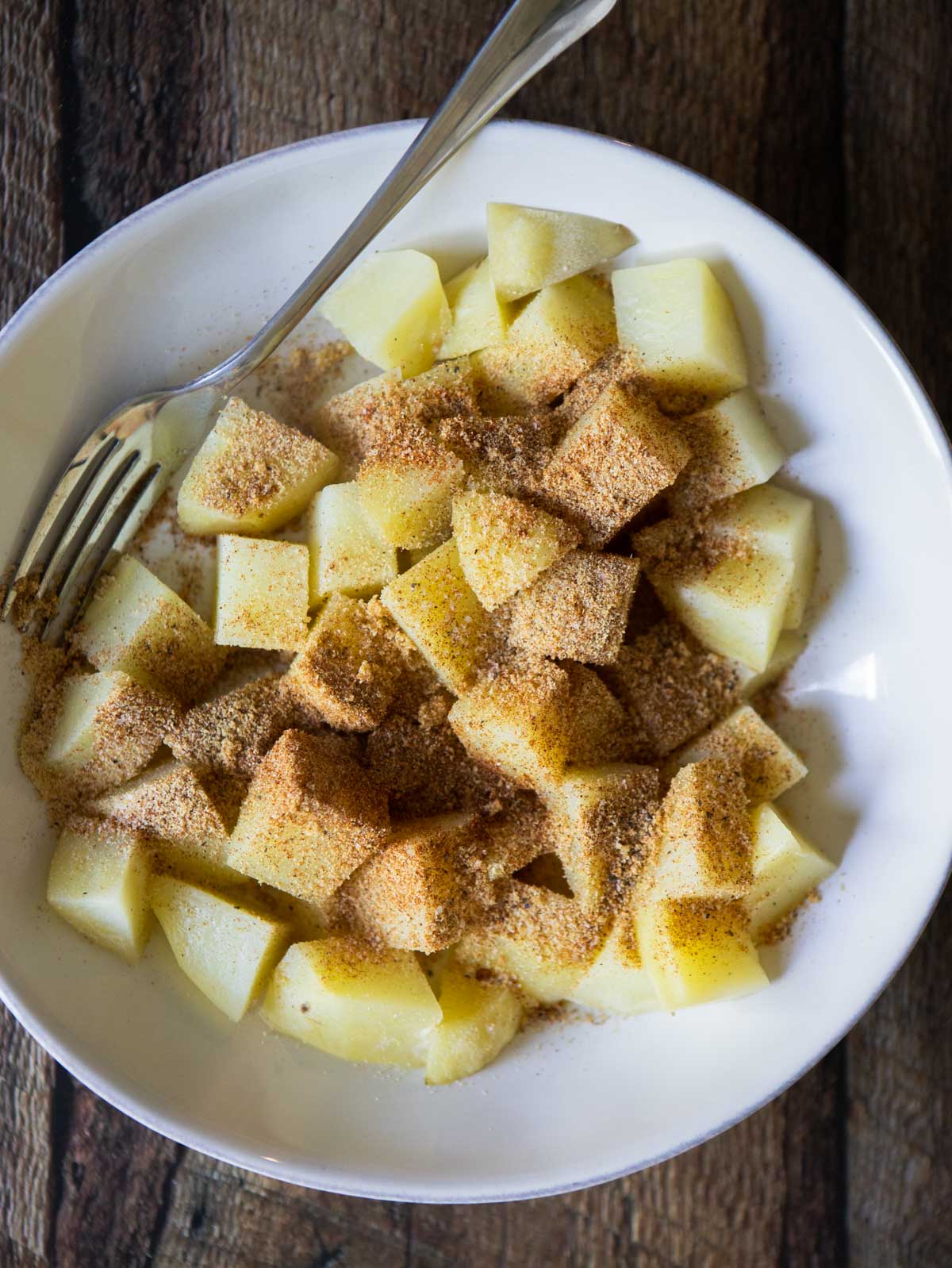 Add remaining vegetable oil to your pan, and keep it at medium heat. Add in your potatoes, minced garlic and half the butter, and cook for about 10 minutes, stirring gently every couple of minutes with a wooden spoon, scraping up any brown bits.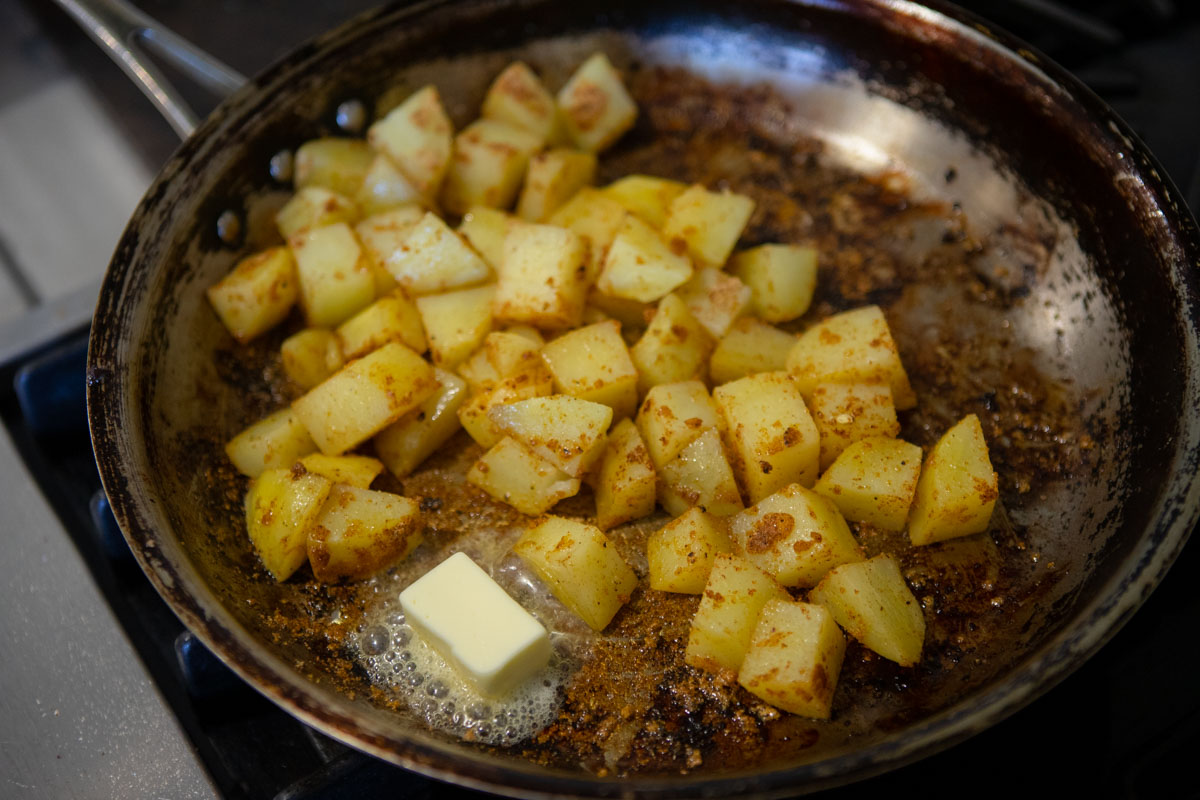 When your potatoes are cooked and tender, return your top sirloin steak tips to the pan and stir to reheat. Add in the remaining butter and season to taste with additional salt and pepper to taste. Serve immediately.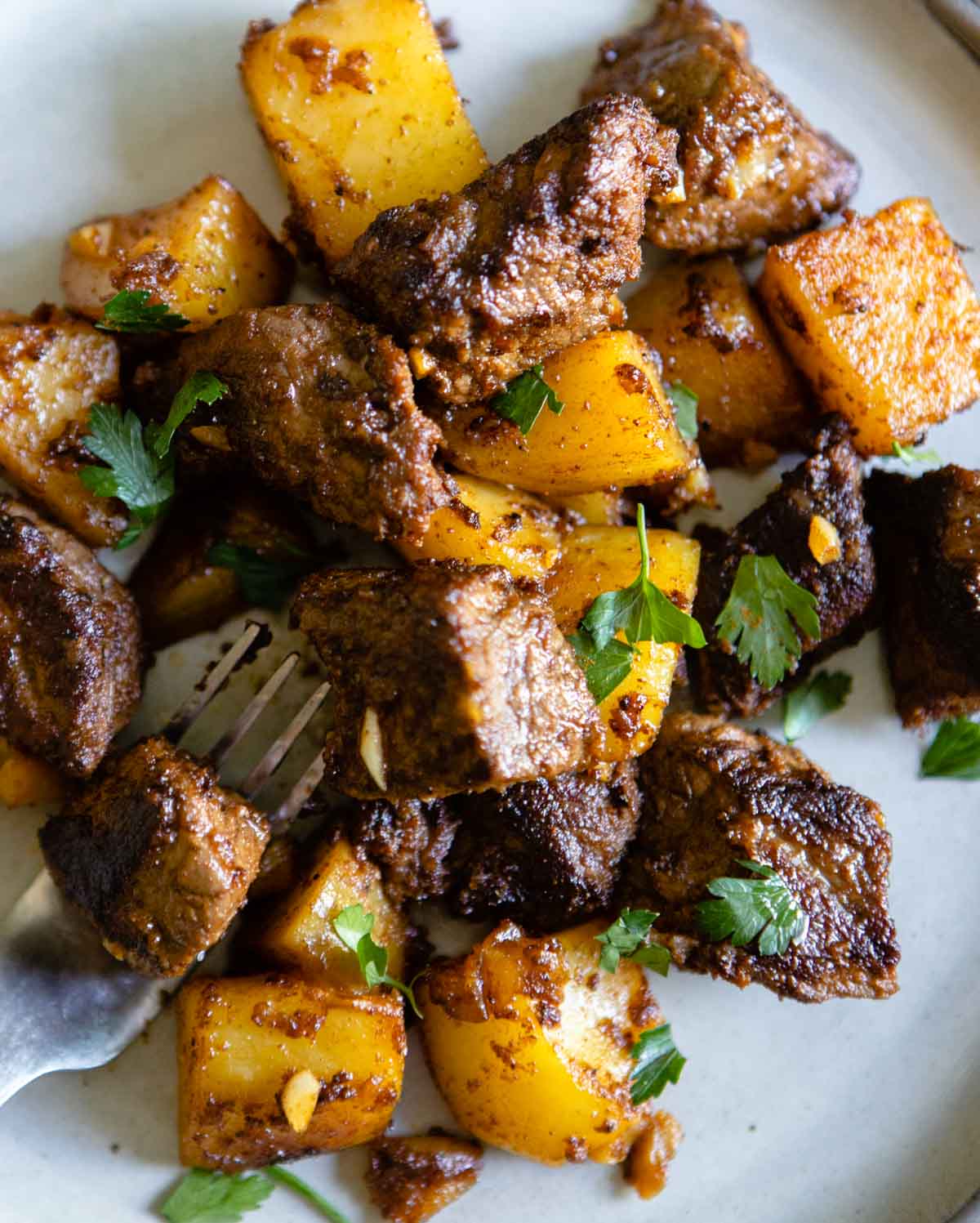 Recipe FAQ's
Can I use a different type of steak?
Top sirloin is the best alternative to beef sirloin tip steak, however it is more expensive. It is also more tender, so it will be a delicious dish, just know you will spend a bit more!
Can I adjust or change the seasonings?
Yes! This spice mix packs a punch! If you are concerned with sodium or don't like your dishes too salty, cut the salt used in half. You can also use an Italian or Mexican herb blend.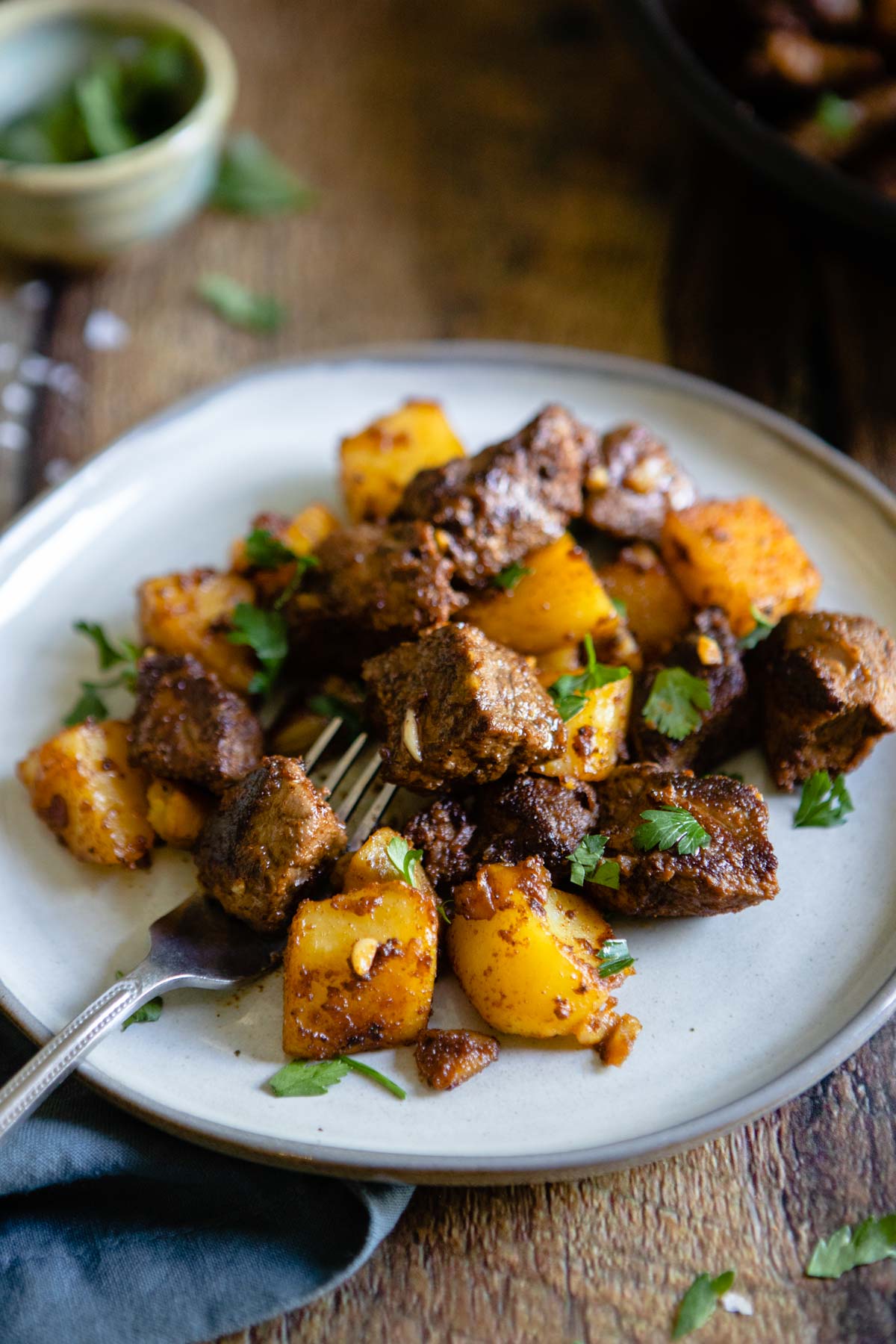 Why is microwaving the potatoes important?
Achieving the perfectly cooked potato in a sauté pan can often mean long cooking times, or very crispy potatoes on the outside that may not be thoroughly cooked through and fork tender. Doing a pre-cook in the microwave first, primes them for a quick and thorough cooking in the pan.
If you don't have a microwave, you can also par-boil them, allowing them to dry completely before adding to the sauté pan.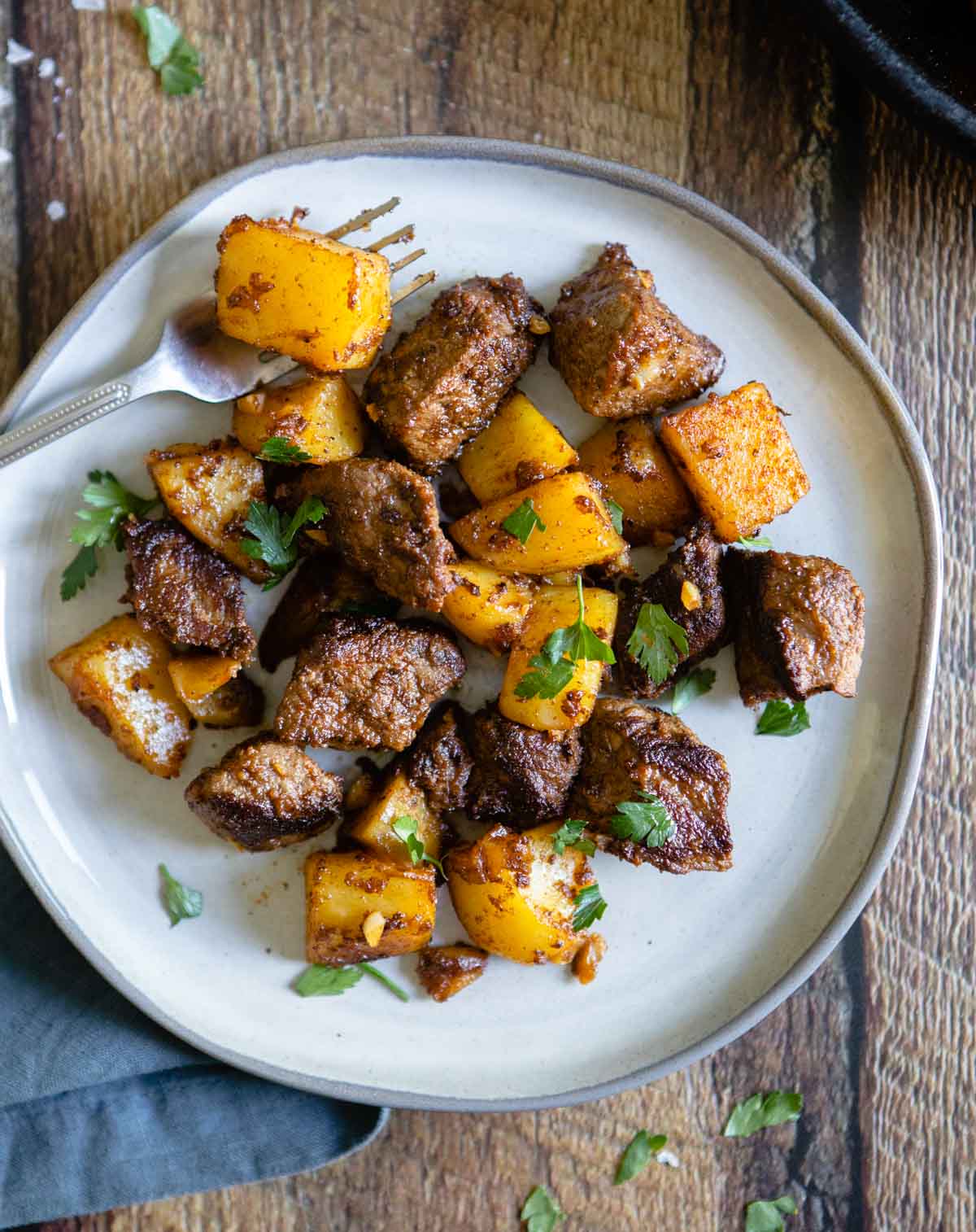 This dish is supposed to be reminiscent of steak frites, where the potatoes are soft and tender without a crispy outer shell. I think it definitely hits the mark and I hope your family loves this dish as much as mine does!
And if you loved this dish, definitely give my Marinated Beef Tips recipe a try. It has potatoes and peppers, and an Asian inspired flavor.
Beef Sirloin Steak Tips with Garlic Butter Potatoes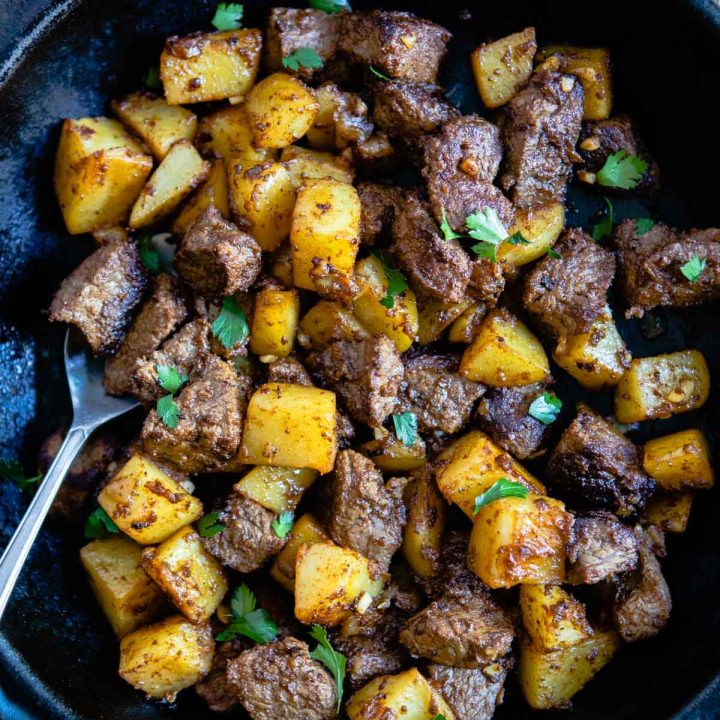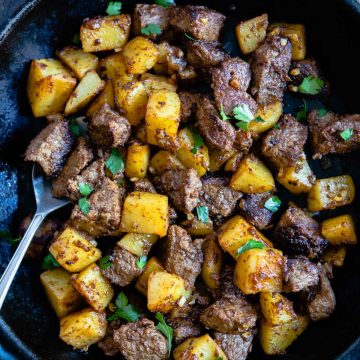 Beef Sirloin Steak Bites with Garlic Butter Potatoes
Beef sirloin tip steak bites with flavorful garlic butter potatoes is a quick and easy one pan dinner that makes for a great weeknight meal!
Print
Pin
Rate
Instructions
Combine the garlic powder, onion powder, paprika, cumin, cayenne, black pepper and 2 teaspoons of the salt into a small bowl and stir to combine.

1 tablespoon Garlic powder,

1 tablespoon Onion powder,

1 tablespoon Paprika,

1 teaspoon Cumin,

½ teaspoon Cayenne pepper,

3 teaspoon Salt,

1 teaspoon Black pepper

In a medium bowl add the steak tips, 2 tablespoon of the vegetable oil, and half of the spice mixture, and stir to combine. Set aside and allow to marinate for a minimum of 15 minutes, up to an hour.

1.5 lb Beef sirloin tip steak

While the beef is marinating, peel and cube the potatoes. Sprinkle with remaining 1 teaspoon of salt and set in a shallow bowl or deep plate like a pie plate, and spread them out a bit.

Microwave potatoes on high for 4 minutes. Gently stir, and microwave for another 2-4 minutes, until potatoes are just fork tender (known as par-cooked). Set aside.

Heat a deep skillet on medium high heat, and add just a bit of neutral cooking oil. Add steak tips and cook 2-3 minutes on each side, till seared but not cooked through. Remove from the pan and set aside on a plate.

4 tablespoon Neutral oil such as Canola

Stir in the other half of the spice mix to the potatoes and toss to combine and coat. Heat remaining vegetable oil in pan on medium heat. Add potatoes, minced garlic and 2 tablespoon of the butter, and cook for about 10 minutes till easily pierced with a fork, stirring often.

4 tablespoon Butter,

4 Garlic cloves

Add steak to pan with potatoes, and remaining 2 tablespoon of butter, and cook till heated through, about 1-2 minutes. Serve immediately.
Notes
You can substitute top sirloin for beef sirloin tip steak
When cooking the potatoes in the microwave, make sure to gently stir them in between cooking, as if you stir them too much, too much of the starch will be released and the potatoes will get sticky. Also, because microwave powers vary so much, the total cooking time to just fork tender may vary between 4 minutes and 8 minutes. That is why I suggest starting with a 4 minute cook, then add 1-2 minutes and check, so as to not overcook. 
Nutrition
Serving:
2
Cups
|
Calories:
209
kcal
|
Carbohydrates:
24
g
|
Protein:
3
g
|
Fat:
12
g
|
Saturated Fat:
7
g
|
Polyunsaturated Fat:
1
g
|
Monounsaturated Fat:
3
g
|
Trans Fat:
0.5
g
|
Cholesterol:
30
mg
|
Sodium:
1845
mg
|
Potassium:
560
mg
|
Fiber:
3
g
|
Sugar:
1
g
|
Vitamin A:
538
IU
|
Vitamin C:
27
mg
|
Calcium:
39
mg
|
Iron:
2
mg