Air fryer halloumi makes for a fun and unique appetizer or side dish and is the easiest way to make this cheese pop! Air frying this interesting cheese creates a delicate crispy exterior with zero oil, and maintains the cheese's soft texture. I love it topped with fresh fruit like watermelon and drizzled with honey, but I'll share lots of other creative and seasonal ways to serve it.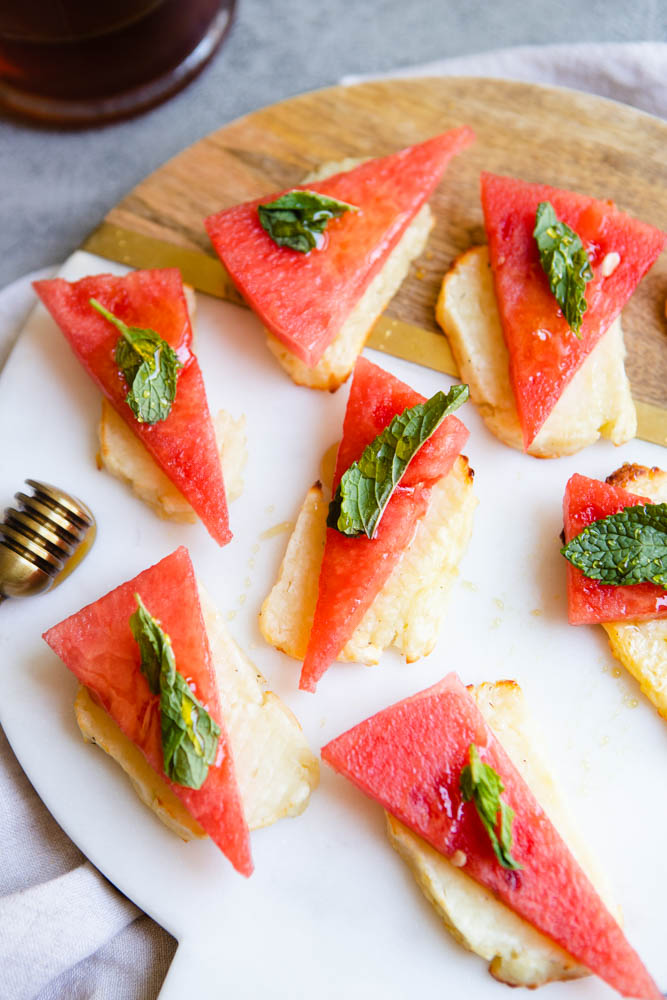 I first had halloumi at a local Mediterranean restaurant and fell in love with the briny flavor of this salty cheese. Its texture somewhat reminds me of mozzarella cheese, but the flavoring is much more interesting. It's not at all pungent or sharp like most cheeses, and while it is salty like a feta, its taste is still very mild. I also love that it can work well alongside both sweet and savory flavors. Let me show you how quick it is to air fry halloumi.
Jump to:
Why fried halloumi?
While halloumi can be enjoyed fresh just like any type of cheese, its high melting point makes it the perfect cheese to pan fry, air fry or even grill. It browns beautifully and picks up nice grill marks with ease. While cooking in the frying pan or grilling are also easy, I do enjoy the simplicity and health benefits of just popping it in the air fryer, and you know it's one of my favorite kitchen gadgets. I have made everything from truffle potato chips to donuts in my air fryer!
Air frying any food automatically cuts down on grease and oil, so you get the health benefit of less calories and saturated fat.
Cooking in the air fryer is a simple and hands off approach that requires little effort or babysitting.
Because the halloumi cheese is cooked with little to no oil, it may taste a little drier than when pan fried, so it's a good idea to serve alongside juicy fruits or veggies and in a dressed salad.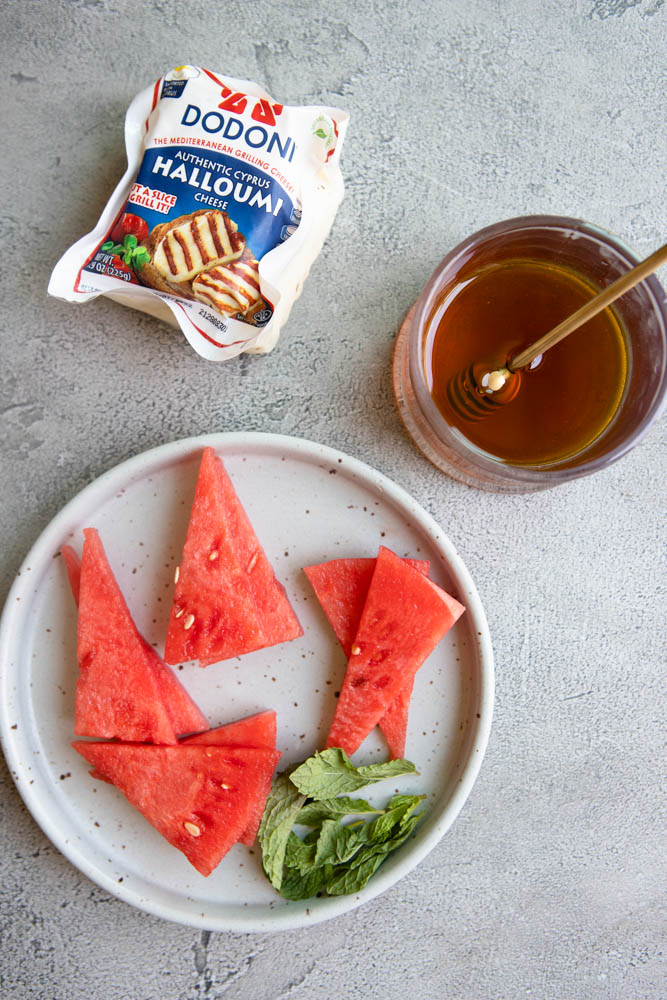 Step-by-step instructions
Halloumi comes in blocks similar to mozzarella, so you will begin by slicing it up into smaller pieces. There are different ways you can do this, but I take my block of halloumi and just create thick slices. You could also create halloumi sticks, similar to mozzarella sticks or thick cut french fries. If you plan to toss into a salad or a pasta dish, I would cut the block into smaller cubes. But keep in mind this will cut down cooking time.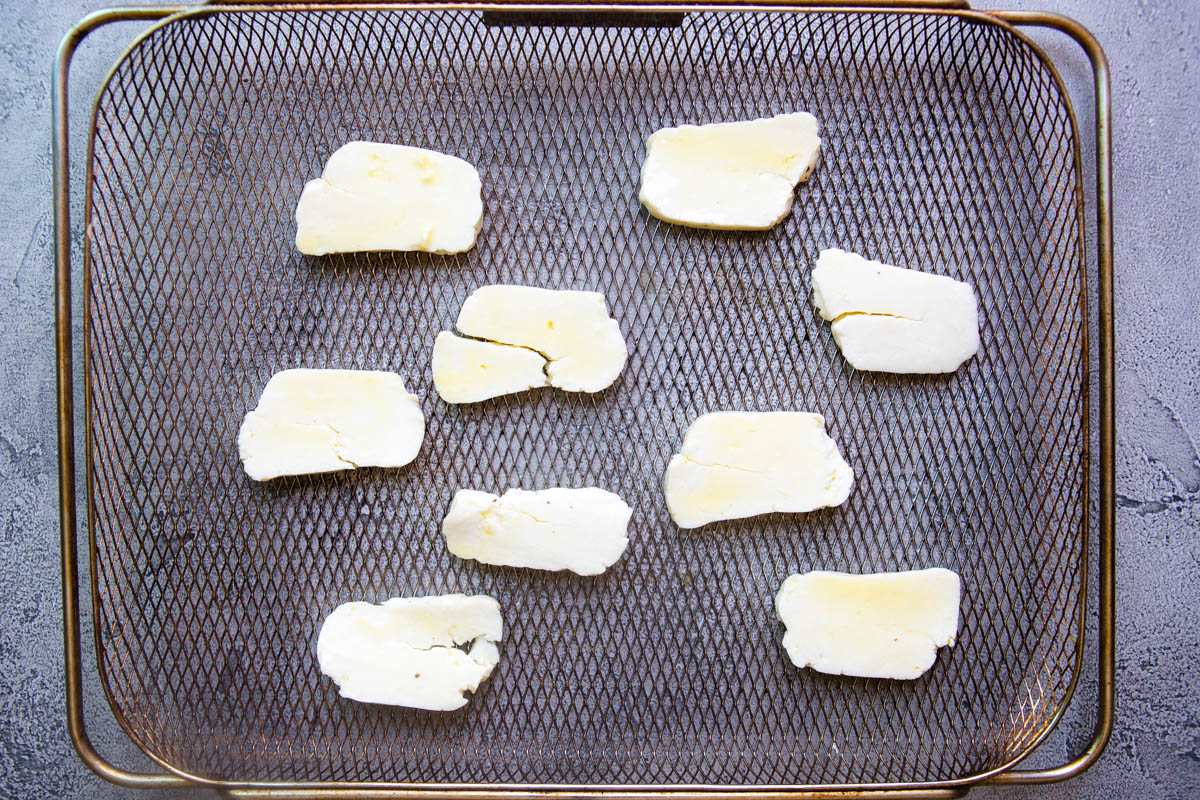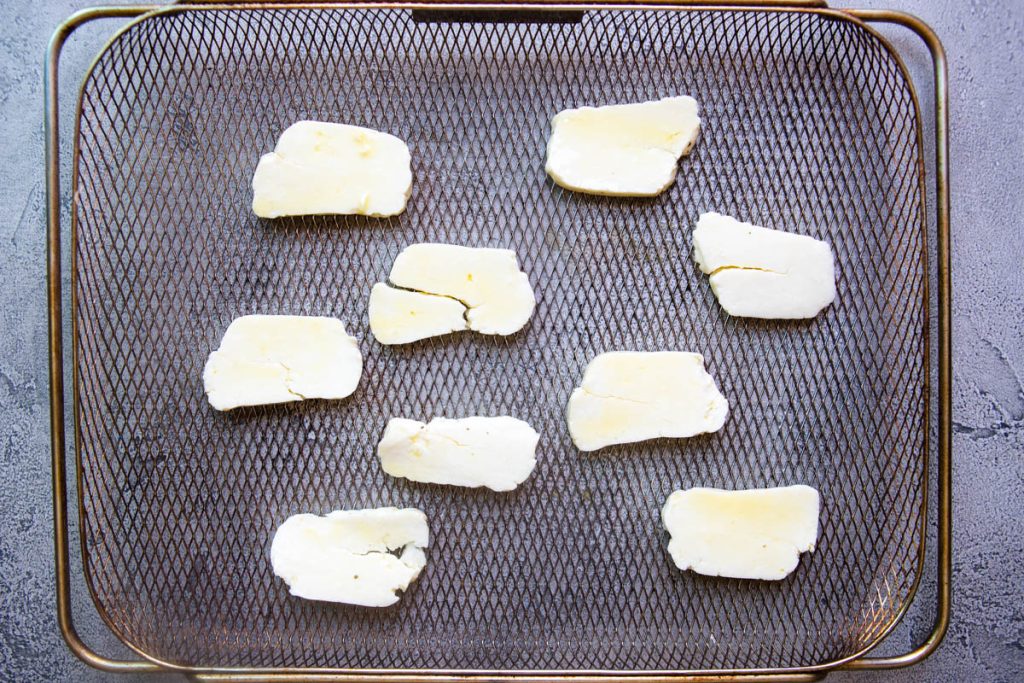 Either way, take your sticks of halloumi cheese or halloumi slices and place them in a single layer in your air fryer basket. To give them just a bit of moisture and create a pretty golden layer, spray them with a little bit of vegetable oil or brush with a little olive oil.
Place in a 360 degree preheated air fryer and cook for about 10 minutes. You may shake the basket of the air fryer or flip the cheese over to create an even golden crust, but not necessary.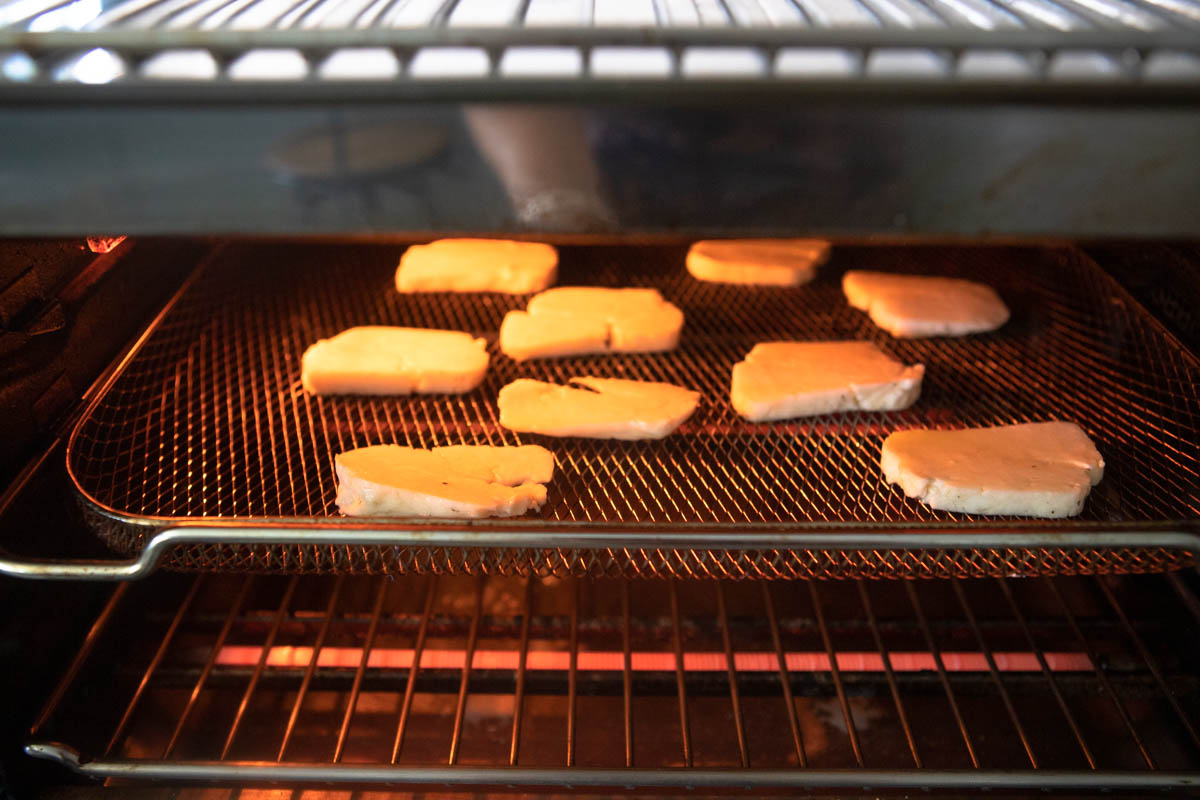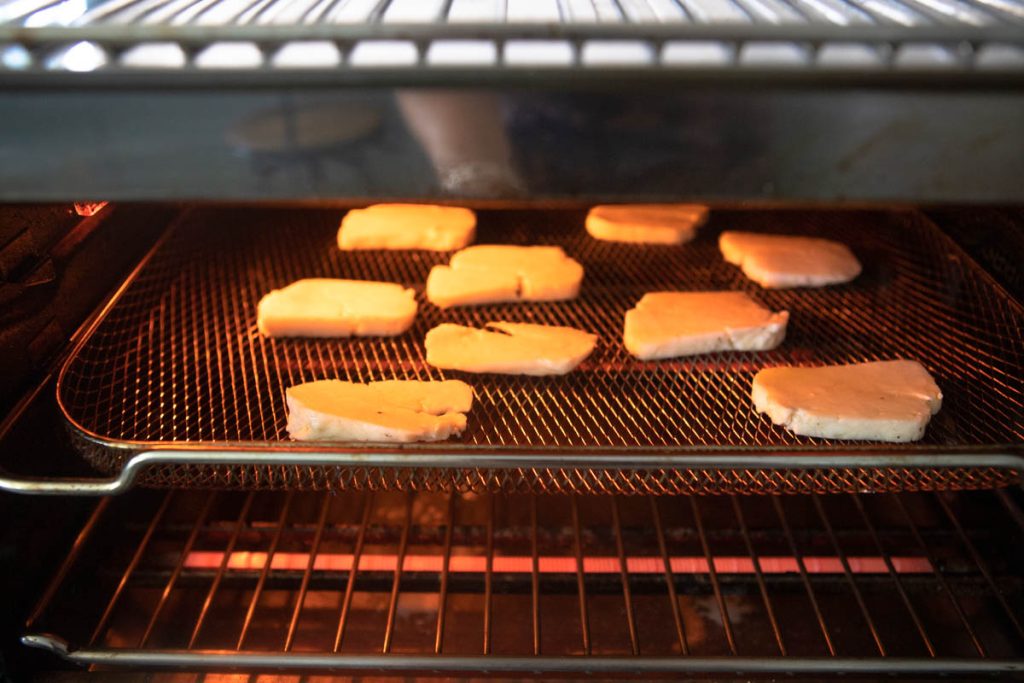 The cheese should be golden but not stiff and firm, so be mindful of not over-cooking. Remember that frying the halloumi is to give it a bit of color and to warm it up, so don't over heat it.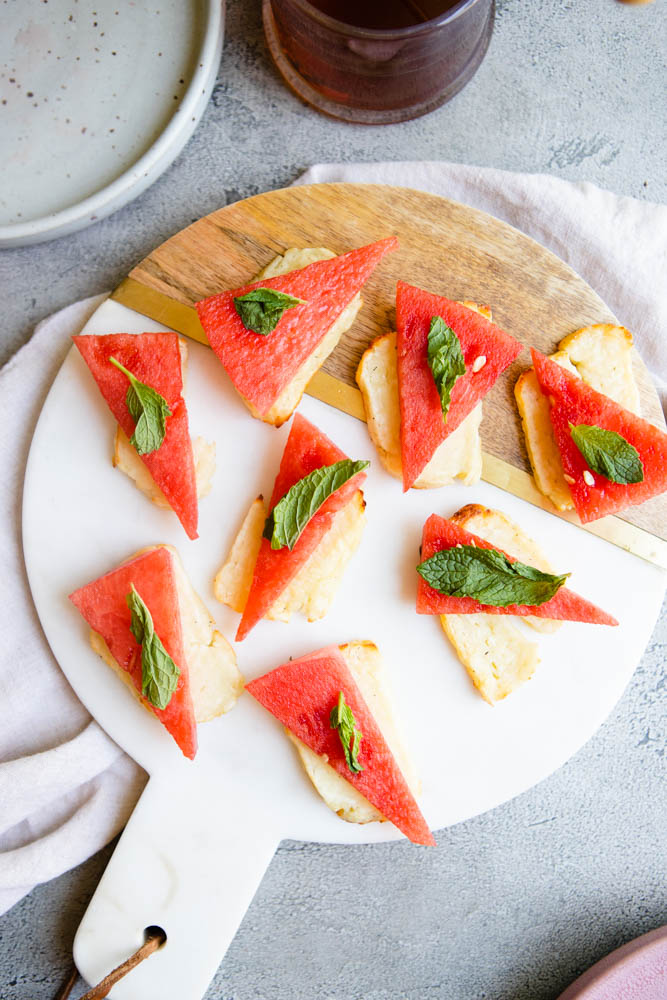 How to serve (savory or sweet)
As shown here, I love it served over a slice of watermelon, and a drizzle of honey. I got fancy and added a sprig of mint as well. If you want your delicious cheese sticks to stick with a sweet vibe, adjust your fruit through the seasons.
In the spring, top your halloumi with sliced strawberries, or in the fall and winter, serve alongside pears, apples or figs. Peaches at the height of summer would be amazing as well! Or toss cubes of cheese in with a berry salad with candied walnuts. Halloumi is paired well with tomatoes, so thick fresh slices of summer tomatoes, a slice of gooey cheese and a drizzle of balsamic and extra virgin olive oil would be perfection.
To go with more of a savory vibe, there are almost endless possibilities. Toss it in pasta dishes or alongside a selection of your favorite Mediterranean vegetables. Or if you made air fryer halloumi fries, you can dip them in marinara sauce or any of your other favorite delicious dipping sauces. A mild tzatziki or bell pepper hummus come to mind. You could even create a little vegetarian halloumi burger by wrapping it in lettuce and topping with grilled mushrooms.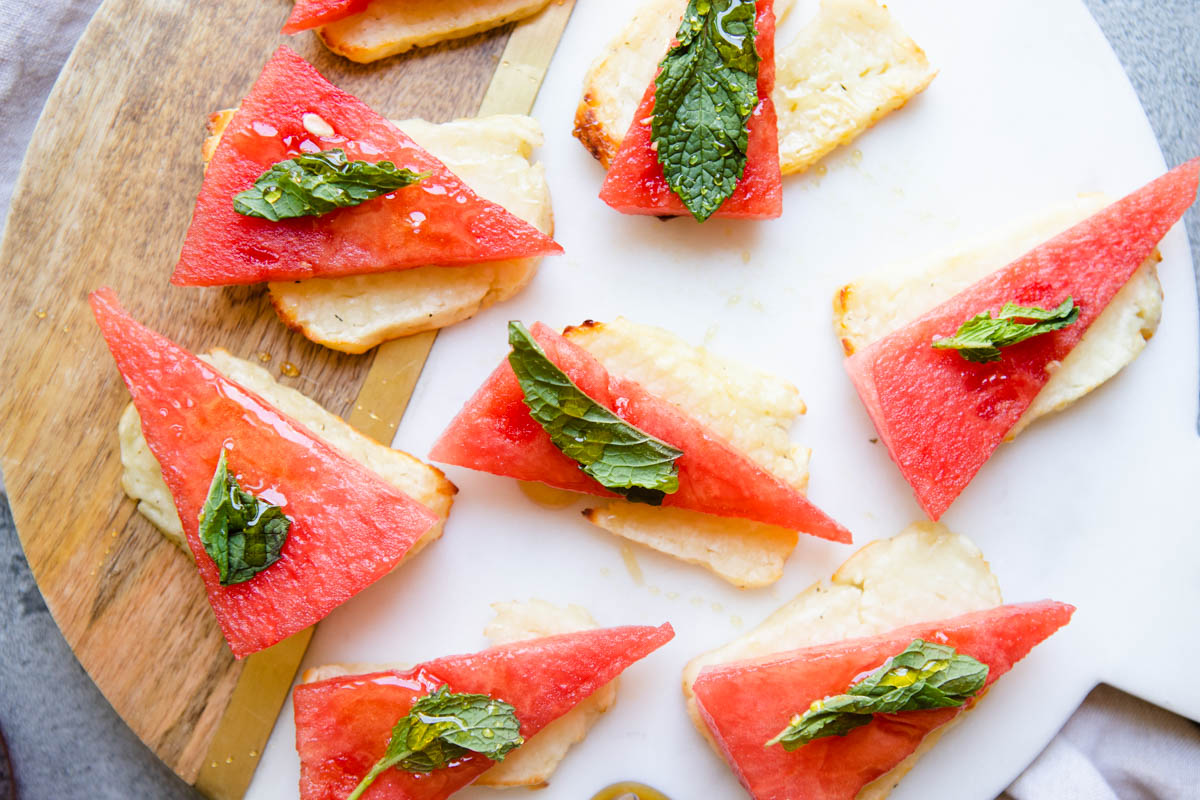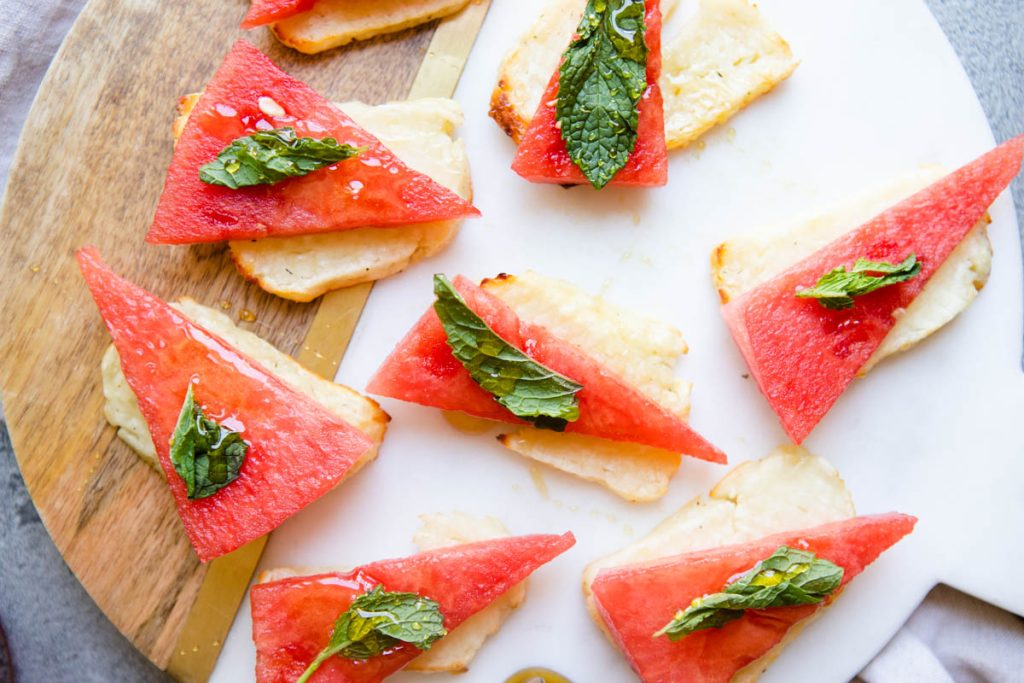 Halloumi FAQ's
Hopefully you can see how this easy recipe gives you a jumping point for almost endless halloumi recipes. But you may still have a few questions, like what is halloumi to begin with ha?!
What kind of cheese is halloumi?
Halloumi is a brined cheese made from goat's or sheep's milk, or a mixture of both. It's semi-hard and retains its shape well when heating, making it perfect for frying and grilling.
The texture feels a bit squeaky, is that normal?
Yes, it is an interesting and unique texture, and one you may have to get used to. But I promise, the taste makes it so delectable that it has recently become very popular for a reason.
Can I make this ahead of time or do I need to serve right away?
Yes, absolutely. Just store in an airtight container in the fridge for 3-5 days and either heat cold our reheat by warming it back up in the air fryer.
Where can I buy halloumi?
I find blocks of halloumi in the deli section of my local big chain grocery store. It will be where more specialty cheeses are found like goat cheese logs, ricotta and mascarpone.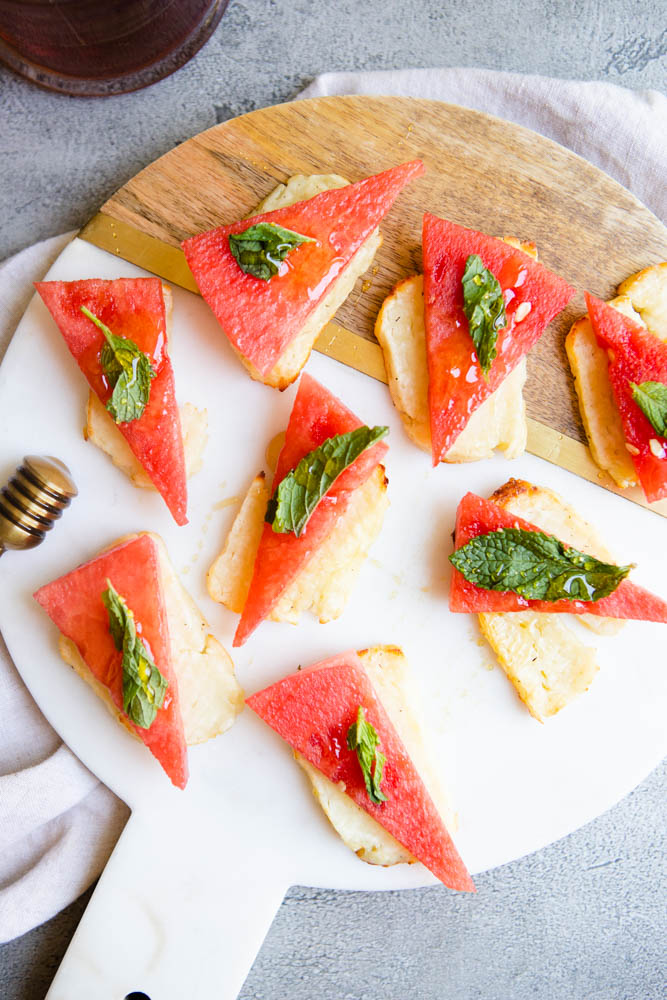 I hope you love this fun new appetizer idea and give it a try. Like I said, the possibilities of incorporating it into your meals are almost endless. I can't wait to toss it into my favorite Fall salad.
Tried this recipe? Please leave a comment and/or rating, letting me know how you enjoyed it! Connect with me on Instagram and Pinterest, and never miss a post by signing up for my weekly newsletter!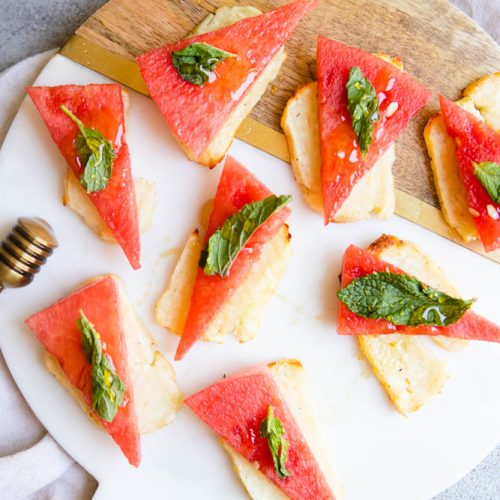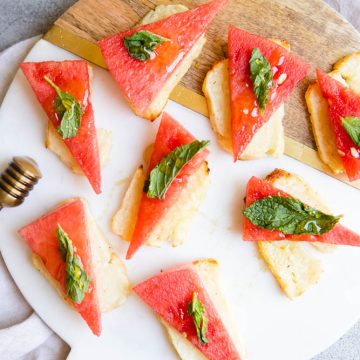 Air Fryer Halloumi
A quick and easy way to prepare this unique cheese is to air fry it. While I pair it wither watermelon in this very summer-esque appetizer, there are endless possibilities for incorporating this salty briny cheese into your favorite dish!
Print
Pin
Rate
Equipment
1 Air Fryer

I have an oven air fryer but you can also use a basket air fryer
Ingredients
1

block

halloumi cheese

8 ounces

1

teaspoon

cooking spray
Instructions
Preheat air fryer to 360 degrees

Slice halloumi into ½" thick slices or into thick cut sticks like fries, and place on air fryer basket in a single layer. Lightly spray with your preferred cooking spray or brush with a bit of olive oil.

Air fry for approximately 10 minutes, until light golden brown and heated through.

Serve alongside your favorite seasonal fruit, or dip in a favorite sauce like marinara.
Notes
If cutting cheese into cubes, lower your cooking time to 6-8 minutes and toss half way through cooking. 
Store leftovers in an airtight container for 3-5 days and reheat in the air fryer to serve warm.
Nutrition
Calories:
126
kcal
|
Carbohydrates:
0.5
g
|
Protein:
8
g
|
Fat:
10
g
|
Saturated Fat:
7
g
|
Polyunsaturated Fat:
0.3
g
|
Monounsaturated Fat:
3
g
|
Sodium:
454
mg
|
Fiber:
0.04
g
|
Sugar:
0.2
g
|
Calcium:
378
mg