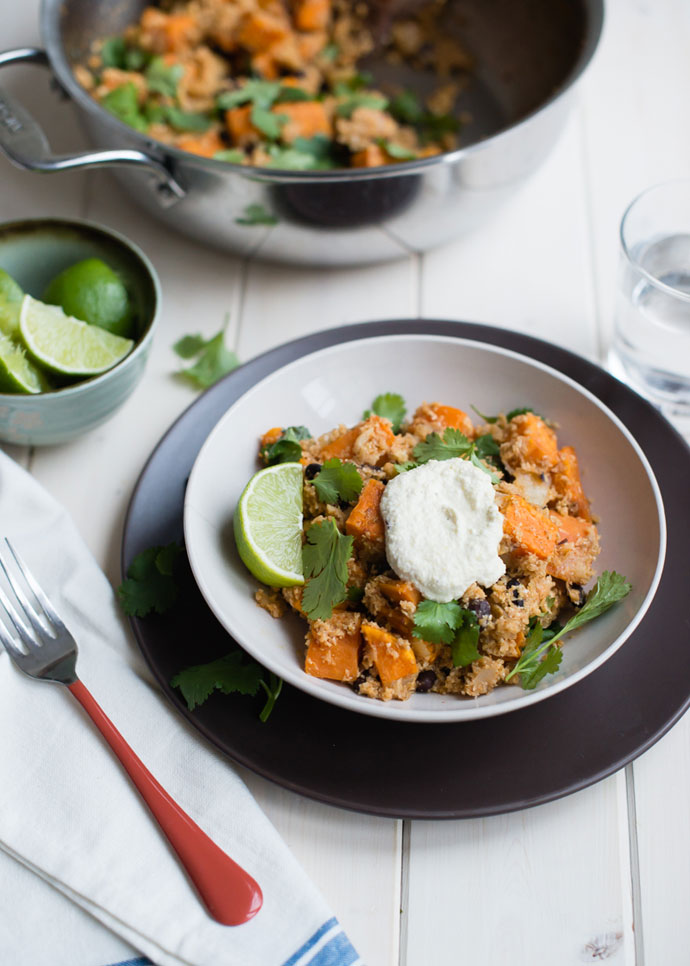 Last year (for me) was the Year of Cauliflower Rice. And I plan on extending that well into 2015 and beyond. I really believe that we are what we eat and can heal ourselves to a certain extent through the foods we eat. Over the past five years, I discovered a love for vegetables and simple, healthy recipes that I never dreamed could be possible.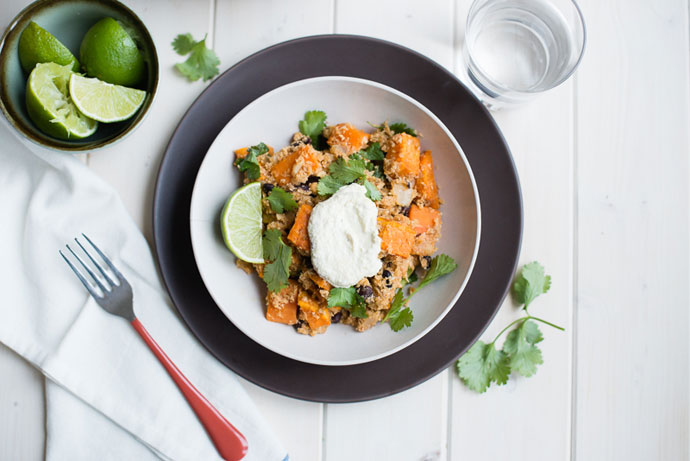 I love that Andrea is sharing her journey to better health with all of us. It's definitely inspired me to dial back and get those unhealthy habits that crept back in over the holidays back in check. Man those sugar cravings were hard to resist! I'm getting more in tune with my body and I'm noticing that those cravings go away when I feast on healthy, nutrient-dense foods and not on junk. So…let's talk about this Roasted Sweet Potato Cauliflower Rice because I cannot get enough of it!
If you haven't made cauliflower "rice" it's so, so easy to do. You just need a food processor or blender and a head of cauliflower. The outer leaves and core are removed, the florets chopped a bit, then they go into the food processor or blender to be pulsed until finely chopped. The important thing is to not chop the cauliflower too much, or you'll have mush instead of a rice-like texture.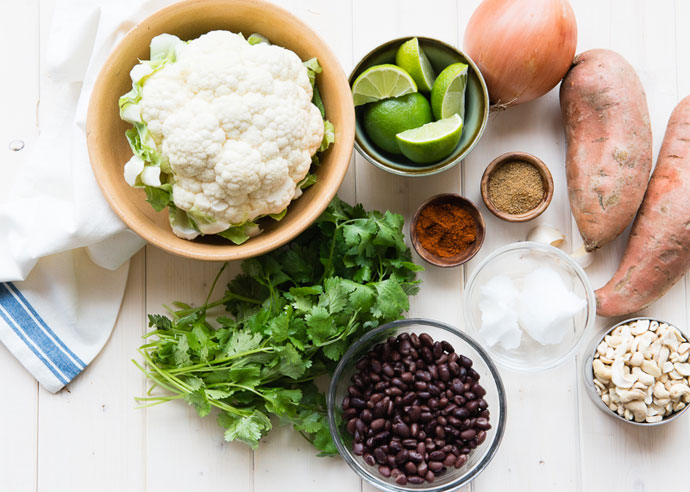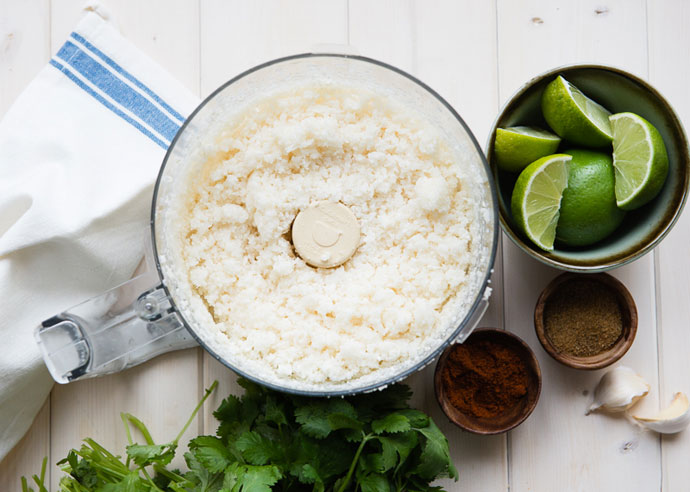 Roasting veggies brings out the natural sweetness, which sweet potatoes already have going for them. I love the different textures in this recipe. The beans have a little bit of chew to them, the sweet potatoes are so creamy and soft after roasting, and the cauliflower resembles couscous (even though I'm calling it "rice").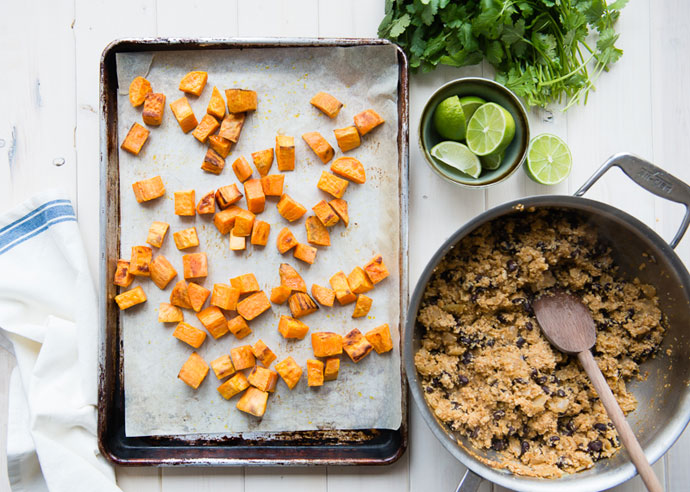 I am 100% in love with cashew cream too. It's such a great whole food replacement for sour cream. I add plenty of lime juice so it's nice and tangy. If you forget to soak the cashews overnight like I always seem to, you can fake it by soaking them for a shorter time in boiling water. The longer they soak, the smoother the cream will be. You'll have more cream than you need for this recipe – it's easier to blend larger batches. Just pop it in the fridge in an airtight container and it will keep for a few days, or it can be frozen for a few weeks. (It's really good with fresh fruit and a sprinkle of granola for breakfast.)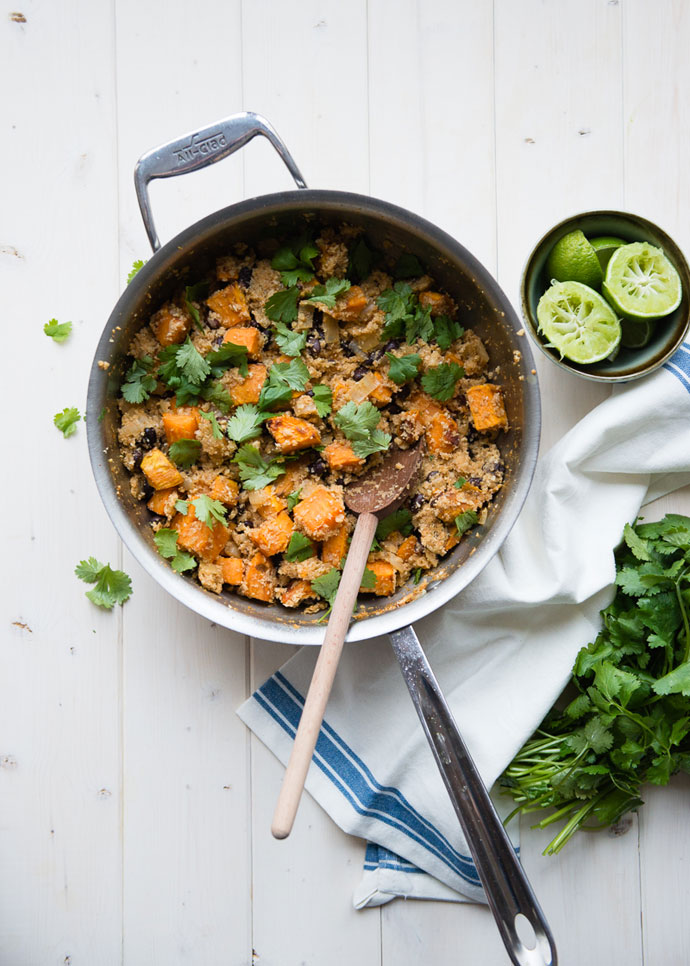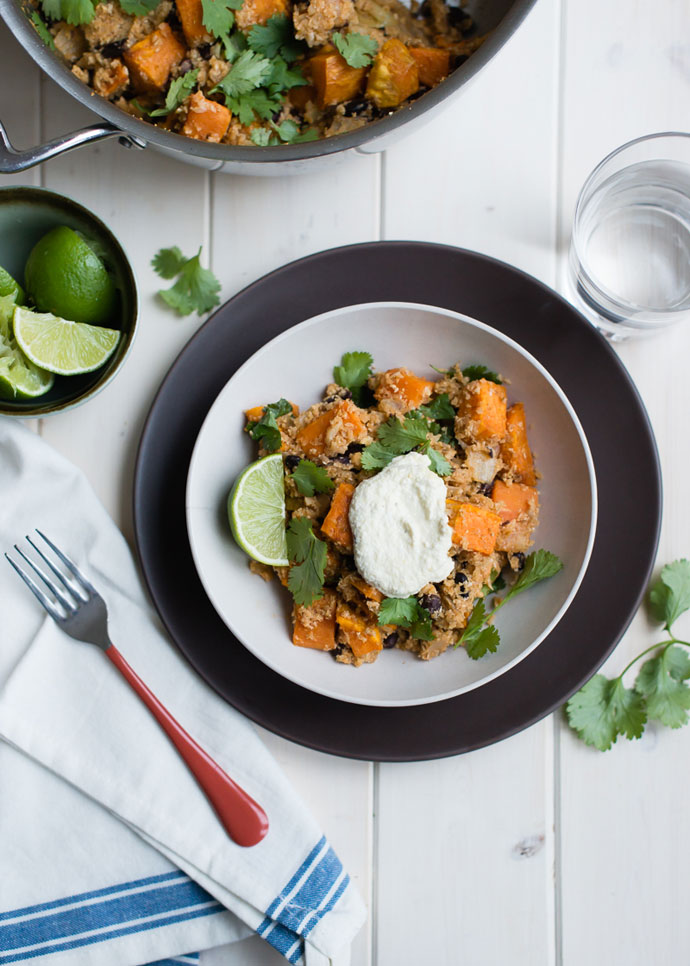 This makes a fantastic, filling vegetarian main dish, or can be served on the side of roasted chicken, fish, or meat.

Roasted Sweet Potato Cauliflower Rice with Cashew Cream
A hearty vegetarian dish, perfect for the cold winter months.
Ingredients
2 Tablespoons coconut, avocado or grapeseed oil
2 medium sweet potatoes, peeled and cubed
1 medium-large cauliflower
1 large onion, diced
1 Tablespoon chili powder
1 Tablespoon ground cumin
1½ cups cooked black beans (see note)
Juice of 2 large limes, divided
1 cup raw cashews, soaked in hot water for 1-2 hours and drained
salt and pepper, to taste
Fresh cilantro, for garnish
Instructions
Prepare cashew cream - place drained cashews and juice of 1 lime into a blender. Puree until smooth, adding a little fresh water as needed until creamy and smooth. Add salt to taste, about ¼ teaspoon. Transfer to a bowl and refrigerate until ready to use. (You will have more than is needed for this recipe. Leftovers will keep for a few days in the fridge, or several months frozen.)
Preheat oven to 425°F. Line a baking sheet with parchment paper. Toss the sweet potato cubes with a little of the coconut oil (melted, if solid) and season well with salt and pepper. Arrange in a single layer on the baking sheet lined with parchment paper. Roast for 20-25 minutes. Keep warm until ready to add to other ingredients.
While sweet potatoes are roasting, remove outer leaves and core from cauliflower. Roughly chop. Working in batches if needed, place cauliflower in food processor or blender and pulse until finely chopped, but not pureed.
Heat the remaining coconut oil in a large skillet. Add the diced onion and cook over medium heat until softened, about 5-10 minutes. Add the garlic and cook for 30-60 seconds more. Add the chili powder and cumin. Cook for another 30 seconds or until fragrant. Add the cauliflower and cook, stirring often to prevent burning, for 10 minutes or until just cooked through. If it starts to stick to the bottom, add a little bit of water, but not too much. Add the black beans and roasted sweet potatoes; stir to combine.
Remove from heat and squeeze lime juice over the top. Spoon out onto plates and add a dollop of cashew cream on top and sprinkle with cilantro.