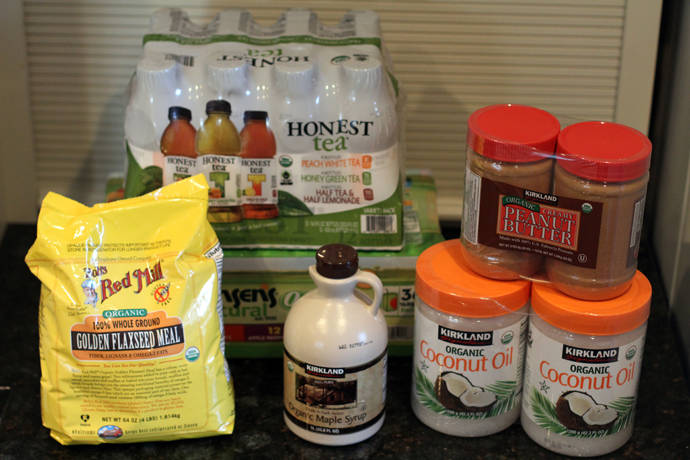 I can't help but think of one of our favorite, supremely stupidly funny movies, Idiocracy, whenever I shop at Costco. It's that en mass, everything in bulk warehouse idea, that conjures up images of flats of Coke and huge boxes of Doritos and other junk foods. But I love Costco all around; for their affordability, their awesome company values, including paying a living wage and staying closed on turkey day, and the fact that for the most part, they listen to their customers. They also keenly watch trends in the marketplace, and for the past couple of years, before I even began to pay much attention, they started bringing in more and more organically grown produce, natural products and even grass-fed meat. Even though I make it a point to try and support local farmers and farmer's markets as much as possible, Costco, especially for a family of 5, is a fantastic way to shop and save money, and as it turns out, even a great place to shop for real food.
I definitely have a method to how I shop Costco now, and although my cart looks a lot different than it did a couple of years ago, I still manage to spend about the same amount of money there. Each time I post a photo of my cart on Instagram, readers are amazed at what the offering is. So today I thought I'd share some tips on how I shop, what I look for and what I generally tend to buy only at Costco.
Most Cosctos are generally arranged the same way, with the somewhat non-perishables on the outer perimeter, refrigerated items including meats and frozen items in the center, as well as snacks and clothing, books, and other novelty items.
The first thing I do when I enter our Costco, which is in Cypress, California by the way, is walk the outer perimeter, starting with the bread section. I buy either Dave's Killer Bread or Alpine Valley. Next to the bread section at my Costco, are the bulk chips and snack bags of chips, so I will see what's new and usually either get Skinny Pop, Angie's Popcorn, or Kettle brand organic potato chips. And fine, I also pick up some wine and a case of beer too, since alcohol is right next to the chips at my Costco.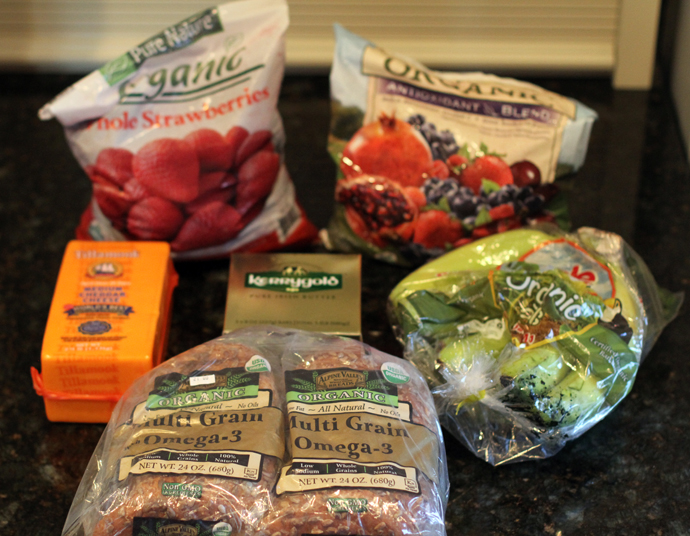 I then make my way towards the meat and refrigerated section. Items I always buy here are cheddar cheese, either Kerrygold or Tillamook, and I only buy our Kerrygold grass-fed butter here, as it is hands down the cheapest place to buy. I'll see what they have in terms of fish that day, and if they have something wild and from the US, I'll pick some up. Depending on my current inventory at home, and if I'll be making it to another market soon, I may or may not pick up the organic chicken breasts they sell there, as they're perfect for making chicken nuggets. But most of my chicken comes from either local places or Mary's. I used to buy the grass-fed ground beef there too, but since I belong to a beef CSA now, I have plenty of local grass-fed beef. These organic chicken sausages were awesome and contained no added sugars, although I haven't seen them back since buying them last month. And the Kirkland wild caught smoked salmon is so good!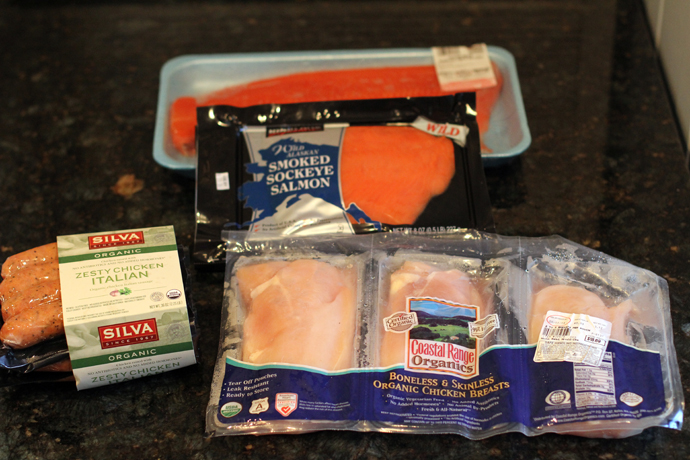 Next to our refrigerated section, is our produce. I don't buy a ton of produce at Costco, since we have great farmer's markets and belong to a CSA, but I do love certain things from there and I swear they are the best. Watermelons, grapes, and cantaloupes are always perfectly sweet. They usually have some organic boxed greens I'll pick up, and their organic 10 lb bag of carrots is a great deal, although since we got rid of our 2nd fridge, I can no longer fit them in our single fridge. The great thing about Costco is their produce is not only marked country of origin, as required by law, but because it all comes packaged, the farms and cities are usually noted on their labels as well. When produce is in season, I'll notice that the majority of it always comes from somewhat local, California farms, so I happily purchase. Once fruits and veggies move past their season, then I'll start noticing their origin is usually out of state or out of country, then I'll usually skip it, unless it's something like bananas, which you can only get out of country. The whole shopping local thing is all personal, but just wanted to share how I try to stay mindful of this, even when shopping at someplace like Costco.
Next to the produce section I visit the frozen section and if we are low, I pick up bagged organic berries, perfect for smoothie making, and a great deal. They also sometimes have things like frozen wild caught salmon, frozen organic brown rice, and a few other novelty items, but the prices on those aren't particularly stellar, so I try not to waste valuable fridge and freezer space on those bulk items.
Drinks border our freezer and refrigerated section, so I'll see what they have. My husband has grown addicted to Honest Tea, in his quest to kick soda, so if it's on special I'll pick up a case. I buy a case of organic drink boxes every few months for when we have play-dates and to put in the kid's lunches on occasion, but mainly we just send them with water. I noticed last time that they even began carrying organic lemonade made with organic cane sugar, and it was a great price. The kids loved it.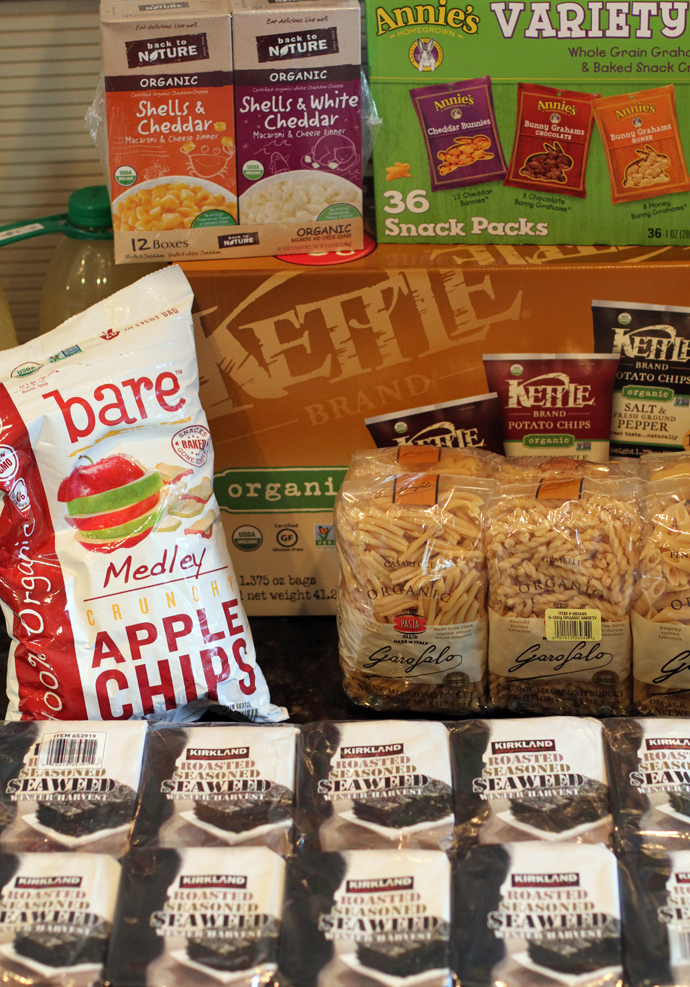 The bulk foods section is where I really do some damage. There are several items in this section that I only buy at Costco, including organic maple syrup, organic olive oil, organic peanut butter and some organic grains. I always browse up and down these aisles to see what's new, and will almost always find new or old grains to try, including quinoa and rice, oatmeal, pastas and even flaxseed meal. Since I make my own stock now, I no longer buy the Kirkland organic chicken stock, but when I did, it was always great and a good value.
Before I head out to check-out, I visit the snacks section. This is where the best ever baked apple chips are located, which only have 2 ingredients; apples and cinnamon. I occasionally buy other little packaged organic snacks, and also get Taylor the packages of seaweed, but for the most part, stick with simple. When I bring anything into the house that comes in a little package, the kids go nuts for it and I practically have to lock it up.
If you skimmed through this list, the main things I only buy at Costco include Kirkland organic maple syrup, which we use as a sugar replacement in most recipes now, Kerrygold grass-fed butter, Alpine Valley organic bread, Kirkland organic peanut butter, and Kirkland organic olive oil. These products are all great and very affordable in bulk in comparison to purchasing at a regular store.
My main advice at Costco is to not get overwhelmed, walk the perimeters and get familar with the store, and if oyu don't see enough orgnaic or natural food options at your Costco, speak to your store manager.