While I think information and knowledge is vital to us learning to take proper care of ourselves, what we often need more of than just facts and figure, is a little bit of inspiration along the way. I  love to read, but this past year my nightstand is pretty much stacked with one food book after another. Some of my cookbooks are even found on my nightstand, as I love to flip through them when winding down, looking for new ideas. These books listed below have helped not only inspire many meals, but also have helped make me a more knowledgeable foodie.  A mix of both recipe books, narrative and non fiction, this assortment will help you when you're feeling stuck in the kitchen, or confused as to why you should be eating in season. I can't recommend these all enough! And note, while some may not consider certain recipes included in the books below particularly "healthy", they all offer lots of information for cooking and eating real, whole foods, no matter what the calorie count may be.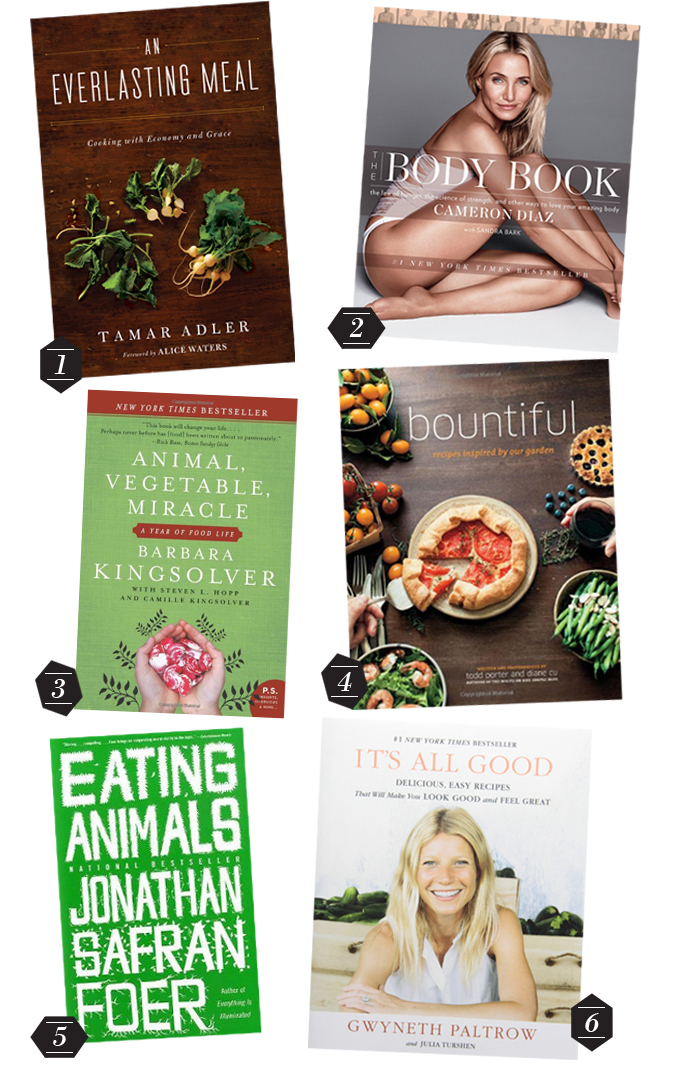 An Everlasting Meal: Cooking with Economy and Grace:
Not quite a cookbook, not quite nonfiction, this reads more like narrative, with beautiful stories, real-life kitchen experiences, and the occasional recipe woven in. It is actually chock full of instructions for cooking and eating your way through the kitchen, but offered in a story format as opposed to an instruction manual. Covering various topics from how to properly use herbs and spices, how to rescue a failed meal attempt, and how to eat well and waste little. She's the one who inspired me to save vegetable trimmings to make my own stock, and gave me the confidence to cook my own beans. I can't recommend this book enough, as it has been the biggest source of inspiration in the kitchen, and has completely changed how I approach food, in terms of getting creative and bold.
The Body Book by Cameron Diaz & Sandra Bark: Once you get past the fact that this book is written by another gorgeous blonde celebrity, appreciate it for what it is; a well-written, easy to read, fad free approach to eating, exercising and loving yourself. Diaz goes chapter by chapter breaking down nutrition for us (with the help of some experts), explaining why we need a healthy dose of all the food groups, including carbohydrates, healthy fats and protein. I still have yet to finish the book, but I love the sound approach to eating and helpful information. While there are I'm sure hundreds of other nutrition books that can teach you the same thing, I love that this book weaves body, mind and spirit together in one book, and takes a much needed modern day approach to healthy living. One of my favorite pages from the book is an infographic showing the evolution of the food industry along with public health. While correlation does not necessarily equal causation, it's pretty telling to see that since the introduction and rise of the fast food and processed food industry, health issues from obesity to heart disease have all risen.
Animal, Vegetable, Miracle:
More of a memoir of sorts, this book takes us through the life of a family of 4 who moved to a farm and took an oath to eat only what they could grow or buy within a small local radius. Saying goodbye to bananas from Ecuador and California strawberries, it shows the reader the value of eating in-season, sourcing sustainably and how our food choices effect the world around us. With some recipes thrown in, the book is written in chronological format to show how our forefathers and ancestors used to eat and prepare food for the winter months, long before we had mega warehouses and supermarkets.
Bountiful: Recipes Inspired by Our Garden

I have a particular fondness for Southern California locals Todd and Diane, the duo behind the wonderful cooking blog White On Rice Couple. I've met them a few times and their warmth and kind, creative spirits genuinely shine through. So I loved to be able to support such a great team when their cookbook came out last year. I had no idea I would fall in love with it so much, and have made at least 20 recipes in the short time I've owned it. The focus is on cooking meals inspired by their garden, so in that vain, the book is organized by produce type versus by meal category. Some may find this confusing, but as a produce nerd, I love it. Either way, once you get comfortable navigating your way through the book, you'll get plenty of inspiration for adding produce into any meal or drink!
Eating Animals

This is not light summer reading my friends, but it is heavy on information. After extensively researching for this book for over 2 years, Foer did become a vegetarian, but it did not turn me into one. Instead, it left me feeling first, sad, and second, dedicated to sourcing my animal products more humanely, more ethically. I wrote a post about this book a while ago which you can read here, but bottom line, if you're interested in reading about the meat industry in this country, and wonder why I've become so passionate about this topic, read this book.
It's All Good: Delicious, Easy Recipes That Will Make You Look Good and Feel Great
Well, you all know I love this book. While it does have some elimination diet stuff I don't necessarily believe in, it is a solid cookbook with great recipes. I still love it for how easy and yummy it made healthy cooking.
Honorable mentions go out to Nourishing Traditions: The Cookbook that Challenges Politically Correct Nutrition and the Diet Dictocrats
and The Nourished Kitchen: Farm-to-Table Recipes for the Traditional Foods Lifestyle Featuring Bone Broths, Fermented Vegetables, Grass-Fed Meats, Wholesome Fats, Raw Dairy, and Kombuchas
, both books which focus on eating from a traditional standpoint, doing away with current diet doctrine of restricting animal products, and revitalizing age-old methods like fermentation and preserving.