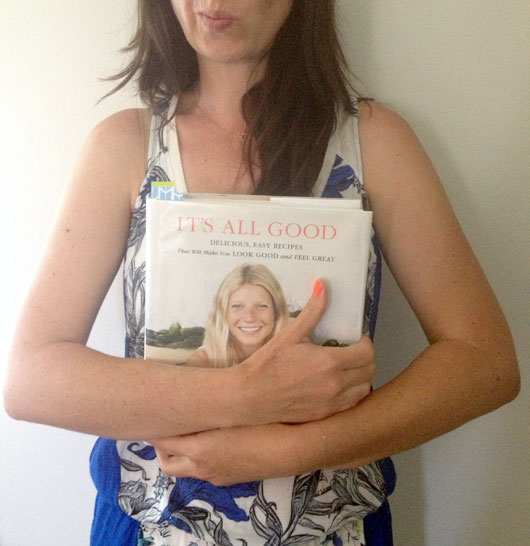 When I checked out It's All Good just almost 3 weeks ago, I certainly never had any intention of doing more than try a few recipes, flip through photos of Gwyneth looking flawless with no makeup on, and maybe proving that gluten free baking was nothing more than a crock of shit. And I definitely did not set out to get other people to actually go out and buy the book. Sure, I wanted to try to cook and eat more healthy, and for that, my intentions were valid.  But I never dreamed that this book would actually teach me so much and get me to explore such a wide variety of recipes, in such a short amount of time.
Within 30 pages of the book though, I knew there was something about it I really, really liked. Between the writing style, the simplistic way of breaking down all the scariness that is vegan, dairy free, gluten free cooking, and loads of purty photos, I discovered that clean eating didn't have to be torture, and could in fact be enjoyable. And better yet, I could actually cook it for myself and my family.
I know it sounds like I'm getting all sappy about Gwynnie, and maybe I am. But I never thought that I, a hardcore carnivore and cheese lover for life, could so easily adapt to cooking and eating vegan, dairy free meals and treats on a regular basis. While I most certainly never have any intent of giving up brie, nor can I say I'll never have a filet or In N Out again, I've learned that for the majority of my food intake, I can live without those things, and in its place, I've discovered so many other alternatives.
So friends, I have some exciting news to share. It looks like I'm going to actually have to go out and buy a copy of the book, because starting this Monday, July 1st, I'm going to begin writing a weekly column titled Gwyneth Made Me Do It, over at Babble, in their brand new Health & Wellness section. I'll start out by posting twice a week, and in many ways it will be an extension of my Instagram account, but in more detail of course. Thank you so much for the support over at Gwynethmademedoit on Instagram! Almost 600 followers in just a couple of weeks! I'll be writing about the recipes I try, the trip ups and stumbles along the way, and how clean eating is changing me, for better (health), and for worse (I'm broke!).  It will be a very real and authentic account of my journey.
I'm excited and very nervous. I've been wanting to write for Babble for over a year now, and who knew this would be how I would get there? A book borrowed from the library, written by a celebrity I couldn't stand, and an Instagram account started on a whim one night so I wouldn't annoy my regular followers with endless healthy food pictures. Wish me luck, and thank you as always for being a huge source of inspiration and support!