Our neighbor's ran into us this morning and asked if we had hosted a wedding on Saturday night. They heard the band, saw the twinkling lights and had passed by while the catering van was packing up, so they assumed the big hoopla had been a wedding. I had to laugh because it very much felt like I had hosted a wedding, with all the details and time leading up to the big event, and the sad let-down most brides feel the morning after. All that planning, all that fun, to have it flash by in a blink. It was a special night for a very special person, and I'm so happy I went all out for Art's 40th.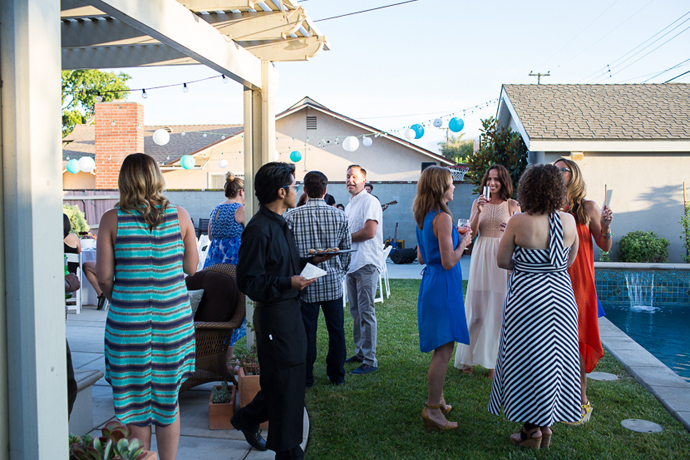 We don't travel much, or as often as we'd like, so instead of spending on a big trip for his 40th, we did the next best thing and celebrated with our closest friends and ate, drank and danced until we were tired and full.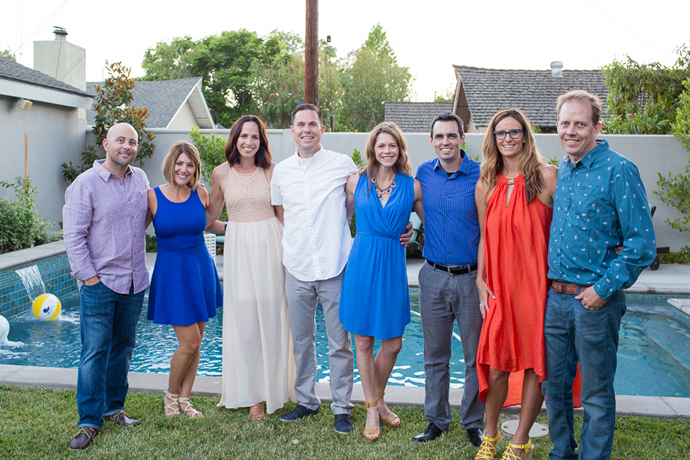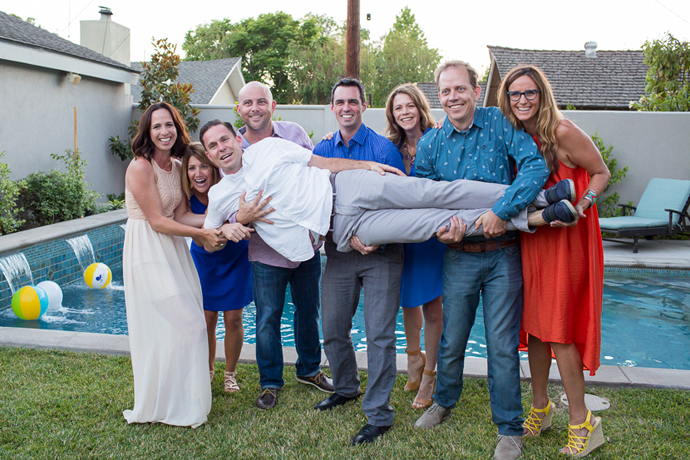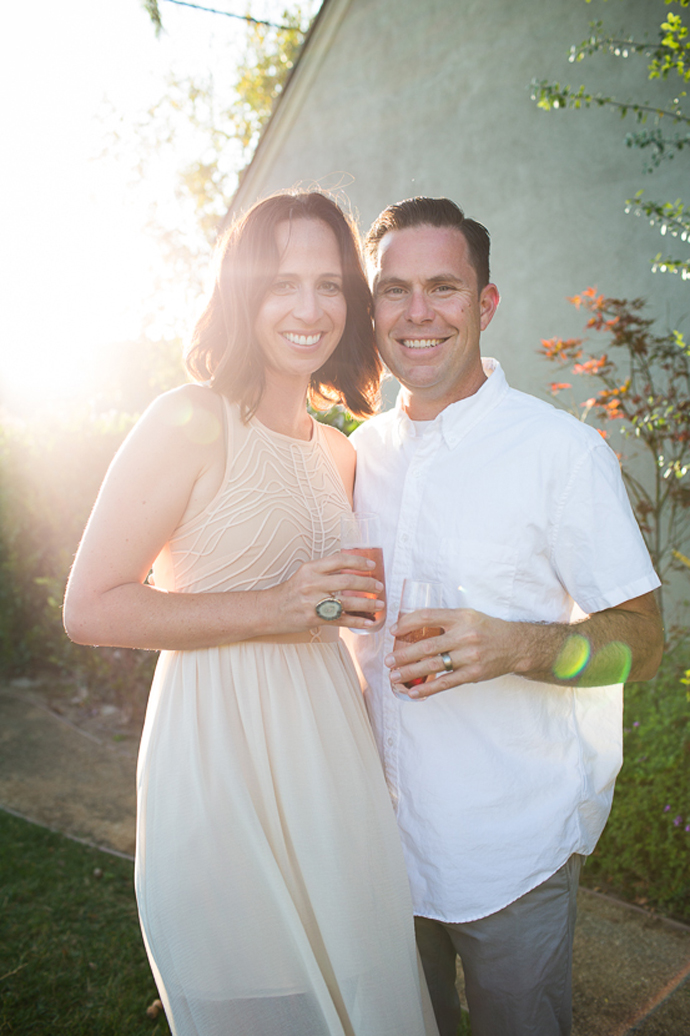 I decided pretty early on that I wanted to hire a caterer because I wanted to eat well and enjoy the night. I've never hired a caterer and very rarely order premade food from restaurants, choosing to do most everything myself to save money and control the menu. Each time I do, I'm glad I put in the effort, but I also wish I had some energy and time to spare so I could actually enjoy the party and our guests. From the beginning I knew we wanted Primal Alchemy to cater the event. We met Chef Paul a few years ago when we had neighboring garden plots at the Long Beach Community Gardens, and Art did some work for him way back when. Specializing in seasonal, local and sustainable farm-to-table cuisine, our lifestyle shift in the last year gave me a new appreciation for his work and I knew the food for the party would be in good hands. I wasn't wrong.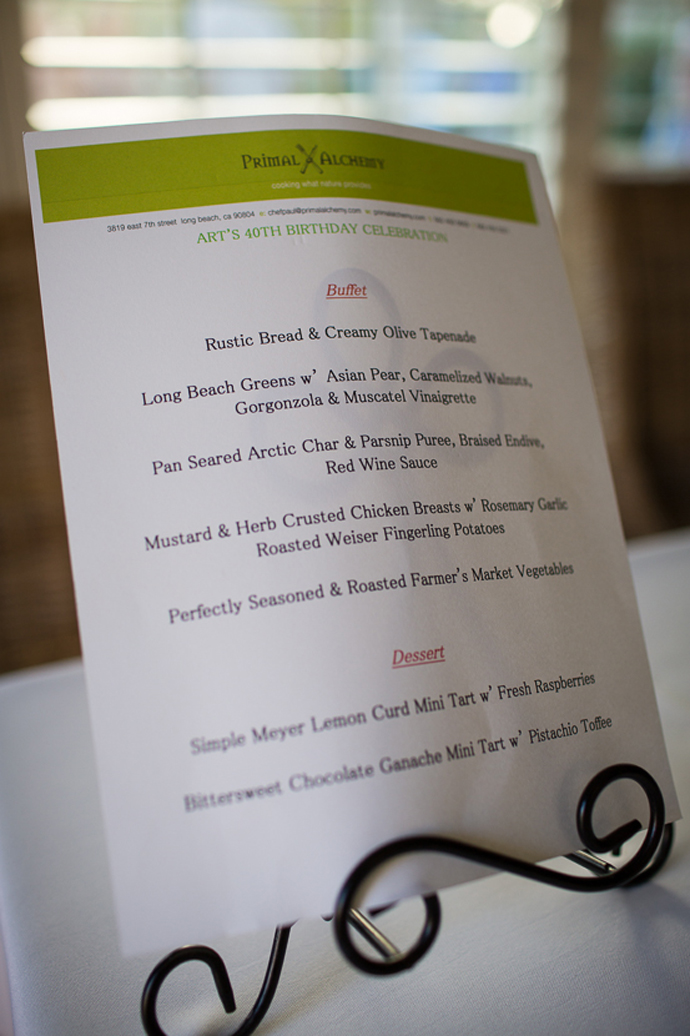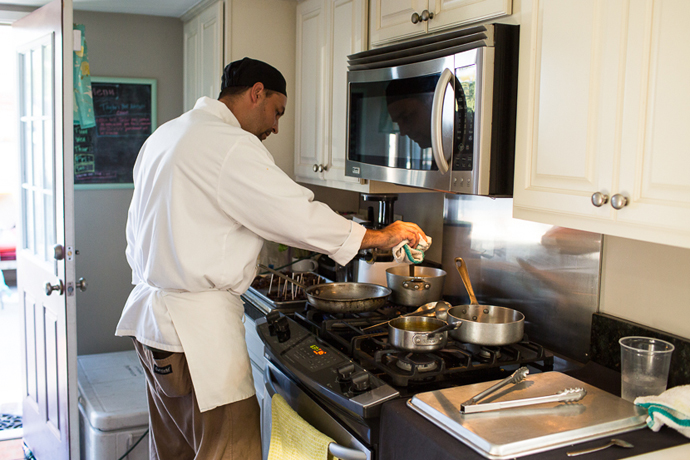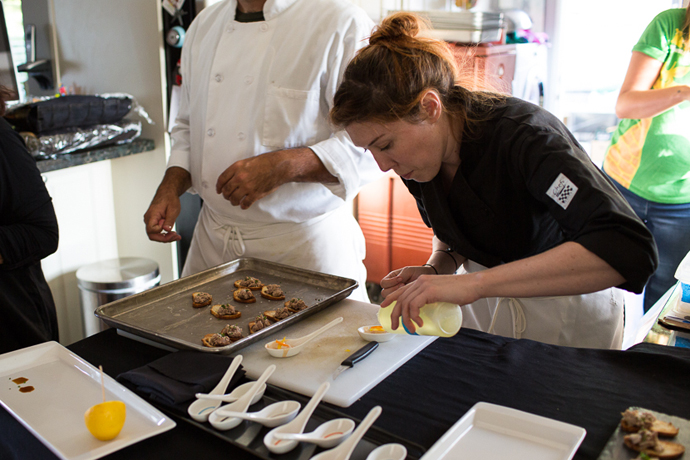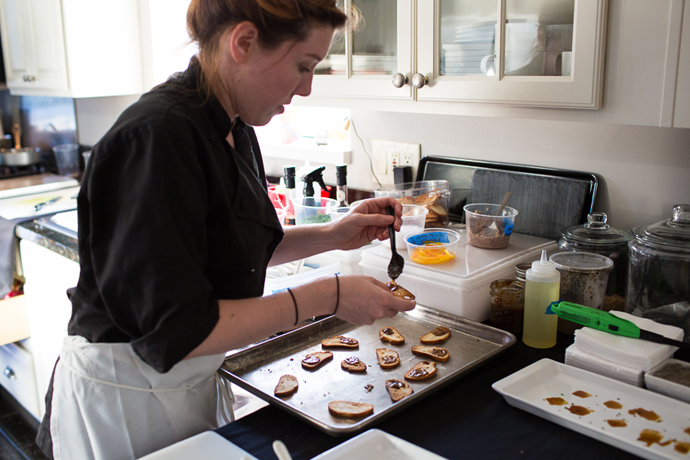 There weren't any pictures captured of the actual food when it was complete, because my dear friend Mary, who snapped all these lovely photos, was too busy enjoying her dinner. I think that fact speaks more to the quality and flavor of the food, than it does to her skills as a photographer haha! Ever the perfectionist, only food that good could throw Mary off her game for a moment. I'm so happy and thankful that she captured the most important moments shared with friends and my guy, though.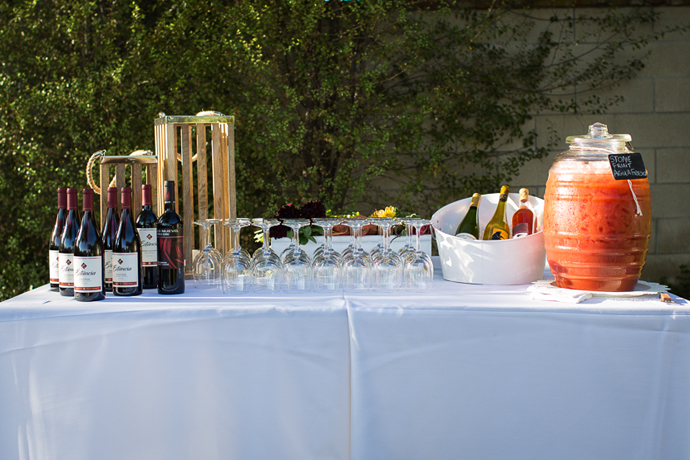 The caterer made the most amazing stone fruit agua fresca, and set up the wine & beer bar area for us. Once the tray passed appetizers were through, they also set up a full bar, complete with the makings for Roberta's Cookbook's American Nightmare, found on the Goop site. We're still enjoying the last little sips of that agua fresca 3 days later, and dreaming of how I can make my own agua frescas so tasty.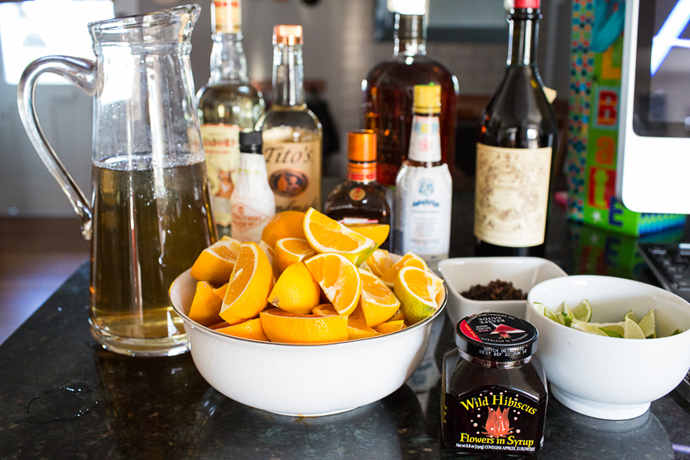 The table settings were a very last minute idea. I originally had the idea to create full and colorful centerpieces using paper honeycomb balls, but when the company I usually order from was shut down for a few days, I had to switch plans. At the very last minute, as I was wracking my brain for ideas, I started thinking of what I wanted to represent, things we love, and in particular, things that would relate to the dinner. I instantly knew I had to incorporate fresh fruit and veggies somehow, so I did some searching around, and used this post from Design Sponge as inspiration in creating my own arrangements.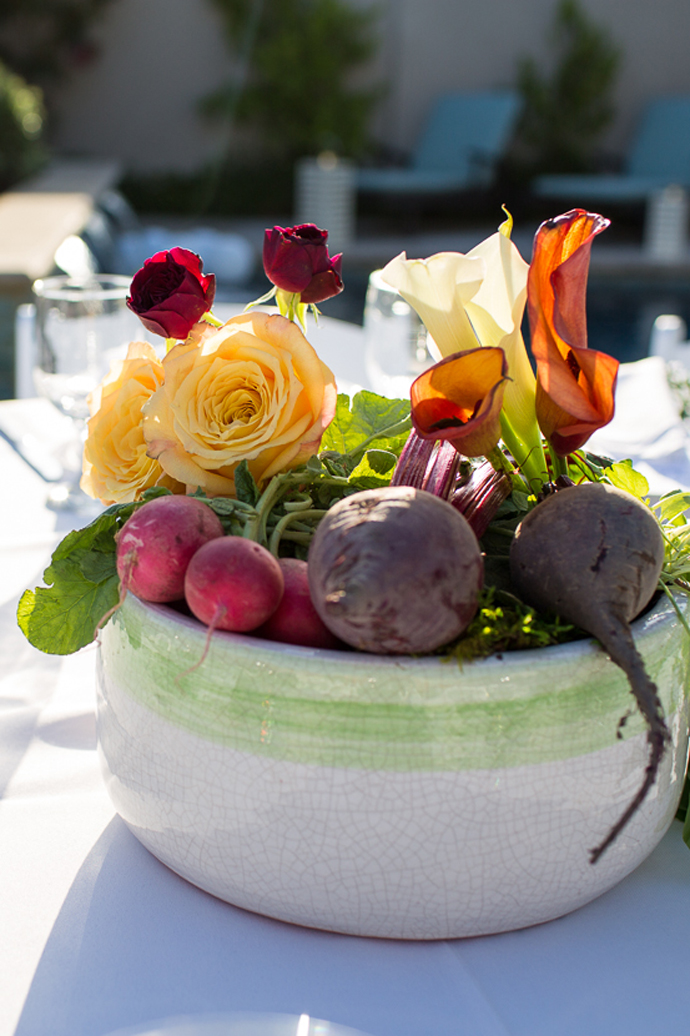 I couldn't be happier with how they came out, and even though it took some last minute running around to find appropriate vessels, they fit with the party theme perfectly.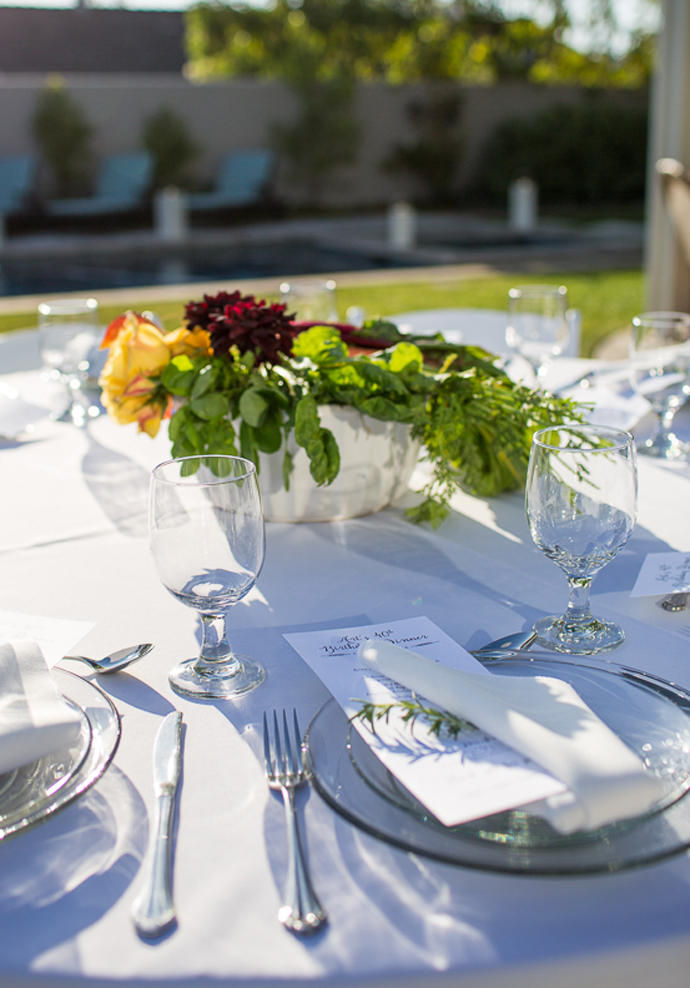 I found the containers at Home Goods, and purchased some moss from Michael's. Heather of River and Bridge was nice enough to at the very last minute, design these lovely menus for the event. The snippets of rosemary was something we added minutes before the party started because the menus kept flying away.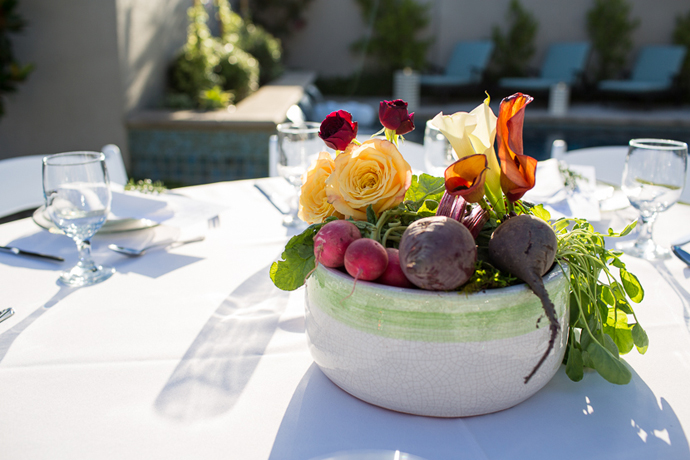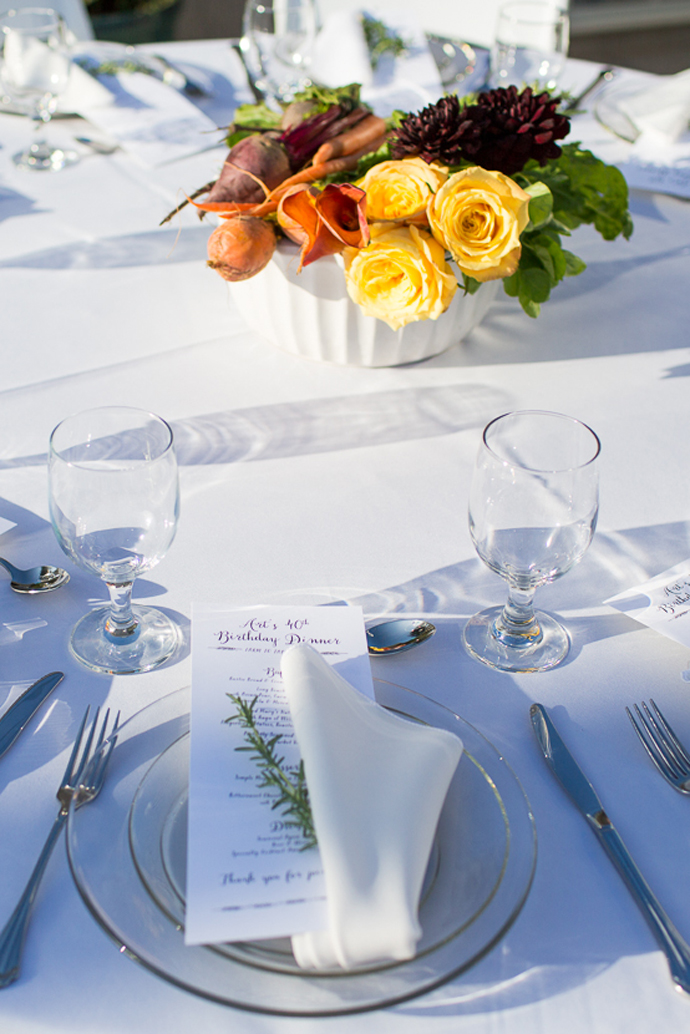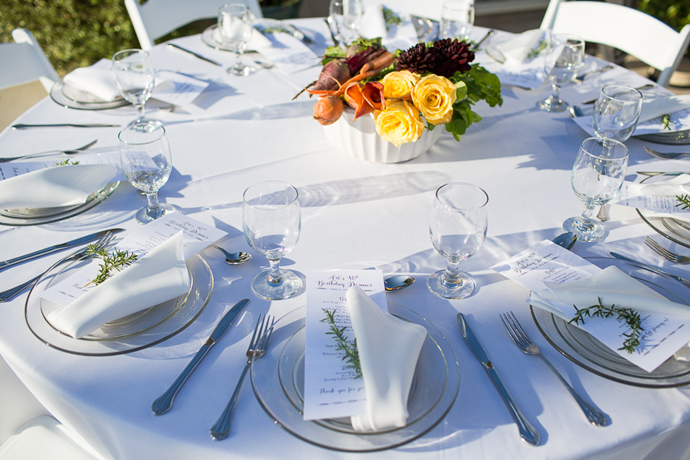 To add some color and whimsy to the backyard, I purchased white and aqua paper lanterns in bulk from Amazon, and hung them from our cafe lights. I also placed huge metal and reclaimed wood lanterns around the pool area, porch to welcome guests, and on the drink table. I found them on clearance at Target and I can't wait to use them throughout the summer. They really added a special feel. I also put some friends to work at the last minute.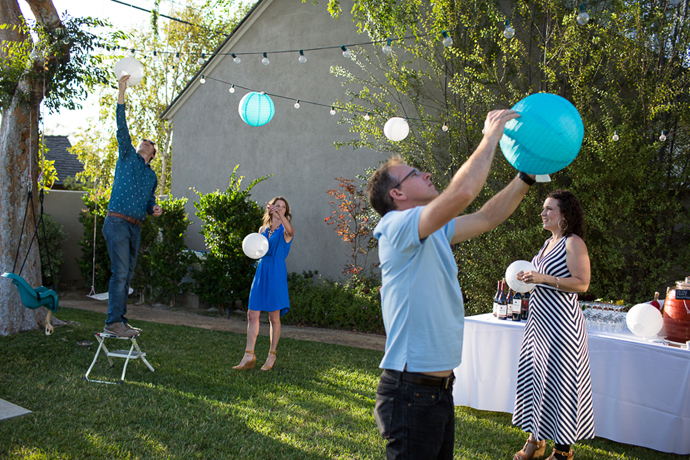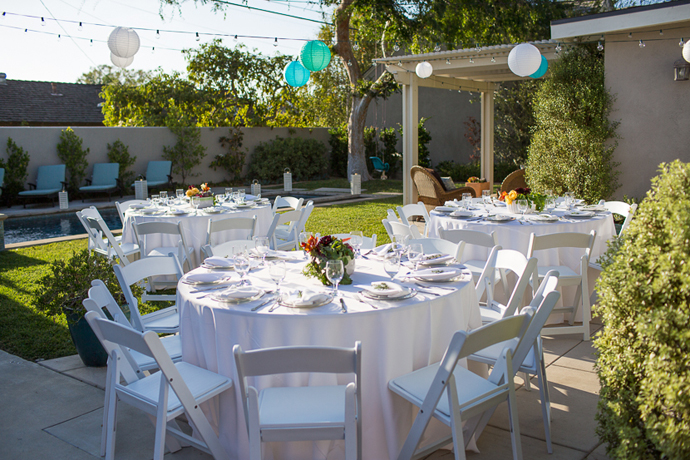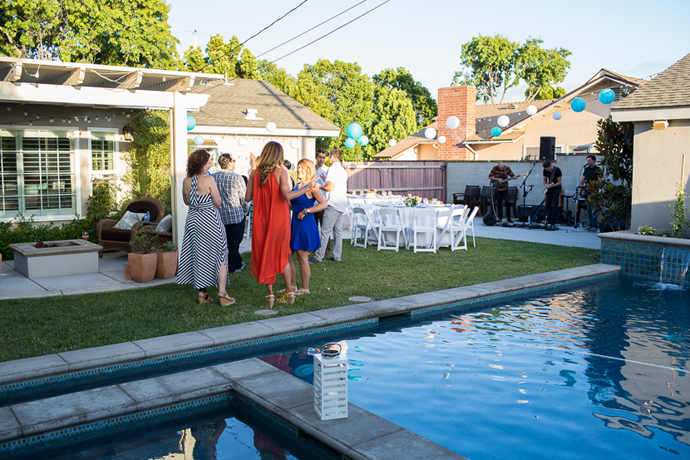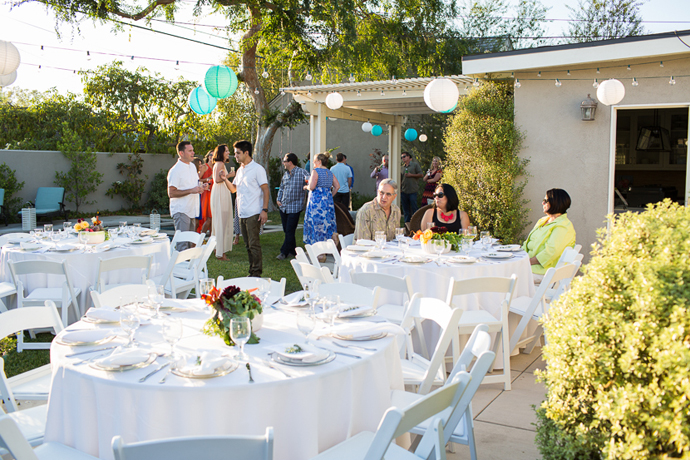 Besides having a caterer, I also really wanted to hire a favorite local band who has performed at a few friend's parties. The Joneses were on point as usual and provided fabulous entertainment long enough, and loud enough, for our next door neighbor to call and ask us to keep it down.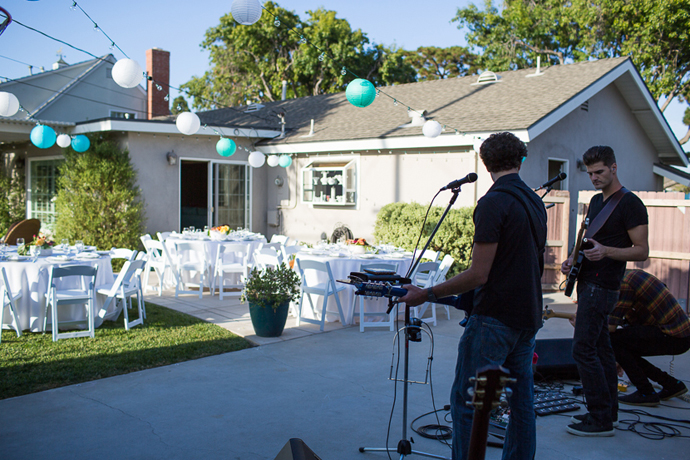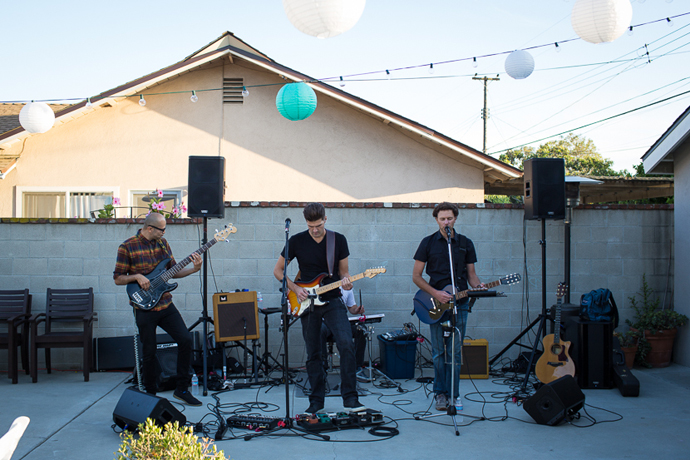 In between dancing and eating, some fierce ping pong matches occured. While I don't always love having the garage open up to our backyard because it's not always so clean, I do love it on night's like these, when friends are over and we can all gather around the pool, fire pit and ping pong table, let the kids shoot some hoops or play dodge ball, and everyone can have fun and stay safe and sound.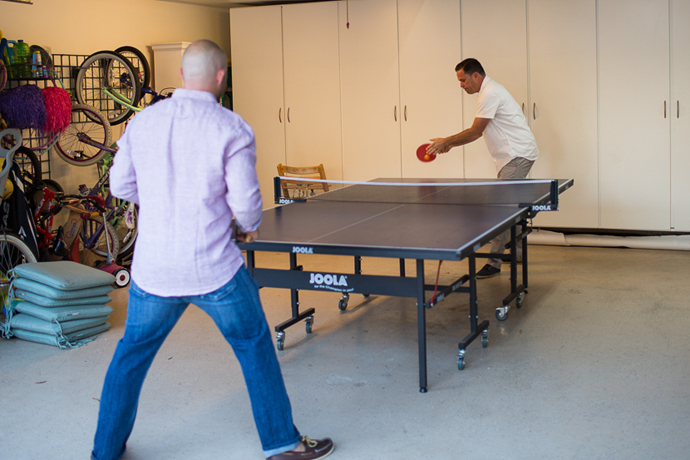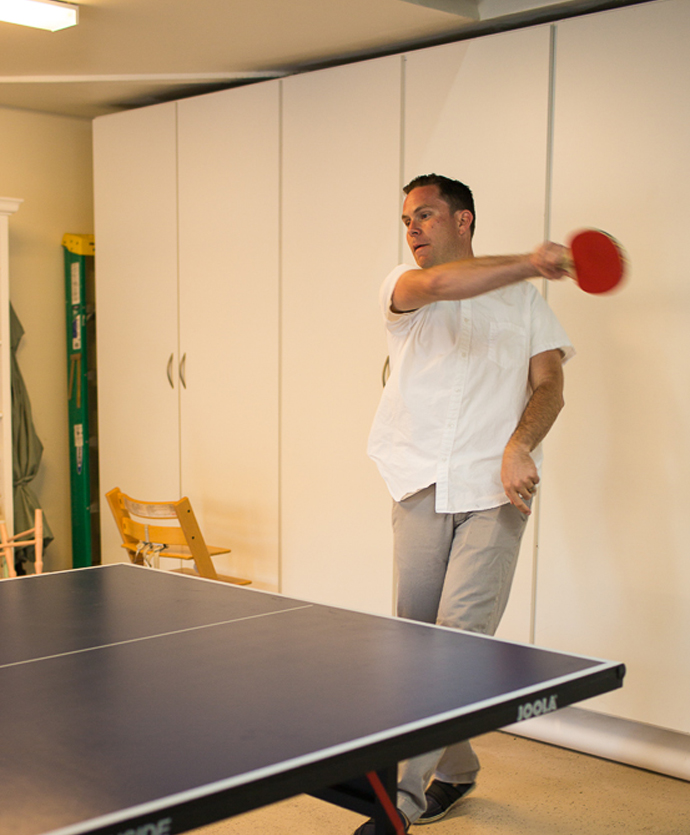 During sunset we ate dinner and enjoyed our company, and then as night fell we lit some candles, sang happy birthday and the fun really began.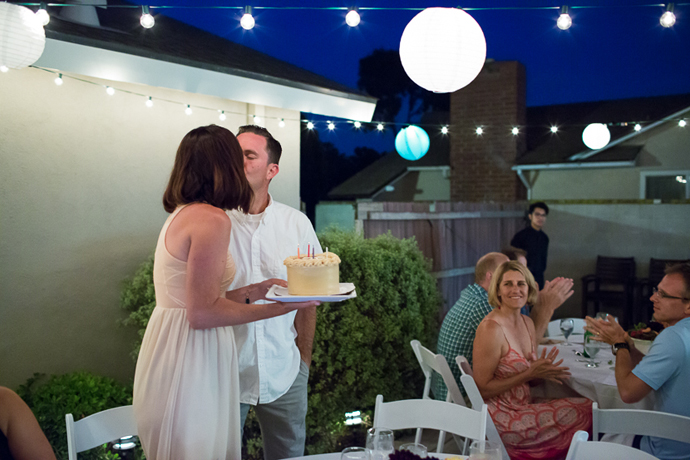 Things started to also blur a little around here too because of the dancing and wine, and I remember being flung and twirled around, and then the next thing I knew we were both in the pool.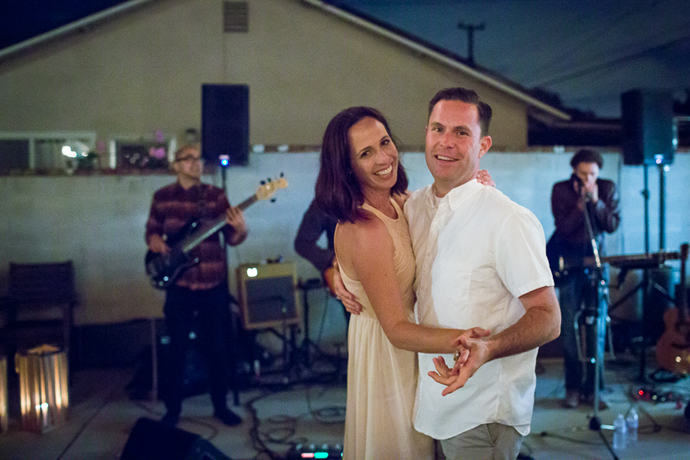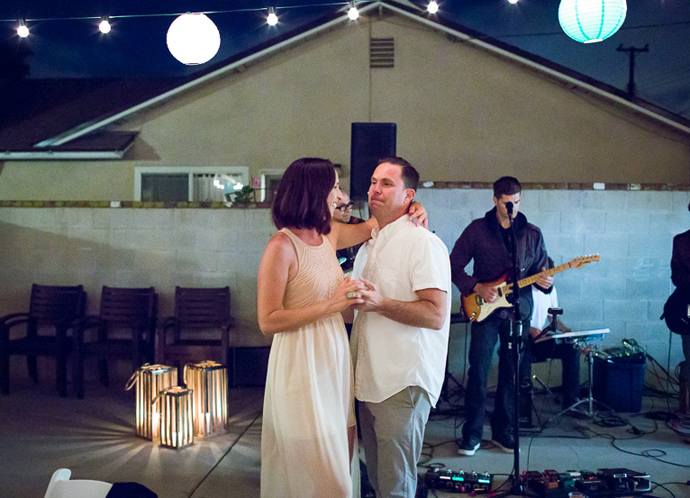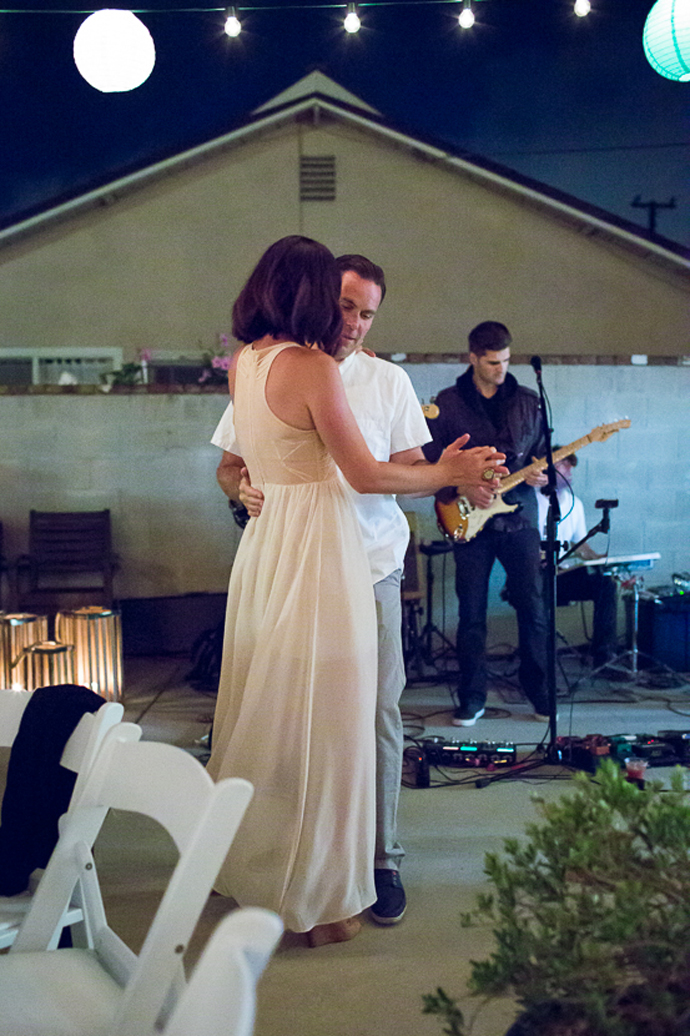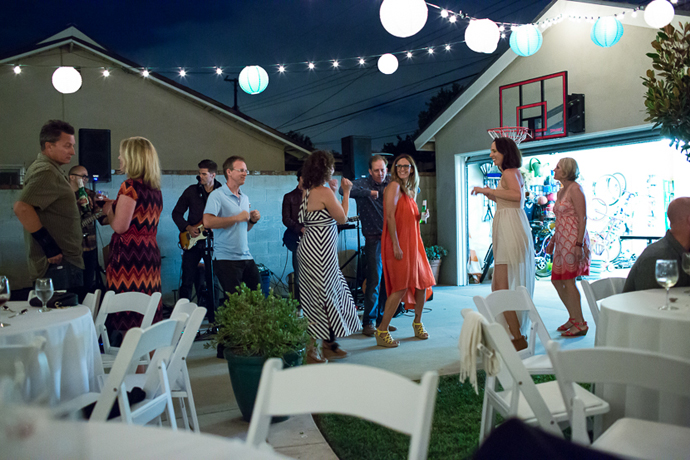 I do know that I didn't do much to stop the toss in the pool, in fact I may have really encouraged it. But I didn't think I would get tossed in alongside the birthday boy. Luckily my dress survived, and we made sure to take Art's phone off him before he was thrown in. Greg was a good sport and somehow landed in the pool too. He spent the rest of the night in a pair of Art's swim trunks and an old t-shirt. Thanks for taking one for the team Greg.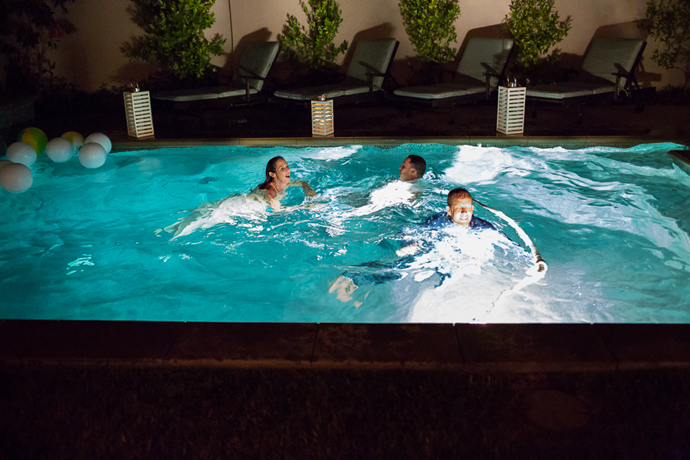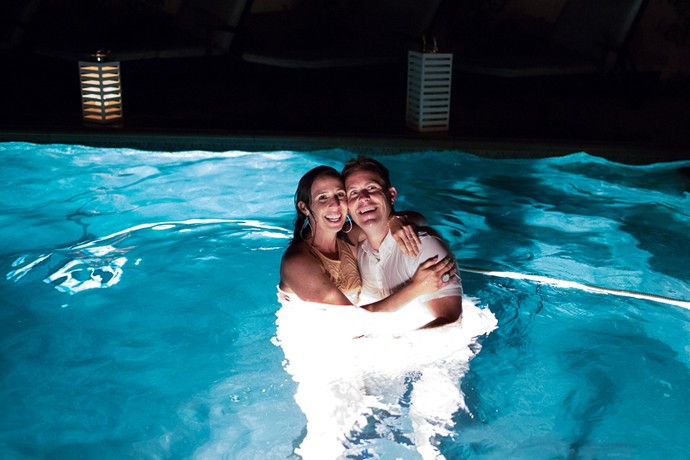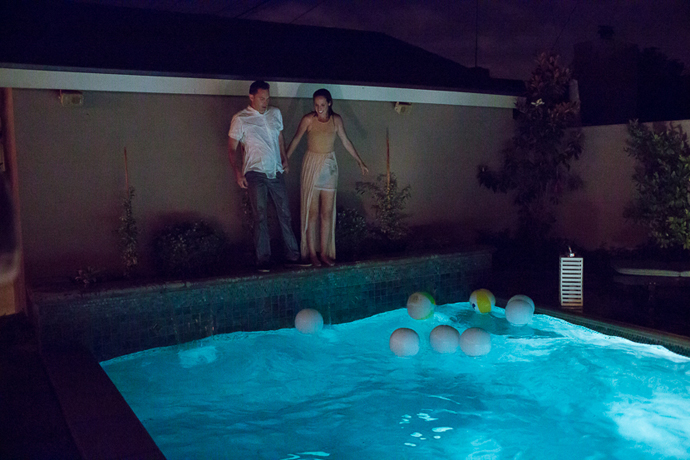 Such a memorable night that we won't soon forget. It was so much fun, and we were so happy many of our closest friends and family members could be there to celebrate Art on this milestone of a birthday. Happy 40th Art! I love you, and I hope you had as good of a time as I did!