I recently acquired a Vitamix Blender
instead of a juicer after watching the Vitamix dude make a mighty wow-inspiring presentation at my local Coscto. I had my heart set on using my birthday money to buy a nice juicer, but when I saw his presentation I just couldn't deny that for now, a blender was the way to go. If you want a breakdown of how I came to this life-altering decision, you can read my post here on Babble. Anyhoo, I've used my Vitamix Blender
everyday since I brought it home, and wanted to share a few of my favorite drinks I've concocted up so far. These are all iPhone pictures so apologies for that, but I find that somehow the drinks are getting drunk faster than I can pause to run and get the good camera. You all get the drift though, I hope!
Strawberry Basil Slushie
I call this one a slushie rather than a juice or smoothie because it has a bit of a smooth icy texture, which I found mighty refreshing! It's really quick to whip up, and the basil keeps it from becoming too sweet.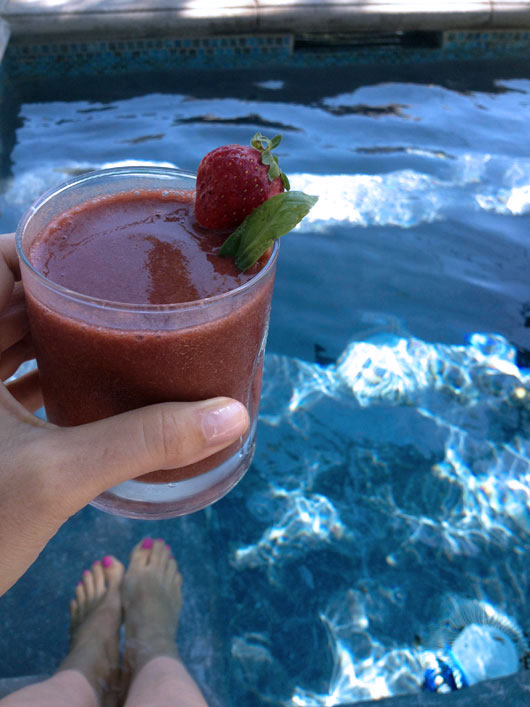 1 cup frozen strawberries + 1 cup fresh strawberries – the combination of the two helps to make the drink cold and fresh tasting
⅓ cup of fresh basil leaves (more or less depending on how strong of a basil flavor you want. ⅓ cup will give it a distinct basil flavor without being overpowering)
4-5 mint leaves
½ navel orange peel removed (this will cut down on the bitterness that sometimes arises with frozen strawberries)
1 tbsp of raw or 1 tsp standard honey
1 tsp of chia seeds (just to add some extra goodness in there)
¼ cup water + ½ cup ice (mix both in a measuring cup and just pour right in)
Combine in blender and puree till nice and smooth.
Cucumber Basil Fauxjito
I know mojitos don't actually have cucumbers or basil in them, but this drink still reminds me of one for some reason.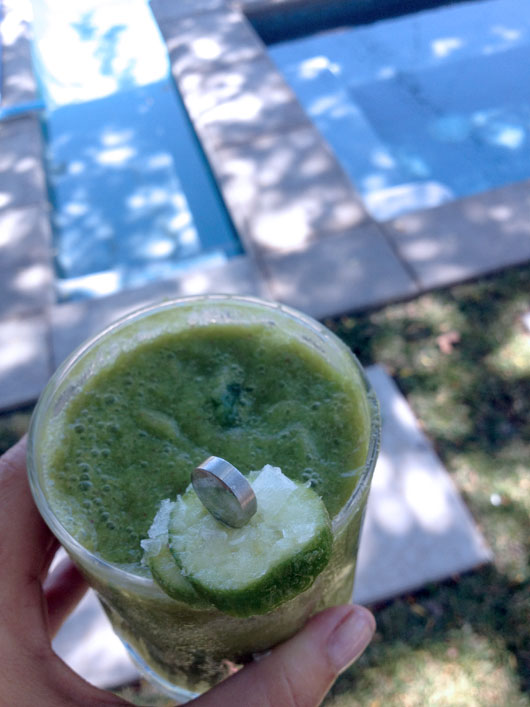 2 small seedless cucumbers or 1 English cucumber (important that they are not regular cucumbers as those have a stronger flavor)
1-1.5 lime(s) peels removed (depending on how tart you like your drinks)
⅓ cup fresh basil leaves
4-5 mint leaves
1 tbsp of raw honey or a splash of raw honey simple syrup
¼ cup water + ½ cup ice (mix both in a measuring cup and just pour right in)
2 slices of cucumber dipped in coarse sea salt, or Maldon's if you have it on hand – the garnish is the cat's meow in this drink
Combine in blender and puree till nice and smooth. *Adapted from It's All Good
Super Light Green Smoothie For Two
I made this drink the other morning for my husband and I and he said it was his favorite by far. This combo is really nice and light, and definitely sweet but not overpowering. This is a great starter juice for someone who is not sure of the whole green juice thing, and is super great for kids and babies. You can't go wrong with this one.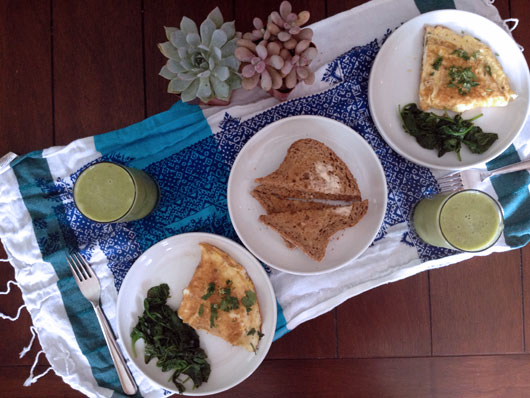 1 banana (I prefer mine really ripe so they're sweet)
½ orange + ½ lemon peels removed
1 inch slice of ginger
1 apple cut up
1 inch slice of pineapple skin removed
2 heaping handfuls of spinach
½ cup water + 1 cup of ice (mix both in a measuring cup and just pour right in)
Combine in blender and puree till nice and smooth.
Whole Fruit Margarita
I got this recipe from the Vitamix book, and my friend Miranda and I both agreed that it was a little weak sauce, so we tweaked it a bit and came up with this version, which is definitely better.

¼ cup water
12 ounces of tequila
4 ounces of triple sec
1 navel orange peeled
2 limes peeled
1 lemon peeled
3 tbsp raw honey simple syrup
6 cups of ice
Combine in blender and puree till nice and smooth. Salt your rim, pour, and enjoy the healthiest margarita you've ever had!
A few friends and readers have asked how I come up with these concoctions, and it's just a matter of experimenting, and thinking of the foods and flavors you know to complement each other when eaten whole. Basil + strawberry is a match made in heaven, but if you just tried to blend these two up, chances are the smoothie would taste a little strange.
Just keep in mind a few things when coming up with your recipes:
– Apples will add subtle sweetness
– Oranges will add tangy sweetness
– Lemons are stronger in flavor than limes, so if you just want a bit of sourness, add a lime over a lemon
– Water will dilute the juices a bit so they go down smoother
– Ice will make them more smoothie and slushy in consistency
– Use raw honey or even a natural sweetener like zylitol if a recipe calls for sugar or agave (read this article about agave, and how it's not really that much better for you than refined table sugar. If you have a Vitamix Blender
, the cookbook that comes with your machine calls for agave all over the place)
I hope you like these recipes, and let me know if you have any questions!