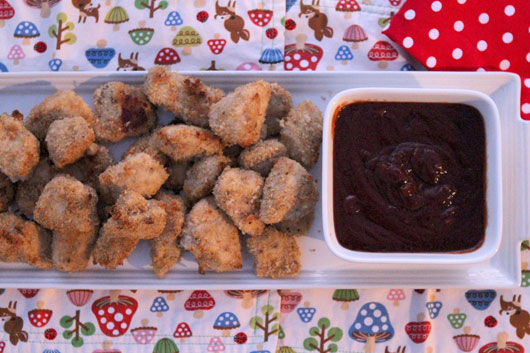 To see the entire 31 Days Series, visit here, and to get post updates on Facebook, please consider liking For the Love Of on Facebook.
Getting our kids to understand why we were changing our eating habits was only part of the battle. Getting support from key family members has been the other part. We've made some pretty big and significant changes to our diets over the last several months, but none have had such an impact on our day-to-day lives, as eliminating factory farmed meats. For life at home, nothing noticeable has changed for my kids. They couldn't tell you the difference between a pastured chicken or one from the grocery store. But outside of the home, it's changed things quite a bit.
The majority of the meat used in restaurants comes from factory farms, as is the meat sold at the grocery stores, unless it is other-wise stated. This can be quite tricky when eating out. For us, it's meant eating out less overall, and taking stock of where we can eat with kid-acceptable vegetarian type dishes. It also means things can become a bit uncomfortable when eating at friend's houses, something we've yet to have to overcome.
When you limit the junk food and candy your kids consume, you can easily turn things down, and claim it's bad for their teeth, or you don't want them getting amped up on all that sugar. These type of answers are socially acceptable per se. Even when you're a vegetarian, people may disagree with you, but they certainly don't take offense when you turn down a burger. But when you are selectively carnivorous, it complicates things. People get defensive and feel like you hold an air of superiority over them; the "it's good enough for me, but not good enough for you" type mentality. I get it, as I've been in that situation before when a friend refused my non-organic peas. At some point we'll have to make uncomfortable decisions and maybe even offer of some explanations, but for now, our biggest contender has been my father, who brings the kids microwaveable beef Angus burgers wrapped in cellophane that he buys in bulk. He claims the kids love and want them, and doesn't understand my problem with them. It's a weekly battle that I can't seem to explain enough to him.
I'm not trying to sway anyone to eat a certain way or guilt people into eliminating certain items from their diet. But I will say that if you are serious about trying to make some changes that will stick, and won't just fade away in a matter of months, you have to know your reasoning behind why you're changing, and you have to have the whole family on board, including the kids. Especially the kids in fact, because in my gut I don't believe dictating to kids what they can and cannot eat leads to healthy eating habits for the long term.
So how have I gotten my kids to for the most part, jump on board? Well, as simple as it sounds, by just talking to them. We don't find it necessary to burden them with the scary details of gruesome conditions at factory farms, or even how Cheetos can clog their arteries and lead to early death. We try to simplify things and answer questions honestly. It's not always easy, and kids want what they want and like what they like. It's our job to lead them towards healthy choices, that hopefully stick with them. With that in mind, it's been especially hard to overcome certain cravings and desires because for years we allowed those things into our home. On top of that, when you have parents steeped in grocery store culture, having earned their pensions working for such places, it's a really hard thing to tackle. For now, we have made our wishes known, but I try not to dictate how they feed them when they're in their care. Some things you have to just let go of and hope the kids will make good choices.
Last week when I was wading through my strep throat stupor, my dad took the big kids out to dinner to Islands. Taylor came home and told me she ordered the pasta, but ratted out Syd, who ordered the chicken fingers. Later on during the weekend, when I was feeling better, Syd requested chicken nuggets for dinner. When we went into our rehearsed speech about chicken nuggets and how they're not good for his growing body, he stopped us mid-speech and said, "No! The ones mommy makes, those are good for us aren't they?" My heart rejoiced a little. Yes, they are good for us son. Baked, not fried, tossed in just a bit of bread crumbs with no extra egg or flour dredging, these nuggets are so good they bring me and my husband to our knees. We use 2-3 breasts and manage to finish them off in a day, with just a few left for lunch the next day. They reheat well and are perfect for warm school lunches in the thermos. They also freeze well. And they let kids be kids, and satisfy those picky, unrefined taste buds very well. This time we also attempted to make our own BBQ sauce from Mark Bittman's How To Cook Everything Vegetarian cookbook, and while it was a bit tangy and could use a bit of refining itself, it served us just fine and was ridiculously easy to throw together. If you're wondering what clean eating has to do with meat, you can read my post here. For now, here's the recipe!
Baked Chicken Nuggets
2 large skinless boneless chicken breasts cut into bite-sized pieces (pastured chickens don't produce big breasts, they're tiny in fact, so for these I use Mary's chicken breasts which are delicious and a fairly good deal when on sale)
salt & pepper to taste
2 tablespoon of olive oil, add a bit more if you need to
½ cup whole wheat bread crumbs or use gluten free if you wish
¼ cup panko bread crumbs, or use ¾ cup gluten free if you want these to remain gf
3 tablespoon grated Parmesan cheese, or use nutritional yeast if you want to eliminate the dairy
olive oil spray
Preheat oven to 425 degrees and spray a baking sheet with a bit of olive oil. Season the nuggets with salt and pepper, and then toss in the bowl of olive oil until coated.
Mix the breadcrumbs and cheese or nutritional yeast in a bowl, and a few chunks at a time, toss the olive oil coated nuggets in the breadcrumbs, then place on the baking sheet. Bake 10 minute, then turn and bake another 5-10 minutes until golden brown.
Mark Bittman's Homemade BBQ Sauce for dipping (this makes a big batch so cut in half if you don't want 2+ cups of BBQ sauce, as it only keeps for 1-2 weeks)
2 cups ketchup
½ cup red wine or water
¼ cup rice vinegar
1 tablespoon Worcestershire Sauce or soy sauce
1 tablespoon chili powder
1 tablespoon minced onion
1 clove garlic minced or crushed
Salt & pepper to taste
Combine all ingredients except s&p in a small saucepan over medium-low heat. Cook, stirring occasionally, for about 10 minutes. Add s&p to taste.
Serve the kid's favorite fruit or veggie on the side, and you have a simple and delicious dinner that the kids and you will love. Does that sound cheesy? It's true!
Need suggestions to get more nutrition into your kid's meals? Here's 7 Healthy Foods My Kids Love To Eat