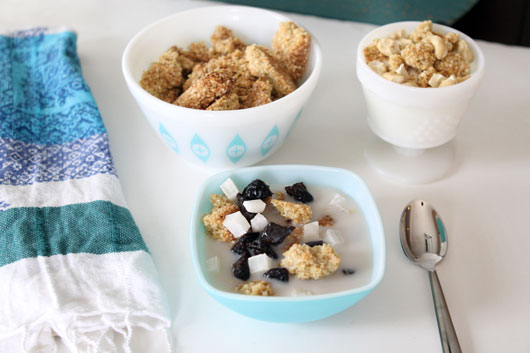 Last week when Martha went a bit crazy and warned everyone to be wary of bloggers, and our lack of experience, I had to chuckle, after at first fuming.  She made mention that many of our recipes and such weren't all that good, and hadn't been tested, and even said many were copycats of recipes skilled editors and chefs had created.  Raise your hand if you've ever followed a recipe, published by a well-known cookbook author, and had the recipe either fail, or just not come out right?  We all make mistakes, there are always things that could go wrong in the kitchen, even for the most skilled of chefs, and so for many of us, it's a constant learning and experimentation process.
One such recipe comes to mind, that due to my own trial and error, I had to tweak to get it just right.  Gwyneth's Quinoa Granola has become a staple in our house.  I cook it every other week and munch on it repeatedly throughout the day without ever tiring of it.  But I had to go through a few trials before it came out right.  Because Gwyneth, and all her skilled recipe testers and editors, made the forgivable mistake of instructing us to bake the granola on a baking sheet, as opposed to a baking pan.  Every single time I cooked a batch on a sheet, it burned on the edges, the middle wasn't crisp, and it never crumbled into chunks, but instead became super flaky, and virtually disintegrated in milk.   No buneo.
So one day I decided to evenly spread out the mix in a baking pan, and what do you know?  Perfection.  How's that for an non-expert blogger?  I hold no grudges though, and still maintain that if you learn to make anything from her book, let this be it.  It's great as a breakfast meal either on yogurt or as cereal, and is perfect at night when you're craving something sweet but want to stay on track.  The quinoa makes it gluten free for those with sensitivities to gluten, and quinoa is packed with fiber and protein, filling you up for much longer than sugary cereals. I don't even bother adding the nuts or dried fruit it calls for in the process, now just leaving it plain so I can concoct what every mix I want, or just leave it plain.
The trick as I said, is to lay out your parchment paper in a regular rectangle baking sheet, and spread evenly across.  Do not mix during the baking process, but just trust that it will come out right.  Let it completely cool in the pan, and then break it into nice big, or little chunks.  There will still be flaking, as that's the nature of the beast, but you will have plenty of big chunks to enjoy and pop in your mouth.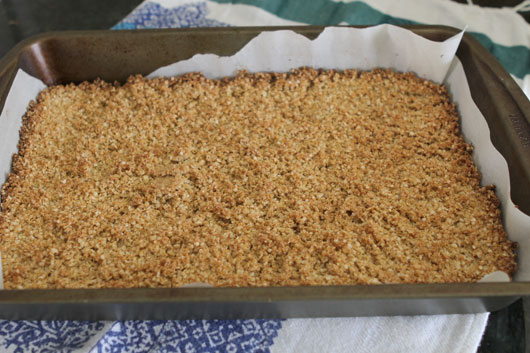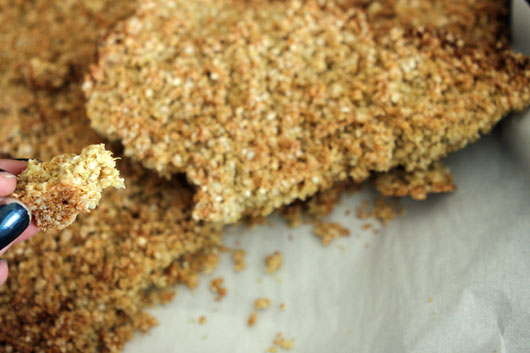 Baked Quinoa Granola from Gwyneth's It's All Good
3 cups quinoa flakes (if you can't find flakes you can pulse regular quinoa in a food processor until they resemble flakes-also, at a health food store it's usually kept in the cereal aisle, next to oatmeal and other hot cereals)
½ cup olive oil
½ cup pure maple syrup (not the fake stuff – real maple syrup is still sugar, but it is not just empty calories and has nutritional benefits including zinc and manganese
sea salt
Mix all first three ingredients in a large bowl, then spread out into a parchment lined baking pan, and sprinkle sea salt on top. Bake in a preheated 400 degree oven for 20-25 minutes, until the granola is golden brown. Let cool and then break apart and store for up to 2 weeks.
Another great trick I learned from Gwyneth when it comes to cooking regular quinoa and rice is, when the cooking is completed, place a paper towel between the pan and the lid and let it sit there for a few minutes. This absorbs the extra moisture and makes the quinoa and rice fluffier and less soggy tasting.