These spicy sweet potatoes are my go-to side dish to meal prep every week. They are so quick and easy to make, and have the most delicious taste and texture. We add them to salads, our favorite carnitas bowl, tossed into scrambled eggs or just on their own. They are a great side dish, loaded with dietary fiber and other valuable nutrients, and are very affordable!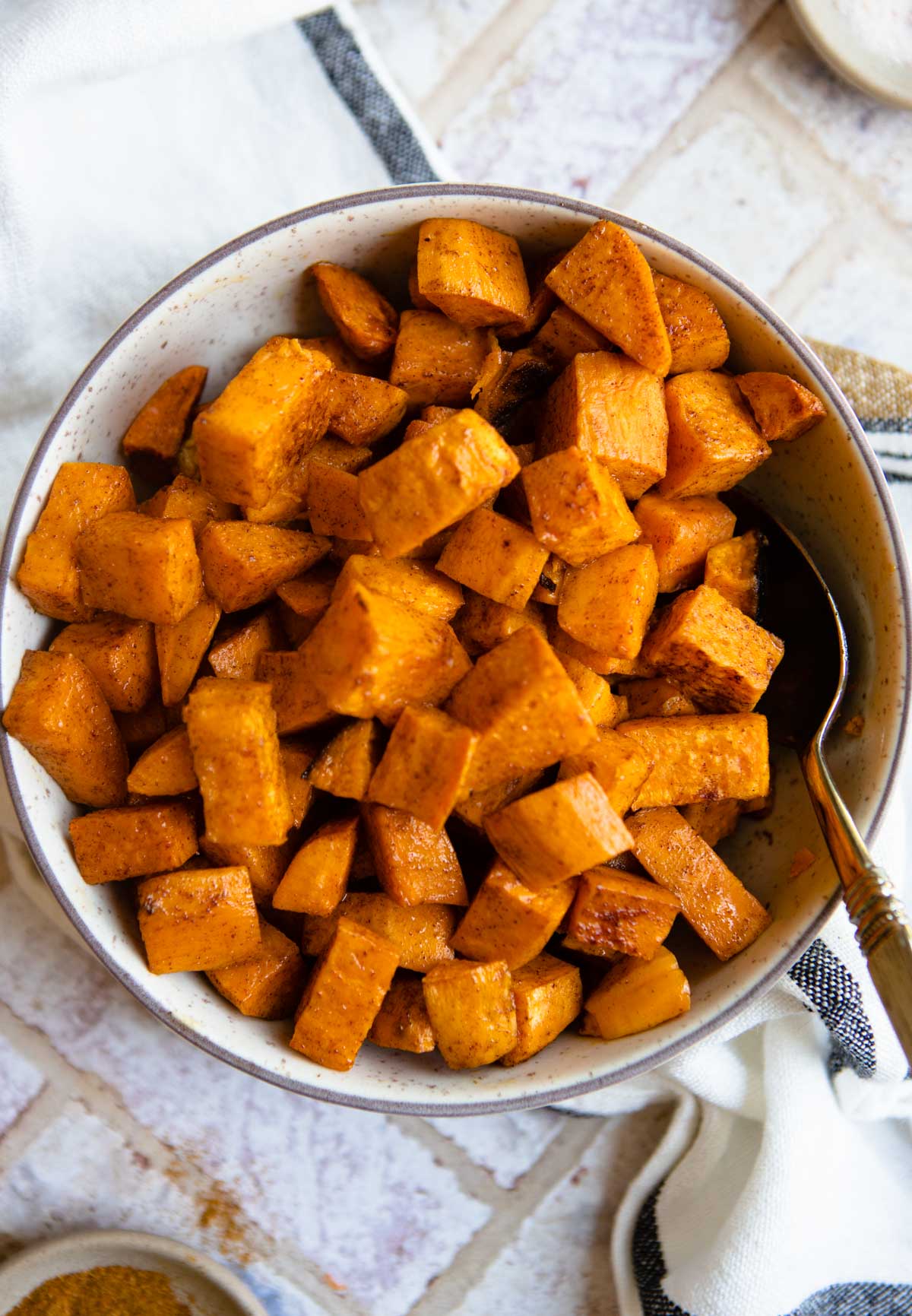 While trying out new dishes is fun and exciting, it's also great to have some menu item staples you can always fall back on. These spicy roasted sweet potatoes are one of the dishes you can make week after week and never grow tired of. And once you make them a couple of times, you don't even have to think about it. Just prep, roast and enjoy the deliciousness! I always think I'm making plenty to last the whole week, but unfortunately they never seem to stick around for more than 2 or 3 days!
Jump to:
Why you will love this easy dish!
They are delicious! The perfect combination of long roasting to achieve the perfect texture, and just the slightest bit of spice to offset the sweetness, is what makes these so special.
So easy to prep and make. Prep work shouldn't take more than 10 minutes, and roasting about 20 minutes.
Such a versatile, easy side dish! These tasty little sweet potato cubes can be enjoyed on their own, but I love adding them to carnitas bowls, scrambled eggs, ground turkey tacos or as a side dish to parmesan pork chops. And yes, they are so good they taste delicious cold too!
Affordable and healthy! Sweet potatoes are an excellent source of Vitamin A, C, B-6, potassium and fiber, coming in at 4 grams per 1 cup serving. I also love that they are an affordable, healthy option. Price can often be a barrier to healthier eating habits, so I think it's important to highlight how great the affordable options are. Sweet potatoes are about $1.50/lb, and you'll get 2-3 potatoes per lb.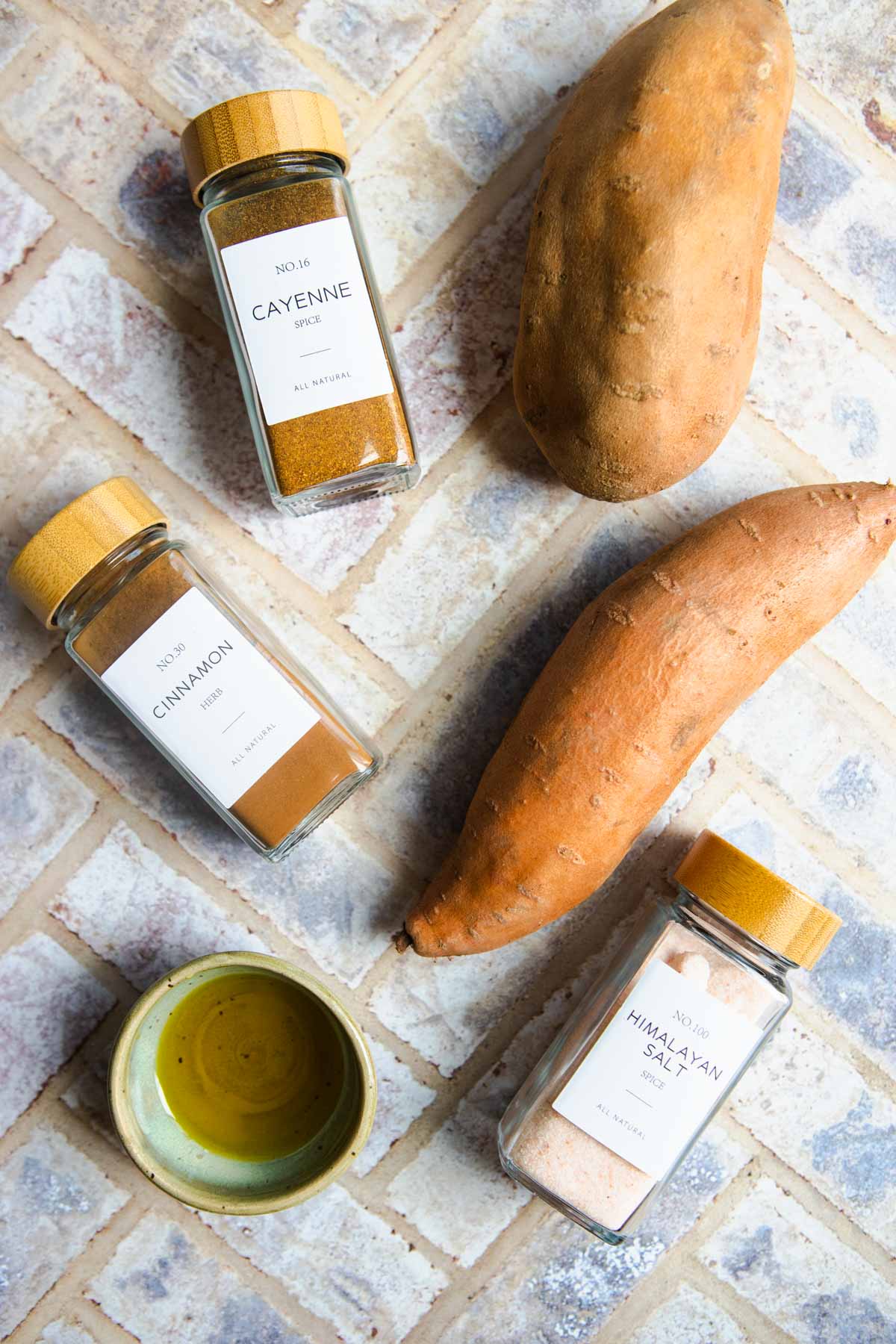 Ingredients needed
2 large sweet potatoes, equals about 1 pound. I personally much prefer the orange sweet potatoes, or what are commonly called "yams." I do not recommend using white sweet potatoes for a number of reasons, which I briefly explain below. Of course if you want to make a large batch, double or even triple the quantity.
Olive oil – about 2 tablespoons of olive oil or your favorite cooking oil. Avocado oil or coconut oil are great substitutions.
Cinnamon – adding about 1-2 teaspoon cinnamon adds a bit of warmth and nuttiness to the sweet potatoes
Cayenne pepper – just a pinch of cayenne adds the perfect amount of heat to heighten the sweetness of the potatoes, while also allowing them to still be savory. You will love tie spicy kick! You can also sub in red pepper flakes or chili powder, but I do prefer cayenne.
Salt of your choice – I prefer kosher salt or sea salt, add a couple of good pinch or two
For equipment, all you will need is a sheet pan and your oven.
How to make spicy baked sweet potatoes
If you love the extra fiber and texture of the peel, go ahead and leave the sweet potato skin on. Otherwise peel the sweet potatoes, it's really personal preference.
Once peeled (or not), cube the potatoes in approximately 1-inch cubes and place on the baking sheet in a single layer. If you would prefer, you can first add them to a large mixing bowl, but adding them to the rimmed baking sheet saves an extra dish to wash!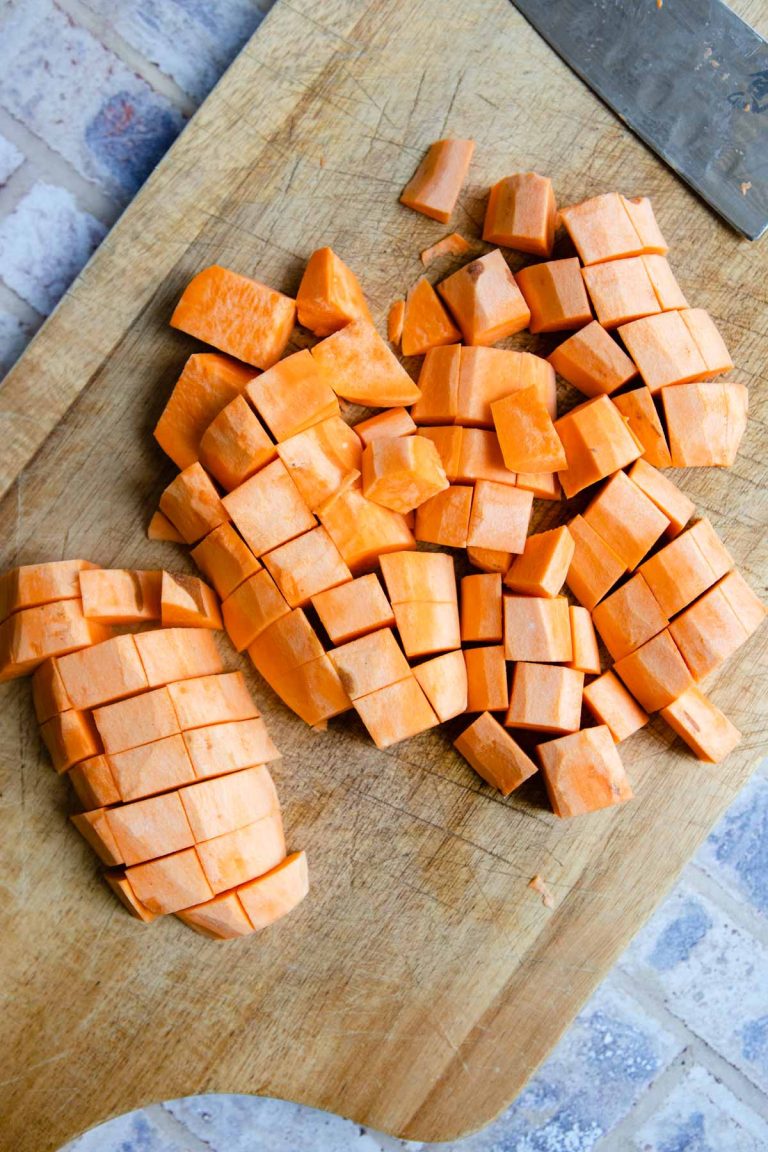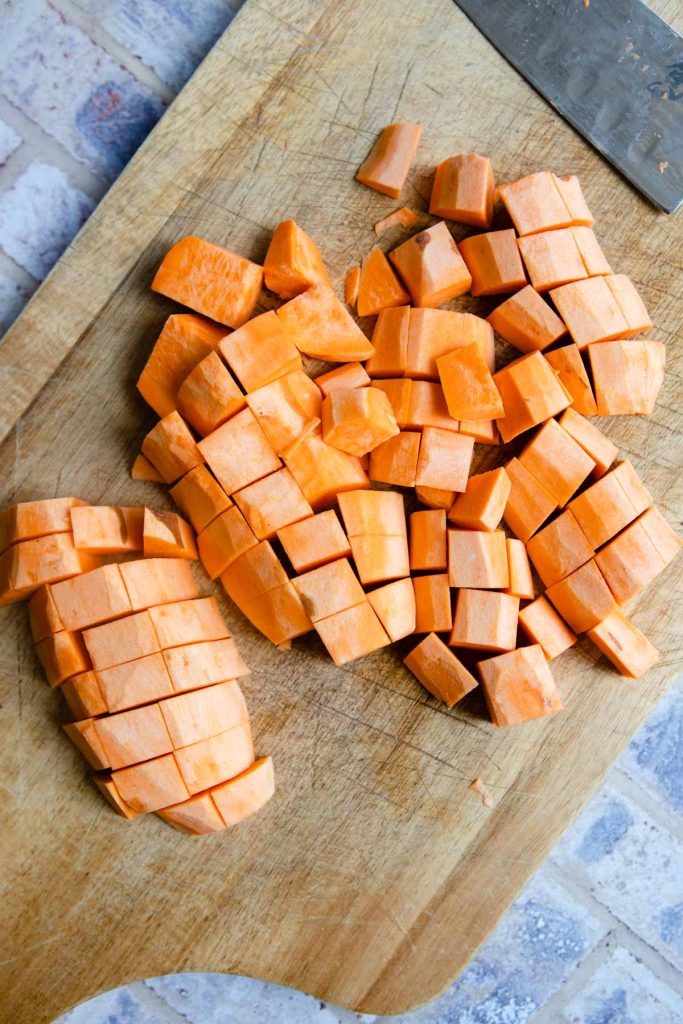 Add olive oil, spices and salt to the potatoes, and toss well to coat.
Place in the middle rack of your 400 degree preheated oven, and roast for about 20-23 minutes. Potatoes should be golden brown and fork tender. When I roast in my small and mighty convection oven, it takes about 20 minutes, but in my larger gas oven it will take closer to 25 minutes. The nice thing about these potatoes is they are pretty forgiving. If they get roasted a few extra minutes, they just get a little crispy and the center becomes so soft, they become a spicy mashed sweet potatoes! Can't go wrong either way!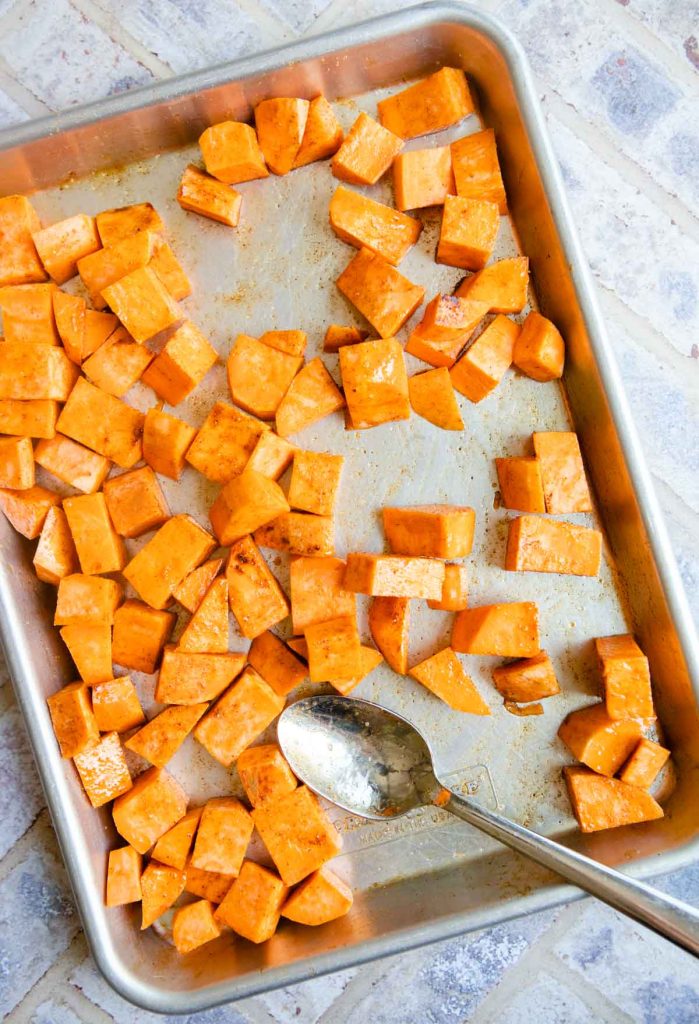 Remove from the oven and serve immediately, storing leftovers in an airtight container. These are also great for meal prep dishes. Serve alongside your favorite protein and a salad or light veggie, and they are fantastic for lunches throughout the week.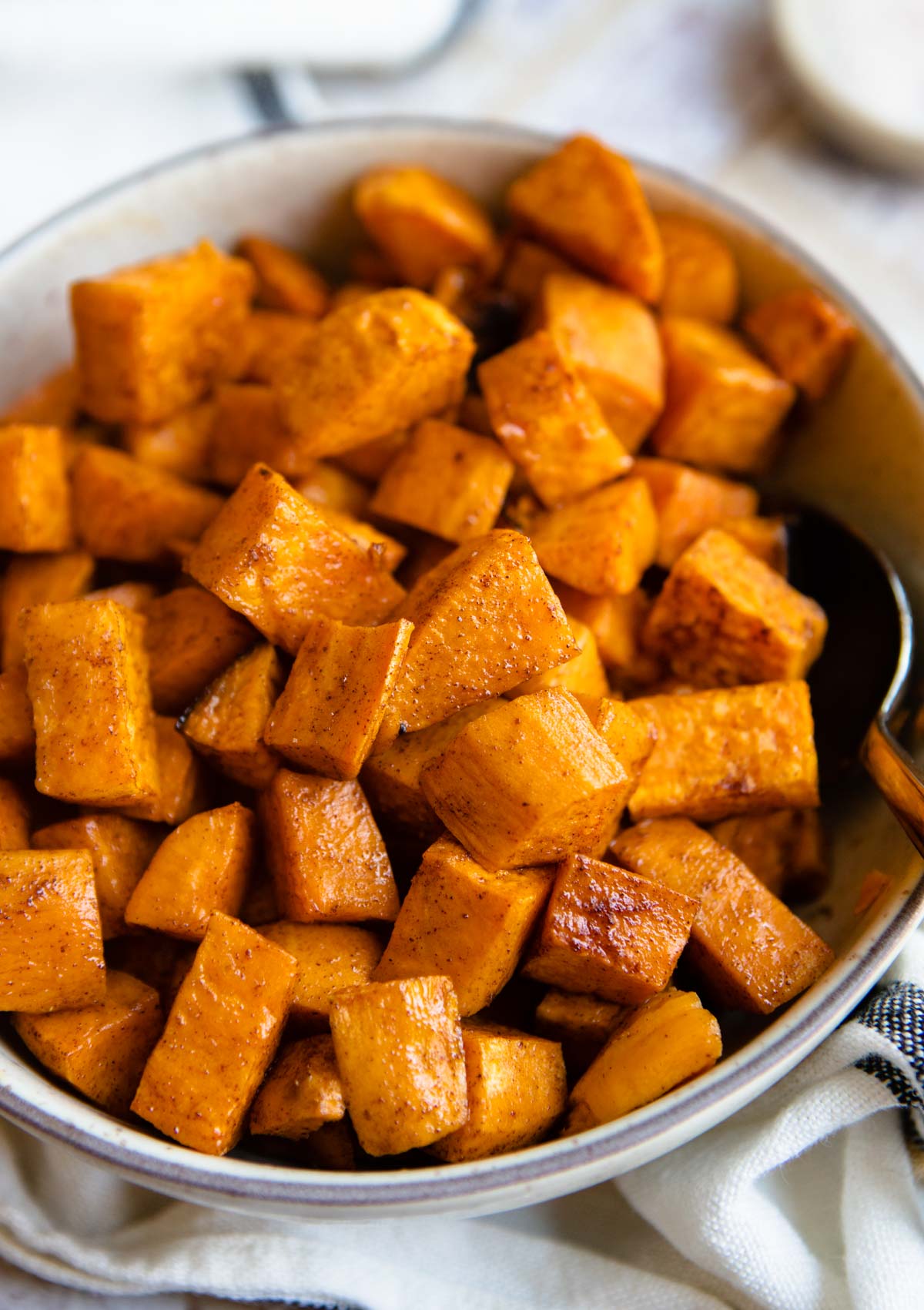 Health benefits of sweet potatoes
Sweet potatoes have a host of wonderful health benefits. They are satiating, helping you feel fuller longer so you are more apt to keep cravings under control and maintain a healthy energy balance.
They are also high in fiber, an important component to any healthy lifestyle. Diets high in fiber are great for overall gut health and digestion, cholesterol control and hormonal balance.
Sweet potatoes also have plenty of important micronutrients, including Vitamins A and C, magnesium, calcium and zinc. Just to name a few!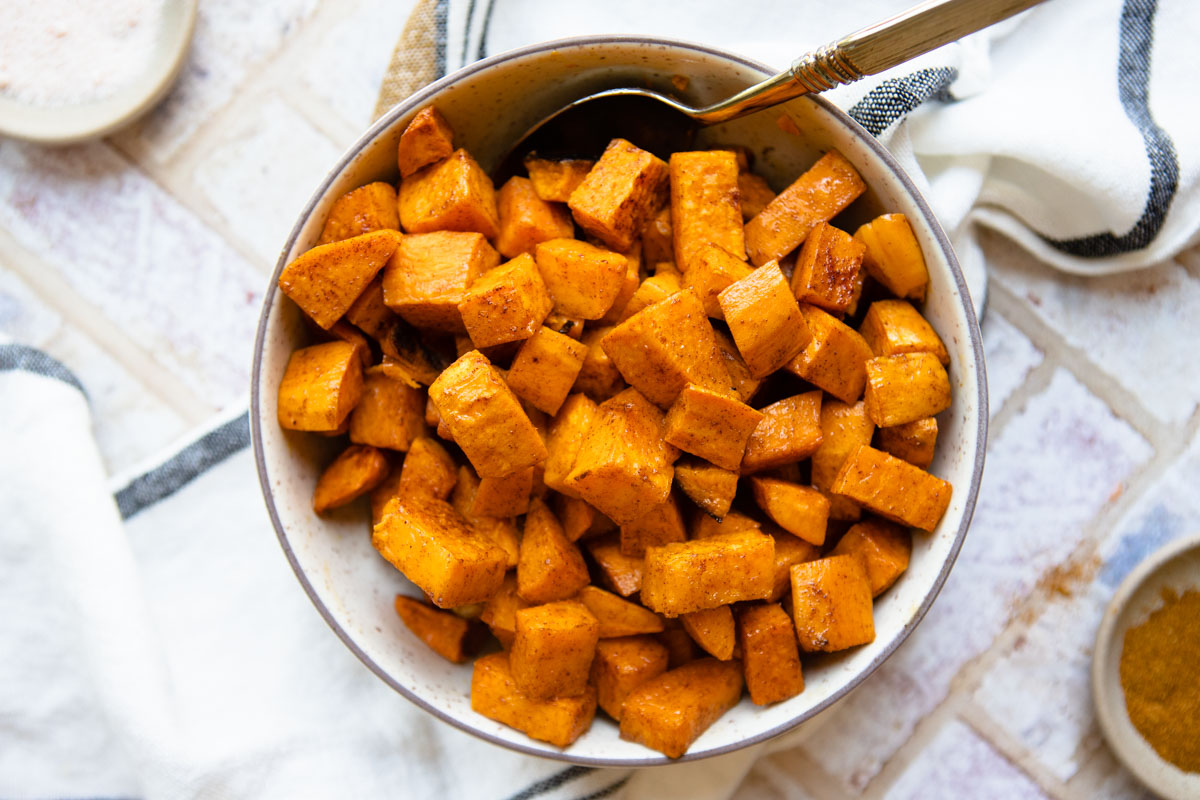 What goes well with these sweet potatoes?
Of course these are spectacular as is! But if you want to get fancy, garnish sweet potatoes with a bit of sour cream or Greek yogurt and a drizzle of honey or maple syrup. Of course sprinkle with a bit more cayenne and maybe some cracked black pepper.
Serve alongside a nice cut of lean beef, or grilled chicken. But one of my favorite ways to enjoy sweet potatoes is alongside anything pork! Pork chops, carnitas bowls, pork tenderloin, it all works!
Add them to scrambles, omelets, breakfast tacos, burritos or top on a salad.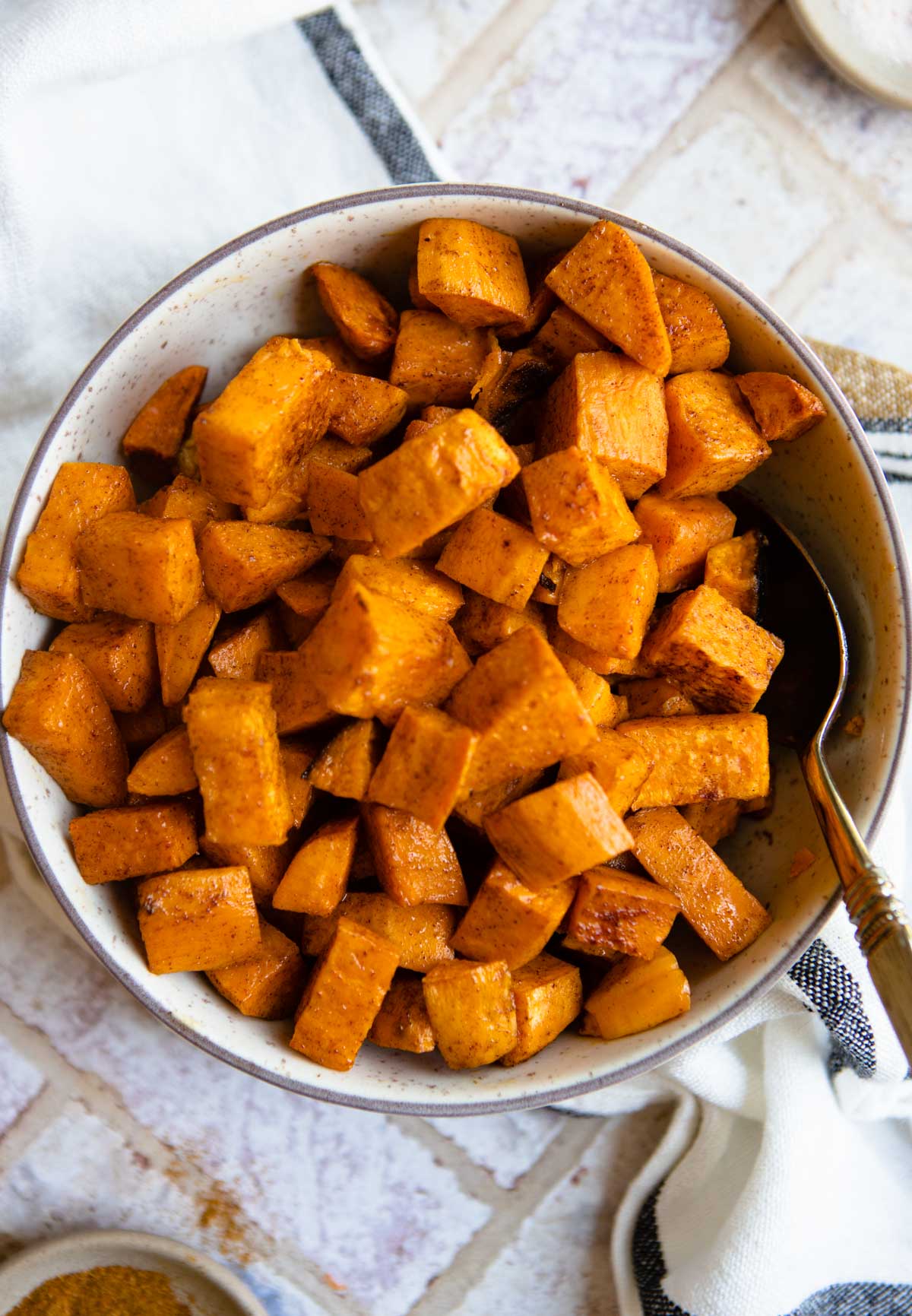 Why is it important to use orange sweet potatoes versus white sweet potatoes?
Orange sweet potatoes have more moisture, are orange-fleshed, and very sweet. White sweet potatoes are dryer, white-fleshed, mild in flavor, and slightly nutty. For roasting, I personally think the orange flesh potatoes taste so much better, and taste better reheated. The white flesh potatoes dry out too much, especially when reheating. They also don't taste as good cold.
More Sweet Potato Dishes
Healthy Pork Tenderloin One Pan Meal with Sweet Potatoes
Sweet Potato Bowl with Cashew Cream
Air Fryer Sweet Potato Wedges
Sweet Potato Vegetarian Chili
Tried this recipe? Please leave a comment and/or rating, letting me know how you enjoyed it! Connect with me on Instagram and Pinterest, and never miss a post by signing up for my weekly newsletter!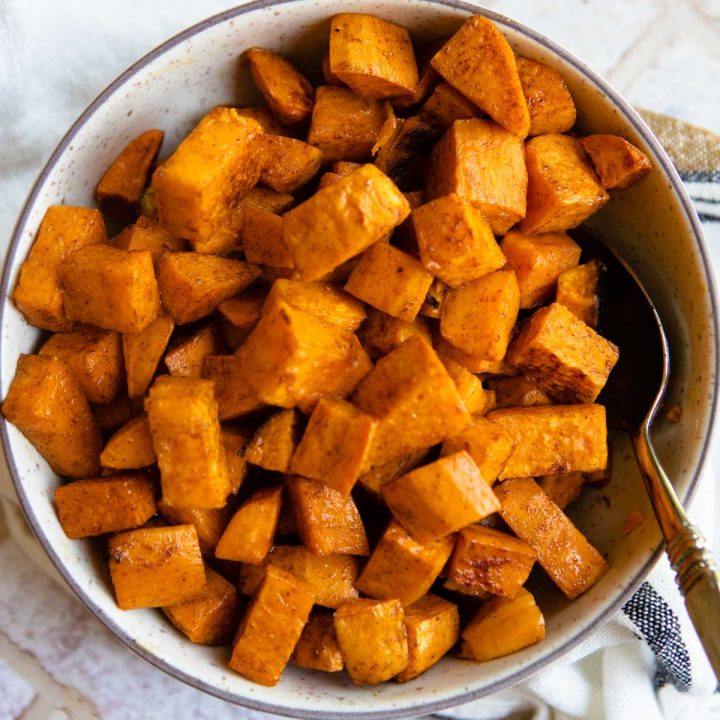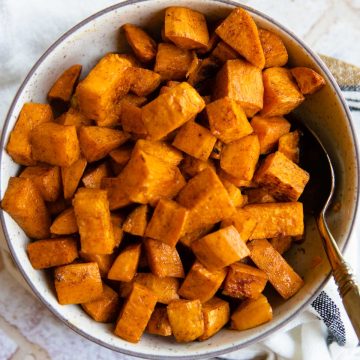 Spicy Sweet Potatoes
These spicy sweet potatoes are so quick and easy to make, and have the most delicious taste and texture. Add them to salads, your favorite bowl, toss into scrambled eggs or eat them on their own. They are a great side dish, loaded with dietary fiber and other valuable nutrients, and are very affordable!
Print
Pin
Rate
Ingredients
2

Sweet potatoes

medium to large – about 1.5 lbs

2

tablespoon

Olive oil

2

teaspoon

Ground cinnamon

½

teaspoon

Cayenne pepper

2

teaspoon

Salt
Instructions
Preheat oven to 400 degrees f

Peel and cube sweet potatoes into approximately 1 inch cubes, add to a sheet pan

Toss with olive oil, cinnamon, cayenne and salt, till coated all over

Roast in the oven for 20-25 minutes till fork tender and golden brown

Serve immediately, or store in an airtight container till ready to eat.
Notes
Make sure to use orange sweet potatoes (or yams), and do not use white sweet potatoes, as they are drier and not as tender.
Nutrition
Serving:
5
g
|
Calories:
108
kcal
|
Carbohydrates:
16
g
|
Protein:
1
g
|
Fat:
5
g
|
Saturated Fat:
1
g
|
Polyunsaturated Fat:
1
g
|
Monounsaturated Fat:
3
g
|
Sodium:
817
mg
|
Potassium:
260
mg
|
Fiber:
3
g
|
Sugar:
3
g
|
Vitamin A:
10759
IU
|
Vitamin C:
2
mg
|
Calcium:
30
mg
|
Iron:
1
mg