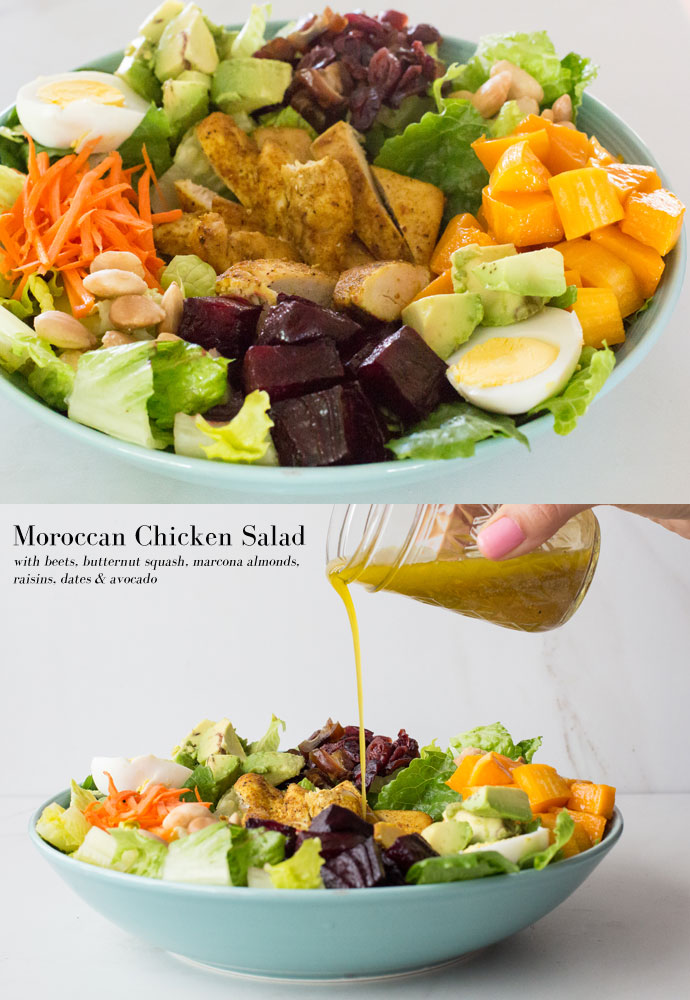 California Pizza Kitchen is hands down, Syd's favorite place to eat. The kid would be content to eat their mac n cheese every single day for the rest of his life. Or at least until his taste buds evolve a bit. My point being, whenever there's a special occasion to celebrate and we leave the option up to Syd, we eat at CPK. Their food isn't anything remarkable, but we all leave feeling full and happy because the kids love the food and we love how close it is to our house, and that the volume in there is always loud enough to mask our noisy kids. Their gluten free menu is decent, and I flip flop between ordering a certified gluten free pizza, and this Moroccan chicken salad. I love this salad so much that I had to recreate it myself at home, and I'm quite pleased to say my version is even better than the one they serve, thanks to a yummy garam masala blend coating the chicken, and a flavor packed dressing.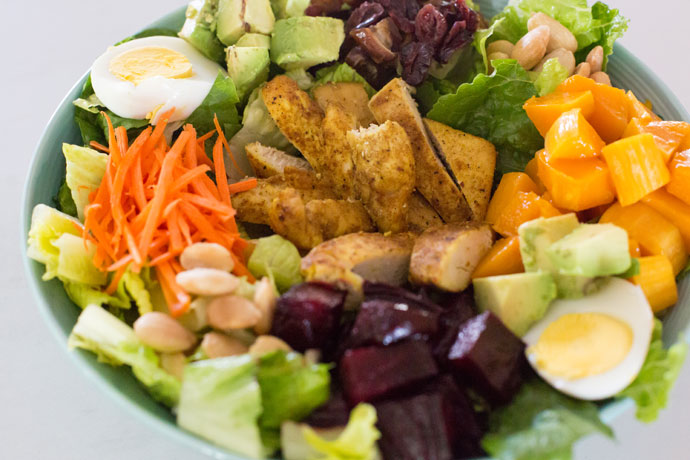 Let's be completely honest here, anyone else find salads to be a complete pain in the arse to put together? Sort of like sandwiches too, they seem to taste so much better when someone else is making them, but I promise that your return on investment here is plentiful. To make things a bit easier, I roasted the beets and butternut squash as well as the chicken all together on the same big roasting sheet, and while those things were roasting, I prepped the rest of my ingredients.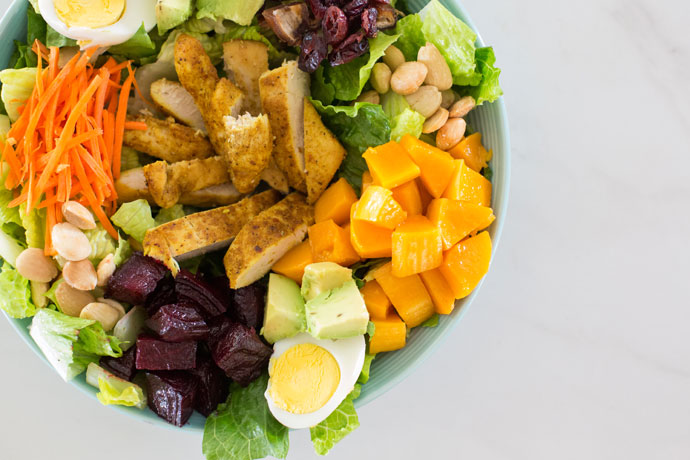 You'll want to roast 1 very large beet, 1 smaller butternut squash, and 2 boneless skinless chicken breasts. This will allow you to make a very large salad that will easily serve two as a main dish. My mom and I ate this for lunch the day I made it to shoot, but if you're flying solo, go ahead and cut the quantities in half. If you don't add all the dressing though, there's no reason you can't pack away the leftovers and enjoy this 2 days in a row.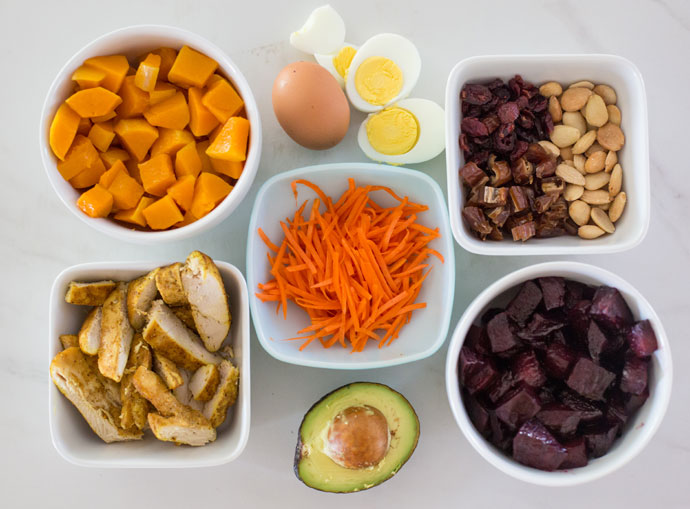 So that your beets don't color the squash and chicken, keep all three items separated on the sheet pan, which should be no problem if you're using a large pan. Because you roast the veggies at 400 for a good 30 minutes, but you don't want to cook the chicken that high for that long for risk of drying it out, I went ahead and cooked the veggies solo at 400 for 20 minutes, then added the chicken breasts and continued cooking for another 10 minutes until the veggies were done. At that point I took out the veggies, lowered the heat to 350 and cooked the chicken for another 10-15 minutes or so. As I type this out, it seems rather complicated but I swear it was easy in the moment. If you don't want to keep track of pulling things in and out of the oven or adjusting oven temps, say to hell with my method and just cook the veggies and chicken separately. By the way, one of the best parts of this salad is the flavorful chicken, which I achieved by rubbing the breasts in some olive oil, a store bought garam masala blend, and to add more flavor and color, ¼ teaspoon of turmeric. You can find premade garam masala at most grocery stores, or if you have a well-stocked spice rack, you can make your own blend. You can of course leave your breasts plain, but why would you want to?
There are so many beautiful and delicious fixings in this salad that you may be wondering if they're all completely necessary. I'd say of course not and would let you off the hook if you're missing a thing or two, but I will assert that besides the essential chicken, beets and squash, you won't want to skimp on the almonds for some crunch (use standard almonds if you can't find Marcona), and the dates for some sweetness. The addition of the craisins, carrots and maybe even the egg aren't completely crucial, but of course each adds their own depth of flavor. Being from California and all, I'd have to say that the creaminess from the avocado is also non-negotiable.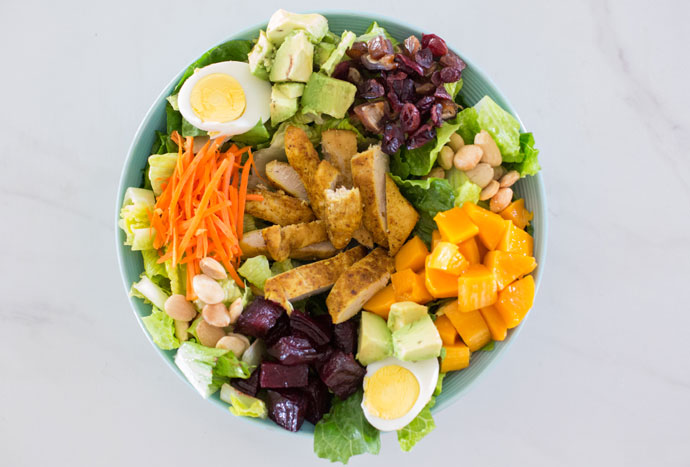 You'll find that your salad may become quite beet and squash heavy if you add the whole thing, so just go ahead and add about a cup of each and reserve leftovers for another day and another use, you should have no problem making good use of both. If all else fails and you're feeling lazy the next day after throwing together this monumental salad, just pop them in your mouth one by one and consider that your lunch. However, if you have feta or goat cheese on hand, combine the leftover veggies with a bit of cheese and maybe even some simple spinach leaves and you have a more dignified lunch.
You may recognize the dressing from the Harvest Carrot Quinoa Salad of last year, and comes together quite quickly and easily. You won't have any leftovers of the dressing, so I suggest making a double batch and storing it in an airtight container in your fridge, it's that good and wonderful to have on hand always. This particular dressing by the way really elevates the flavor of the salad and is one of the main reasons why this version is better than the restaurant version.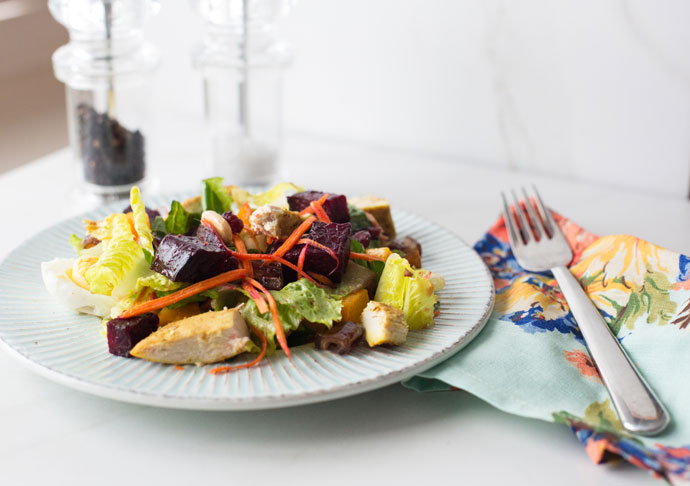 Once you've peeled and chopped and sliced and roasted all your ingredients, you're finally able to put them all together and enjoy the fruits of your labor. I promise this salad is worth the extra effort and it will quickly become a favorite I'm sure. Find the printable recipe below, and of course please let me know if you make this lovely dish and how you liked it.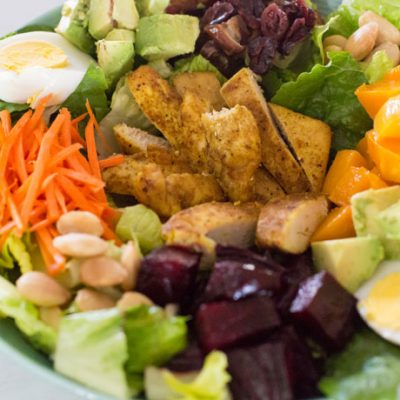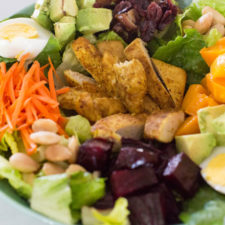 Moroccan Chicken Salad
This satisfying main dish salad is loaded with flavor, texture, nutrients and plenty of protein.
Print
Pin
Rate
Ingredients
1

small head of romaine lettuce or romaine hearts

chopped

2

boneless

skinless chicken breasts, roasted

1

small carrot

shredded

1

large beet

peeled, cubed and roasted

1

small butternut squash

peeled, cubed and roasted

1

ripe avocado

cubed

2

hard boiled eggs

sliced

¼

cup

Marcona or plain almonds

¼

cup

dates

chopped

¼

cup

dried cranberries

6

tablespoon

divided in thirds olive oil

1

teaspoon

maple syrup

2

tablespoon

lemon juice

½

teaspoon

each coriander and cumin

1

tablespoon

garam masala blend

¼

teaspoon

powdered turmeric
Instructions
Begin by preheating the oven to 400 and preparing your squash and beets to roast by tossing them each separately in 2 tablespoon of olive oil and a teaspoon of maple syrup. Add a pinch of salt and pepper, and spread out on a roasting or sheet pan, and roast for 20-30 minutes.

Lower heat of oven to 350 and season your chicken breasts in 2 tablespoon of olive oil, the garam masala and turmeric. Toss to coat and place on a sheet pan and cook for 20-30 minutes. Cut in slices when cool enough to handle.

See note in post if you'd like to cook your chicken with your vegetables.

As your veggies and chicken cook, prepare the rest of your ingredients by slicing egg, chopping up dates, cubing the avocado and shredding the carrots.

To make dressing, whisk together 2 tablespoon olive oil, lemon juice and cumin & coriander.

Assemble salad ingredients and toss in dressing to coat. Serve immediately and chow down!