Our favorite local seafood restaurant has been our go-to since I began dating Art over 20 years ago. Originally his family chose it as the destination for every birthday and special occasion that arose, and I dreaded going there because there was always a 1+ hour wait, and it was extremely popular among the geriatric crowd. I guess having to navigate my way around walkers and slow moving traffic really put me out. I was young and stupid and thought it was boring and lame to go to the same restaurant time and time again. I wanted fun & hip and to be seen. By whom is still a mystery.
But a few years ago now the restaurant went through a major remodel. Lighting fixtures and carpeting and bathrooms were all updated and the restaurant almost doubled in size. While still popular among the geriatric crowd, the walls were no longer covered in an emerald green floral wallpaper and the matching emerald green carpet was swapped out for slick wood tones and slabs of limestone & marble.
I also grew up quite a bit and could now see the value in having a neighborhood go-to spot to lean on, and instead of elbow checking the old people on the way to the bathroom (I kid, there was never any elbow checking), I actually now smile at them. I have reached the stage in age and maturity where I no longer find the same old same old boring but rather quite comforting.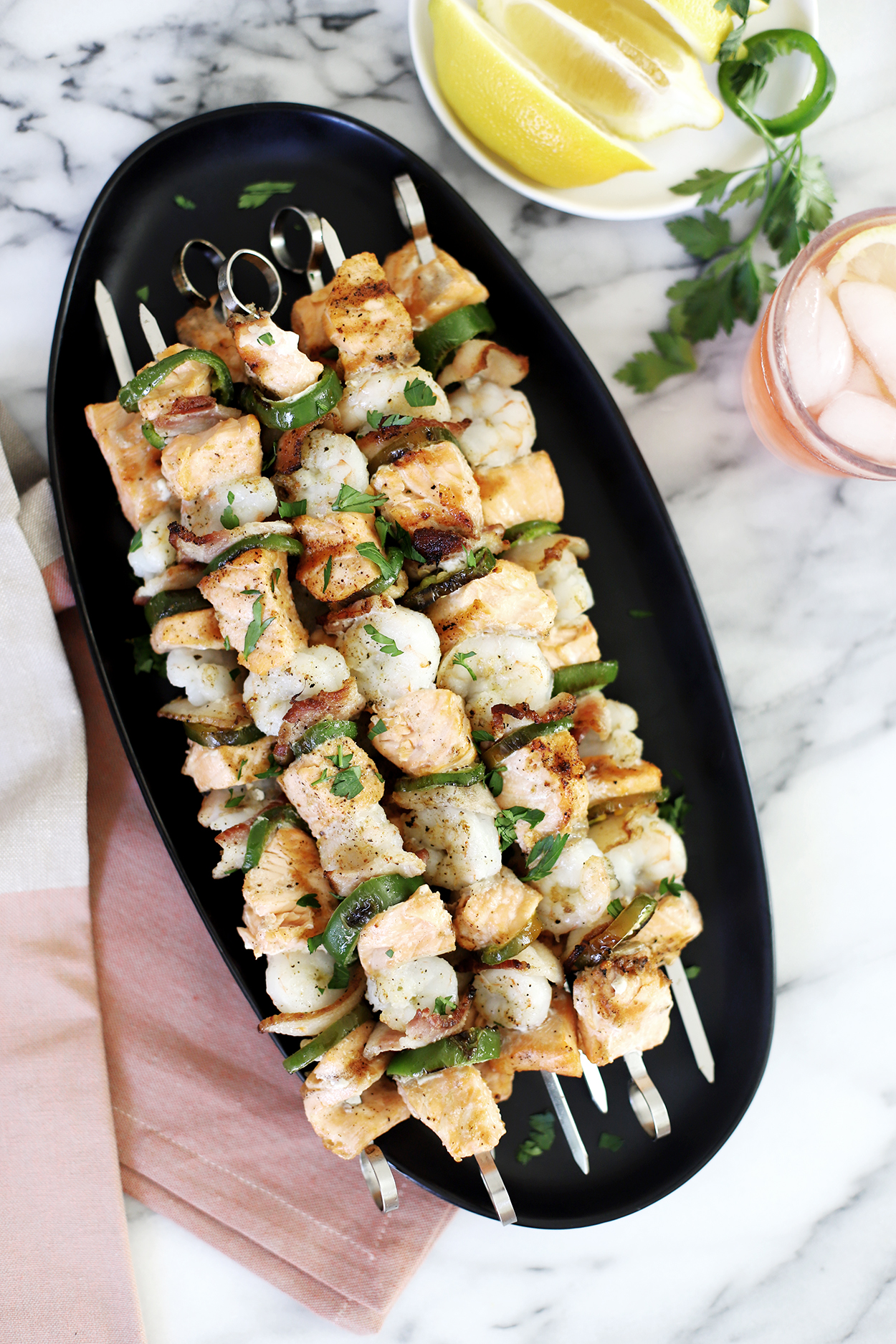 So about these skewers, because I promise they're related to the 3 paragraph story I just told. For years, I always ordered fish of the day, a side (usually a baked potato), and the grilled vegetables. And one day I decided to instead try these skewers and I haven't ordered anything else ever since. They are primarily fish and shrimp, but that tiny bit of bacon found in every other bite, combined with a sliver of jalapeno is really just so excellent I need not eat anything else there for as long as I live.
The restaurant prides itself on the quality of its fish each day, so the seasonings are always really simple, allowing the seafood to shine through. Fish is offered grilled with your choice of a simple dash of salt & pepper or Cajun spiced, and aside from an occasional daily special, there are never any sauces or complicated flavorings. This keeps the dishes quite healthy and easy to replicate at home. And so luckily for us, we have these skewers that you will be able to whip up any time at home and after looking at the recipe once, you'll probably never need refer to it again 😉
After assembling the skewers, simply brush them with a bit of olive oil (not too much though, because a lot of oil cooks out of the salmon so you don't want them to get greasy), and sprinkle on salt and pepper. If you really want to get fancy, you could add some lemon pepper or a really simple herb blend that lends itself well to seafood. I have a nice and subtle garlic lemon spice mix I often use on these kebabs.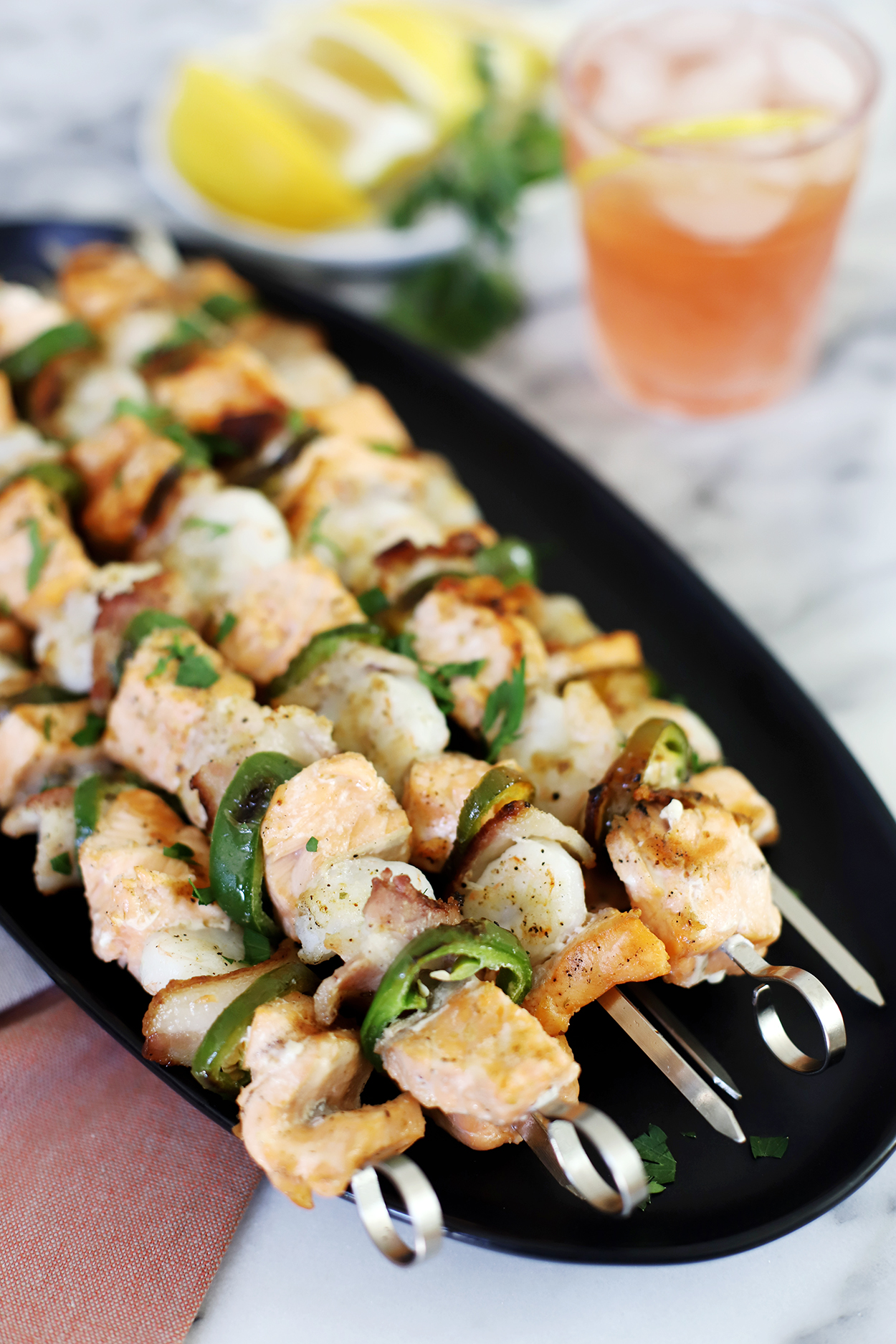 I recommend cooking these up on an indoor grill pan or outside on the BBQ. When cooking on either type of grill though, the key is not to be tempted to turn them too fast because the salmon will stick to the grill. I find it helpful to have a fish spatula on hand, and if when I go to turn them over with the spatula they don't easily release, I let them cook a bit more. You may also cook these in the oven on a sheet pan, but your skewers will lack the nice char marks and smoky flavor you get from grilling.
The other tip I have is not to load these skewers up with bacon. Be conservative here instead of generous, because the bacon's main job is to act as a little teaser. If you add multiple pieces, they won't cook well enough and you'll land up with done seafood and limp, hardly cooked bacon. Keep the pieces single and on the smaller side.
And before I leave you with the recipe below, I wanted to admit that I've been holding on to this post for about 3 weeks now. When I initially took these photos, I was really proud of them and excited that I put in some extra effort into my food photos, which resulted in photos I actually liked! And then while I was editing this post and getting ready to hit publish, I got distracted and began scrolling through Instagram. Of course I came across other food photos I liked *much* better than my own, and suddenly, I began to hate these photos. And today I woke up and decided I was being ridiculous and am now hitting publish. And that's about it. I could probably write an entire post on my self-critical nature, but I'd much rather publish tasty recipes, so here you go 🙂
Make sure to register for my Newsletter so you don't miss a post! You can do so by clicking this link!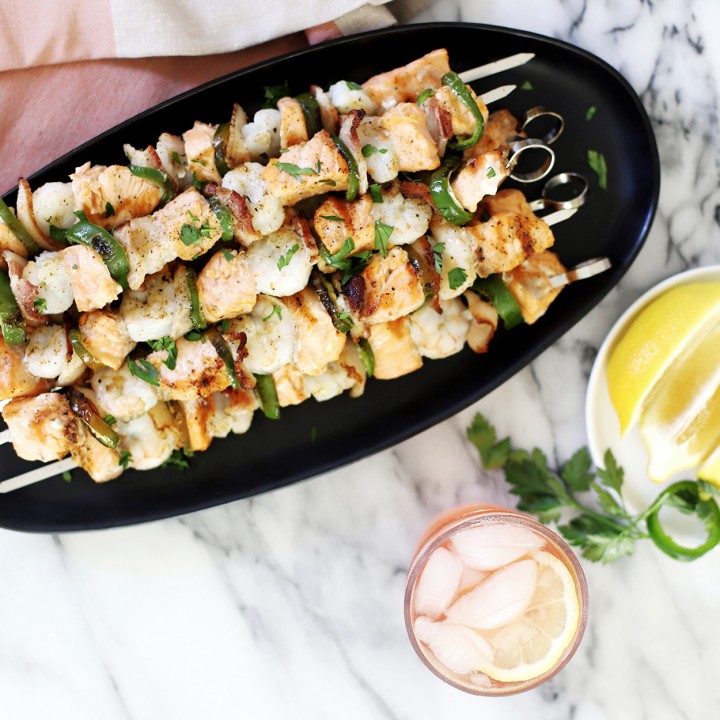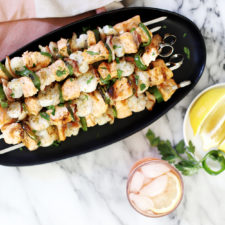 Grilled Salmon & Shrimp Skewers With Jalapenos & Bacon
Grill up these tasty skewers for a simple and healthy seafood dinner!
Print
Pin
Rate
Ingredients
1

lb

salmon skin off

cubed into 1"-1.5" chunks

2

jalapenos thinly sliced

10

ounces

of medium to large size shrimp

peeled & deveined

4

large slices of bacon

cut into 1" pieces

1-2

tablespoon

olive oil

Salt and pepper and other preferred seasonings to taste
Instructions
Assemble skewers by adding 1 piece of salmon, 1 shrimp, a slice of bacon and a slice of jalapeno at a time, or in whichever order you prefer.

Brush with a bit of olive oil and sprinkle on salt and pepper and any other desired seasonings.

Cook for about 8-10 minutes on medium high heat over a BBQ or indoor grill pan, rotating halfway through cooking.