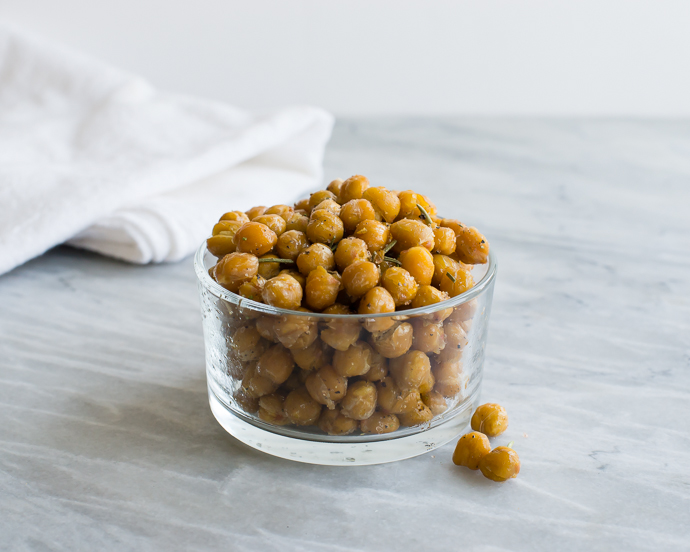 Are you ready for one of the easiest, tastiest, most addictive-est snacks ever? Roasted chickpeas, friends, are where it's at. They are loaded with protein and vitamins. And there's not room for any guilt with these babies. We roast these by the bucketful…well, not really, but I should. They get snatched up by big and tiny hands just as soon as I pull then out of the oven. Why are they so addictive, you ask? It's hard to say. It could be the plethora of seasoning options, like rosemary and sea salt, curry, cinnamon and sugar. Or it might be the delectable way they are slightly crunchy on the outside and creamy in the middle.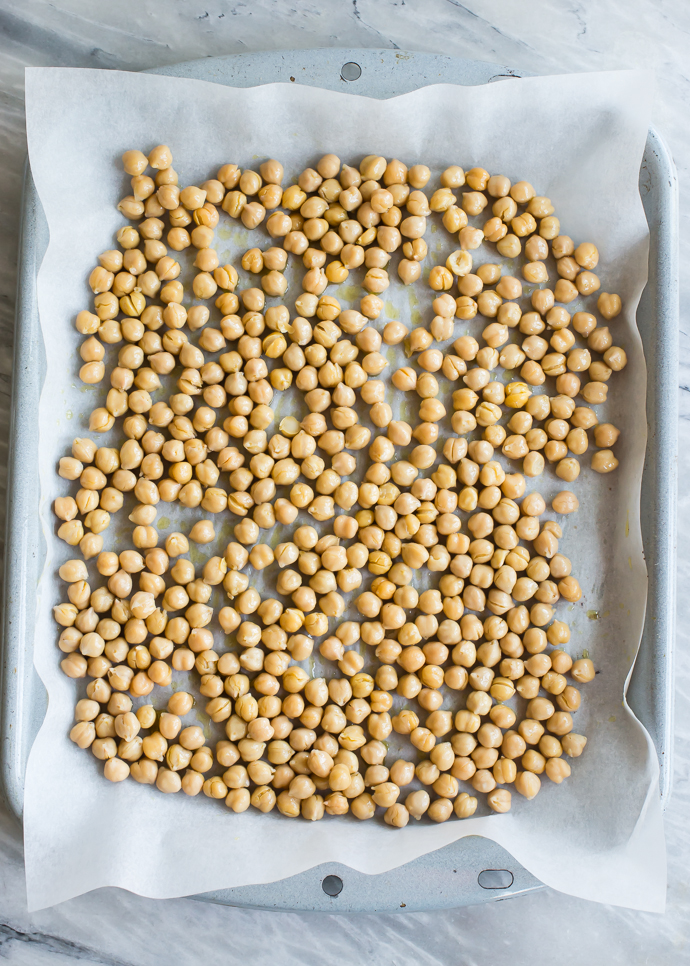 For a long time we were told to stop snacking and eat three square meals a day. And then came the ubiquitous 100 calorie packs of…empty calories. No, no, no. I don't get sucked in by that stuff. I am all for real, whole food snacks that help satiate me. That's why I love these. A handful is just enough to stave off hunger while satisfying that craving for something a little salty and crunchy. But if I'm craving something sweet? Then I season them with cinnamon and a wee bit of sugar, or honey.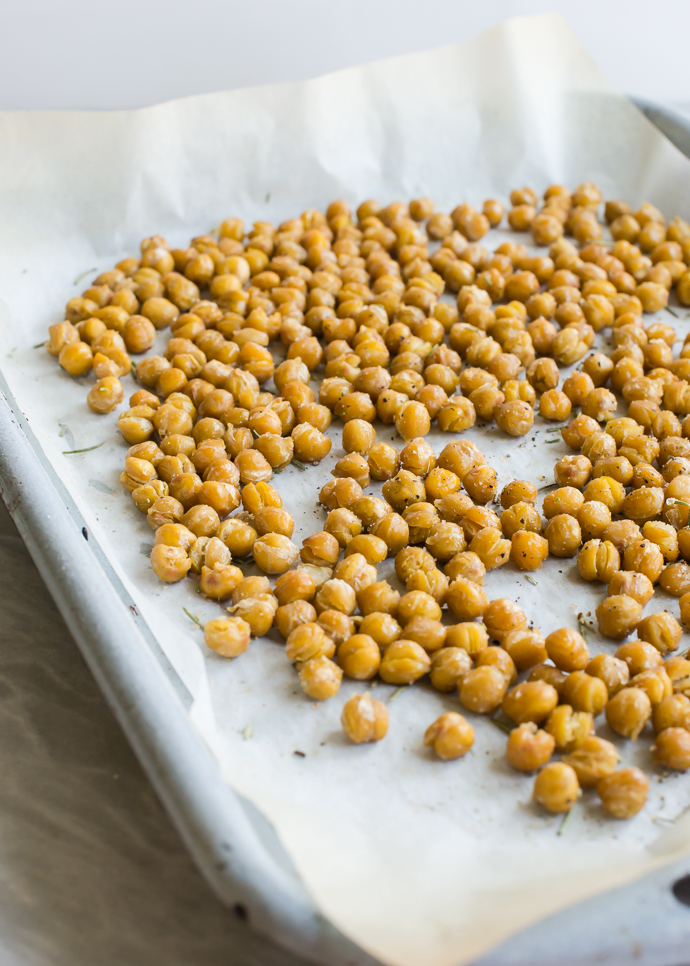 One thing, be sure to give them a good toss with a little olive oil to keep them from drying out as they roast. The temperature is pretty hot and the goal is for a toasty exterior and creamy center. I like to cook dried chickpeas in a slow cooker, but canned works just fine. If the papery skins are coming loose, you can remove them. Or not. That can be kind of time consuming. And we don't want to become too impatient for our afternoon snack. Another tip – use a rimmed baking sheet. The chickpeas roll all around and you'll be glad you aren't picking them up off the floor of your oven instead of popping them into your mouth by the fistful.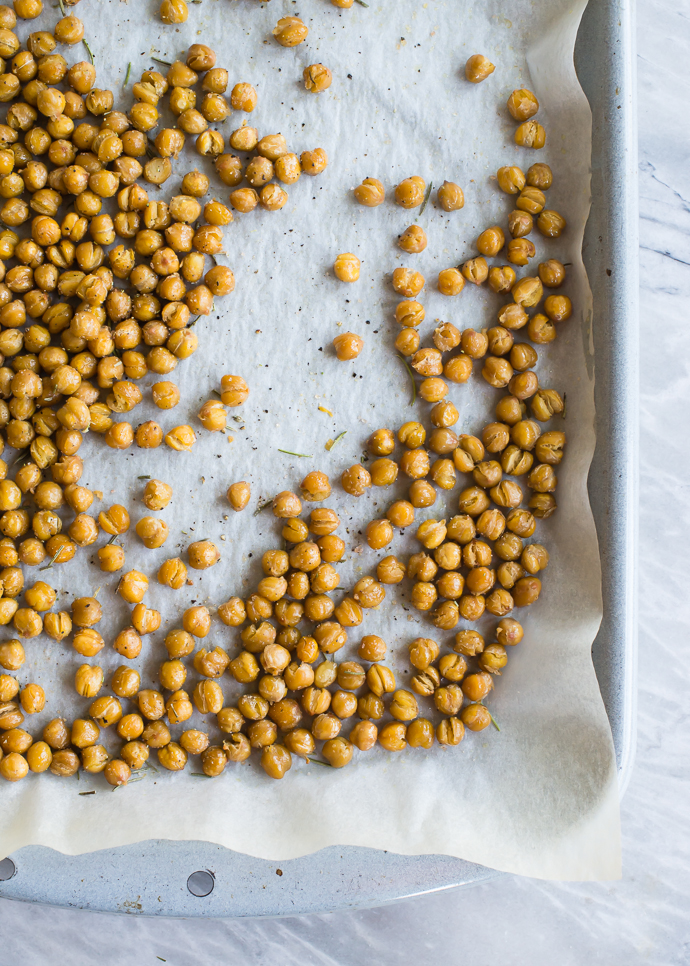 We also find that we enjoy these within an hour or two of roasting or they can go kind of stale. Not inedible stale, just not as good as fresh, stale.
Print
Roasted Chickpeas 3 Ways

A healthy and nutritious snack that will solve any savory snack craving.
Author:
Prep Time:

5 mins

Cook Time:

30 mins

Total Time:

35 mins

Yield:

4-6

Category:

Snack

Cuisine:

American
Ingredients
2 (15 ounce) cans or 3 cups chickpeas, drained and rinsed
1 Tablespoon olive oil
Desired seasonings
Instructions
Preheat oven to 425 degree F. Line a baking sheet with parchment paper.
Blot chickpeas dry. Toss with olive oil. Bake for 30 minutes.
Season with desired seasoning and eat.
Suggested seasonings:
salt and coarse ground black pepper
dried herbs
finely grated lemon zest
cinnamon and sugar
curry powder
herb blends – ras el hanout, five spice, etc.
I'm dying to know what your favorite roasted chickpea flavor is/would be. I can't decide between rosemary and sea salt, or curry. Or smoked paprika with the tiniest pinch of cayenne. Or tamari with a little lime. Or…