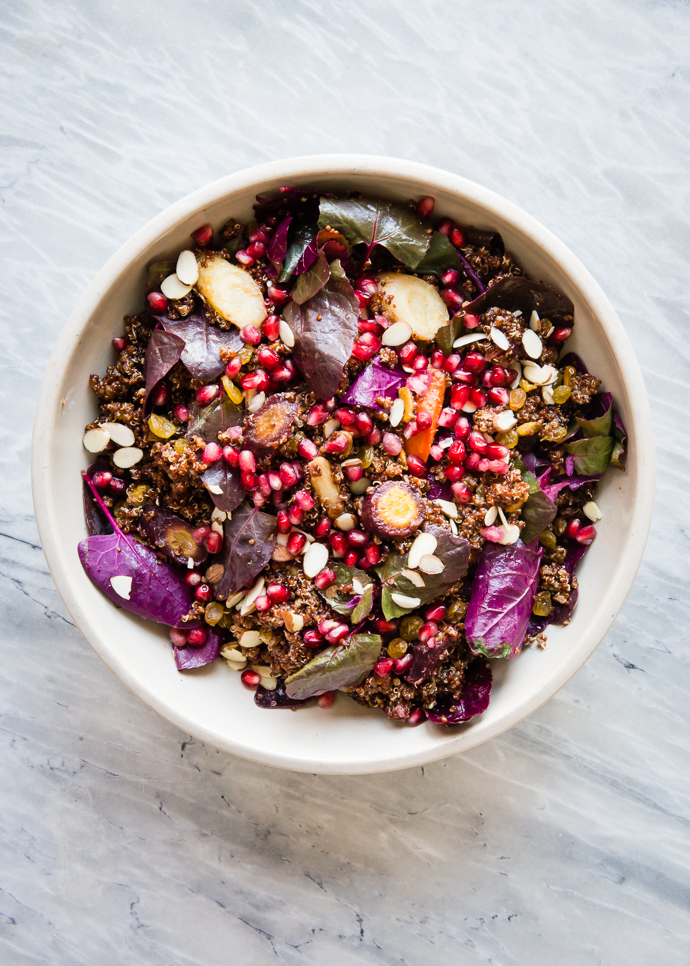 I think a lot of times I get hung up on thinking that Thanksgiving is a time for indulgence as much as it is about being grateful and spending time with my loved ones. I'm all for going along with traditions, but sometimes I also think there is a place for new traditions to be made. At my house we like to experiment with new recipes and we even have a yearly informal recipe contest. Along the way we've found some new recipes that we just love and the stories of their origin become part of the bigger story. If you couldn't tell, we take Thanksgiving very seriously. I think there is a place on the table for a non-traditional sort of recipe, like this Roasted Carrot Quinoa Salad. It's a salad, yes, but it's incredibly hearty. And if you're leaning towards giving your Thanksgiving menu a little healthy revamp, this would be a great side to add to the list.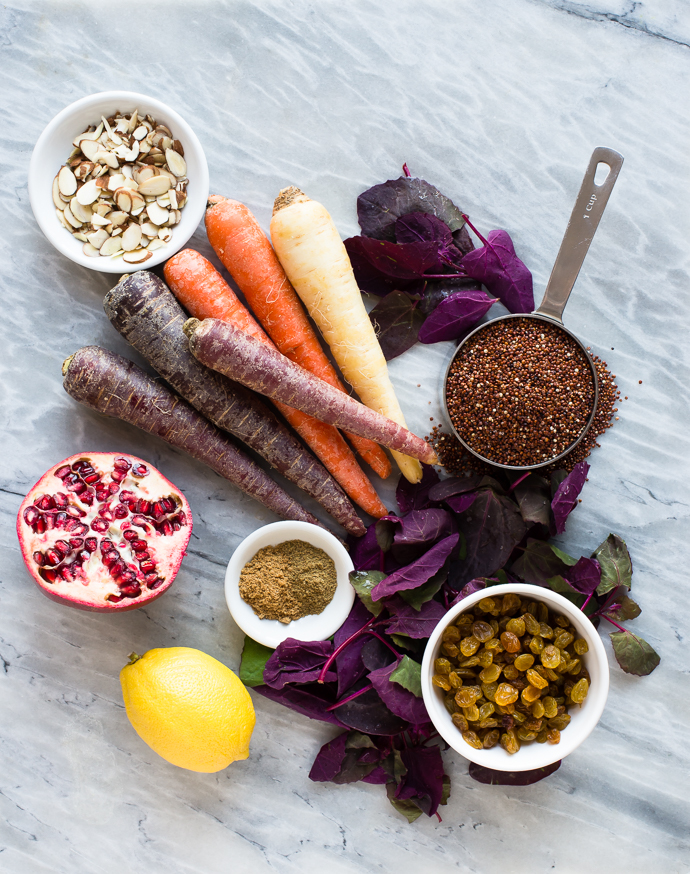 I was sort of channeling Ottolenghi when I was putting this salad together. There's a hint of earthy, spicy cumin and coriander in the fresh lemon vinaigrette. The pomegranate arils add a sweet, vibrant burst with every bite. The carrots become tender and caramelized in the oven. I found some gorgeous heirloom red spinach that make a great leafy base, but any of your favorite leafy greens would work here. The protein-rich quinoa makes it hearty and filling. And of course, golden raisins and sliced almonds round things out.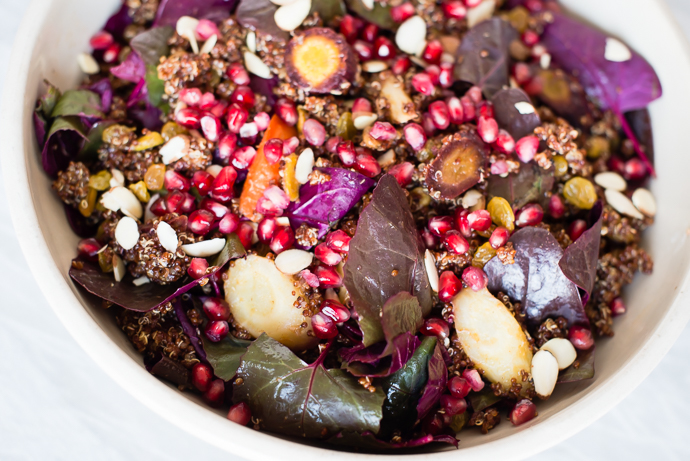 This can be made several days in advance. The salad should be dressed just before serving, however, if you do plan to make it ahead. Also, add the spinach right before serving. It's pretty tender and wilts easily. Leftovers will keep for several days stored in an airtight container in the fridge.
Note: Butternut squash can stand in for the carrots, and bulghur could be used instead of quinoa.
What must-have sides are always on your Thanksgiving table? Or do you like to mix it up and try new recipes?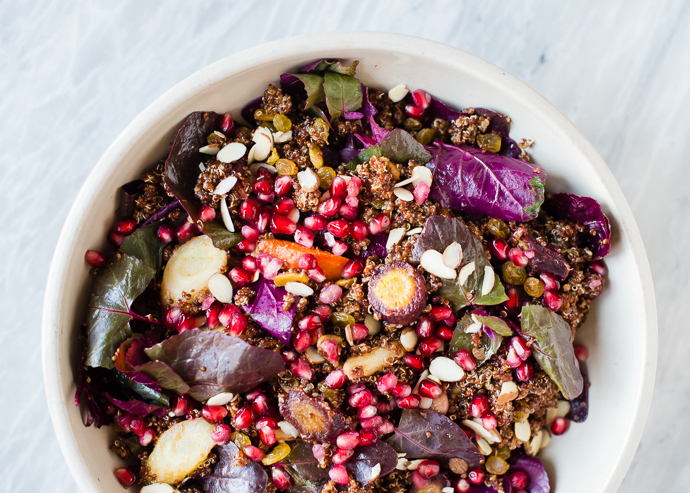 Harvest Carrot Quinoa Salad
Author:
Lindsey Johnson for For The Love Of
Ingredients
1 cup red quinoa
2 cups vegetable broth
1 pound rainbow carrots (about 5-6), peeled, sliced into ¼" rounds
4 ounces fresh spinach (I used red heirloom)
½ cup fresh pomegranate seeds
½ cup sliced almonds
2 Tablespoons plus 2 teaspoons olive oil, divided
2 Tablespoons fresh lemon juice
½ teaspoon ground cumin
½ teaspoon ground coriander
Salt and pepper, to taste
Instructions
Preheat oven to 425°F. Line a rimmed baking sheet with parchment paper.
Place quinoa in a fine-mesh sieve and rinse well. Transfer to a 2 quart pan and add the vegetable broth. Bring just to a boil, then lower heat to simmer. Cover and let cook for 15-20 minutes. Remove from heat and set aside.
Meanwhile, toss carrots with the 2 teaspoons olive oil. Place on prepared baking sheet. Roast in oven for 20 minutes, or until tender. Remove from oven and let cool slightly.
In a large serving bowl, toss spinach with the cooked quinoa. Top with the roasted carrots, pomegranate and chopped seeds.
Whisk together olive oil, lemon juice, and cumin. Season with salt and pepper. Pour over the salad and gently toss. Serve immediately or cover and refrigerate until ready to serve.
Leftovers will keep for several days in the fridge. To keep longer or make in advance, do not add the vinaigrette until ready to serve.