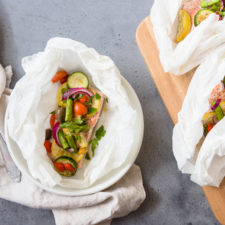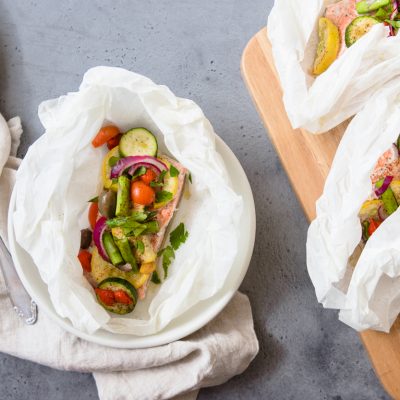 Print Recipe
Baked Salmon In Parchment
A quick, easy and healthy one pan meal that is ready in under 30 minutes. Rich with powerful Omega 3's and a rainbow of veggies, this meal is not only good but good for you.
4

salmon filets

2

medium size zucchinis

1/2

red onion

1/2

pint

of cherry tomatoes

sliced in half

6-8

asparagus spears. sliced into 1" pieces

Optional olives

sundried tomatoes or marinated garlic & mushrooms

6-8

tbsp

olive oil and salt & pepper to taste
Preheat the oven to 450 degrees Fahrenheit

Lay each salmon filet on a piece of parchment paper

Brush a small amount of olive oil on each filet, and sprinkle with salt and pepper

In a medium bowl, toss all the vegetables in 2-3 tbsp of olive oil, salt and pepper

Top each salmon filet with about 1/4 cup of prepared vegetables and optional olive toppings. Sprinkle with a bit more salt and pepper

Fold over each parchment paper to create a pocket that encloses the salmon and veggies

Place each packet on a rimmed baking sheet and bake for 8-10 minutes

Remove from oven and let packets rest for 5 minutes until some of the steam can escape, and then slowly open each packet and serve.