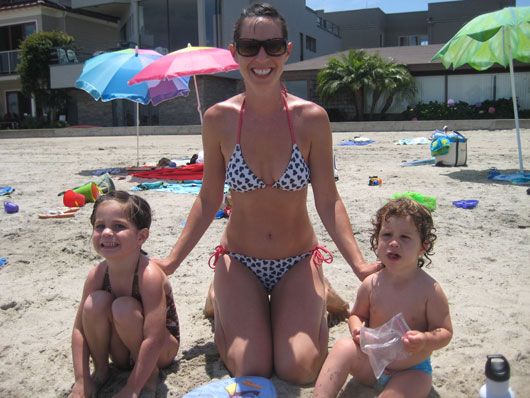 For my entire life, I've been what most would consider thin.  At 5'10", I've always fluctuated between 125-140 pounds, 125 more during the high school years, and 140 after having children.  Four years ago this summer, I hit my "goal" weight of 125 pounds, a number I hadn't weighed since I was 16, and declared it on my driver's license.  Four years ago, my biggest goal at the time, was to reach my high school weight again.  After months of intense boot camp workouts and strict eating, I finally hit that goal weight.  That's me in the picture above, at 125 pounds, a fit mother of 2.  While I certainly wasn't miserable, I can't say that once I had met my goal, I was ridiculously happy, or satisfied even.
In high school I ran track and cross country, and while I can't necessarily remember eating a horrible diet everyday, I do know that I grew up on lots of cheap, easy food.  While my grandmother and mother both cooked every night and take out or fast food wasn't a regular part of our daily eats, I hardly remember much fresh fruits and vegetables at all.  We ate canned peas, canned green beans, canned peaches, canned potatoes even.  It was what we could afford.  When we weren't eating out of a can, dishes like green chile chicken enchiladas, with the tortillas individually fried, meat and potato tacos, with the taco shells fried, were a regular staple and while damn good, weren't particularly healthy.  I drank multiple sodas everyday.  Through a combination of good genes and regular running, I stayed thin.
When I entered college and stopped running on a daily basis, and continued eating as I did, I gained the typical freshman 15.  I wasn't heartbroken because for the first time I had boobs, ones that filled out a C cup easily.  I didn't complain one bit.  The fifteen stayed on until I graduated, and once I started working on my career like a crazy person, the weight somehow came off and continued to stay off.  Somewhere in my twenties I took up running again and trained for, and completed a half marathon.
By my late twenties, I decided I better learn to start cooking something other than Marie Callender's frozen pot pies and those Contadina refrigerated raviolis.  I was expecting my first child after all, and due to the progression of my career, I had been exposed to a wider, more sophisticated array of food.  I met and worked with people whose lips had never even touched a canned pea.  I started watching Food TV and became interested in cooking more healthy dishes, but I still never really understood nutrition, and the way food, and how you eat, could effect your body and metabolism.  At age 30 I had never dieted a day in my life and had no intention of ever starting.
After I had Taylor, the weight slowly came off and by a year old, she pretty much weaned herself and I was back to my previous weight and figure, just slightly softer than before.  I got pregnant with Syd just 6 months later, and that pregnancy took a much different toll on my body.  By the time he was a year old, I was still holding onto a good 15 extra pounds than before, so I decided to get more serious.
I read Jillian Michael's Making The Cut, and for the first time I learned about nutrition and healthy eating, portion control, maximizing my metabolism, and on and on.  My mind was blown.  I hadn't realized how badly I had been eating, and decided to do the 30 day diet/exercise plan she outlined.  It was the first time I had ever followed a diet and I was miserable for most of it, but after 30 days I had lost 20 pounds and was in the best shape of my life, even better than when I ran the half marathon.  After a few months though, I felt like I was plateauing in my fitness routine, so I joined the crazy boot camp that got me to my "goal weight" of 125 pounds.  I began working out 5 days a week at 6 am, and started following the boot camp leader's meal plan of raw veggies and lean proteins.  After a few weeks I thought I was going to turn into a piece of raw broccoli or a chicken leg, but I was seeing the results so I persevered.  I was fucking miserable on that stupid diet, which by the way, included twice daily doses of cod fish oil.  But as he pointed out, I was losing my mom pooch!  After about 3 months of that nonsense I weighed in at 125.
The thing about reaching that goal weight though, was that I wasn't satisfied, and I wanted more.  While I never teetered in the eating disorder territory, I did become highly, highly attune to my body, to an almost obsessive level.  I thought about each bite of food I ate and what that would do for me, or to me.  I thought about my body constantly, and if I thought my arms looked great, I thought my butt could get tighter, or my abs could get more defined.  I thought and thought and thought about how everything I did or ate would effect the ideal body image in my head, that I worked so hard to achieve.  If I did something that could jeopardize it, I felt guilt.  If I aced my eating plan, and yes I had an eating plan and recorded every bite of food I took, I dreamed of how I would reward myself with a skinny cow.
Bottom line, I was thinking way too much about myself and my body.
It was no way to live, and it was most certainly not the way God wanted me to live.
I wasn't miserable, or curled up in a ball freaking out if I had a cookie, or starving myself, or throwing up.  I was just way too consumed with myself and my physical being.
In the Fall, after the Summer where I hit my goal weight, I suffered an injury during an intense boot camp session and I couldn't work out for a month.  A month turned into two and then six months later, I was fully healed but had no desire to workout again.  I was burnt out both mentally and physically.  I had worked out 6 months straight, 5 days a week, at 6 am, and my body needed the rest.
Because my metabolism was in such hyper-drive, I continued to lose weight and kept it off for months after stopping all work outs entirely.  I look back on some pictures and I was so. stinking. skinny.  But I remember still, even still (!), being critical of myself.  Looking at myself in the mirror, pinching a bit of skin on my tummy and feeling disappointed in that last little bit of remaining "fat".  I hadn't reached eating disorder territory, but I had definitely reached skewed body image territory.
It's been almost 4 years since I injured myself and I've never gone back into intense workouts like I did back then.  I've continued to stay active and do different forms of exercise, but I have yet to find that same form of discipline I had back then, and I don't think I ever want to.  That kind of discipline was obsessive level and wasn't healthy for me.  I took on a full time job for a year, which had me traveling and working so much I couldn't even think of my body, and then when I left that job I got pregnant with Hayden soon after, and well, here I am.
I officially hit my "9 months on, 9 months off" time frame for weight loss, and I'm still a little ways off.  Had I written and published this post a couple of weeks ago, I would have told you that I'm at a standstill, because I truly was.  I knew in my head I wanted to get back to my pre-pregnancy weight of 135 pounds because I'm an Aries and that's what we do.  We have an idea in our head and we don't rest until we get to that idea.  While I had a goal in mind, I wasn't sure how I wanted to get there.  You see, if any of you reading this know me in real life, or know me enough because you've been reading this blog for a while, you know that I am the happiest I have ever been.  Hayden has changed my world, our world really.  That kid has brought so much joy into our little lives, I never imagined a baby could bring.  And so I was scared of rocking that joy by becoming caught up in losing weight and trying to get to that perfect place again.  I didn't want to diet or get back into an insane exercise routine.
And for some crazy reason, it never really occurred to me that I could be okay just staying the way I was. 
After all, I felt good enough posing in swimsuits for all the world to see just a couple of months ago, but God forbid I'm not able to say I'm back to my pre-pregnancy weight 9 months after giving birth.
I'm no longer at a standstill though, unsure what to do next in terms of weight loss and "losing the baby weight".  I'm going to do what continues to make me happy.  Working out a couple of times a week, especially with friends, at Pop Physique.  It's hard but not intense.  I feel good after going, I look forward to going every single time.  If I really wanted to "lose the baby weight", I would probably add some intense cardio sessions to my routine, but right now I just don't wanna, plain and simple.  I'll continue to not diet, but to work on eating better, more cleanly, thanks in large part to that bitch Gwyneth.  I'm not going to count calories or write down what I ate or go on some crazy fad diet or drink cod oil.
I'm going to continue to let myself be happy.  To love my body and feel comfortable in my own skin.  To love my skin, just the way it is.  If I shed a few more pounds, fantastic.  But that cannot and will not be my goal and my determination of success.  I need to, be at peace with where I land, no matter what the number on the scale says.  I deserve better, and I'm making a promise to give myself better.
I know it may be hard to relate to much of this if you've ever truly struggled with weight issues, as I have not.  I'm not expecting this to be relateable to everyone.  But what I do hope many can relate to is that many of us have struggled, or do struggle, with some form of ugly body image issue no matter what our size is.  For me, it was never being satisfied, always wanting to be better, look better, perform better.  It was all consuming and it left me hating working out, my body, and it left me many times, feeling disappointed in myself, when I never, ever should have.  I realize that this may be very, very annoying to some, and it is annoying.  I am thin, and up until very recently, I wasn't happy just being the way I was.
The future I want for myself doesn't involve defining success or beauty or health by a number on a scale or by how flat my tummy is, but by how healthy of a life I'm leading.  And health goes so far beyond just the food we use to nourish our body and the physical exercise we perform to keep us strong.  It involves faith and a belief in something beyond us, it involves a loving family, supportive friends, and a husband who wants to make out with you and finds you sexy whether you weigh 125 pounds or 180 pounds (my weight I tapped out at 9 months pregnant with Hayden).  It involves a well rounded list of interests, activities and hobbies, it involves travel and adventure and living life and loving life.  I want to be healthy.  I need to be healthy.  For myself, for my family and for my Creator.  Four years ago my most memorable goal was to weigh 125 frigging pounds.  Today, I have much loftier goals, and not a single one of them involves a number on a scale.
No matter where you may be in your own journey to a healthier life, I hope and pray that you find something to help solidify your goals and the path you want to take.  Those of you that have, or do struggle with weight issues, I apologize if this comes across as insensitive, as that is never my intent.  I want to emphasis that these were my issues, and shouldn't be taking as judgement of others.  I don't want to ever, ever come across, that me not being okay with myself should imply that others shouldn't be okay with themselves.  Whether you deal with true weight issues, or just bad body image issues, my wish is that we all can come to a place where we can be happy with ourselves, by way of physically, or mentally and spiritually getting in shape.  For now, I'm happy to report that I've reached that spot and it feels really good.  I hope I can stay here for a long, long time.
Have a great weekend friends.