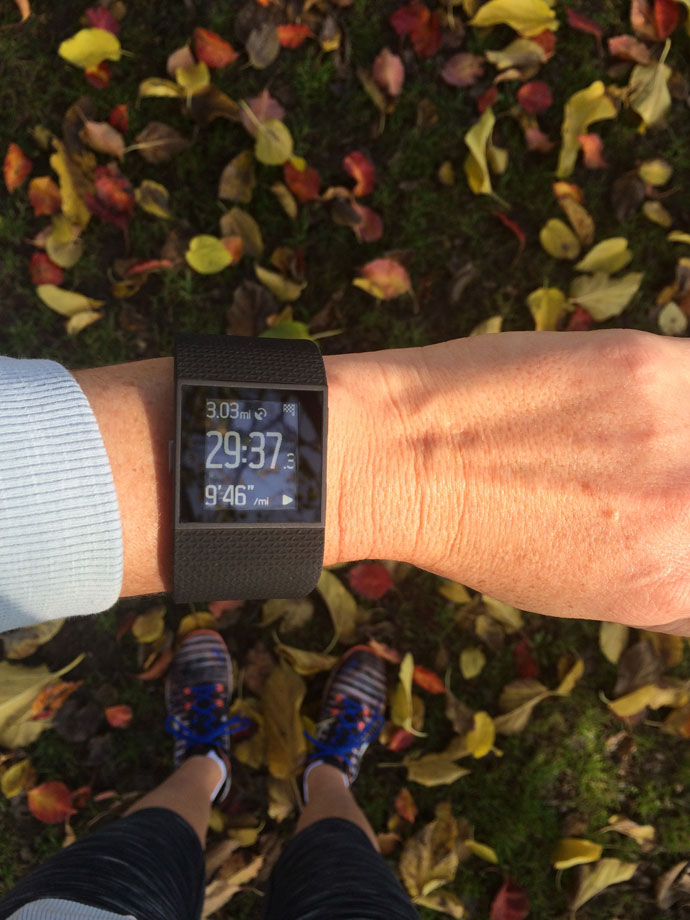 For Christmas, Art got me the Fitbit Charge
. At $129, it was a step up from the basic model, and probably would have suited my needs just fine. I was so excited for this unexpected gift that I ran to the computer on Christmas morning, eager to get it all set up, only to find out that Fitbit's newer models were due out in March. Fancy new models which sounded like they could do amazing incredible things. I'm not one who gets caught up in having the latest and greatest, especially where technology is involved, as you'll find me still happily chatting away on my old iPhone. But after reading the descriptions on these newer models, I'll admit I was impressed and suddenly my new gift didn't feel quite so cool.
So I returned the Fitbit Charge, along with the new Uggs I really could have used (I know they're ugly, but just like Birkenstocks, once you get a pair, you forsake all statements of fashion in the name of comfort, amiright?), in order to have enough money for the new Surge that would soon be released. Originally estimated to hit store shelves in mid March, it actually came out last month, and I've been using it for a solid 4 weeks now. The new Fitbit Surge
 is a Fitbit on crack because it is not just a pedometer, but a GPS tracker as well, which means you can track mileage with almost pinpoint accuracy, and even record splits and pace. These are very important things for a serious runner. I'll state now that while I used to run track and cross country, and even completed a half marathon in my late twenties, my days of runs over 4 miles are long gone, thereby knocking me out of contention for the title of "serious runner." Never mind all that though, I was pretty darn sure I needed a gadget that could make me feel like a very serious runner on my 3 mile jaunts, one who knows her pace at all times and even records her splits.
Besides the GPS factor, the Surge was also equipped with a heart rate monitor, which is a cool feature I guess, and just like the base models, the Surge can track your sleep, calories burned and of course your steps taken. It can also link to your mobile device so you can receive, but not send, texts, and can sync to your music library. Like the other models, there are various exercise modes so you can track estimated calories burned for a certain period of time.
After wearing and using the Surge for just about a month now, I can tell you that I have a bit of buyers remorse. The biggest drawback is that the Surge is huge, so huge in fact that I hate wearing it to bed, so that I can't even use one of its coolest features. I religiously wore it to bed for over a week, in hopes that I'd get used to it, but I never did get used to it and it just caused me a lot of restlessness. It also looks clunky on my wrist and sticks out like a sore thumb in photos.
While the Fitbit Surge
is proving to be more muscle than I previously thought I needed, I do love having a step counter for the simple fact that it serves as a reminder to move more than I normally would. I workout consistently, a minimum of 3-4 days a week, and even still, I find that most days I don't come close to making the standard step count goal of 10,000. On days where I do bootcamp, which regularly involves a very active game of ultimate frisbee, I make the step count goal fairly easily. On days where I do some other form of exercise, like yoga or pop physique which doesn't involve a lot of "steps", I have to really strive to even come close to 8,000 steps, finding that adding in a 30 minute walk first thing in the morning before the house wakes up, isn't even enough. Bottom line, I've learned that 10,000 steps is a lot of mileage, about 4.5 miles to be exact, and unless you're getting a solid run or a brisk 45-60 minute walk in each day, our otherwise sedentary lifestyle of driving all over town, computer screen time, with some quick walks around the block, just don't cut it.
Do steps taken really make a difference in a person's overall health though? I'd say for an elite athlete in training, probably not, but for those who are just relatively active and especially older folks who tend to be more sedentary, increasing your mileage each day can absolutely bolster your health. A study a couple of years back in fact linked walking to lower breast cancer risk; finding that 7 hours of walking each week helped lower a woman's risk by 14%. Walking of course has other benefits including an increase in heart health, and mental health. The bottom line, in today's fitness crazed culture of heavy lifting, crossfitting, soul cycling and other strenuous exercises, we often downplay the simple and clear benefits of just walking. I can tell you with the utmost sincerity that since getting the Fitbit, I may only reach my steps goal 3-4 days of the week, but I have adopted a daily walking practice, and I feel so much better for it. I could really care less about making the goal, although it is nice to feel the little buzz on my wrist each time I do, I'm more appreciative of just how much more mindful having this thing on is making me. Plus, I've managed to listen to some pretty cool books and podcasts in the last month, because of my newly adopted exercise routine.
The Bottom Line & My Recommendation To You:
I would absolutely recommend getting a Fitbit for the simple fact that you're more apt to be mindful of your daily movement.
But, unless you're a serious distance runner, I would skip getting the fancy Fitbit Surge
, and settle for the Fitbit Charge
or Fitbit Charge HR
if you want the added benefit of the heart rate monitor.
The smaller models are more sleek and feel better on, and I'm sure much easier to sleep with. They may not have GPS, but unless you really care about tracking mileage, they can do pretty much everything else the Surge can do. The text and music functionality is cool I guess, but I personally found the text option annoying and turned it off. When I don't have my phone near, it means I don't want to be bothered with it, so being buzzed each time I get a text even when I purposely put my phone aside, feels like an infringement on my personal time.
If you're like me and are just interested in tracking your steps so you can move more, than save your money and stick with the lower-end models, they'll suit you just fine.