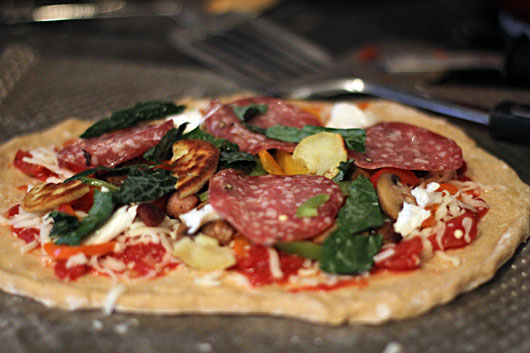 It's often said that we don't experience seasons here in Southern California, and while we definitely don't usher in winter with a blanket of snow, or fall with a spectacular parade of changing colors, we do notice slight and subtle shifts in the air.
In case you didn't already know, yesterday was the first official day of fall, and we here in Southern California experienced a short-lived drop in temps and the most gentle of breezes to welcome the day.  It was a gorgeous day overall in fact, much better than any old start of summer if you ask me, and was the perfect way to alert us all that the holidays were upon us.  I had already had plans for us to make homemade pizzas for dinner that night, and after a fun afternoon of watching Syd's baseball game, I decided to invite over the in-laws and my parents as well.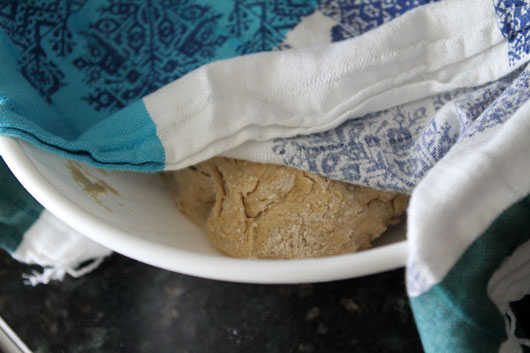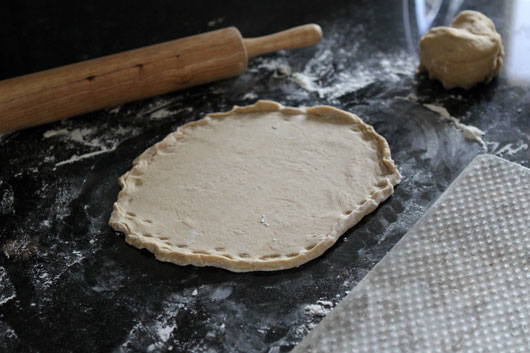 I had most ingredients on hand already, but we did have to pick up more yeast since I was going to now double the dough recipe.  I'm currently reading Barbara Kingsolver's book Animal, Vegetable, Miracle, which I love.  Her family makes homemade pizzas on Friday night because it's an easy way to end a long work and school week.  Let me tell ya, maybe if you have a huge outdoor oven, or are sticking to just 4 diners, it's easy, but for a large group, pizza night is some work.  More than anything, it requires patience on the part of those waiting in line to use the pizza stone to get a properly cooked crust, so have plenty of toppings on hand for people to just nibble on while they wait.
I've already decided that a 2nd stone must be purchased, because overall, making pizzas is A LOT of fun and the kids loved it.  It's a process and it gets everyone involved and gives kids the power to choose their toppings in as little or as big a quantity as they like, and I don't know a single kid who doesn't love to roll crust.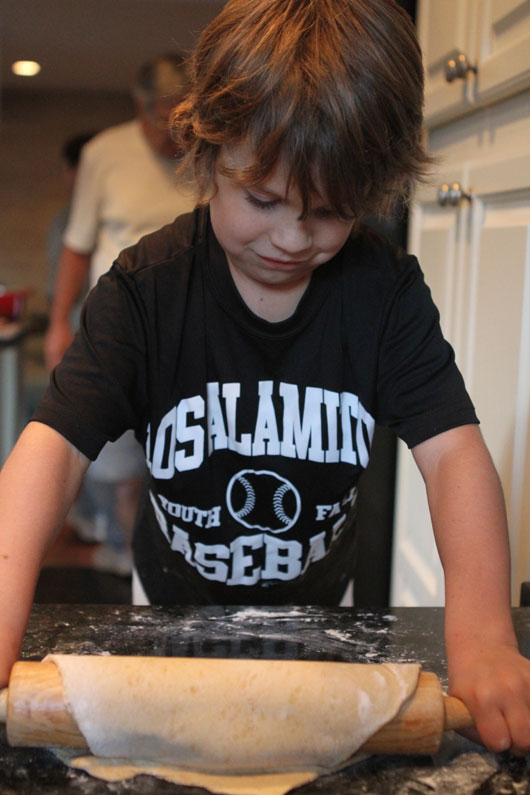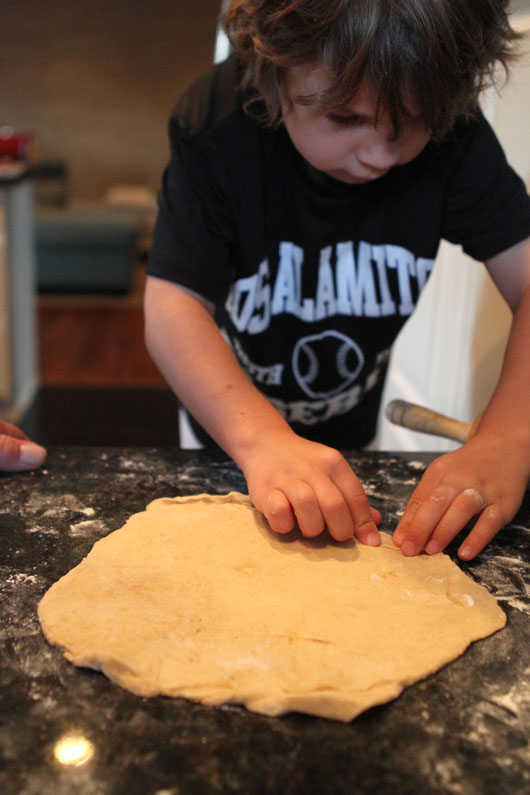 For future pizza pie nights, especially if we're doing it with another family, we've decided a couple of things will make the process a bit smoother.  Preheat the stone at the same time the oven is preheating, that way it gets nice and hot.  Buy a 2nd stone.  Roll the crusts out thinner so they cook quicker and aren't as doughy.  And have grownups share a pizza.  We gave everyone their own pie and it was just so much food and took over 2 hours for everyone's pizzas to go through the rotation (I was so hungry I decided to just cook mine on a cookie sheet in fact).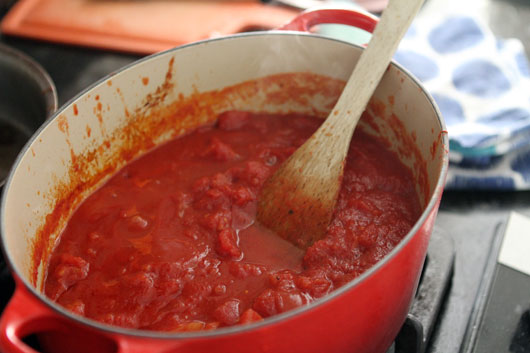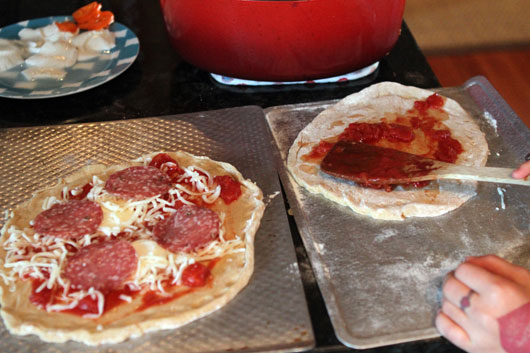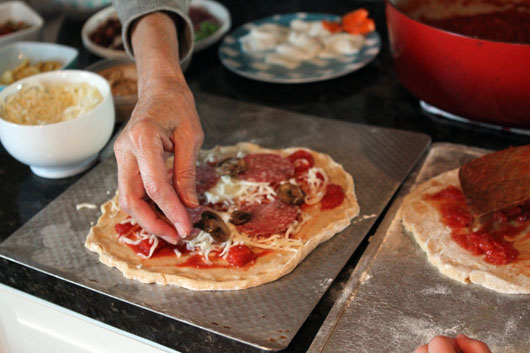 The sauce recipe I used is from Gwyneth's book and is ridiculously easy, and makes plenty of sauce for leftovers.  In fact tonight we'll add some cooked ground turkey to it and top it on sweet potatoes and pasta for the kids.
Gwyneth's Go-To Tomato Sauce (slightly adapted)
4 cans of 14.5 ounce whole or diced tomatoes
1 small can of tomato paste (my addition to thicken it up)
4-6 basil leaves
6 cloves of garlic sliced
olive oil
Saute garlic in olive oil on low for 5 minutes, add in basil and cook for 1 more minute then add in tomatoes and bring to a boil. Cover and simmer on low for 45 minutes, smashing down the tomatoes with the back of a wooden spoon either in process or after cooking is complete.
Homemade Pizza Dough (slightly adapted via Barbara Kingsolver)
3 tsp. yeast
1½ cups WARM water
3 tbs. olive oil
1 tsp. salt
2 cups white flour
2 1/2 cups whole wheat flour
To make crust, dissolve the yeast into the warm water and add oil and salt to that mixture. Mix the flours and knead them into the liquid mixture. Let dough rise for 30 to 40 minutes. Make sure to cover with a damp towel and set in a warm place. Works well doubled.  Roll out on a well-floured counter and bake with toppings in a 500 degree oven for at least 15 minutes.
My favorite part was the assortment of toppings we came up with.  Pizza has become one of those dishes that can handle almost any ingredient you can throw at it, from sweet to savory, fresh to fried, pizza is a blank canvas that allows any fruit, vegetable, dairy product or meat to shine.  Pizza has gone so far beyond just pepperoni and pineapple, but make sure you have the classics on hand for the purists.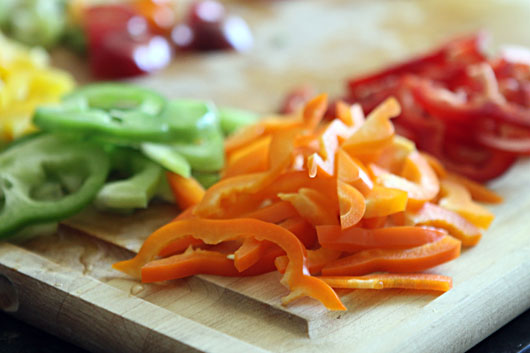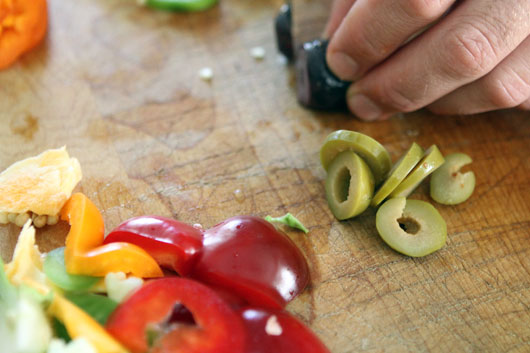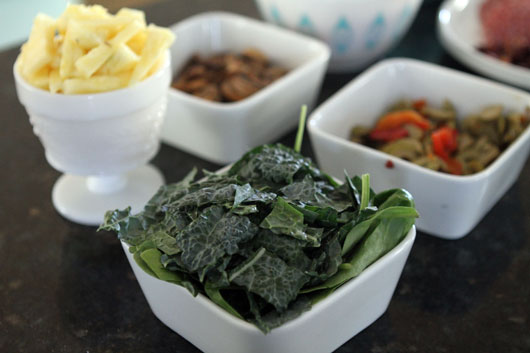 Our list of toppings included:
Mozzarella, both freshly sliced and shredded
Olives
Peppers & mushrooms sauteed first
Sweet potatoes sliced and baked in the oven for 15 minutes first
Fresh kale and spinach and pineapple
Salami and fried up bacon from a fresh slab of pastured pork bacon (heaven!)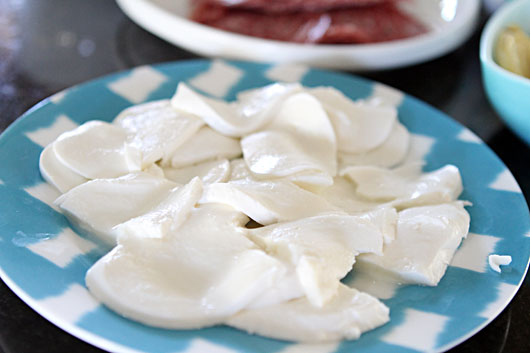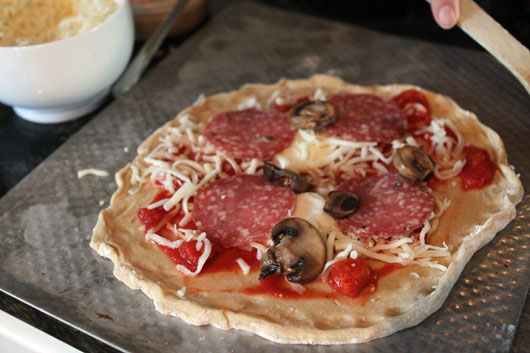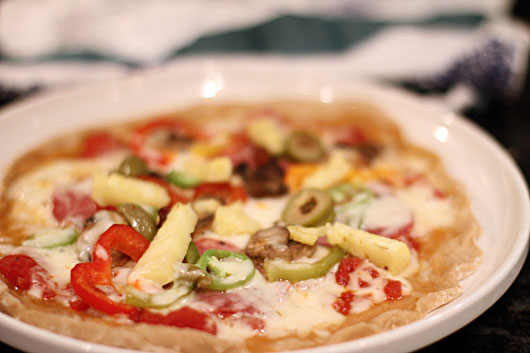 Arrange all your toppings and bake in a 500 degree oven for at least 15 minutes, or more if you're just using a cookie sheet.  The dough needs to be rolled out really thin, thinner than you think may be necessary, like an 1/8″, or else it just tastes doughy, which is fine because the dough tastes really really good, but you won't have that pizza crust crispness.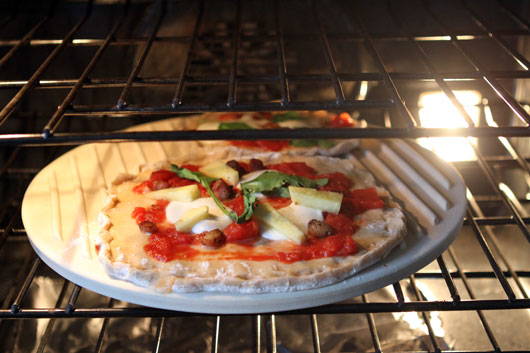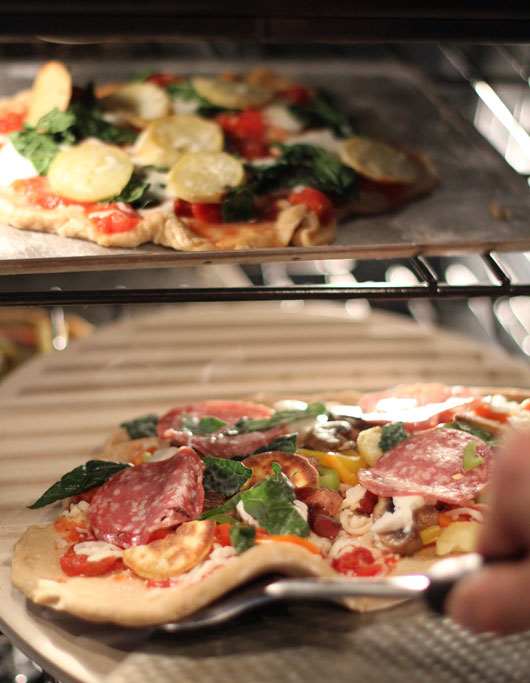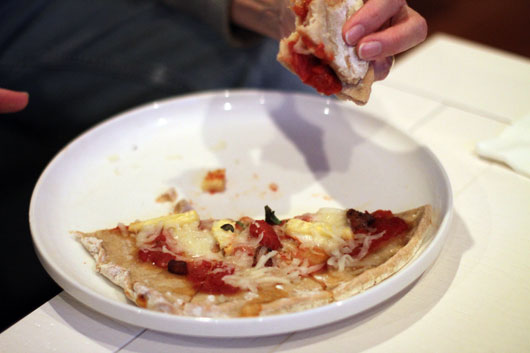 I learned something interesting last night about Syd and his knowledge, or lack of knowledge in how some of his favorite foods are made.  When we were directing him to make his pizza, he was refusing to add sauce or cheese, just salami please!  He loves pizza, but hates red sauce and cheese, so we explained to him that the sauce and the cheese are what makes a pizza, pizza.  He scrunched up his cute nose, tilted his head, and said "Really??"  We prodded him to add the sauce and cheese, and for once he trusted us and loved his pizza.  So I realized that maybe I don't do as good of a job teaching him about food as I think I do, considering he didn't even know how pizza was made.  So often I just demand, "Just try it Syd!" and should maybe stop to teach a bit more.  I'm not beating myself up about it, because any mom will agree, a picky kid gets really annoying after a while, but just an observation and approach that may make all our lives a bit easier in the future.
So that was pizza night!  And after having the oven set at 500 degrees for 3 hours, I realize why pizza night is a perfect Sunday fall and winter dinner!  It was hot up in here!
Mangia, mangia and enjoy!