I spent this past weekend at the Natural Foods Expo, and am excited to share with you all what I found. This was my 4th Expo West, and as with everything, there were some changes. For one, bloggers like myself registering as "press" increased, so access was a bit more limited than years past, but I still had plenty of access to all the food exhibits, I just couldn't attend a few of the talks I would have loved to hear. I did get the opportunity to attend 2 of the keynotes on Friday and Saturday. Friday we heard from Jennifer Garner and John Foraker, co-founders of Once Upon a Farm, and on Saturday, I attended an inspiring talk by Anna Lappe of Real Food Media. The points they covered were a great reminder of how important the food movement is, and how much work is still left to be done. I hope to get a chance to share more of their talk in another blog post, that I hopefully get around to writing ;). In the mean time, let's talk about food trends, after I post this picture I took with Jennifer Garner haha!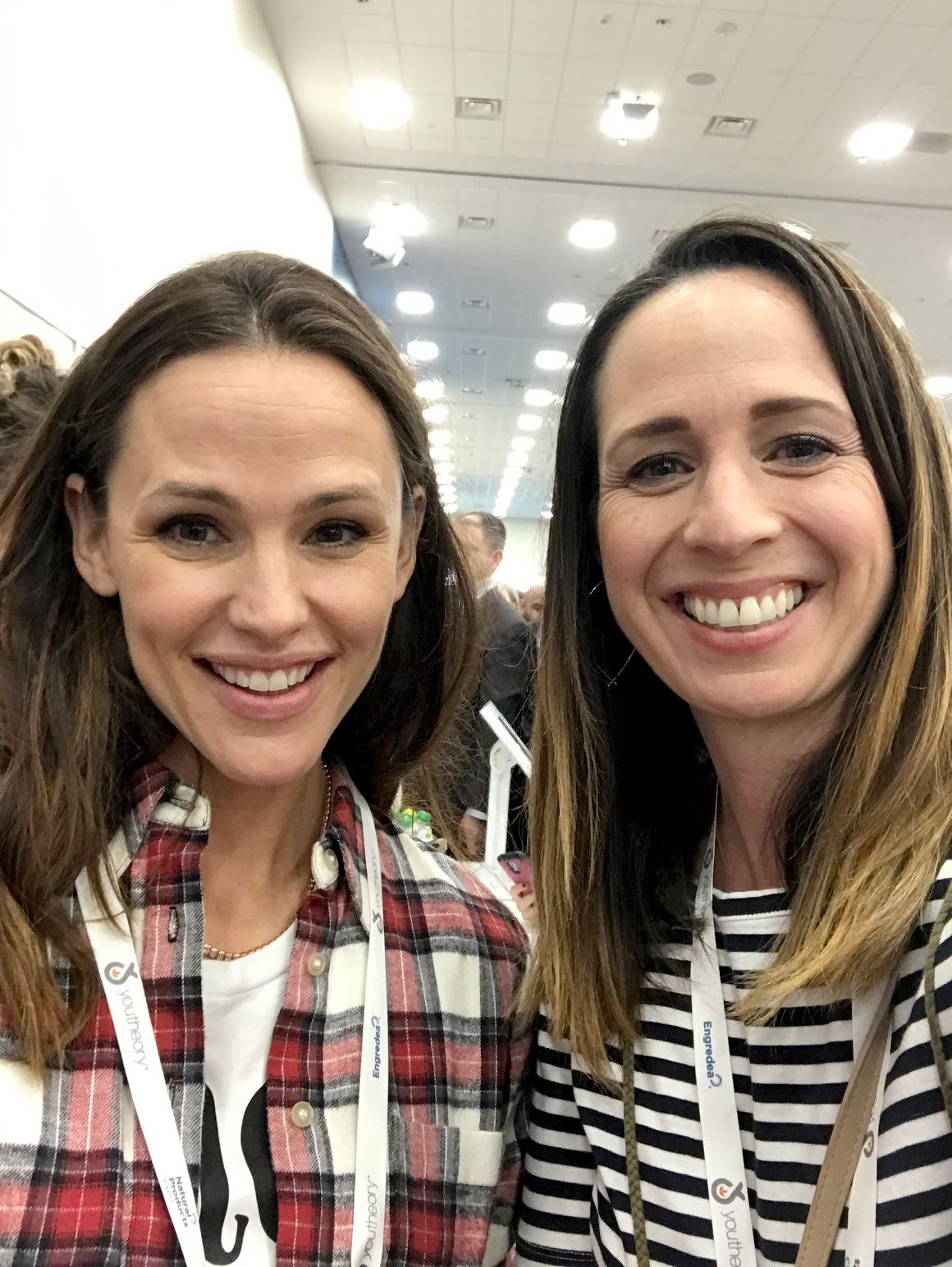 Some of the trends continued from last year, and some were a manifestation of the food & wellness trends that have taken over the last year. Let's get started.
1. Pickles, kraut & all things fermented continue to be hot. The gut biome and the evidence that eating active cultures helps to facilitate the production of good bacteria has been a hot topic of conversation for years now, and the food trends continue to reflect the rising popularity of fermented foods. I saw a huge uptick especially in pickle companies, and more unique kraut flavors. I tasted one from Cleveland Kraut with a heck of a kick, compliments of jalapenos, bell pepper & chilies.
2. Yogurt & yogurt alternatives. The trend seems to be how to create the most flavorful yogurt with the lowest sugar content, and how to create the taste of yogurt, minus the dairy.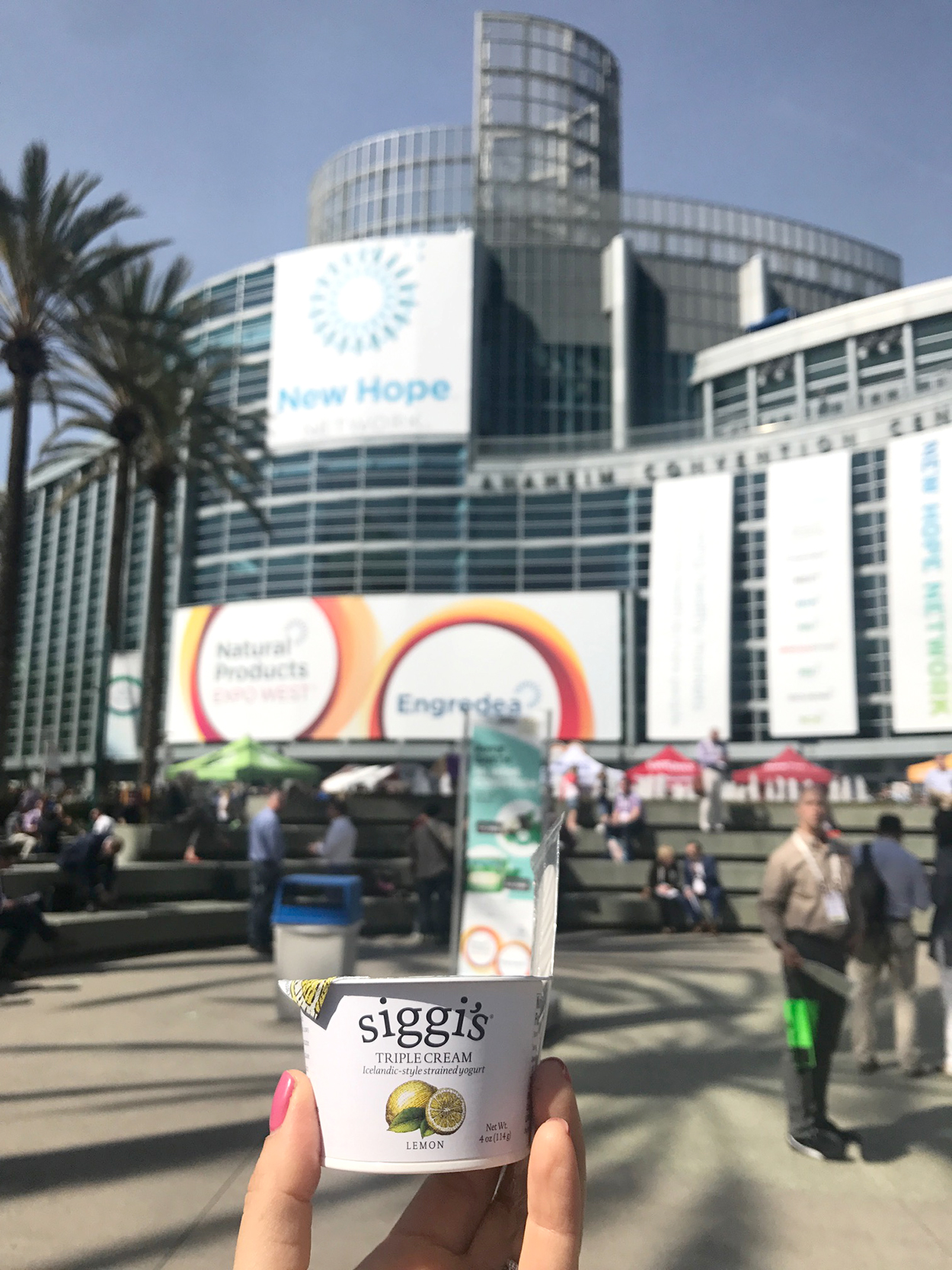 3. Coffee, Coffee, Coffee. I owe the 25,000 steps I logged in large part to the numerous coffee samples I consumed throughout the convention center floors. Every where I turned, there was a different coffee company promoting cold brew, flavored coffee, coffee-on-the-go, at-home cold brew kits, coffee shots, coffee creamers, and on and on. By the end of Saturday I was turning down coffee samples left and right. I take this all as proof that we are still a very tired nation, and even those who "eat healthy" and take care of themselves desperately need their daily jolt.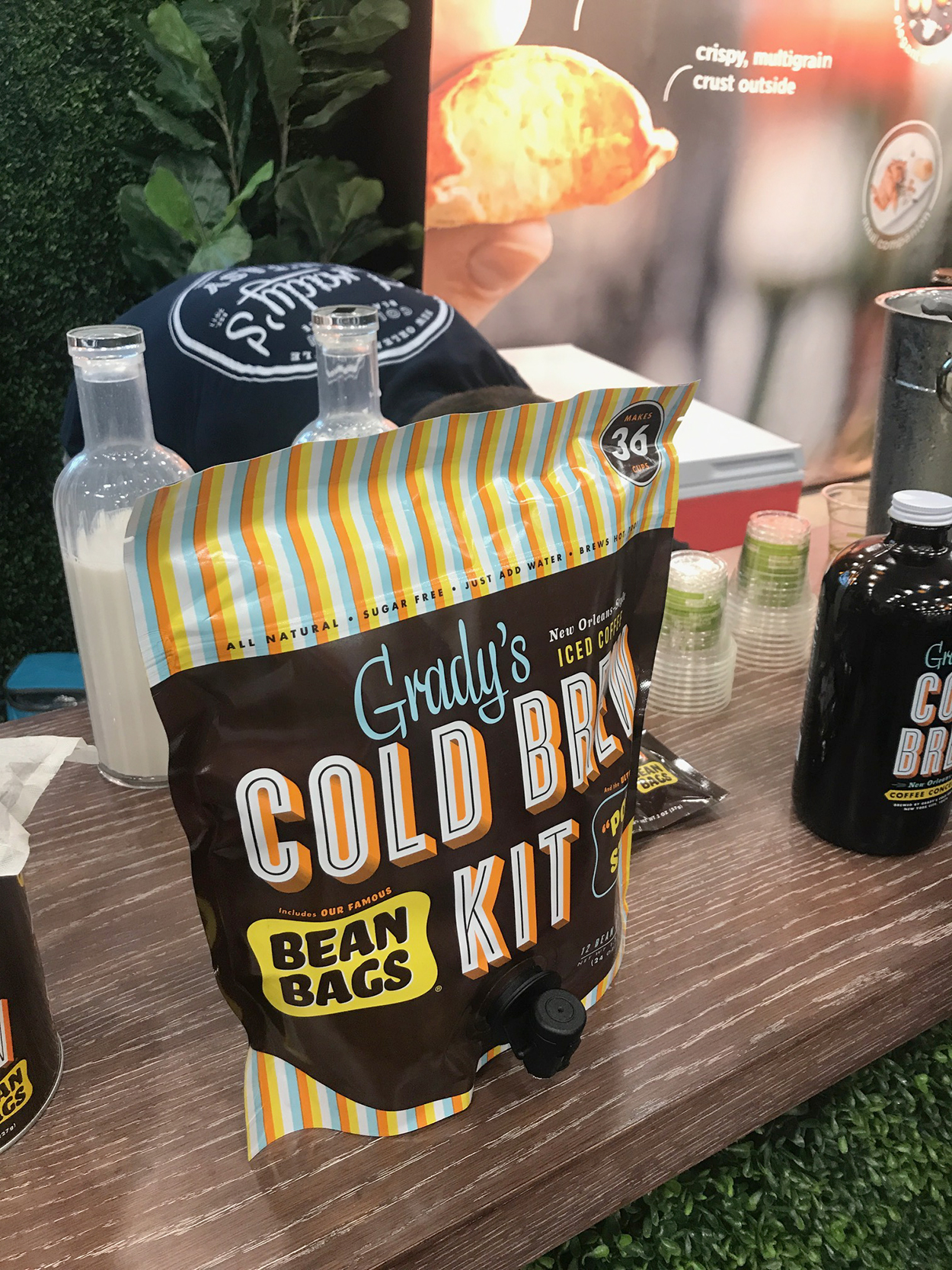 4. Nut Butters & nut butter alternatives. Countless companies were displaying new flavors, textures,and claims to be the purest, and lowest sugar content around. I was left wondering, where are they getting all these nuts from, and who is eating all these nut butters?!?
5. Flavored Soda Water & Healthy Sodas. Again, so many samples that I had to proceed with caution so I didn't spend half my time in the bathroom. I actually found a delicious tasting "soda" that was really just soda water with pear juice concentrate to sweeten, and 42 mg of caffeine, which is almost the equivalent to a Diet Coke. Based in San Diego, the only downside was it contains "natural flavors" and when pressed to know what the "natural flavor" was, I didn't get an entirely straight answer. Natural flavors in fact could have been its own trend as I noticed many, many companies passing out products that contained some sort of natural flavors that company reps weren't super pumped to talk about. I could write a whole blog post about natural flavors, but the bottom line is to proceed with skepticism. Many are truly benign and "generally recognized as safe", but some are the equivalent of artificial flavors because of how they're processed.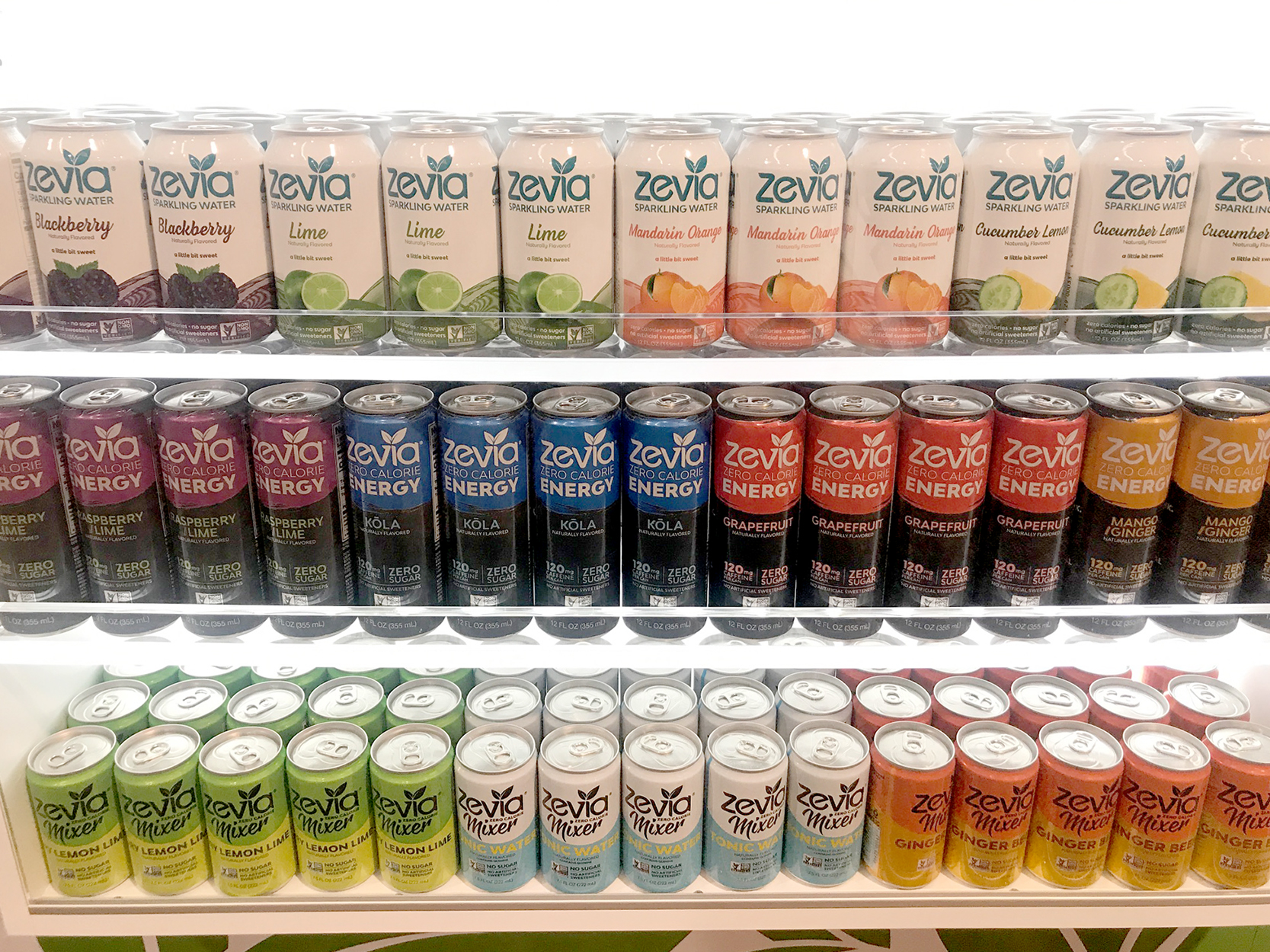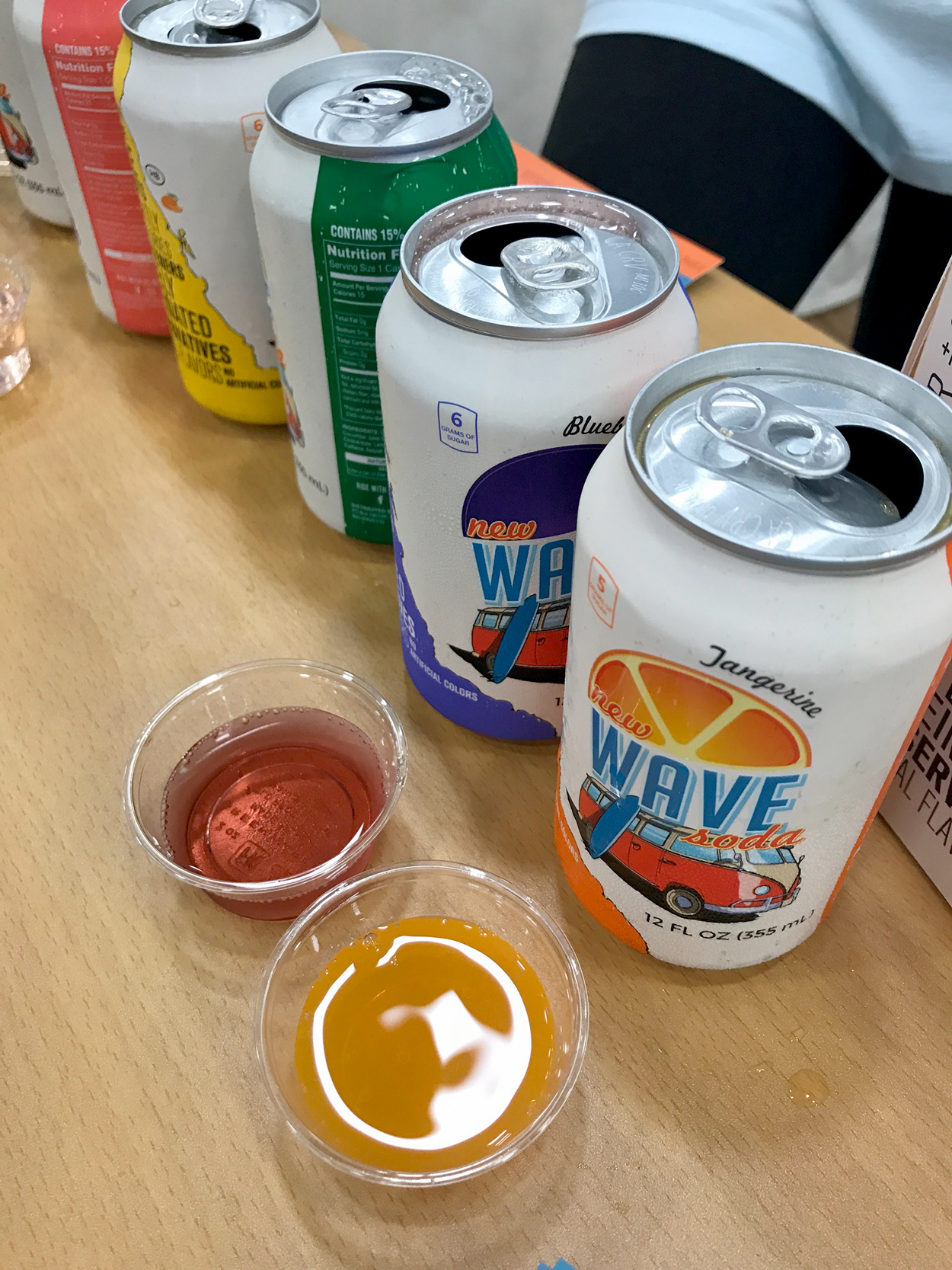 6. CBD Oil & other CBD products. Other than knowing that CBD oil is derived from hemp, I admittedly don't know a lot about this up and coming product that touts many health benefits including fighting cancer, Alzheimer's, stress, anxiety & depression. I even met a woman at a networking event on Saturday, who told me about a boy who suffered from numerous seizures a day in her home country of Australia, saw dramatic results in almost eliminating his seizures entirely once his parents began giving him CBD oil.
7. Grain-Free & Paleo foods continue to be hot, hot, hot. Purely Elizabeth has a new grain-free bar and granola out, and they were both delicious.
8. Keto seems to be the new rising star in the food & wellness space. With it's dramatic protocol of super high fat and little to no carbs, I'm not sure if it will take the place of Paleo or Whole 30, but it's sure trying to. I saw a lot of drinks and foods claiming to aid the body get into a ketosis state and some of them were okay, but some were blech. I tasted one bar that needed to be refrigerated or else it would melt, and while the flavor was decent, my mouth felt like an oil slick for an hour 😉
9. Convenience Foods/Packaged Foods & Protein Bars. I'm just gonna lump all these things together because they really all fall into the same category: "cleanish" packaged & processed foods. I turned down so many samples because I knew I could not taste or sample another protein bar or newfangled chip and cracker. Truth be told, it got to be a little depressing seeing how many ways these companies are trying to make "eating clean" as easy & brain-free as possible. Again, this could be a whole other post, but while the Expo is all about natural food "products," it is a bit sad to see how far from real food and home cooking some of these companies have strayed. I'm not a purist and of course we use our share of packaged muffin mixes and always have protein bars to eat on the go, but these are a small portion of the food we try to eat on a daily/weekly basis, and no matter how healthy a product tries to be, it will usually never be as healthy for you as eating the food in its original cooked/uncooked form. But I guess there's not a lot of money to be made in reinforcing that wisdom, is there? With all that being said, I don't to take away from the companies who are still producing a high quality, sustainably sourced & produced packaged product. I by no means wish to lump them all together, because packaged food can be a life-saver, both figuratively and literally, and there are amazing companies out there doing good work.
As always, the Expo was fun, exhilarating and informative, but as consumer taste preference continue to lean towards healthier/cleaner/greener organic foods, there are more than enough companies ready to jump in head first to meet that demand and package it up. Still, I left feeling hopeful in the huge progress that has been made and continues to be made in the real food movement. The old adage of voting with your dollars has been especially effective in the food movement, and I'm excited to see how it continues to evolve and grow.